Do you want to come up with some lovely Thanksgiving nail ideas? Then you've arrived to the correct location.
Our favorite method to get into the Festive mood, like with every holiday, is to make our nails stand out. Getting nails that match the occasion is one of the finest ways to get into the Thanksgiving spirit. There are a variety of nail designs to choose from throughout Thanksgiving.
When it comes to crafting the perfect Thanksgiving nails for you, the possibilities are boundless. I've gathered some of the most eye-catching thanksgiving nail designs I could find on the internet. You may save them to your phone and utilize them.
1.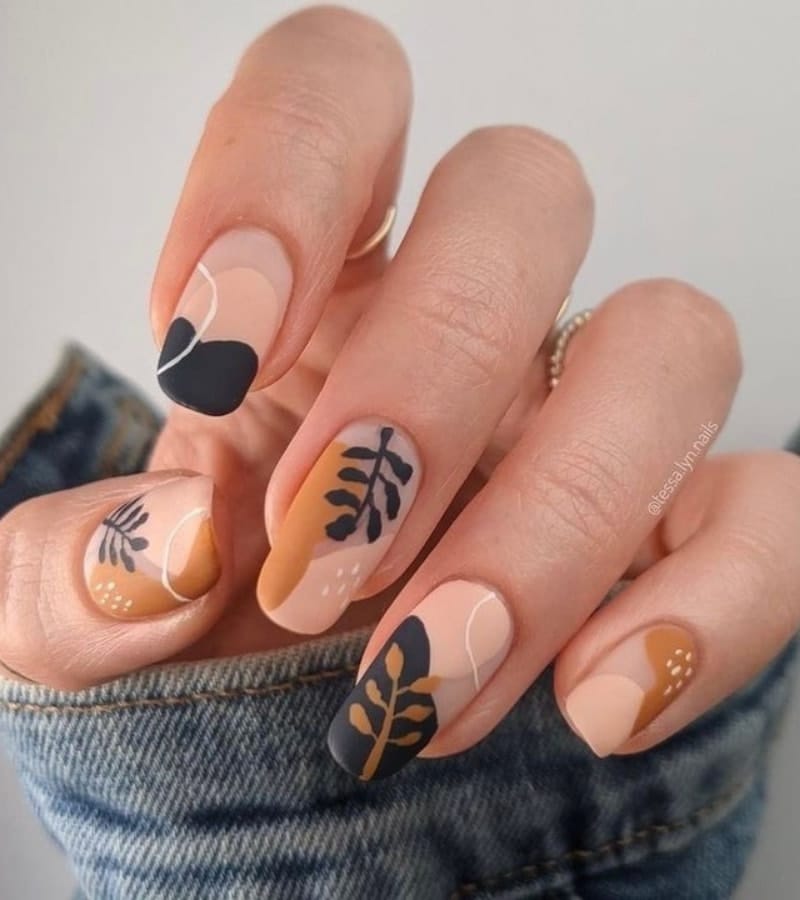 @dashboardbeauty
Matte nails are a great way to style your nails for Thanksgiving. Black, light brown, and beige are good color combinations for this. Decorate your nails in different patterns or shapes as shown here. Some leaves or twigs will be a good art for the nails.
2.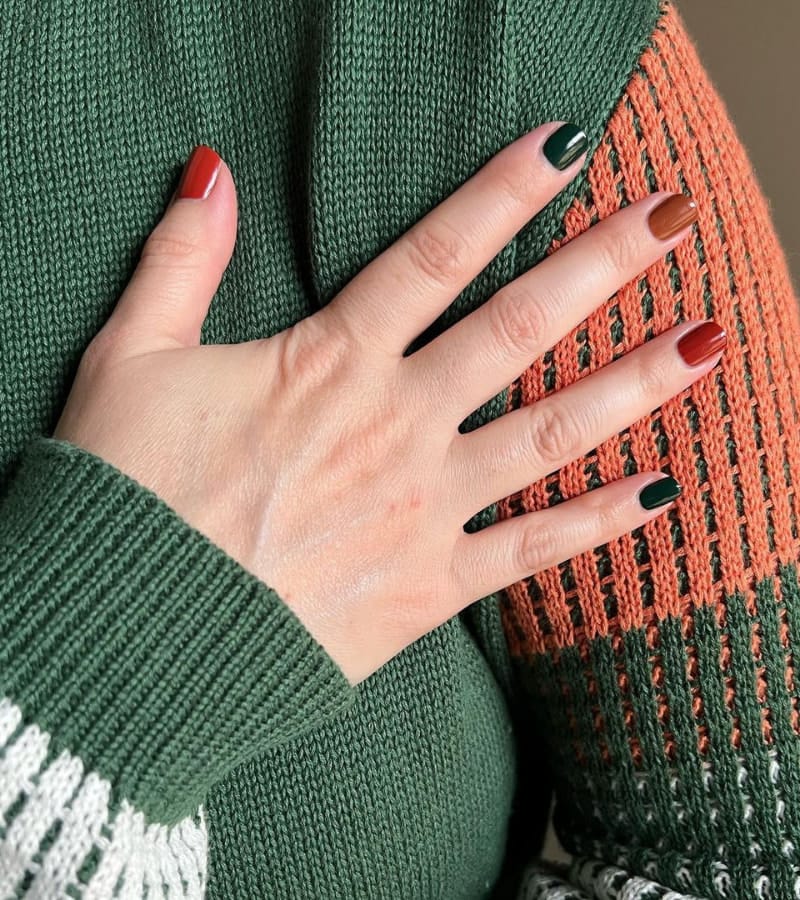 @polish_pintess
If you are in a rush and don't have enough time to get your nails done, you can try this simple nail design. Pick a few colors that match your outfit and color your nails alternatively with those. It will make a great design if you can choose some contrasting colors.
3.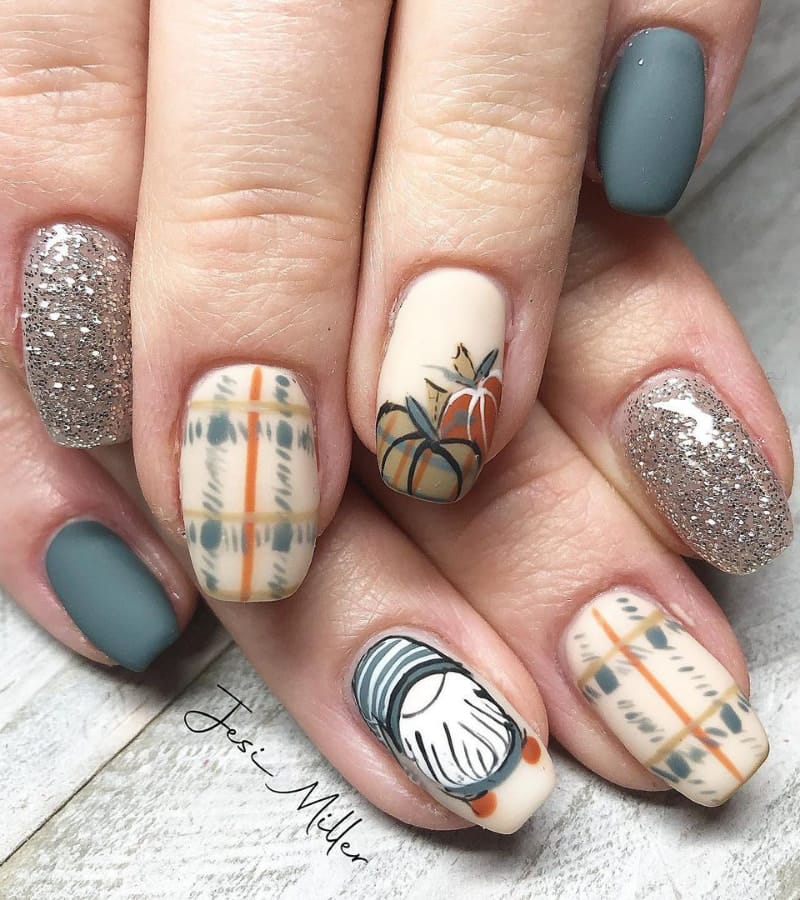 @jesimiller_
You can have different designs for each nail matte, glitter, or simple painting. The color theme used here is silver, grey, and orange. You can try other matching colors as well. This can be used for nails of any length, especially for short fingernails.
4.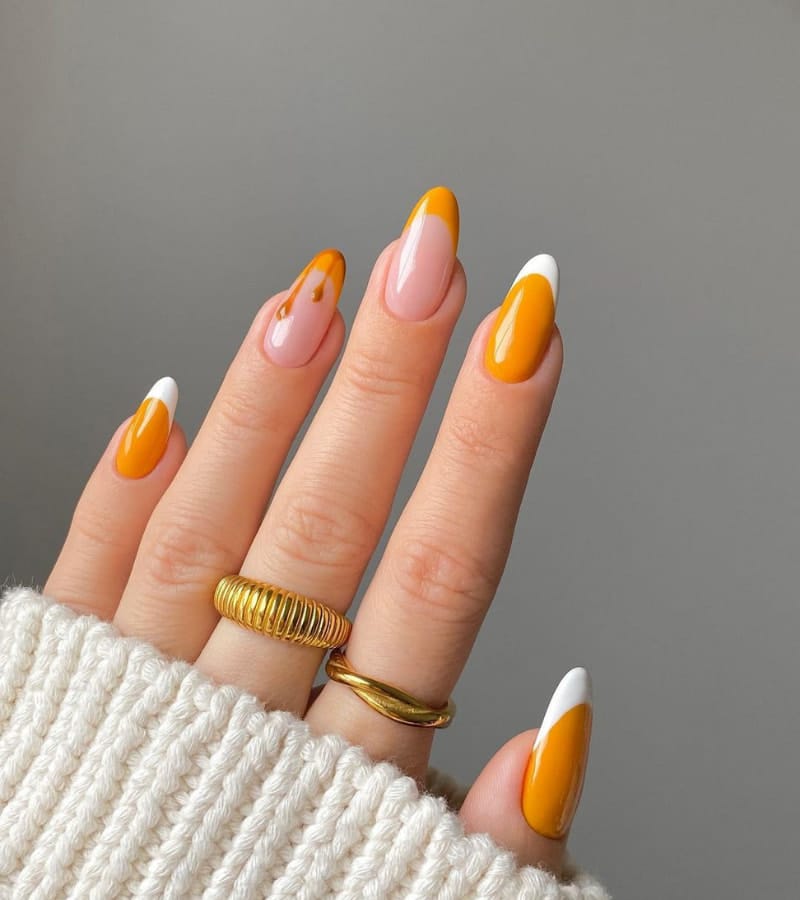 @heygreatnails
For those of you who need something bright, you can try this nail idea for Thanksgiving. Mostly it is of a dark shade of yellow with white are at the tip of the nail.  As you see here, this design fits perfectly for almond nails. You can try various colors on your preference to match the outfit of the day.
5.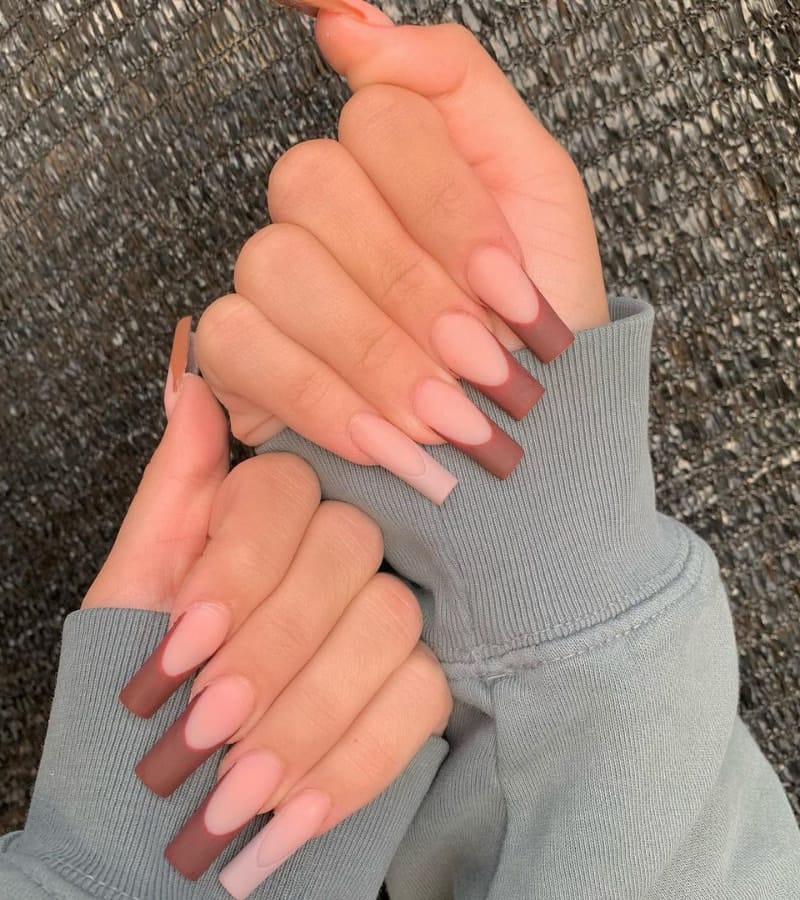 @sammyssnailss
This is something quite different from the ordinary, with long matte nails. Only the end area is colored in a beautiful shade of brown while the base is kept neutral. It is a perfect way to style your acrylic stiletto nails this season!
6.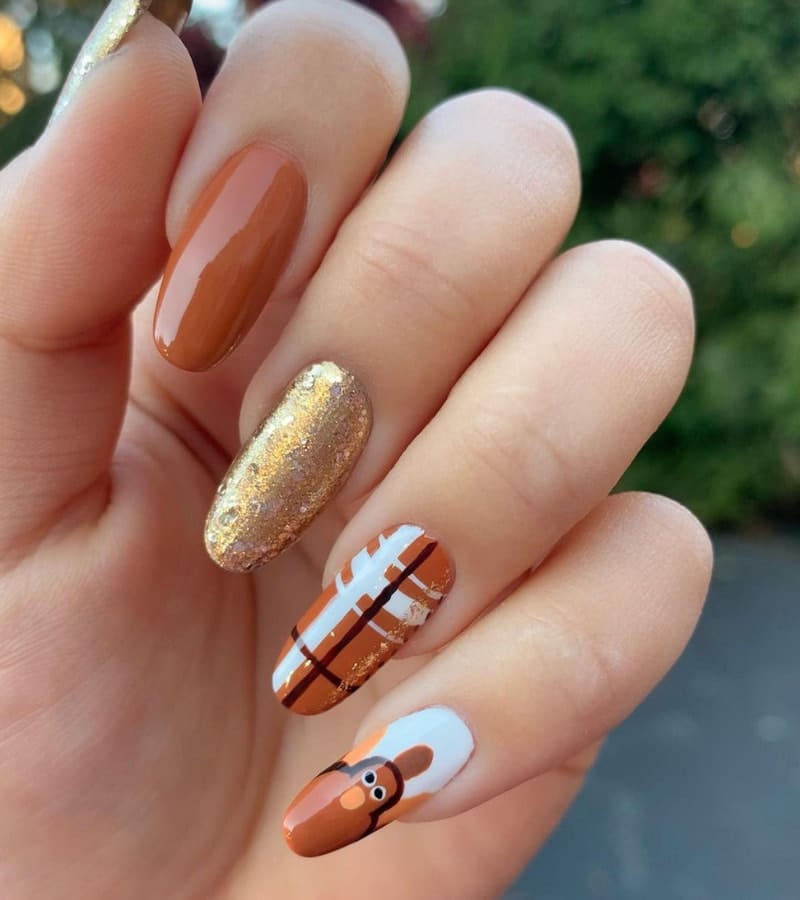 @polishedbysarahy
Having different designs on each fingernail has become a major trend at present. It is because you can add a specialty to each finger by using only a few selected colors. Drawing simple lines of various thicknesses is a different form of art. You can even draw simple cartoon faces with these colors as you like.
7.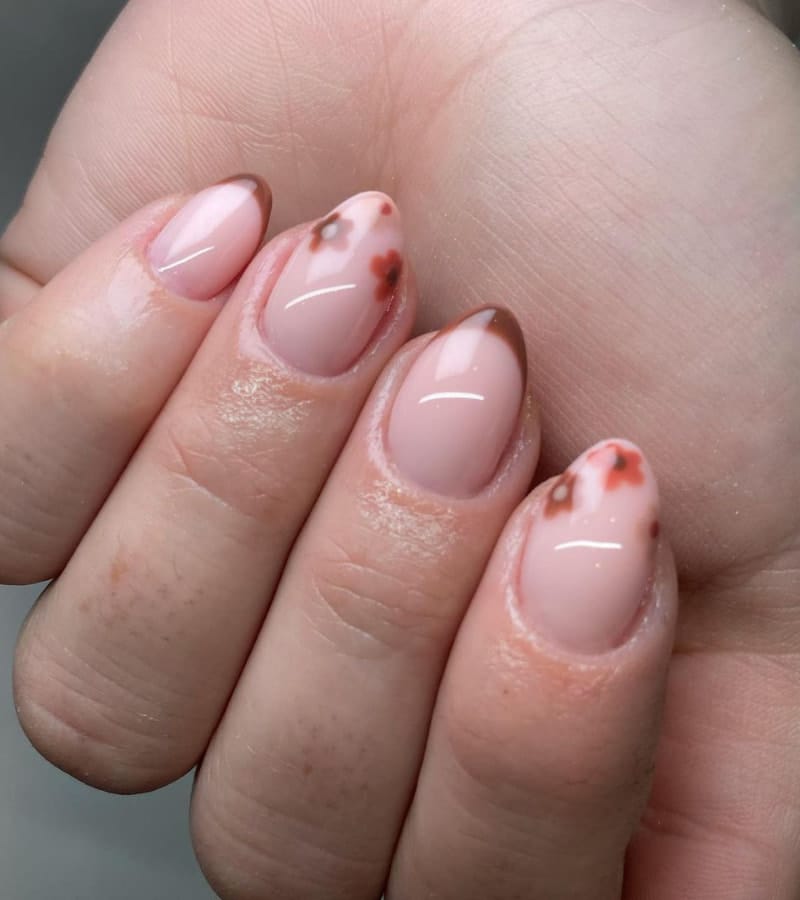 @stylebyreags
If you are interested in something simple for your nails, you can try this elegant design idea. Only the tips of the nails are colored while some nails have a cute floral design. Keeping the base color neutral is the key point of any simple nail art.
8.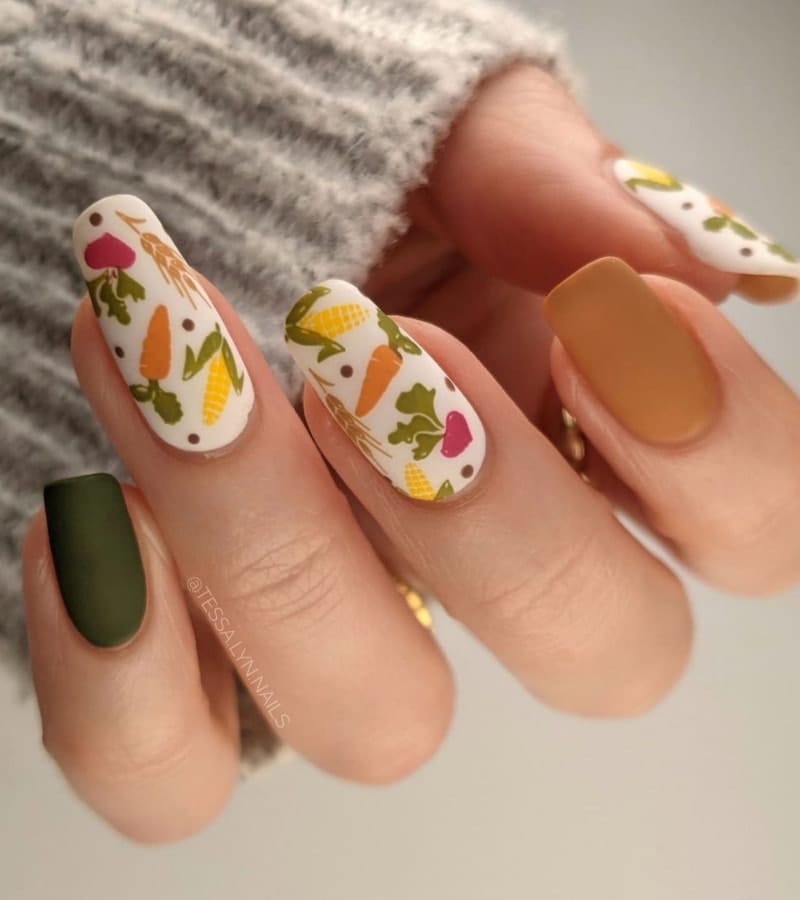 @tessa.lyn.nails
How about having a few veggies on your fingernails? You can draw some carrots, corns, turnips, and wheat on a white background. It will be a very attractive nail design rather than the normal designs. You can also have matte green and brown nails with this.
9.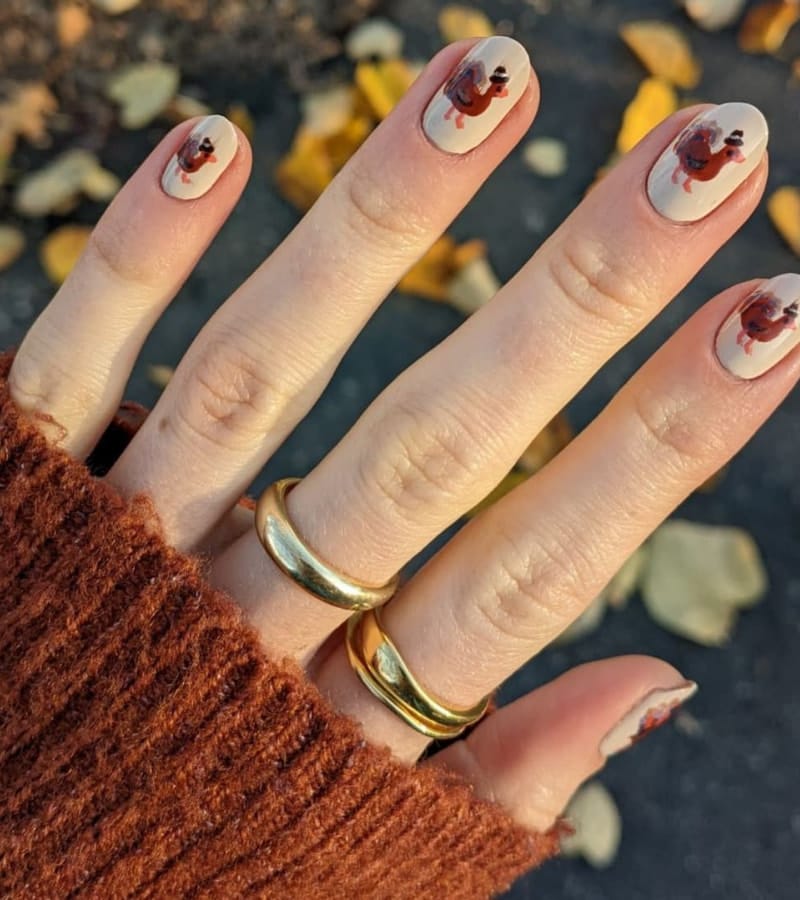 @polishbyjoja
Thanksgiving is all about turkeys after all. So you can try a turkey design on the fingernails. This features a beautiful image of a turkey with a hat on a white background. You can change the background color on your preference to match your outfits. I think you will like this idea as it is out of the ordinary nail art.
10.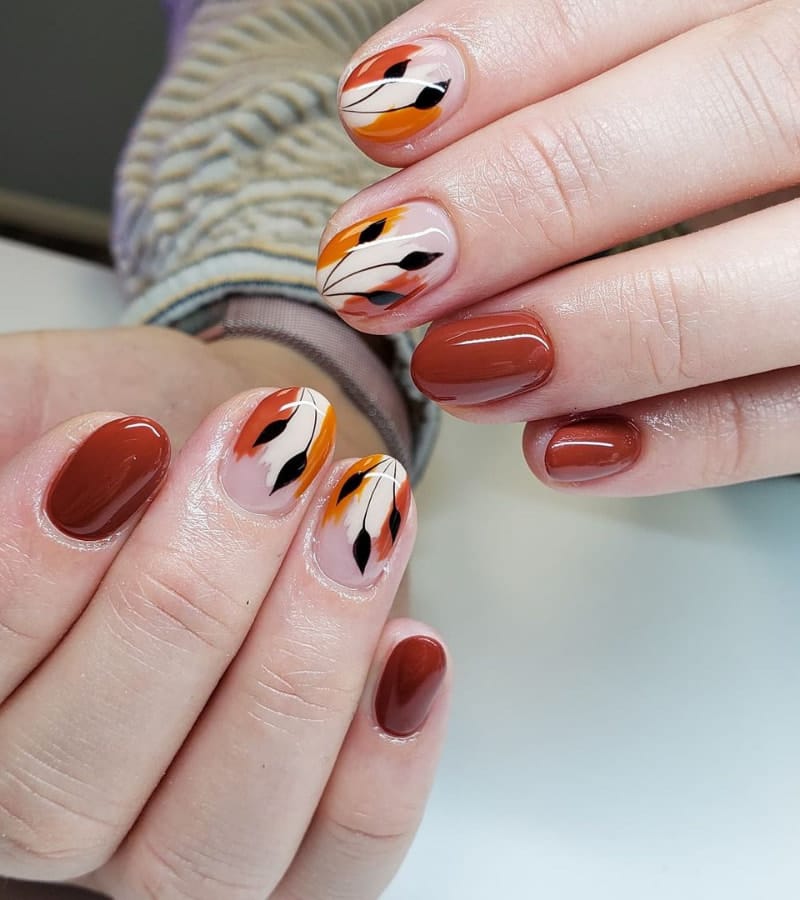 @nailartbysofia_
Short nails also have amazing nail art ideas. You can color a few nails with a shiny shade of brown. Add a neutral base coat to the remaining nails and then a black art of some flower buds. It looks like some buds swaying in the wind at sunset. You are free to share your thoughts on this!
11.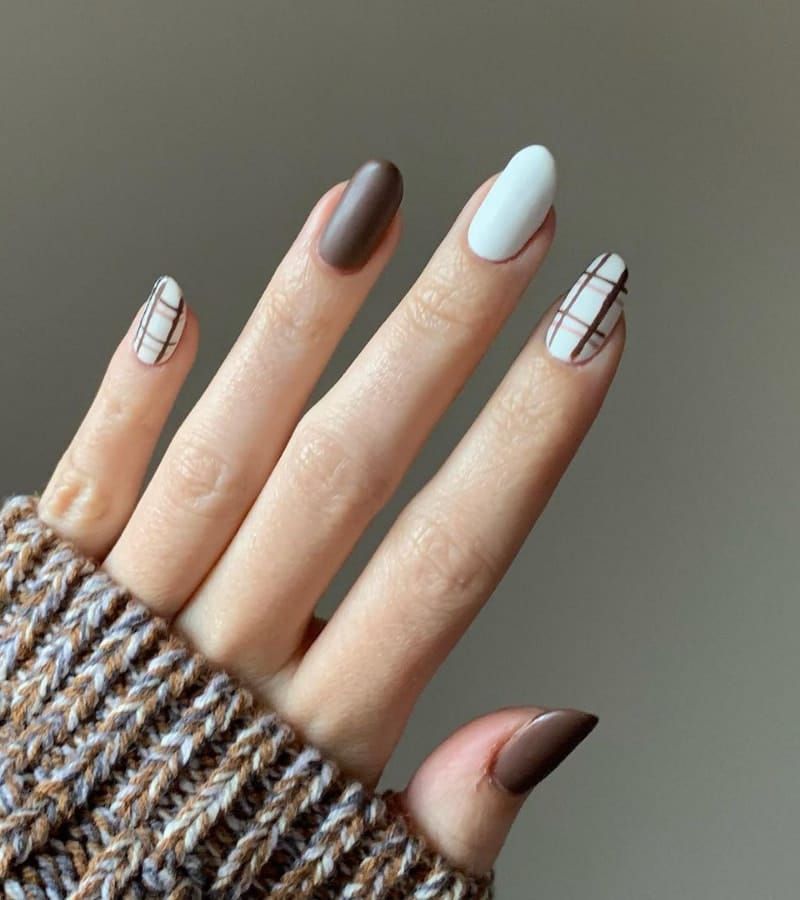 @doms.nails
I never thought brown and white can create such an amazing nail design until I saw this. The chequered design on it is very attractive. Having brown and white nails adds more aesthetic appeal to the art. It will be a perfect nail design not only for Thanksgiving but also for any formal occasion too.
12.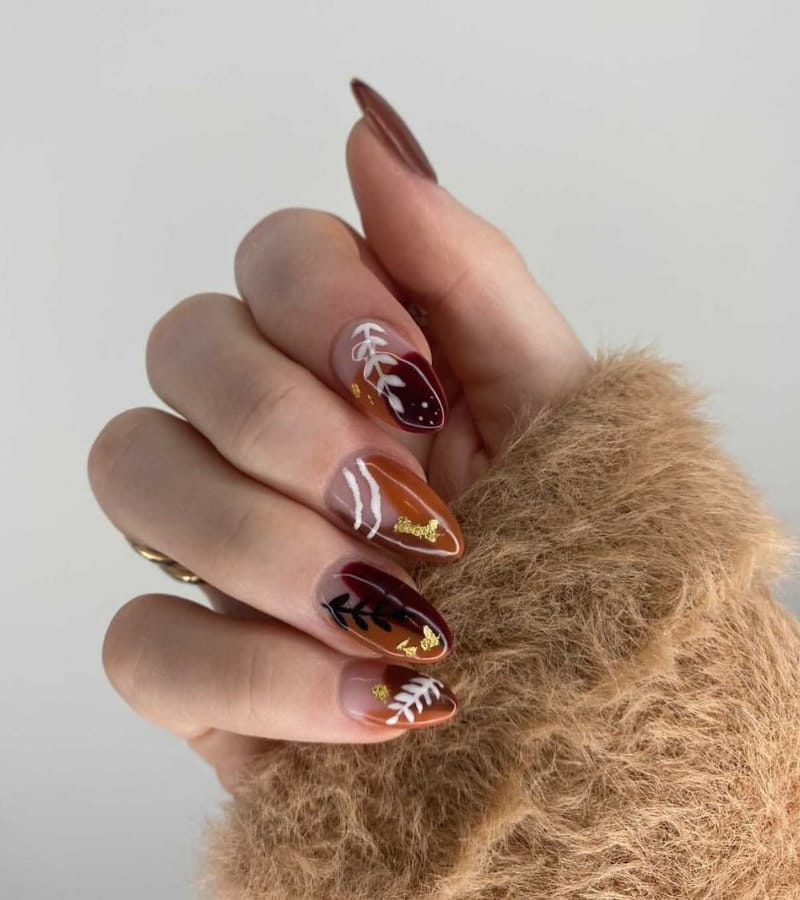 @nailwaukay
An elegant nail idea to be thankful for this season. Choose two shades of brown and white for this design. You can even add a hint of gold if you need more glitter to the nails. Draw some twigs in black or white to make the design dark or light on your preference.
13.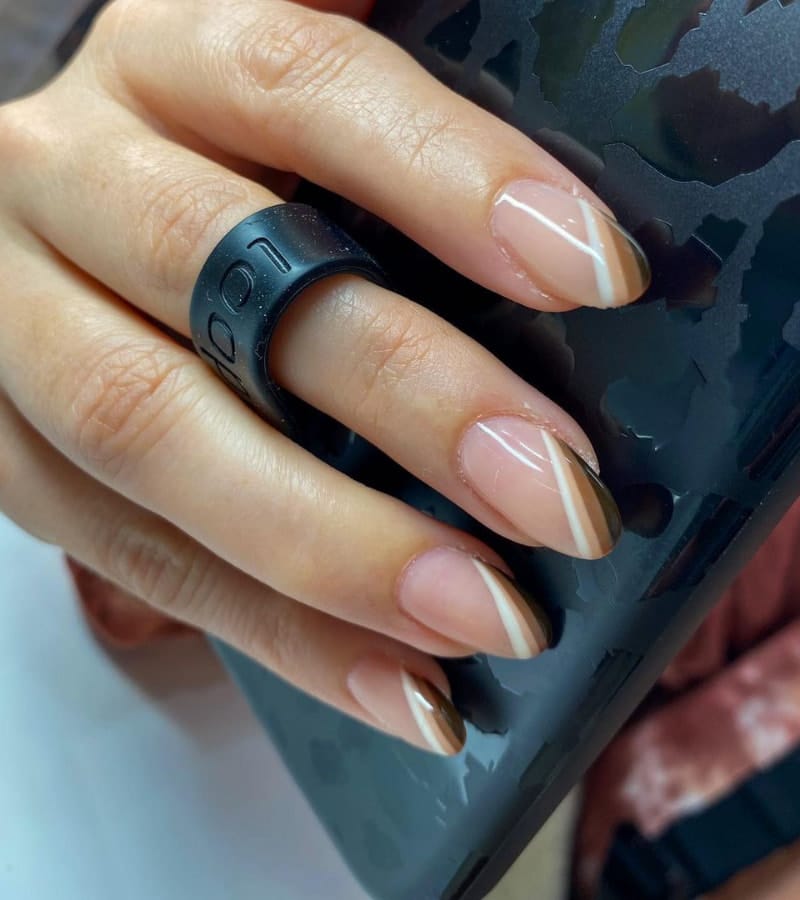 @yes_icanails
Can shades of brown create such appealing nail art? Yes, it definitely can! All you need is to draw diagonal lines of different shades of brown. You can even start it from black and end it with white as given here.
14.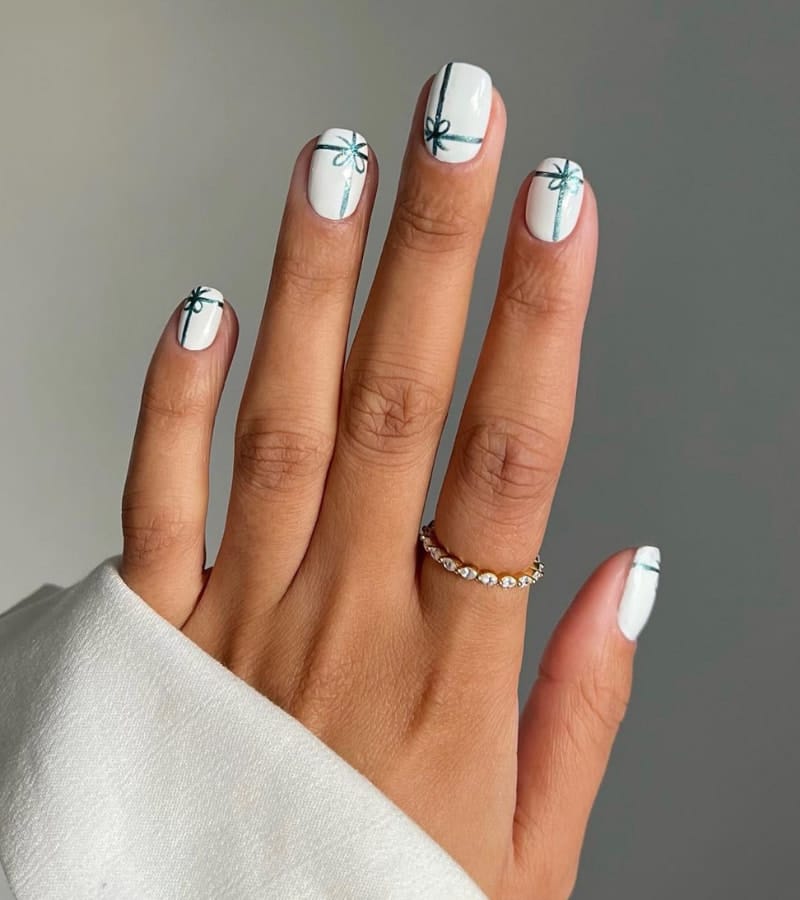 @iramshelton
This is for anyone who needs something simple yet extraordinary. All you need is to paint your nails in white or a simple plain color. Then add two lines and draw a ribbon at the intersection. It will appear as if you have just finished wrapping gifts. This is a perfect idea not only for Thanksgiving but also for Christmas nails as well.
15.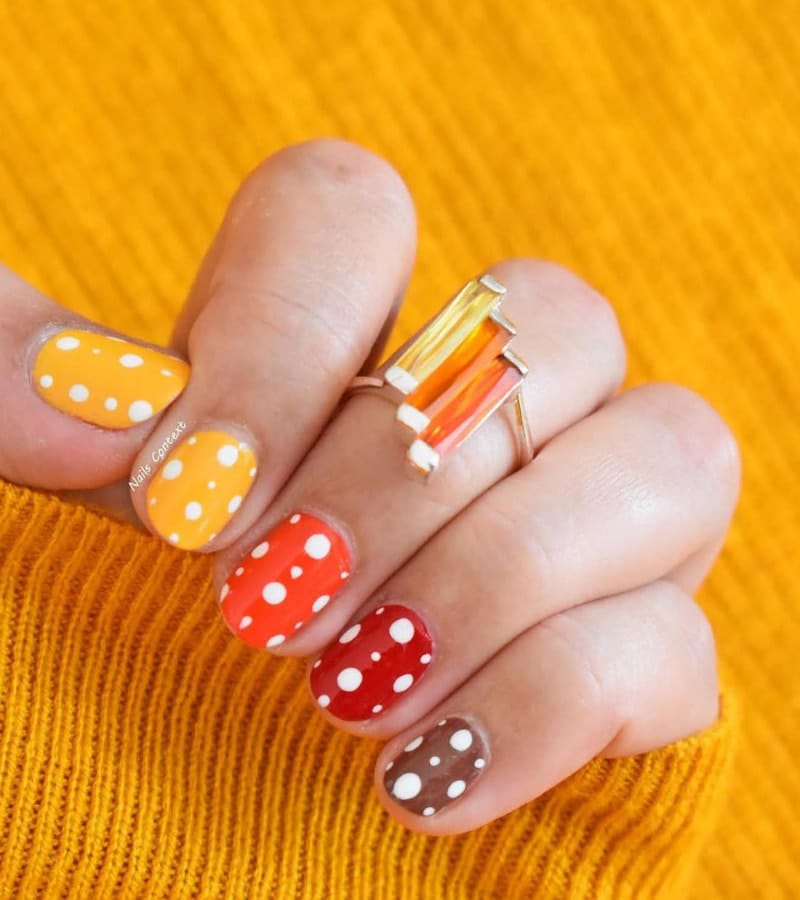 @nailscontext
Try this amazing white dot pattern on your fingernails. You can first color the base of the nails in yellow, orange, red, and brown. Then you can have large and small dots in white or a contrasting color as you prefer. It will be ideal for other casual trips and vacations too.
In conclusion, Thanksgiving nail ideas are a fun and creative way to get into the holiday spirit and show off your style.
Whether you prefer subtle and sophisticated designs featuring warm autumnal hues and simple patterns, or you go all out with bold and playful accents like turkeys, pumpkins, and leaves, there are plenty of options to choose from. With the right tools and techniques, you can easily create stunning Thanksgiving nail art at home, or you can visit a professional nail artist for a more polished and intricate look.