Makeup has now been applied to the nails as well. Nail painting is a fun way to dress up your nails. Technology has made it feasible to wear the designs of one's choice on one's nails nowadays.
Acrylic nails are created by mixing a liquid acrylic solution with a powdered acrylic product to create nail enhancements, according to Nails magazine. Together, the two items make a soft ball that can be shaped into a nail shape.
Let's see some eye catching acrylic nail designs I found on the web.
Disclosure: This post contains affiliate links, which means we may receive a commission if you click a link and purchase something that we have recommended.
1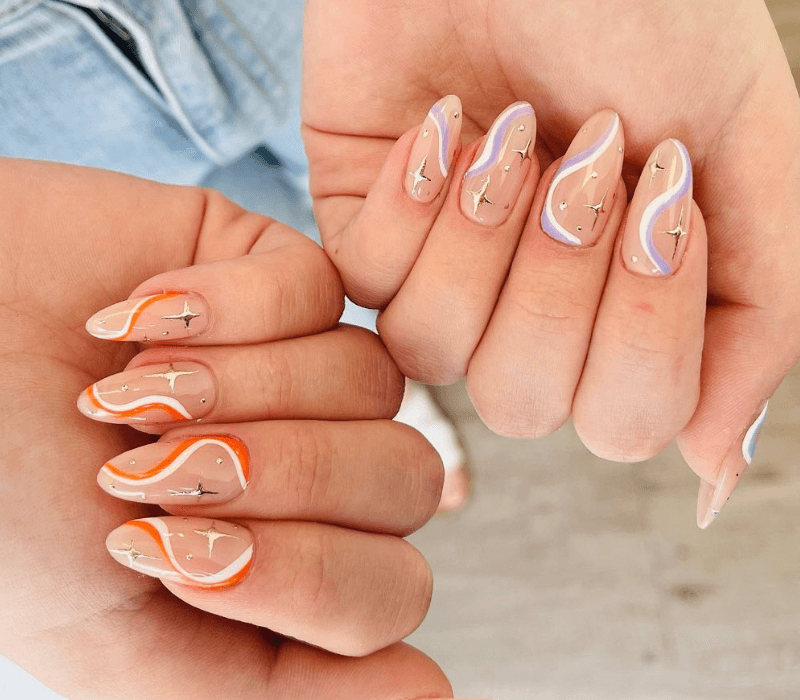 This trendy nail art is designed with two wavy lines along with some side patterns. The lines can be done with two contrasting colors to suit your outfit. It is an ideal design for long or medium-length nails. This simple, yet beautiful nail art adds a sparkle to your fingernails in any function.
2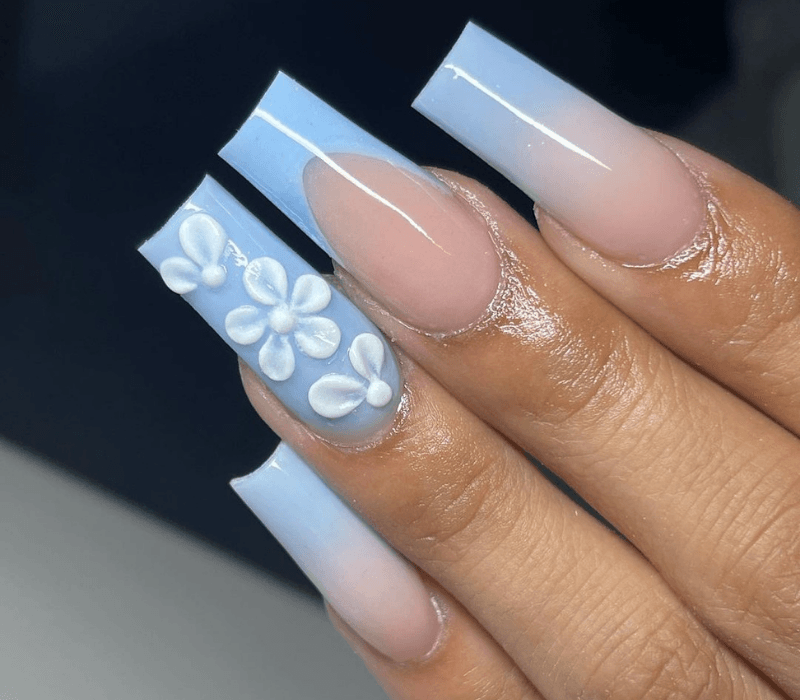 This is the perfect match if you are a fan of stylish, square-edged fingernails. You can blend two colors beautifully with different designs add uniqueness to each fingernail. Floral designs to match the colors will work best in this style. This nail art is ideal to brighten up any special occasion along with your glamorous outfit.
3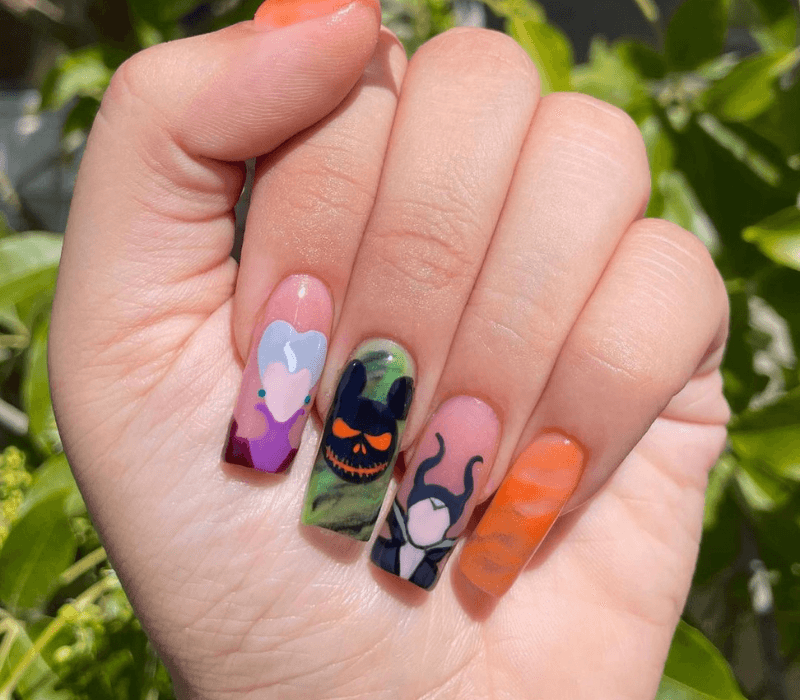 If you are a person who loves contrasting colors, then you are surely in vibe with this nail design. The square-shaped edge increases the attractive look of the fingernails. Different designs are illustrated on each nail with various shades of colors. This design is perfect for bright casual wear and summer outfits.
4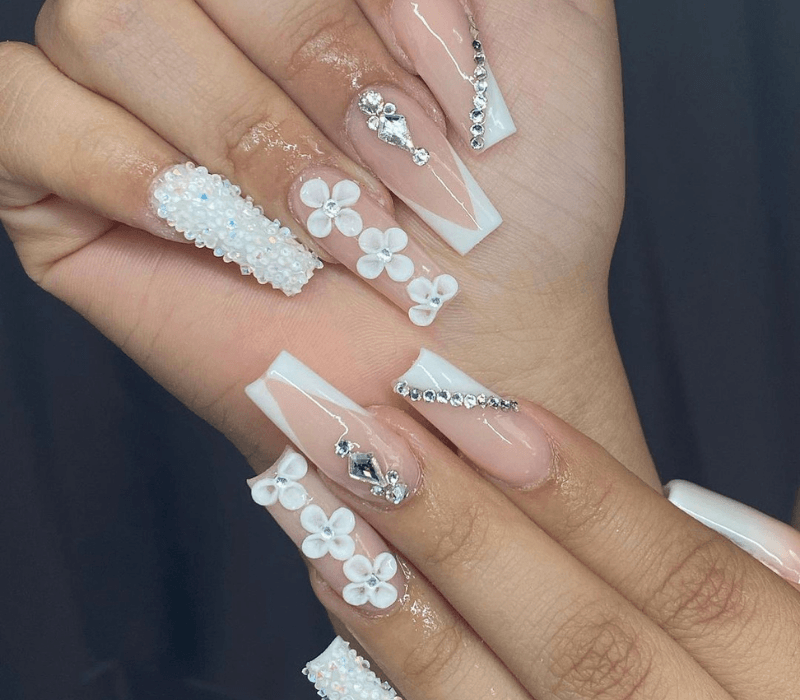 This glamorous nail design is best suited for weddings and similar functions. The floral design with the shiny stones pasted on the nails give a bridal appeal. The neutral color on the background highlights the designs on it. You can try these adorable acrylic nails on your special day to add elegance to the dress.
5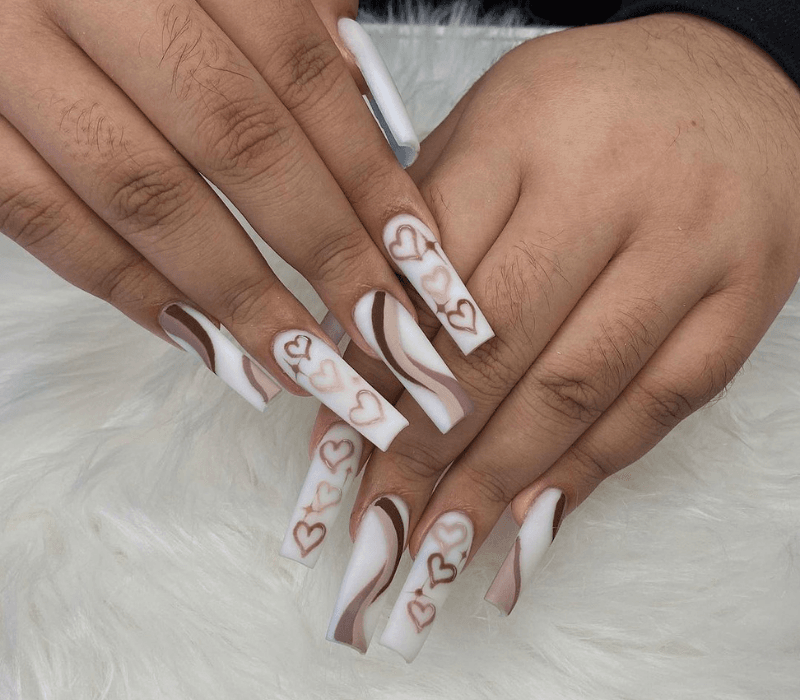 You may be attracted to this beautiful brown nail design if you are a fan of long fingernails. It has a matte finish with alternating designs for each nail. It consists of hearts and curvy lines of matching color on a white background. It will look amazing with dresses and tops that match the color of this design.
6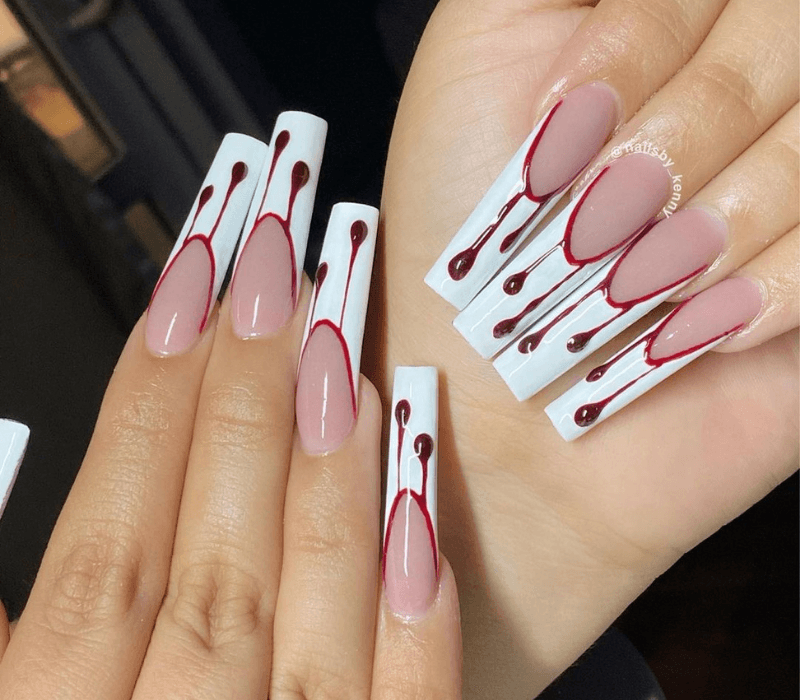 If you are looking for something different, here's the way to go! The rosy color of the base area mimics the color of real fingernails. The extra-long white area has a weird but attractive design that looks more like drops of blood. This can be a great idea to match your Halloween costumes too.
7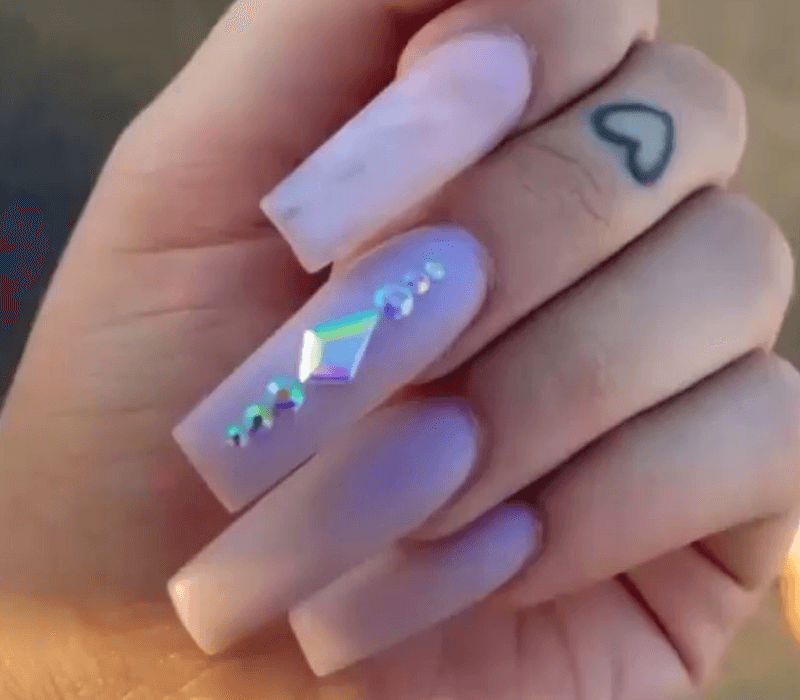 This elegant fingernail design is a good choice for anyone looking for simplicity. The single decoration with ornamental beads brings all the shine and appeal it needs. This is the perfect acrylic nail design for any occasion including day outs and hanging out with friends. I'm sure this design wouldn't disappoint you in any event.
8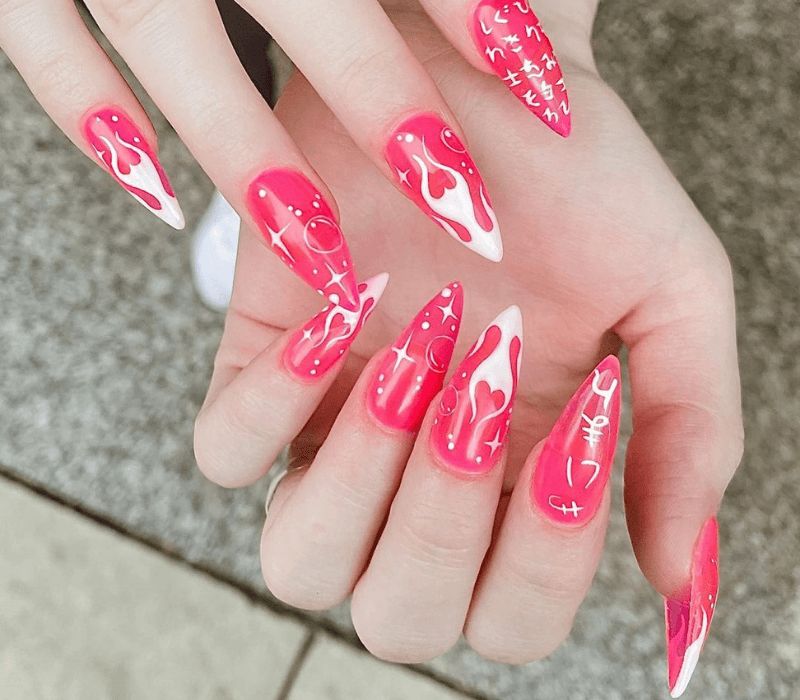 Have you always wanted to try extra-pointed fingernails? Then this nail art is especially for you. The two colors blend beautifully to create various shapes and designs that make them unique from the rest. It is an ideal nail design idea for special functions to show off your beautiful nails matching your favorite dress.
9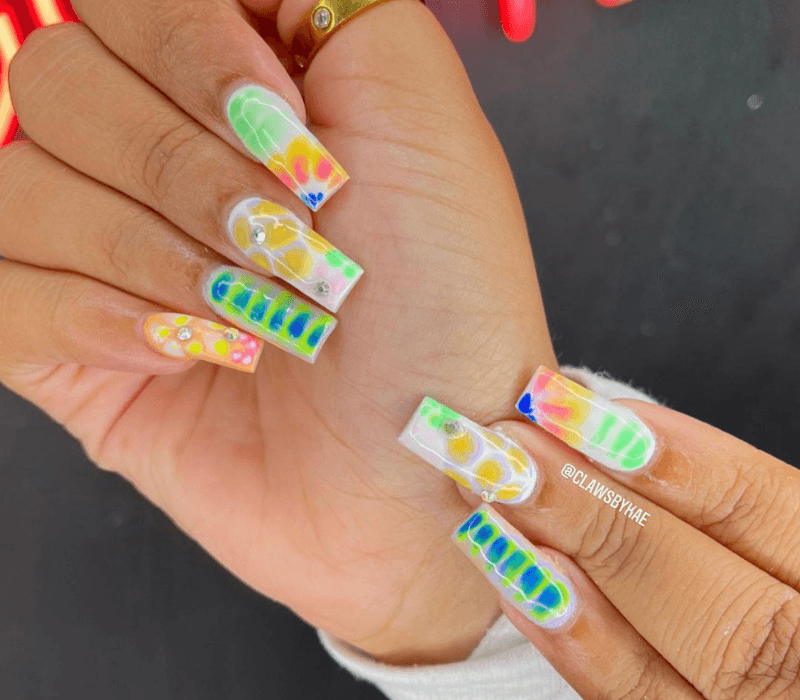 This fingernail art gives a light and carefree vibe to match the mood of spring. It will look perfect with casual wear as you go shopping on the weekends. The various colors are blurred beautifully to create the softness of the design. I recommend you to try this nice design with your denim attire this season.
10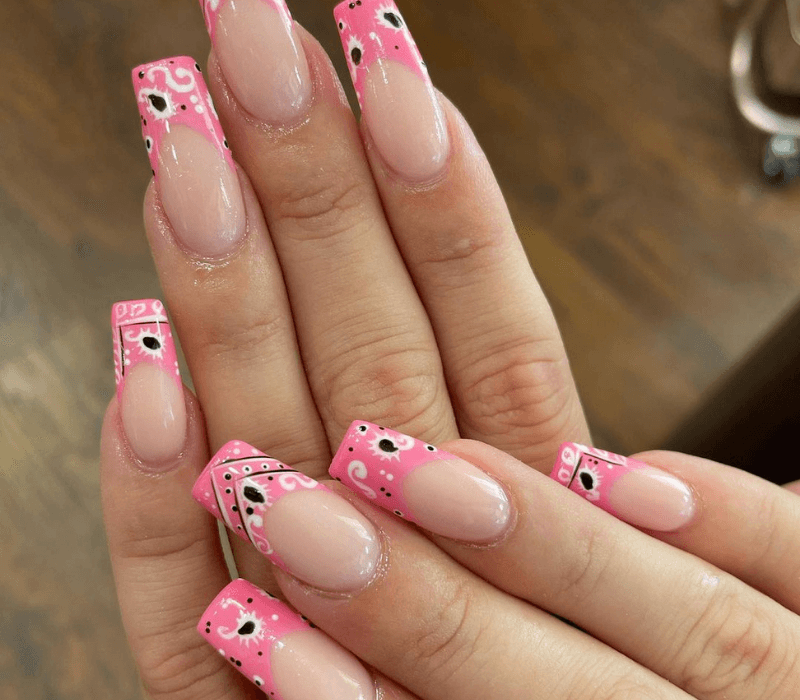 If you are looking for something stylish and simple, you can try this nail design. The design is limited to the outer part from the finger. It has beautiful black and white designs on a pink background. This elegant nail design is ideal for any occasion as it shows off your fingernails almost as they really are.
11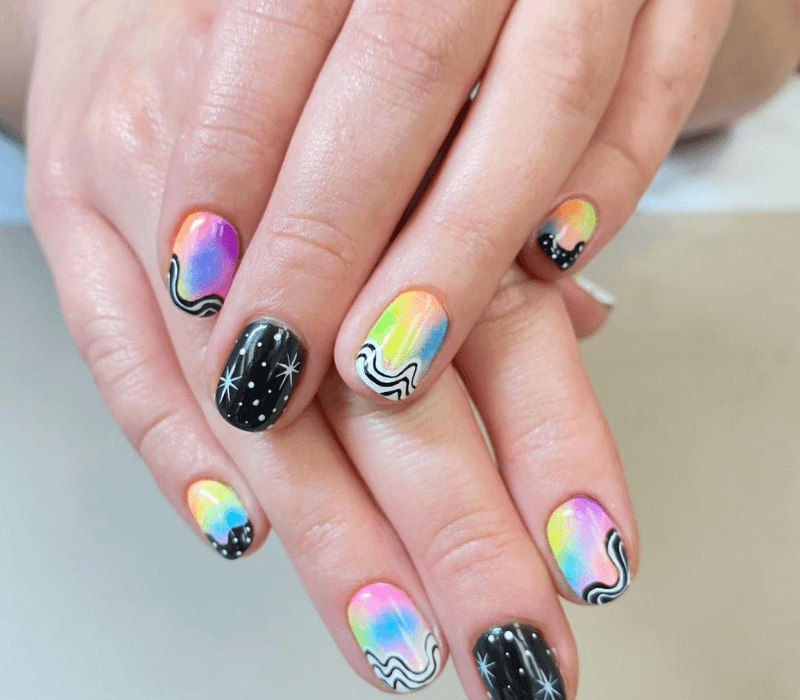 Sometimes we all prefer short fingernails over long ones as they are more comfortable. This design idea is especially for this scenario to suit short nails. It has a combination of contrasting colors as well as black and white in different fingernails. The design is very attractive making the viewers forget the length of the nails.
12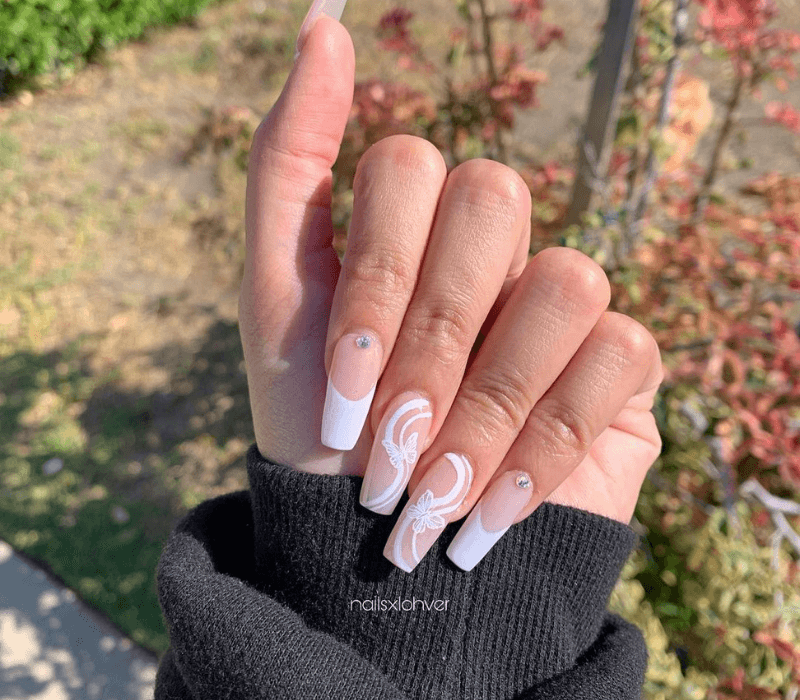 This is another simple fingernail design that is suitable for all events including special functions. Each nail has a different design but matches the overall theme of the art. It has a base of neutral color and the art is in white along with a few sparkling studs to add shine to the nails.
13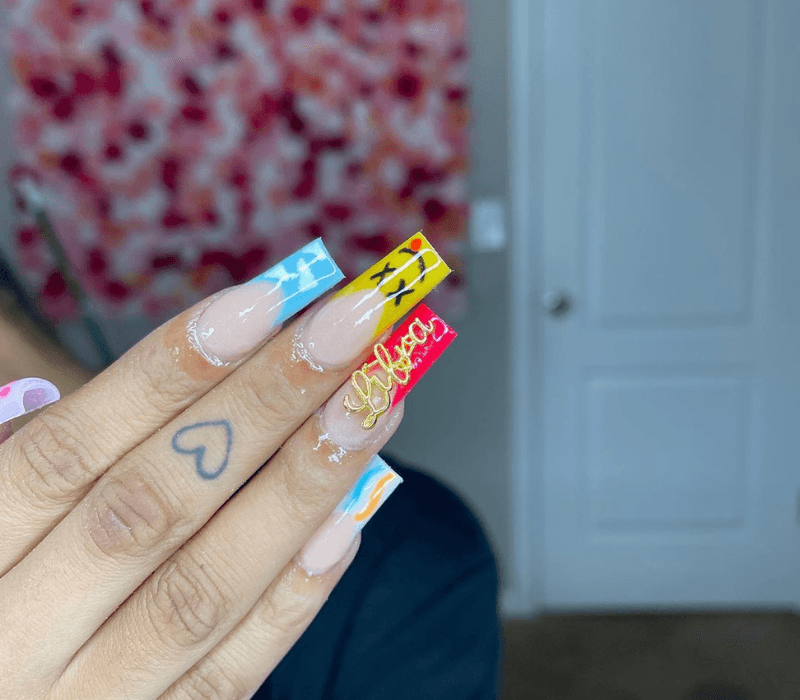 Here's another attractive nail design that gives off a candy vibe. It is ideal for casual wear and can also suit parties. As the nails come in different colors you can wear any colored outfit with this. You can try this beautiful design idea for your next event and show it off to your friends!
14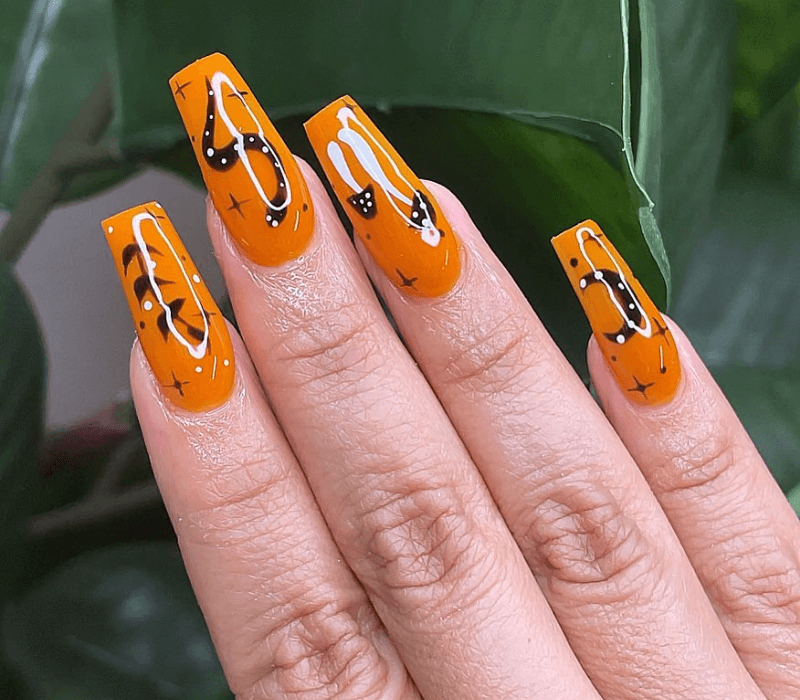 If you need unique nail art to match the color of your outfit, you can try this trendy design. You can choose a base color of your preference and get it designed with a contrasting color. Its shiny texture adds glamour to your dress while making everything more attractive. So why not try this beautiful design soon.
15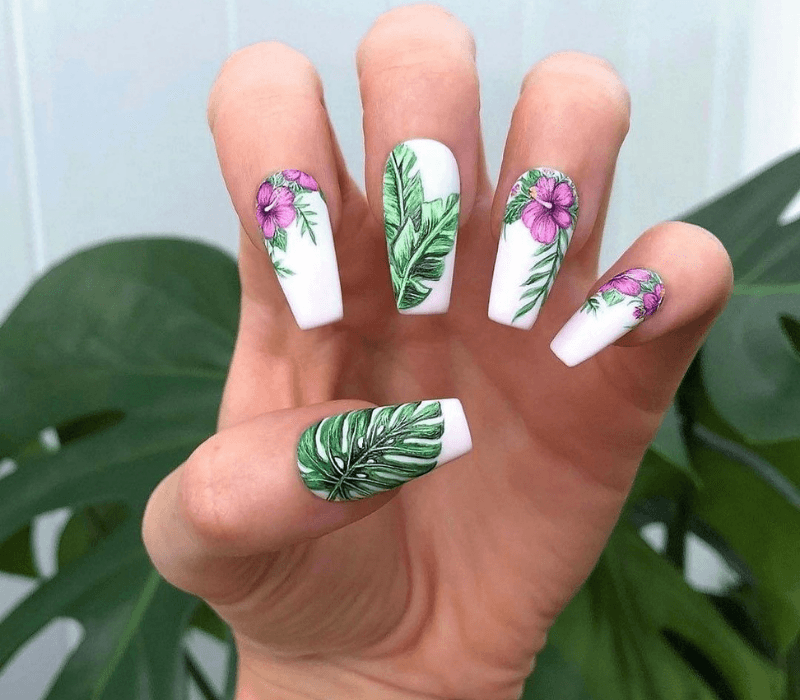 This is an elegant nail art designed with beautiful flora and matching leaves. It brings a tropical vibe to your fingers and suits a dress of similar nature. It is ideal for special occasions where you need to have a unique theme to stand out from the rest. This extraordinary nail design will not take long to catch the attention of many.