Ombre nails have been popular for some years and are still popular. I adore Ombre nails since there are so many different styles to choose from. Ombre nail art may be done in a variety of colors and designs.
Consider these fantastic blue Ombre manicure designs if you want to add some color to your Ombre nail art. Most significantly, there are no seasons with blue Ombre nails.
If you like blue nails, you'll adore this. I've gathered 16 of the loveliest blue Ombre manicure designs for you. Feel free to save these photos to your phone.
Also read our previous article on Pink Ombre Nail Art Ideas.
Disclosure: This post contains affiliate links, which means we may receive a commission if you click a link and purchase something that we have recommended.
1.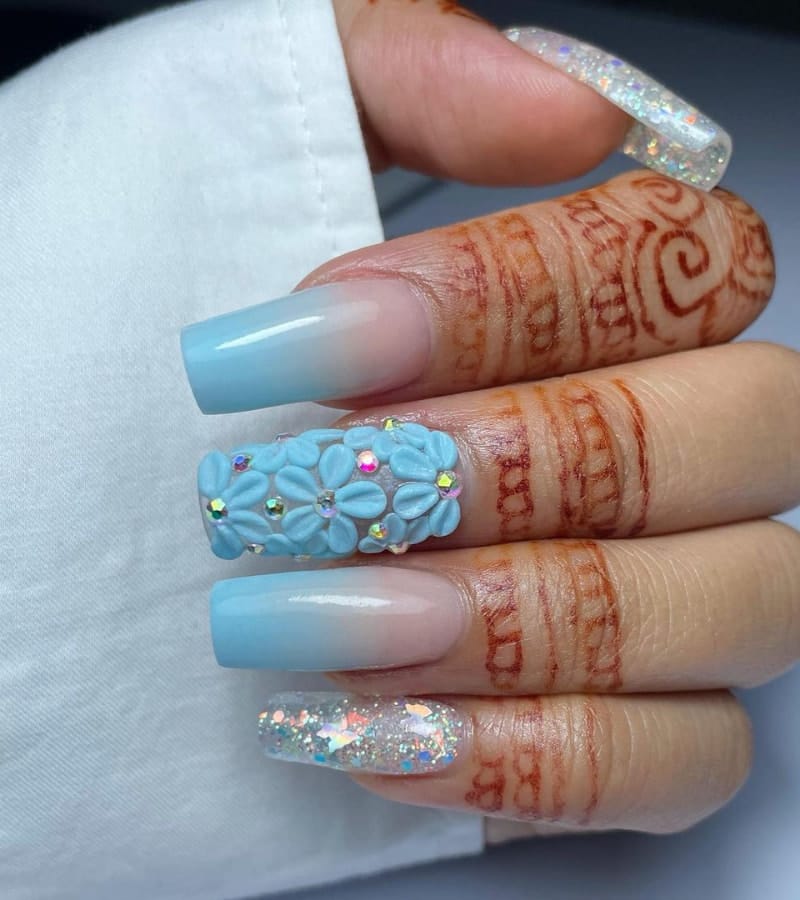 @minniesnails
Let's start off with this beautiful nail design which is a perfect way to style your nails. If you are a fan of blue nails, you can shade your nails gently and add some ornaments to create a floral design. You can also have glittering blue nail polish to add more sparkle to your nails.
2.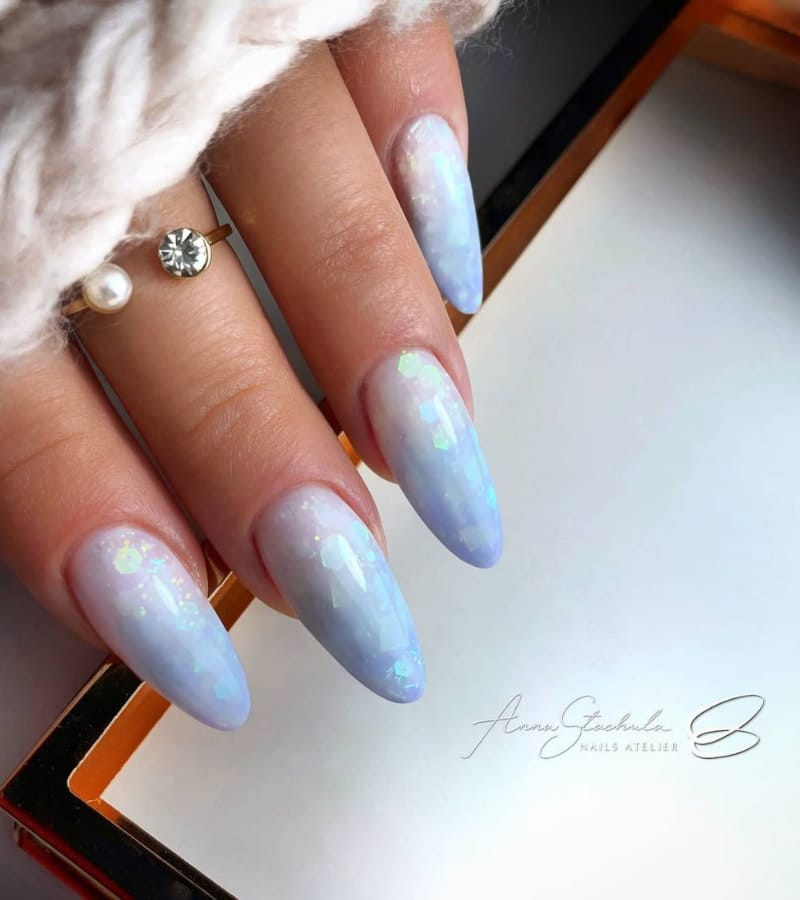 @_annails_s
This light blue nail design is ideal for the winter season. It resembles snow with the slight glitter here and there. So if you are looking for some new Christmas nail designs, this is one of the best you can try. It will look amazing on almond nails and even on short nails.
3.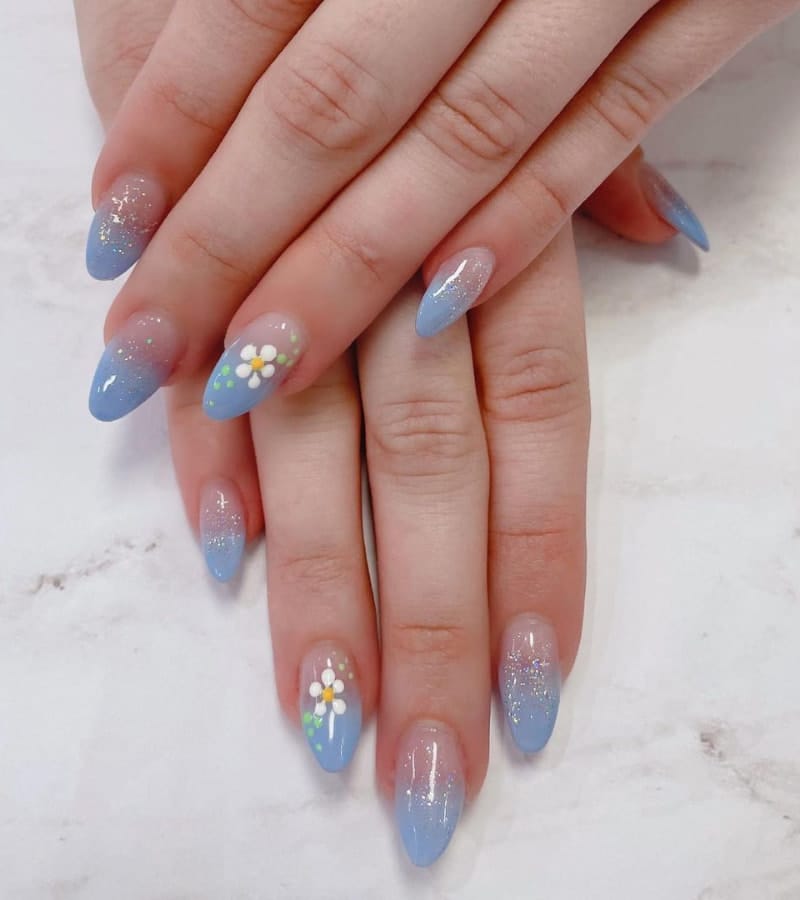 @topnotchnails_az
Here's something cheerful to bring about the merry vibe of any season. The design is of neutral color shaded into a light shade of baby blue. Add a coat of glitter and some floral nail art on the nails. I'm sure this will be one of the best designs you have had so far.
4.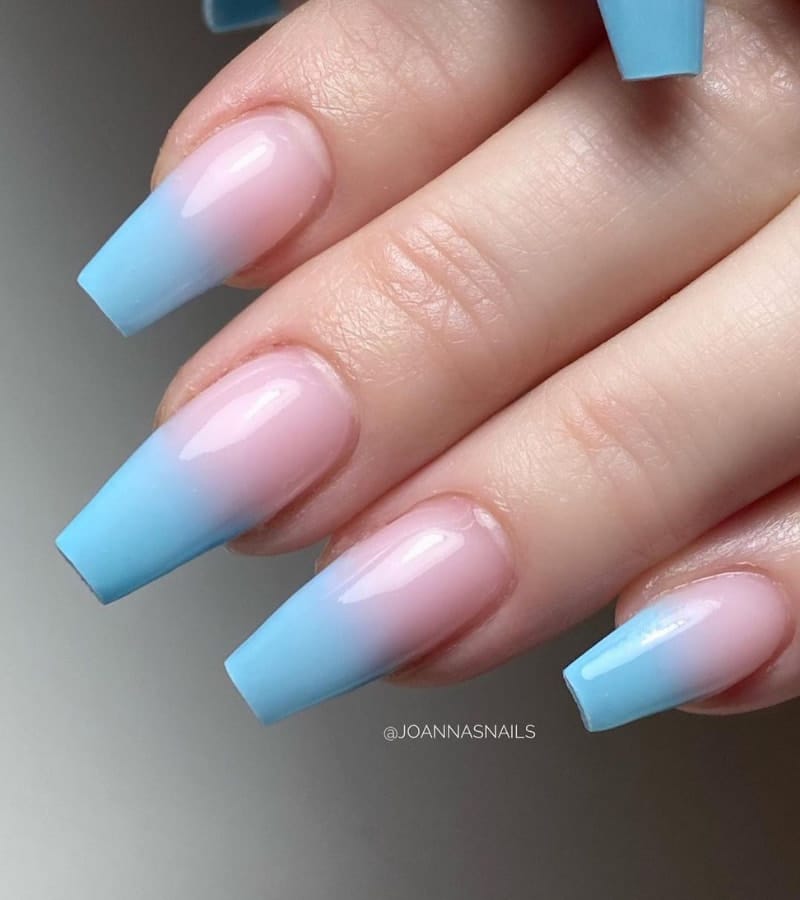 @joannasnails
An ideal blue Ombre nail art idea for neat freaks! From the first sight itself, you can imagine how neat and tidy the fingernails appear to be. This is more like a gentle shading from light pink to light blue. You can have this nail design idea on any shape of fingernails.
5.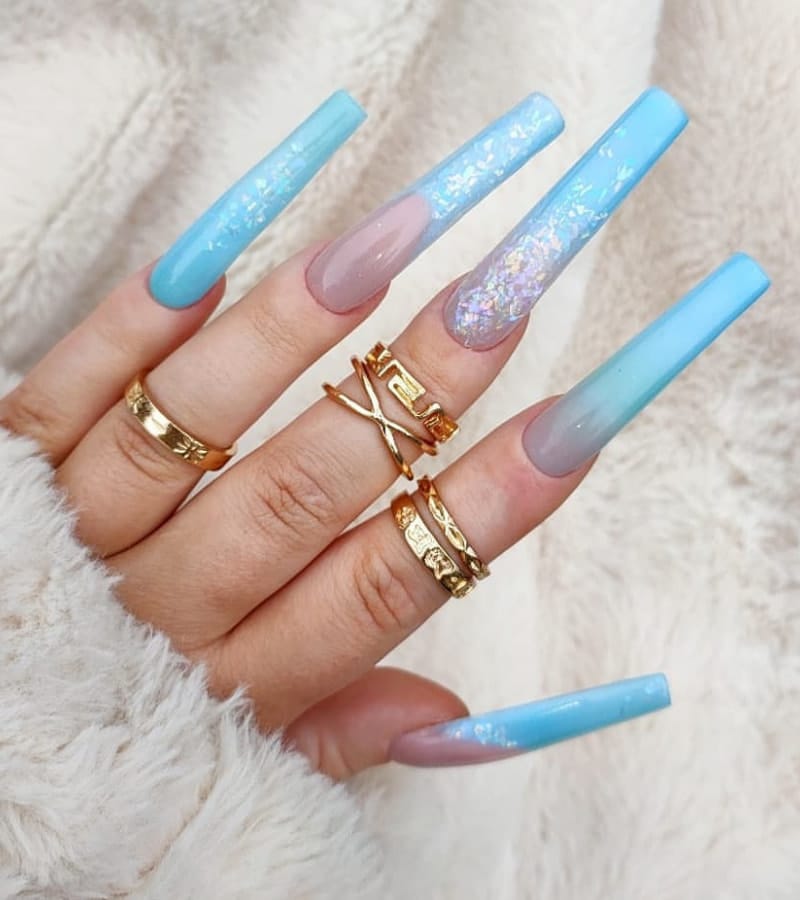 @smooch_nailsandtraining
Some people are fans of long stiletto nails as shown here. They can try decorating the fingernails with an amazing hue of blue. Mix it with a shade of purple to match your outfits and add some glitter to the top. It will be a perfect idea for special functions and parties.
6.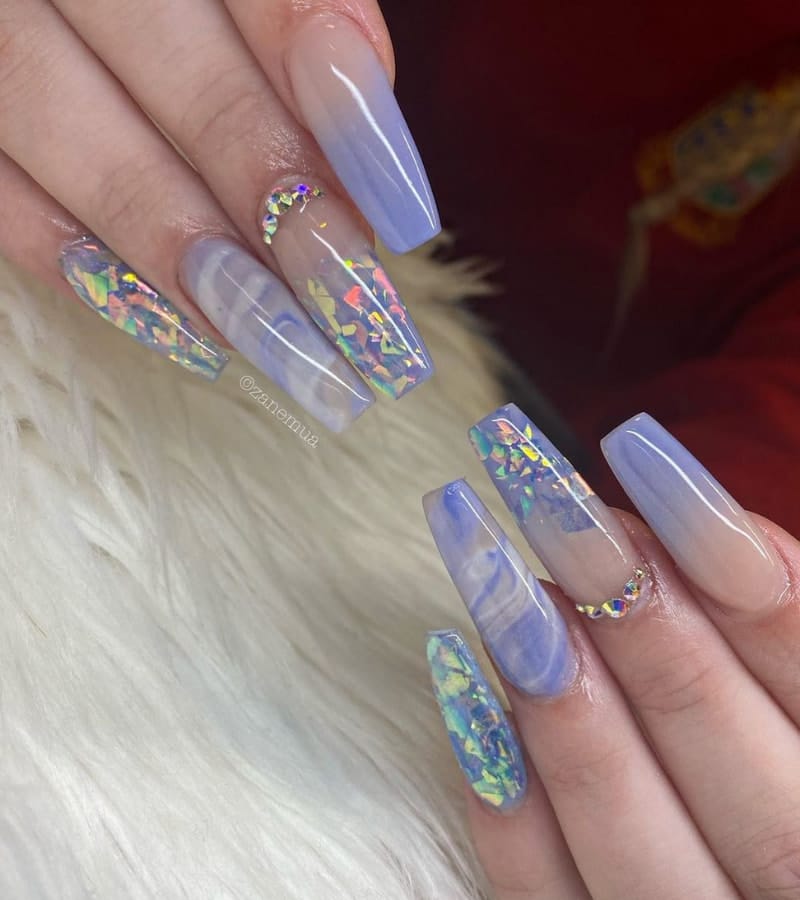 @zanemua
This is another glamorous design that I personally love a lot. The shade of blue and the colorful design make it unique from the rest. To add more diversity among the fingers, you can add different designs on each nail as shown. A neutral base color would work best with this style.
7.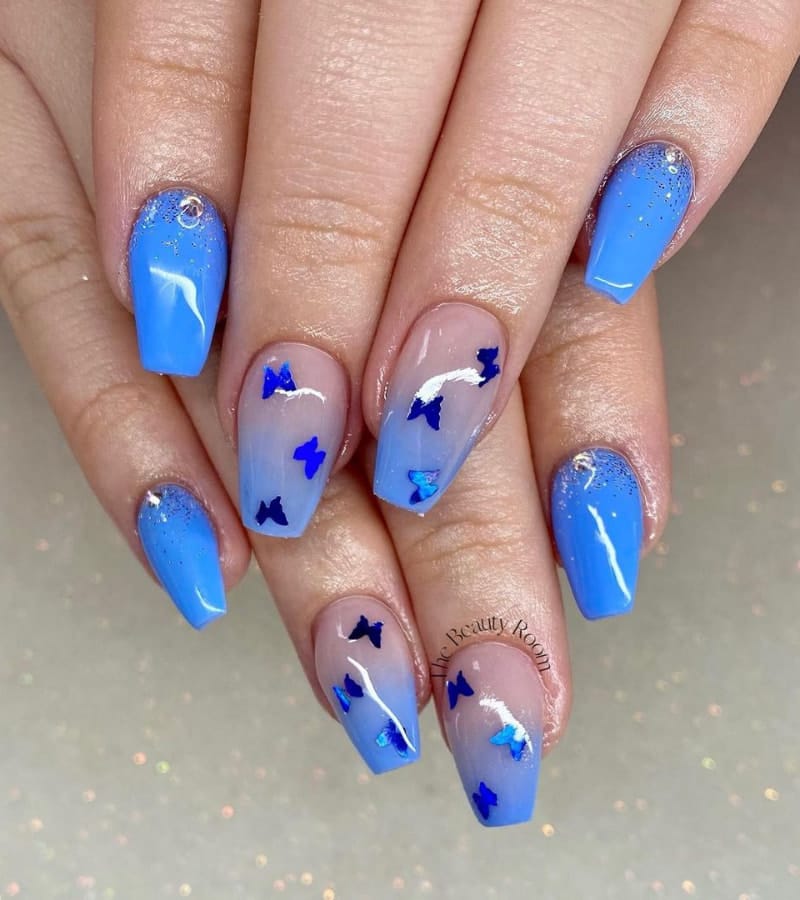 @the_beauty_room_ely_
If you need a bright blue nail design, this will be something you like. The blue Ombre design can be used for two or more nails while you color the rest in plain blue. Add some matching decorations such as ornaments and studs to make it even more appealing.
8.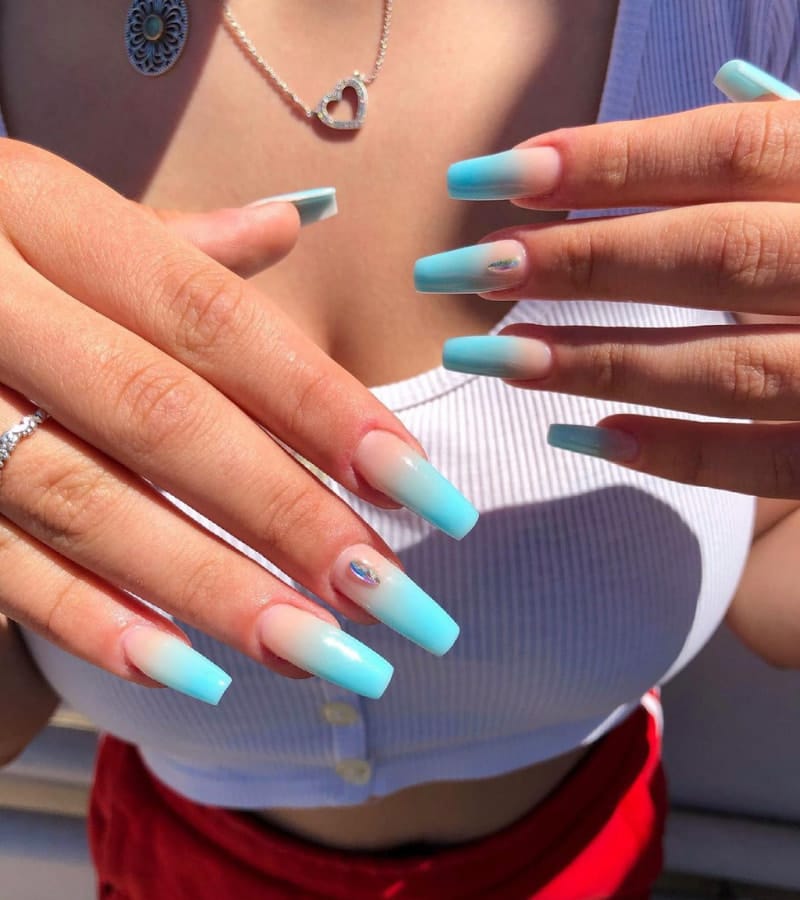 @despoina_koliniati.nails
In this nail design, there is a longer area for blue rather than a neutral color. The specialty is the gentle blend of the two colors. You can add studs not only for one nail but for a few or all depending on your personal choice.
9.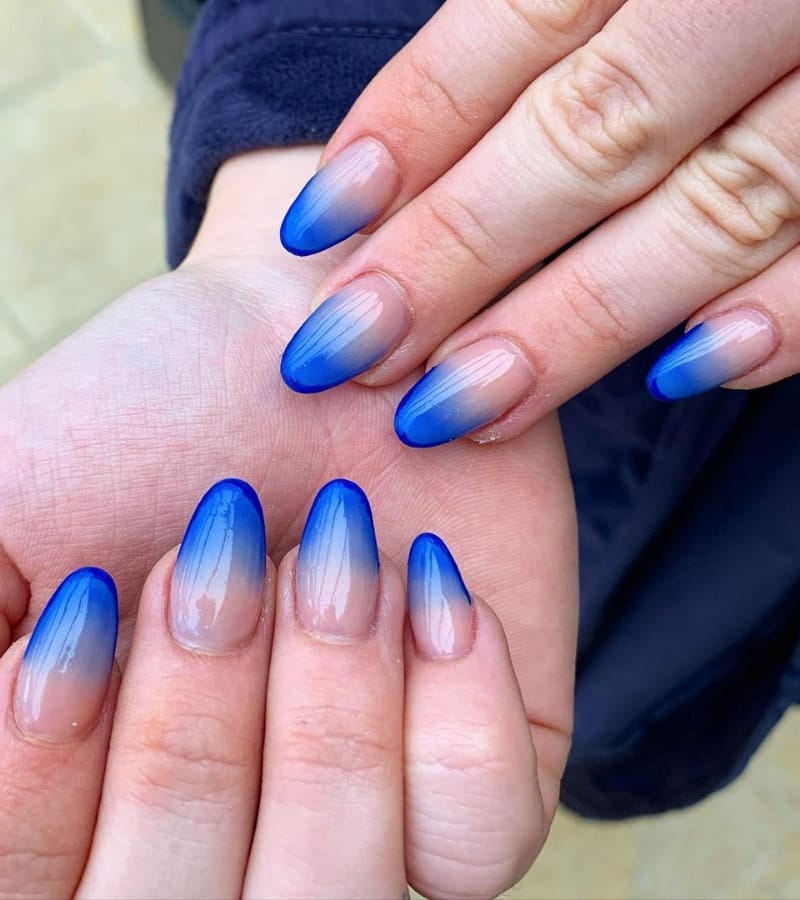 @_vipnailclub_
Yes, darker shades too can be used for blue Ombre nail designs. This shows how attractive it will be when you shade a bright and dark blue to a natural base color. This is a perfect way to style your nails for casual wear, especially with your denim attires. The length of the nail doesn't affect the beauty of this.
10.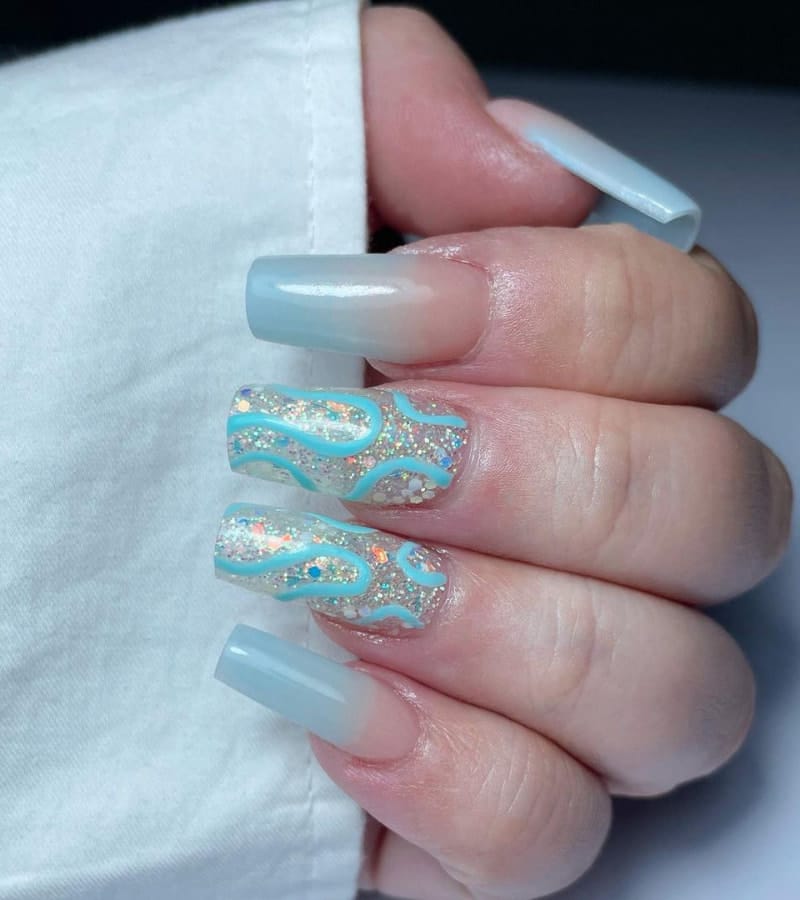 @minniesnails
A wintery feel with a light shade of blue shaded towards the base. To prevent the uniformity of all nails, you can add more glitter to a few nails. Decorate them with tiny ornaments and floral studs. It is suitable for both natural and acrylic nails.
11.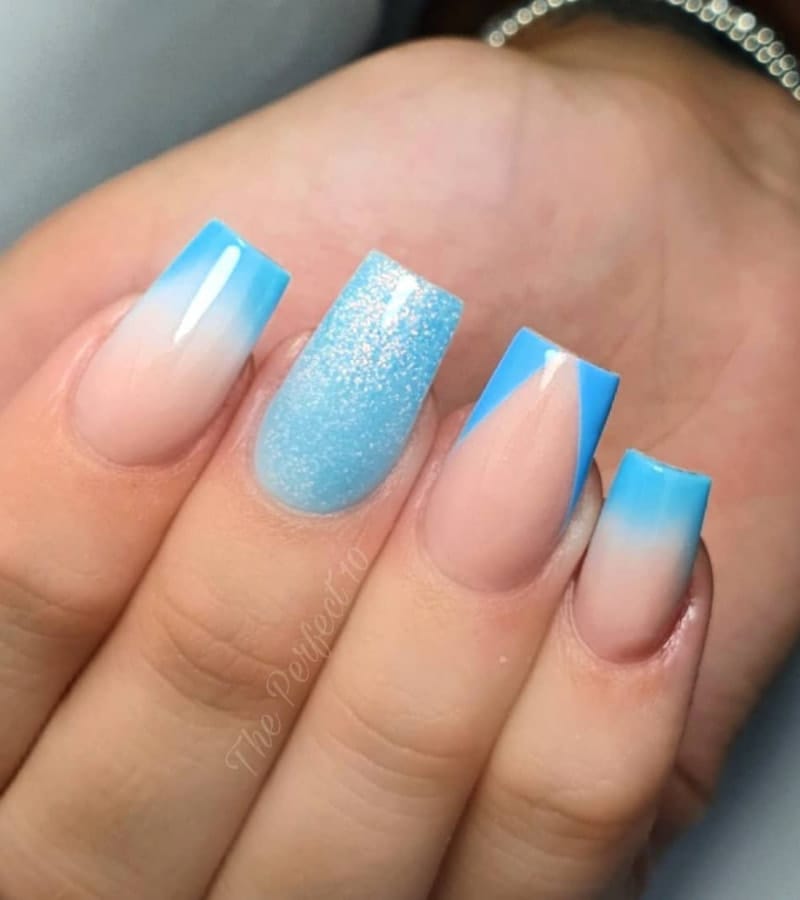 @michaellamazzone
Having different designs for different nails is also a perfect way for your nails. The Ombre design can be made by shading the blue to the base color. You can also color one nail with glittering blue and another nail diagonally. It will make the design special from the ordinary ones.
12.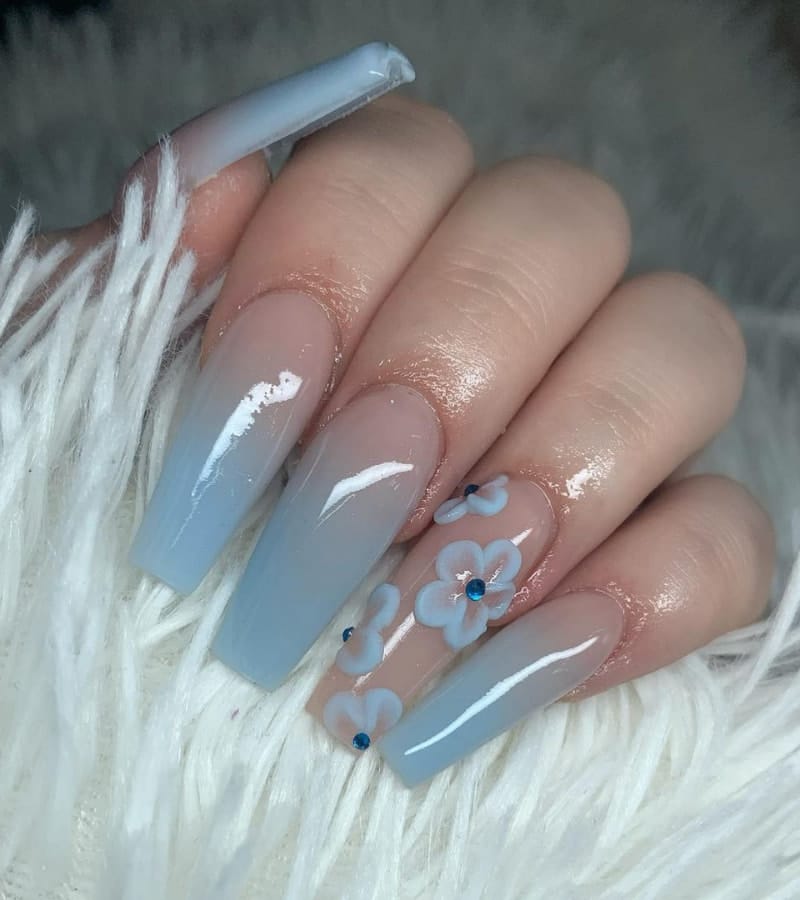 @nailswithmelissa_x
Another nail design idea for your acrylic stiletto nails. The floral design on the ring fingernail is remarkable with the dark blue stud in middle. Since you are making this design on a long fingernail, you can increase the shape of the flowers to match the room.
13.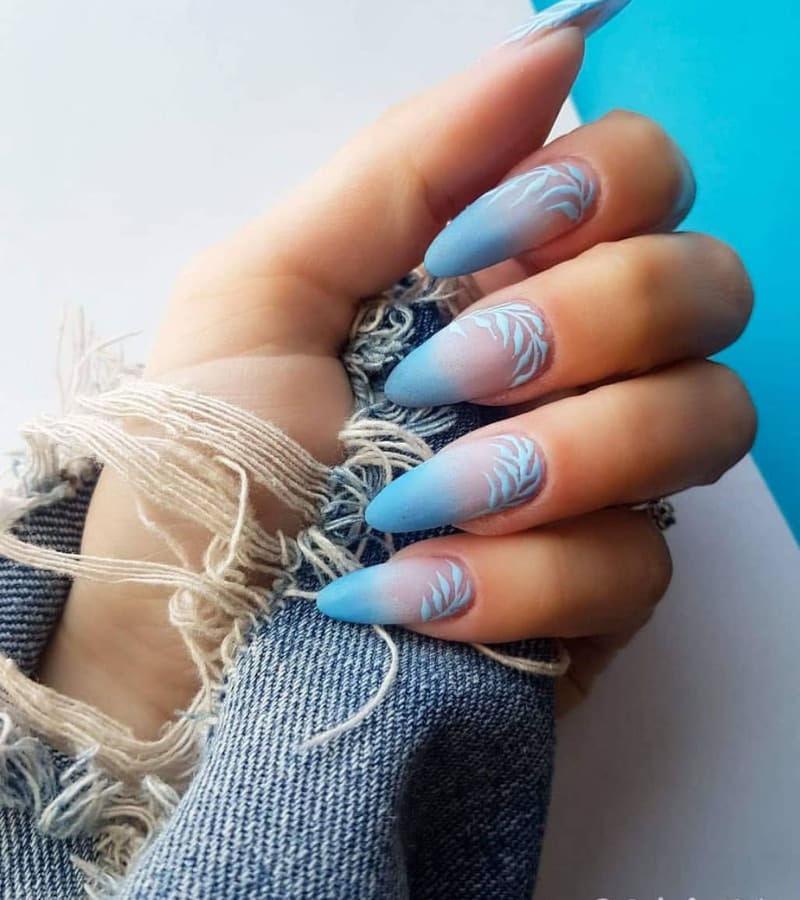 @sbeauty.sylwia
This almond nail design idea is sure to attract the eye of anyone from the first glance itself. The mild twig design on the base of the nail makes it very appealing. It's a simple yet elegant way to decorate your nails for any special occasion. Ideal for both casual and functional events.
14.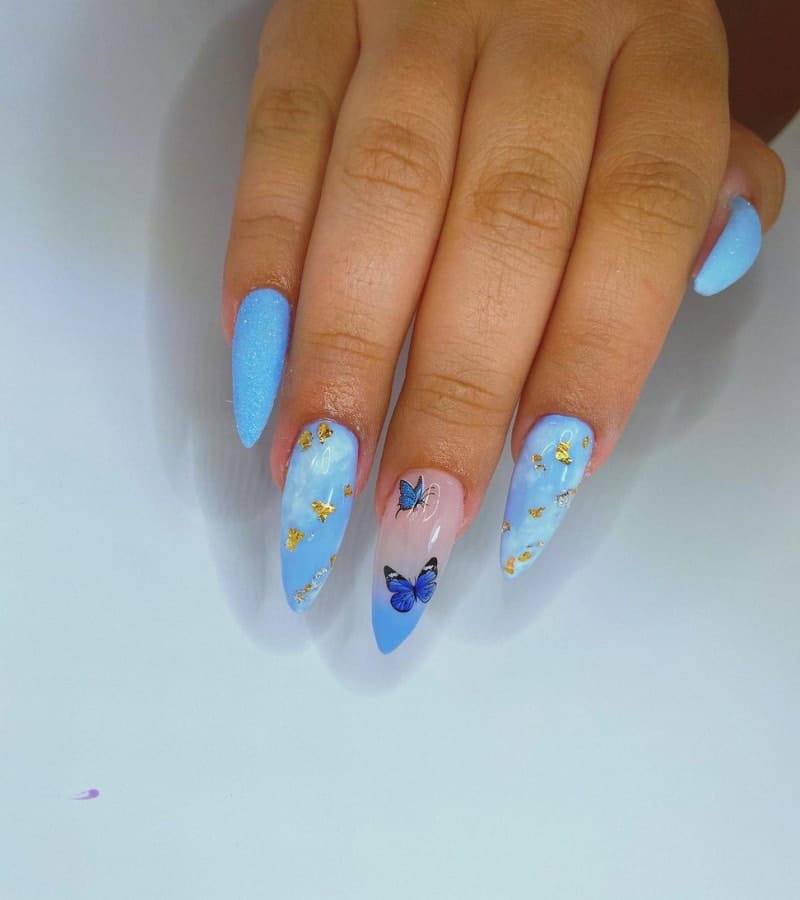 @gossip_nails.skg
A beautiful nail design resembling butterflies in a blue sky. You can have glittering blue nail polish on some fingers while you add butterfly studs on the others. Pink and blue Ombre nail art will also look good on some nails.
15.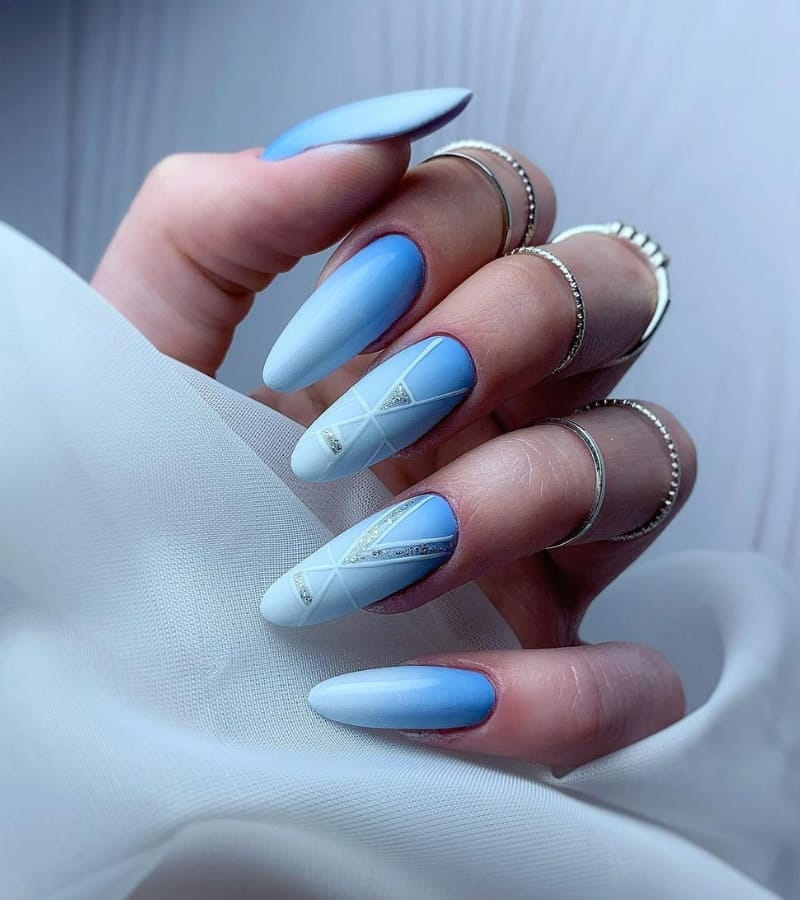 @aangelika_nails
Here's a light shade of blue almond nails eventually turning into white at the tips. Add some geometric lines on some nails and color the intersections with another shade of blue. You can wear these nails for work and other formal occasions.
16.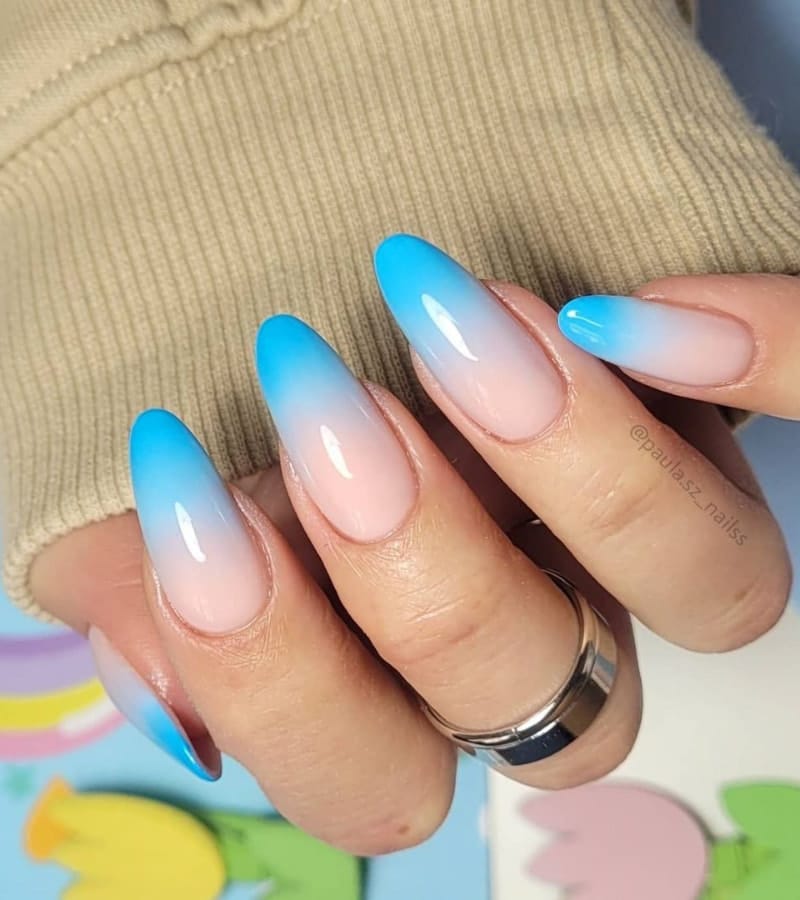 @paula.sz_nailss
The way these nails are colored with gentle shading is really eye-catching. The tips of the nails are in a bright blue while the base color is shiny. It will be a good design idea for you to try on your short nails as well.
In conclusion, blue ombre nail art is a trendy and stylish way to add some color and dimension to your nails. From deep navy and royal blue shades to pale pastels and shimmering metallics, there are countless variations of blue ombre nail art to choose from.