The practice of placing a wreath on the main door dates back to ancient Rome. Thanksgiving wreath ideas include a lot more than just a warm greeting on your porch.
While Thanksgiving is a day for families to converse and interact, having a wreath at home is a terrific way to greet your visitors for Thanksgiving meal. The majority of these wreaths are quite simple to construct with basic craft supplies. You may engage your children in this project by assigning them the duty of creating lovely Thanksgiving wreaths.
With one of these lovely Thanksgiving wreaths, you may welcome your visitors into your house. Feel free to save to your phone. Let's begin.
Also read our article on Thanksgiving Nail Ideas
Disclosure: This post contains affiliate links, which means we may receive a commission if you click a link and purchase something that we have recommended.
1.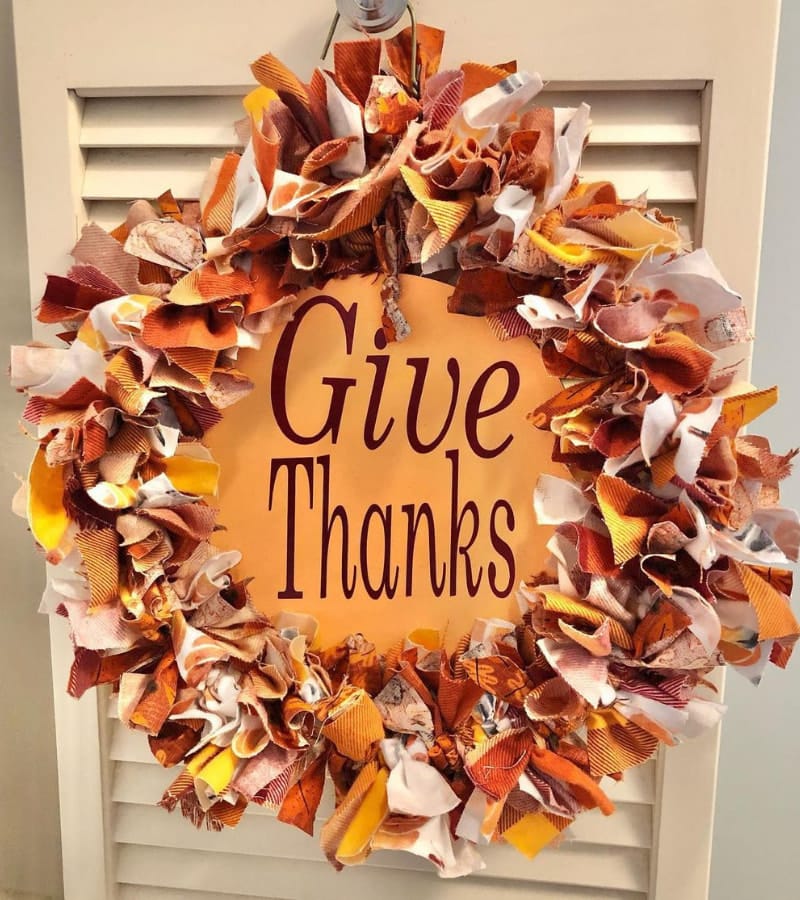 @nauticalmomdesigns
Let's start going through Thanksgiving wreath ideas with this colorful design. I think this will be one of the easiest designs you would come across. All you need is some pieces of cloth to match the colors brown, orange, yellow, and white. You can then arrange them around the board in the shape of a wreath.
2.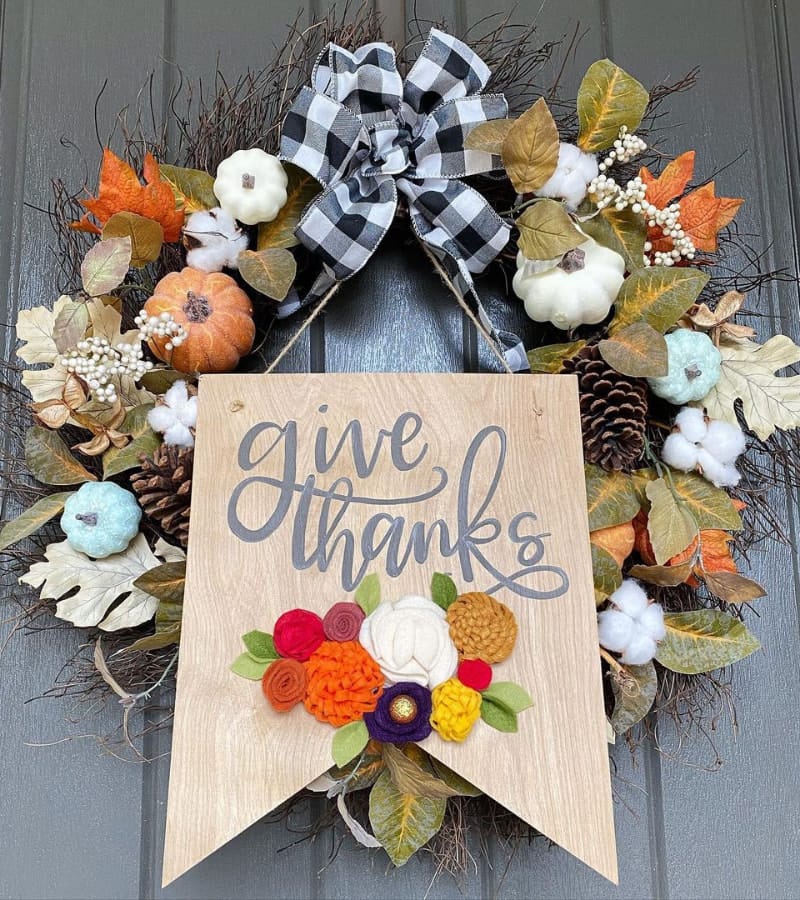 @tfchome
A beautiful thanksgiving wreath designed with fabric pumpkins and dry pine cones. Adding dry leaves and evergreen twigs gives this design a touch of nature. You can have a chequered cloth ribbon of any color at the top. This attractive wreath brings an overall rusty nature to your door.
3.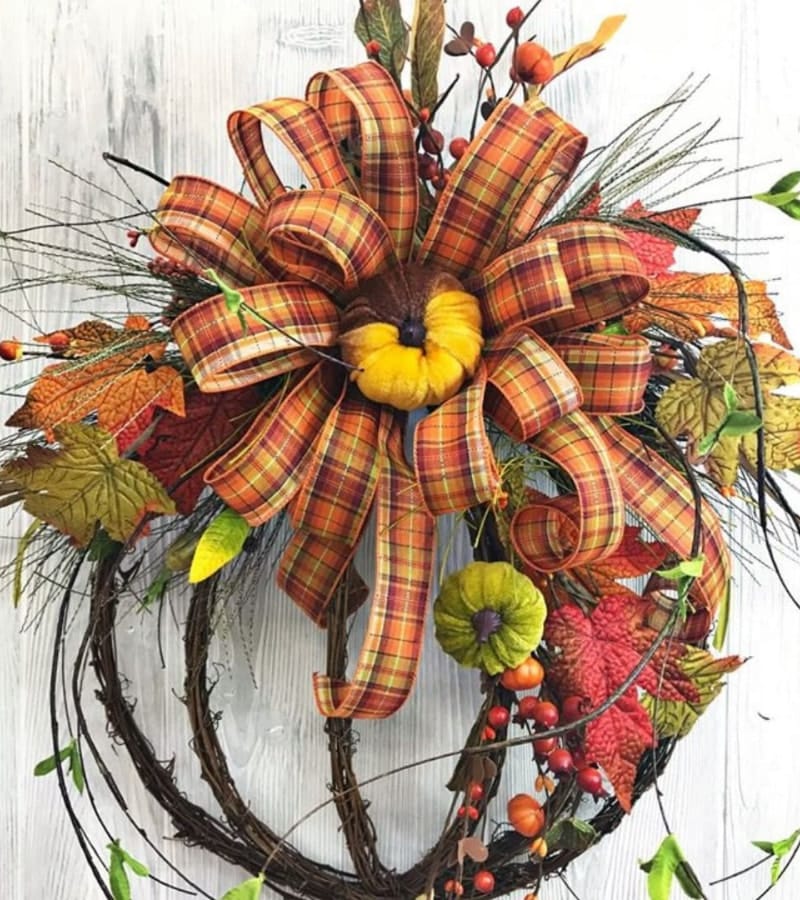 @keleasflorals
This is not something you would see very often among thanksgiving wreath ideas. Beautiful cloth ribbons arranged as a flower decorate the top area. Dry maple leaves and fabric pumpkins bring the grace of late fall. You can even add some wild berries to bring more color to this.
4.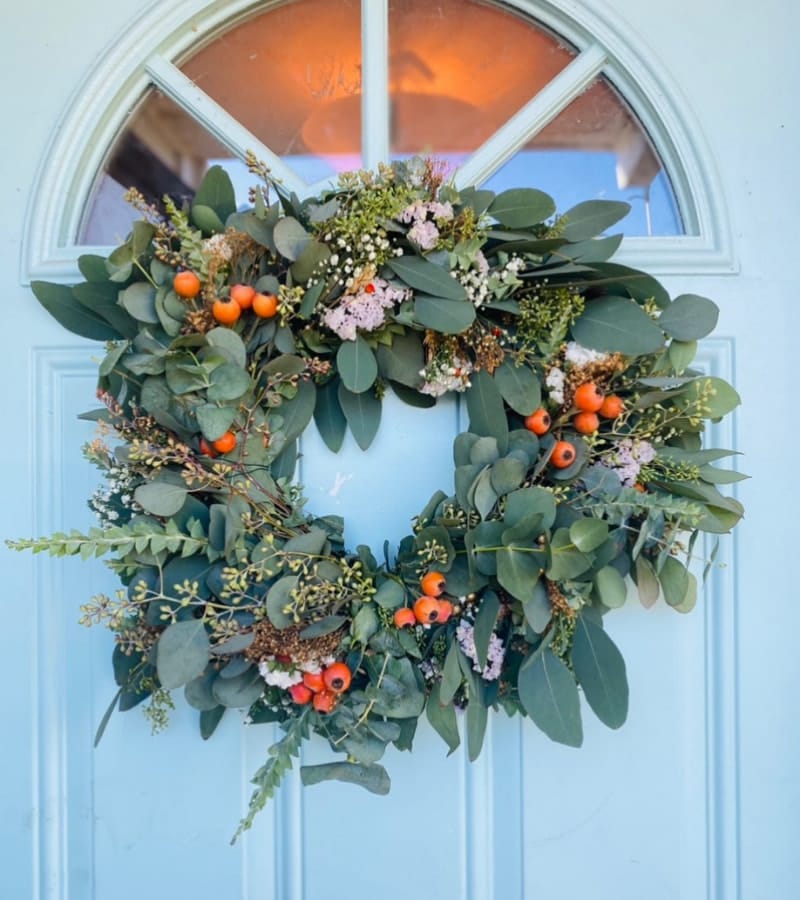 @pixiepopups
It's all about nature! Greenery is a rare sight in the pre-winter season. But some areas have enough fresh leaves and twigs for you to try this. Add some tiny flowers and shoots along with some berries to complete the wreath.
5.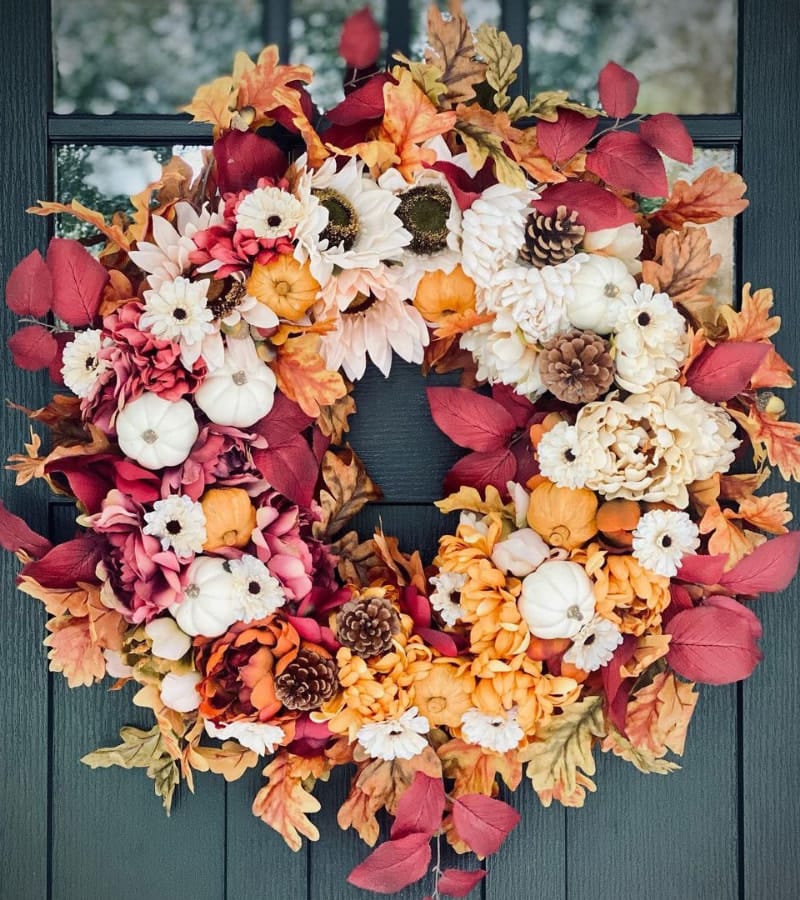 @handcrafted.by.evelyne
Different leaves turn out to be of different colors as they dry. This is a perfect example where there are red and orange leaves. You can also add some white flowers in addition to the white and orange pumpkins. So the final outcome of this wreath is limited to these few colors.
6.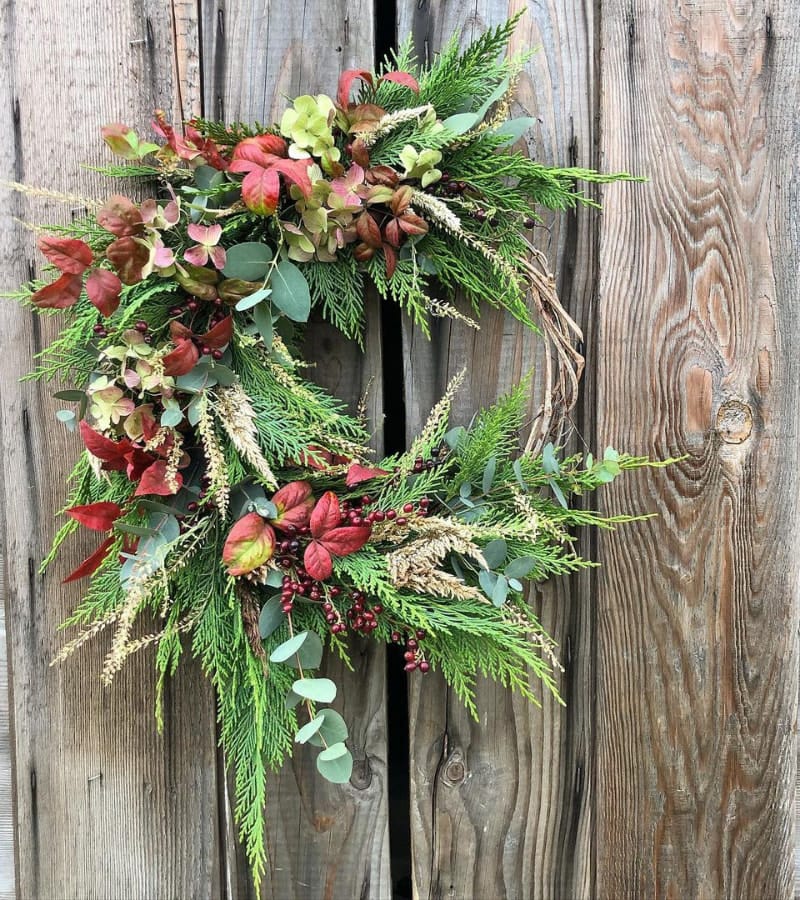 @petalpinkflowers
If you need a lively look on your thanksgiving door wreath, you would need to add some greenery. Perhaps evergreen is the best option as it lasts longer than normal plants. Then decorate it with some other colorful leaves as shown here.
7.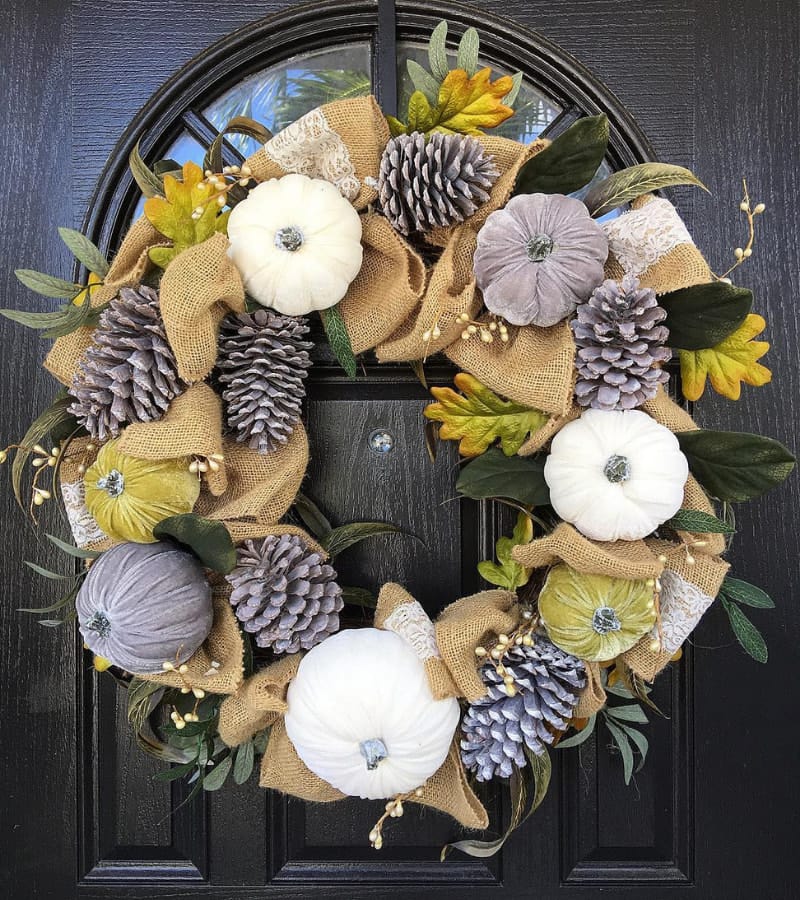 @basilchic
Spraying the pine cones in a silver-white is a great way to add them to your wreath. Then add some hemp rugs and fabric pumpkins for the design. It appears to be more spacious as only fairly large objects are used for this Thanksgiving wreath idea.
8.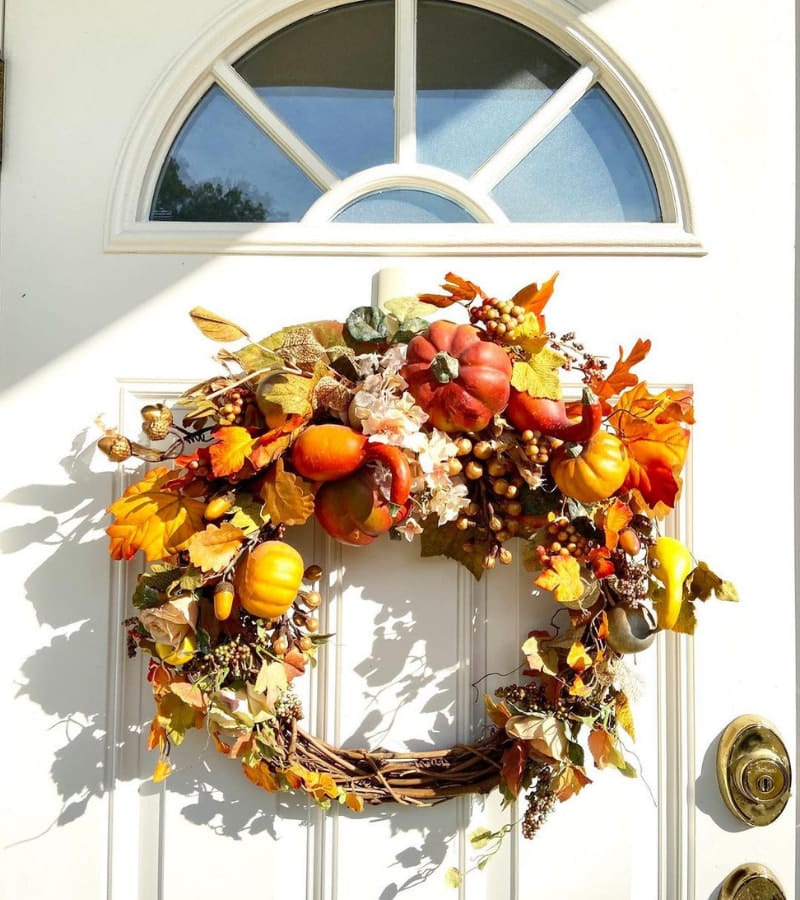 @sugiponkumamoto
This brings the vibe of fall due to its yellow and orange focus. The basic round is made of creepers to make sure that everything has a touch of nature. It includes orange pumpkins, chilies, dried leaves, wild berries, and flowers.
9.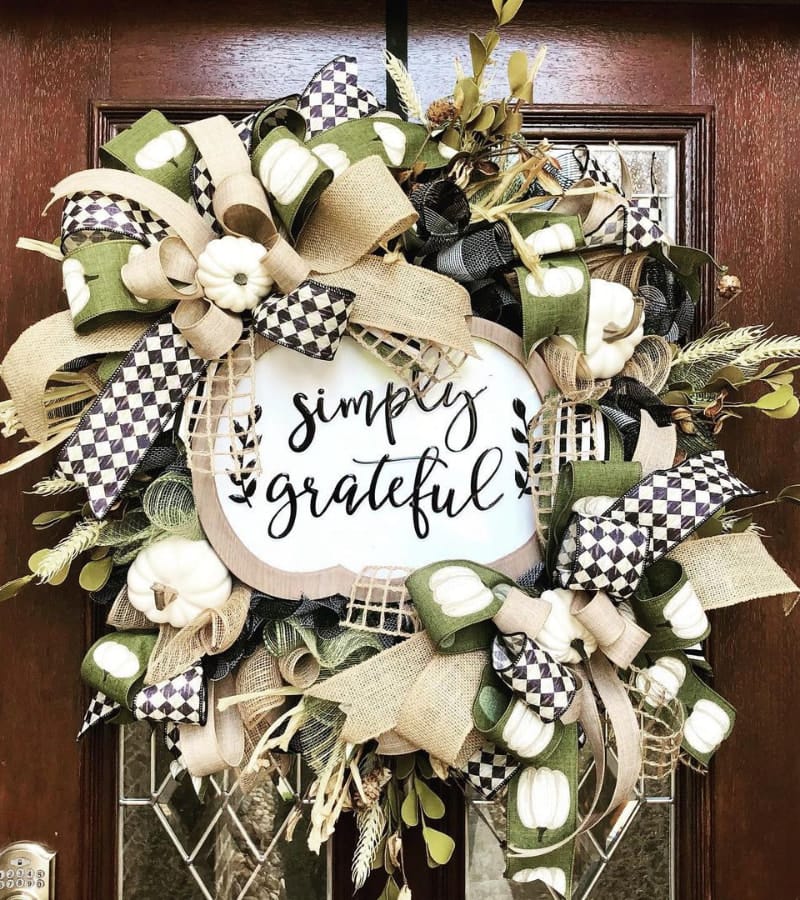 @mooredecor_
Even if you don't want to add any flowers, leaves, or berries, you can still make a beautiful Thanksgiving wreath. All you need is some cloth ribbons which you can arrange in a wreath. The colors used here are black, white, hemp, and green. But you can choose any colors for this on your preference.
10.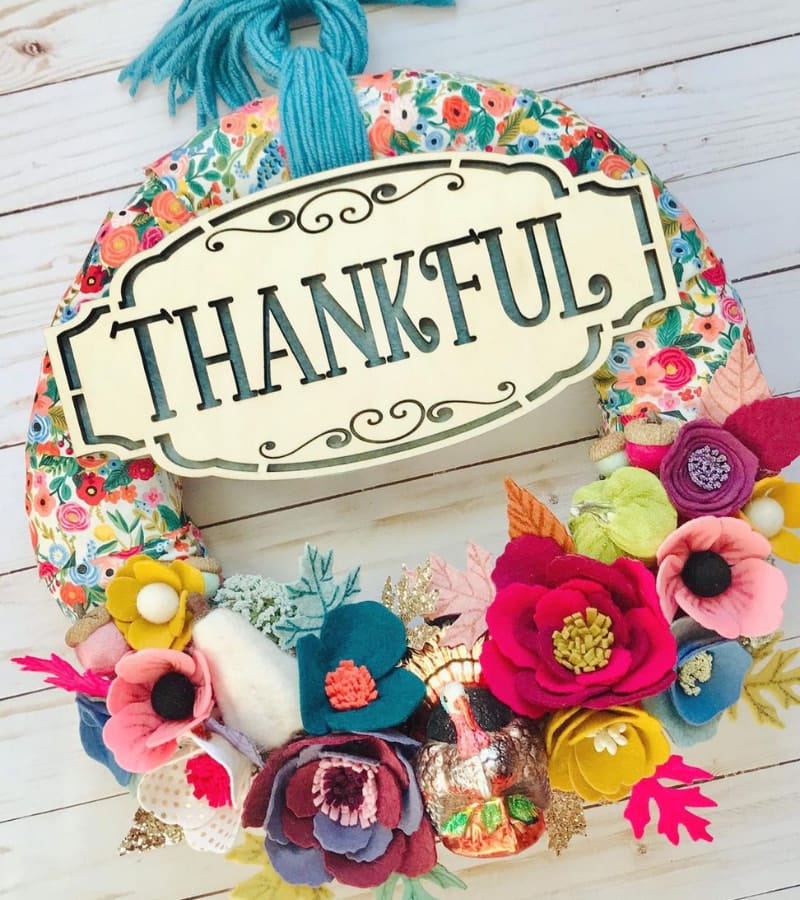 @lizzyandlois
For anyone looking for something out of the ordinary. Get a colorful round tube decorated with tiny floral art. Then add some cloth flowers made of various contrasting colors. You can get an idea of how to make the flowers by observing the sample given here.
11.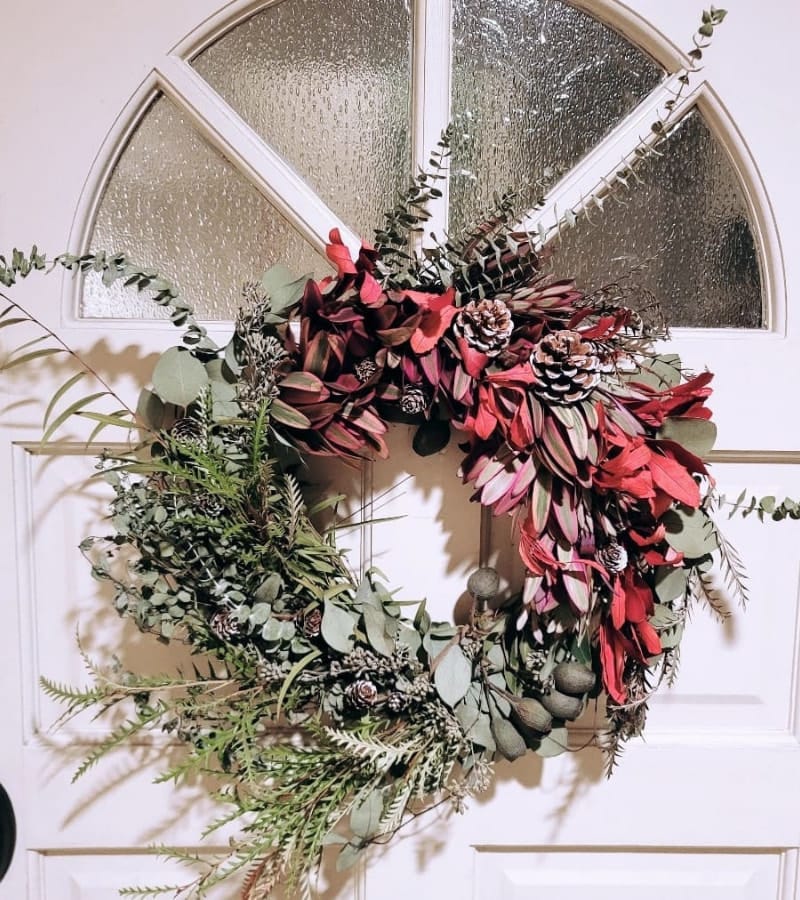 @gumnutgatherings
The specialty here is that the wreath is decorated in two colors on the two sides. Arrange all the dried red leaves on one side. You can even add some pine cones sprayed in red for this. Then the green side consists of fresh green leaves, twigs, and other flowers. It will be an amazing idea rather than arranging everything together.
12.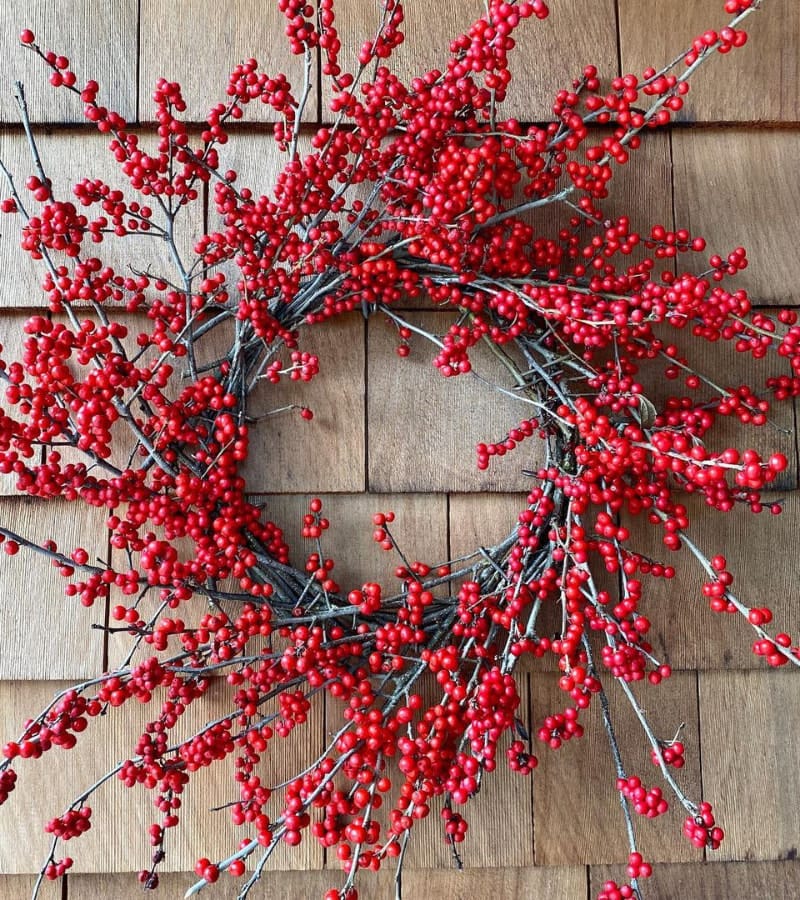 @robinhollow
Thousands of tiny berries arranged in a wreath might be all you want for Thanksgiving. You can either make this yourself or purchase from a shop where they have freshly harvested fruits. Anyway, it will look great on your front door as a very attractive wreath design.
13.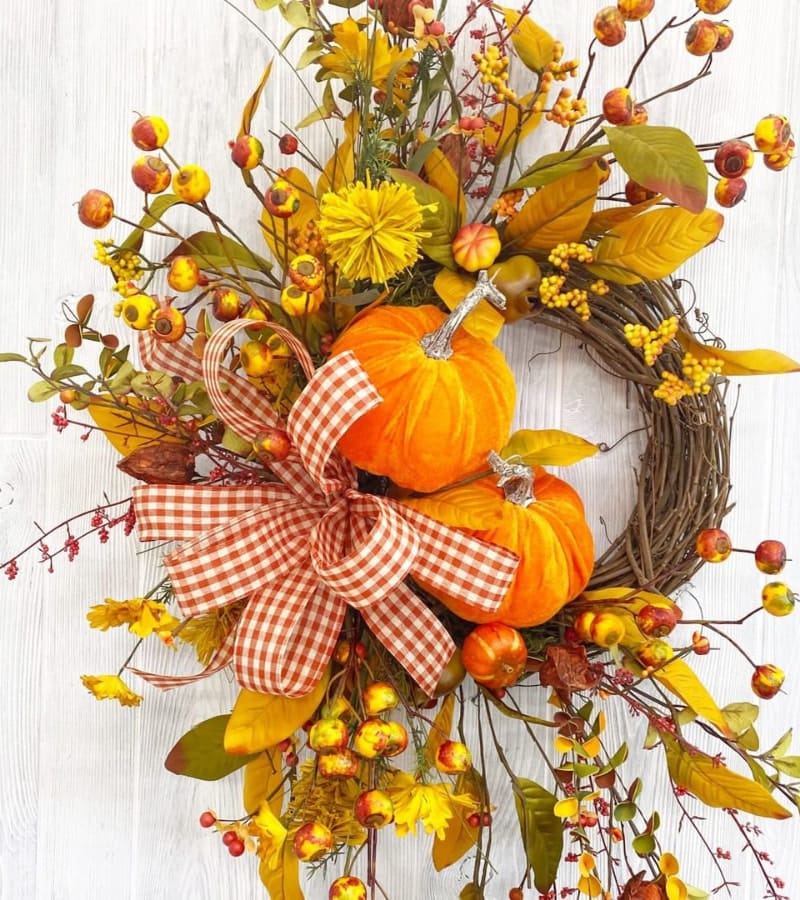 @keleasflorals
Fabric pumpkins are a major attraction not only for Halloween but throughout the fall almost until Christmas. The color theme of this is red, orange, and yellow. Walk in the woods and you can find a lot of things to use for your wreath. Arrange them as shown to impress your guests with your creativity.
14.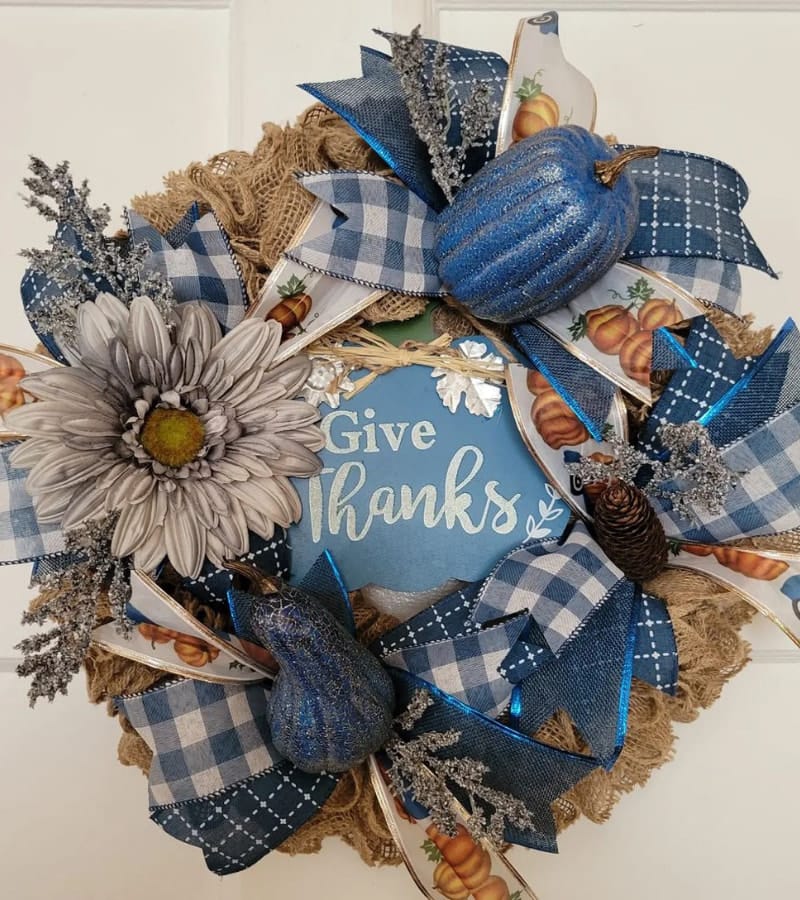 @millymyllz_boutiqueofwreaths
Theme blue is a rare choice in Thanksgiving wreath ideas. But you can still try it by matching it with hemp and silver. Spray the pumpkins with shiny blue and the daisies with silver. Don't forget to add some pine cones to make the design more elegant.
15.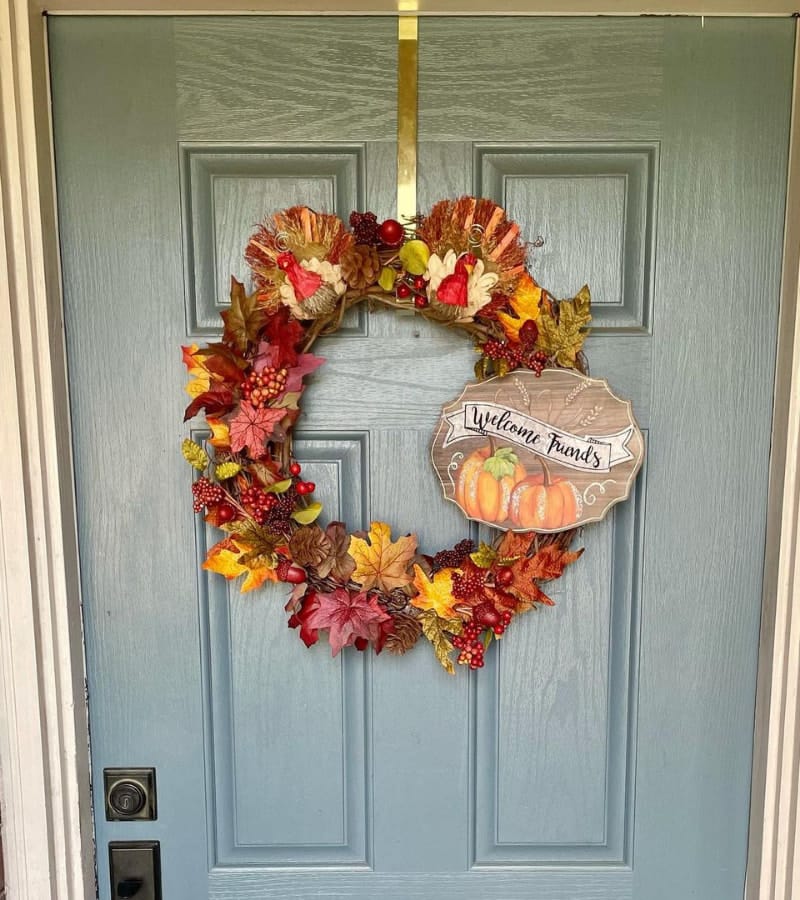 @kyrascreativespirit
Did you notice the two turkeys designed at the top of the wreath? If you are good at handcraft, I think you need to try it yourself. All you need for the rest is some dry maple leaves, pine cones, and berries. This will be an amazing way to welcome your friends and family for Thanksgiving!
16.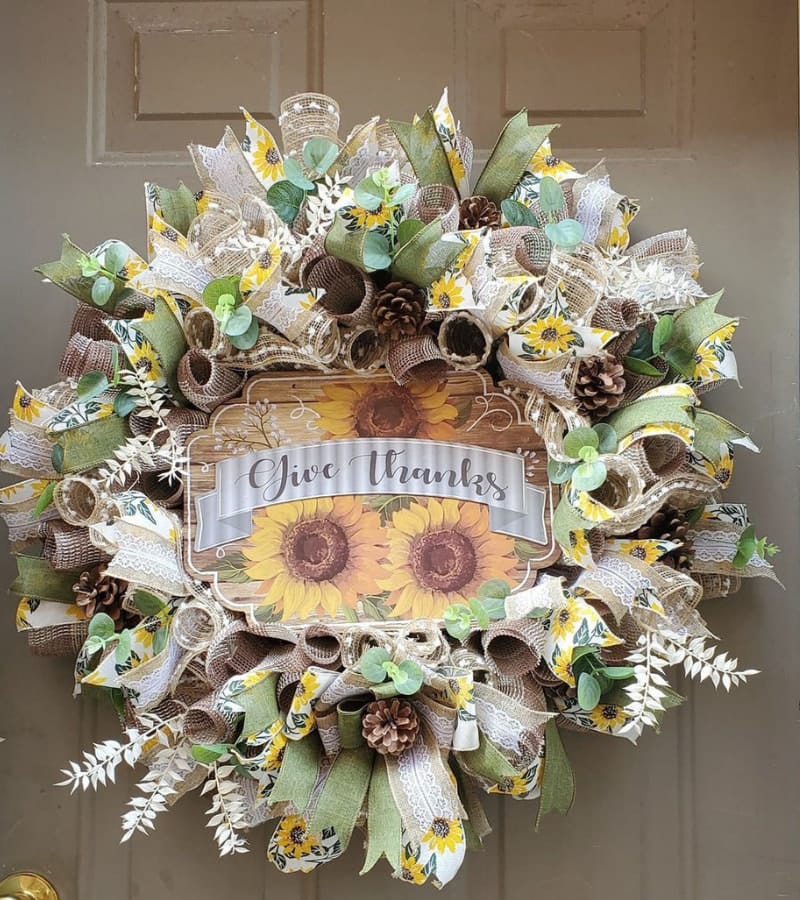 @rayannfloralwreath
This is another fabric-based Thanksgiving wreath idea. Use a wooden board in the middle and start decorating around it. There are lace ribbons rolled to make the design more appealing. You can add green ribbons along with sunflower designs for this. You can even use real sunflowers or daisies if you can find some!
In conclusion, Thanksgiving wreaths are a beautiful and festive way to decorate your home and welcome your guests during the holiday season.
Whether you opt for a classic design featuring autumnal foliage and harvest-inspired elements, or you get creative with unexpected materials like burlap, feathers, or dried fruit, there are plenty of Thanksgiving wreath ideas to choose from.