Are you ready to add a touch of luxury and glamour to your appearance? Look no further than gold nail ideas to elevate your style and make a statement. Gold nails are a timeless and eye-catching choice that exudes elegance and confidence.
In this blog post, we'll explore a variety of dazzling gold nail ideas that will help you spice up your look and leave a lasting impression. Whether you prefer subtle accents or bold, all-over designs, get ready to discover the magic of gold nail art and how it can instantly transform your appearance. Let's dive into the world of glamorous nails!
It might be challenging to decide on your next gold nail style with so many options. So have a look at these chic gold nail designs.
1.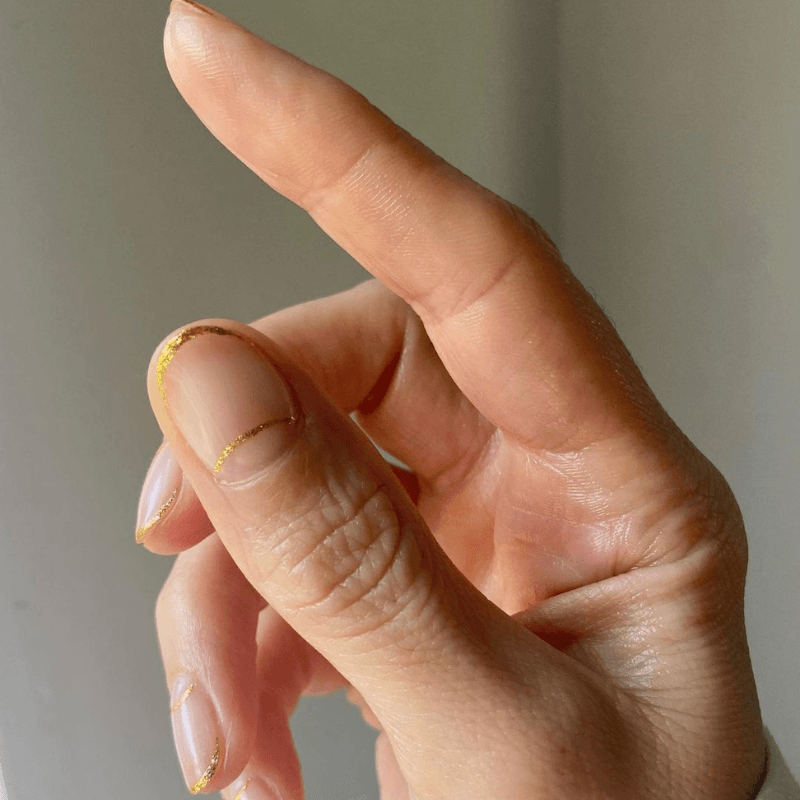 @glowbeautybath
This nail design consists of a thin gold line going around the edge of your nail. Another similar line of gold passes around the base of the nail and creates a simple design. This plain style is what draws the attention of everyone as to how such a simple design can be so beautiful.
2.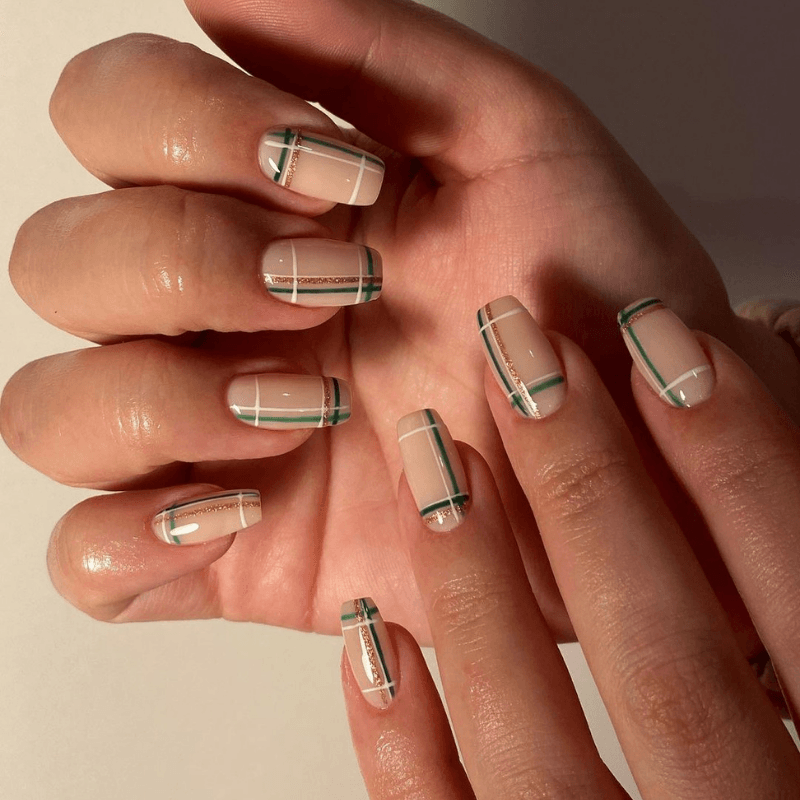 @amberandstonebeauty
This beautiful nail art is something I adore a lot. It is simple but highly fashionable with its unique design. Green and white lines create a chequered pattern accompanied by a single line of gold. Not only for long nails, but this style is also perfect even for short nails and is ideal for special occasions.
3.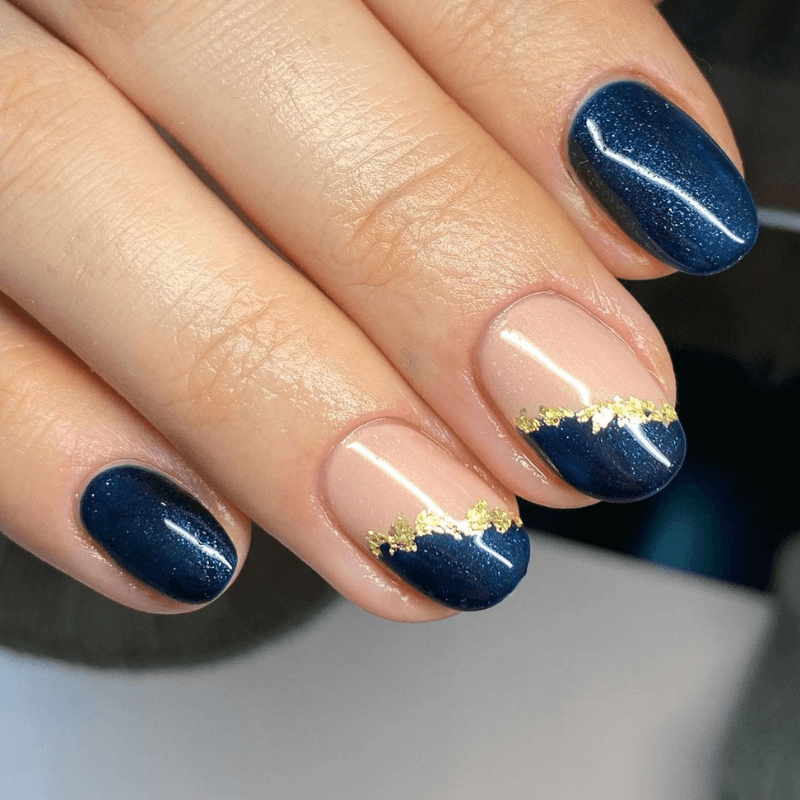 @castlebeautynottingham
This gold nail design stands out from the rest due to its deep shiny blue theme. It adds more sparkle to your fingernails, making it an ideal design for night events. The gold design is used at the border of colors to add more glitter to the beautiful nail art.
4.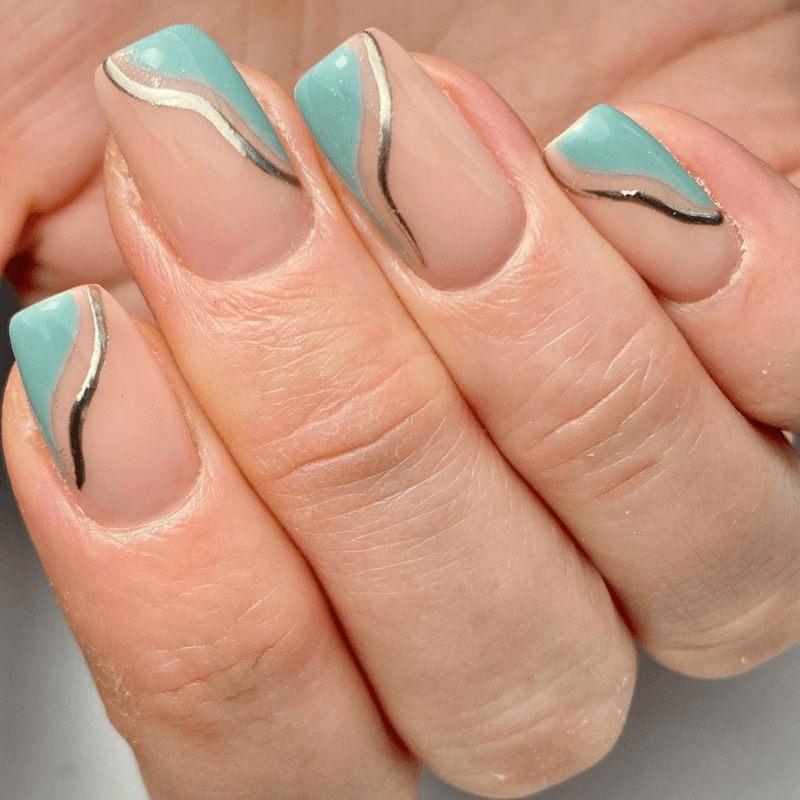 @thebohemebeauty
You can try this nail design with any pastel color to match your outfits. One side of the nail is colored in a pattern with a shade of light blue. The rest of the fingernail is of neutral color and the gold line is drawn between these two. It creates a perfect design as the colored corners alternate from one finger to the other.
5.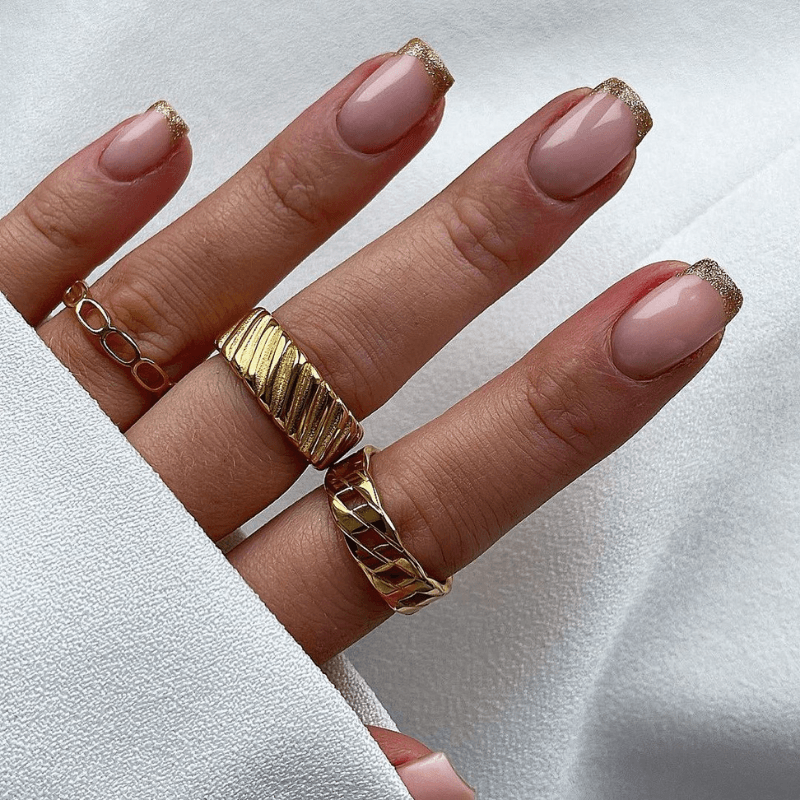 @naildbykimberley
This is another eye catching gold nail idea that you might find interest in. The edge of the nail is colored with dusty golden nail polish to add sparkle. This glamorous nail design is perfect for your special occasions and night-outs. Let me know how you like this attractive style.
6.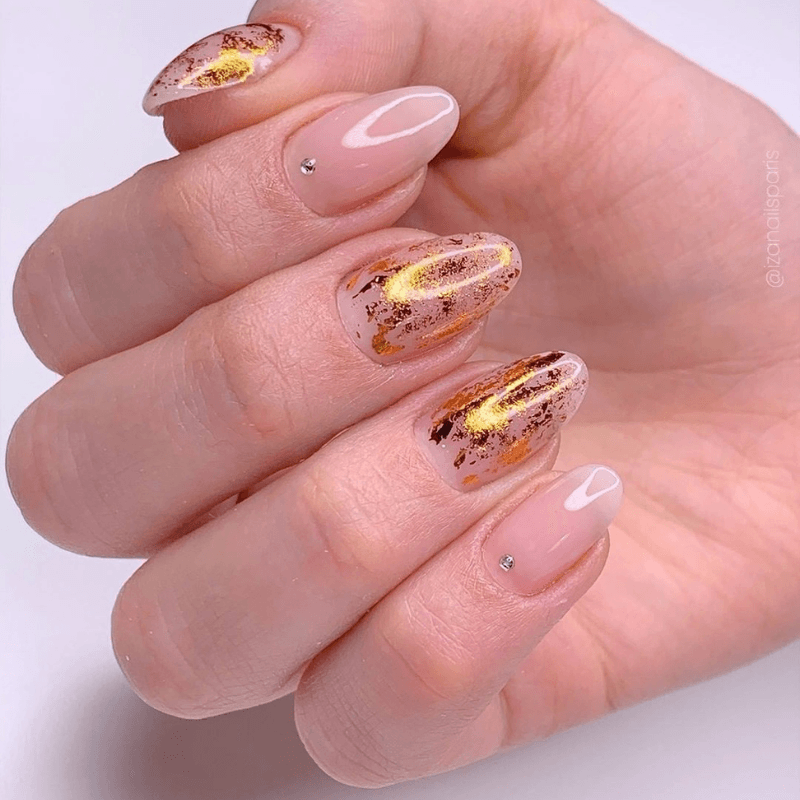 @izanailsparis
Here's another extraordinary nail art design that you can have for your daily events. This design adds more casualty with the uneven color texture. The golden glitter brings a richer vibe to your nails while keeping them simple. I think this design suits both long and short nails despite the shape of the nail edge.
7.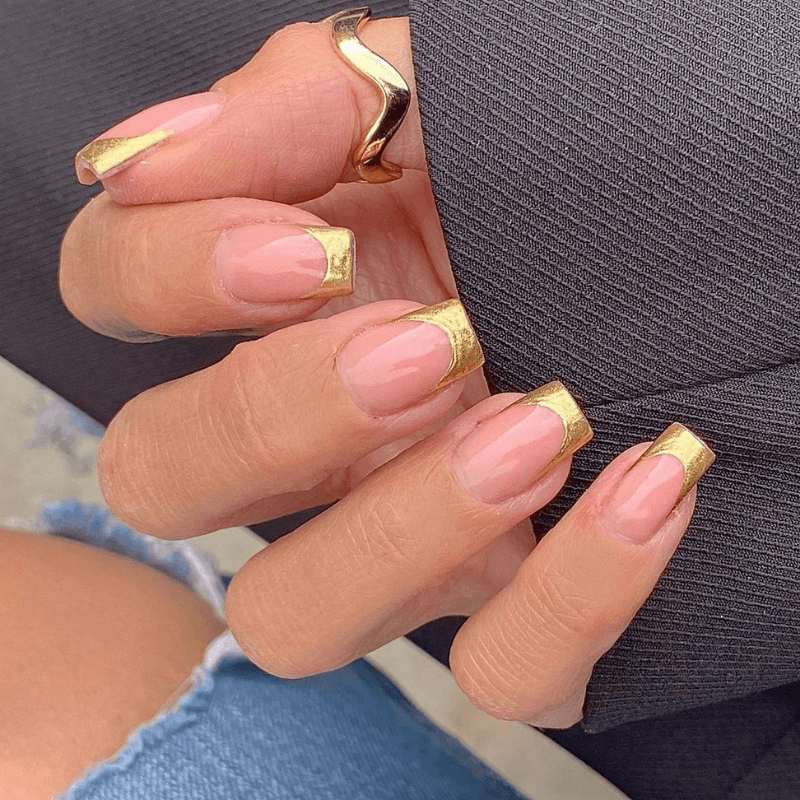 @she_naild_it_
This nail design from first glance itself is ideally for gold lovers. It has a richer amount of gold on the nail than most previous designs. You can have the nails of neutral color or even have a different color for the base as per your preference. It will look perfect with formal wear and accessories.
8.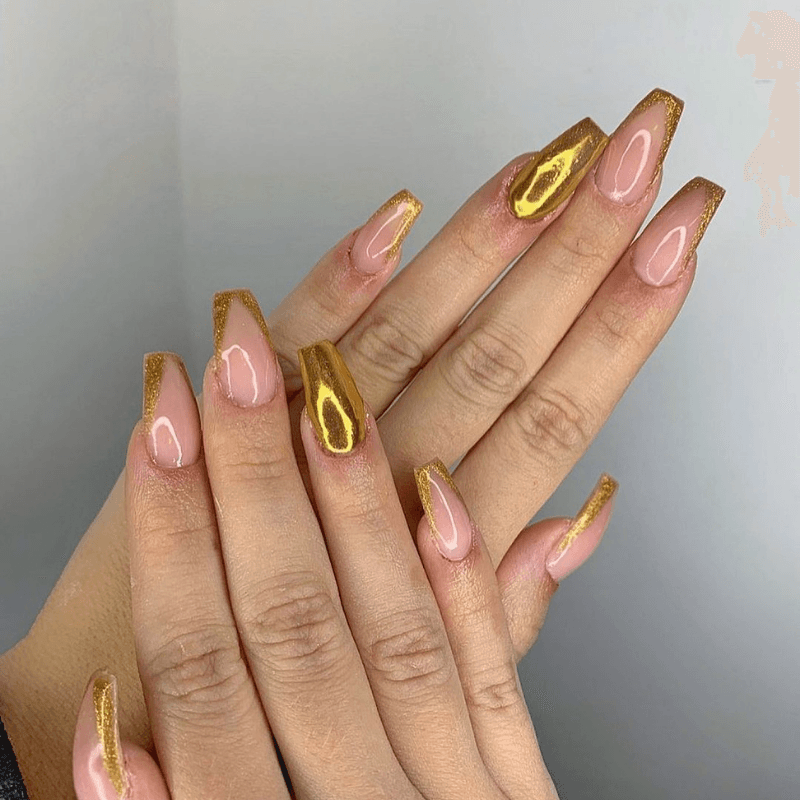 @phederiica_nails
Just as having a golden tooth, if you need a golden nail, here's the design for you. You can color one fingernail with gold and have the rest styled with gold as shown here. This is a glamorous nail design for weddings, parties, and similarly grand occasions where you need to shine a bit more.
9.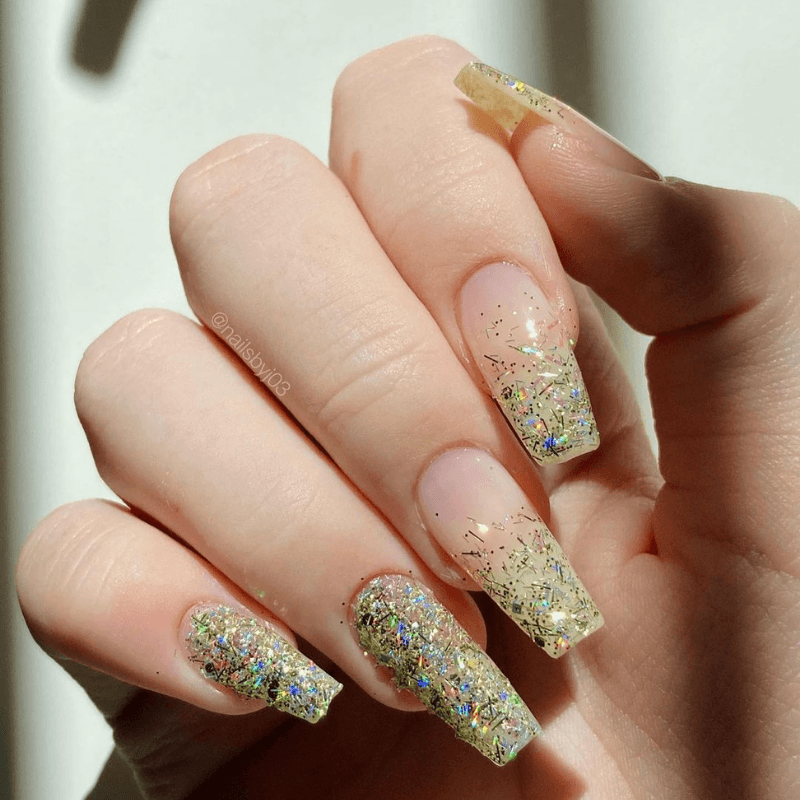 @nailsbyj03
This eye catching acrylic nail design has more glitter than most nail arts discussed above. It uses not only gold but also various sparkling pieces of all colors. This is a great nail idea to spice up your appearance for girls' night outs and parties. You can even try this for prom to match your beautiful dress!
10.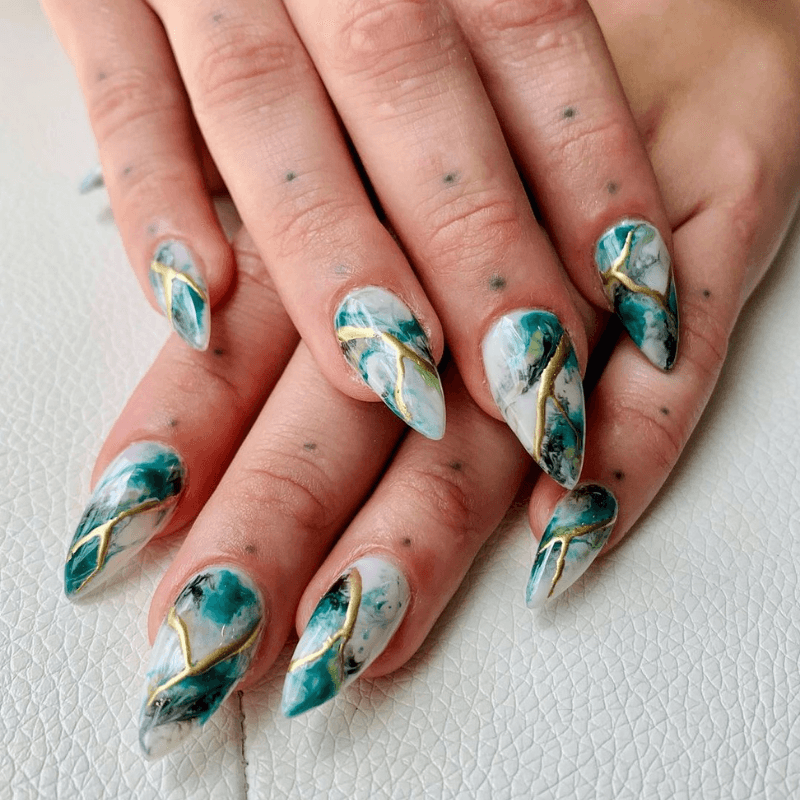 @badwitchnails
This design is more aesthetically appealing as it has a vibe of greenery and nature. The blurred design of black, white, and green creates a calming nature on your nails. The thick golden lines appearing on the nail design resemble the branches. This mesmerizing design is ideal for your traditional outfits.
11.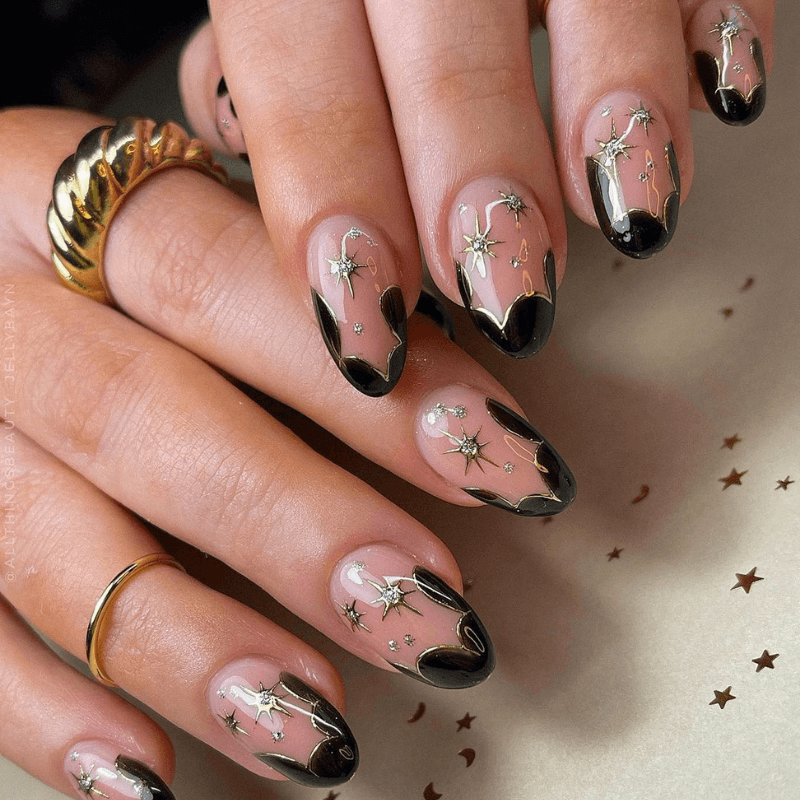 @allthingsbeauty_jellybayn
This nail design consists of a back design along the round edge of the nail, accompanied by a gold line on the border. Shapes of stars designed in gold are embedded with a sparkling stud at the middle. This trendy nail art is perfect for all your special occasions to match your beautiful black gown.
12.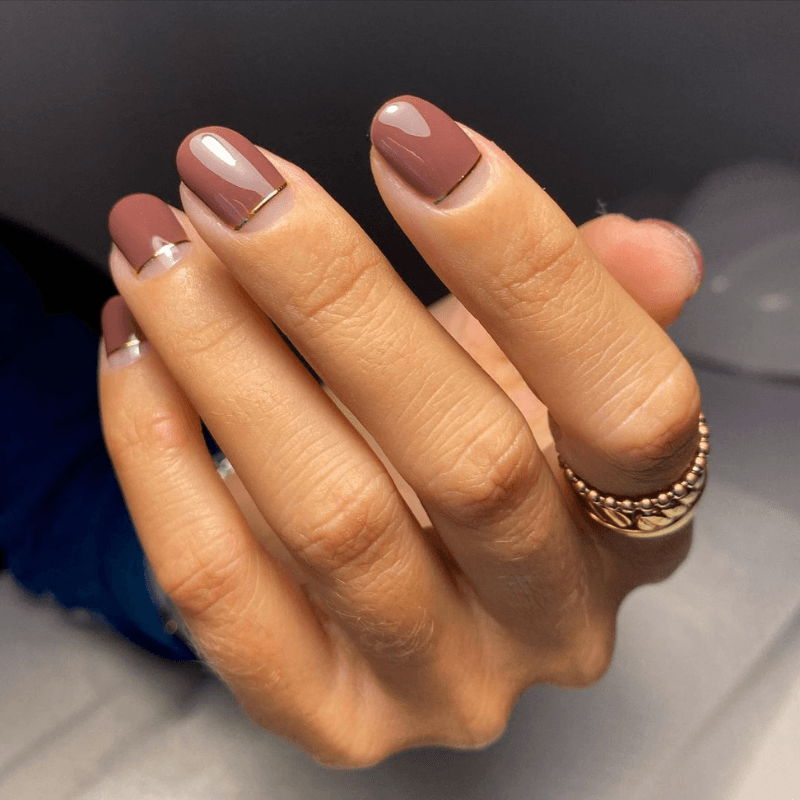 @rebel.beautybar
I think almost everyone will have a second glance at your fingernails with this gorgeous nail design. Even though this is simple, it is something very outstanding from the ordinary designs. The plain color of the nail polish can be matched according to your outfit. The simple golden line at the base is where the color stops, making it a different style.
13.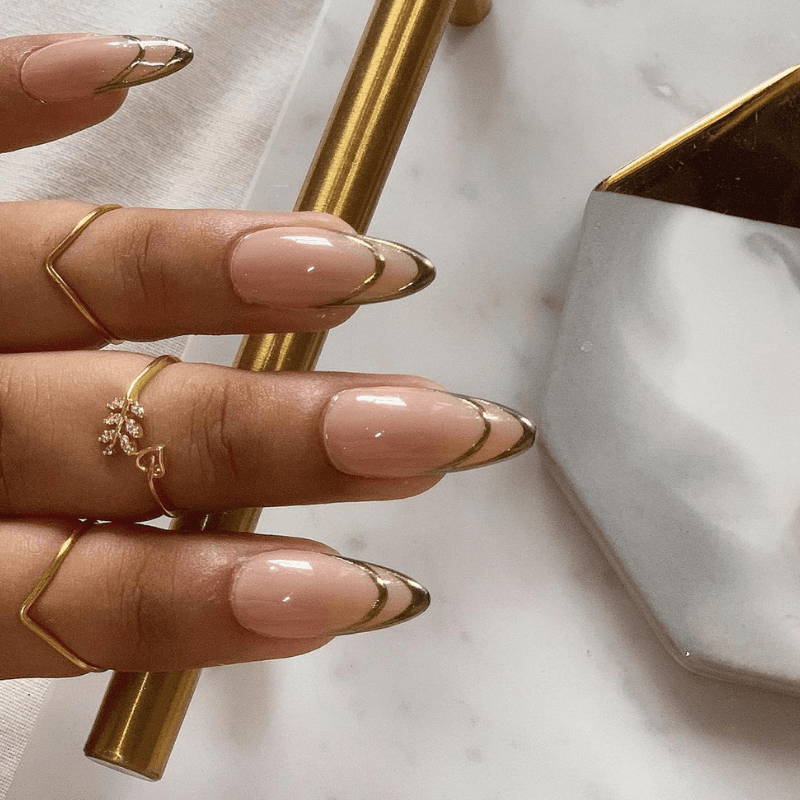 @deirdresacha
If you love long and pointed fingernails, you can try this beautiful golden nail design. You can have two considerably thick lines of gold towards the edge of the nail. Even though it is a simple design, it looks very attractive when matched with your designer rings and gorgeous dress.
14.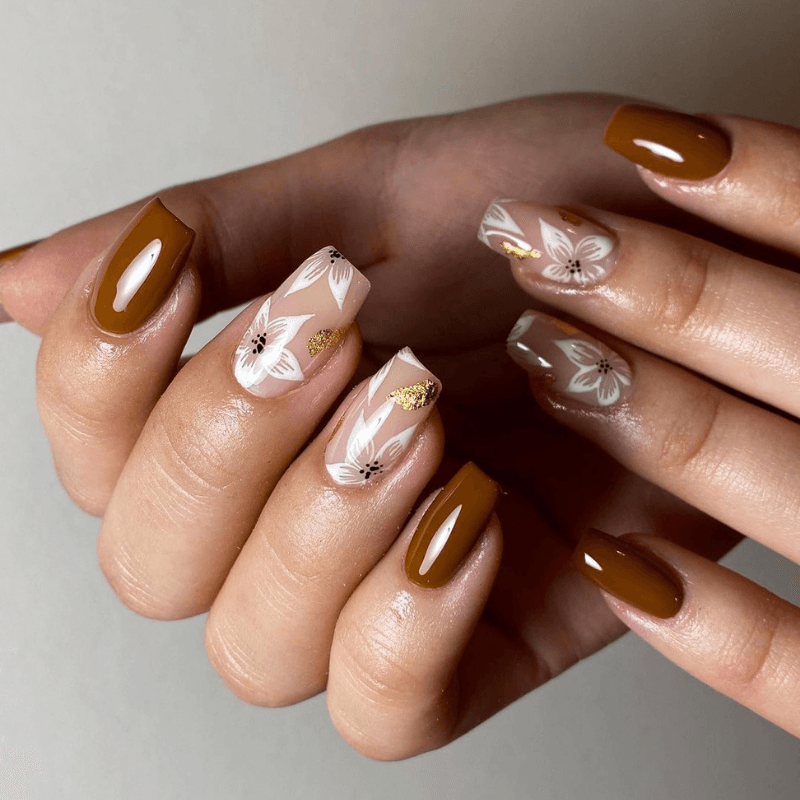 @amberandstonebeauty
This beautiful nail art is quite similar to the brown nail designs I shared with you previously. Add this beautiful floral design over clear nail polish and some sparkling golden leaves. The selected shade of brown matches perfectly with the floral design in gold and white, making the design highly attractive.
15.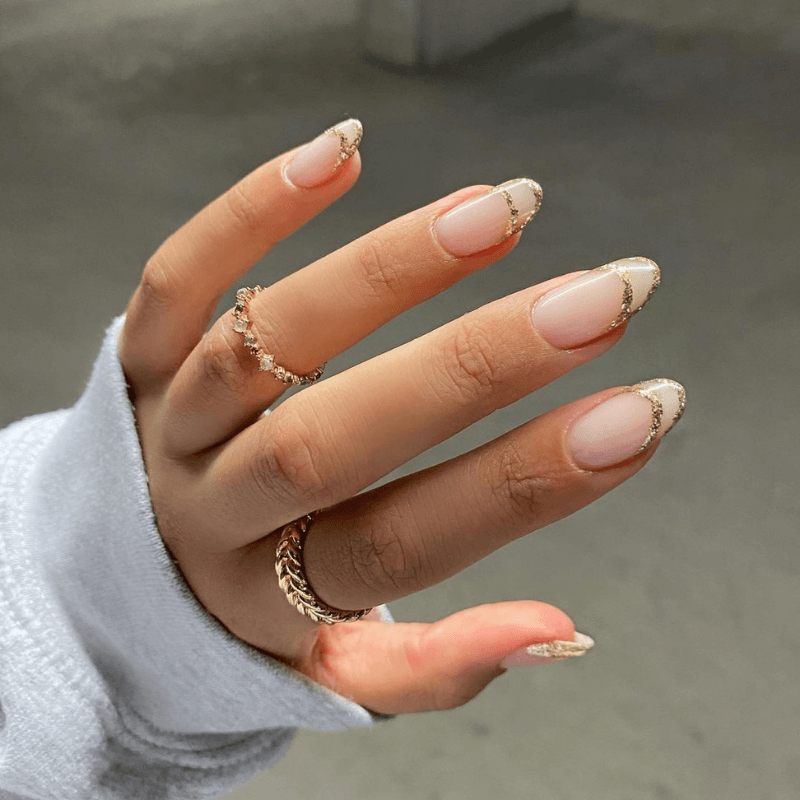 @blancabeautybar
This is another attractive nail design with a golden outline. This is for less pointed fingernails and will look equally good on shorter nails. This design resembles the petals of a flower and suits best with a neutral base color. It is also suitable for special events, formal meetups, and even for work.