Nail art refers to the practice of sketching or painting various patterns on one's nails. Nail painting is the newest trend in the fashion industry, and it's a wonderful way to spice up your everyday appearance.
Nails have developed into the ultimate way of expressing one's creativity, rather than just layers of keratin. As more individuals manicure their nails at home, nail art has flourished on social media.
How many people have you seen with brown colored nail art painted on their fingernails? Brown nail art is prevalent in a lot of countries. In this article, I'll show you some brown nail art ideas that I found on the internet.
Disclosure: This post contains affiliate links, which means we may receive a commission if you click a link and purchase something that we have recommended.
1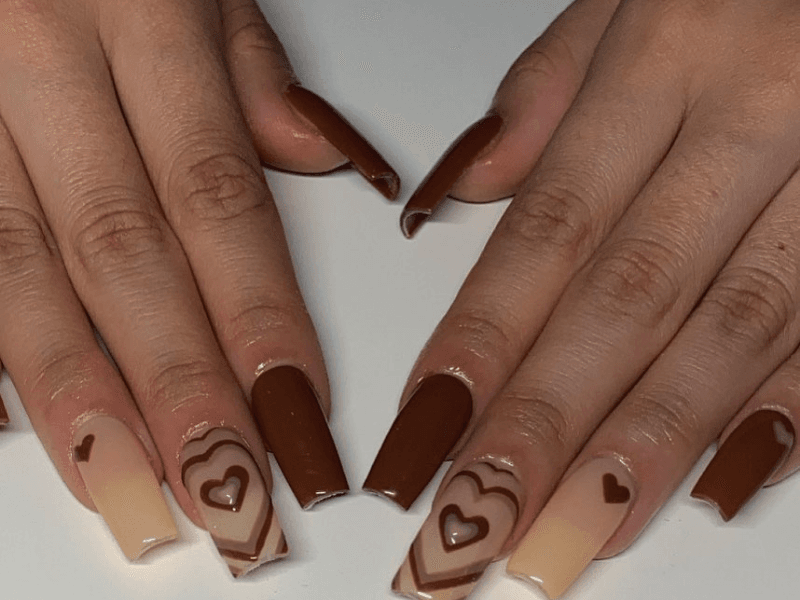 This is a beautiful brown nail design with an alternative design of hearts. You can use two or three matching shades with brown to create this elegant design. Color the nails with these contrasting colors and it will look best not only on long nails but on short ones as well.
2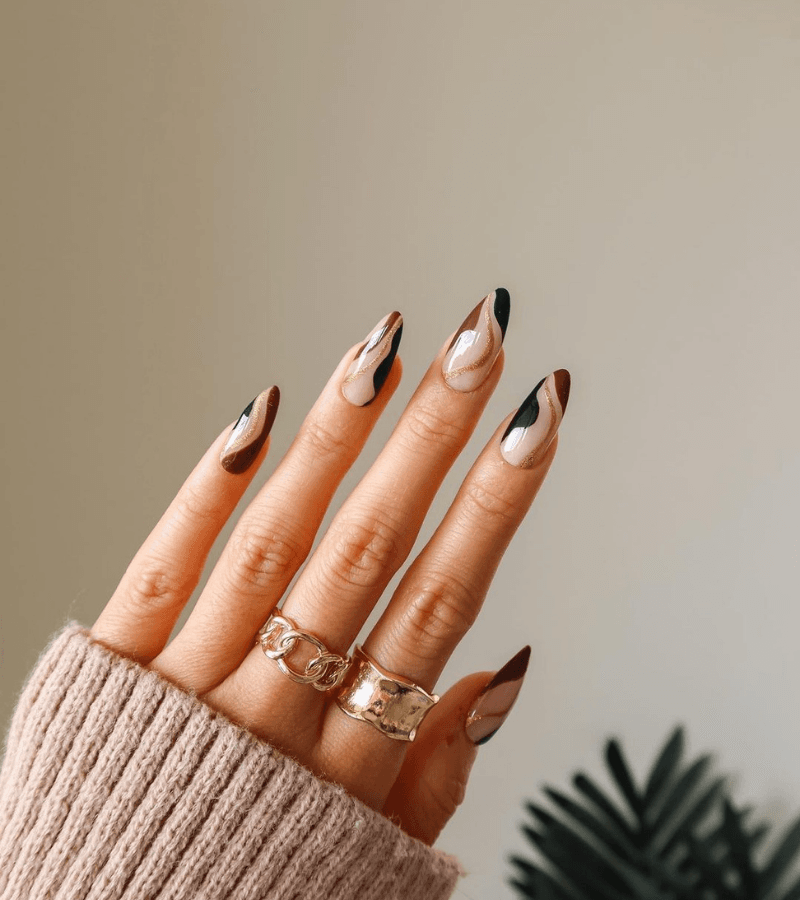 If you are a fan of long pointed fingernails, this design will create a remarkable impact. The curvy lines with two or three colors make a beautiful blend to match your attire. As this design makes your fingers look long and slender, it is ideal for anyone with relatively short fingers.
3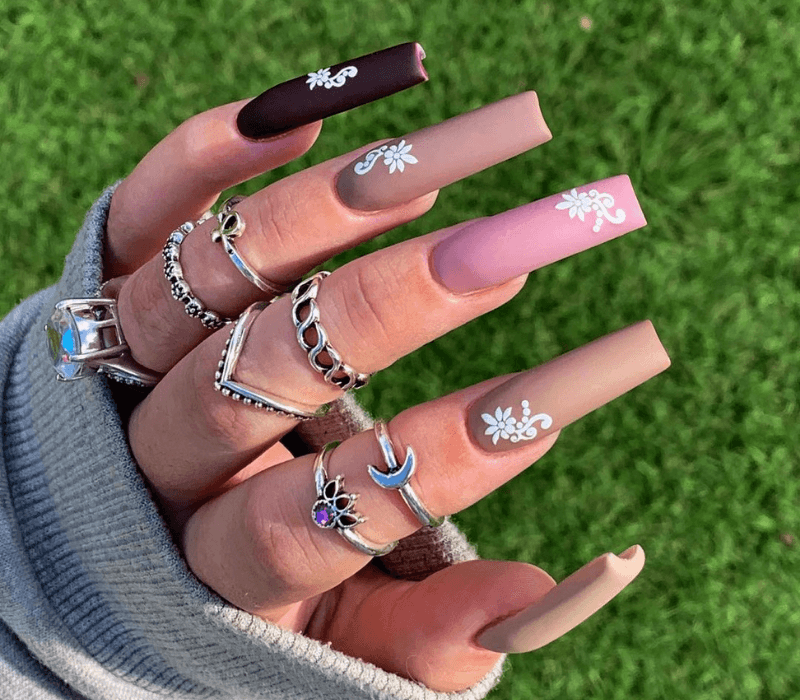 This nail design can be tried on super long artificial nails. The design is simple, with various shades of brown ranging from a dark purplish color to a very light shade of beige. You can use a small floral design on different locations of the fingernail to add some variation in the plain color.
4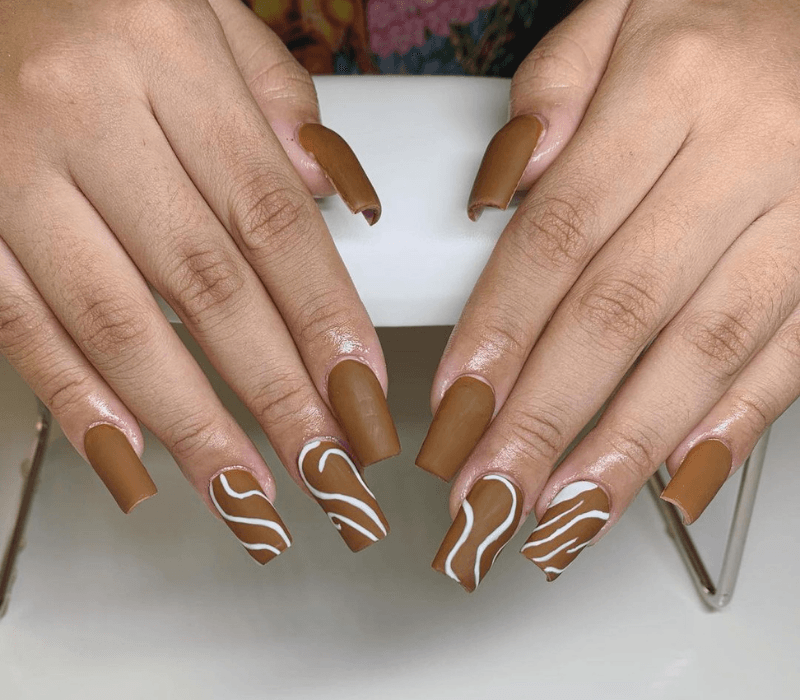 This nail design consists of plain brown fingernails with a matte finish. You can add some curvy lines with white or similar contrasting colors to make a difference. I recommend you add some geometric shapes to add more life to this plain design. It is also suitable for both long and short nails.
5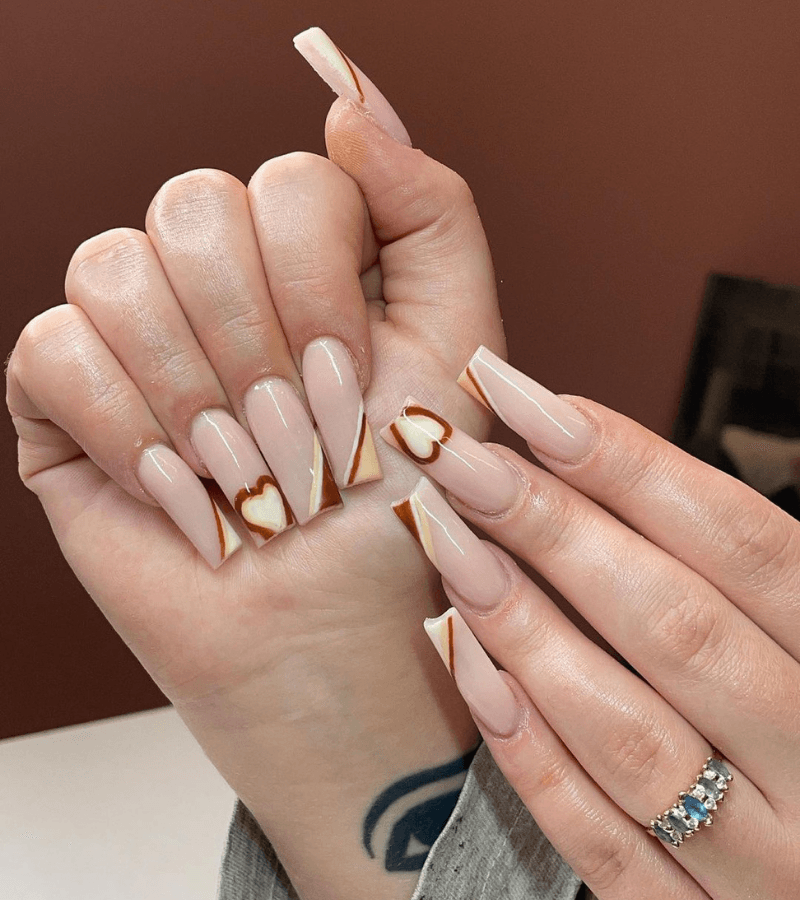 You can add a beautiful design of small hearts outlined in brown on your neutral or plain-colored fingernails. This design is ideal for certain occasions where you need to look both stylish and simple at the same time. Having different designs on each finger will make it look more fashionable.
6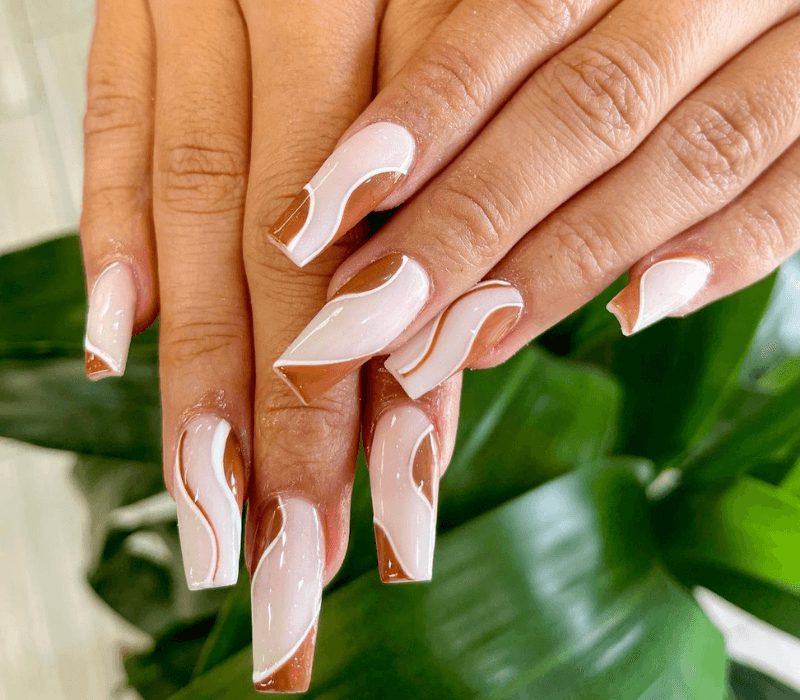 This is another attractive fingernail design that you can try at home. Apply a coat of plain nail polish and then try decorating it with a beautiful shade of brown. You can use curves as it will make your nails look more adorable. Try this design to show off your nails to your friends at the next event!
7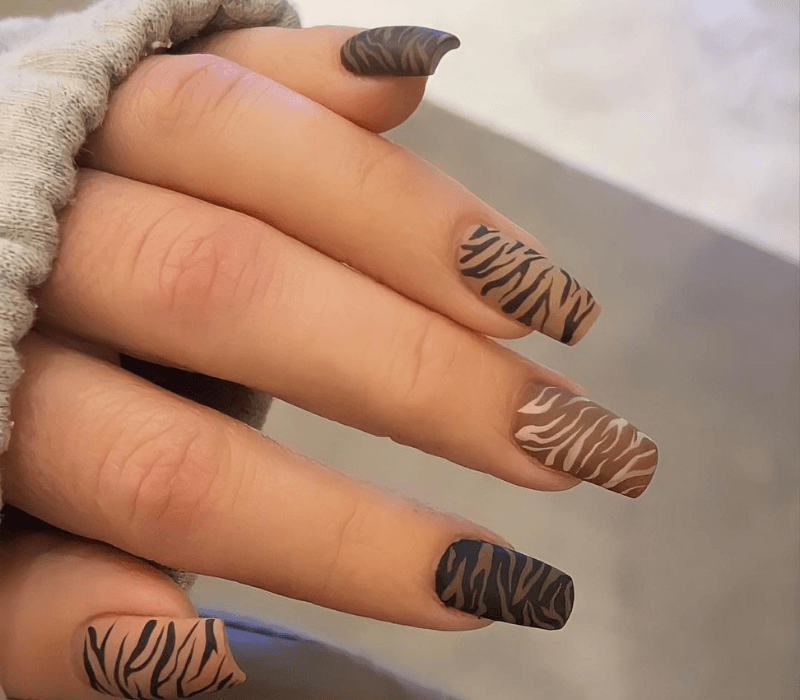 If you are a matte lover, this design is especially for you. This camouflage nail design is ideal for both day-outs and special occasions. But it may be a bit challenging to bring out the proper design. You can match your favorite shades of brown and try this tiger-like design. It brings a cozy vibe and suits nails of any length.
8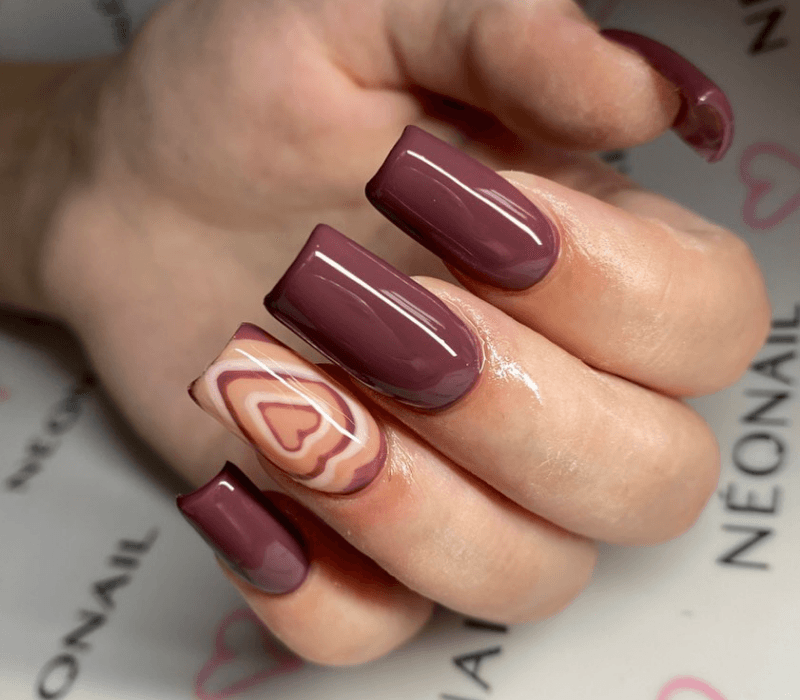 This is an absolutely stunning nail design with a high level of simplicity. Despite having a plain color in four nails, the shiny finish brings life to the design. You can brighten up the special nail with a concentric design of hearts. This design will look best when matched with your outfit of the day.
9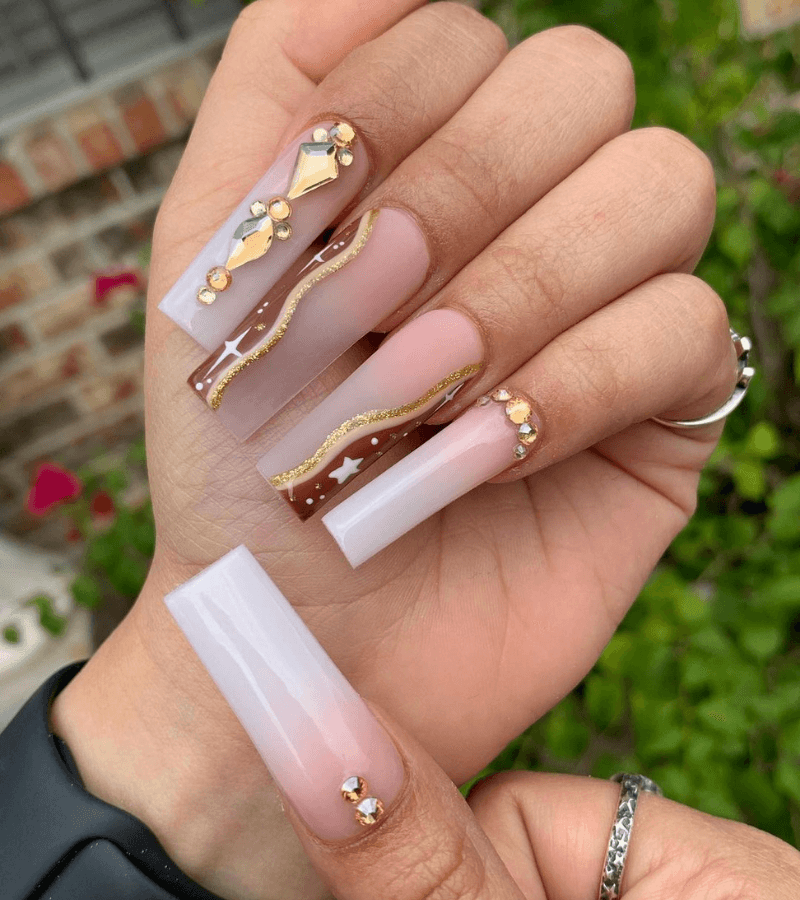 If you love having various studs and ornaments on your fingernails, you can try this design. The simple color of the fingernail highlights the sparkle of the design. You can use long fingernails for this design as it allows more room for the various studs and glittering matter you put on to improve the glow.
10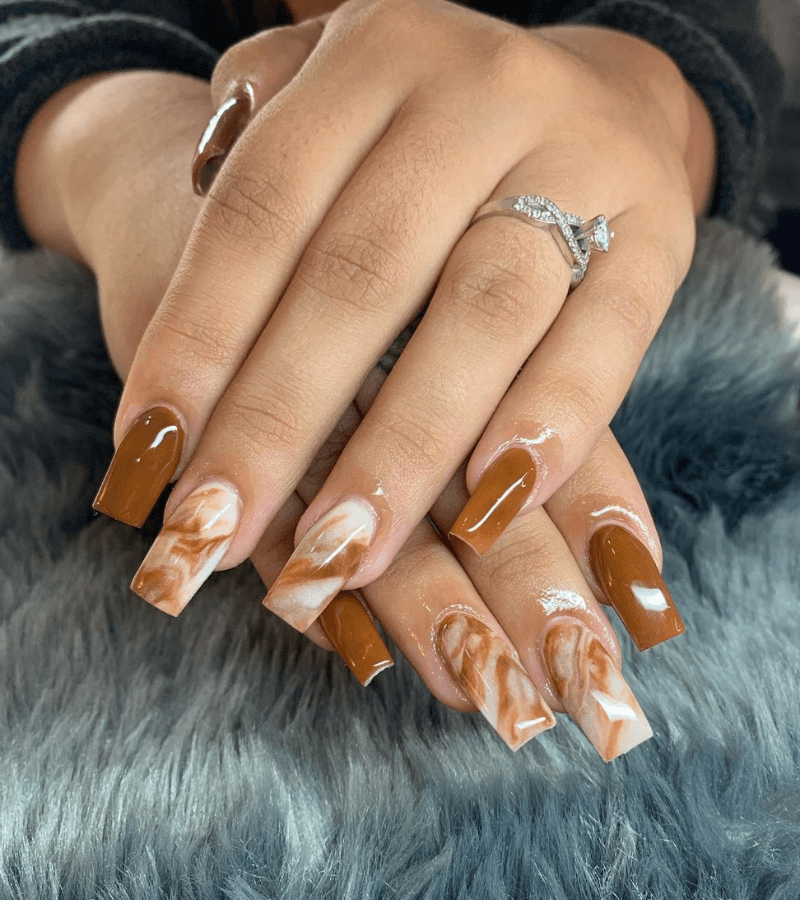 This design involves two colors blended on certain nails to create a misty look. You can alternate the design on different fingers as you prefer. This is a simple design ideal for nails of any length. Blending a contrasting color like white highlights the design, but you can also use another light color for this.
11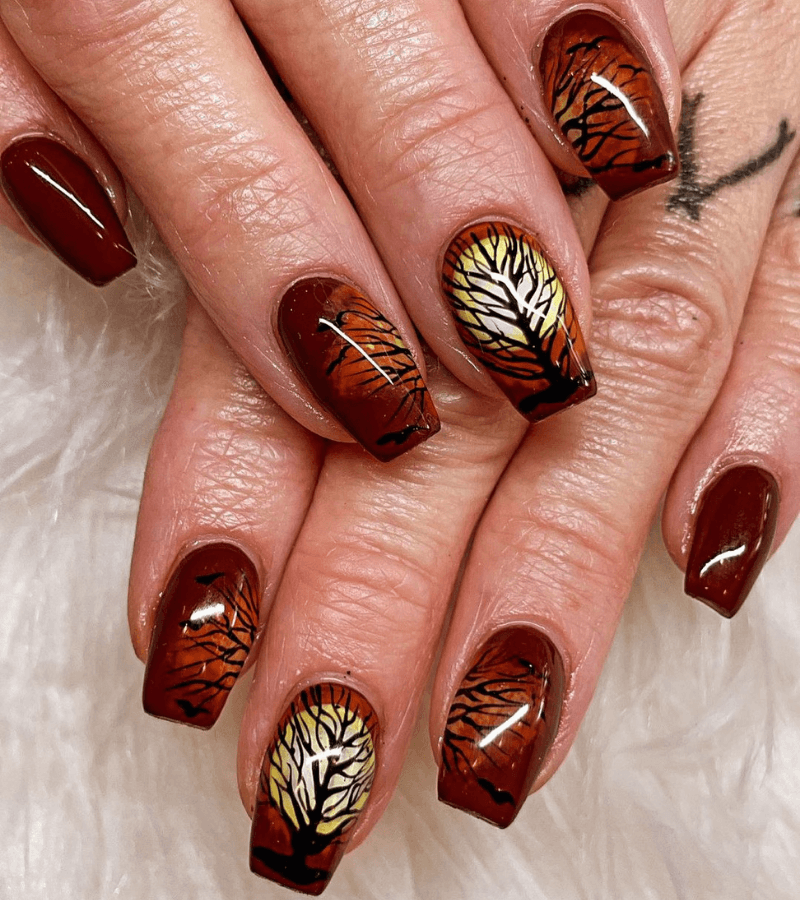 If you are looking for something complicated, you will find this design very attractive. This includes a design of nature at sunset. The perfect blend of colors brings the real vibe of dusk along with the precise art of birds on a tree. This may be a difficult design to create, but the nail artists surely have the talent in this!
12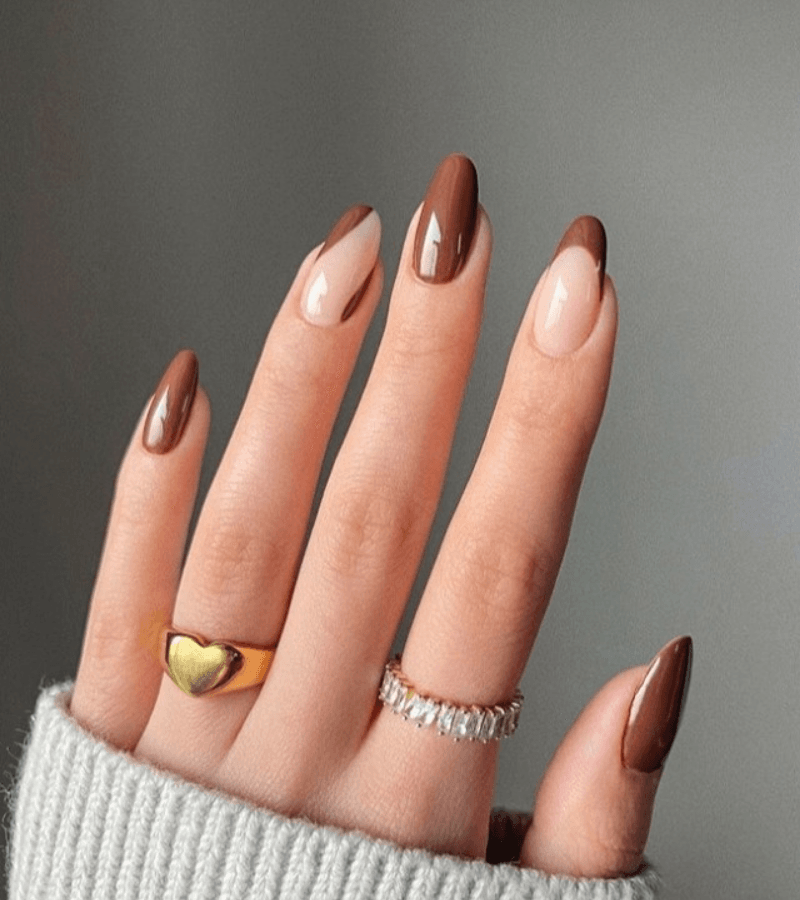 This is another charming design that adds elegance to your fingernails. You can make this trendy design by matching a shade of brown you prefer with the neutral color of your nails. It is ideal for short or medium-length fingernails. Try this attractive blend of colors with your new outfit this weekend!
13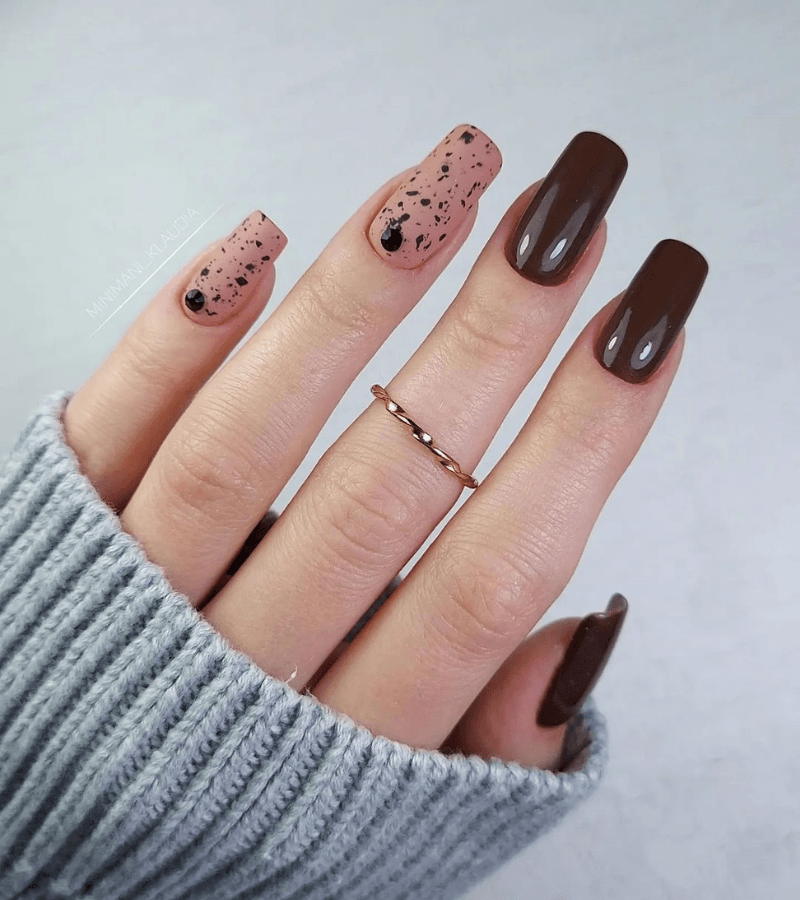 If you are looking for an autumnal design for short fingernails, you can try this colorful design. You can use this print on a few shades of brown to match the color of fall. It adds a lustrous brightness to your fingers, making it ideal for night-outs as well.
14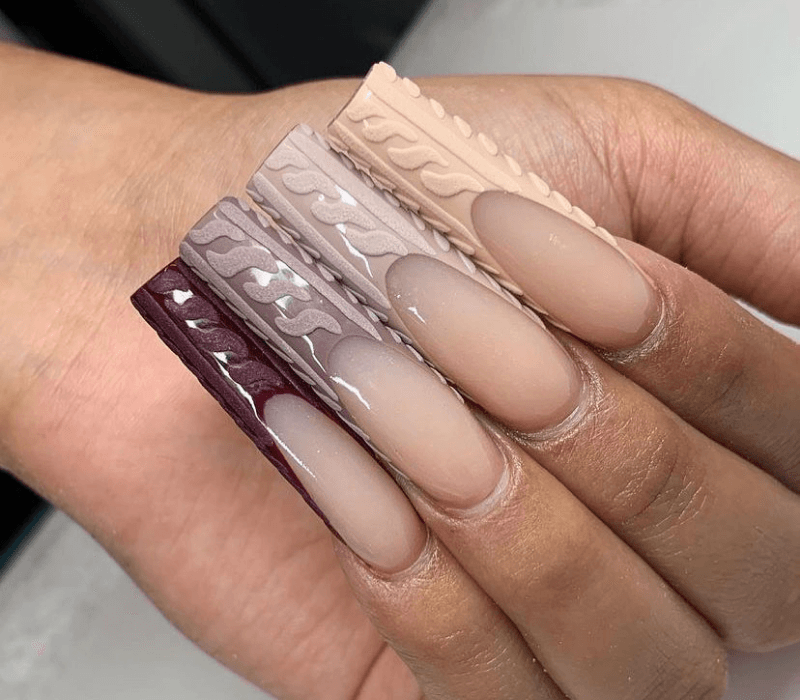 If you prefer long fingernails, you can try this nail design which has a different texture than the normal smooth nails. The design can be made of various shades of brown ranging from a dark maroon to a light creamy color. The advantage is that it will help you match many dresses in one go!
15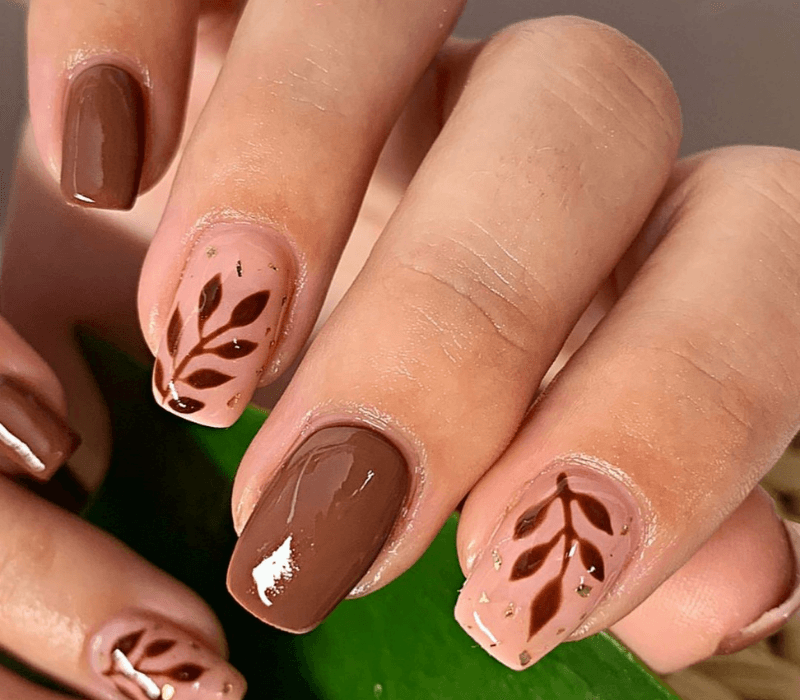 This is a brown leafy design on the natural color of your nails. You can also add some glitter to add more shine to the nails. Alternating the design with plain brown nails is a good idea to add more variation. This design will surely catch the eye of everyone at the next function you attend.