You've arrived to the perfect site if you're seeking for Pink Almond Nail Designs!
Right present, the almond nail is a stunning and trendy shape. Among them, pink almond nails are becoming increasingly popular. Of course, pink almond nails are more than that. Pink almond nails will be one of the biggest manicure trends in 2022, and they may help you keep your style.
Below, you can find a set of pink almond nail ideas that are perfect for any season. Feel free to save them to your relevant Pinterest Boards.
1.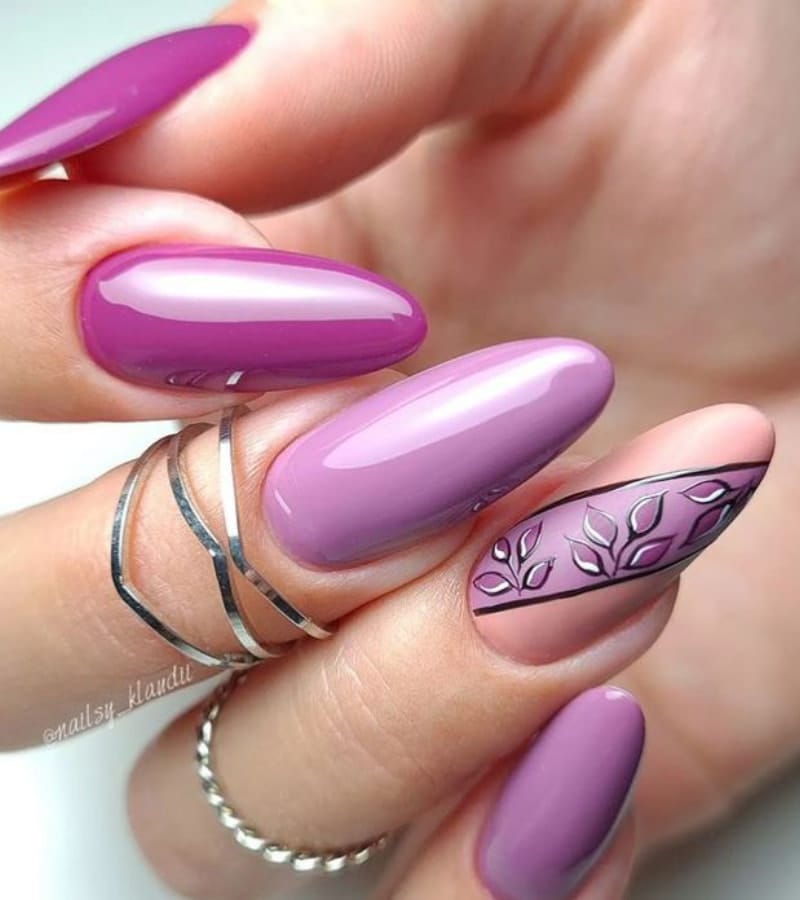 @nailsy_klaudii
This is more like a lavender or mauve color for nails. You can use two or more different shades of color for this. To make a difference, have a simple floral design between two diagonal lines on the nail. You can use black and white for the outlines and shading.
2.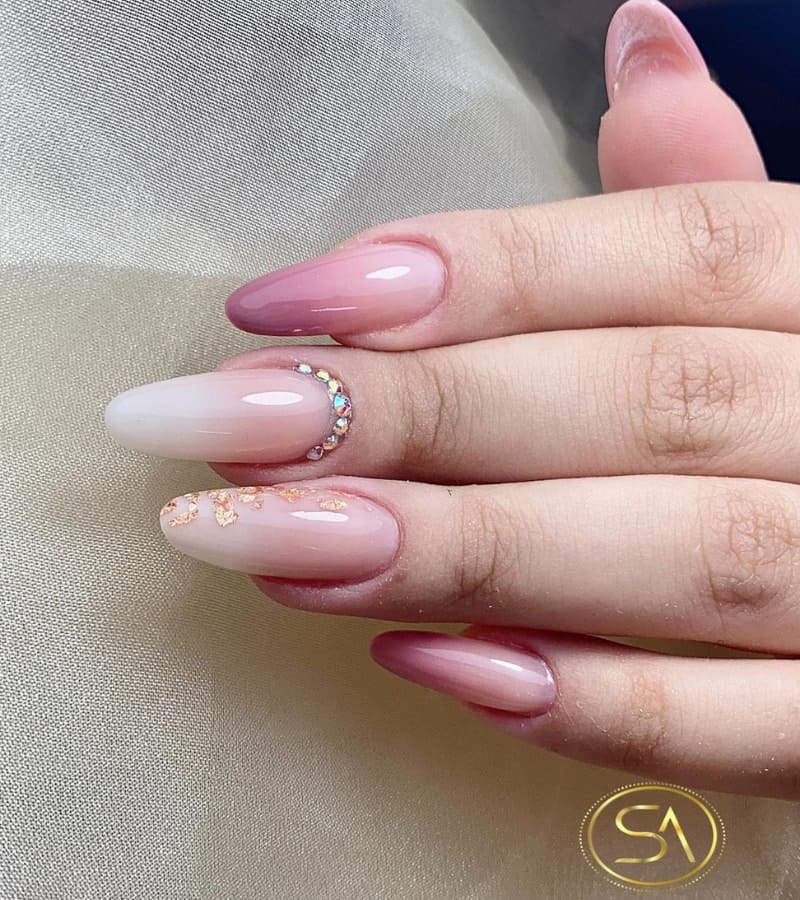 @samaraaleixonaildesign
Gently shade the pink from the tip so that the base appears to be the natural color of your nail. Alternate the shading from light to dark and vice versa. Then add some studs at the base of the nail near the border. If you are interested in nail art, you can even try one on the ring finger.
3.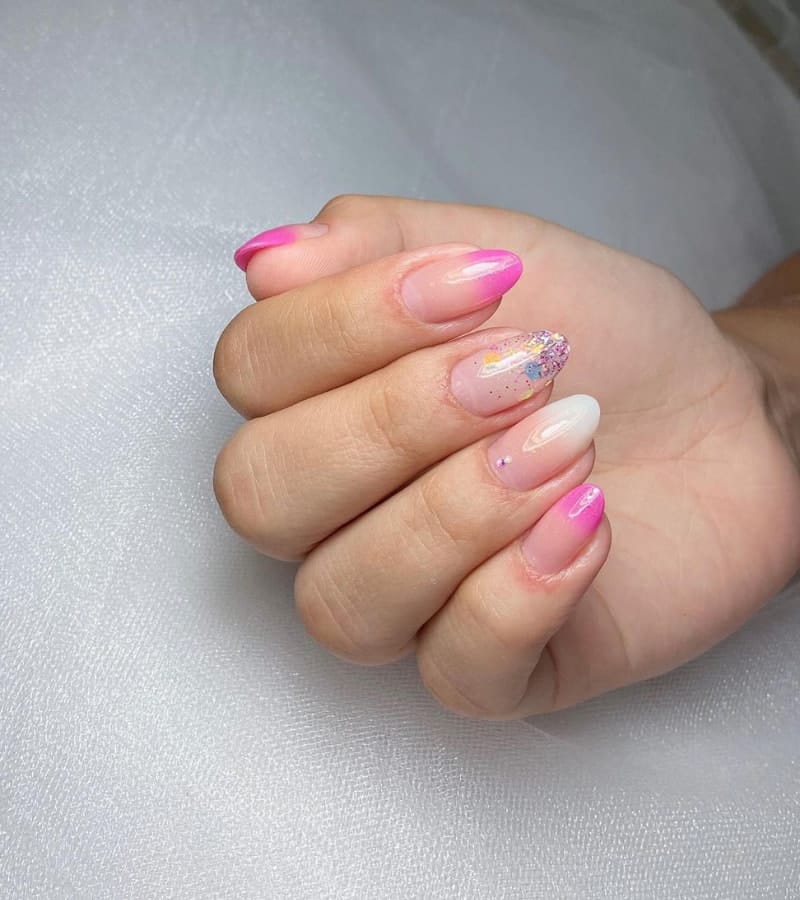 @daninascimentonails
These short almond nails look amazing with the pink ombre nail design. You can also add some white to the shading along with some studs. Glittering nail polish matching the pink color theme is also an ideal choice to enhance the idea.
4.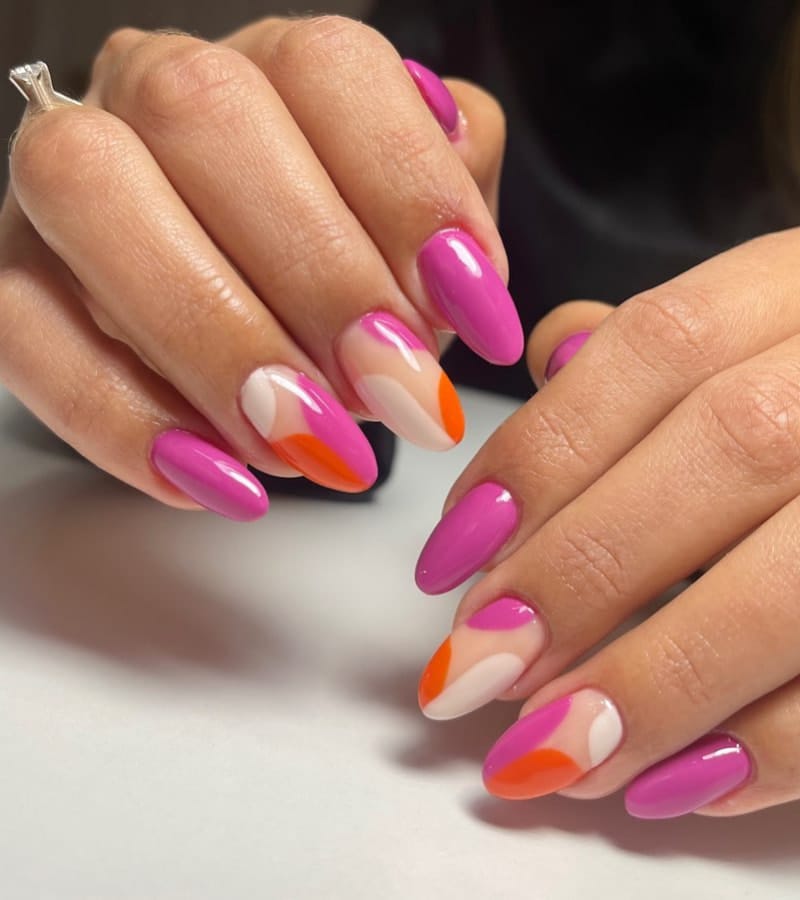 @nails.vanessa.mileski
No one would think of having orange in a pink nail design. But as you can see, it makes the design stand out from the ordinary. Color the corners in a curvy pattern in pink, white, and orange. This will look amazing for casual trips and day-outs for any season.
5.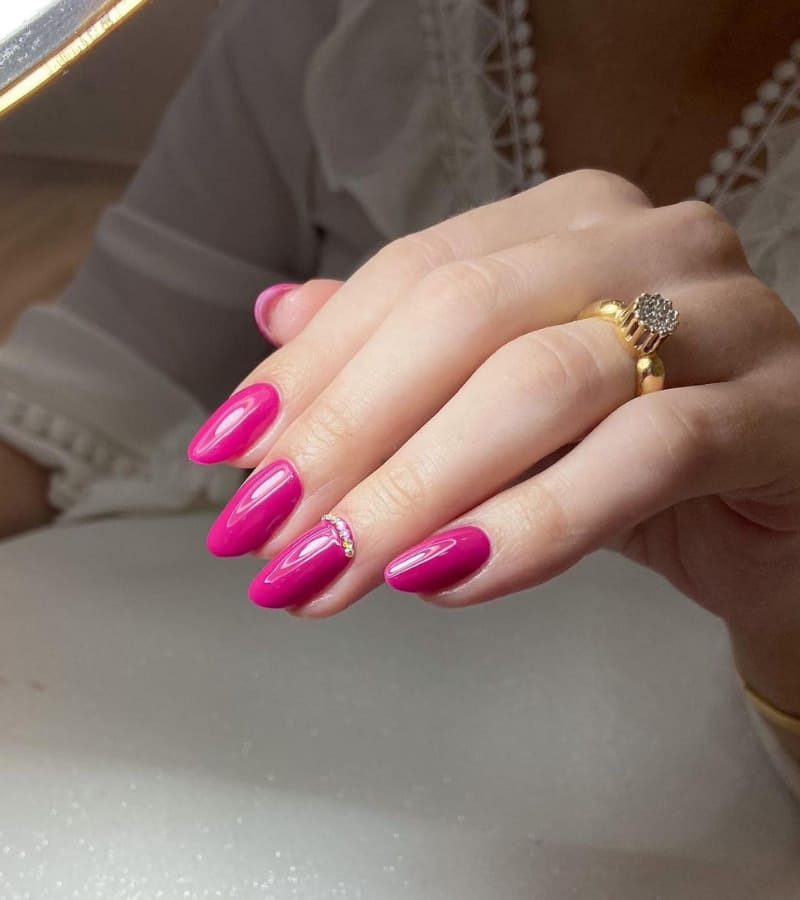 @daninascimentonails
It is not always necessary to have nail arts and designs. You can have simple nail colors to match your outfits. This simple hot pink nail design with a simple line of nail studs is a perfect example of it.
6.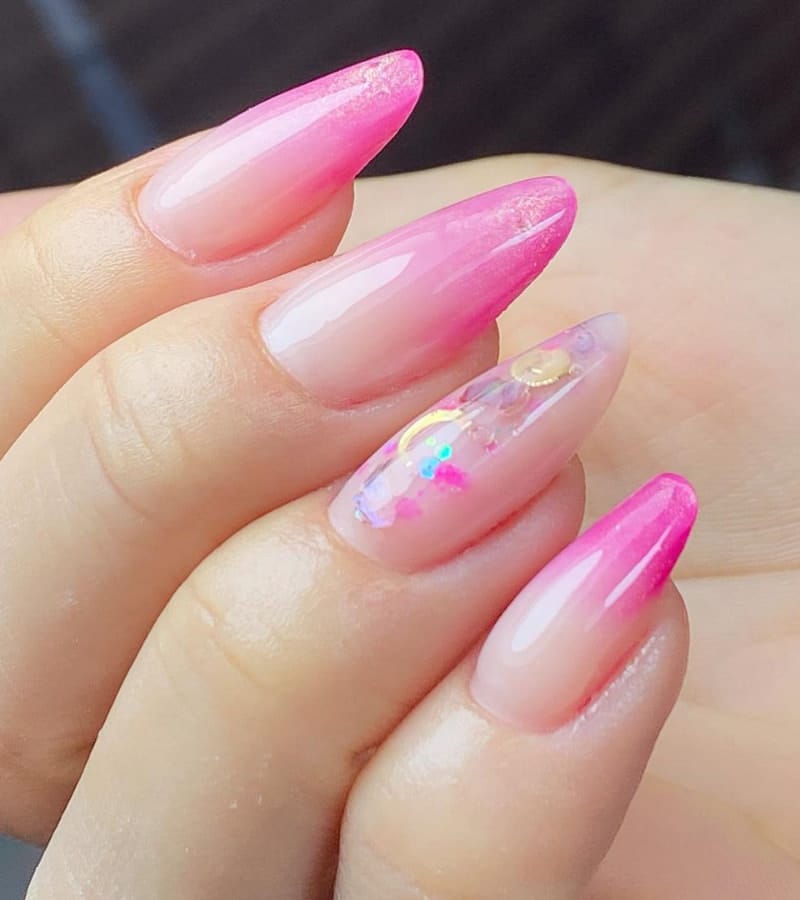 @fernandinhape
Generally, floral designs work well with light pink nails. This design has only one nail with a flower design made of yellow and blue to match the pink shades. The other nails can be kept simple with only a shaded pink.
7.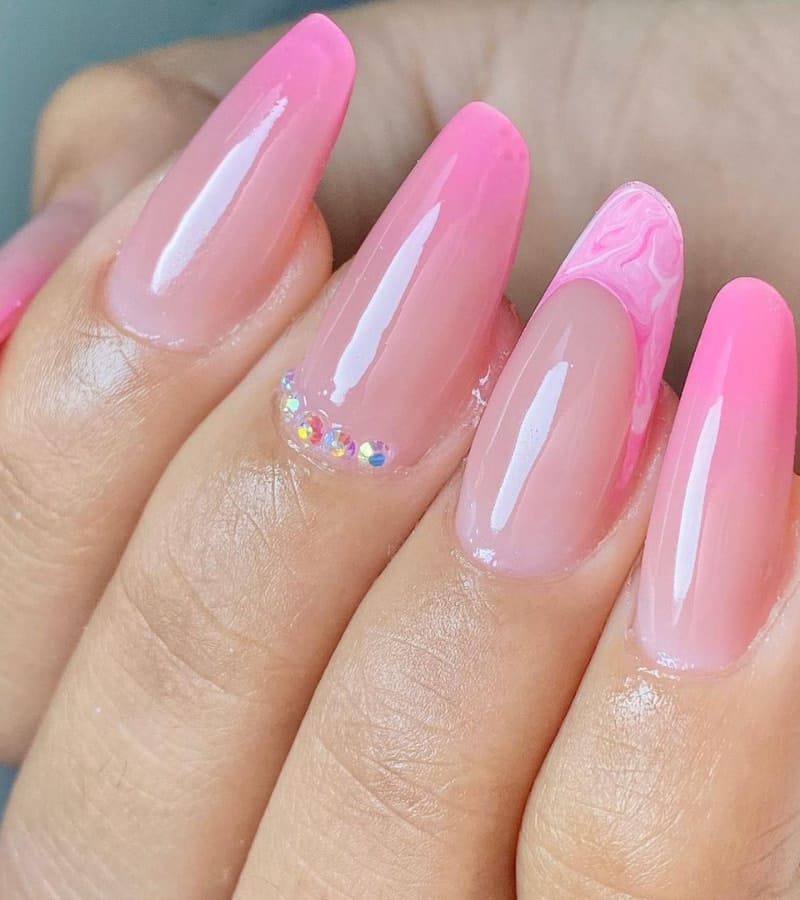 @thayna.esmalteria
These pink nails are very attractive with the shiny appearance of the topcoat. The base of one nail is decorated with some colorful studs. The top of the ring fingernail has a beautiful blurred design of a different pink shade. You can even incorporate some white-colored lines into the design.
8.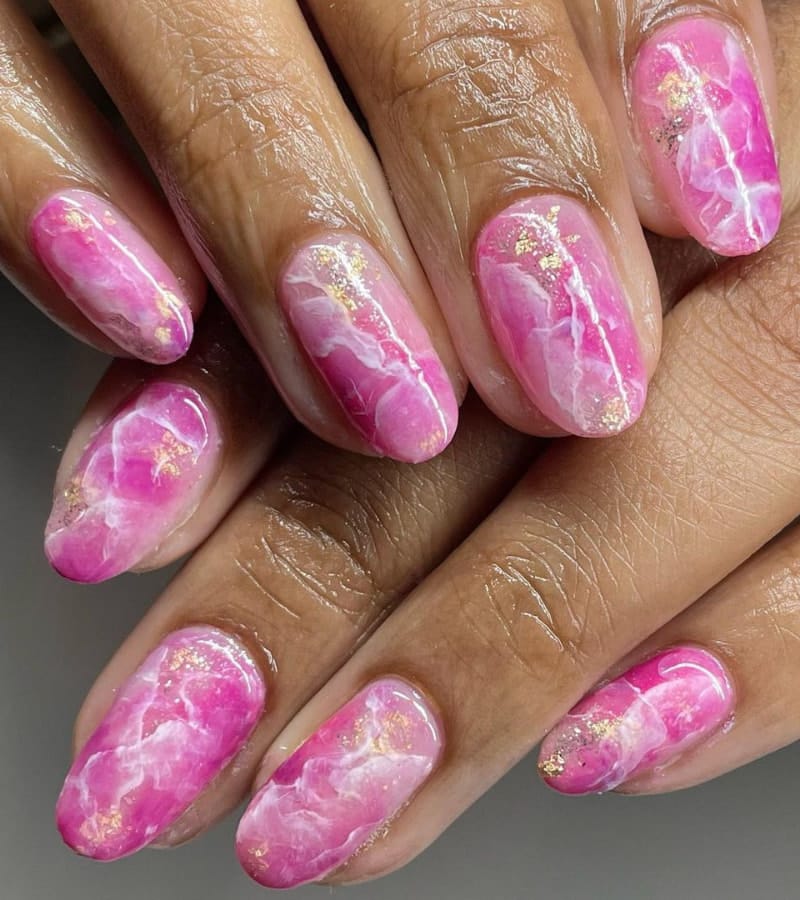 @nailsthatlooklikepaintings
At a glance, this brings the vibe of floor tiles and porcelain. There are some blurred white lines and a hint of gold glitter in this. It will match perfectly with traditional wear for special events and occasions. This is suitable for short almond nails as well.
9.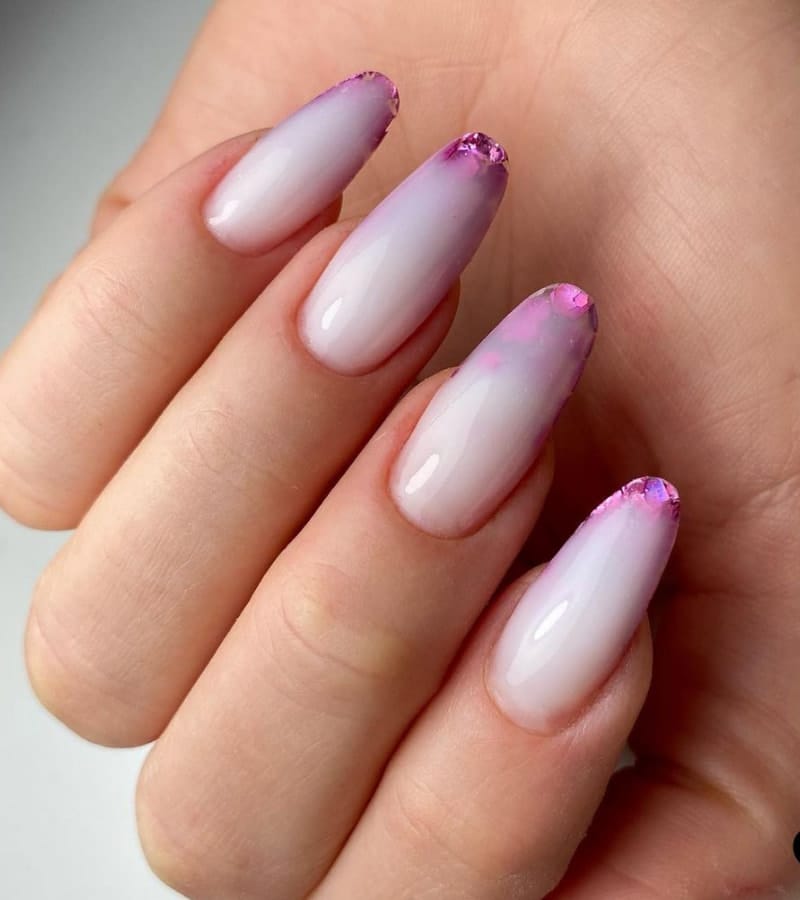 @alessandra.pizzari
This neutral pink nail design has a mystical tip. That's the only decorative component in this nail art. It is ideal for anyone looking for something simple and charming. You can try this not only on almond nails but on any stiletto nail design.
10.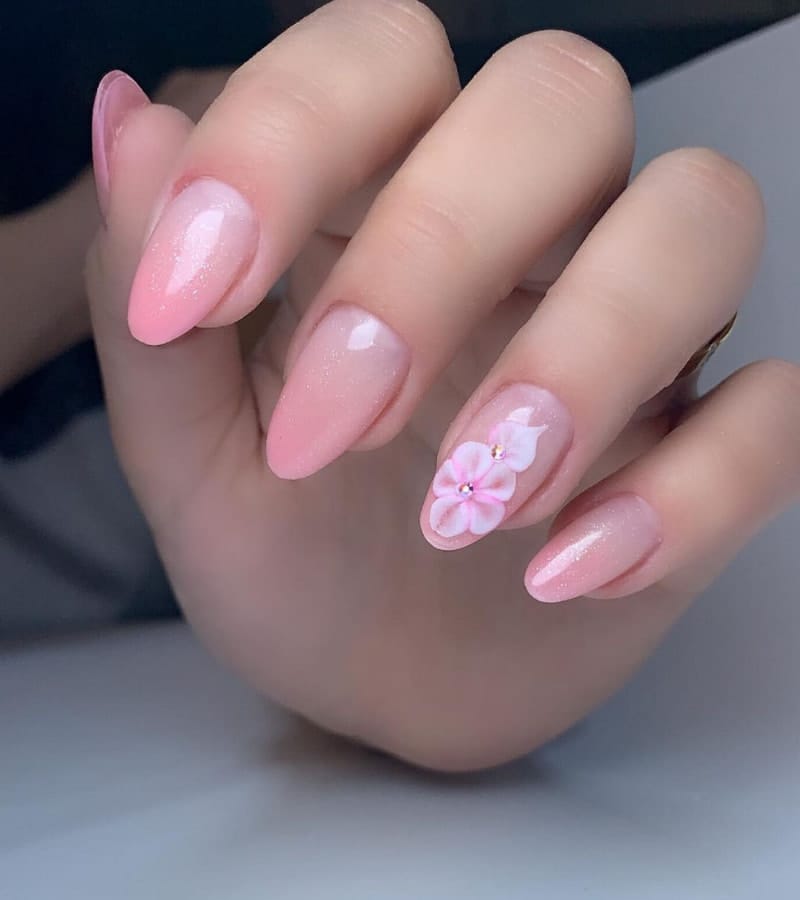 @gerusadesignernf
Sweet pink almond nail designed with shiny nail polish. The specialty is the graceful shading of the pink color. You can add some decorative ornaments to the nails. A floral design would look great with some sparkling studs. Share your thoughts on how well you like this nail idea.
11.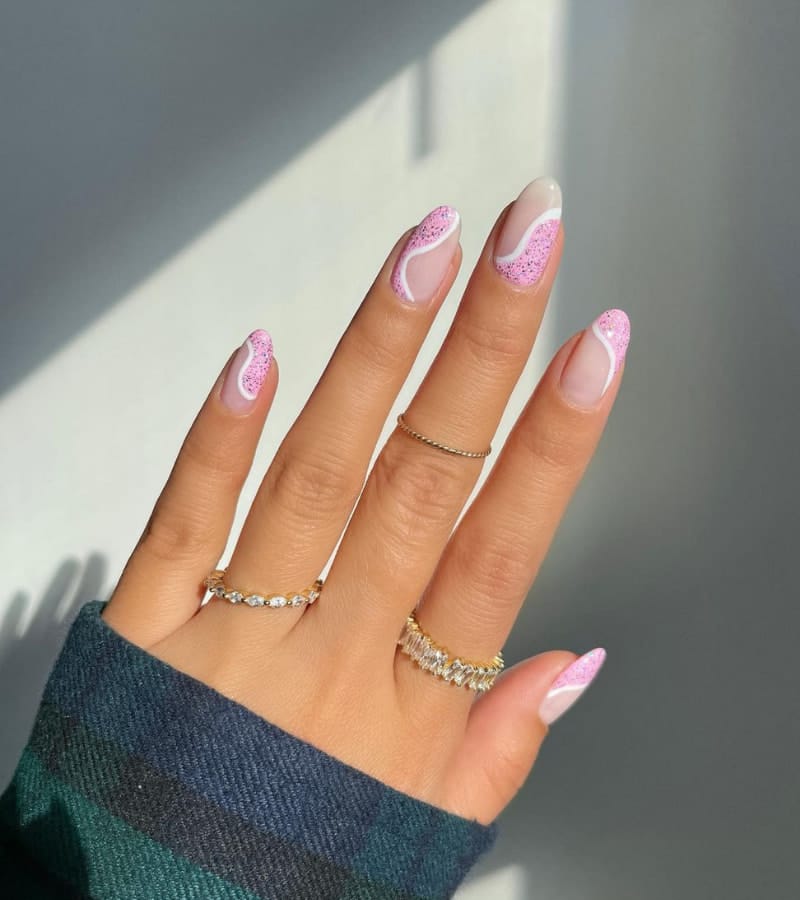 @amyytran
Divide the nail into two sections by a thick white line. Then add some glittering pink nail polish on one side while you keep the other side simple with a neutral color. This will look perfect for the winter season and even casual trips and vacations.
12.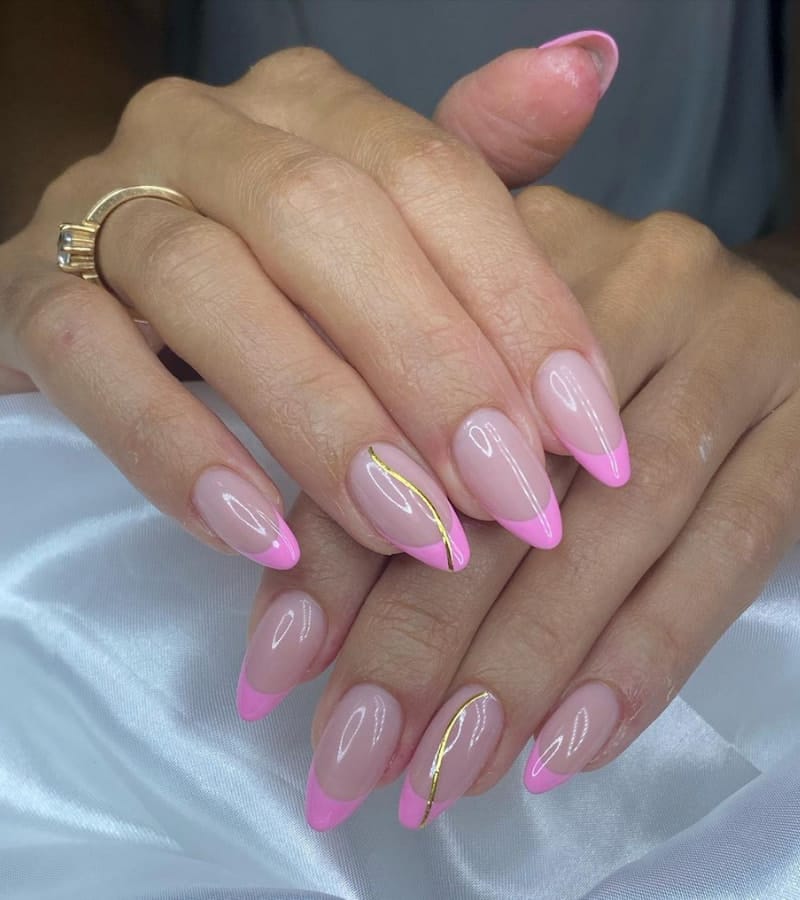 @jeanekellynaildesigner
Are you looking for something neat and elegant? Then this is the best choice for you. Only the tip of the almond nail is colored in sweet pink. The way it is colored is so appealing and attractive. Add a line of gold on the ring finger to make a difference to the normal pattern.
13.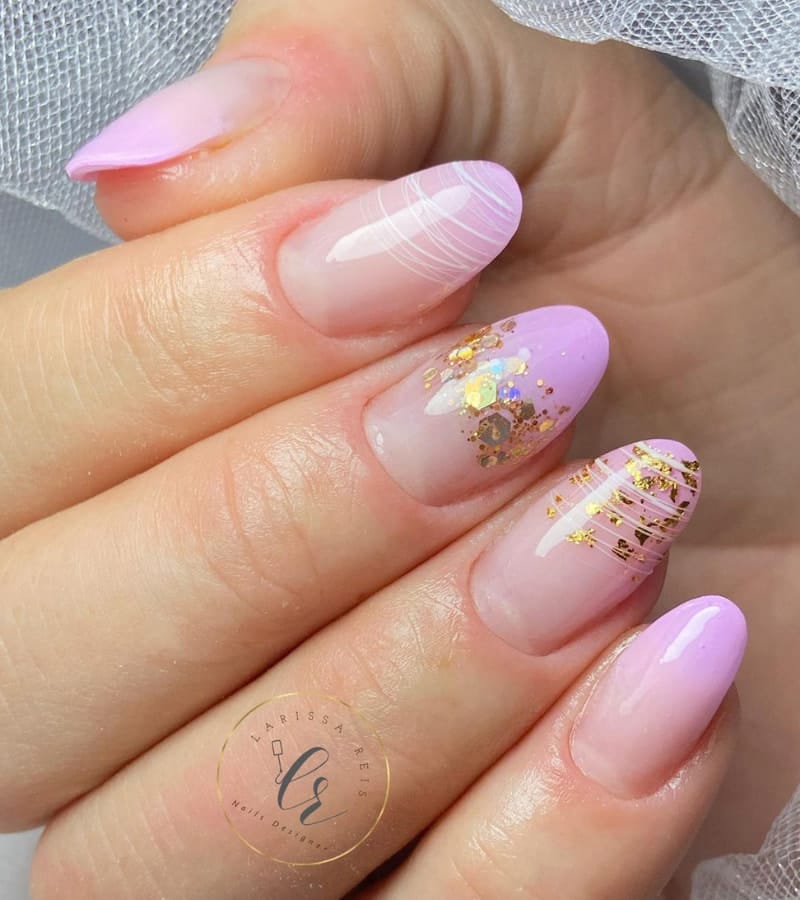 @lr.nailsdesigner
You can try your own nail décor idea as you see here. First, color the nails with a soft shade of pink. Then add some white lines and gold sprinkles as you prefer. You can even add colorful ornaments to some fingernails of your choice.
14.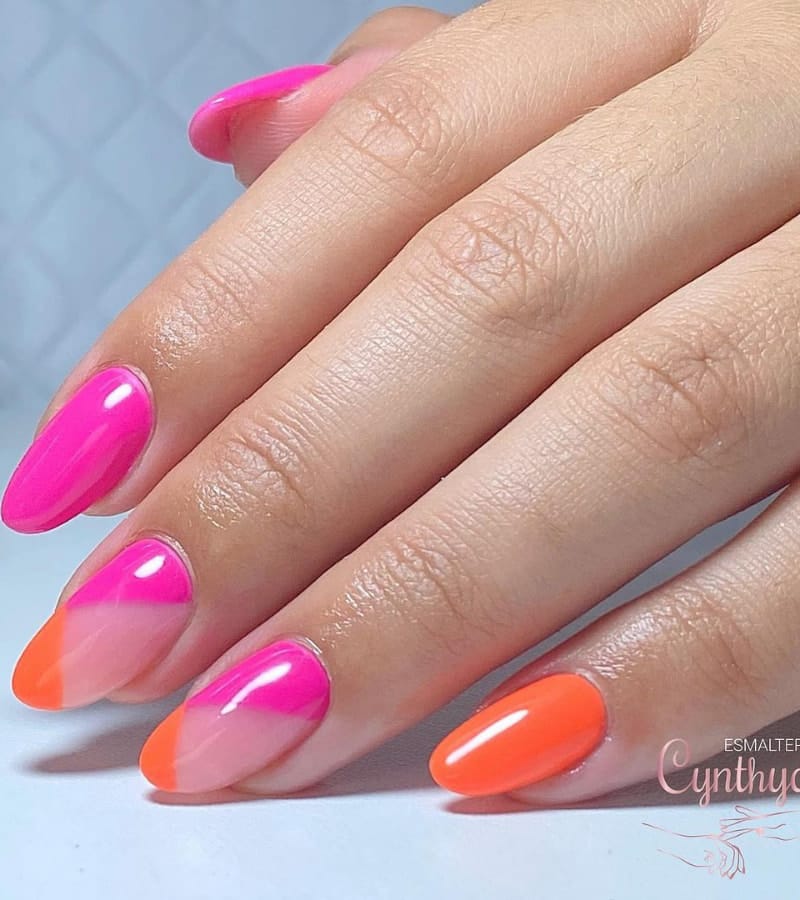 @esmalteriacynthya
Hot pink and orange also work fine when designed beautifully. Since both are contrasting colors, you can leave one portion of the nail with the base color. Have the two nails at the two ends in pink and orange as shown here. You can try this not only with orange but any other color that matches your outfit of the day.
15.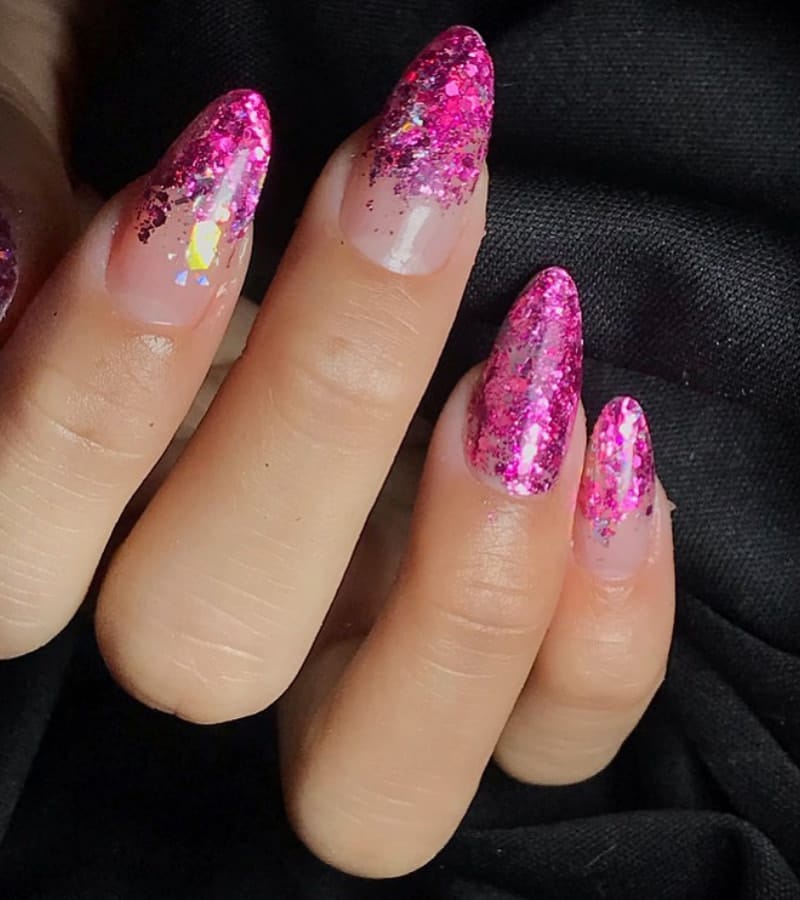 @robertagouveianails
You don't always need to color your fingernails in a plain color to start with. Instead, you can directly go for some sparkling nail polish with glitter. Change the amount you color on the nail as you can see here. Color only the tip of some nails while you color the whole nail in one finger.
16.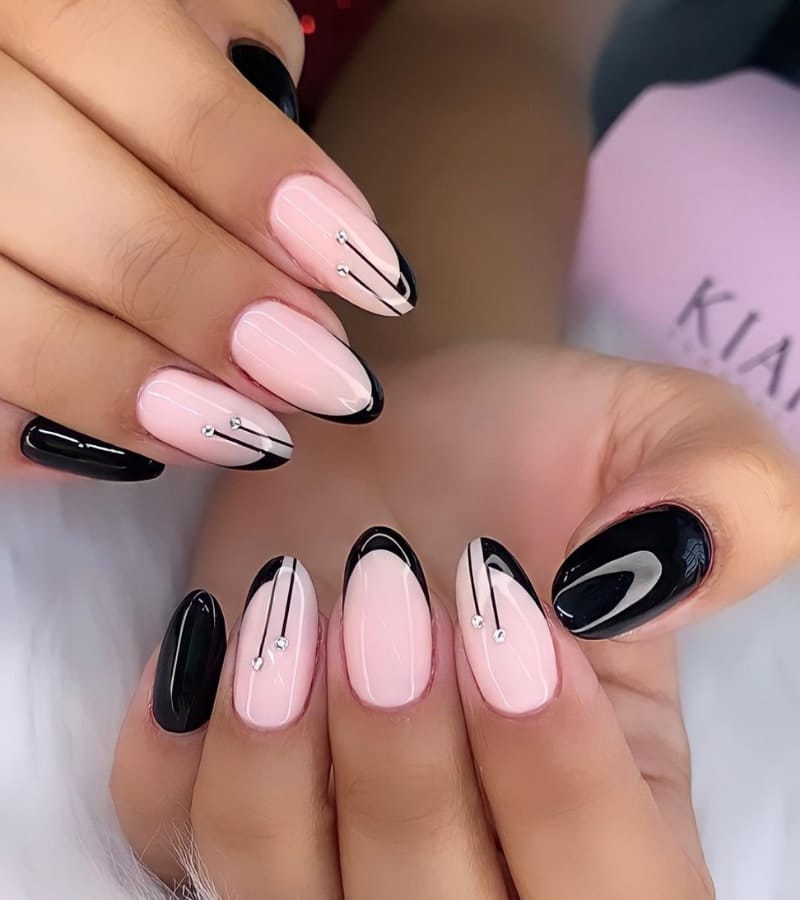 @nails.by.eli
You have a wide range of options to try your creativity with this nail design idea. This is done with a very light shade of pink and black. It is a perfect match for work and other formal events. The lines and studs make this look very attractive almost like synthetic nails.
In conclusion, pink almond nails are a feminine and chic option for those looking to update their manicure. With endless shades of pink to choose from, you can customize your look to match your personal style and preferences. Whether you opt for a classic pale pink or a bold hot pink, the almond shape adds a touch of elegance to any nail design.
From simple and understated to intricate and embellished, pink almond nails are a versatile trend that works for any occasion.
So why not give this stylish and flattering nail shape a try and see how it can elevate your look?