It's time to fall head over heels with the vibrant nails. Yellow is the hue of pure sunshine, thus it will make you feel warm and energized when you see it. Yellow acrylic nails are considered to be one of the most popular manicure fashion trends.
When it comes to yellow, you have a lot of alternatives. The design and color of your nails are two of the most effective methods to convey your distinct individuality. As a result, you may improve the appearance of your nails in a variety of ways by applying yellow.
We're going to show you 16 stylish Yellow Nail Designs for summer in this post.
Disclosure: This post contains affiliate links, which means we may receive a commission if you click a link and purchase something that we have recommended.
1.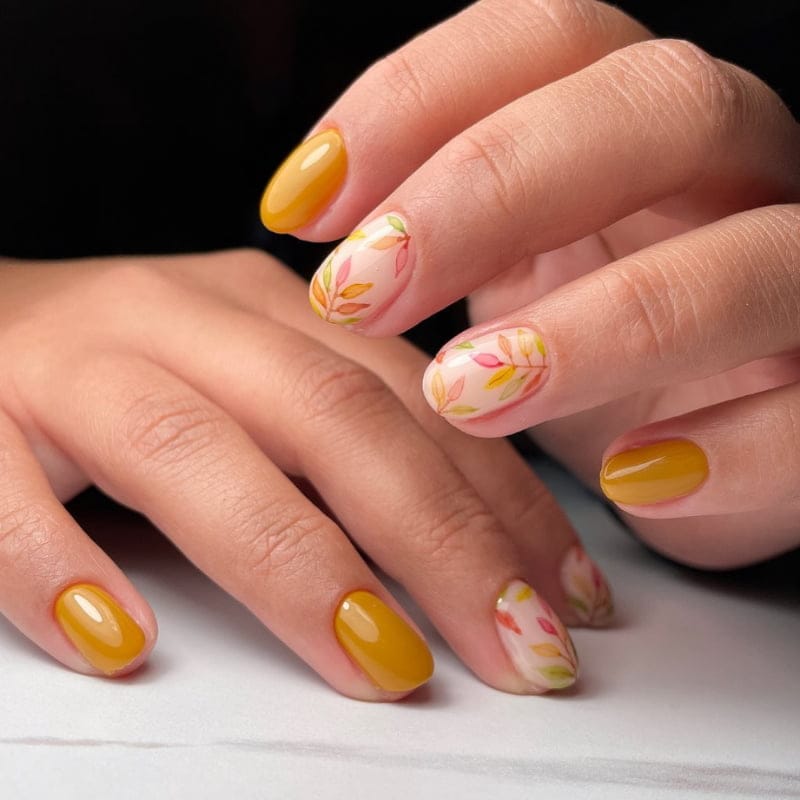 @topcoat_tonic
If you have any floral or leaf decoration ideas, you can convert them to yellow nail art. The leaf design shown here is not only yellow but designed in matching pink and green colors as well. Add a full yellow nail in between the design to make it more bright and attractive.
2.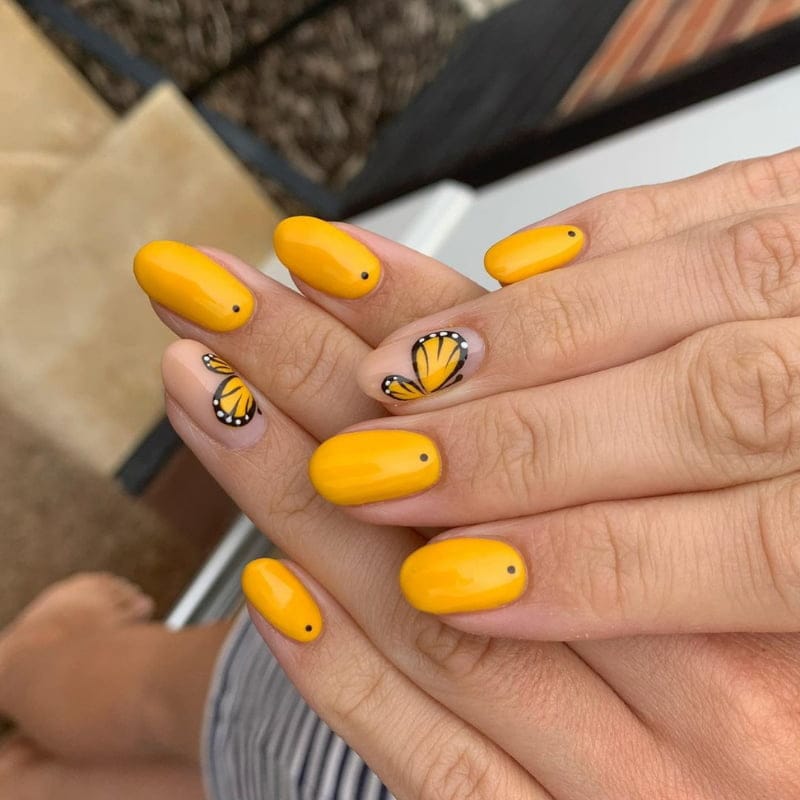 @laurenjs_beauty
Butterflies are a good design idea for yellow fingernails, especially for casual trips and outings. Paint your fingernails in a bright yellow and add some studs for more glitter. You can add a side view of a yellow and black butterfly in one or more fingers.
3.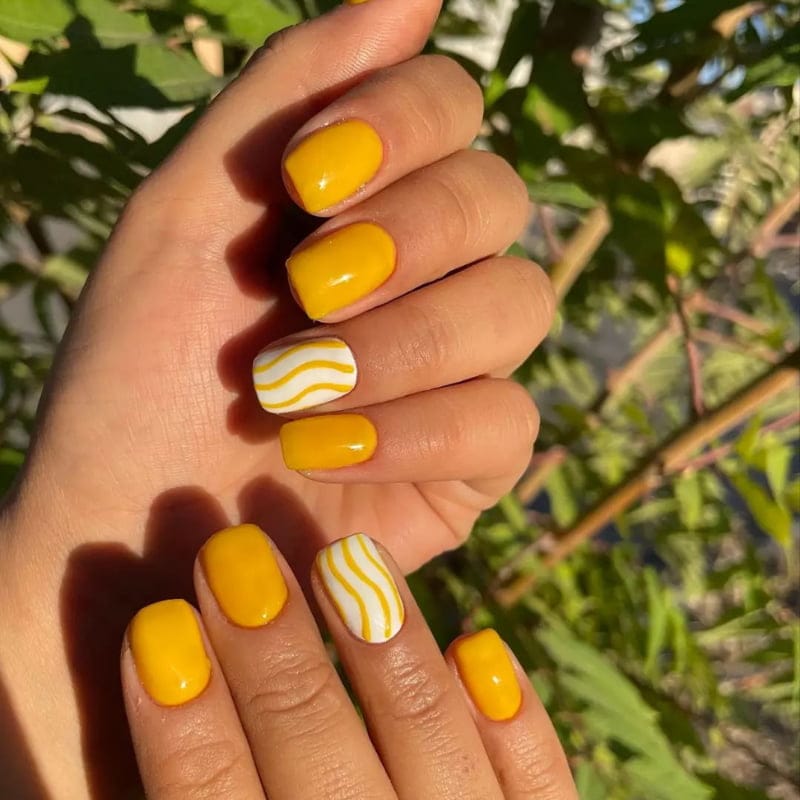 @nailart_.shabnam
You can try this yellow nail design even if you have short fingernails. All you need to do is color one nail in white and the rest in yellow. Then draw some curvy yellow lines on the white nail. It will bring an amazingly attractive design to your fingers.
4.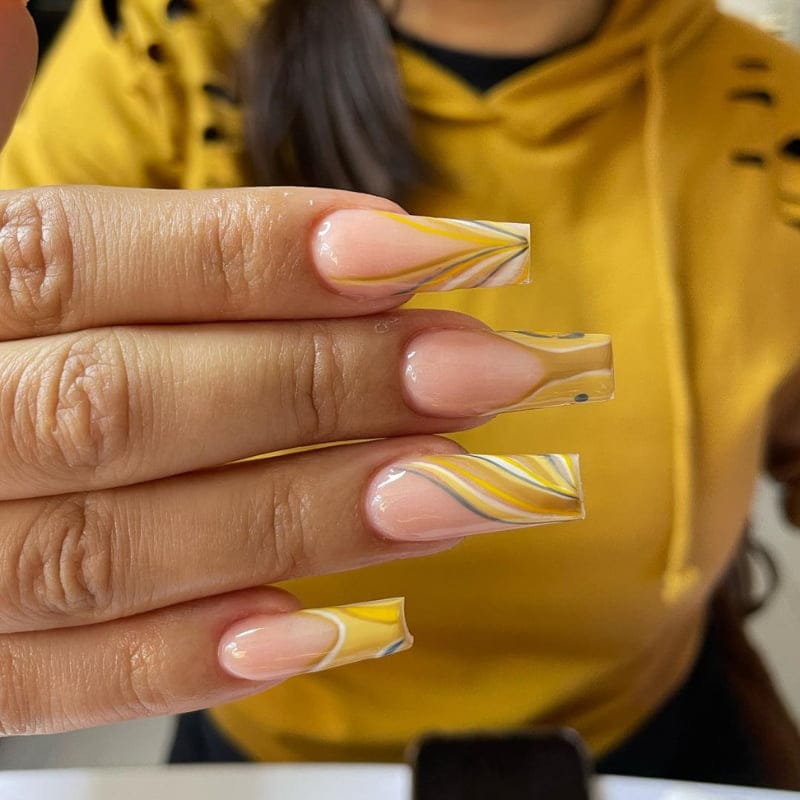 @niche.nailss
Here's something you can try with long acrylic nails. The design is mainly towards the end of the nail while the base is kept neutral. You can color each nail with various curvy lines which are different from one another. Use a few matching colors along with yellow for this.
5.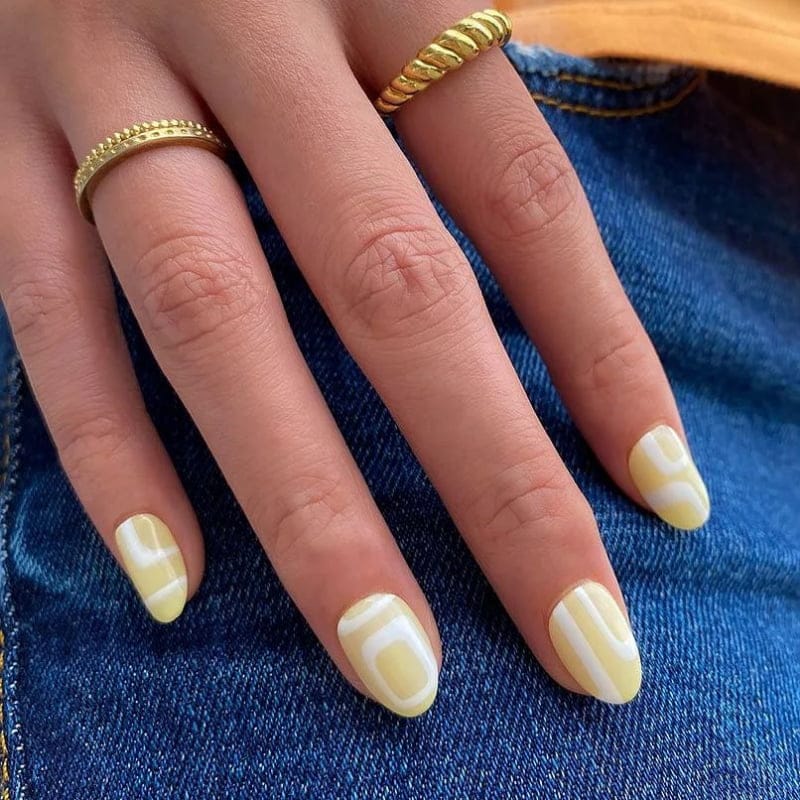 @hannah.k.nails
If you need something light and less bright, this nail design is for you. Use a very light shade of yellow as the base color of your nails. Then draw thick geometric lines to make shapes on them using white. This design is perfect, especially for short nails.
6.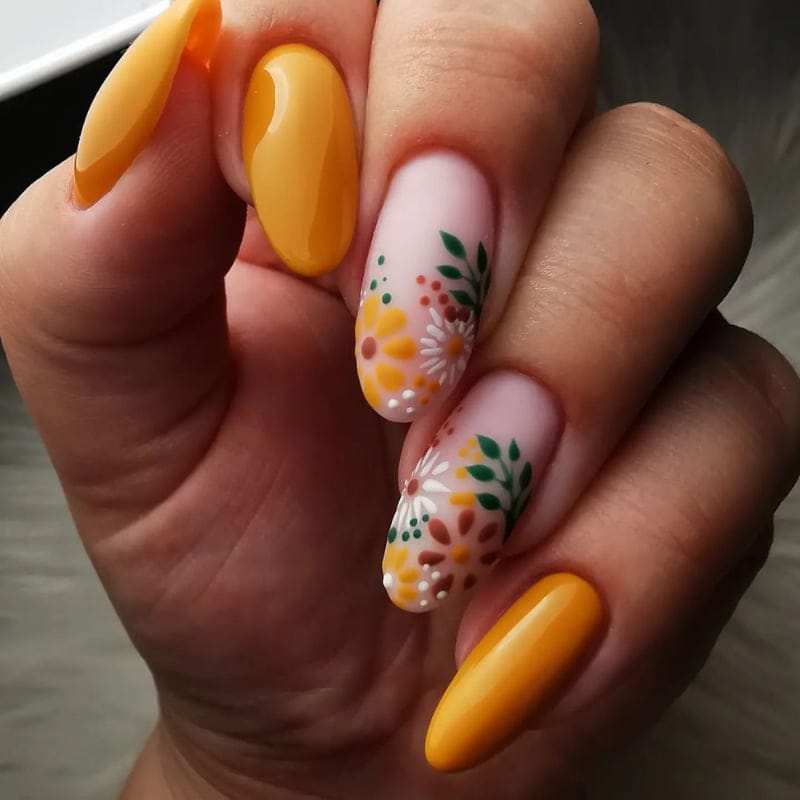 @lakierowy_apacz
This is a bright and attractive nail design idea you can try for special occasions. If you have long nails with enough room for something fancy, you can try a floral design as shown here. Color the remaining nails with solid yellow to make the design more appealing.
7.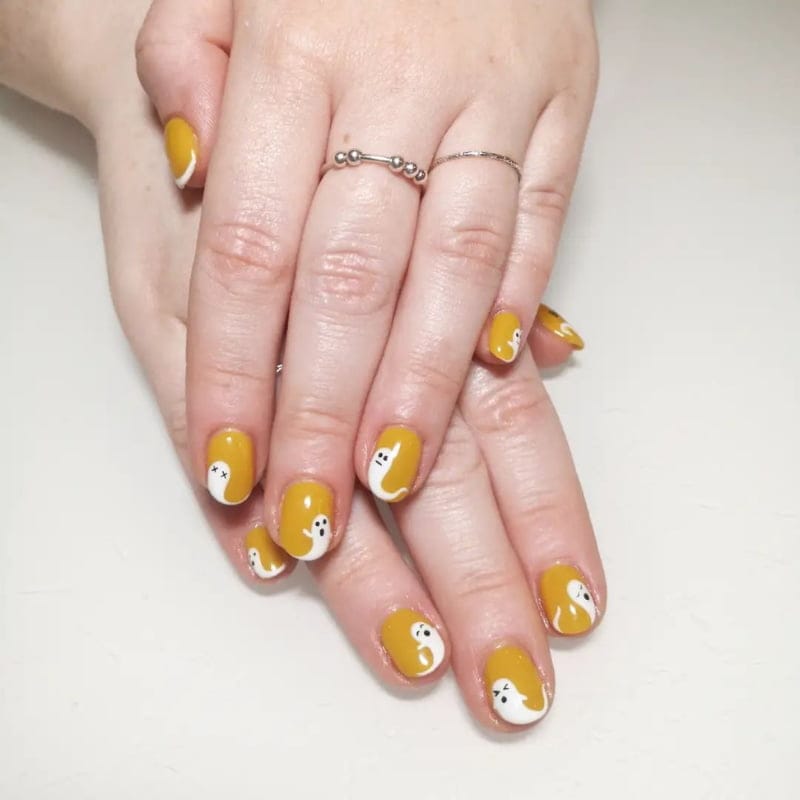 @honeybee_beautybar
Here's another preferable nail design for short fingernails colored in yellow. You can draw a ghost figure with white curves towards the edge of your yellow nails. Even though this is best suited for the Halloween seasons, you can try it for other occasions too.
8.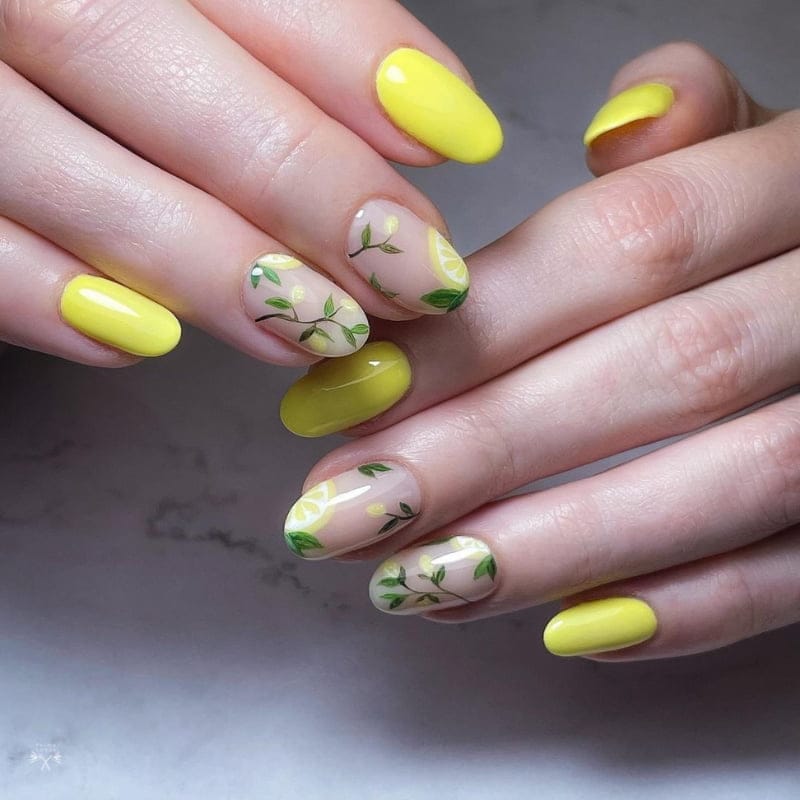 @biosculptureaus
If you are looking for something more aesthetically appealing, you can try this nail art. It has a beautiful design of lemons on branches with leaves. The green and yellow colors of the theme match so perfectly. This design is perfect for both long and medium-sized fingernails.
9.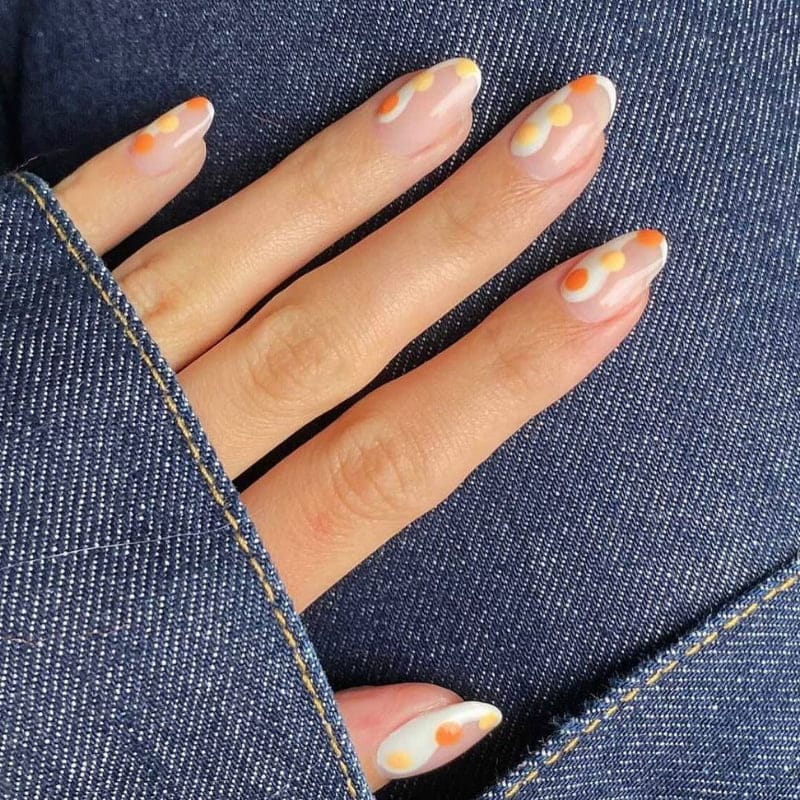 @nailinspolife
This is a light nail design that only consists of the design towards a side of the nail. It has a white area on which there are orange and yellow alternating dots. This is easy nail art that is quite unique from ordinary designs. It will match perfectly for casual trips with your denim attire.
10.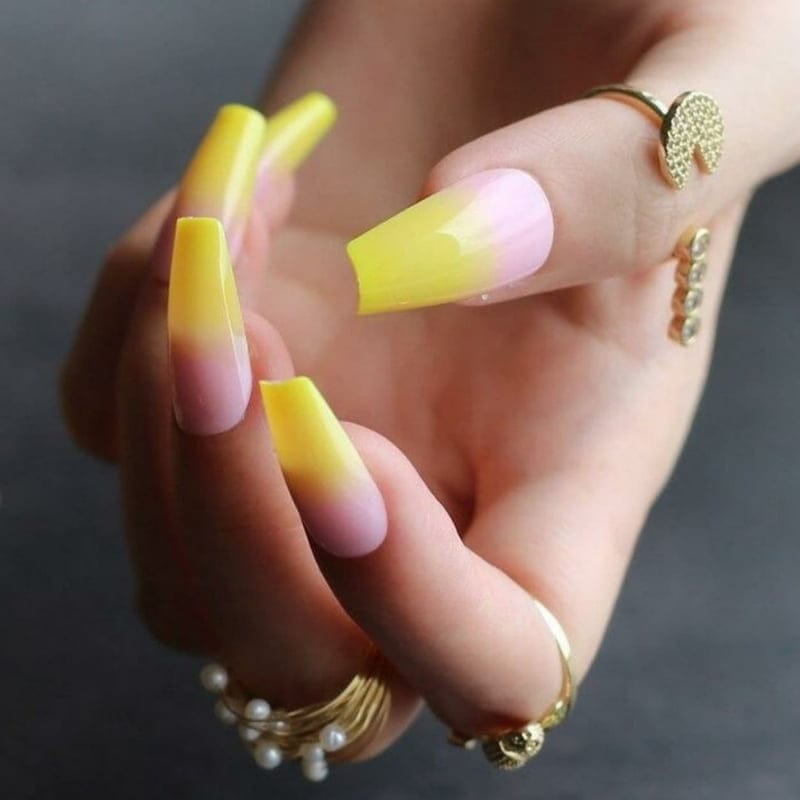 @pepnailsofficial
A perfect nail design for long stiletto nails that can be tried easily. All it has is a natural color blend of yellow and the base color. But it makes the design so elegant that you can wear it with your yellow or gold dress. This nail design is perfect for night-outs and parties.
11.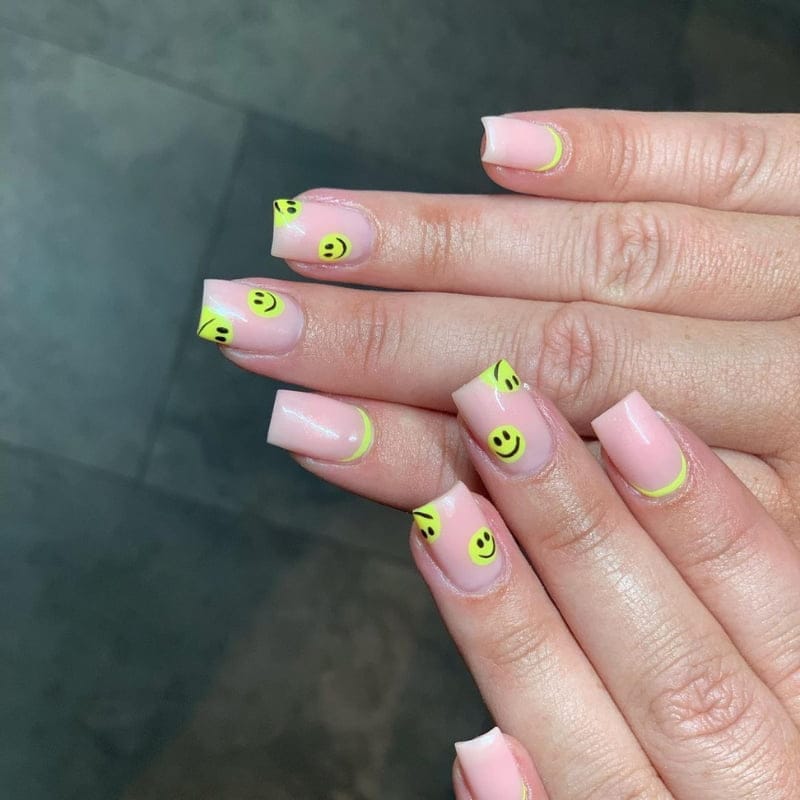 @beauty.bylucy1
The smiley faces undoubtedly add more optimism to your day. Therefore, you can try it out on your fingernails as well. Add one or two smiley emojis on the nail depending on the size of the design you choose. It is an attractive, unique nail design for the theme of yellow.
12.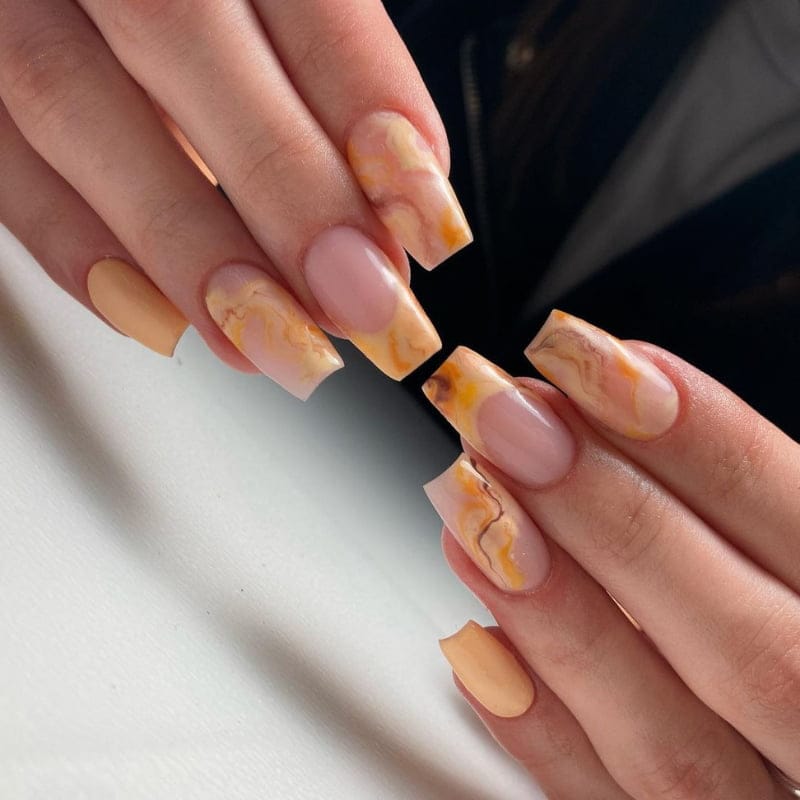 @wk_nailss
Another aesthetic nail design which mostly consists of a ceramic appeal. You can try this despite the size and shape of your fingernails. It will look great on short to medium-length nails. You may need a few matching colors such as orange, beige, and black to the shade of yellow for this.
13.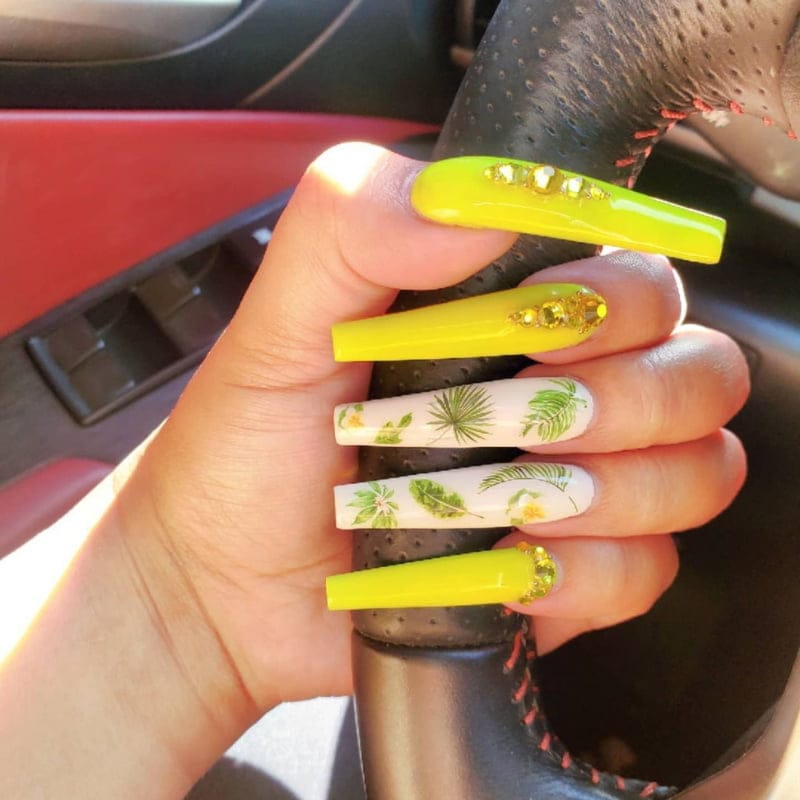 @mirza_gonzalez1
Here's another extra-long stiletto fingernail design themed in yellow. It consists of a few nails in yellow which are decorated with studs of various sizes. Then you can add a beautiful leaf design on the white background of the remaining nails. This design will best suit the acrylic nails which you can wear for special occasions.
14.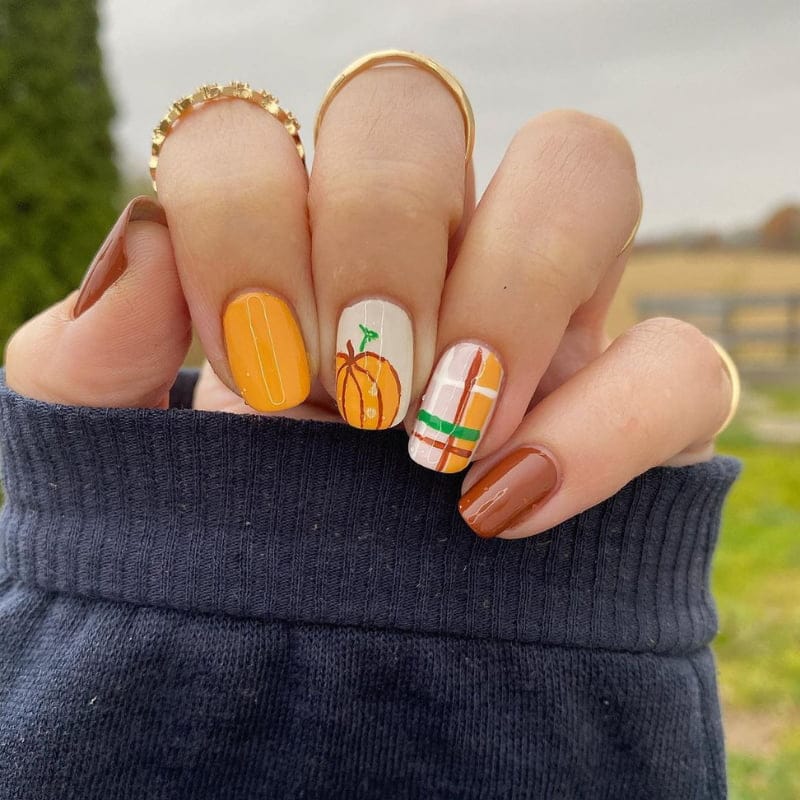 @freshpaintednails
This is something you can try on short fingernails for casual events. The colors used here are yellow, brown, and white mostly. Color your nails with yellow and brown alternatively. The white nails can be painted with a pumpkin design or a pattern as shown in this.
15.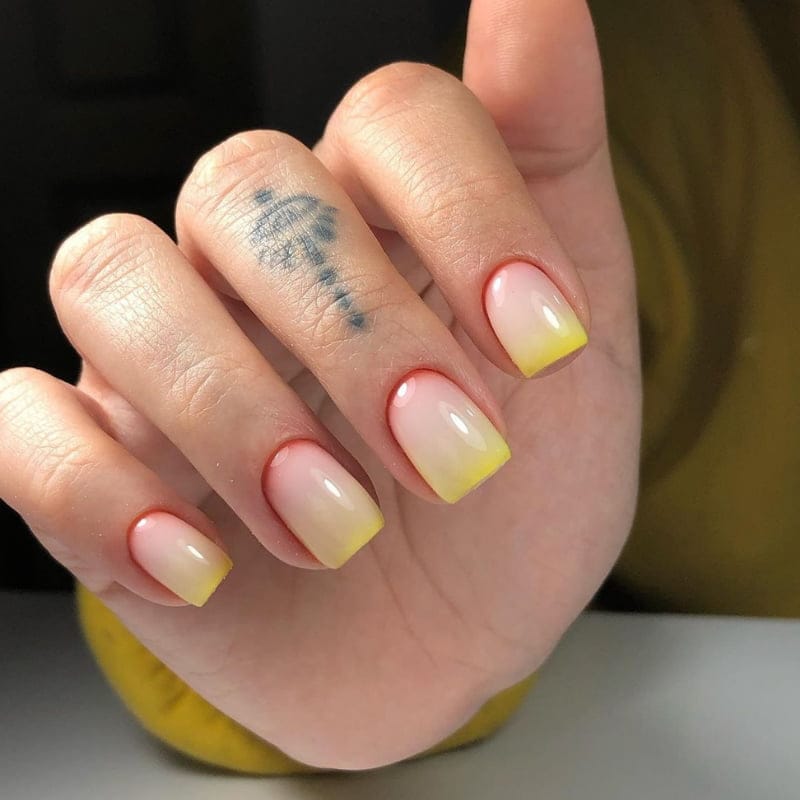 @nail_mhro
A light touch of yellow on a nail will also become a perfect design if you do it right. This nail design consists of nothing more than the base color and the light yellow color at the edge. You can have this fashionable nail design if you need to make everything more light and natural with less brightness.
16.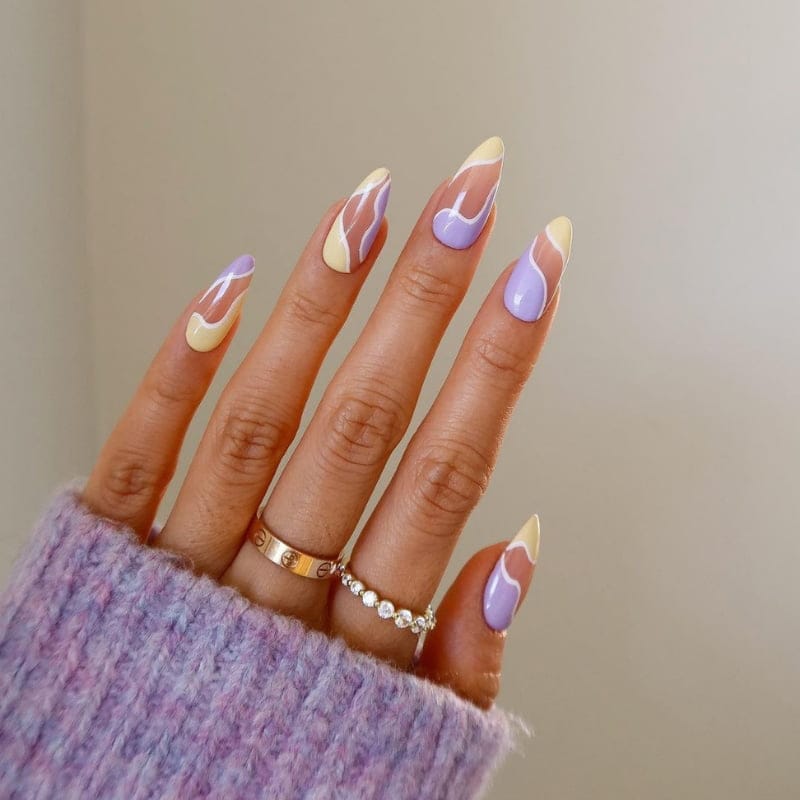 @vwnails_
This brings you a chance to add a few colors to your nail design. It looks best on almond nails as the colors are matched diagonally. You can also use a white line at the borders separating each color. It will appear more elegant if you use a neutral color in the middle as shown here.