You've arrived to the perfect site if you're seeking for Black Almond Nail Designs!
The almond nail is a gorgeous and popular shape right now. Black Almond nails are becoming increasingly fashionable among them. Of course, there's more to black almond nails than that. Black almond nails can help you maintain your style, and they'll be the hottest manicure trends.
The simplest black almond nail art is to simply paint your nails black, but there are so many more styles you can do to achieve a trendy and elegant look.
I've put up a gorgeous selection of 16 black almond nail art ideas to share with you. Take a peek around and get some ideas for your next manicure. Feel free to save your favorite one to your Pinterest boards.
1.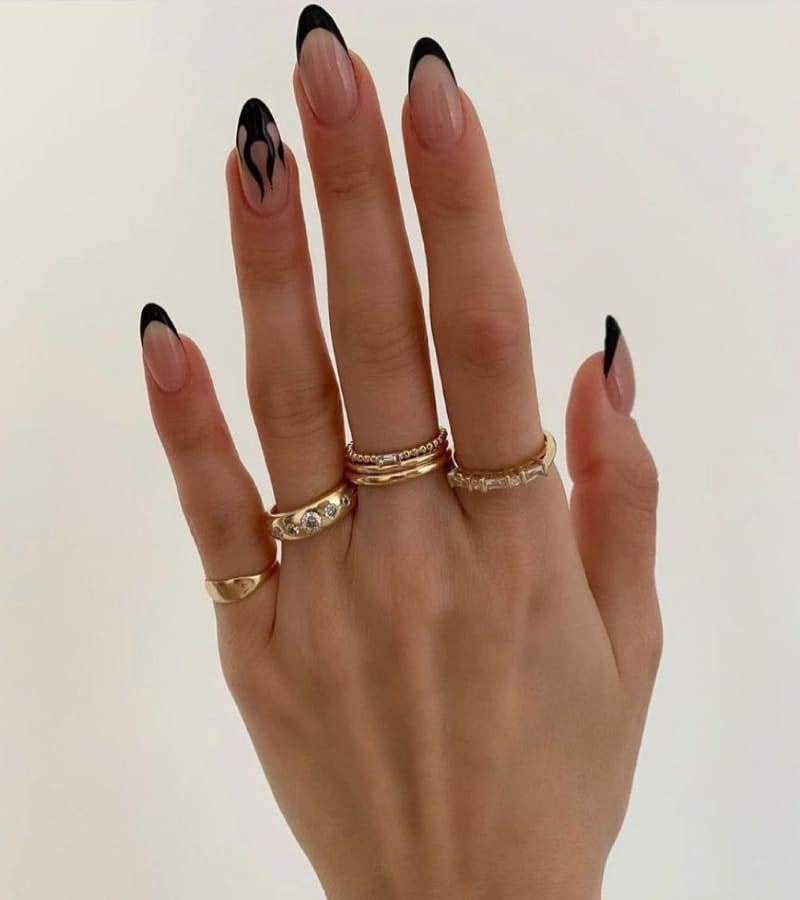 @pinnedandsaved
Coloring only the outer area in black gives a different vibe than the fully colored nails. This is because it highlights the length of the nail and fingers. This nail design is preferably tried on almond nails as its shape suits the design. Add some diversity by changing the pattern on one nail as you see here.
2.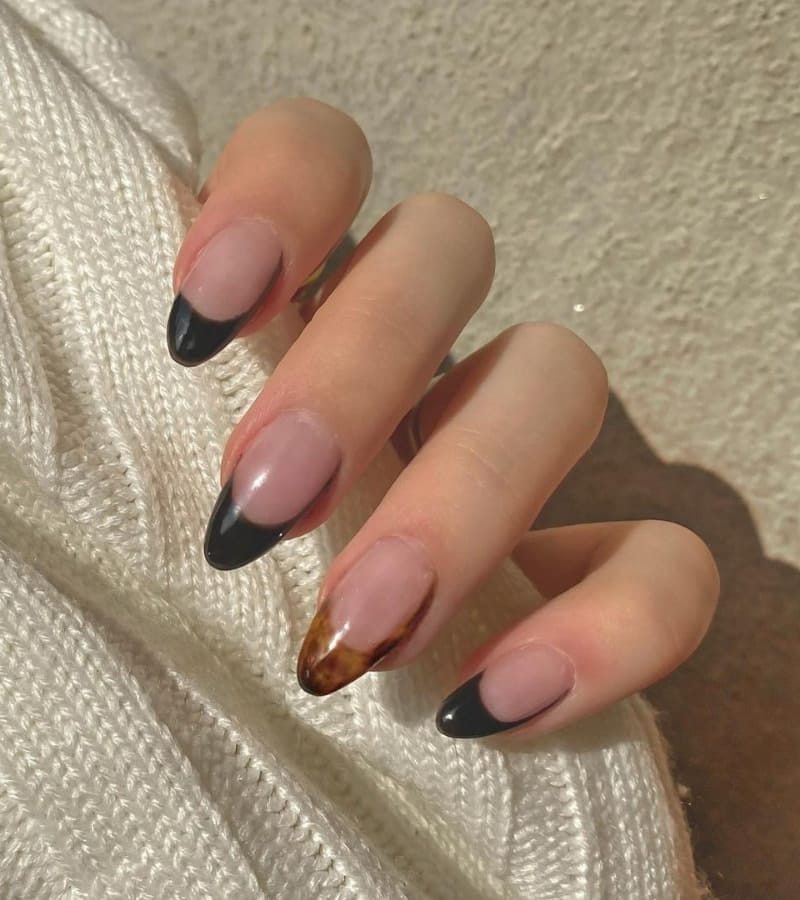 @morganrcarey
This is quite similar to the previously discussed nail design. But the difference is that you can find a thicker area of black in this. The black color even extends to one side of the fingernail. Color the nail of your ring finger in a matching color to add more sparkle to the design.
3.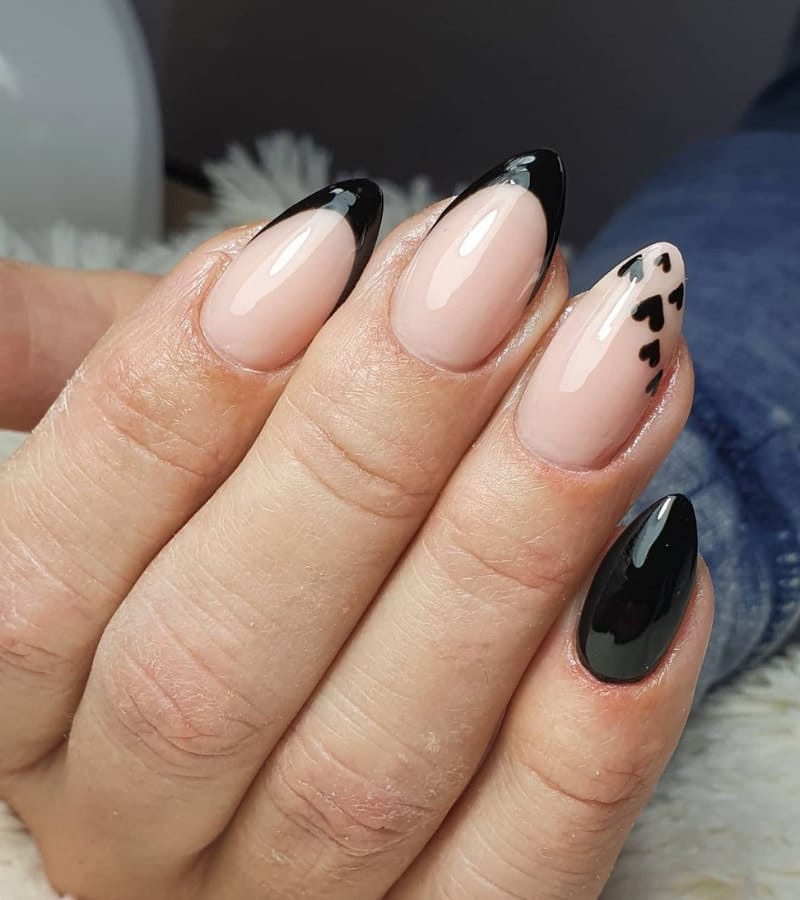 @darija.nails.zagreb
Little black hearts make a great addition to the almond nails. If you like it, you can even add only black hearts to all the nails. If not, you can try alternating the design with full black nails and only the tips colored in black.
4.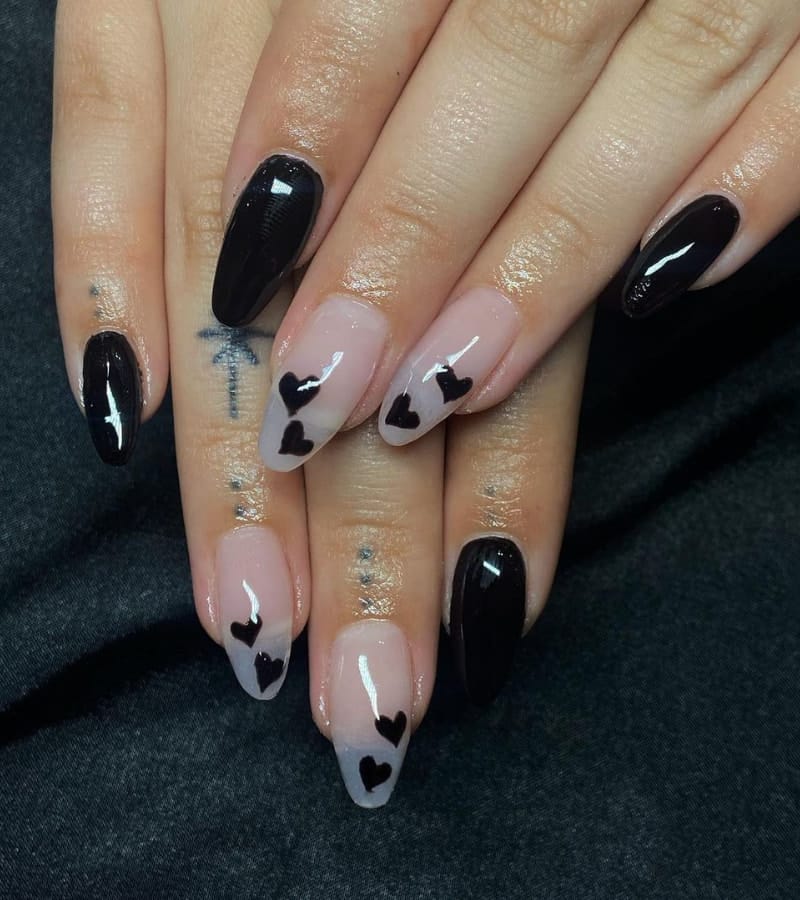 @_beautybychristy
Another way to have small black hearts on your nails. Color the first and last fingernails in plain shiny black. Add a transparent coat on the other two nails and add the hearts on them. Depending on the size of hearts, you can determine the number of hearts you can add to one nail.
5.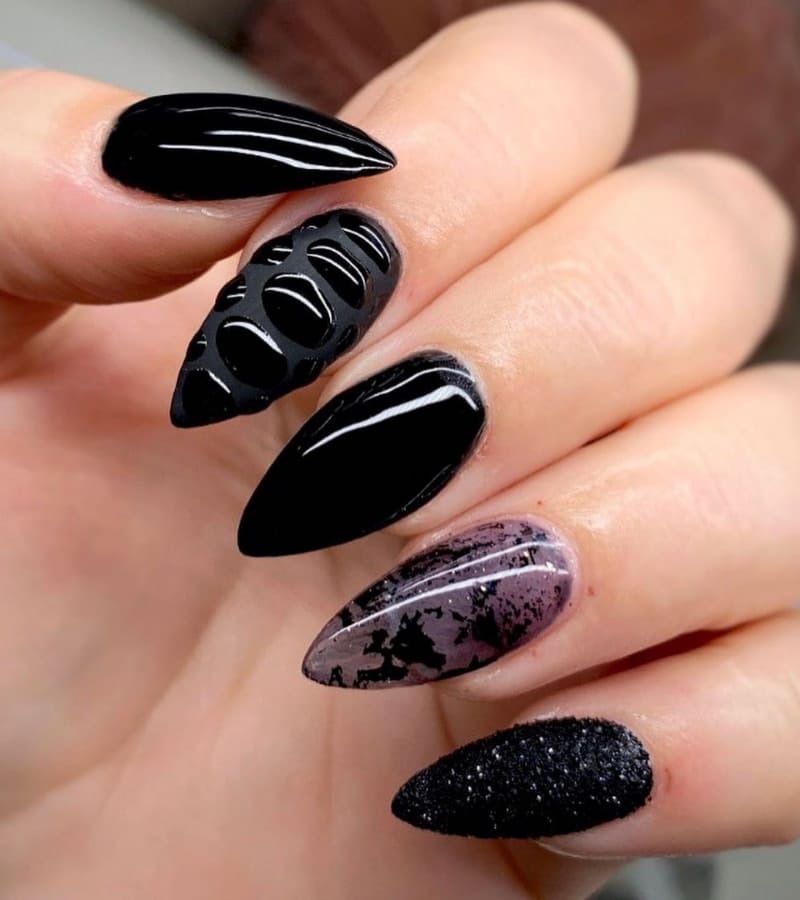 @melaniezamoranails
Here's something out of the ordinary for black almond nails. Different nails have different textures on the nails. One nail has a simple shiny color, while the next one has embossed droplets on it. Then you have glittering nails and another one resembling a gem.
6.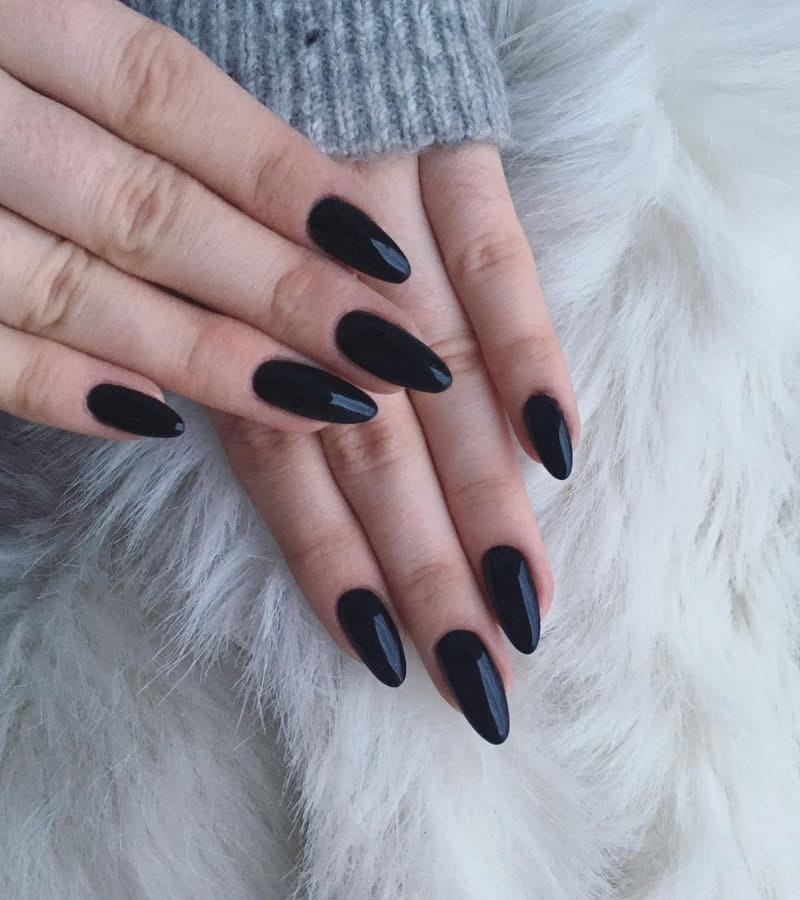 @anitas.nails
Plain black nails highlight the shape of your nails pretty well. So if you have done your nails into a beautiful almond shape, why not try this itself? It will even make your fingers appear more slim and graceful. Black nails are a perfect selection despite your skin tone.
7.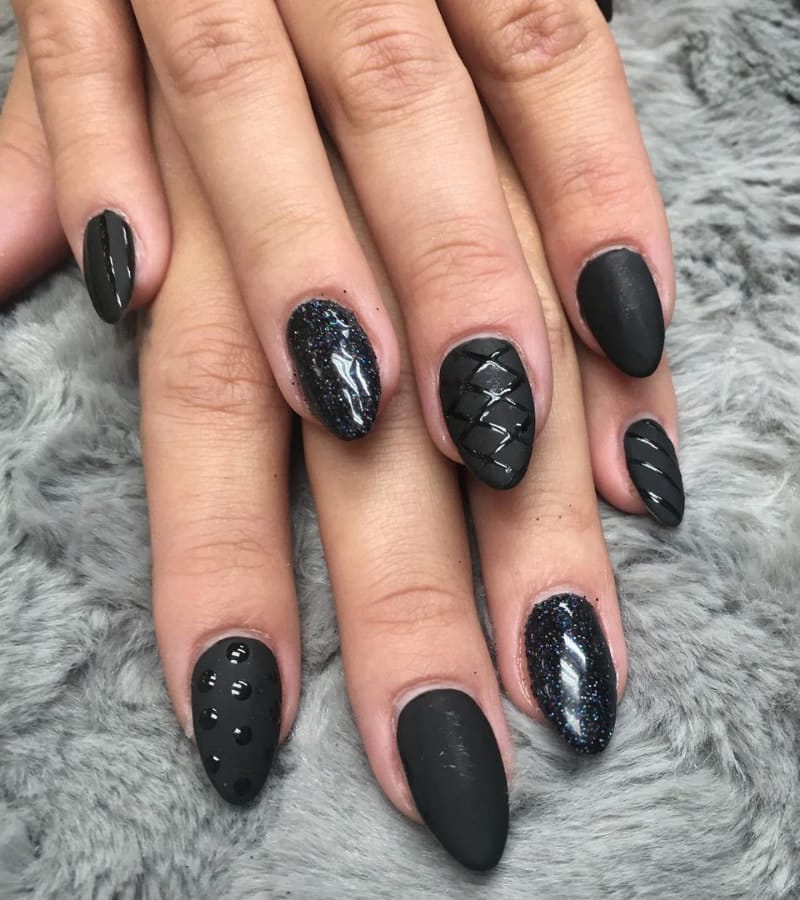 @amy_gray_74
Another difference in the texture of the fingernails. In addition to the normal polished nails, you can try a matte black as well. Then have a design of dots or crossed lines as shown here. Shiny diagonal or straight lines can also be drawn on the matte nail polish.
8.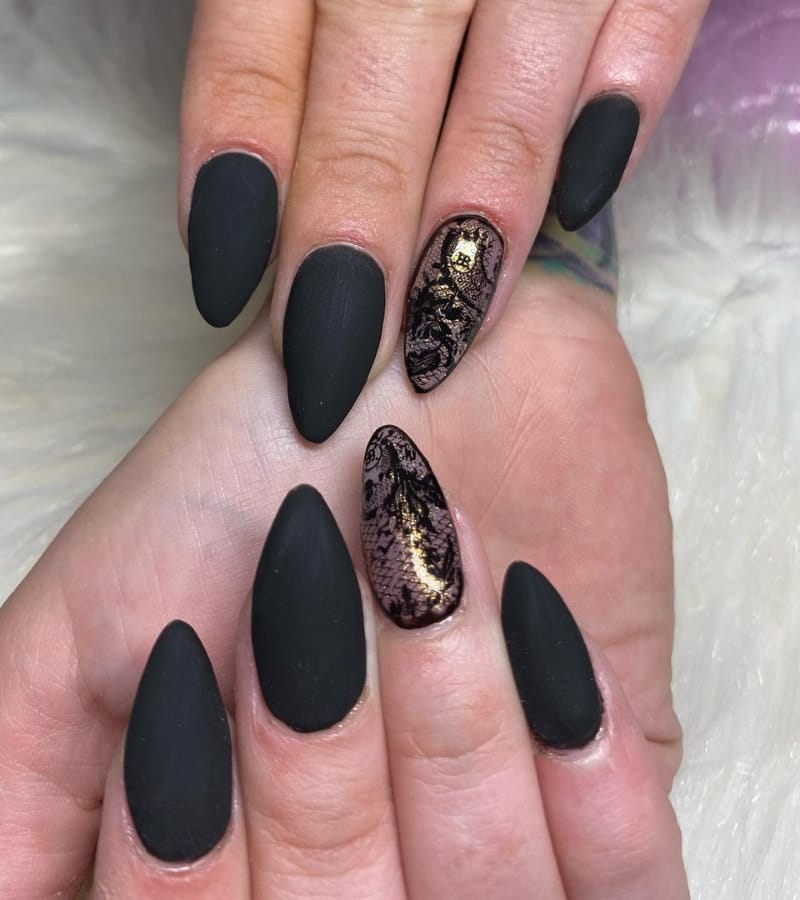 @nailsbyimarie
Most people are interested in bright and shiny fingernails. But the matte texture of black is perfect for almond nails. You can even get a special nail design with some art for the ring finger. It will make the design more attractive with a little shine.
9.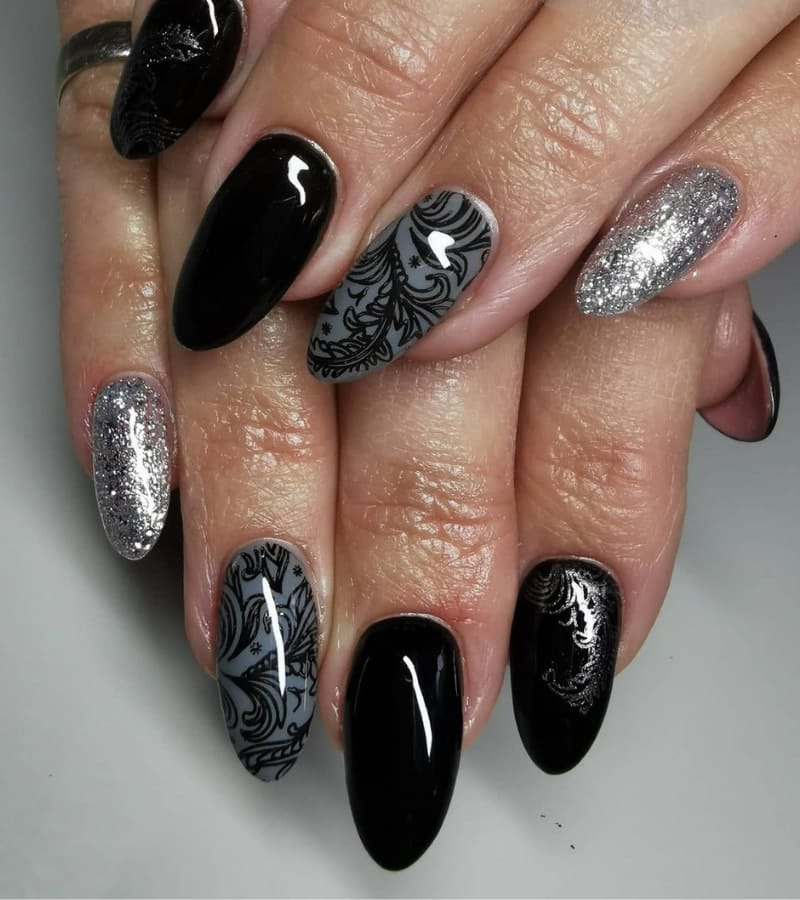 @tiptoenailstudio1
Grey and silver are also good to go with black almond nails. Color one or two nails in shiny black as shown here. Then paint one nail in grey and get a beautiful design on it. You can also use some nail stickers for this. Then color another finger in glittering silver to complete the design.
10.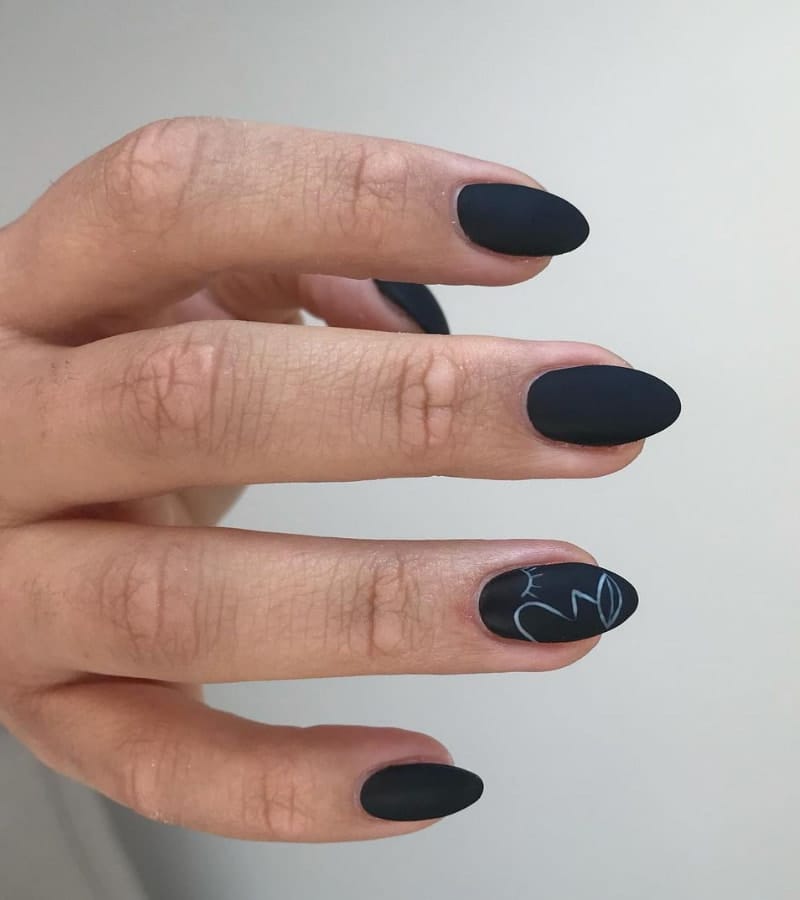 @beautyby_kaylinklassen
Drawing patterns on matte nails is another attractive way to do your nails. The art here features the sketch of a female face. You can try some other designs such as cartoons, animals, or flowers for this. Make sure to pick a shiny silver color so that it is quite visible on the matte black.
11.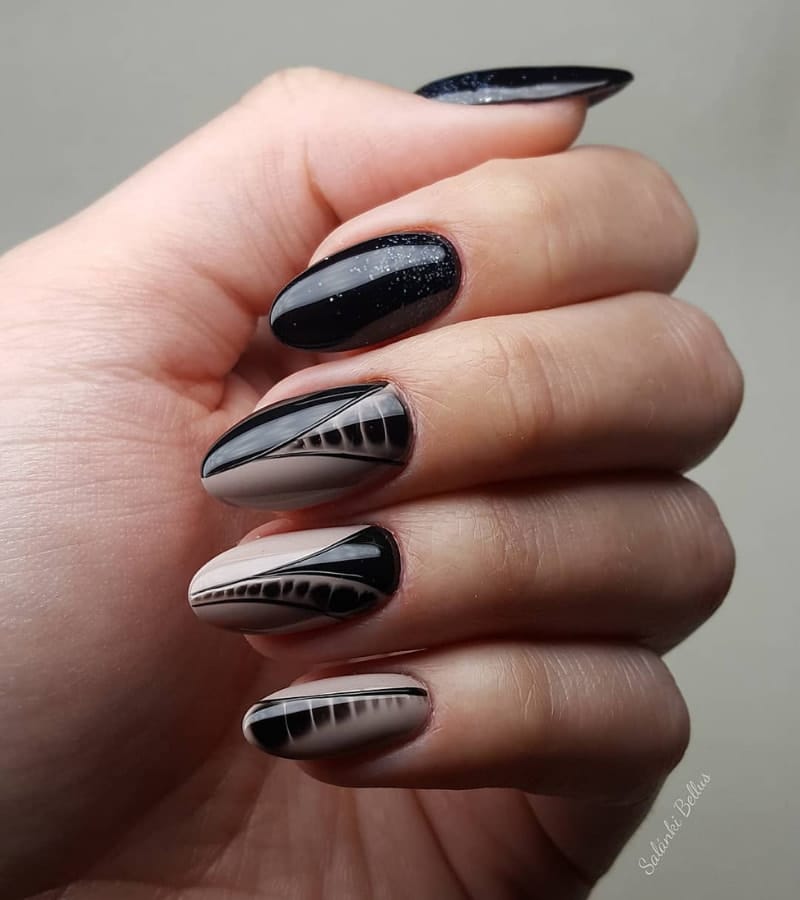 @bellus_nailart
Here's another way to style your nails in black and grey. Add some curvy lines and color one portion in black while keeping the rest grey. You can even add some shaded black patches along the nail as you can see here.
12.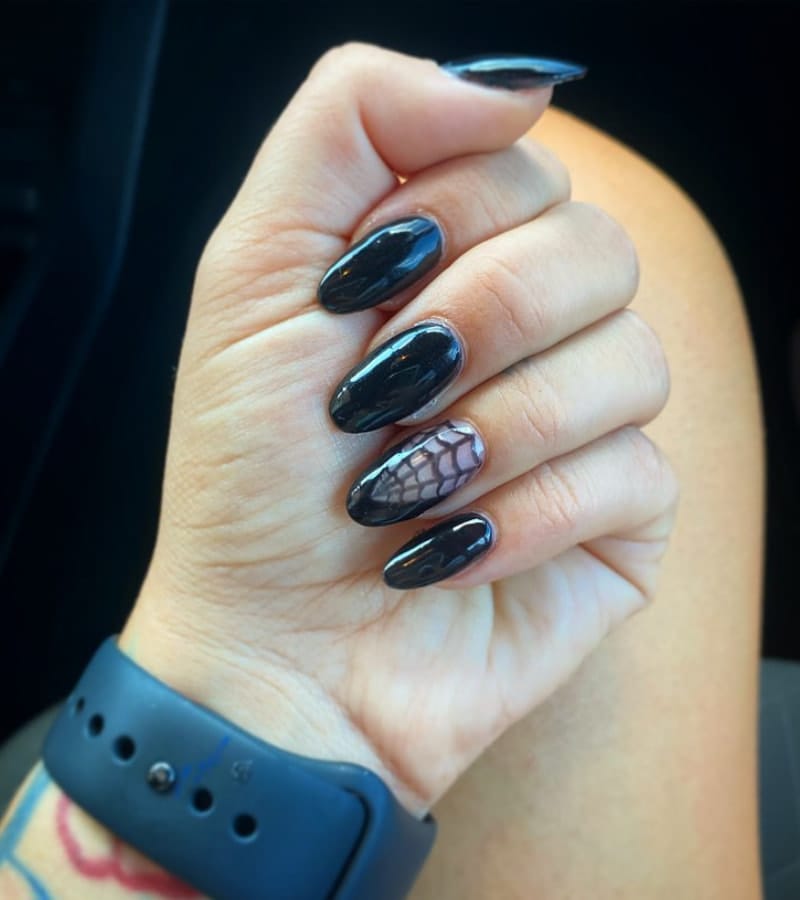 @elle__thesouthernbelle
If you are planning to go with a plain black design, you can make a slight change to the nails with this. Keep a part of the nail with the base color and then you can use black or grey to create a cobweb design on it.
13.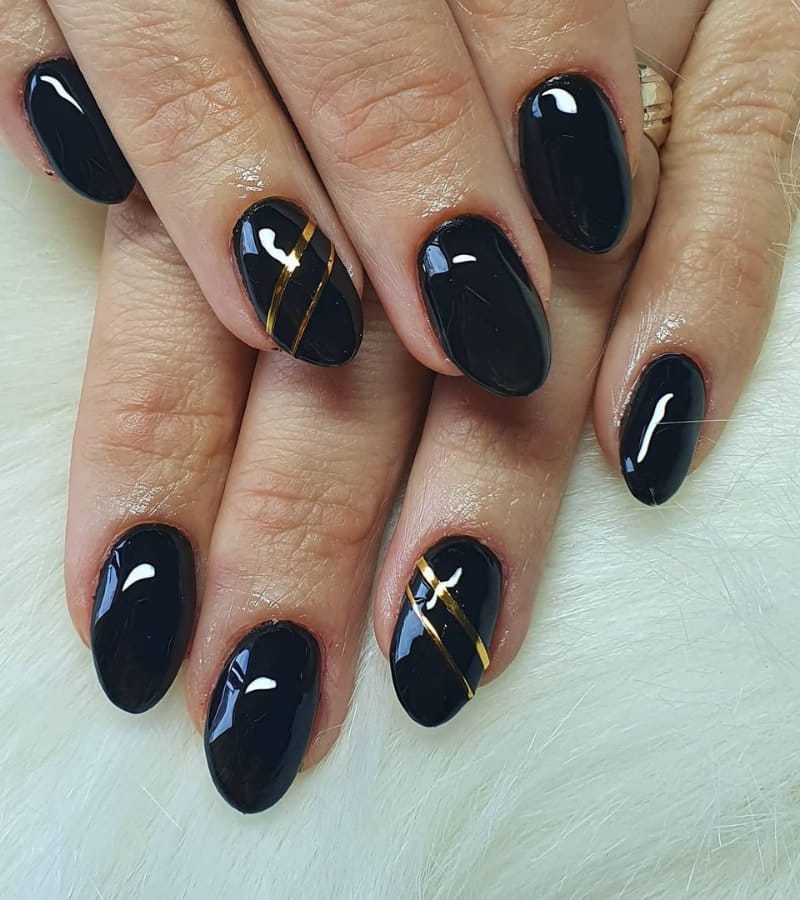 @beauty_real_by_andela
Sparkling black almond nail design with two golden lines striped diagonally. It is a perfect design idea especially for middle-aged women who are looking for something classy. This will look great for festive events with gold jewelry.
14.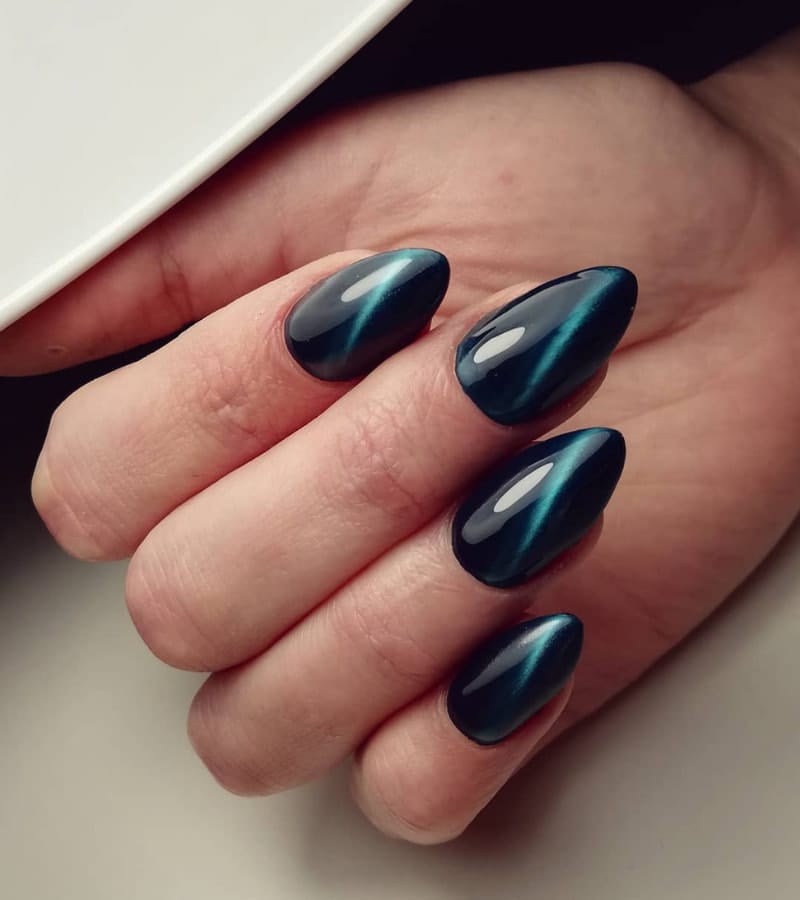 @krissukyyned
I think this nail design makes the almond nails more pointed. It is because of the diagonal bluish design set deep inside the nail. So, rather than picking the ordinary black nail polish, you can try something like this to make it more appealing.
15.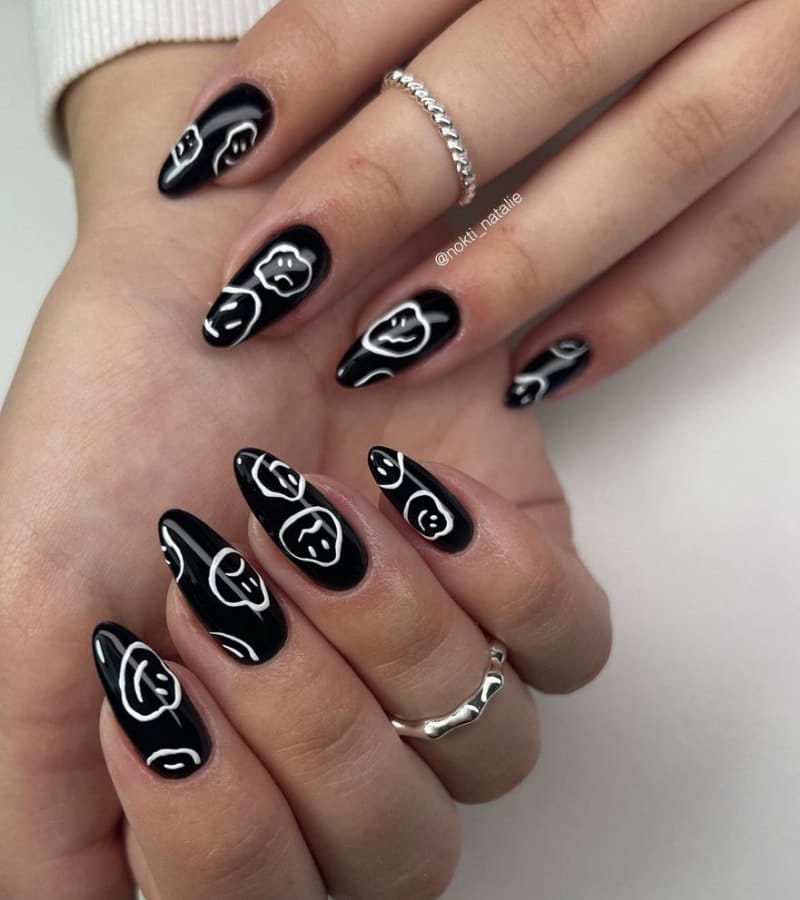 @nokti_natalie
Yes, white also looks amazing on bright black nails. It makes the nails more colorful and eye-catching. This nail design consists of some cloudy emojis drawn in white. You can add two or three faces on the nails on your preference. This will be a great idea for black and white outfits.
16.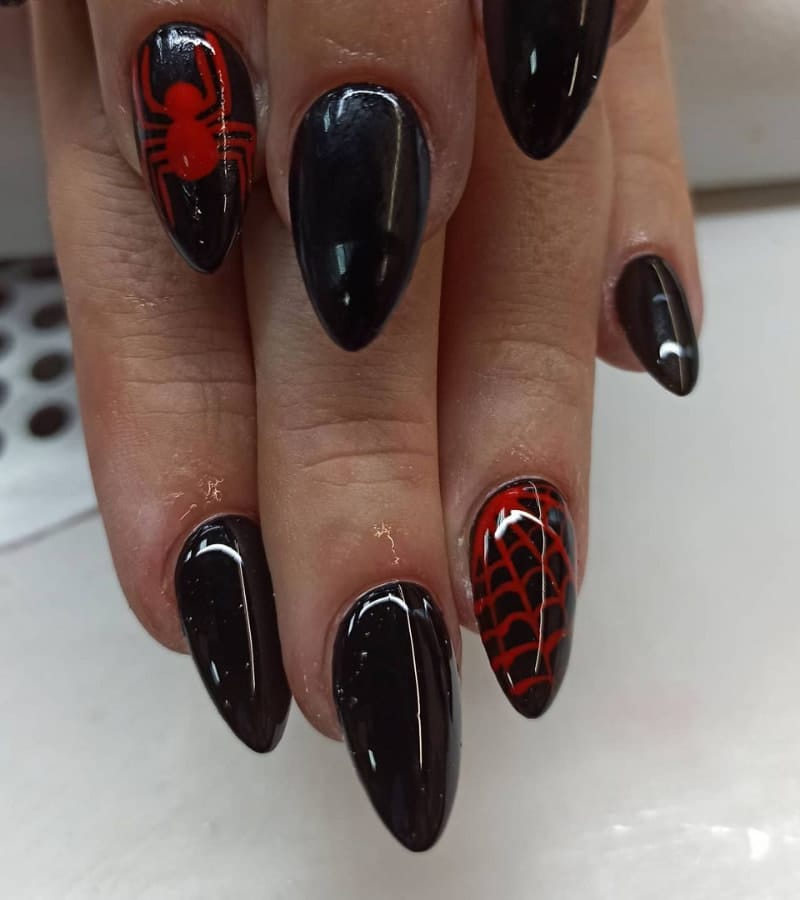 @studio_paznokci_eli
The final black almond nail design I picked for you gives the Spiderman vibe. It has a large red spider on one nail in the black background. On the other hand, you can add a red cobweb. This will be a great idea to style your nails in black!
17.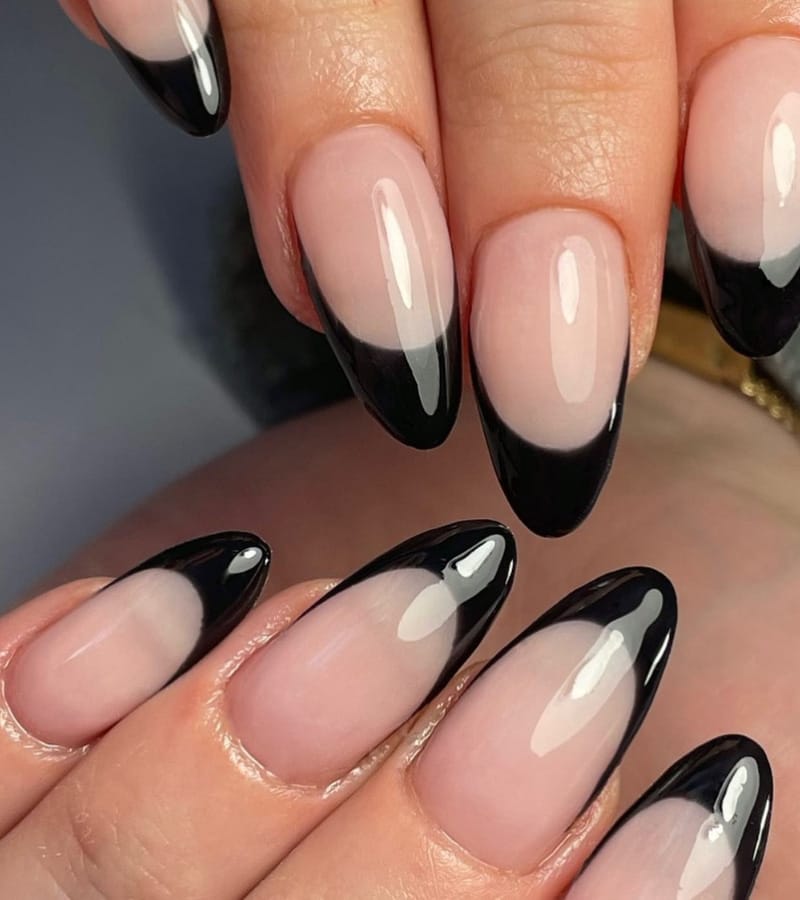 @mel_nails6
18.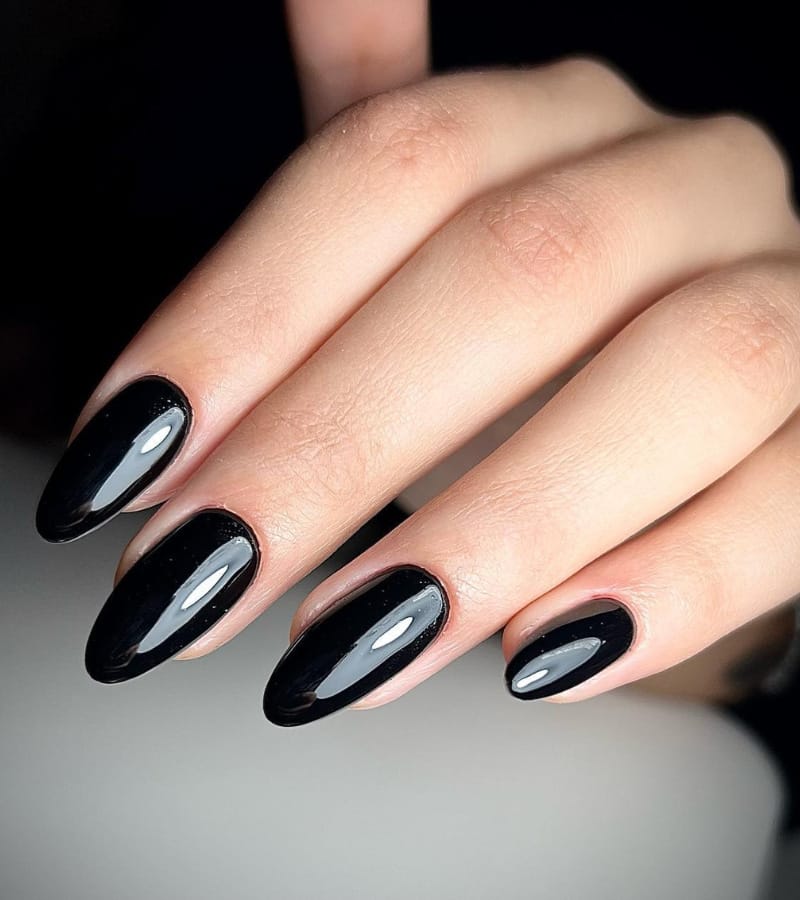 @blondysnails
19.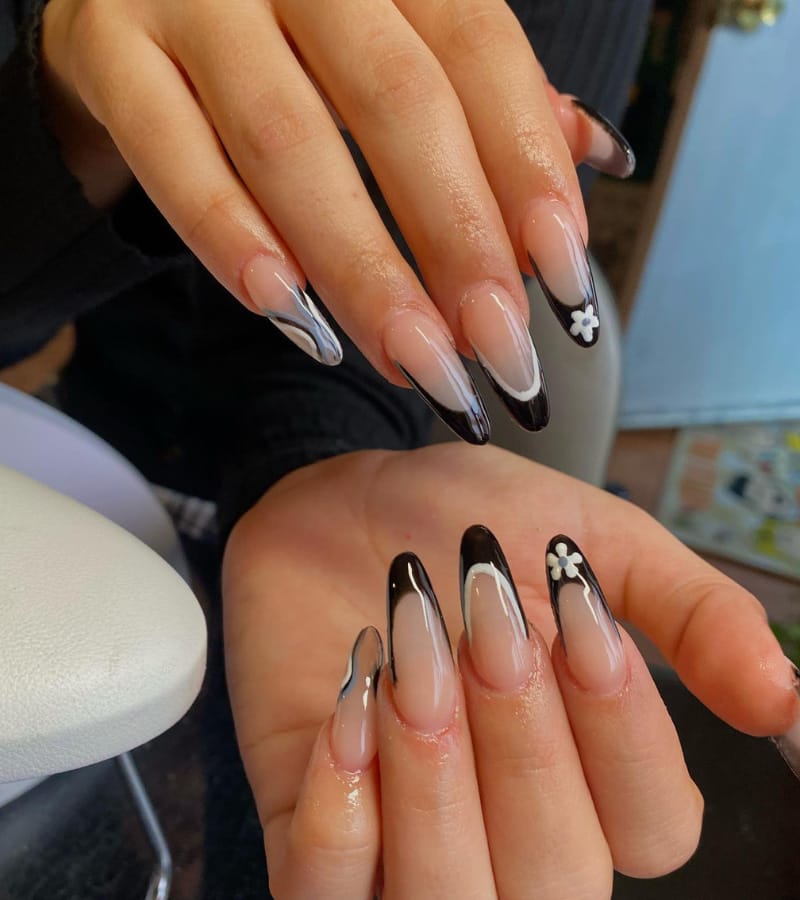 @nailssbygabyyy
20.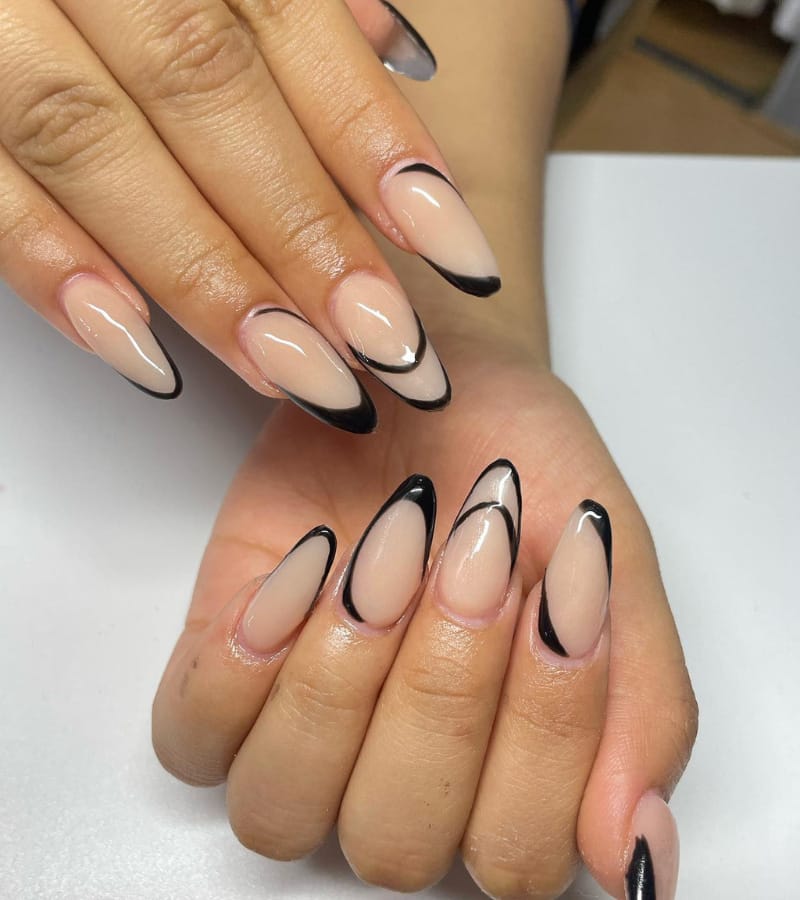 @nailslvstarhdz_
21.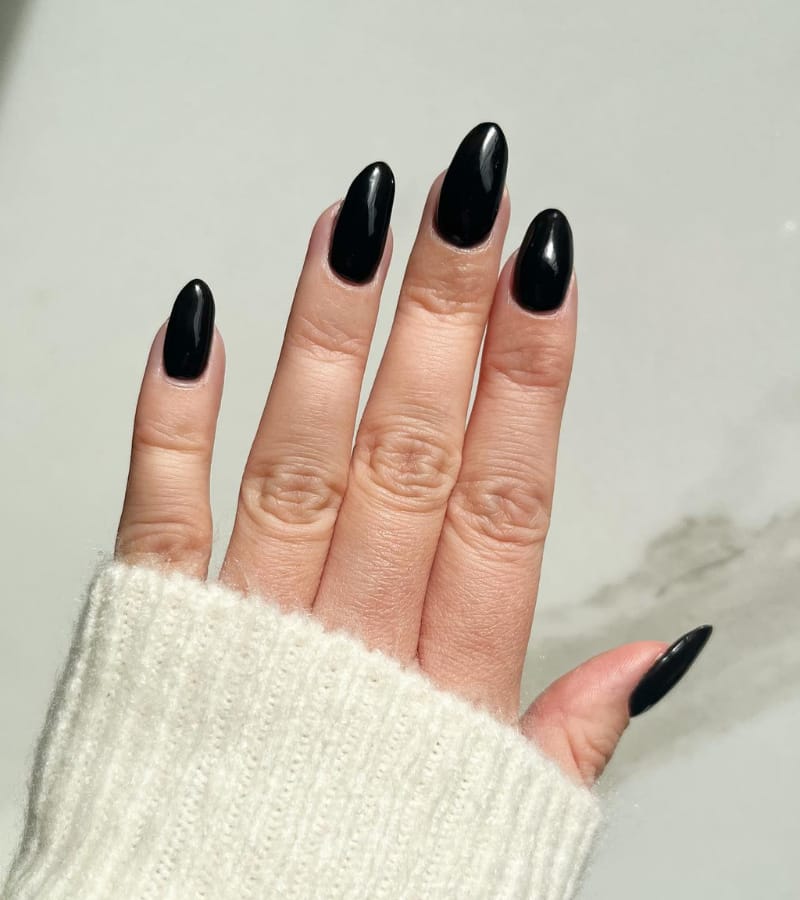 @hobnailedit
22.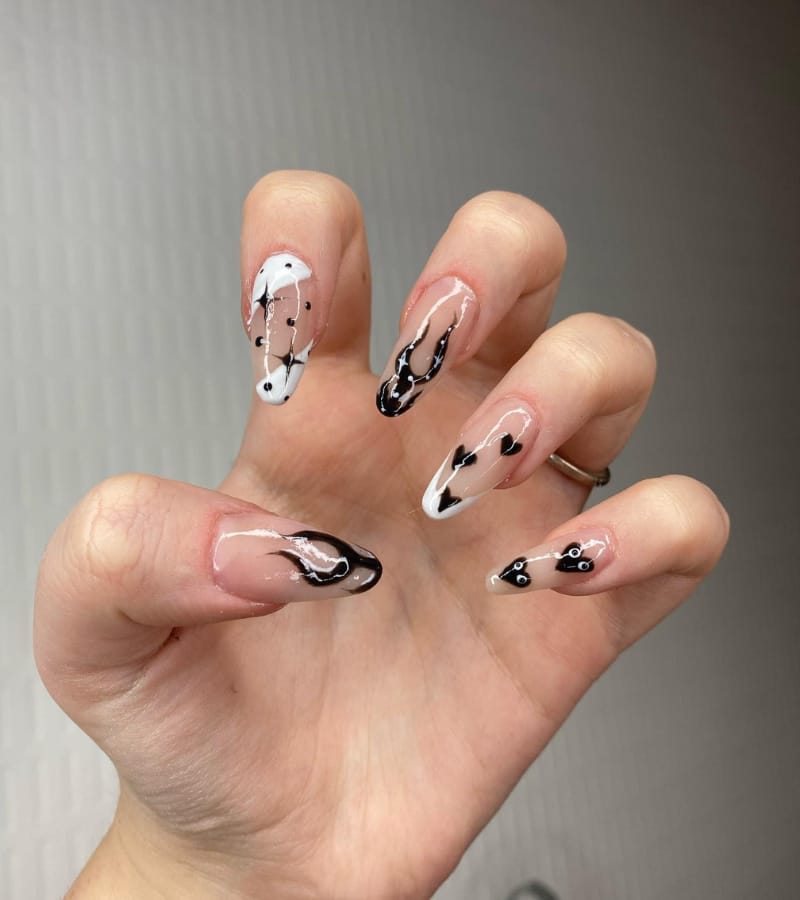 @beautybynatalie___
23.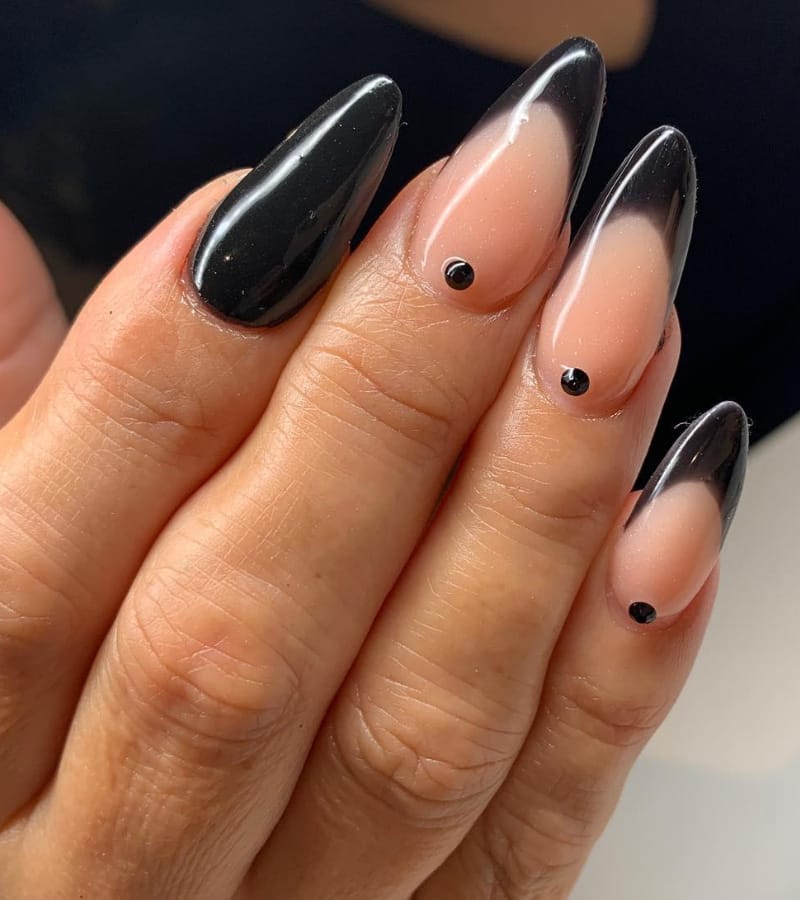 @nailsbyjambi
24.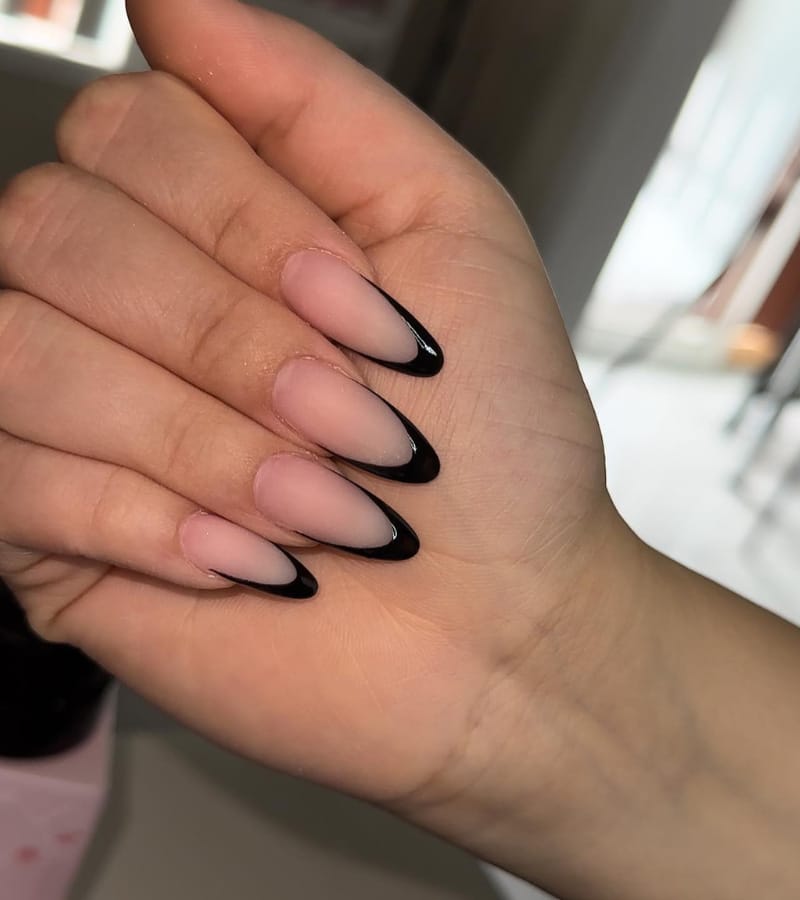 @jmjayynails
25.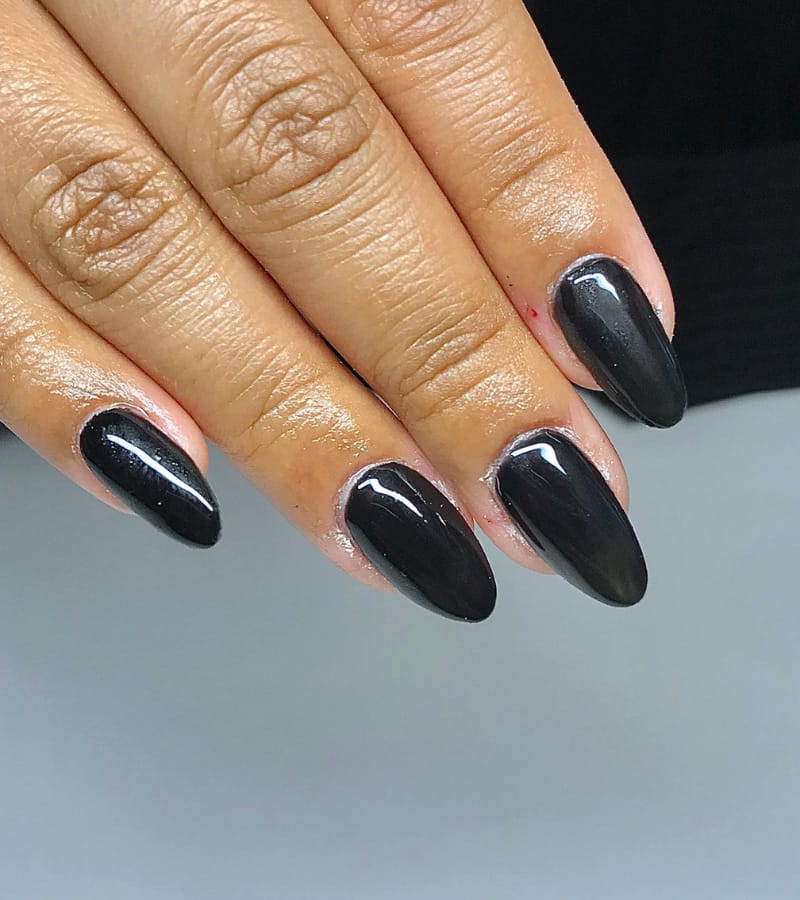 @luvnailsx
26.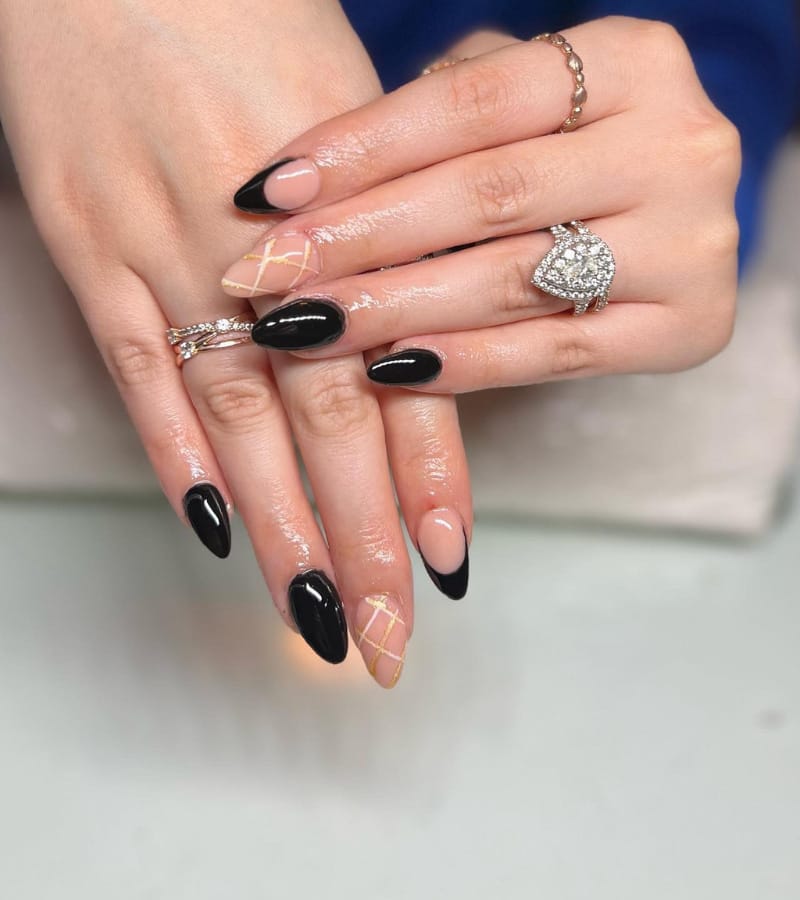 @valeriasnaiils
27.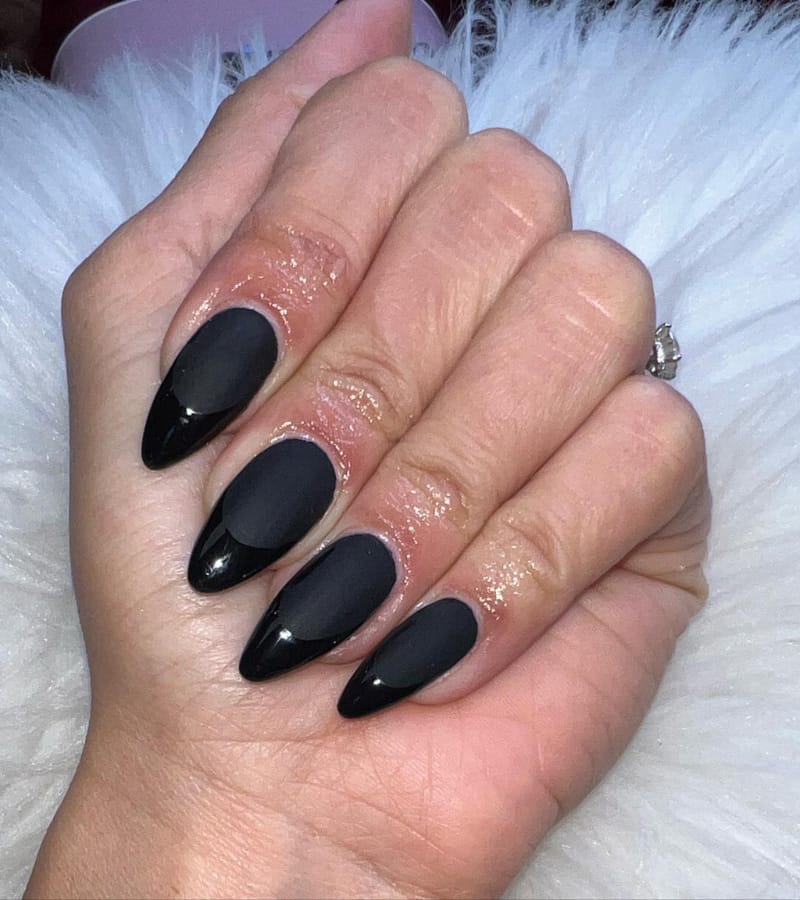 @_herbeautylounge
28.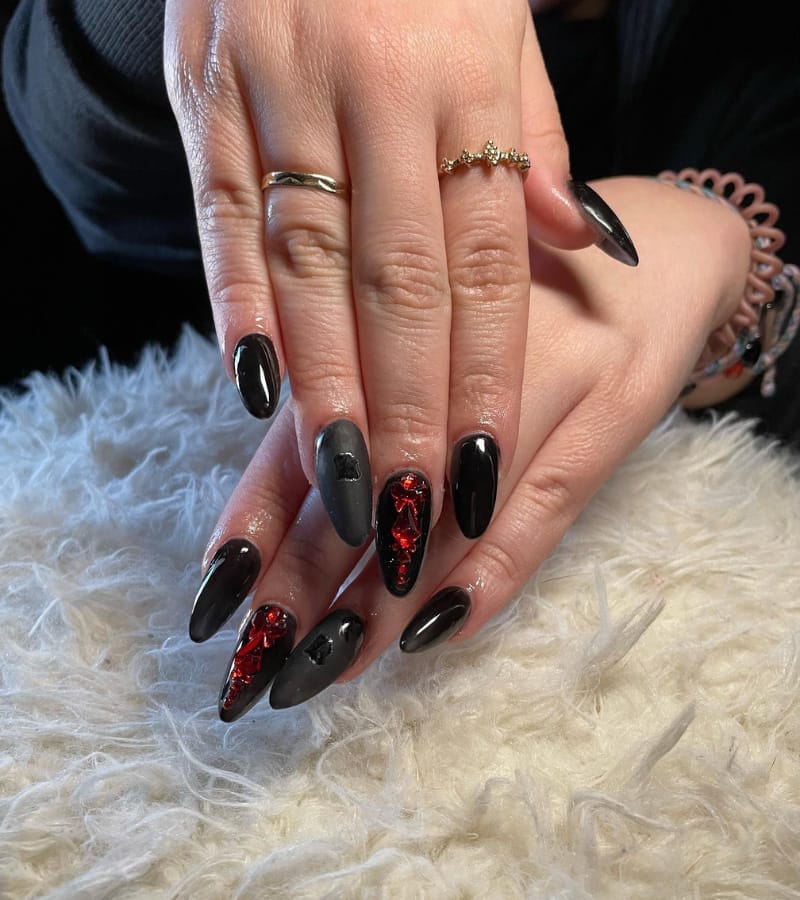 @nailsby.madison
29.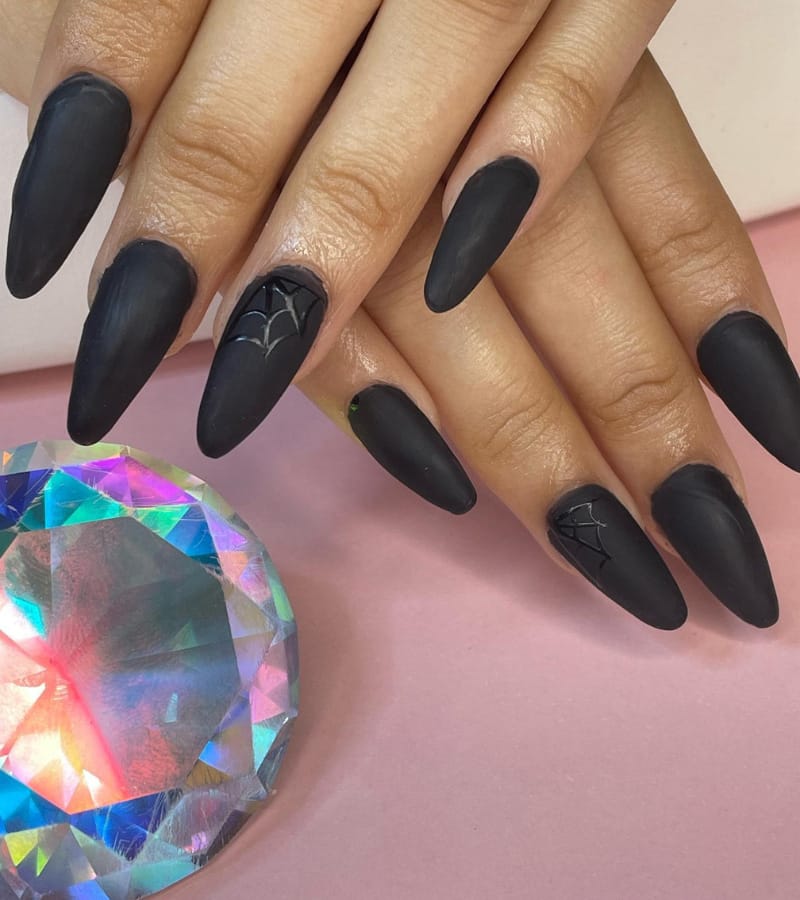 @mimixonails
30.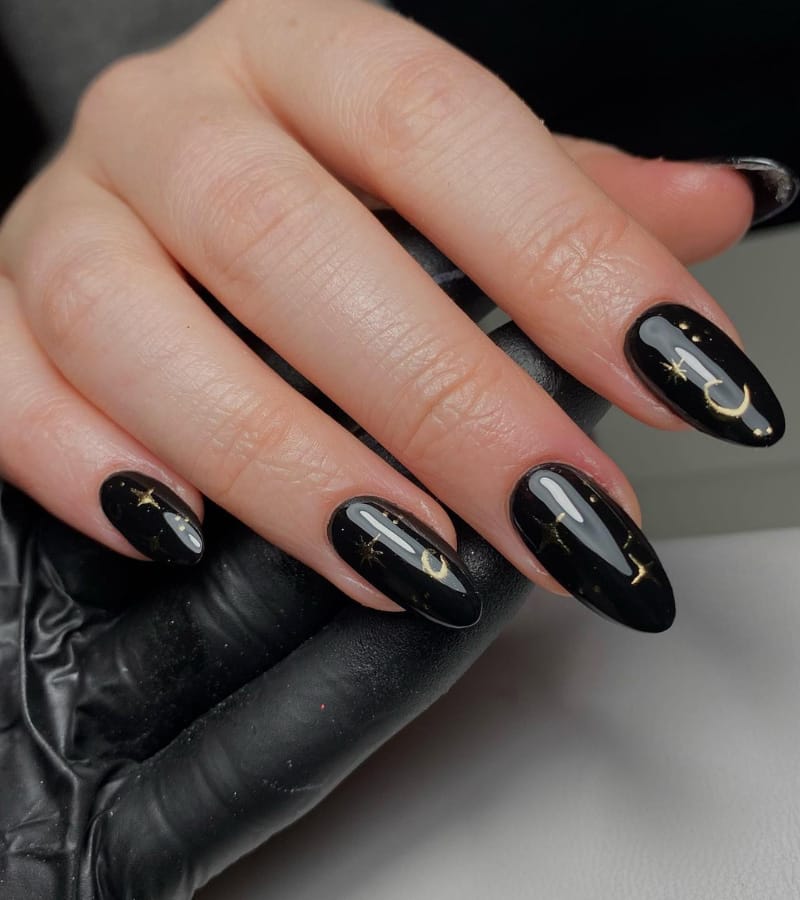 @__merakinails
In conclusion, black nail ideas can be a versatile and edgy choice for any occasion. From a classic black manicure to bold designs with embellishments or patterns, there are many ways to incorporate this dark hue into your nail art.
Whether you prefer a glossy or matte finish, black nails can add a touch of sophistication and mystery to your overall look.