Christmas is one of the most enjoyable and joyful times of the year. For Christmas, there are a variety of ways to show off your particular style and originality. One of them is Christmas Nail Designs.
The most essential feature of Christmas-themed manicures is that they can be made in a variety of colors, allowing you to select the color combination that best suits your personality. If you're looking for ideas for Christmas nail designs to wear this season, keep reading to get your ideal look.
We've compiled a list of 30+ fantastic Christmas nail designs that will ensure you have a wonderful holiday season this year. You may put your manicure talents to the test by making one of these designs yourself. Feel free to save them to your relevant Pinterest Boards.
1.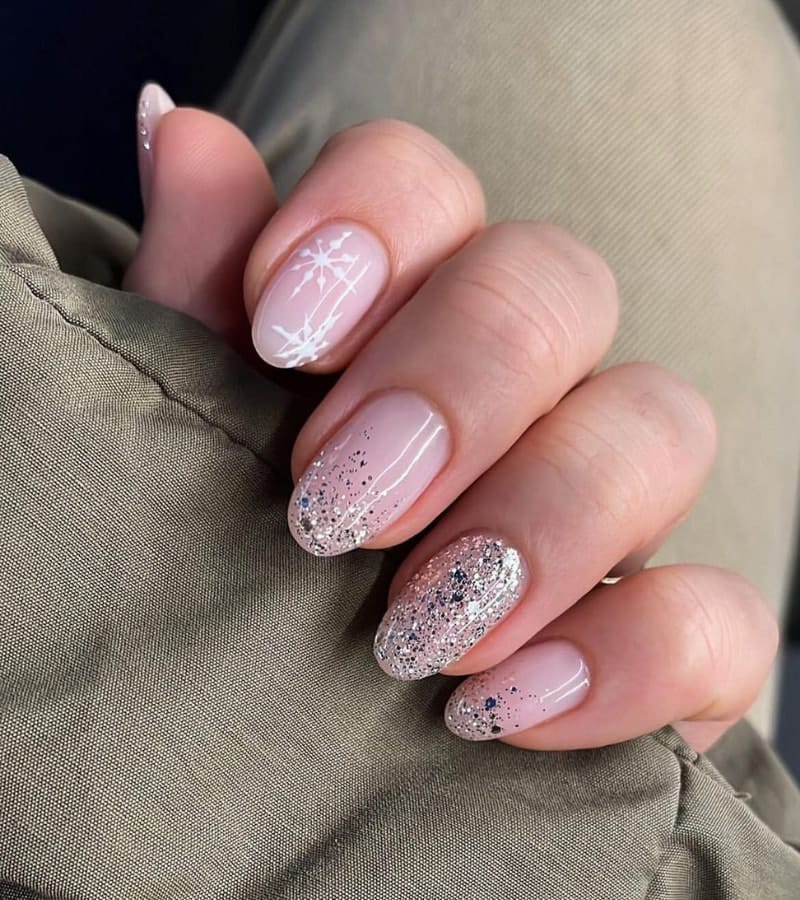 @nailsforyou_byviki
In this nail design, the base is kept neutral with a mild shade of pink. Some snowflakes are designed on one fingernail. The rest is covered in glitter in different amounts of nails. It will be better to add some silver glitter to resemble the ice and snow of the season!
2.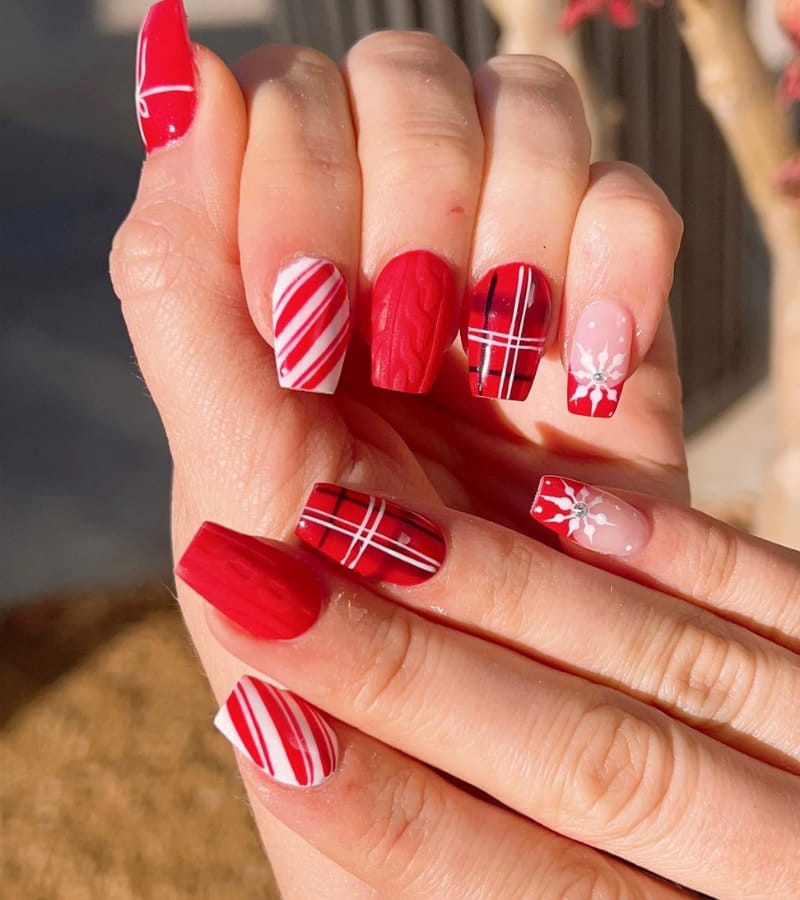 @christy_polished_nails
Red Christmas nails are a major attraction! This amazing nail design idea has mostly red nails with a slight décor with white. The red and white diagonal stripes look delicious like candy! The white snowflake with a stud in the middle adds more diversity to this.
3.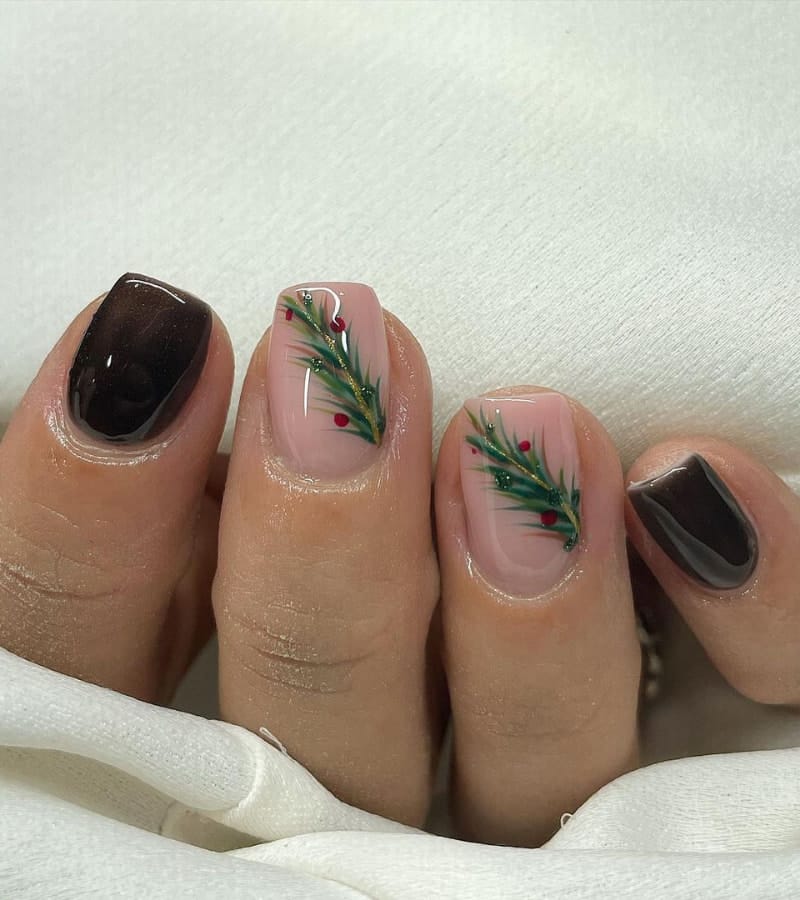 @trufflesnails
You can even have black nails if you style them correctly to match the season. Have two or more nails in black and color the rest in a neutral color. Then add a leafy design with some red dots to resemble cherries. This is very decorative resembling a twig from the Christmas wreath.
4.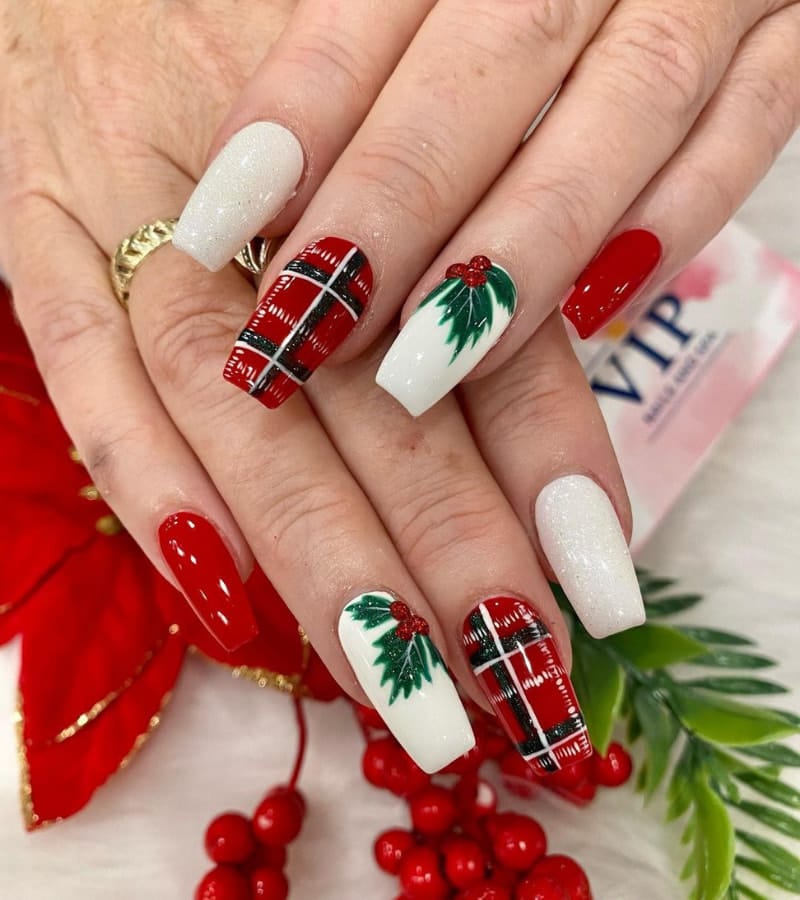 @vipnailsworcester
Black and white; red and green. What a perfect way to style your nails! First, color your nails in red and white alternatively. Then add some black and white lines on a red nail to create a chequered design. You can decorate your white nail with some red studs to resemble berries and then draw some green leaves.
5.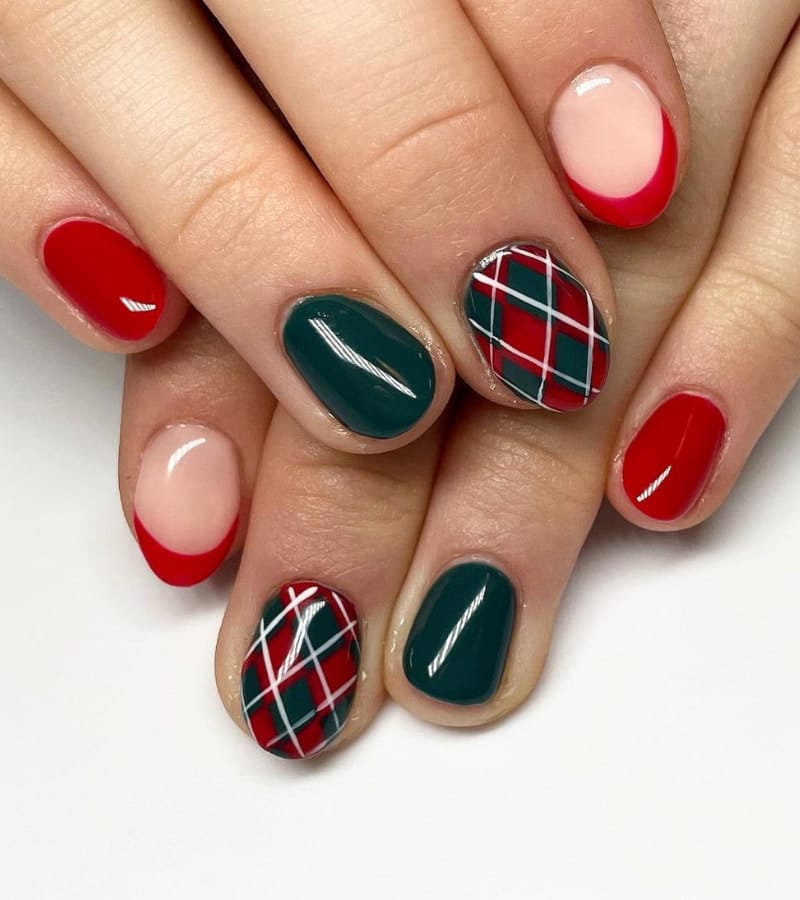 @sonyas.nails
This nail design contains red, white, and a darker green. Keep it simple by painting the nails in red and green. Then select a fingernail and have a repetitive pattern of red and green diamond shapes. Then add some diagonal lines over it in white. This will be a perfect design idea for short nails as well.
6.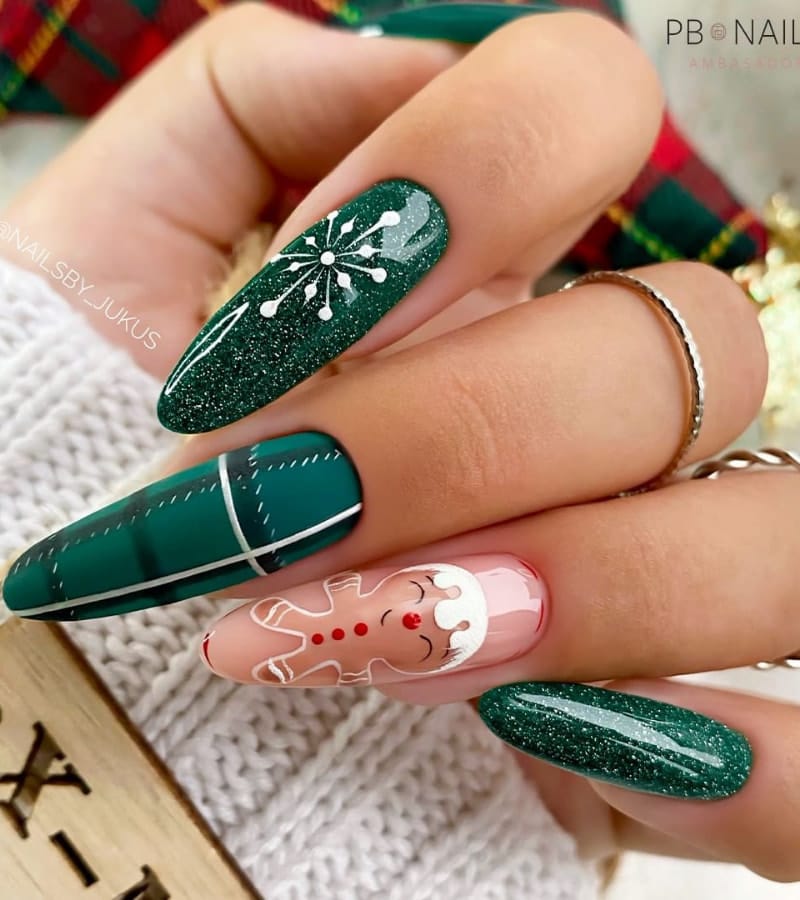 @pb_nails_poland
Stiletto nails are amazing for special functions and events. So this Christmas is going to be a perfect time to try a new nail design idea. Alternate the matte and shiny green nail polish on each finger. Create some snowflakes on shiny nails and a chequered pattern on the matte nail. Have a special gingerbread man on one finger to represent the Christmas cookies!
7.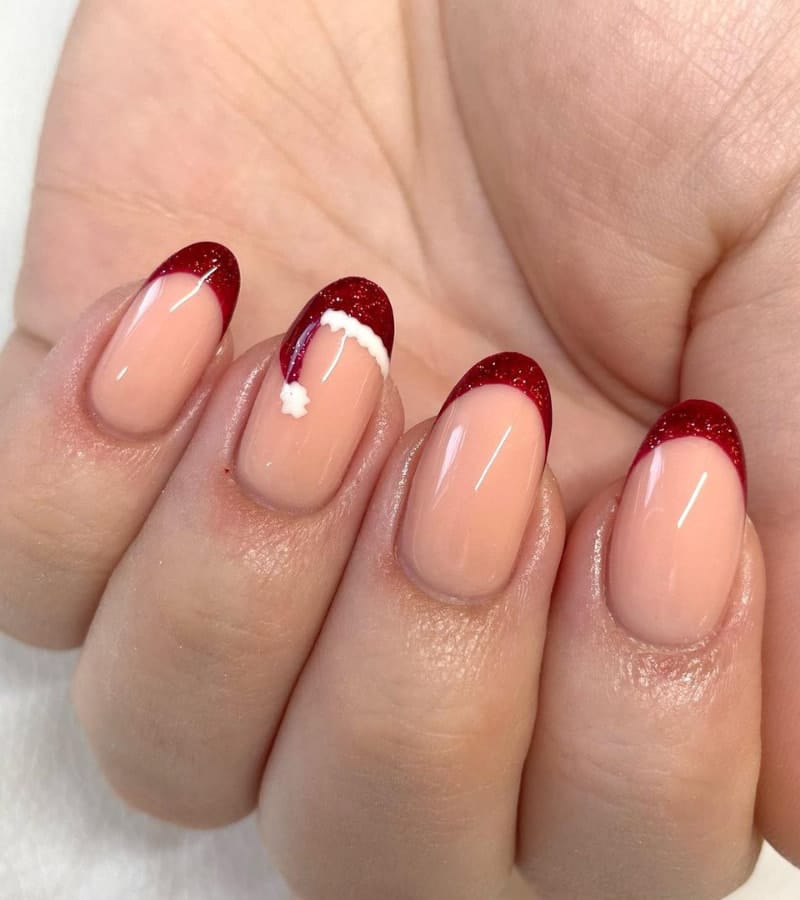 @classywithchloe
For the ladies who need to keep it simple, you can try this minimalist nail design idea. These Christmas nails are decorated with a sparkling maroon tip. The specialty is the design on the ring finger which is a tiny Christmas hat.
8.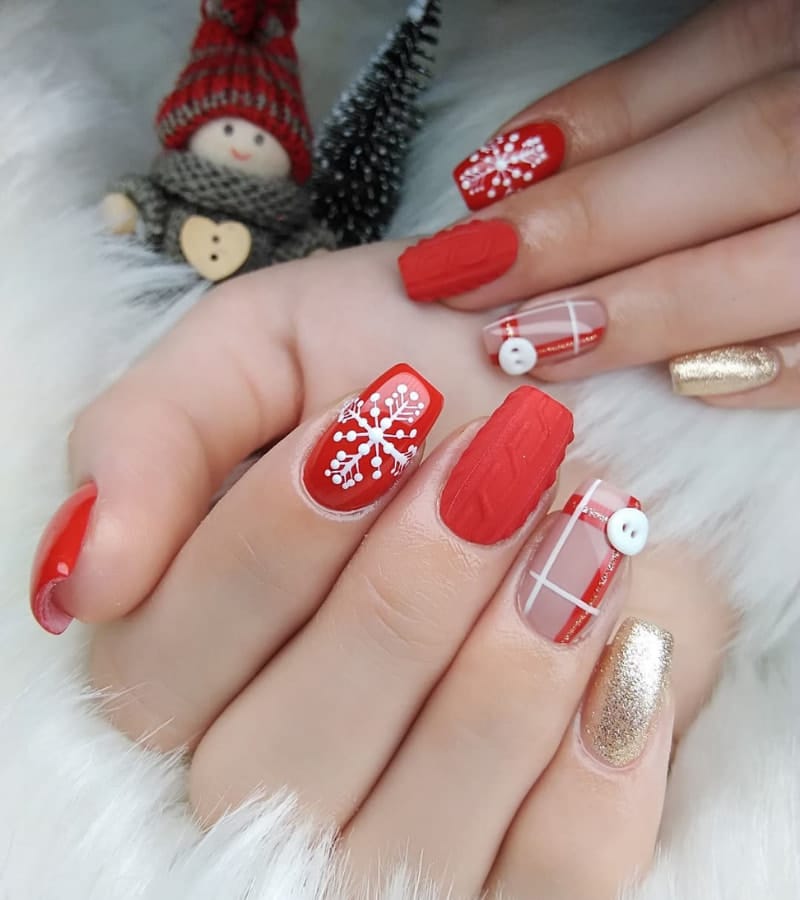 @teklanails
If you prefer bright red over maroon, you can try this out. There are some snowflake designs on one finger and silver glitter on another. You can also try the special embossed matte design shown here. Then there is a plain nail with red and white lines with a button ornament.
9.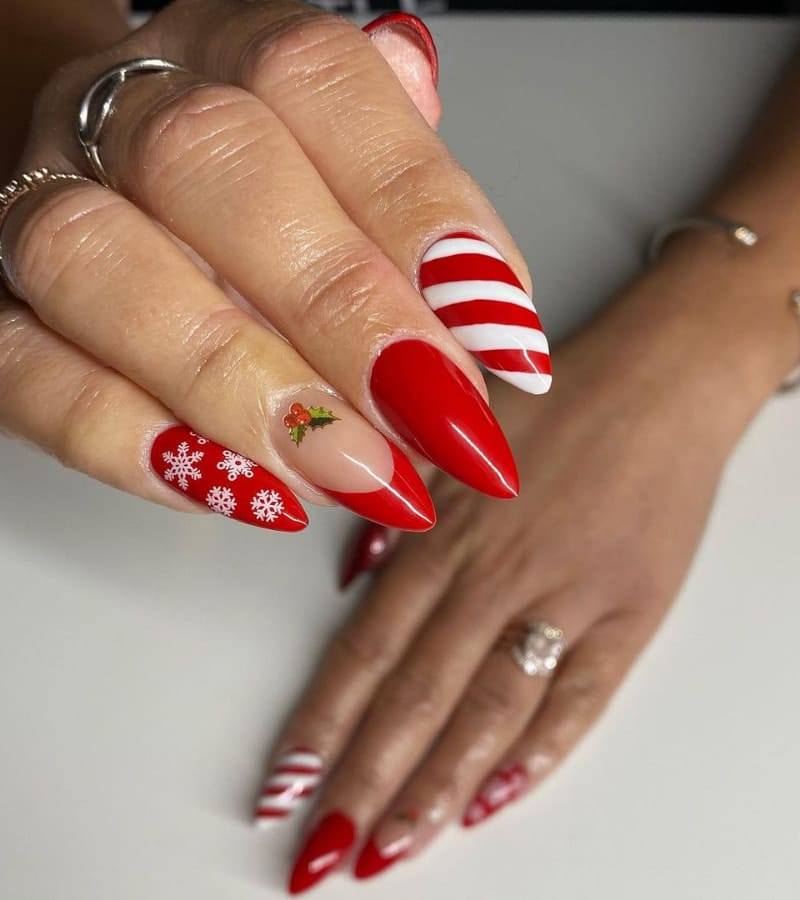 @dymenails
This is another beautiful nail design with red and white. Have some diagonal segments with alternating colors on one nail. Then keep one nail in red and color only the tip of the next nail. You can add some nail stickers to the base area. Finally, add some snowflake design to the last finger.
10.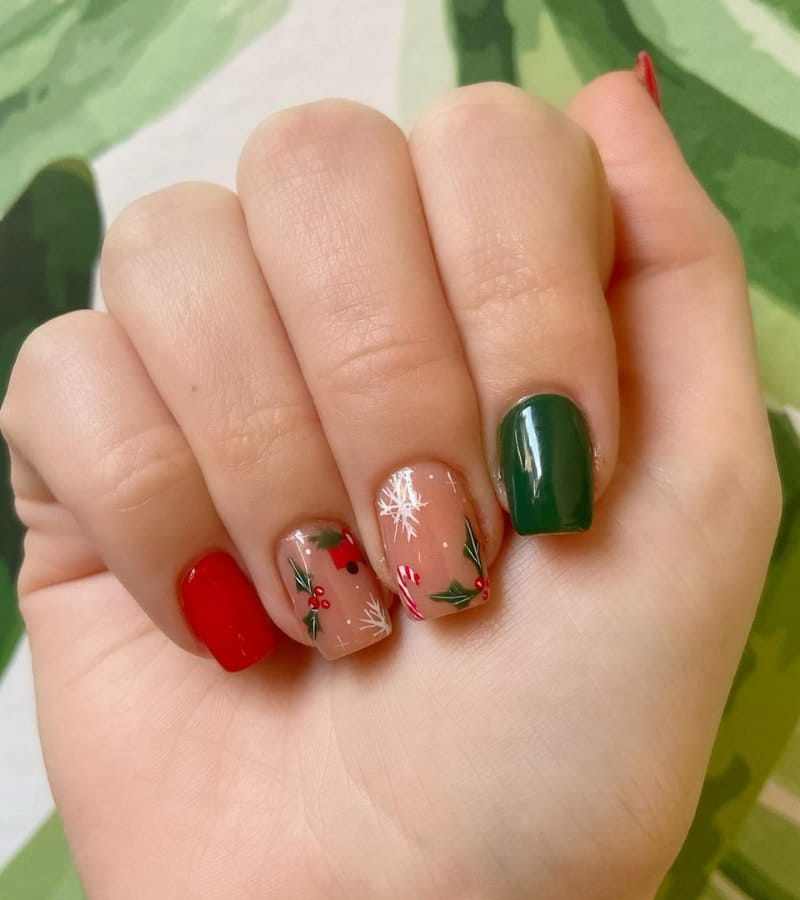 @thebeautybarpowdersville
Having some tiny nail arts on neutral-colored nails is a great way to style your nails for Christmas. But you may need to add some green and red nails to represent the color theme. Find some amazing design ideas and try them out soon!
11.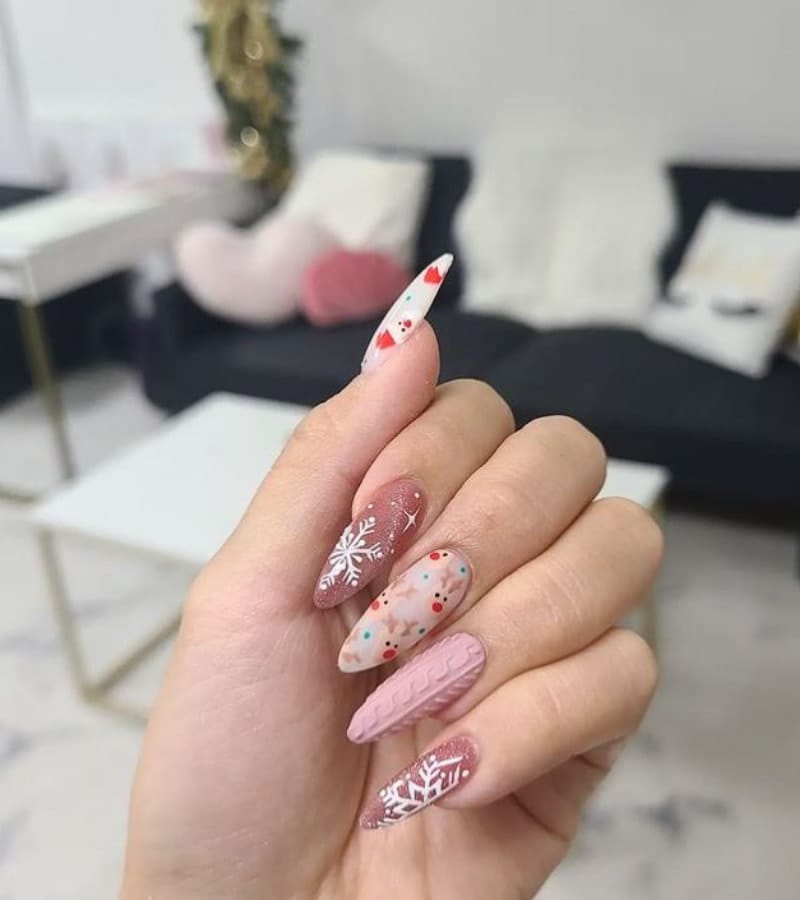 @sweetsolace
If you need to try something different this time, you can go ahead with this. Rather than having bright red nails, the theme of this is a dull shade of pink. In addition to the snowflake design, there is an embossed matte nail. The reindeer faces made with simple dots and lines bring the vibe of the Christmas season!
12.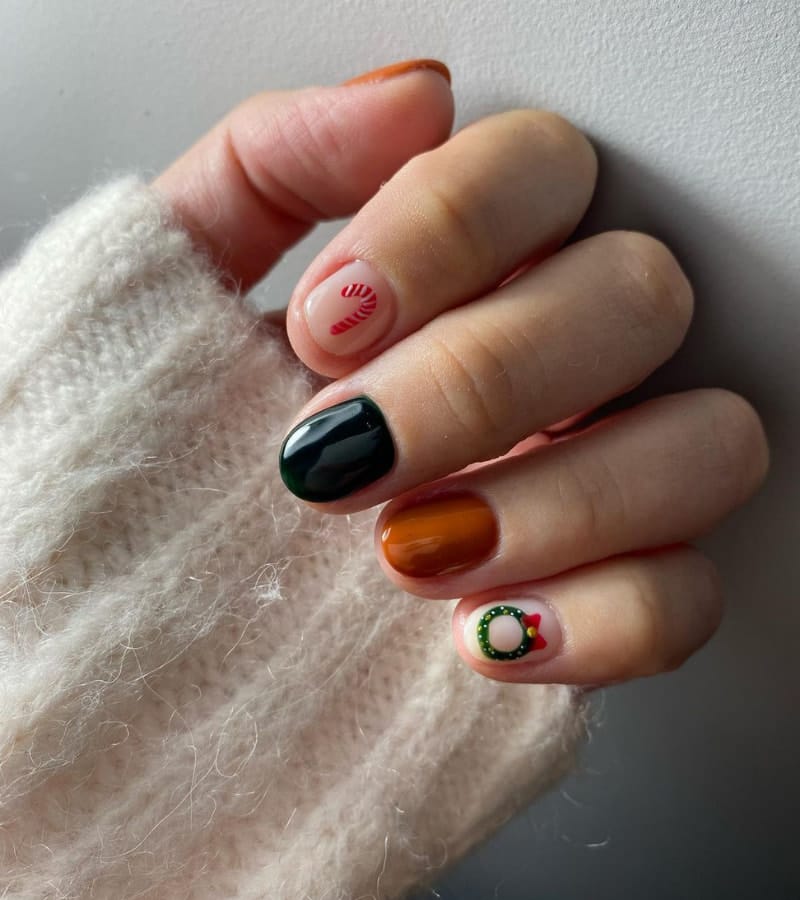 @xilonail.s
What do you think about decorating your fingernails with some Christmas ornaments? You can also keep the fingernails simple but attractive with this. Color two or three nails with some selected colors. Then add a candy cane, a Christmas wreath, and similar items beautifully as shown.
13.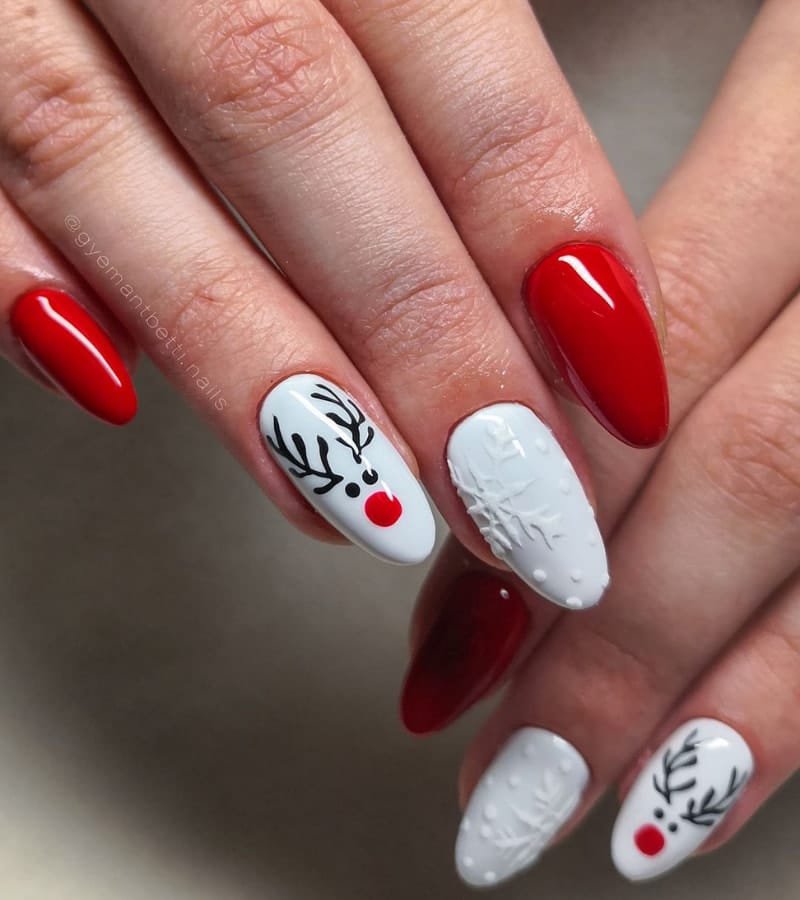 @gyemantbetti.nails
The reindeer face is the main attraction of this Christmas nail design idea. As you can see, the other red nails are of plain color. The white nail has some dots and snowflake designs which are quite special. This is because rather than having the design on a darker background, this design has it on a white background itself.
14.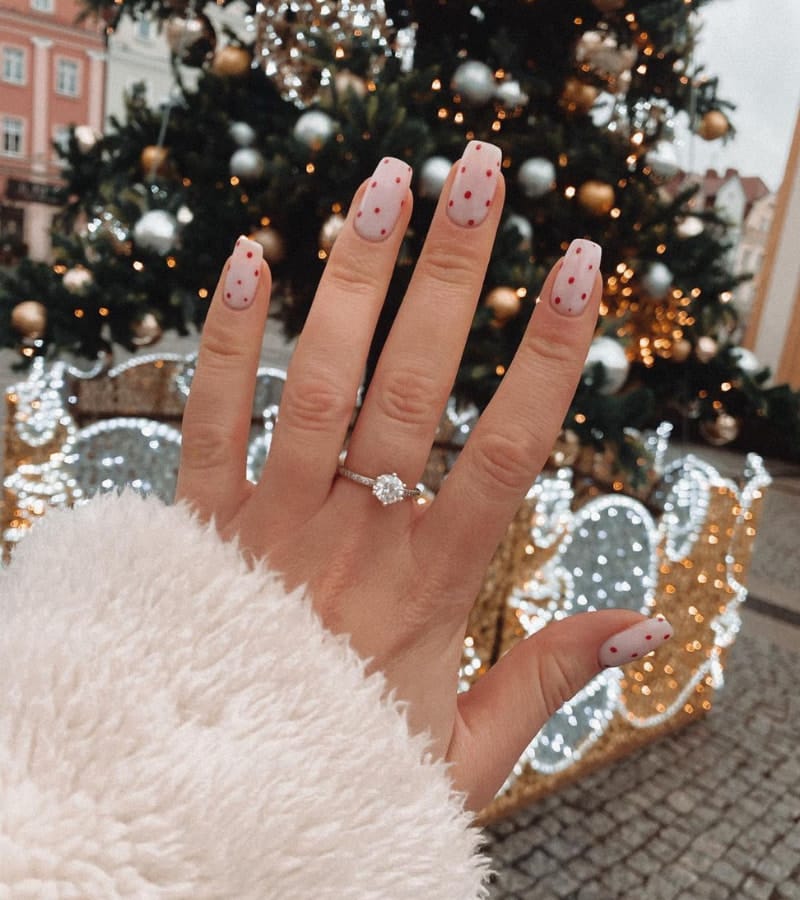 @domi_skaa
This simple nail design is nothing but a few red dots on a sparkling white-colored nail. It brings the perfect vibe of snow in winter. You can have this nail design for any length of the nail. It will look great with your winter outfits this season.
15.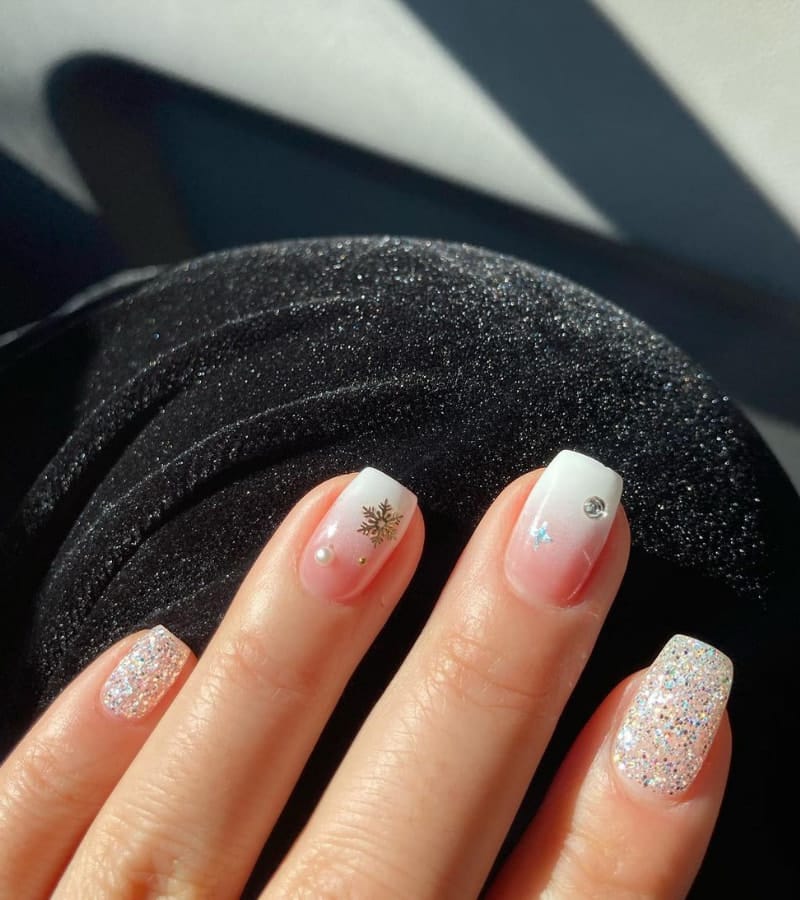 @nail_desalon
Short nails too can be decorated with beautiful ornaments as you see here. It is a simple yet charming design perfect for any function. Add some glittering nail polish to some nails and keep the others neutral. Then add snowflake ornaments and beads to finish off the design.
16.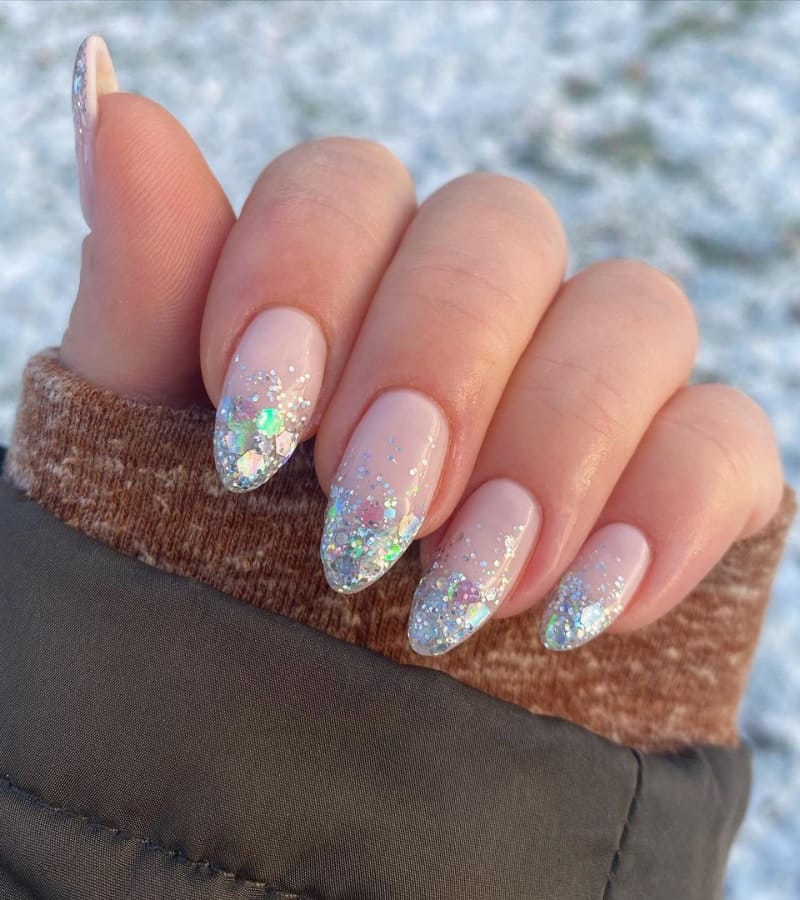 @jen.the.nail.lady
Here's something you can try not only for Christmas but for other functions as well. The nail is kept neutral with a very light color. Only the lower area of the nail is decorated with lustrous studs. This is a perfect nail design idea for dinners and events at night.
17.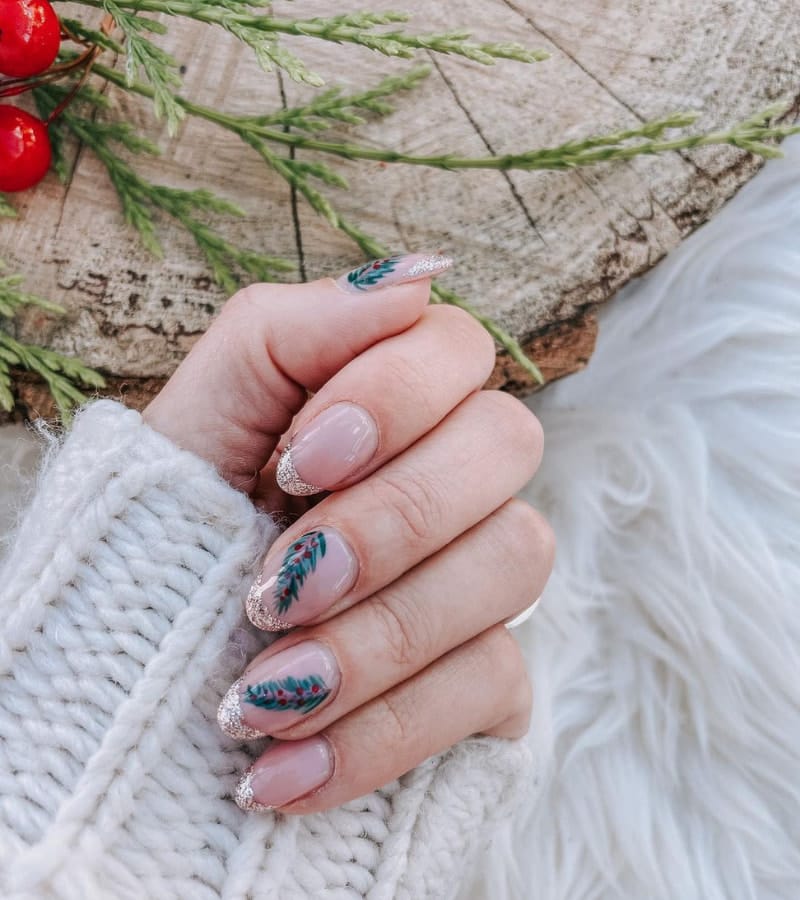 @elleryflorrieandme
The merry vibe of Christmas is incomplete without a touch of evergreen. This is why you can include it in the nail designs for winter. The tip of the nail is colored in glittering gold. Then you have two green branches with some red berries on them.
18.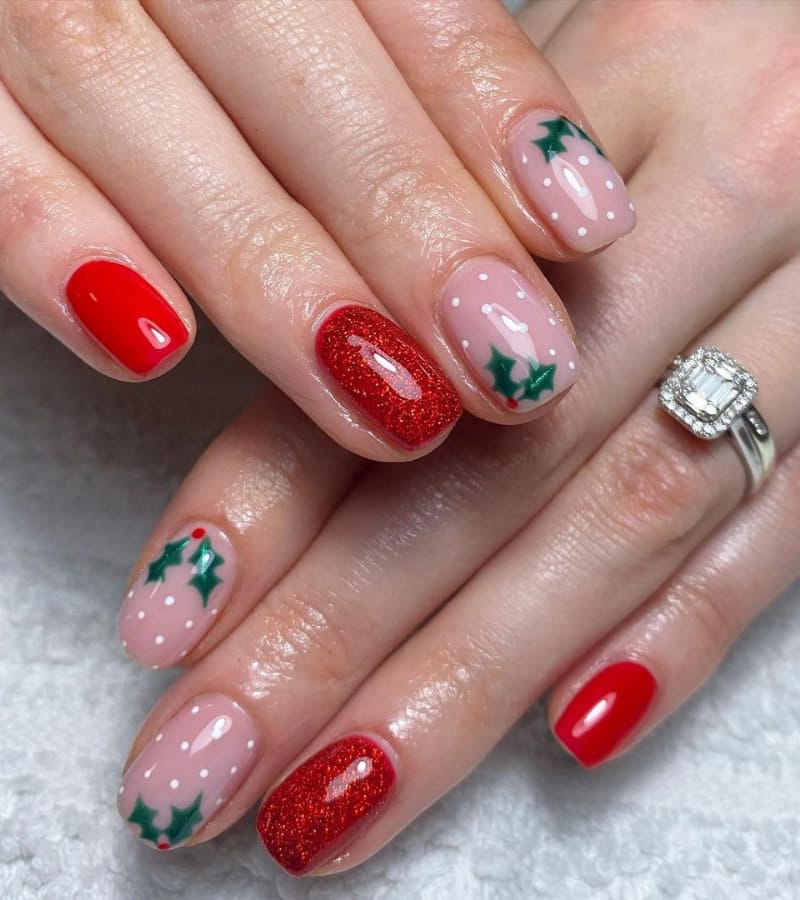 @zoehannahnailartist
For those of you interested in something colorful and vibrant, you can try this out. You need two different textures of nail polish for this. Then for the neutral nails, add some white dots on the top to resemble snow. Decorate the corners of the nails with green as shown in this image.
19.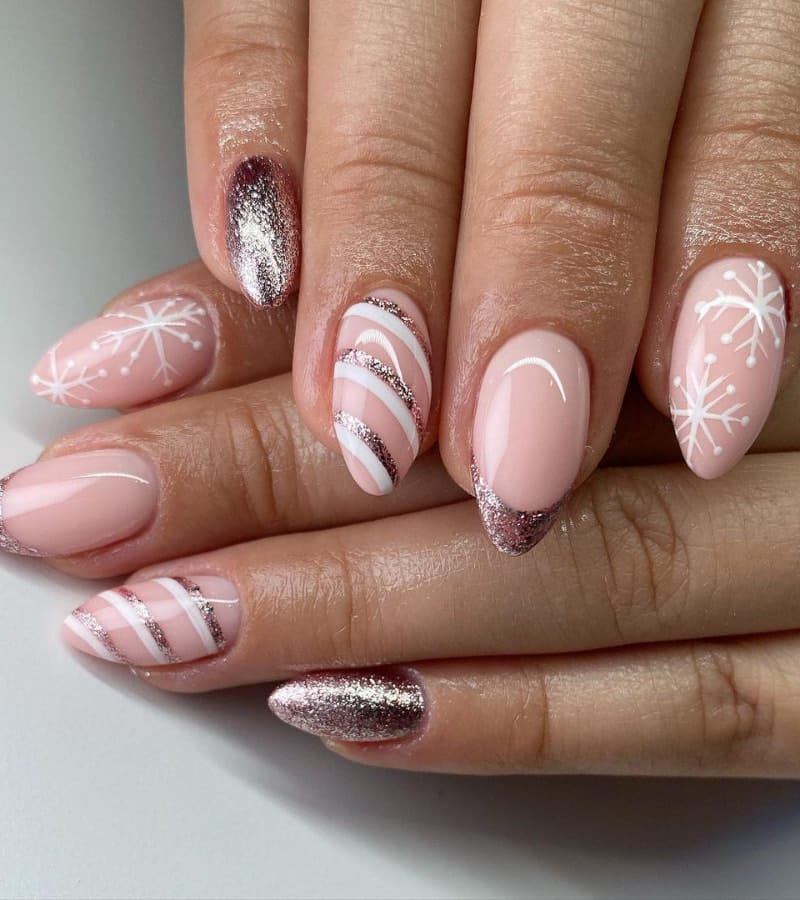 @stylebyreags
Sometimes you might expect to try out something new beyond the ordinary trends. This nail design is one such novel approach for Christmas nails. It consists of white and silver on light pink nails. You can keep this design even after Christmas for the new year as well!
20.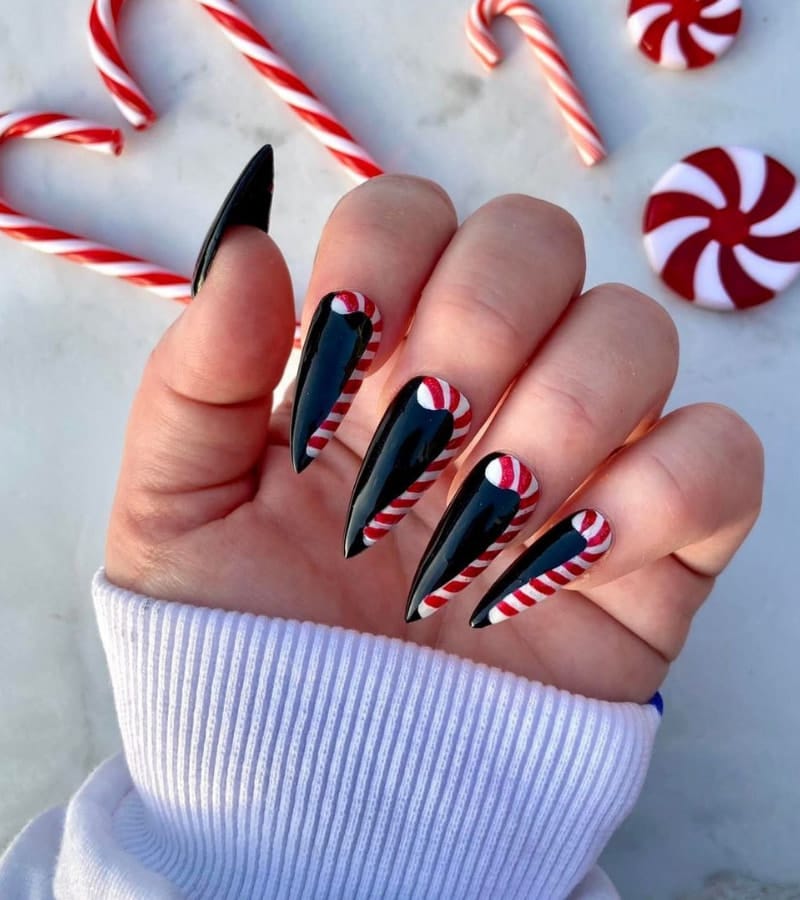 @myleebeautyofficial
These are sharp stiletto nails colored in black. The only thing that makes them up for Christmas is the candy cane design around them. The red and white stripes stand out extraordinarily from the black background.
21.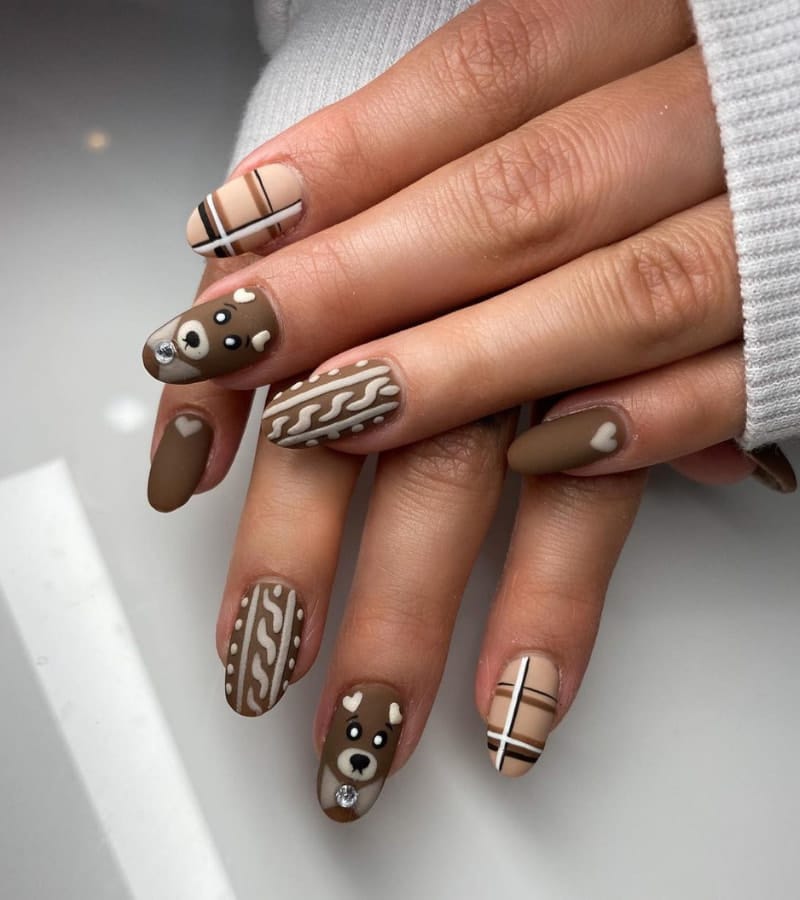 @yes_icanails
Cute reindeers on your nails will be a very appealing nail design. The color theme for this is chocolate brown and beige. The ears of these reindeers are designed with hearts. The small beige hearts can be used throughout the design.
22.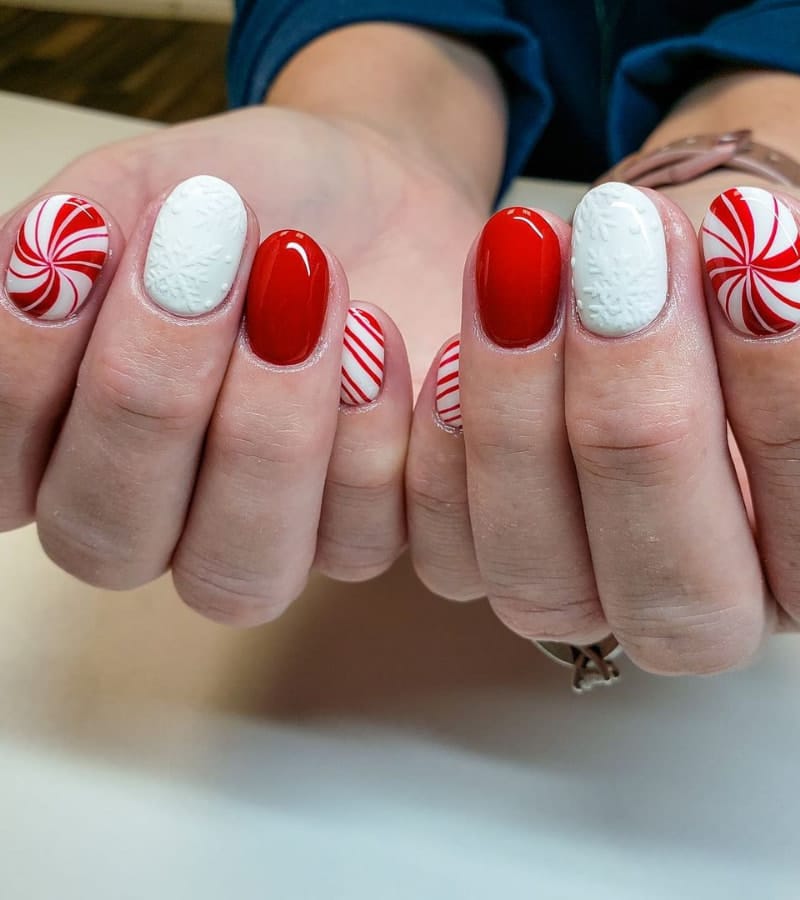 @nailartbysofia_
I'm sure you remember a swirly candy pop when you see this nail idea. It is all about red and white with plain and striped designs. I think this is very attractive with the diagonal lines and swirling design. What do you think about adding some green to this?
23.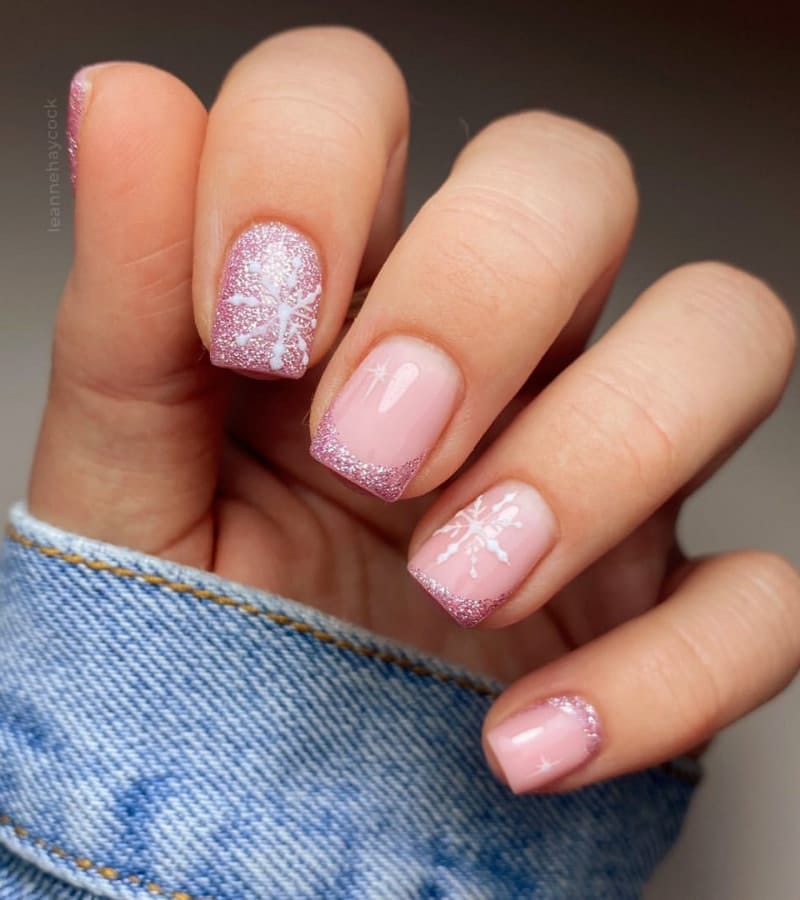 @leannehaycock_
Pink can also be a trendy Christmas nail idea this season. Get two types of pink nail polish, one plain and the other sparkling. Then color the nails using plain polish and add some glitter to the different ends and corners of the nails as you see here. To make it suit the season, you can add some snowflake designs.
24.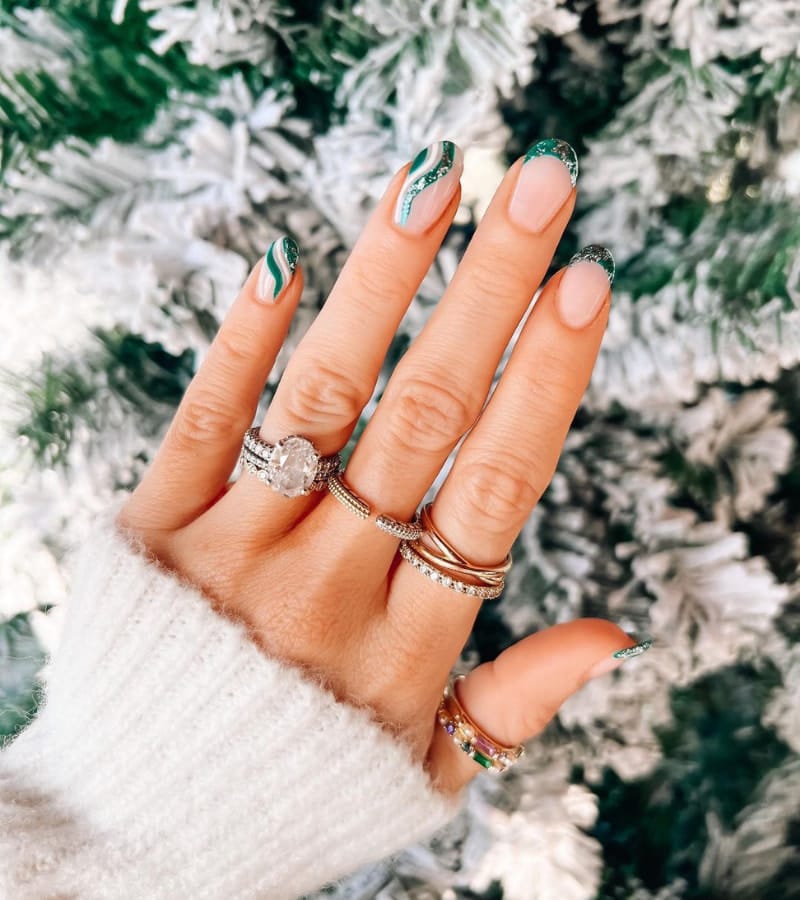 @maxieelise
Green alone can bring the Christmas vibe to your nails when matched correctly. This nail design is simply done with curvy green lines. I think this is ideal for anyone looking for both simplicity and festive glamor this season.
25.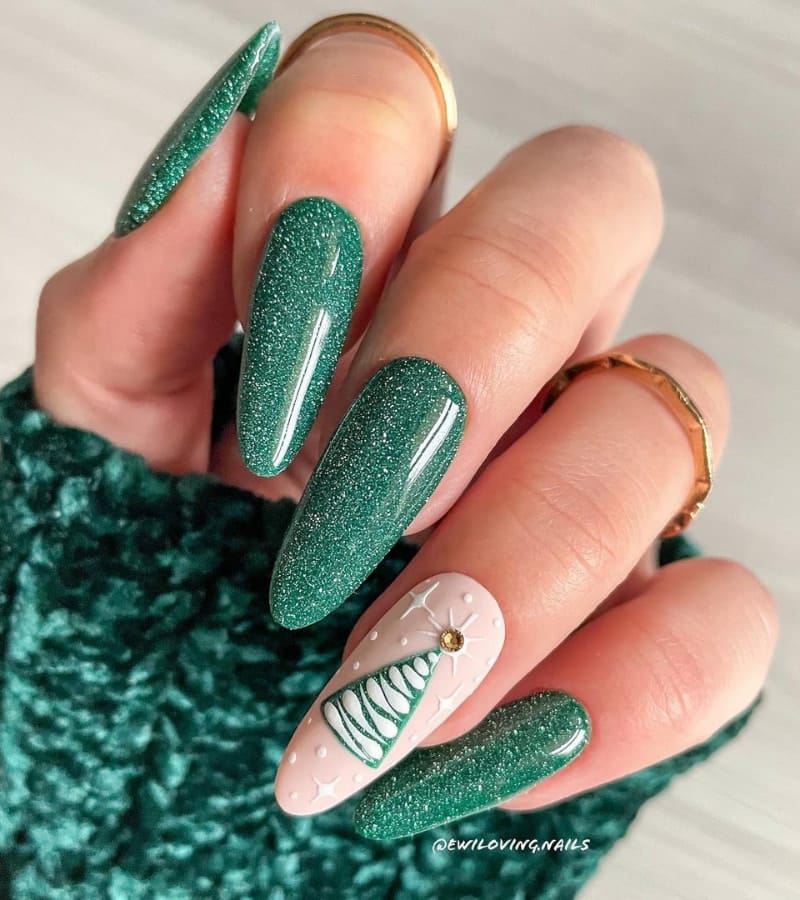 @ewiloving.nails
Another sparkling green nail design idea for long nails. The major attraction is the Christmas tree designed here with white and green. You might need a professional nail artist to get this done. If not, you can go for synthetic nails with this nail art.
26.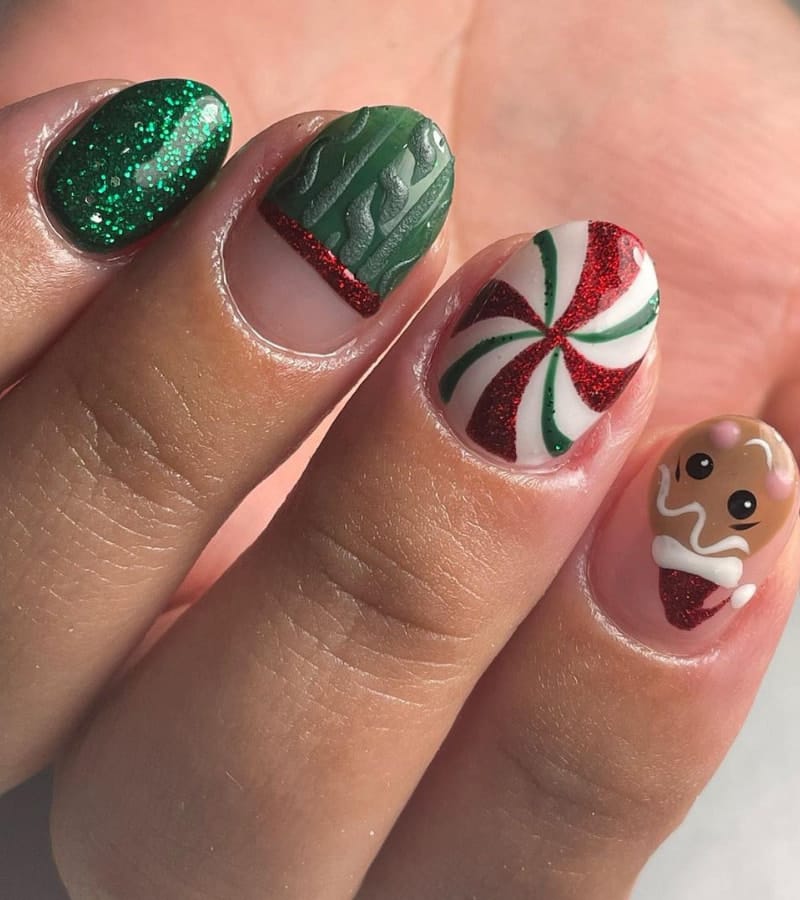 @nailsbylydiette
In a previous nail design above, I suggested you to have green in the swirly nail art. So this is how you would see it when done. The embossed beanie design and the reindeer face are an amazing addition to increase the diversity of this design.
27.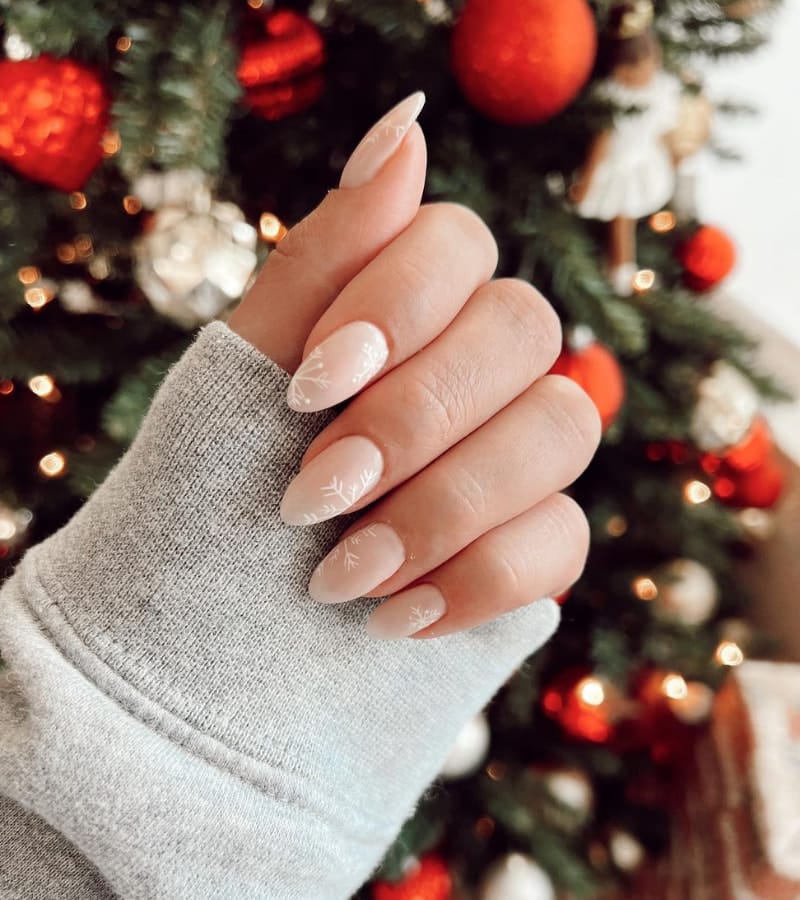 @rebecca_swiss
If you don't need your nails to be obvious, you can use this nail design. It consists of simple light nail color and some traces of snowflakes. You can keep this nail art not only for Christmas but for the whole winter.
28.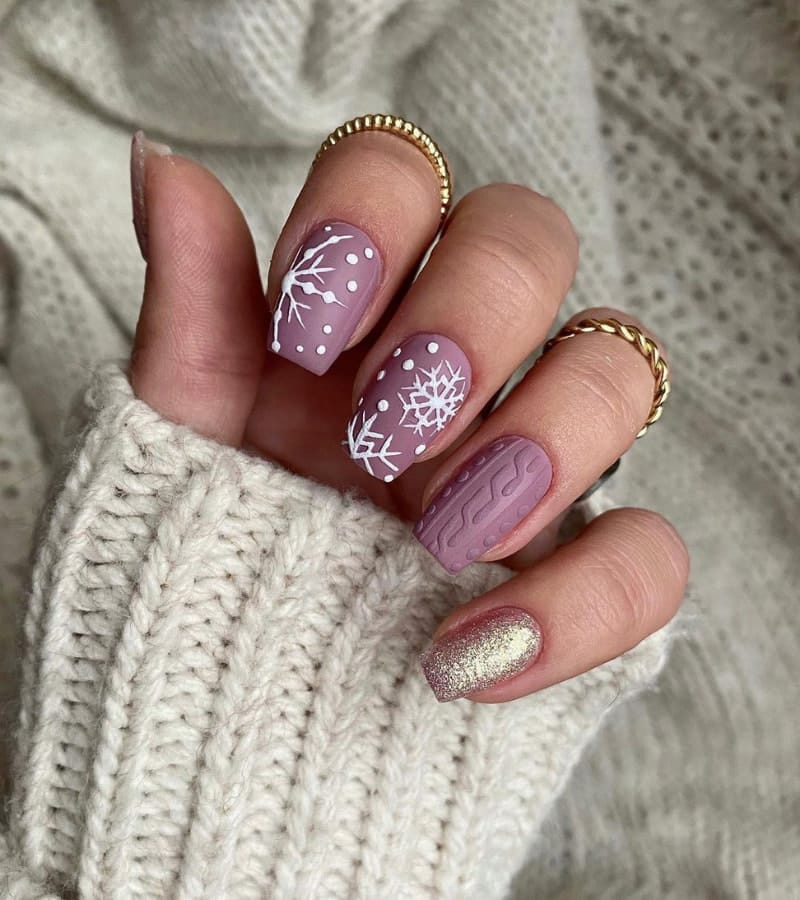 @nails.by.alexai
This features a matte purple and some sparkling glitter that matches the theme. The snowflakes and the dots in white bring the winter vibe. The embossed wool design is something you can try especially for this season.
29.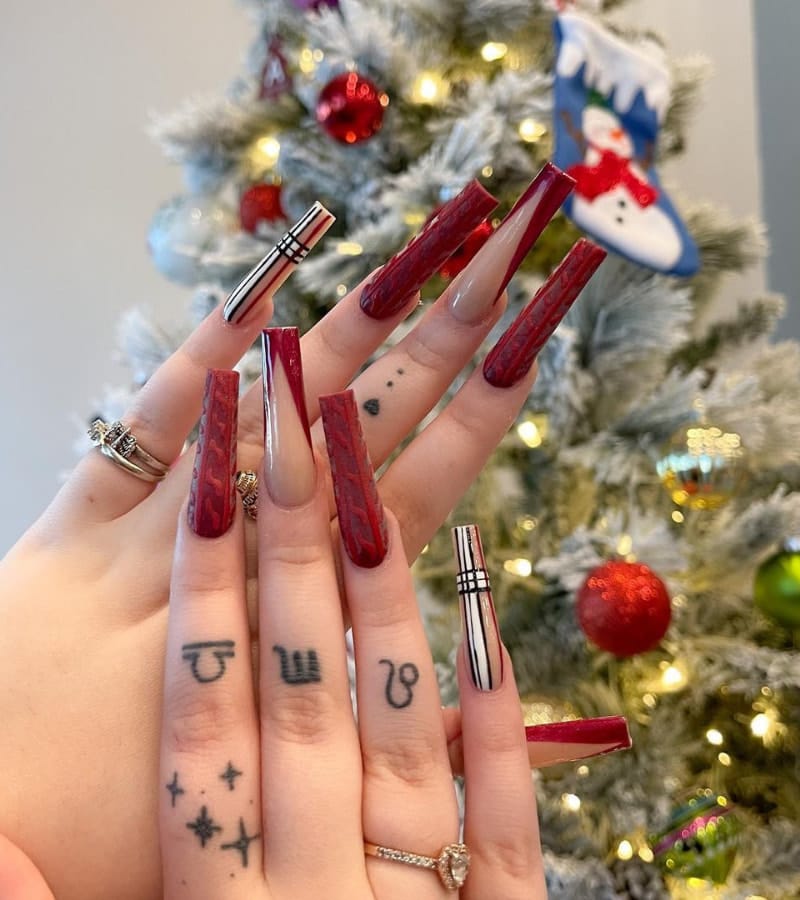 @bryant.vn
Fashionable ladies prefer long stiletto nails as you see here. You can have them for Christmas when designed with a deep red and matching design. The woolen beanie design embossed on the nails will not fail to catch the eyes of your visitors this Christmas.
30.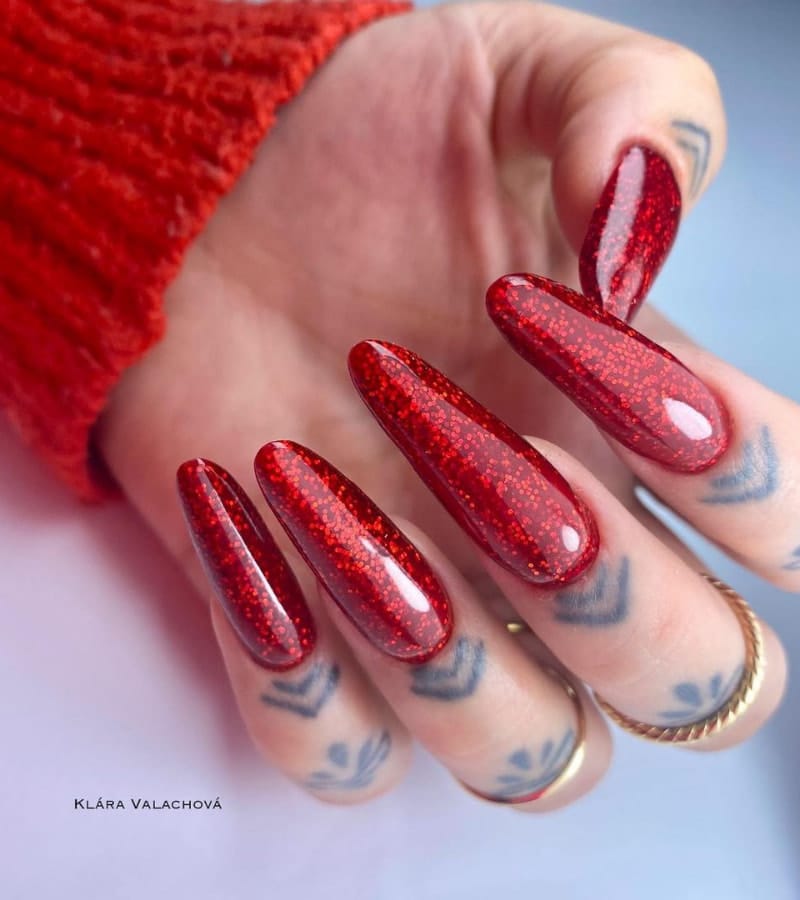 @klara.valachova
Although this is a plain nail design without any embossing and ornaments, you can clearly see the deep glitter inside the design. It is a perfect way to style your nails to match the red sweater you bought for Christmas. If you have a green one, you can try the same with green nail polish.
31.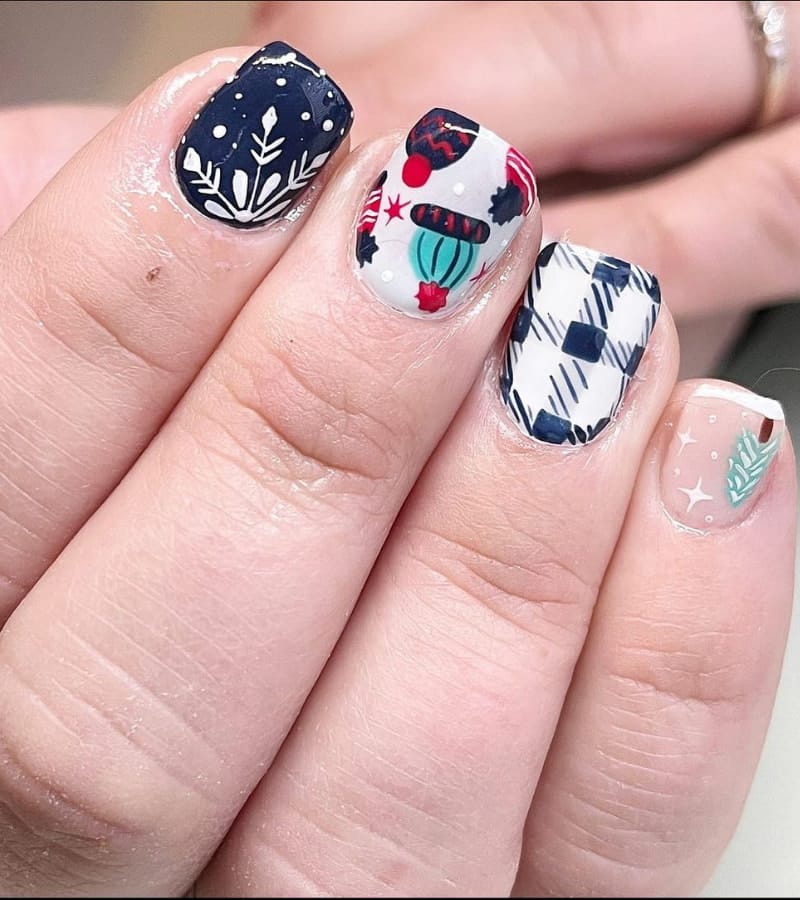 @nailsbyannieb_
Short nails also deserve to look good this festive season. The bluish-black used in this design is not something you would see very often. The beanies drawn on the nails caught my eye at the first glance. This will be a perfect nail design idea for teenagers as well.
32.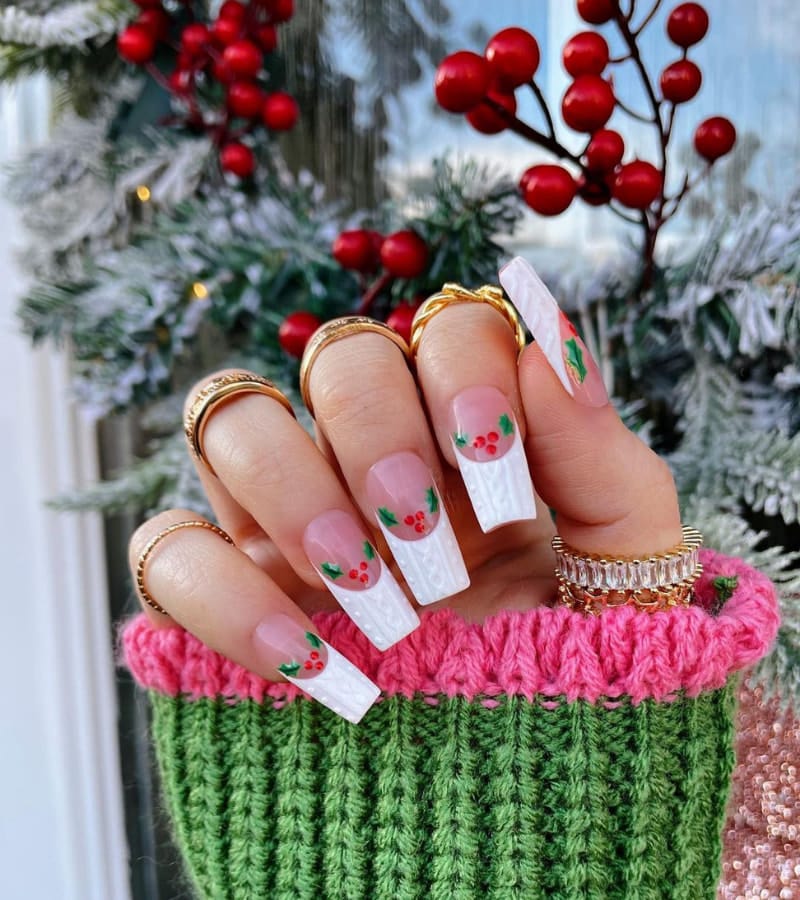 @naileditbychelsey
The long white part of the nail embossed in the wool design and the red berries make it an amazing idea to decorate your nails. You can have your nails flat or rounded at the edge depending on your preference. It looks better with a matching outfit of pink and green.