Your nails play a significant function in projecting a stylish image to passers-by. Ombre nail designs are a popular choice on Instagram and Pinterest. In recent years, Ombre nails have become one of the most popular trends. So, for a lovely and distinctive style, try these pink Ombre nail art ideas.
For ladies, ombre nail art patterns appear to be incredibly attractive. Pink ombre has been hugely fashionable in hair and couture, and it's now making its way into manicure designs as well. It may appear complex, but it is actually rather simple to do on your own.
To make your own ombre nail design, you may choose practically any of your favorite colors. But we're simply talking about the hue cool pink here. In addition, ombre designs look well on all nail shapes.
Everyone will fall in love with these 16 stunning pink Ombre nail art ideas.
Disclosure: This post contains affiliate links, which means we may receive a commission if you click a link and purchase something that we have recommended.
1.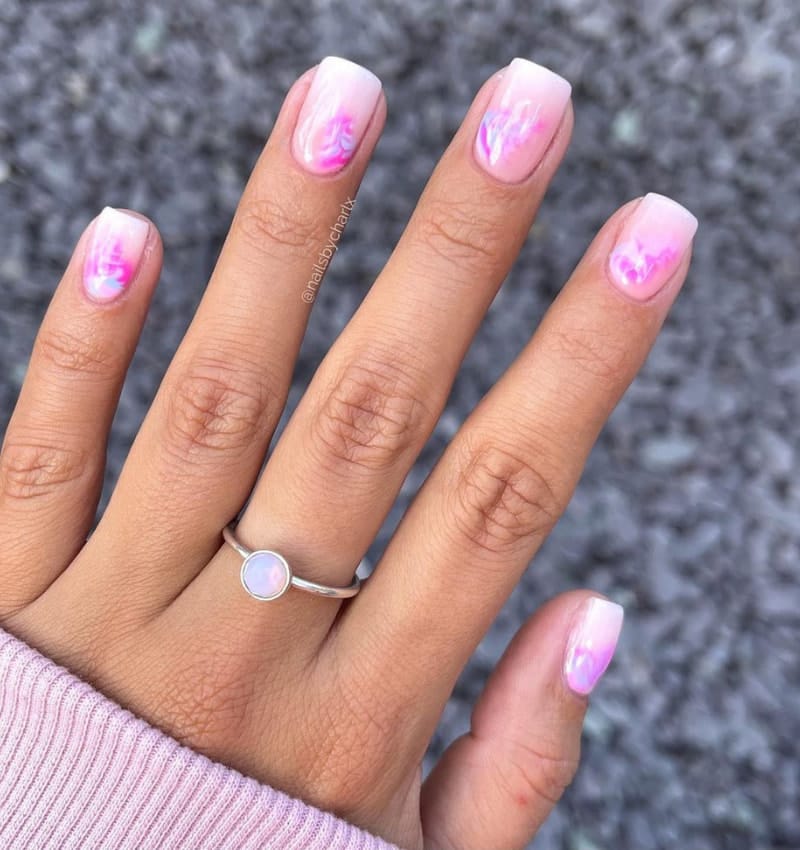 @nailsbycharlx
Although it has shades of pink, at a random glance, it brings the vibe of melting snow. The amazing color blend makes it a decent choice for Christmas nails as well. Despite the shape and length of nails, you can try this on short nails too.
2.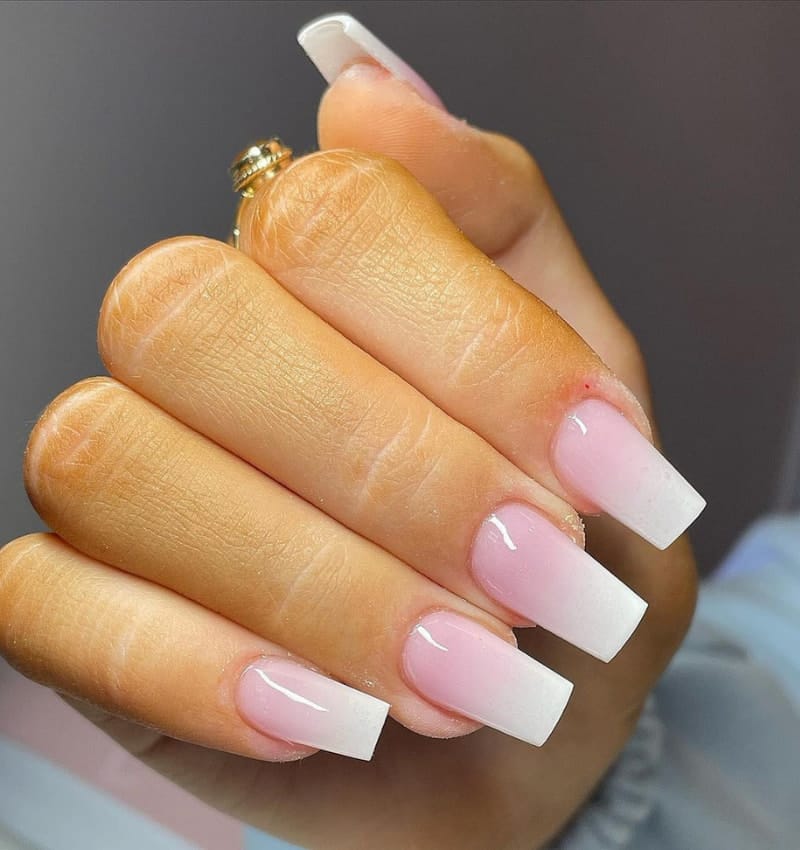 @evesnailsx
If you need something plain and simple for work or daily wear, you can try these gently shaded pin nails. It has no additional decorations or ornaments. The simple shade of light pink ends up as white at the tip of the nails.
3.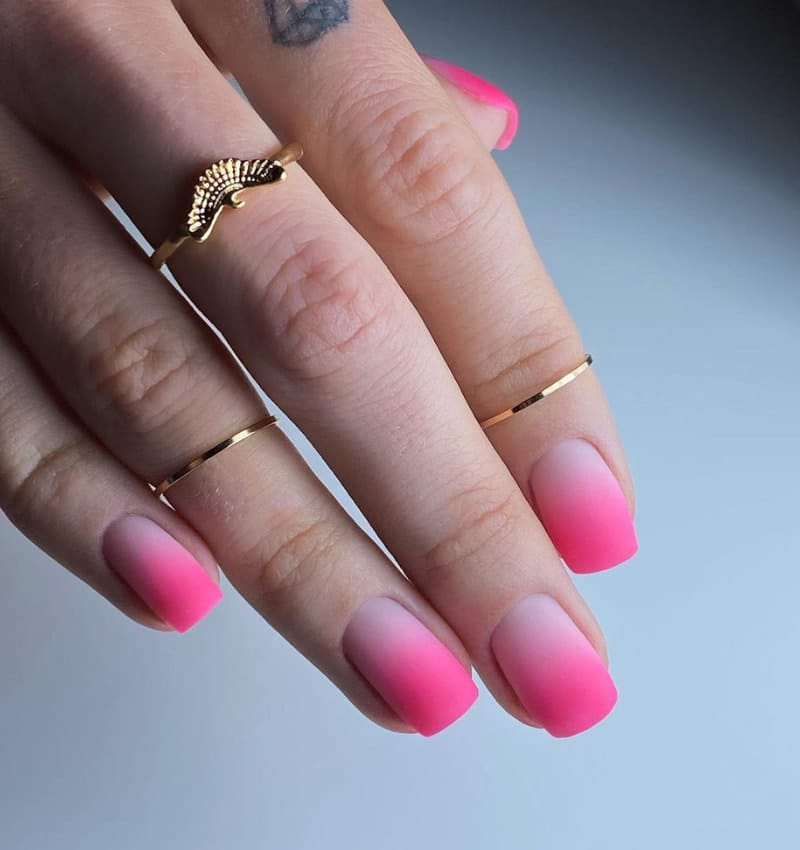 @mark.owe_studio
If you need vice versa, you can try this nail art idea. The base of the nail is white and gently becomes a darker pink. It will look great on fairly long fingernails with flat edges. This is ideal for casual wear and vacations.
4.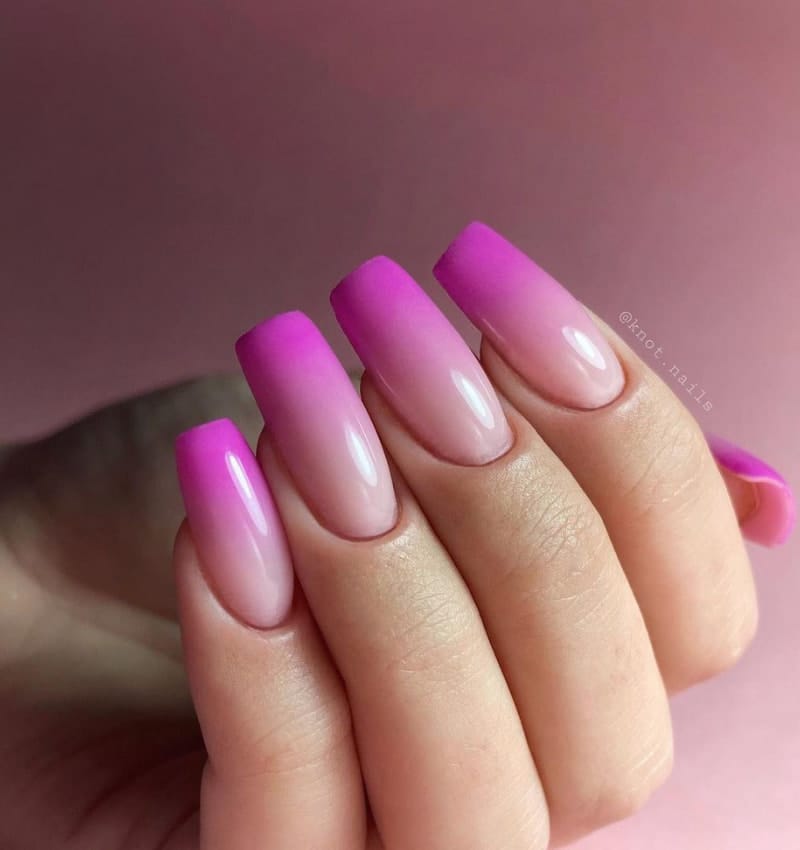 @knot.nails
This is a bright mauve shade that shades into a darker color. Not only as nail art, but you can also even try this on your acrylic nails as well. It will look attractive with a matching outfit in any season. I think you can also try it for stiletto or almond nails too!
5.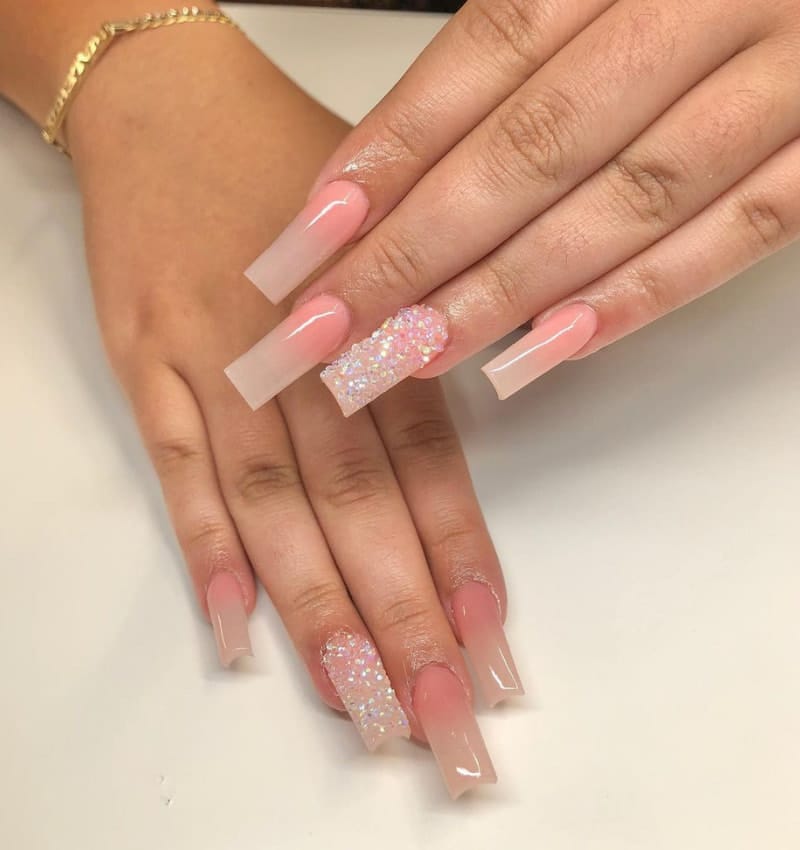 @carolinaxnails
If you need some sparkle on your nails, you can go ahead to try this out. Color your nails with a pink Ombre nail art as shown. Then add some shiny ornaments on a selected fingernail of your preference. This is also a perfect idea for weddings and functions.
6.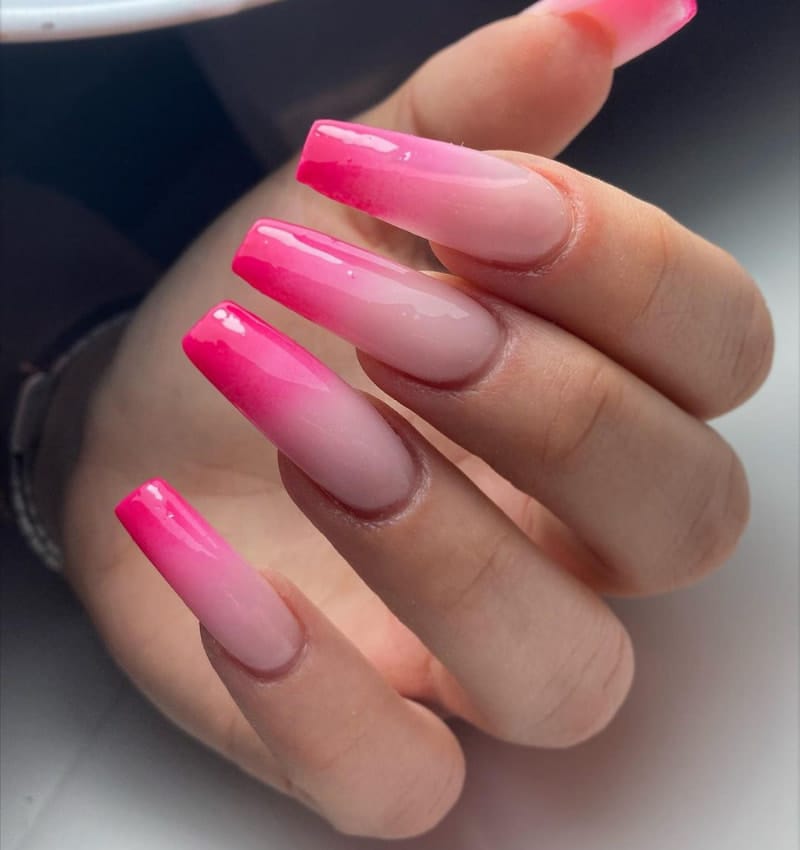 @wk_nailss
How would hot pink appear in a shaded design of Ombre nails? Here it is, with a dark shade being dissolved into a very light pink. You can design our nails this way for special occasions such as parties and dare nights.
7.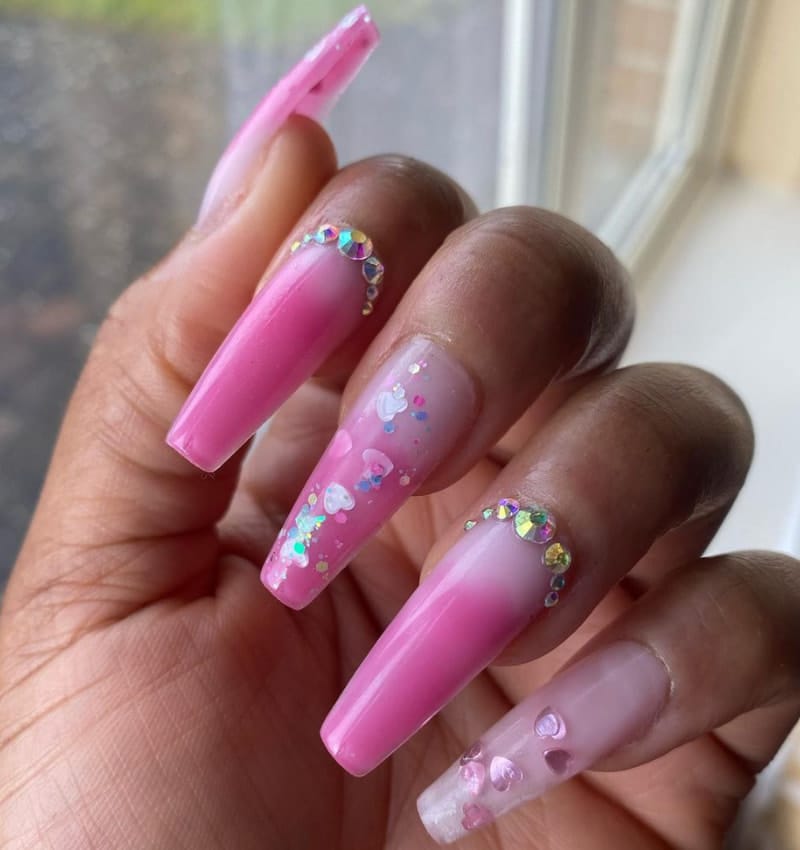 @nailsbytiabella
You might be interested in adding studs to your long acrylic fingernails. You can match them with a pink Ombre nail art as given here. The nails are colored with descending sequence of pink from one finger to another. This makes the first finger have a darker shade while the last fingernail is very light.
8.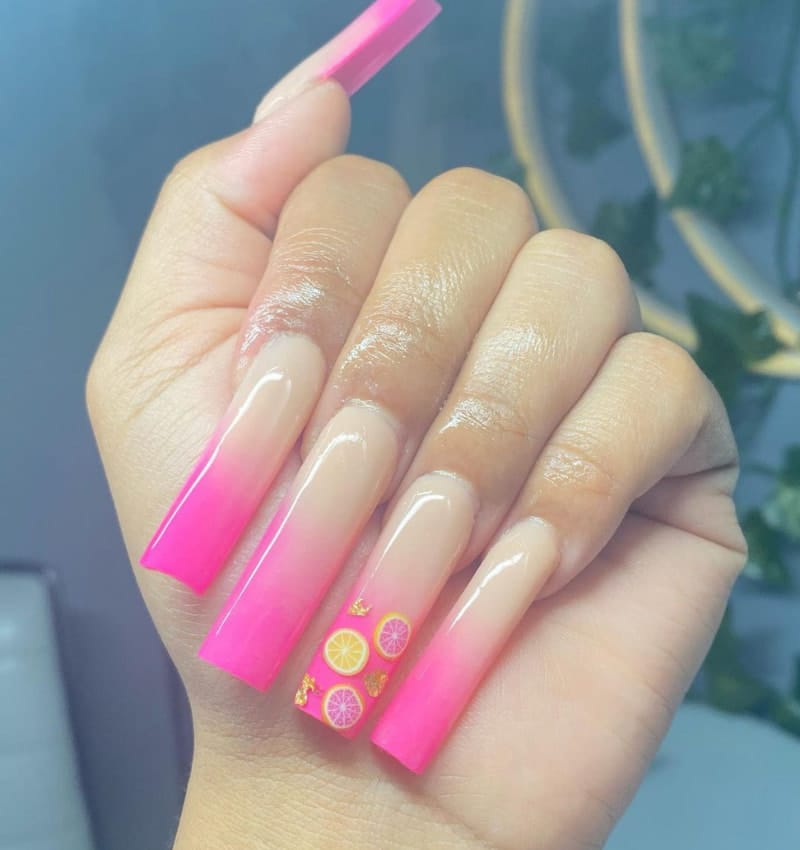 @juicedbylexi
Very long fingernails are quite common among most singers and celebrities. You can also try this trend with acrylic nails of shaded pink. Add some orange and floral ornaments for a difference from the ordinary styles. I'm sure this will attract the eye of many guests.
9.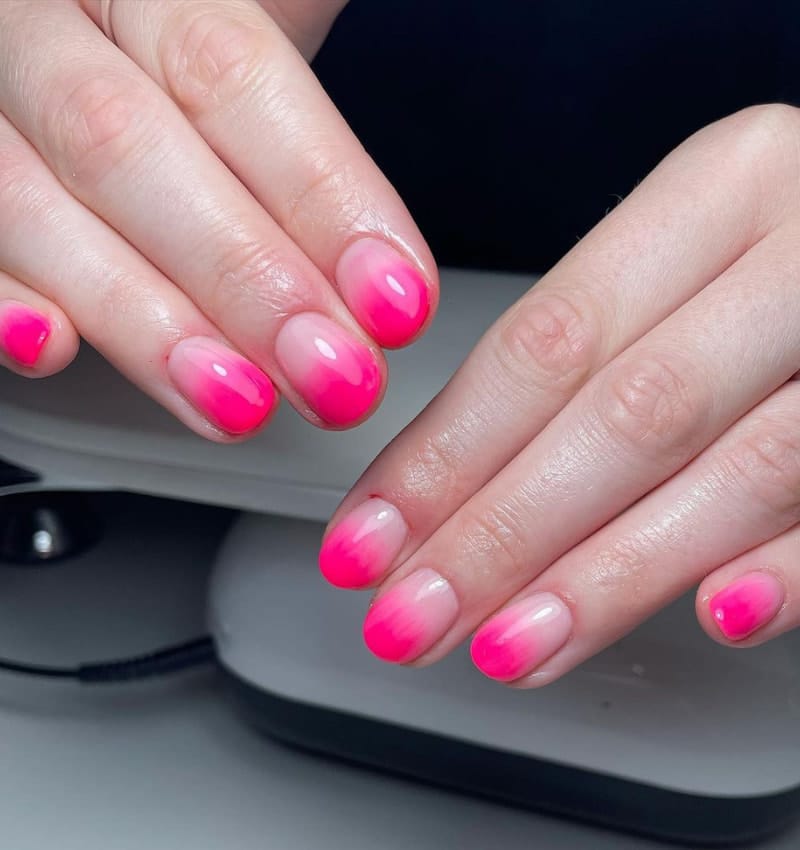 @sophies_nails20
Most people prefer to keep their nails short because it's more comfortable when working around the house. So if you are having short nails and are not willing to get long acrylic nails, you still can have beautiful nails with this design.
10.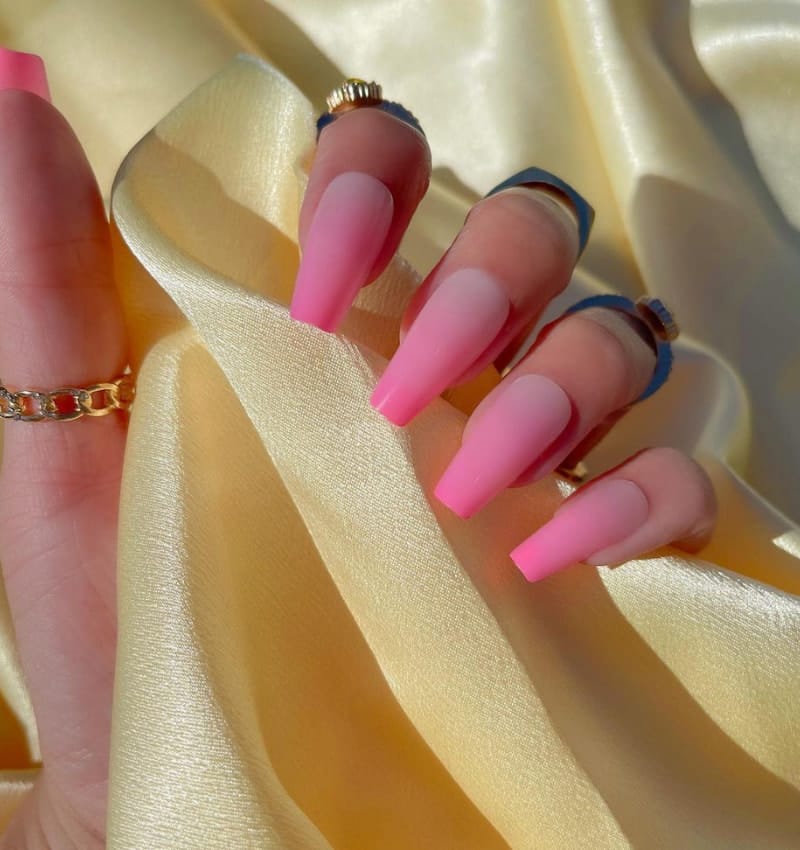 @luxxinails
The difference in this design is that the shading is very appealing with the softness. There is no rapid change of color from the dark or light. Instead, the color is Ombre throughout the nail. It is an amazing design for nails of any shape and length.
11.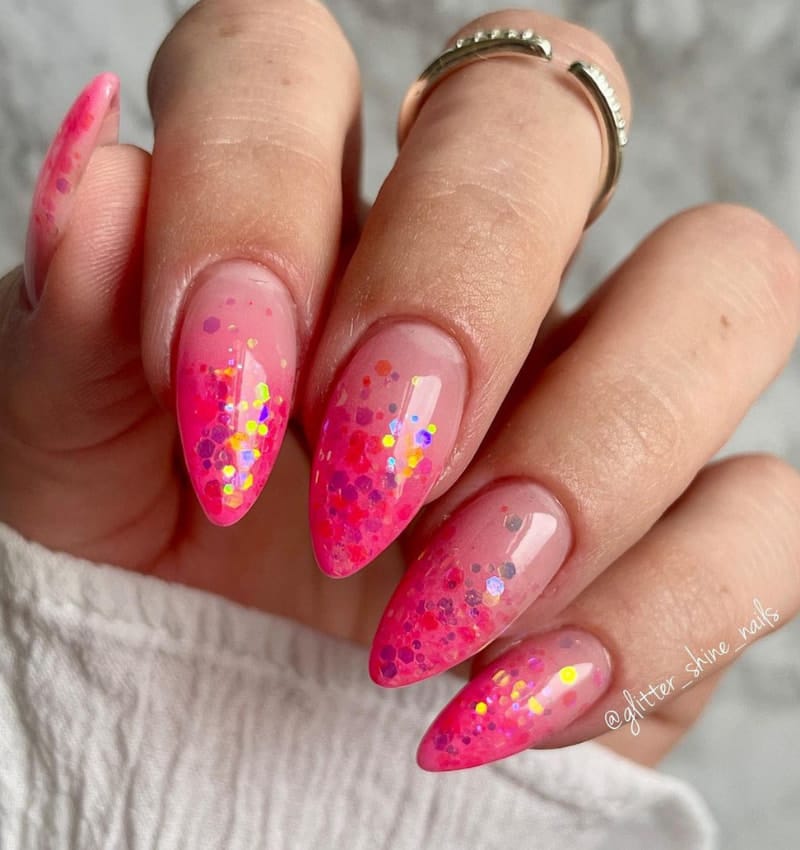 @glitter_shine_nails
If you are looking for something cheerful and bright, this almond nail design is a great choice for you. It consists of Ombre pink as the base shading from light to dark. Then it is decorated with colorful red, blue, purple, and yellow sparkles from the middle to the end.
12.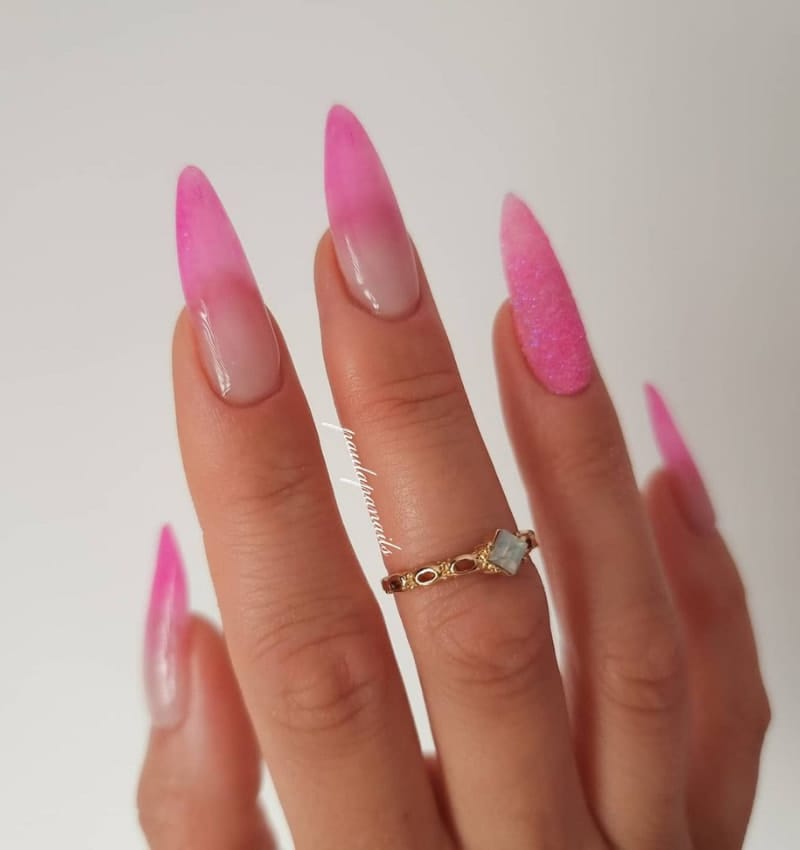 @pauletta.nails
This is for stiletto nail fans who need to try out pink Ombre nails. In this design, only the portion of the nail out of the finger is colored in pink. The rest consists of a neutral base color. Another nail is colored with glittering pink to add more sparkle to this.
13.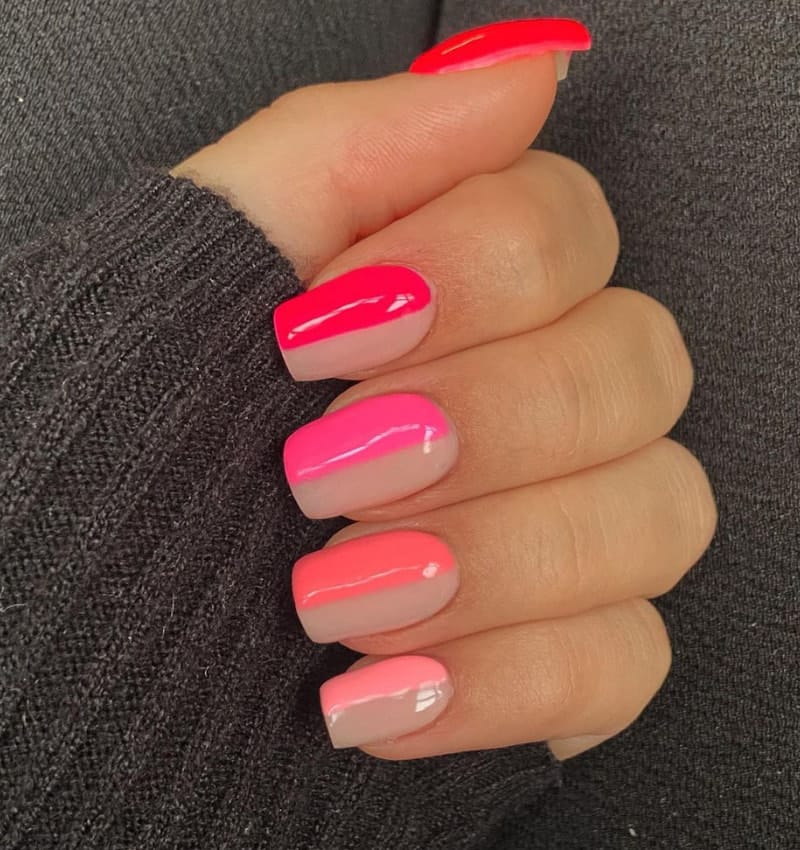 @allnailss._
The Ombre nail art doesn't always need to be shading on the fingernail itself. You can try the shading from one finger to another. So this design consists of a few nail shades of pink which are used to color one half of the nail. This is a unique idea which you can easily try at home.
14.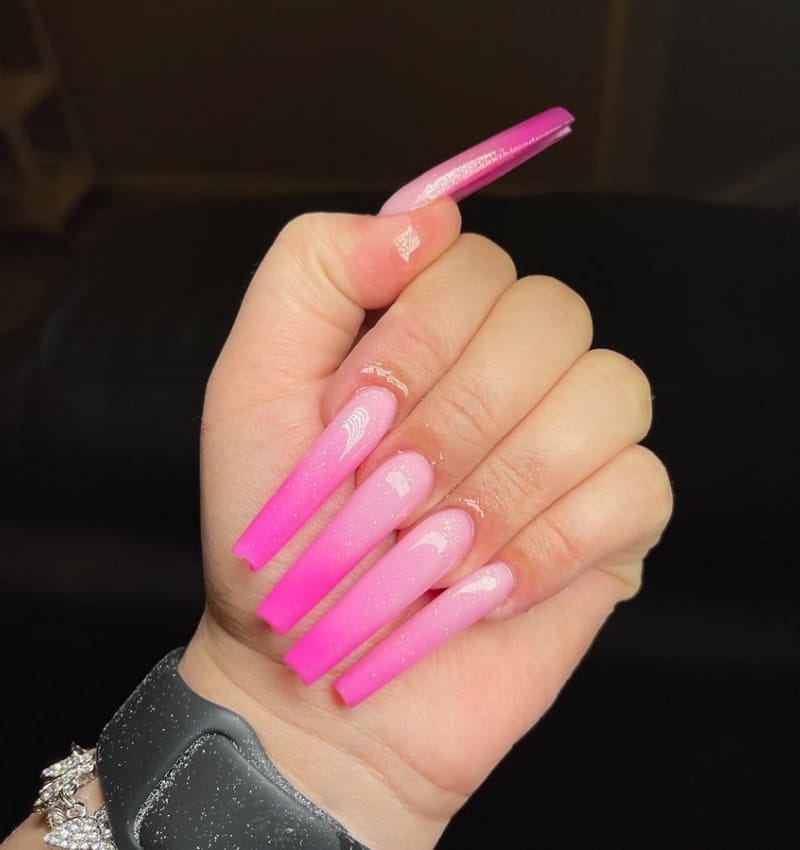 @nailsbyleelee_
Extra-long stiletto fingernails can also be decorated with this design. The bright side is that you have more room for the color combination and distribution! You can try various shades of pink and mauve on your preference. This is an ideal pick for parties and winter events.
15.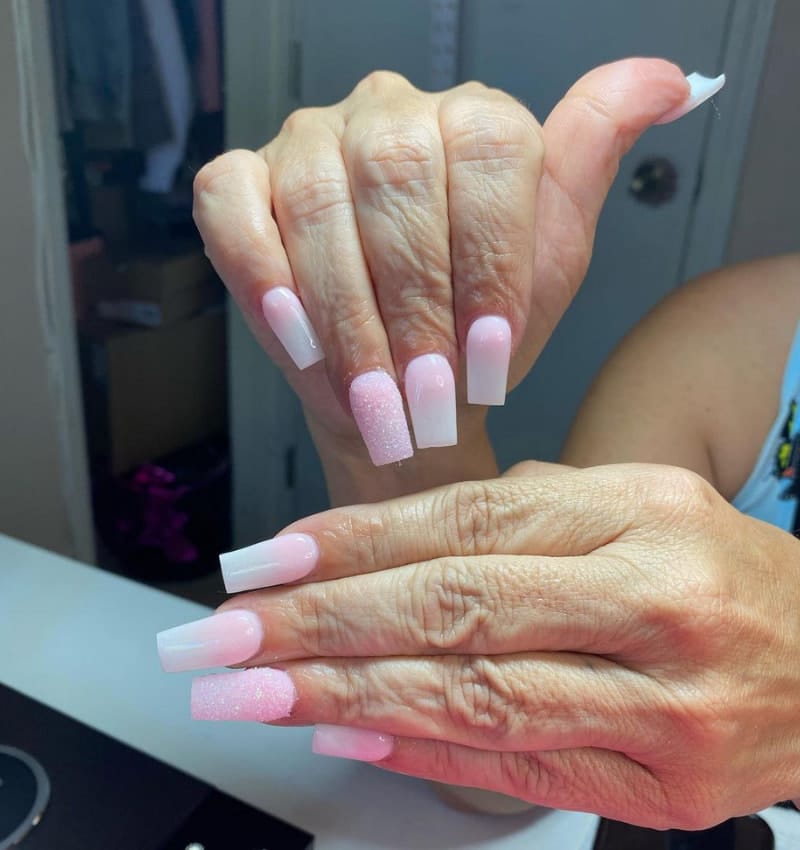 @beauttyby.natt
Some ladies prefer very light or white nails to match any outfit. Rather than having white nails, you can try adding a touch of pink as shown. You can even add some glitter to the ring fingernail to make the design more eye-catching.
16.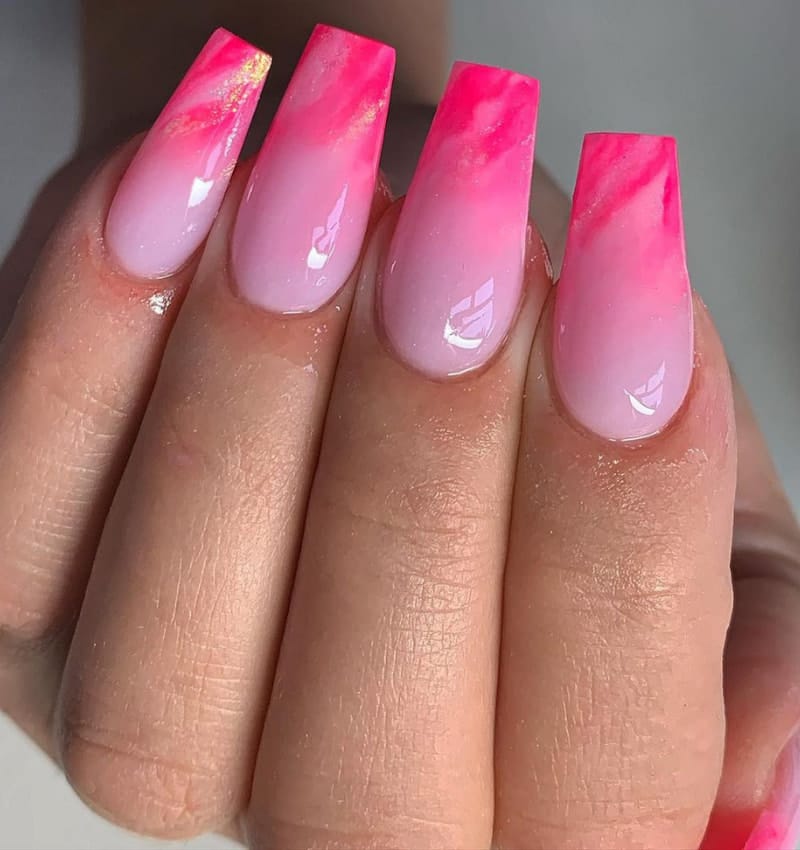 @evesnailsx
These nails are flat at the tip and colored with a shaded hot pink. The dark area is blurred with a lighter shade to eliminate the ordinary color flow. This is a perfect idea for Christmas nails this season. But not only for that, this is a great design for casual trips and events.
In conclusion, pink ombre nail art is a versatile and feminine way to add some flair to your nails. From soft pastels and blush tones to bold fuchsias and hot pinks, there are countless variations of pink ombre nail art to choose from.