For their modest yet amazing appearance, French nails look really stylish. French nail designs are among the most elegant nail art techniques available in the cosmetic industry. It's also a manicure that looks well on short and long nails. The notion of a French manicure is to paint the tip of the nail a different color from the base color.
The most common French nail color is white. However, you can also discover various French manicures that use different colors. Among them, Red French nails stand out. Delicate flowers and other patterns on your Red French manicure will also look fantastic.
Today, let's take a look at these awesome Red French manicure designs.
Disclosure: This post contains affiliate links, which means we may receive a commission if you click a link and purchase something that we have recommended.
1. Golden Bead
@animani_kalisz
If you need a special design to style your short nails, you can go with this beautiful nail idea. The tip of each nail is painted a bright red. Add some nail studs such as red stones and golden beads in one or two nails on your preference.
2. Square French Nail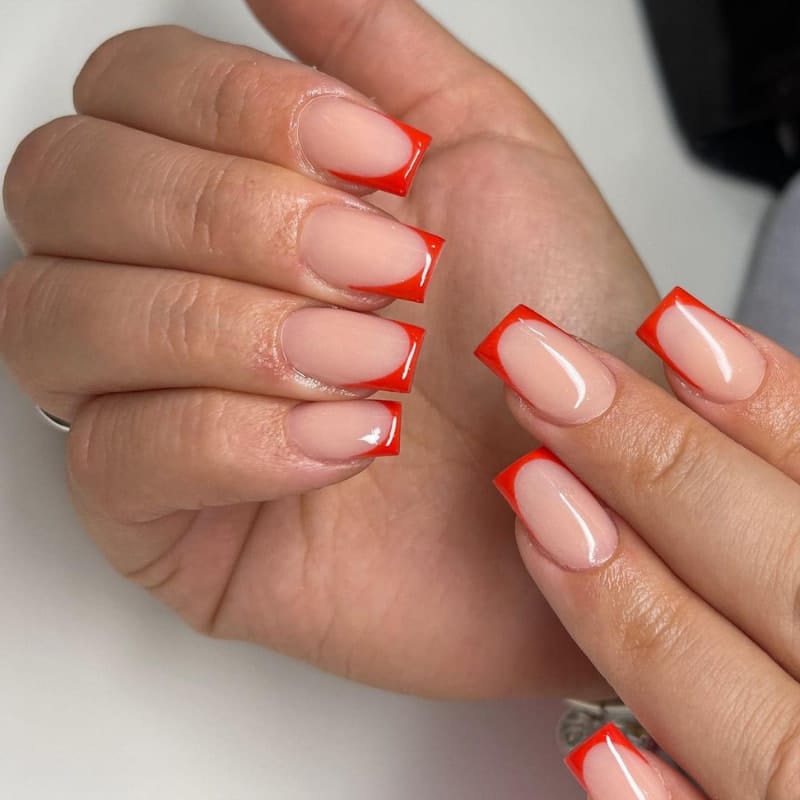 @_melissadixonnailtech
This design is specifically for fans of square tips and French nails. You can color the tip of the nail to make the base of the nail rounded. Leave it in a neutral color so as to highlight the red color. Pick an attractive color to match your outfit.
3. Square but Oval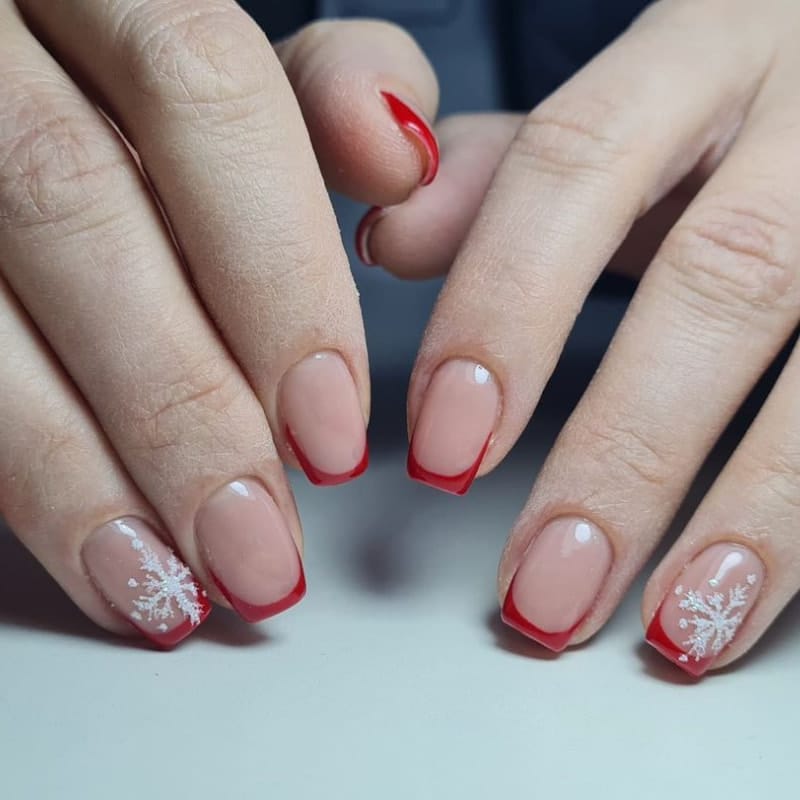 @dirnaq_qaynagi_ecemi
This too may look quite similar to the previous design but is different in shape. Although the tip is square, the red-colored are leaves the nail more rounded than oval. Add some décors to create a difference to some nails as shown.
4. For Christmas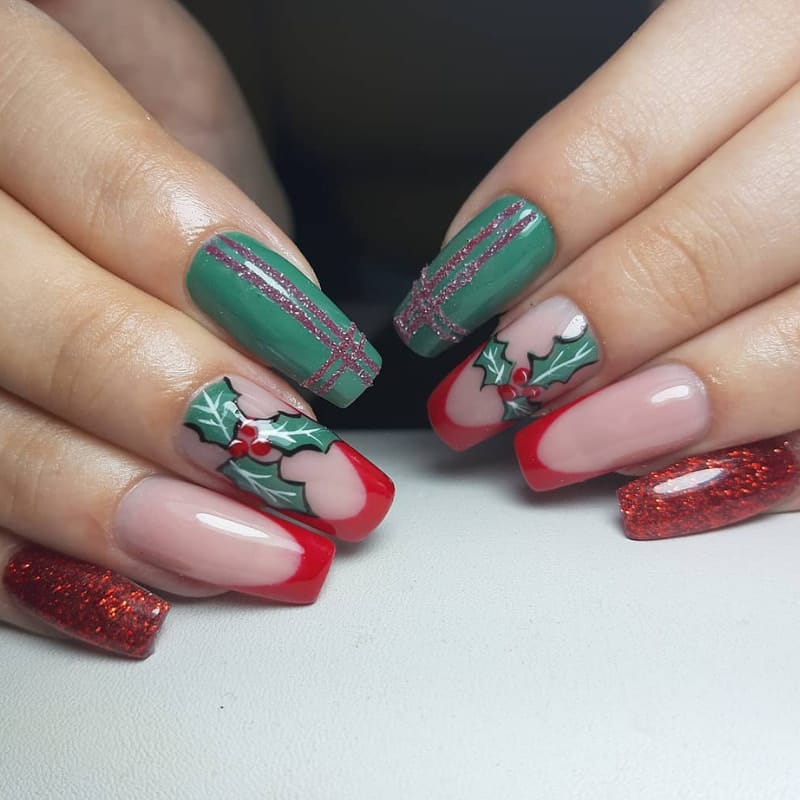 @andjelaa.nails
For those of you who prefer to have the French nail design along with another art, you can try out this. Paint one or two nails with your preferred colors and then color the tips of the nails in red.
5. Red Almond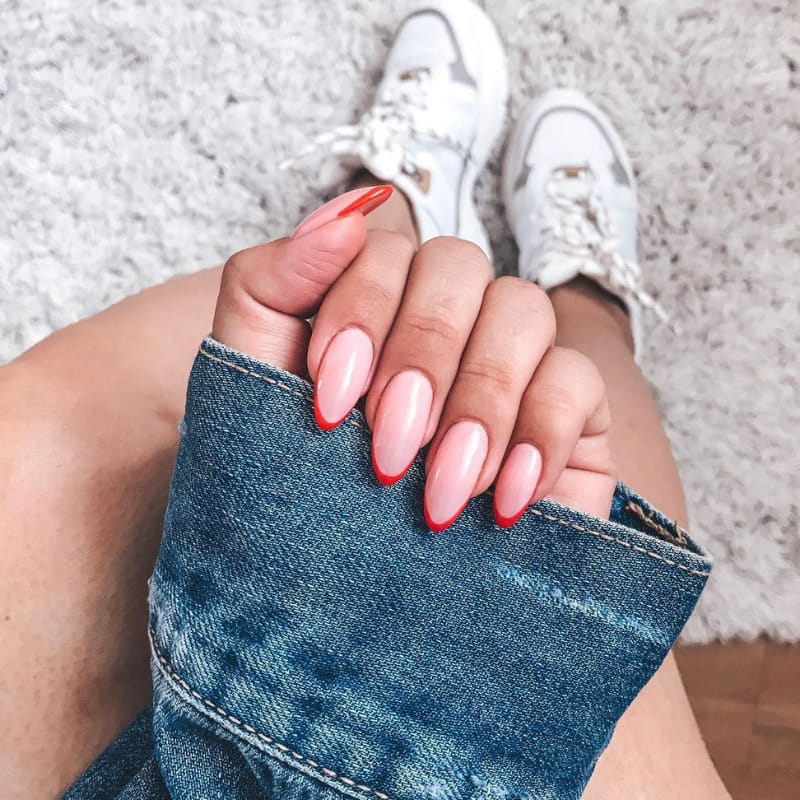 @_adfashion_lifestyle
Here's an almond nail design with a red French nail design. As in most previous nail designs, this too has the base of the nail kept neutral. Even if you are wearing a denim outfit, you can still color your nails red in this style.
6. Two Colors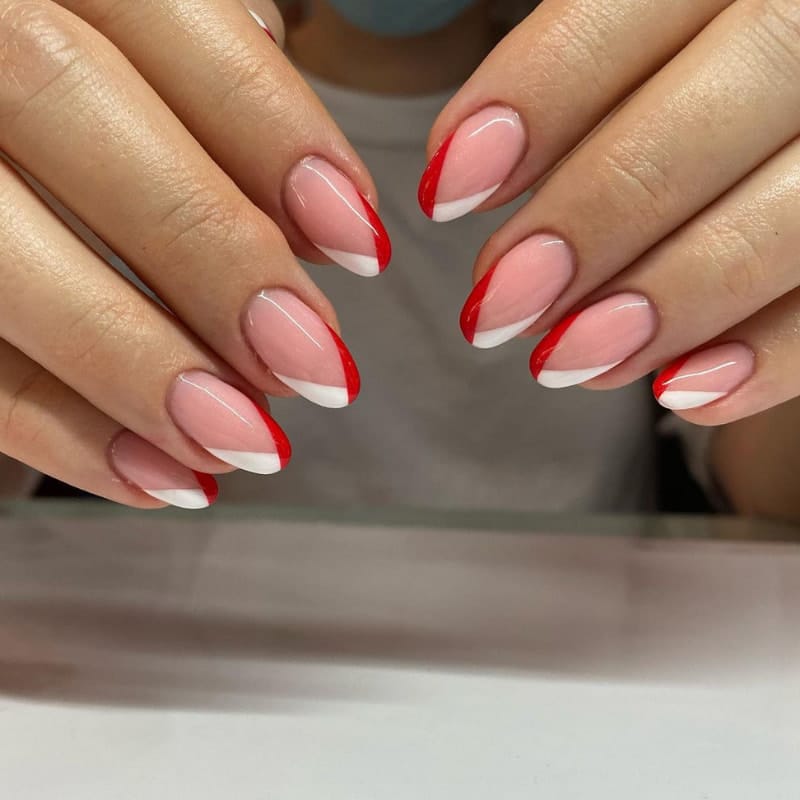 @theklas_nails
Sometimes we all need something different from ordinary designs. You can try this unique nail art with two colors for the tip of each nail. This nail design will look best on almond nails as you can see in the image here.
7. Pearl Vibe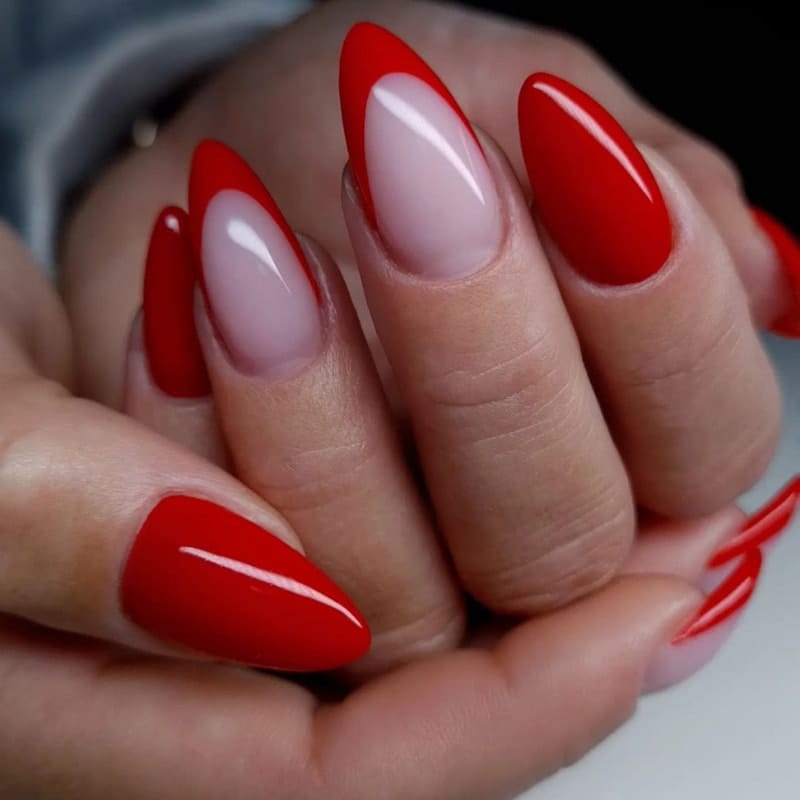 @impressionsbymonette
I think this nail design gives a pearl vibe to the nails. It is because the stiletto nails are made in almond shape with red color at the tip. Don't forget to use a neutral base to get the best of this effect. You can also color two or more nails in red.
8. Red Curvy Lines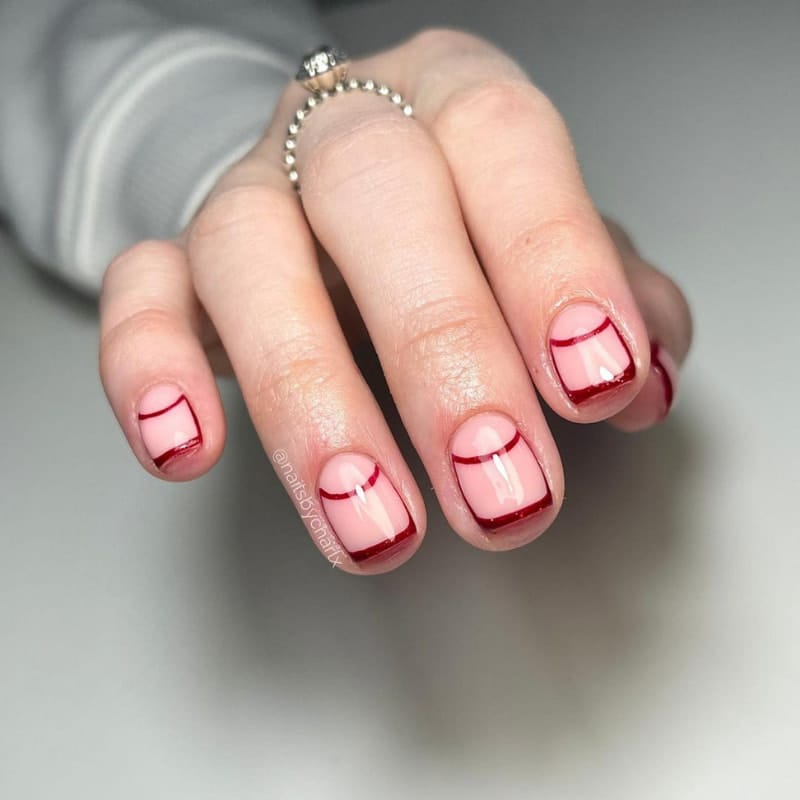 @nailsbycharlx
This too is a unique nail art different from the ordinary. There is an additional red curvy line crossing the base of the nail. You can try this regardless of the length of the nail even if you have short nails.
9. Christmas Vibe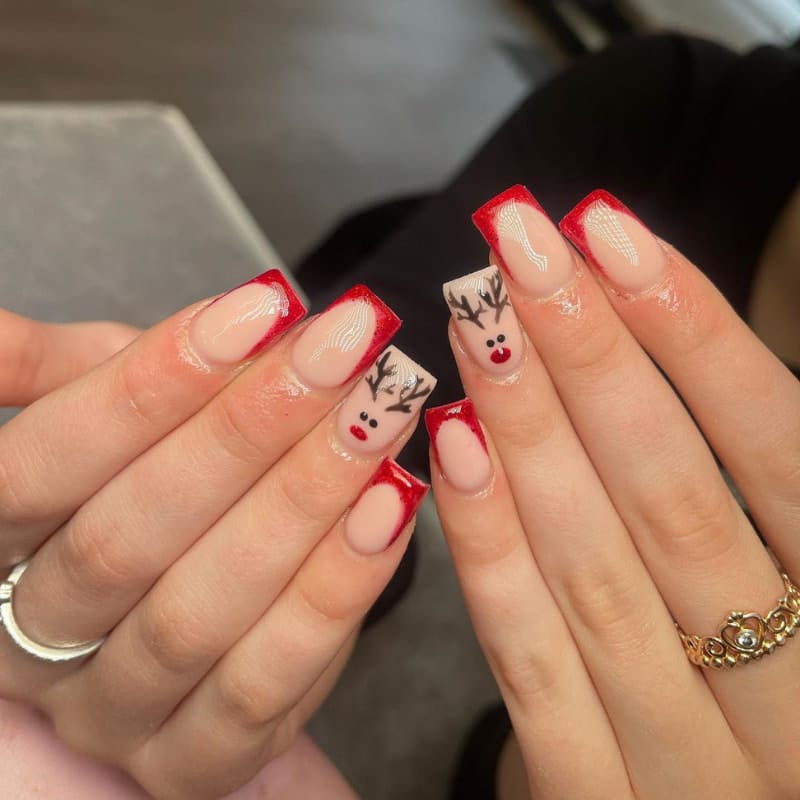 @emilybailey.makeup
The specialty in this French nail design is that the red color is brought more into the nail rather than ending at the tip. You can even add some nail painting to one nail to add more diversity to the design.
10. Christmas cap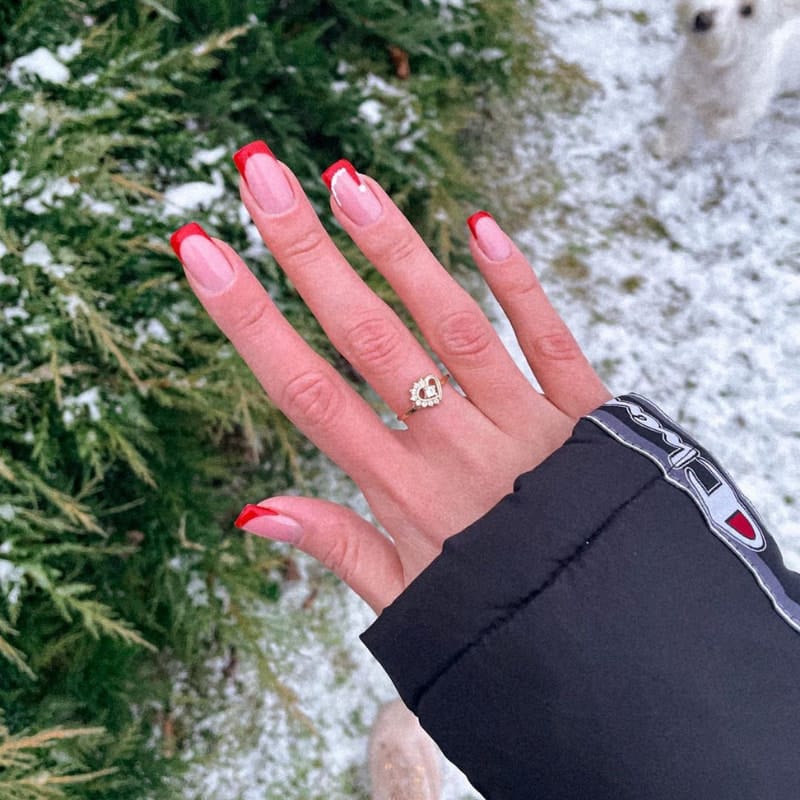 @ferencaleks
How about breaking the pattern by making a change to the red area of one nail? As you see in this, one nail is designed like a Christmas cap with a white line and a snowball. Similarly, you can try out something creative to suit your style.
11. Red Oval Tips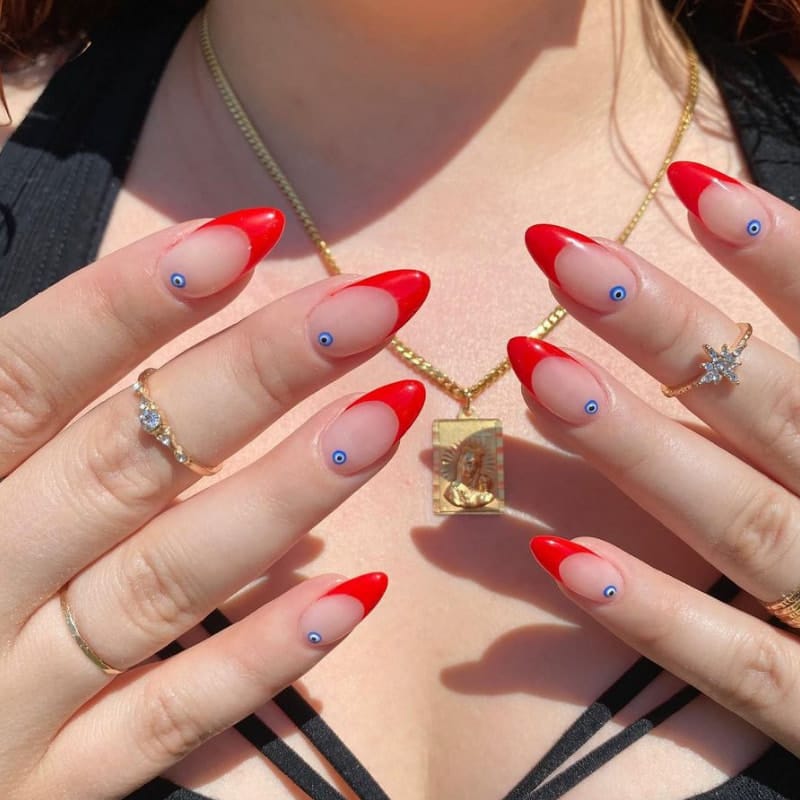 @nailsbyaran
Another aesthetically appealing nail design with red oval tips. This makes the nails look neater and even gives a bright and cheerful vibe. Instead of the blue eye stud here, you can add a matching nail stud on your preference.
12. Elegant and Classy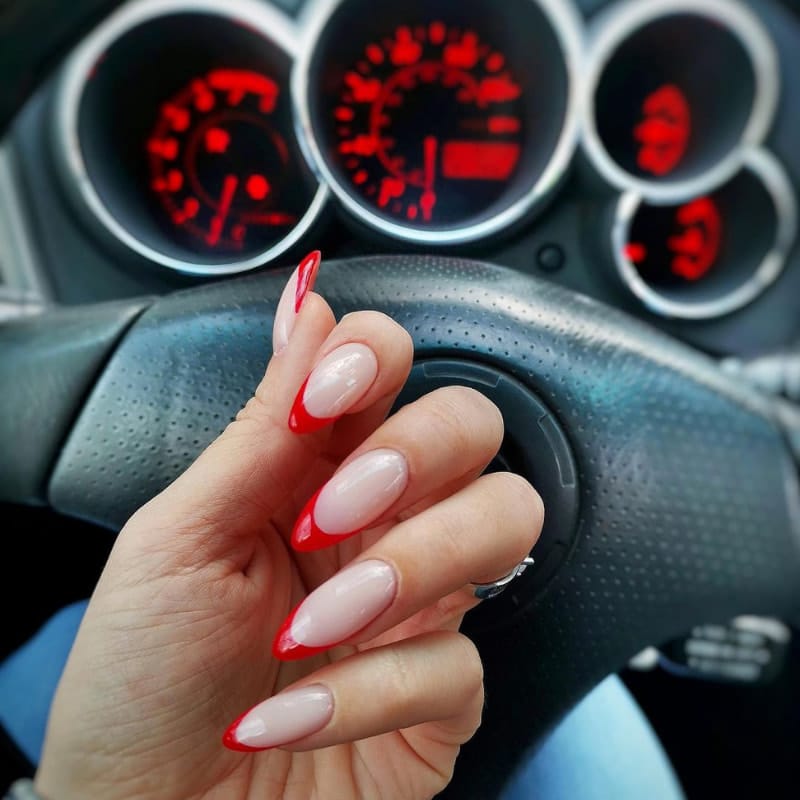 @nailart_industry
As you can see, the amount of neutral color increases with the length of each nail. This design makes the nails more elegant and classy. You can try this for special vacations and even day-outs with any outfit.
13. Matte Nail Design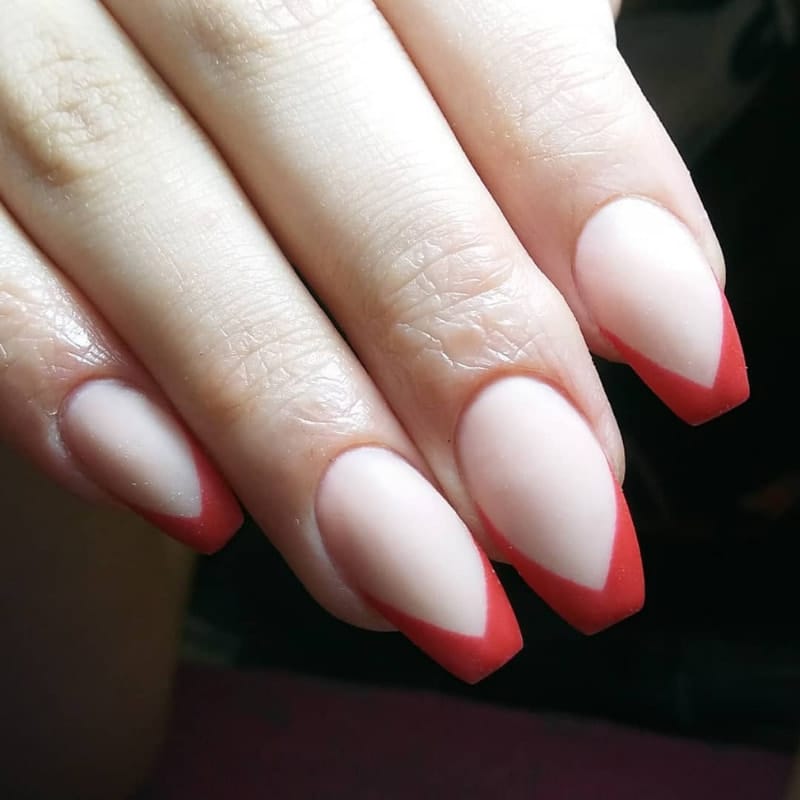 @mahnazafshar.nail
This is a matte nail design where both the base and the tip of the nail are not shiny. Rather than making the base round with the red-colored area at the tip, it is drawn in almost straight lines. This makes the base pointed at the tip with the outer red area.
14. Darker Red or Brownish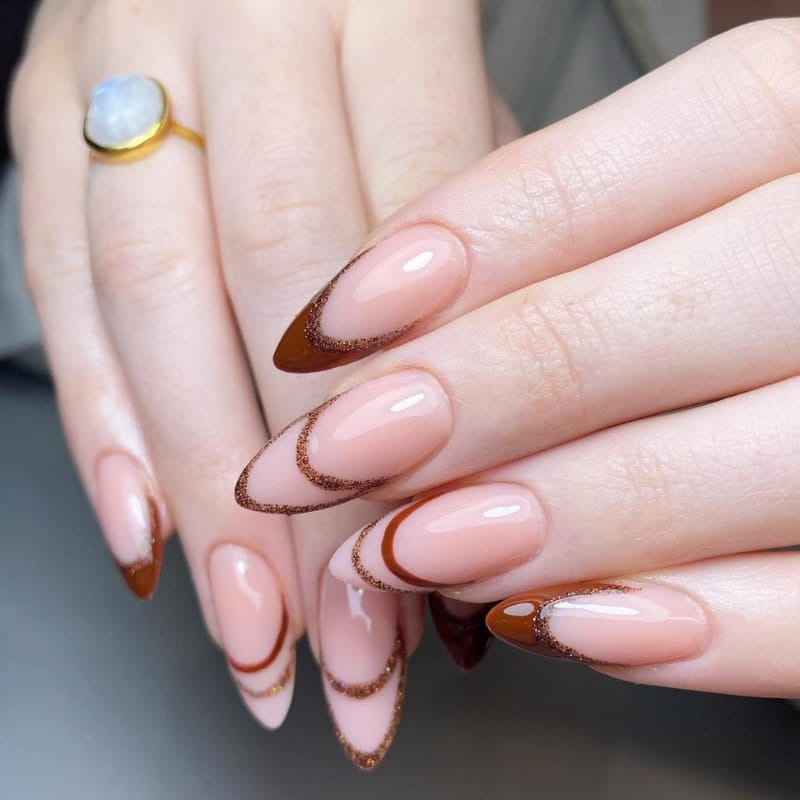 @jordanward_nailartist_x
A darker red or brownish nail design that you can try for special occasions. It consists of multiple lines at the tip of each nail, creating many segments. You can even color them with a preferred shade of red on certain nails.
15. Extra-long Square Nails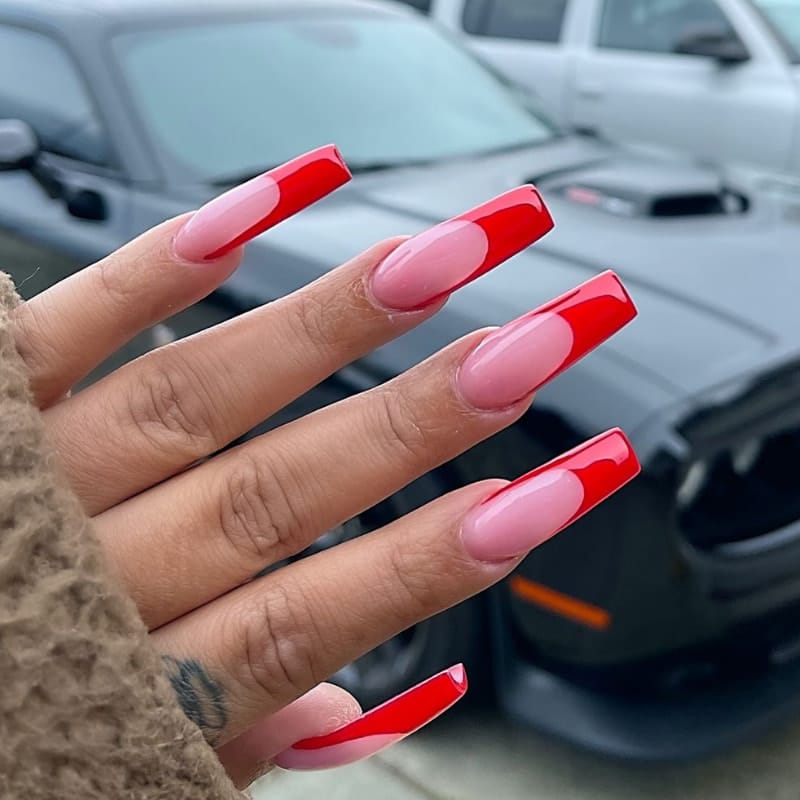 @djznailcustomzllc
These extra-long square nails also look great with a red French nail design. The base is colored in a light pink to match the red-colored tips. This too is a perfect idea for casual outings as it adds a cheerful and carefree vibe to your outfit.
16. Mildly Colored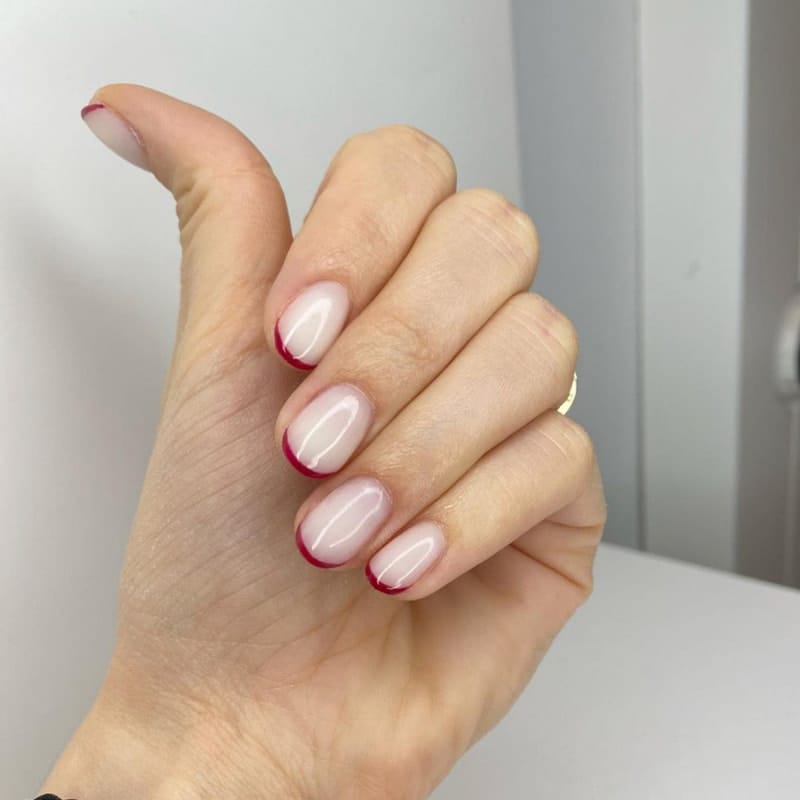 @rozanailsstudio
If you are having short nails and looking for a nail art design idea to keep them beautiful, you can go with this one. The tip of each nail is mildly colored with a deep red. This will look even better if you add a shiny topcoat over the nails.
17. For Short Nails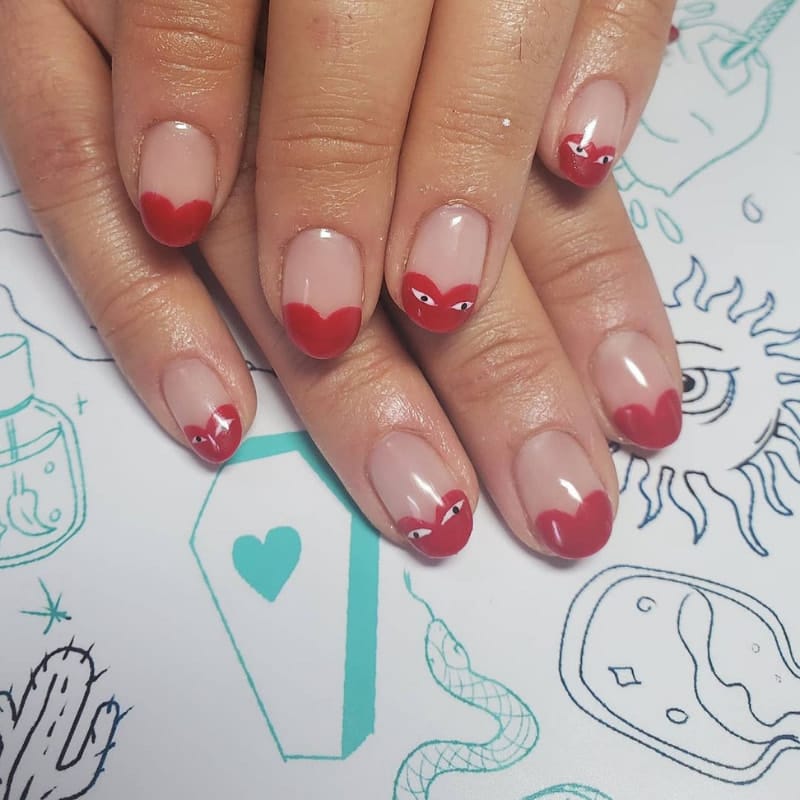 @cheyenne.river.nails
Another amazing red nail idea for short nails. All you need to do is to create a heart shape at the tip of your nails. I think this could be even better if you have stiletto nails rather than round tips. It will bring out the heart shape of the nails even more.
To wrap it up, red French nails are a timeless and glamorous choice for anyone looking to add a pop of color to their manicure. Whether you opt for a classic red and white French tip or get creative with different shades and designs, red French nails are sure to turn heads. This versatile nail trend is perfect for any occasion, from a day at the office to a night out on the town.
So if you're looking to spice up your nail game, consider trying out some of these red French nail ideas and enjoy the instant boost of confidence they bring.