Do you want to test out some new nail designs this season? If that's the case, you've come to the correct place!
These days, pearl nails are really trendy. Pearls have a dazzling appearance, and this nail paint style is inspired by their attractiveness.
Now scroll down to see a variety of pearl nail designs that will give your hands a highly glitzy look.
Disclosure: This post contains affiliate links, which means we may receive a commission if you click a link and purchase something that we have recommended.
1.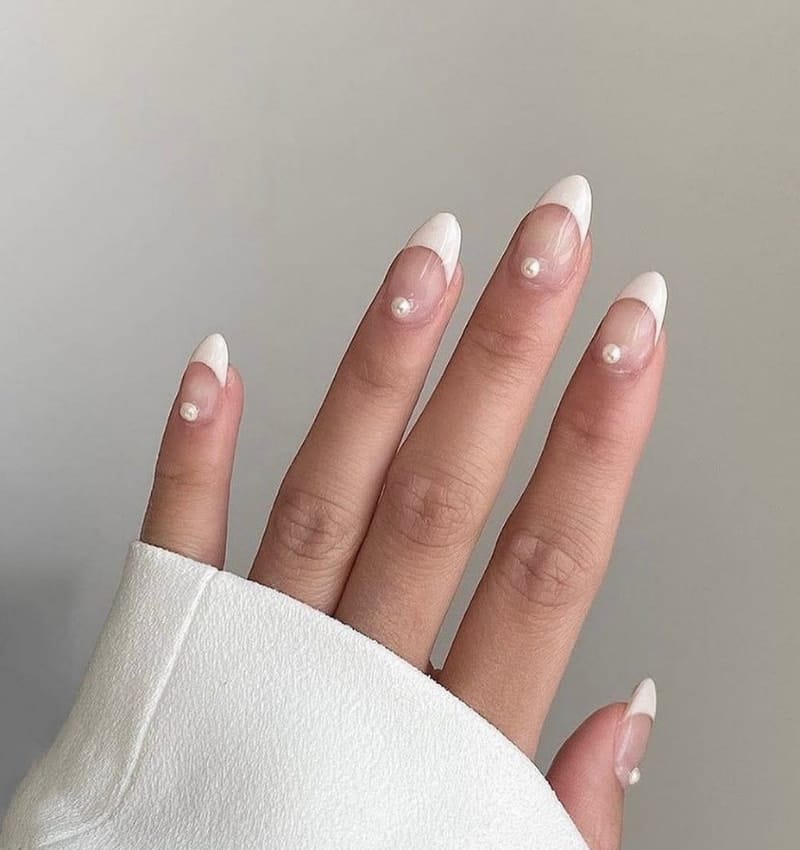 @annabebridal
Pearl designs suit best with white and neutral colored fingernails. So, you can try the nail idea shown here. All you need is white nail polish and pearl nail ornaments. Color the outer edge of your nail in white and place the pear studs on each nail. Then finish it up with a transparent coat on everything.
2.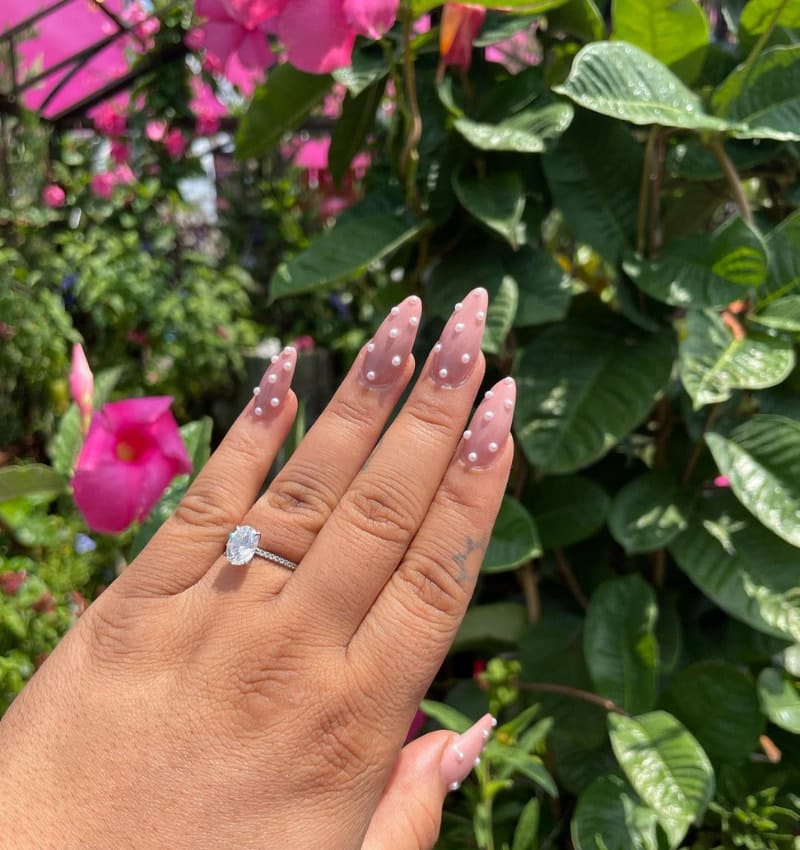 @pamelanicolee_
You can try this pearl design on your long acrylic nails. Paste around seven tiny pearl studs on the nail. You can choose any solid color as the base. The image shown here has a shade of purple, which is also a good choice. You can even use a more contrasting color to highlight the pearls.
3.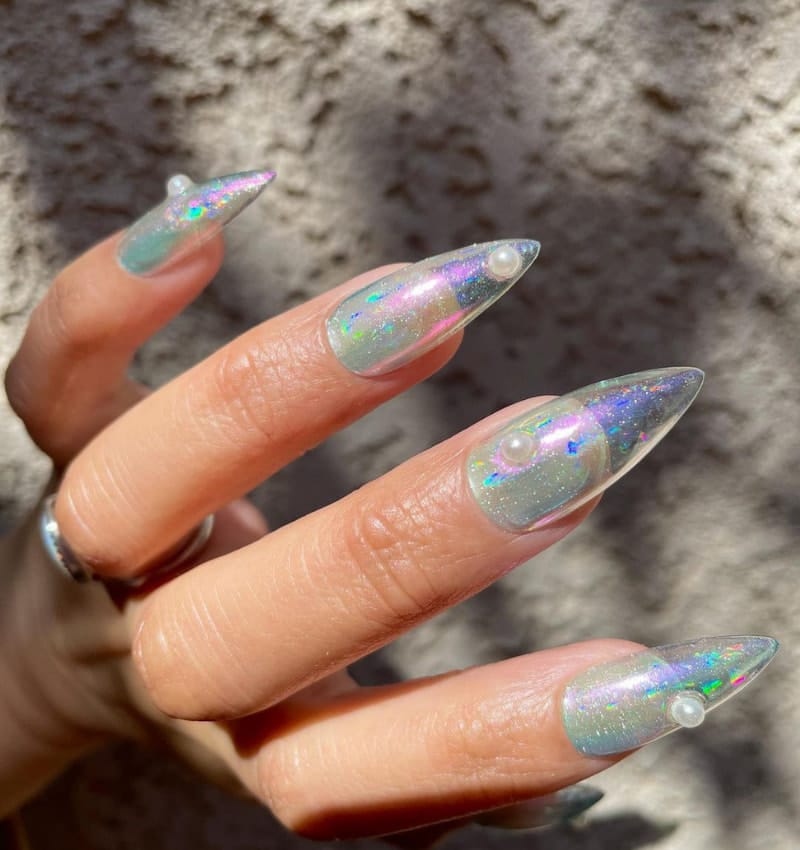 @beldoesnails
Have you ever tried transparent stiletto nails with pointed tips? If not, this is the best time to try it with your favorite pearls. Color your acrylic nails with shiny glitter and then add pearls; one for each nail. Change the location on which you paste the studs on each nail.
4.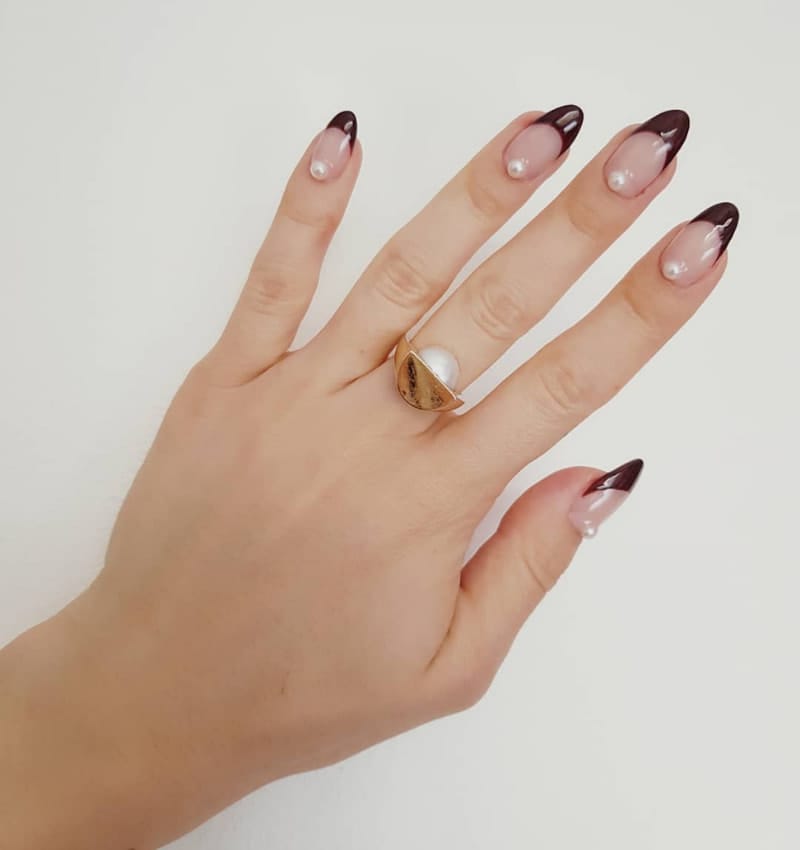 @thedani
Darker colors of nail polish highlight the pears. But in this design idea, only the tip of the nail is colored in a dark shade of brown. You can add a larger-sized pearl at the base of the nail, and don't forget to wear your pearl ring with this. This is a great pear nail idea for special functions and parties.
5.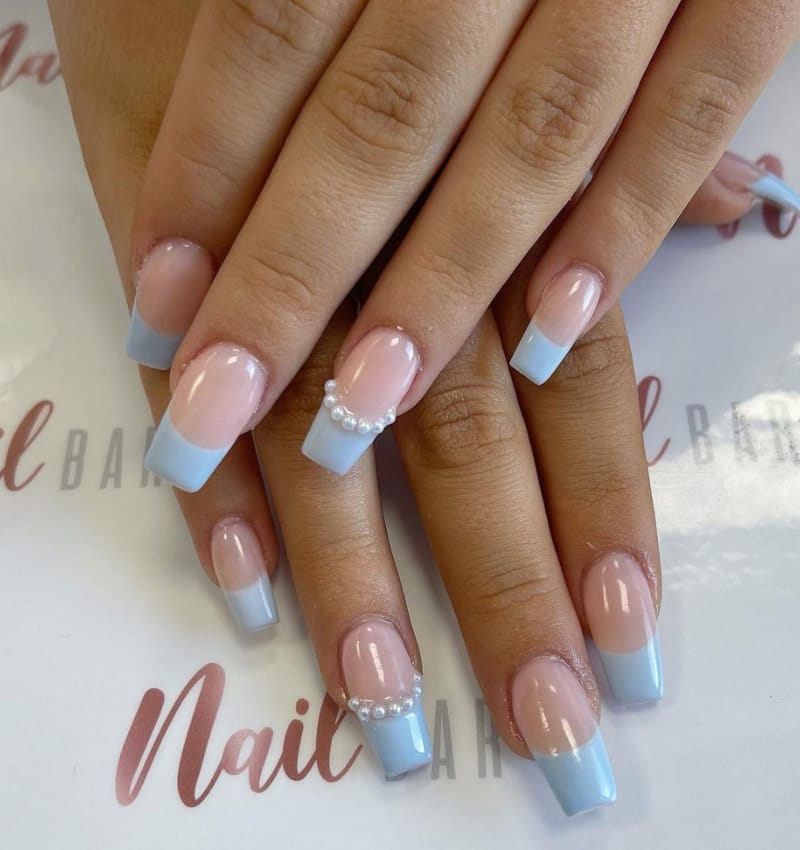 @nailbar.hedgeend
This is a gorgeous nail design idea for nails with straight edges. You can color the half towards the end of the nail with a light blue color as shown here. The rest should be of light pink close to the neutral color. Then add a few pearls on the nail of your ring finger at the border of the two colors. This will be a great nail design for you to try for a special occasion.
6.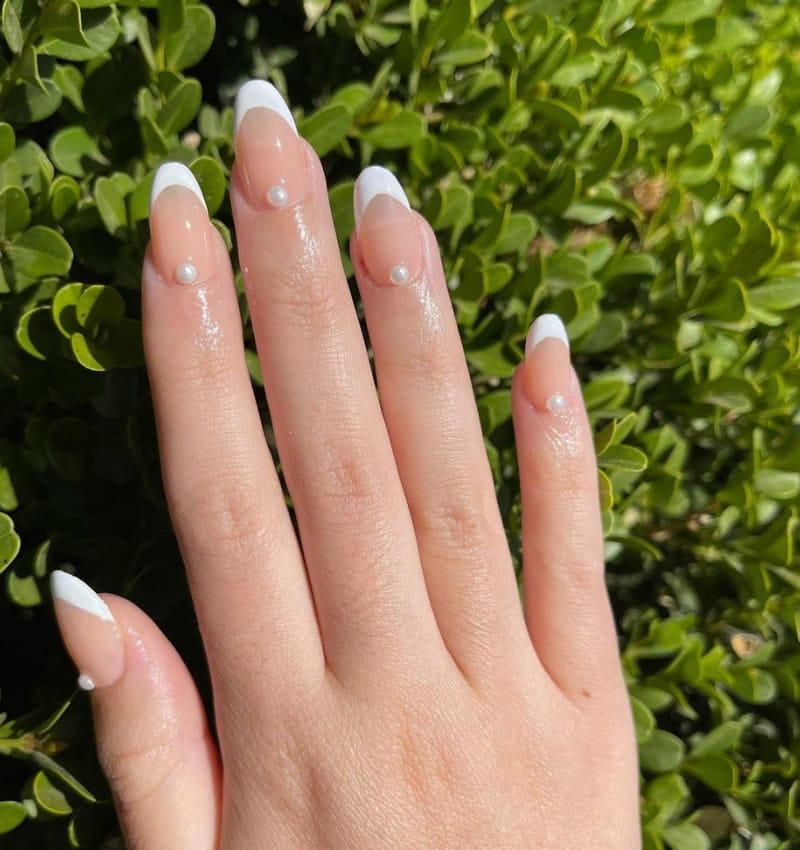 @nails.by.lupis
Almond nails with white tips will look best in this nail design. Here too, pearls are added at the base of the nail, one per fingernail. As there is no special color used in this, you can match any outfit with it. This is also suitable for both daily work and special events.
7.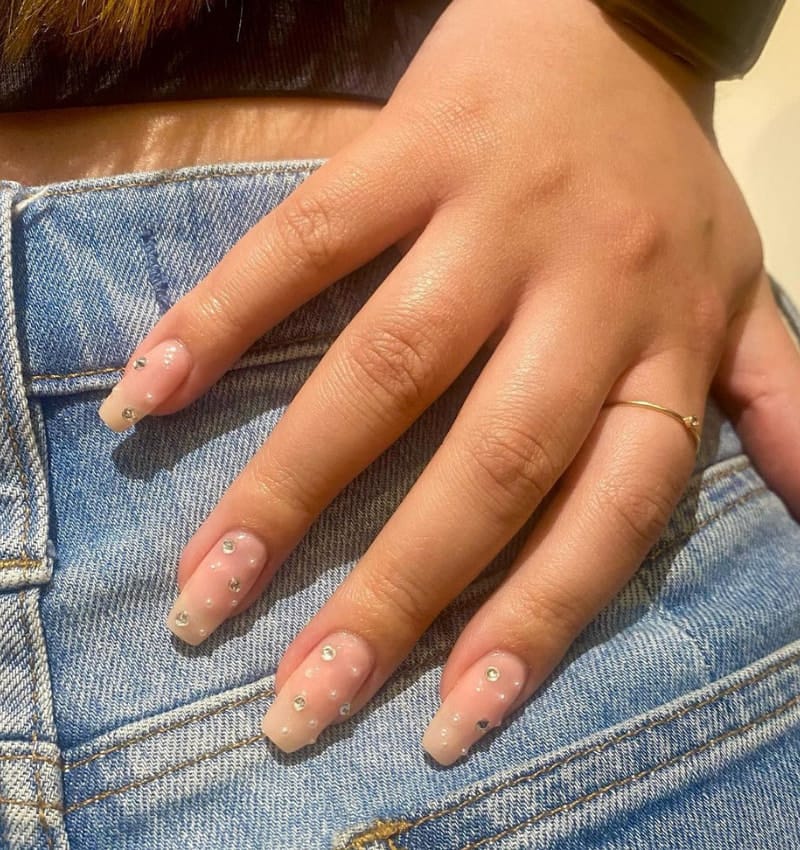 @laym_nailz
You can even style your nails with pearls and other sparkling studs together. It will be more attractive on neutral-colored fingernails as shown here. But you can also try some light pastel colors of nail polish to match your outfit. Depending on the size of the studs, you can add up to 7 or 8 on each nail.
8.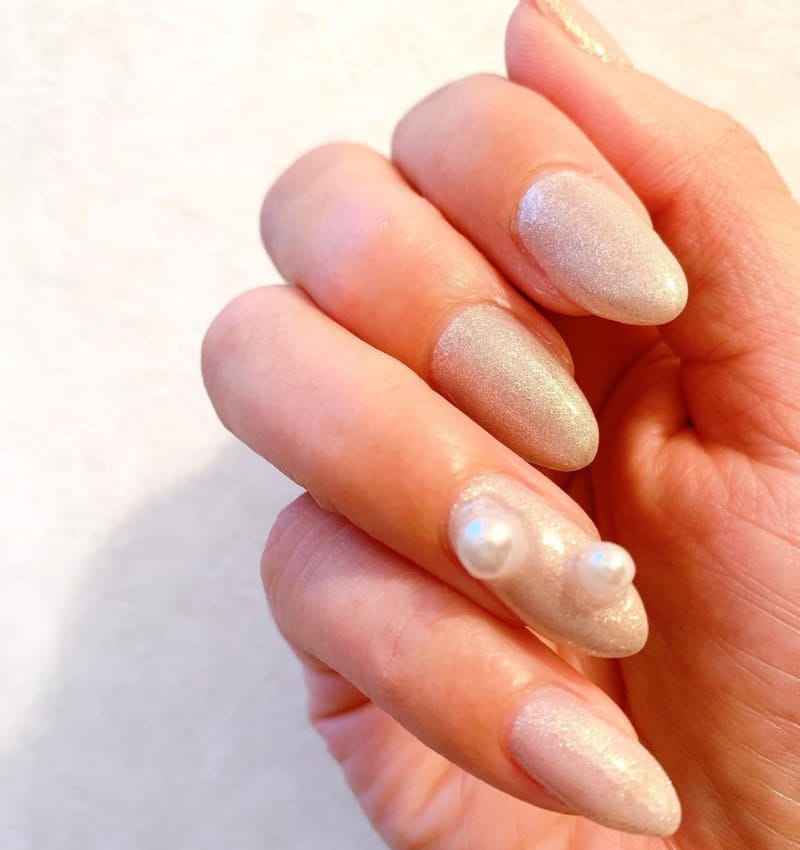 @otempura.chan
Color your nails with glittering nail polish and add pearls on one finger as shown. Although this may sound like a simple design idea, it makes your nails highly attractive. But I think it would be better if you could use small pearls rather than big ones. You don't need acrylic nails for this as even short nails would look perfect with this.
9.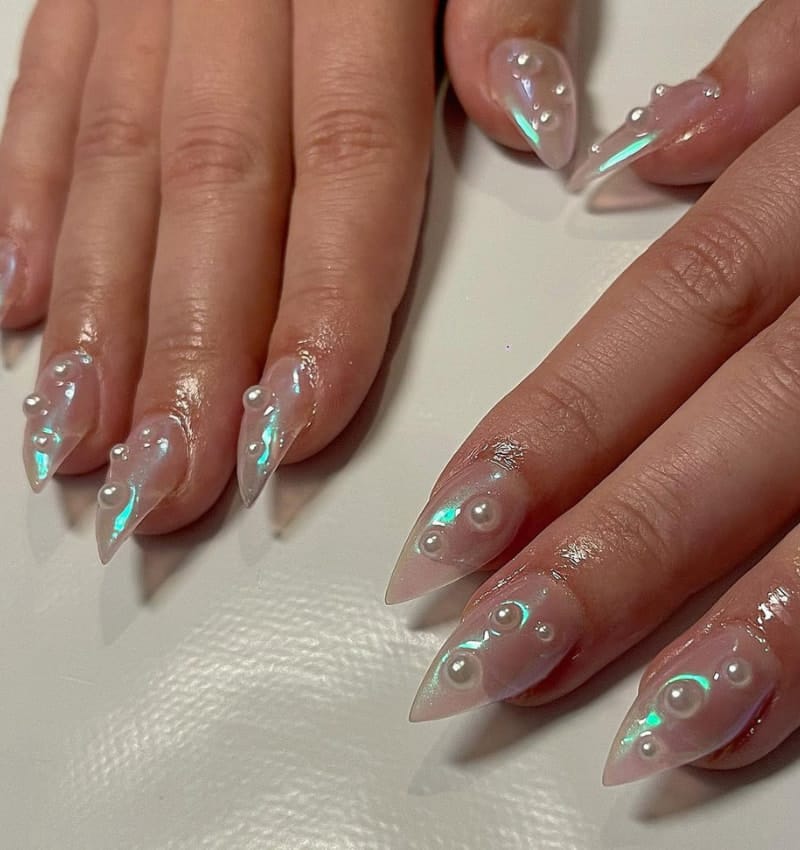 @j3nnailedit
If you are a fan of sharp and pointed acrylic nails, this design idea is perfect for you. Paint the nails with a shiny neutral base. You can add a light pastel color or simple glitter. Then paste pear studs of different sizes on the nails, two or three depending on the space.
10.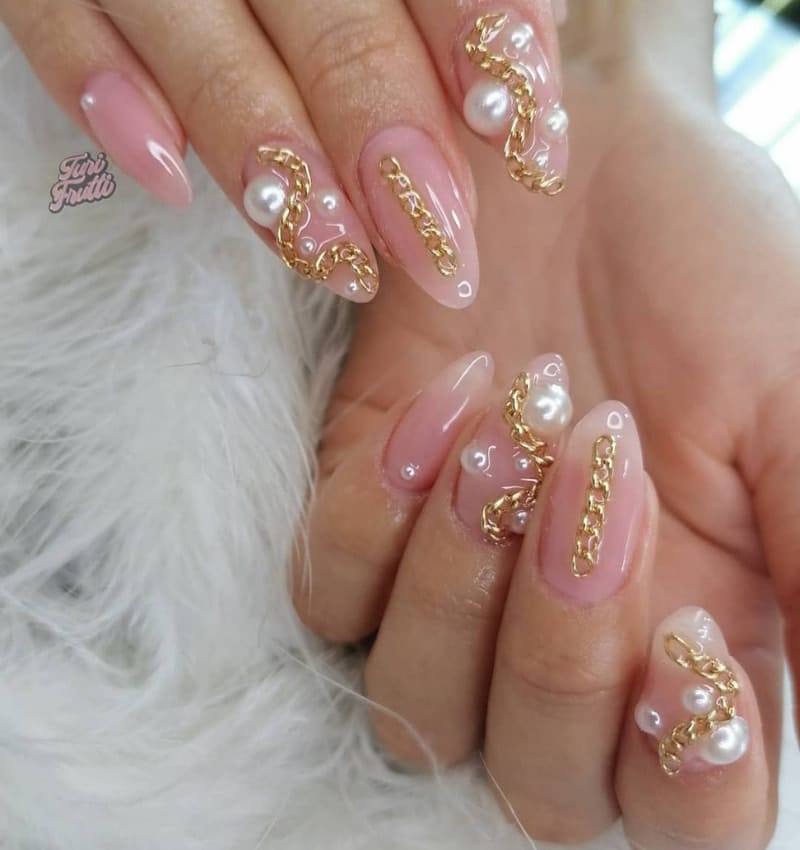 @turi.frutti
A heavy nail design with a lot of accessories for fashion lovers! First, color your nails with a light pink shaded light at the end. Then use some gold chain nail accessories and pearls to decorate the nail. This will look best on almond nails or medium length. You can have these pearl nails for weddings and ceremonial events.
11.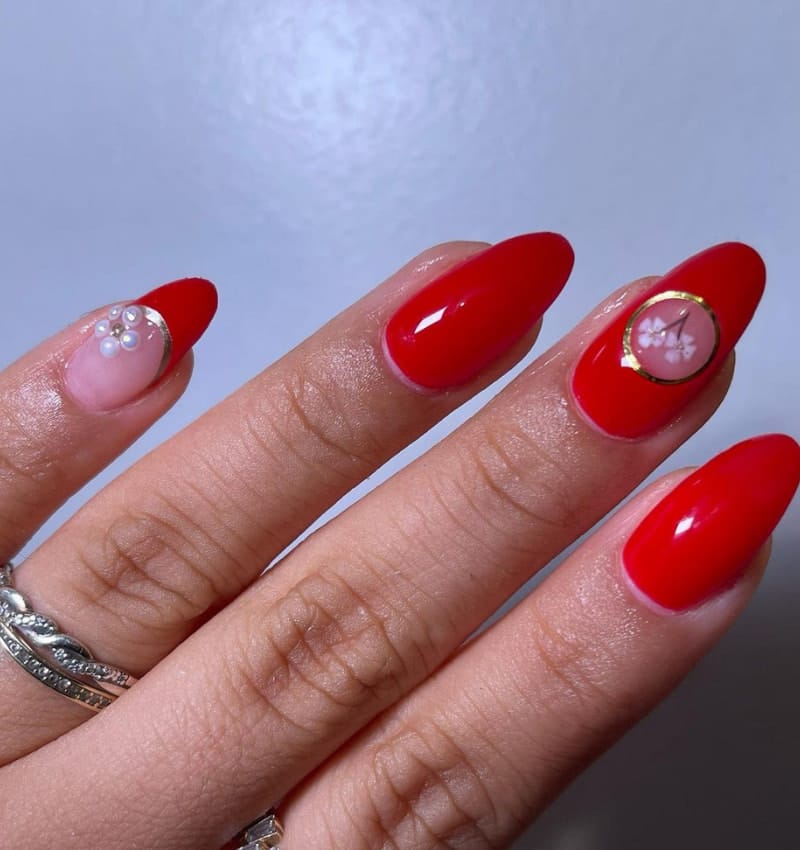 @mj_nailbizz
This is an eye-catching nail design due to the bright red color. The nail on which you are adding the pearls should be kept neutral, separated by a gold line. Paste the pearls in the shape of a flower with a stud in the middle. This is one of the most colorful pear nail ideas we have come across so far.
12.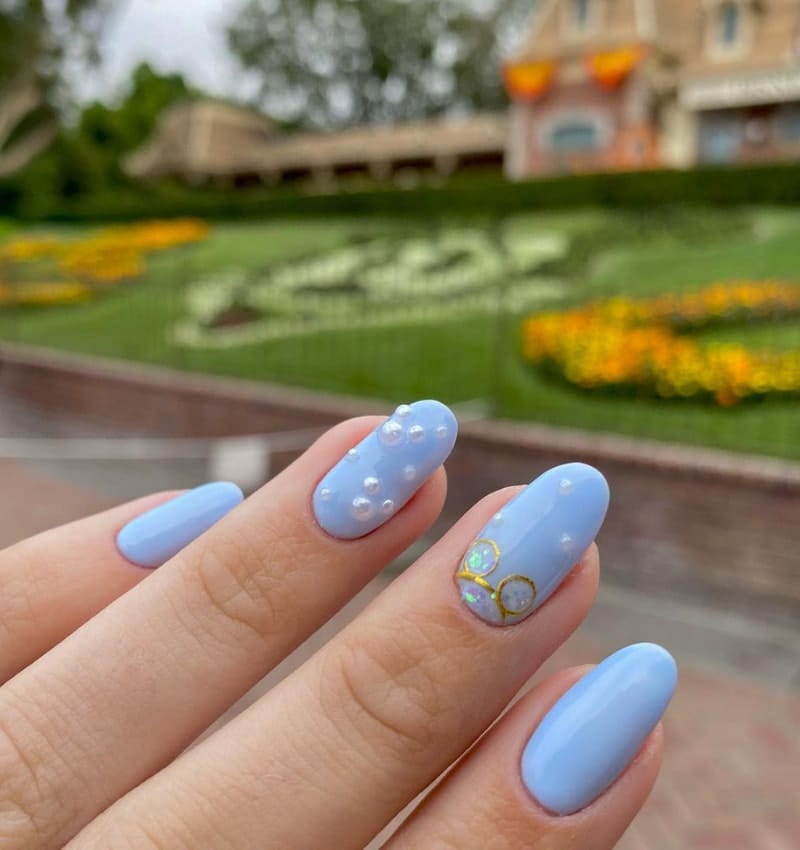 @nails.with.nanners
How about light blue nail polish on your fingernails with pearls? Well, here's how it will look once you do your nails. You can add small pear studs on selected nails rather than having them on all nails. You can also add gold circles at the base to improve this design.
13.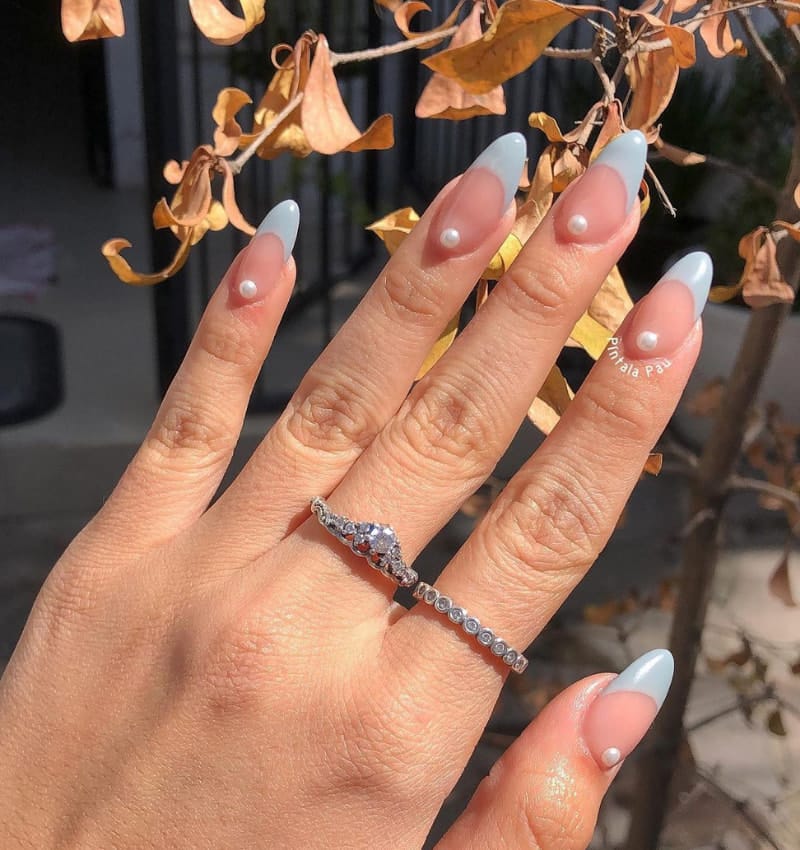 @pintalapau
Similar to the previous designs, this too shows almond nails with pearls. But the difference here is that a wider area is colored with white and the base color is darker. Therefore, this makes the pearl appear more attractive than the ordinary designs. If you need more sparkle on your fingers, you can wear your favorite rings with this.
14.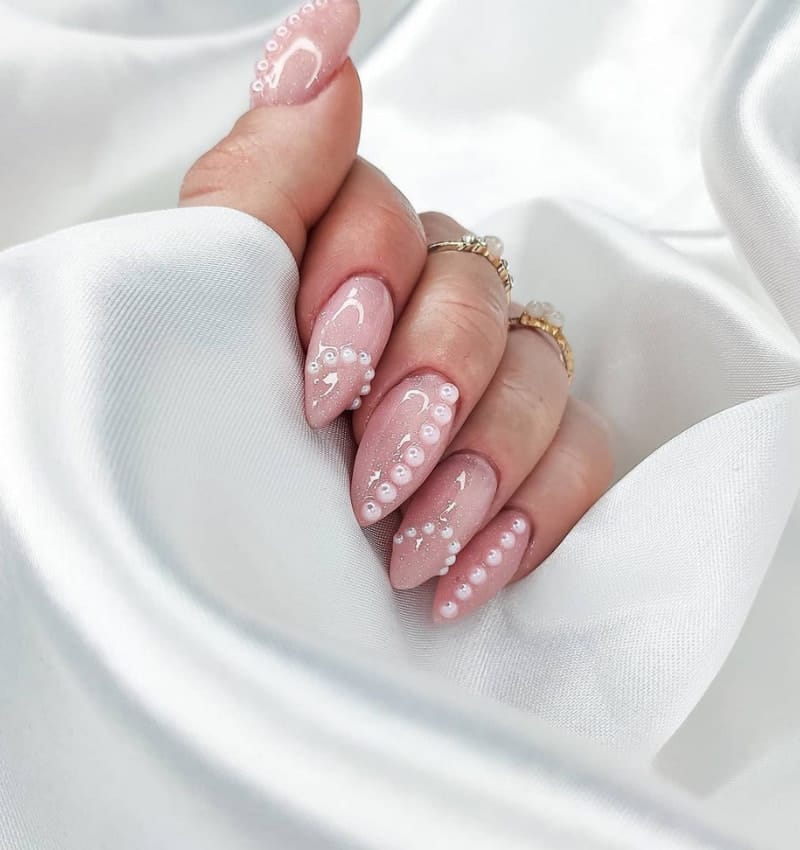 @bling.nails__
From the look itself, you know these are acrylic nails. They are painted with a shiny light pink to make the design more elegant. There are rows of pearls with different patterns in each nail. You can have them either as a straight line or in semicircles as shown. This will also be a good design idea for Christmas nails as well.