Are you ready to turn heads and make a statement with your hair? If you're looking for a daring and alluring hair transformation, you're in the right place! In today's blog post, we'll explore a world of possibilities with sexy purple hair color ideas.
This is all the motivation you'll need to get started if you've always wanted to try a gorgeous purple hair color shade.
Purple hair is a unique and lovely hue. The purple color group, as its name suggests, includes a variety of purple tints. Purple hairstyles are accessible to almost everyone. You've come to the correct place if you want to stand out in a crowd with an eye-catching, purple tone.
Whether your purple hair is long or short, thick or thin, straight or wavy, you may get some inspiration here on how to style it.
1.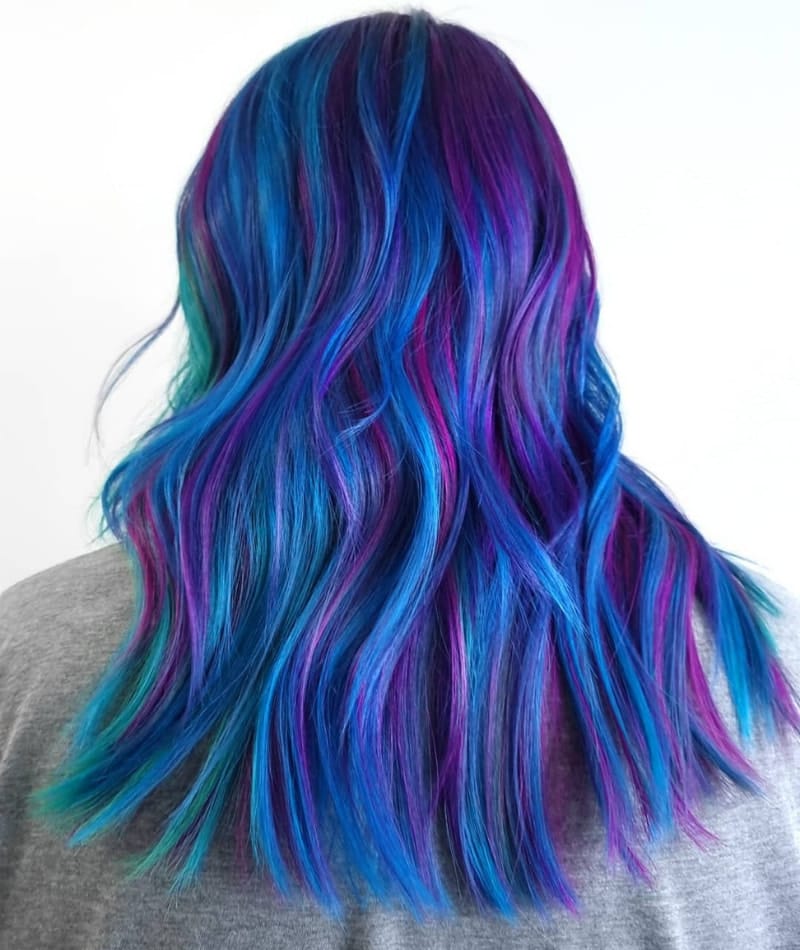 @jaymz.marsters
The hair color here is a mixture of different shades of blue along with purple. Since the hair is mostly blue, it highlights the purple lines well. This design looks best on wavy hair, but can also be used on straight hair. There will be no effect of this color on the length of the hair.
2.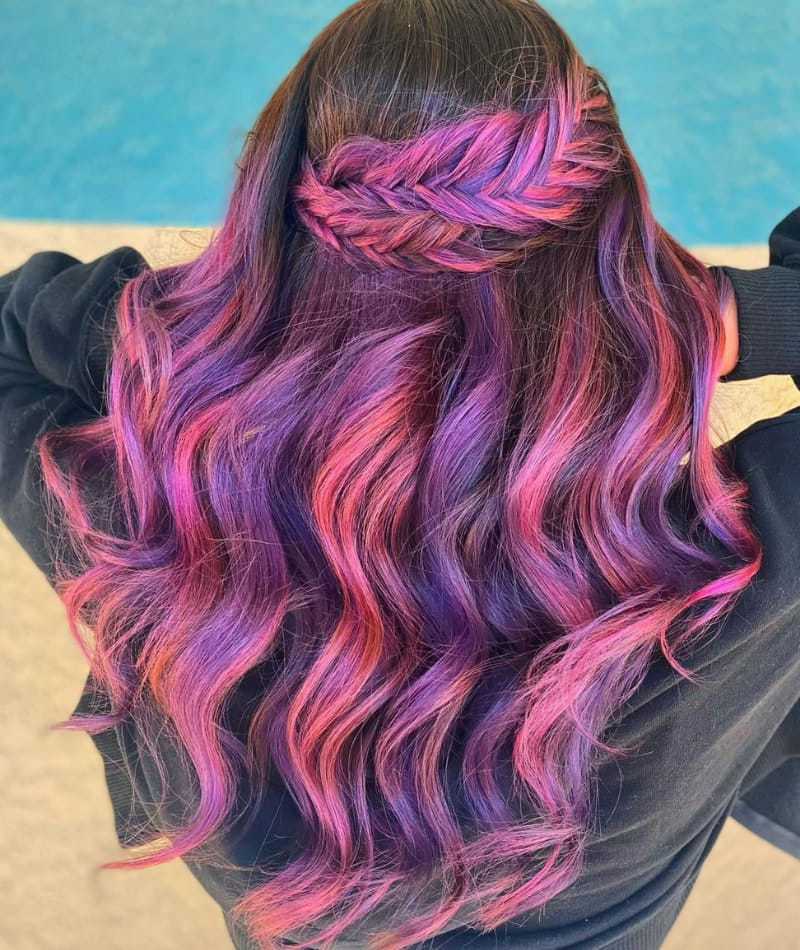 @georgeeblancoo
Two shades of purple are used in this hair color. The lighter shade resembles a hot pink while the darker purple shade highlights it. The color is used mostly at the lower area, a few inches below the roots. So, you can even use braids to style your hair to show off your new purple hair color.
3.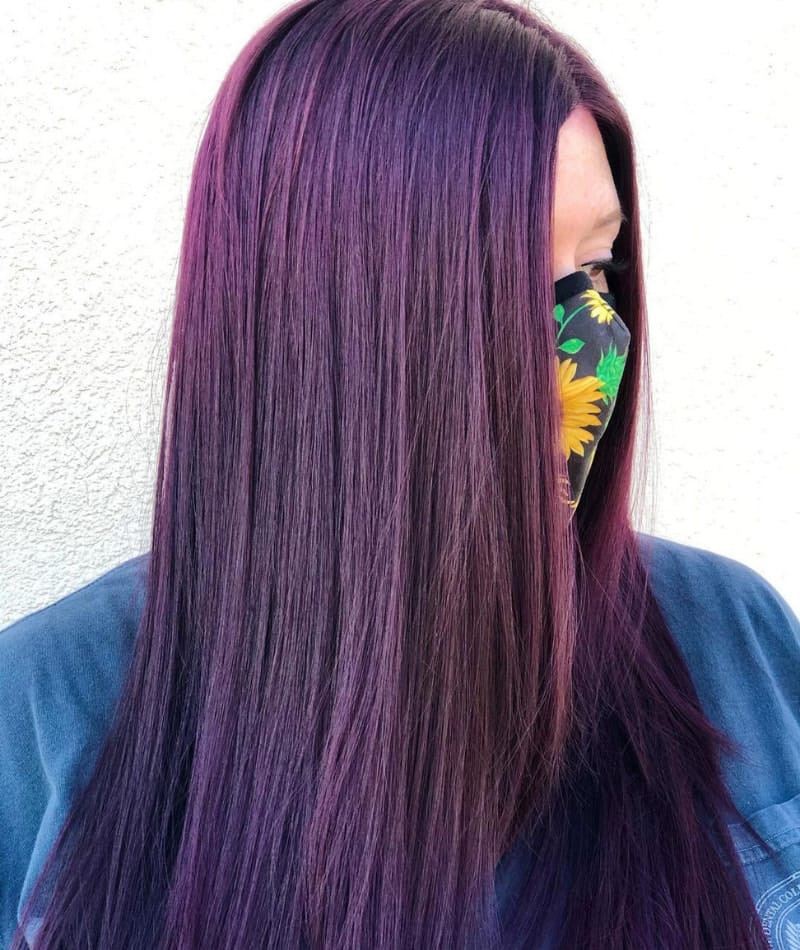 @imakeprettyhairx
This is a hair color design idea for girls with long straight hair. As shown here, black hair is colored purple without bleaching. Therefore, you can see a dark purple in this. This will be a good idea if you don't want bright hair. You can color your hair like this even if you are working as it suits formal outfits as well.
4.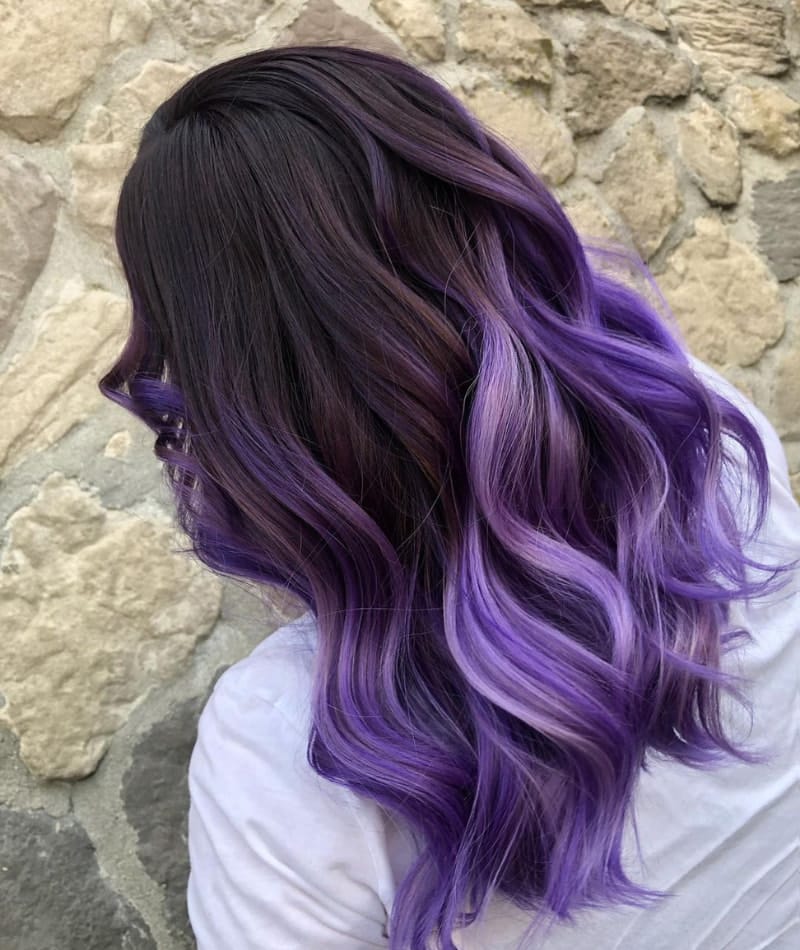 @camrynn_s_
The hair is colored in purple after bleaching the lower area. This is the reason for the color to be light at the bottom and appears brighter. This will be a good hair color design for you to try this season. It would work best on wavy hair which is naturally black. Overall, this hair coloring design makes the hair appear neat and tidy.
5.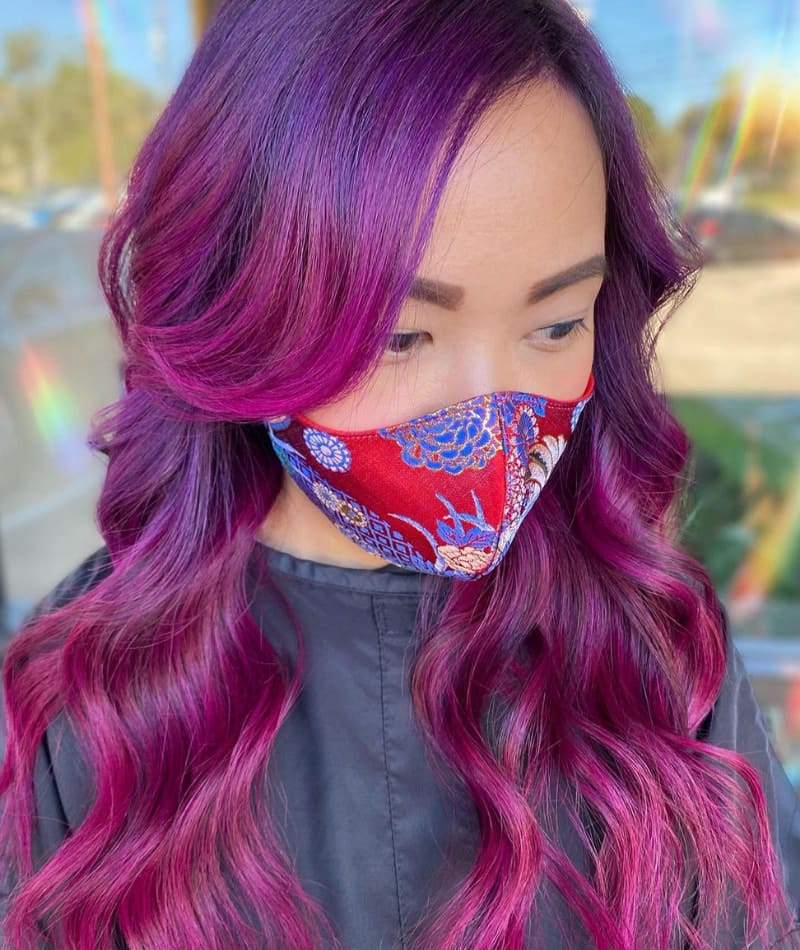 @shell.vega
Another unique shade of purple which adds brings more attraction to your hair. It is closer to a dark shade of magenta and can be tried on any hair despite the natural color. It will look best when you add this bright color at the end of each layer. This is a good choice if you are planning to change your hair with a new trendy look.
6.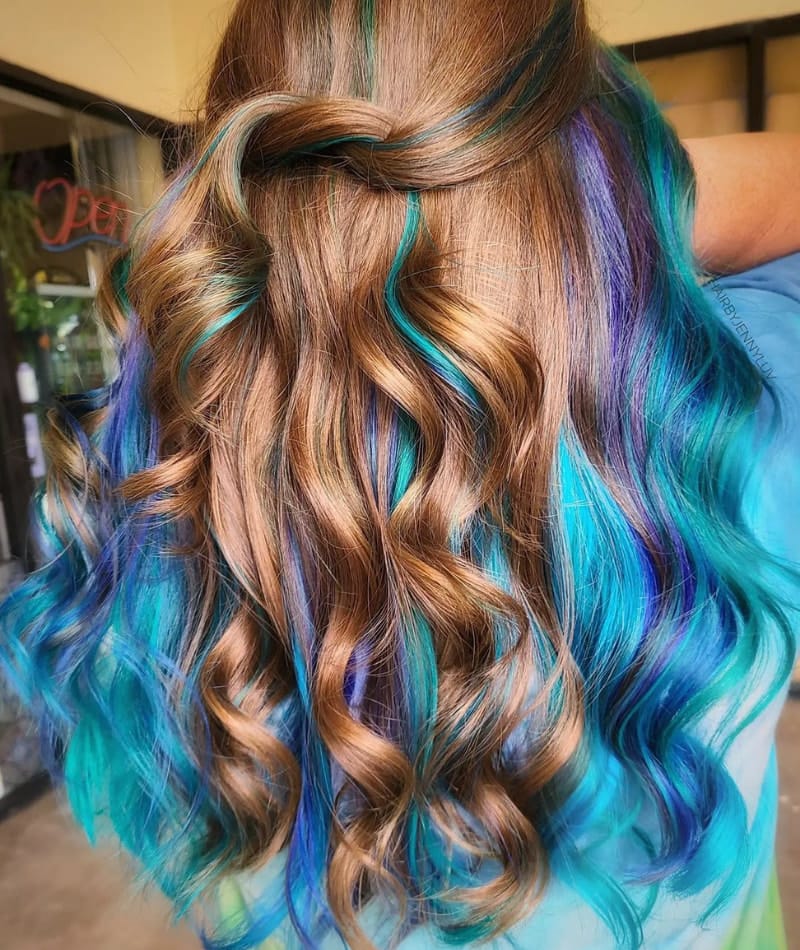 @hairbyjennyluv
Even though this is categorized under purple hair, most of it is blue and brown. There are few lines of purple amidst this design. You can also change the color focus to purple from blue upon your preference. However, the center part in brown makes the style more unique as it is not found commonly.
7.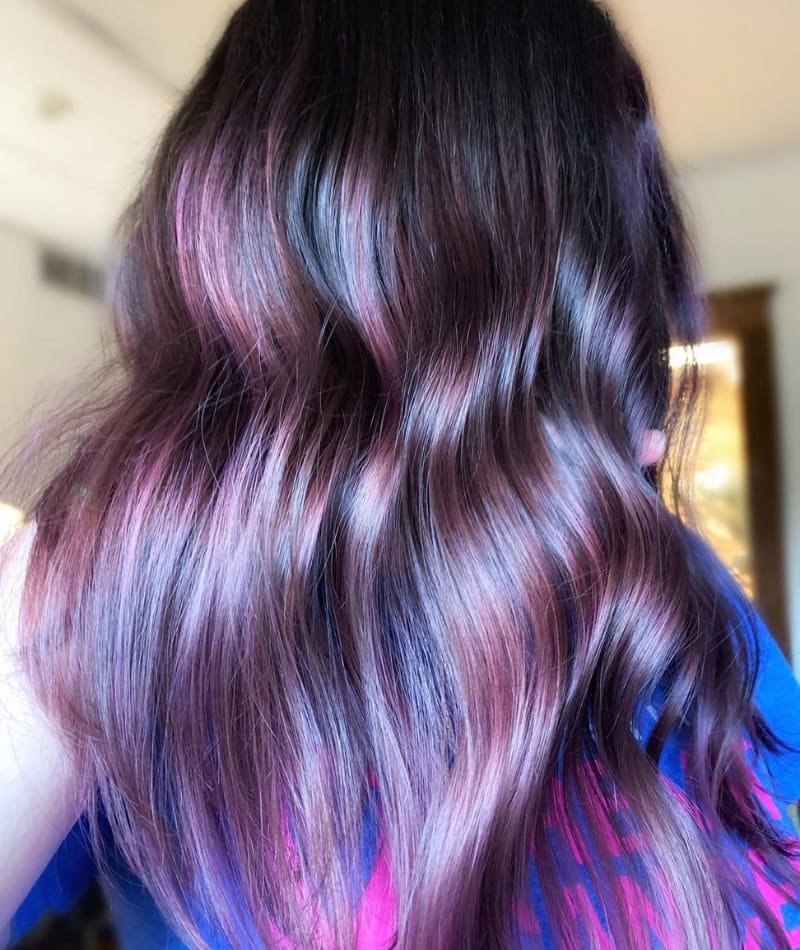 @hairbymeganperez
A hair color design with purple and metallic luster on wavy black hair. This style is ideal if you need your layered hair to appear shiny. You can use either light blue or grey along with purple in this. This will make your hair color stand out from the ordinary plain colors.
8.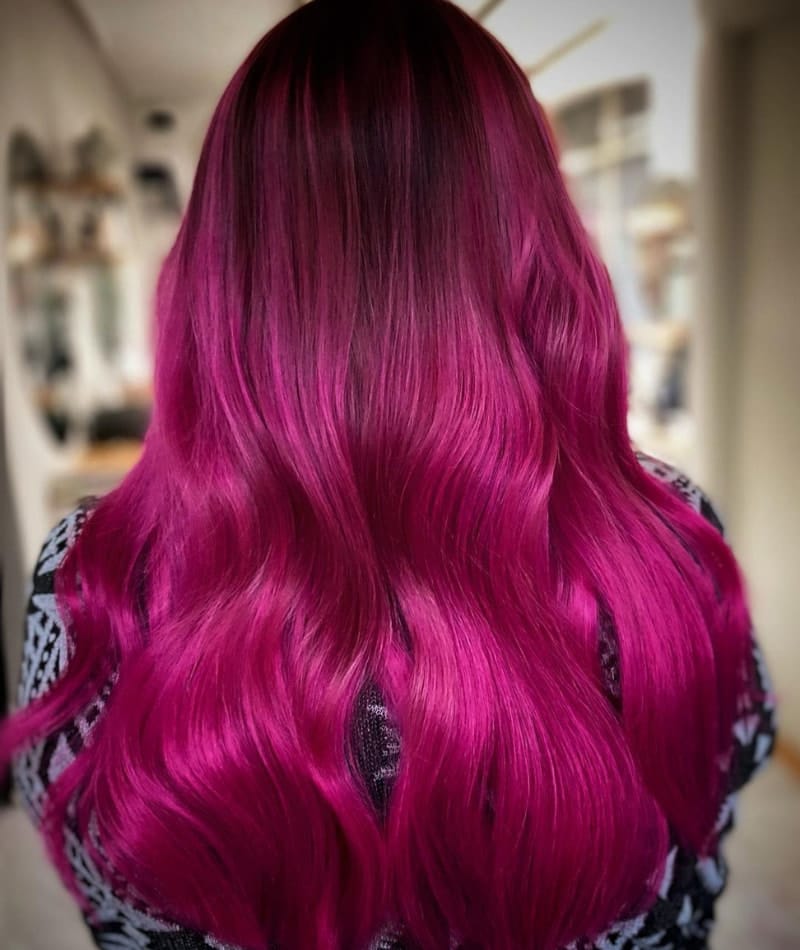 @riinabirdcherry
The hair is left with its natural color at the roots and colored downwards. A darker shade of magenta is used in this hair design. The color is bright towards the bottom and will look gorgeous with black outfits. This is the perfect hair color idea for parties and night outs.
9.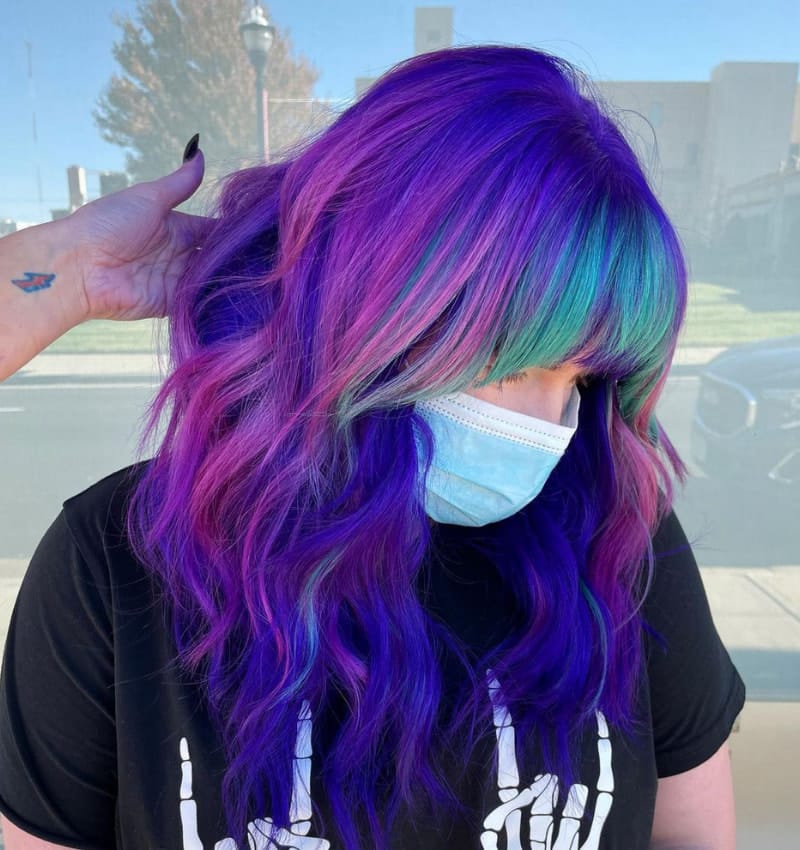 @katiesheltonhair
This appears to be more of a real purple hair color idea for fashionable girls. It has a few shades of purple throughout the hair with a trace of peacock blue on the bangs. The amazing blend of these colors brings a cheerful vibe and is ideal for summer vacations.
10.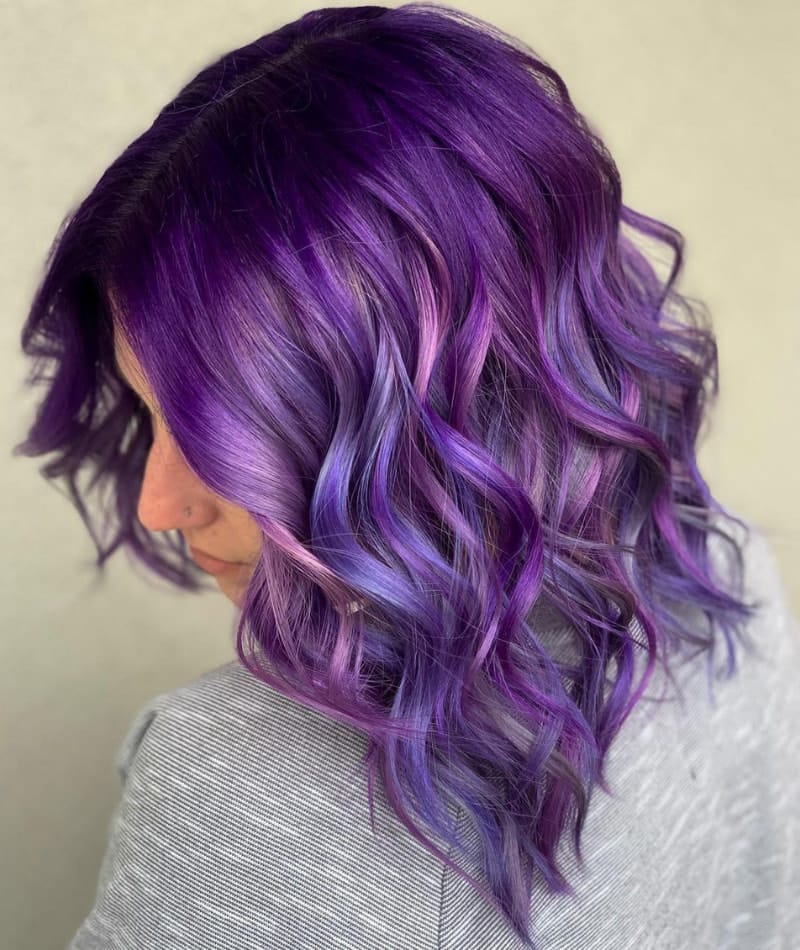 @robinowensbeauty
If you have very short hair, this style of coloring in purple would look best on you. A few shades of purple are used here to create the design. This looks gorgeous on close-lying curls and even on pixie cuts. The hue of the color makes it an ideal winter fashion as well.
11.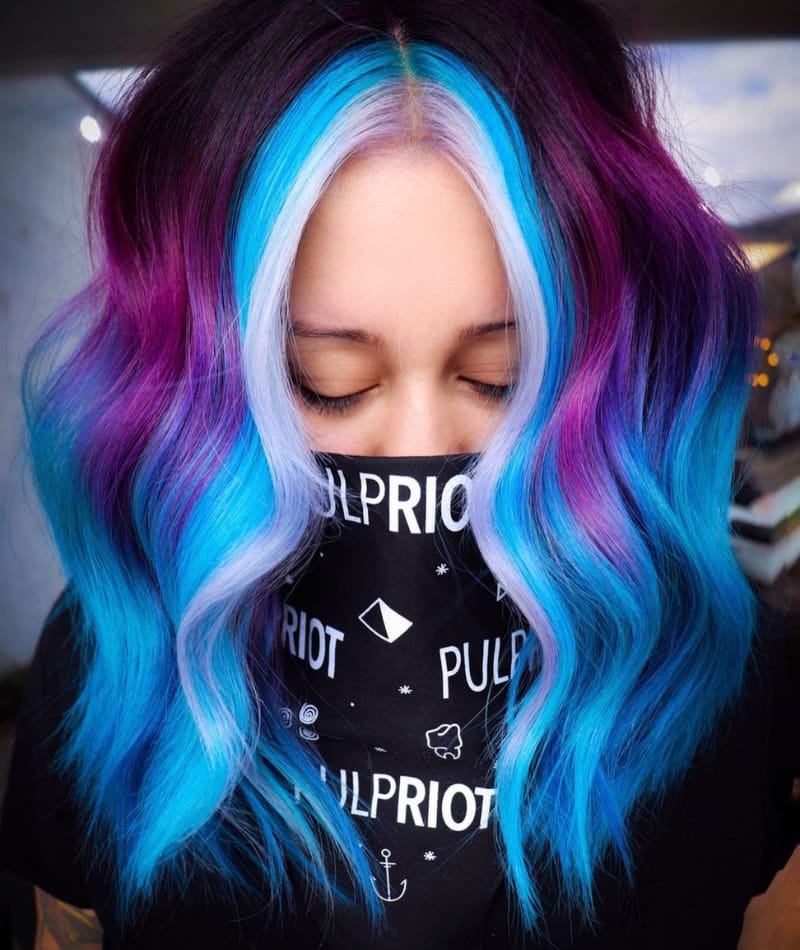 @jessicapowerspaints
Purple hair colors seem to have a close connection with bright blue shades. This is a good example of this statement. The hair is colored symmetrically with greyish white, bright peacock blue, and purple respectively. You can try this rare but stylish hair color idea when you change your hair color next time.
12.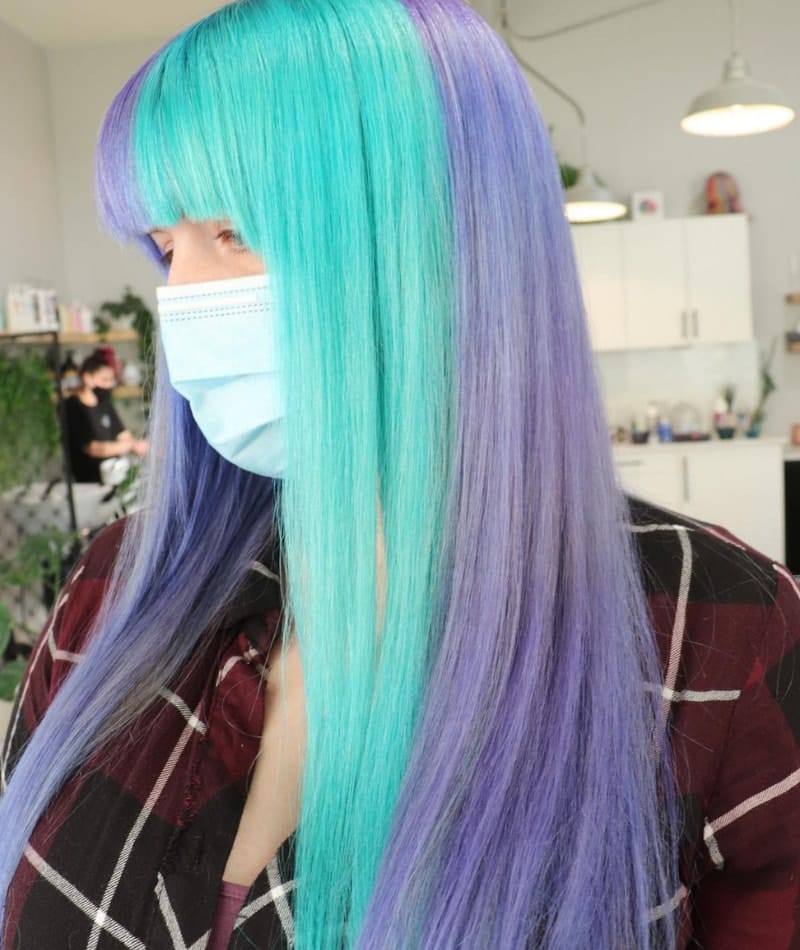 @vintagevixenhair
At a glance, this would remind you of an anime character. It is because the whole hair is colored in two contrasting colors. The long straight hair with bangs also adds to this. The shade of purple is closer to greyish blue and is quite a new hair color found less frequently.
13.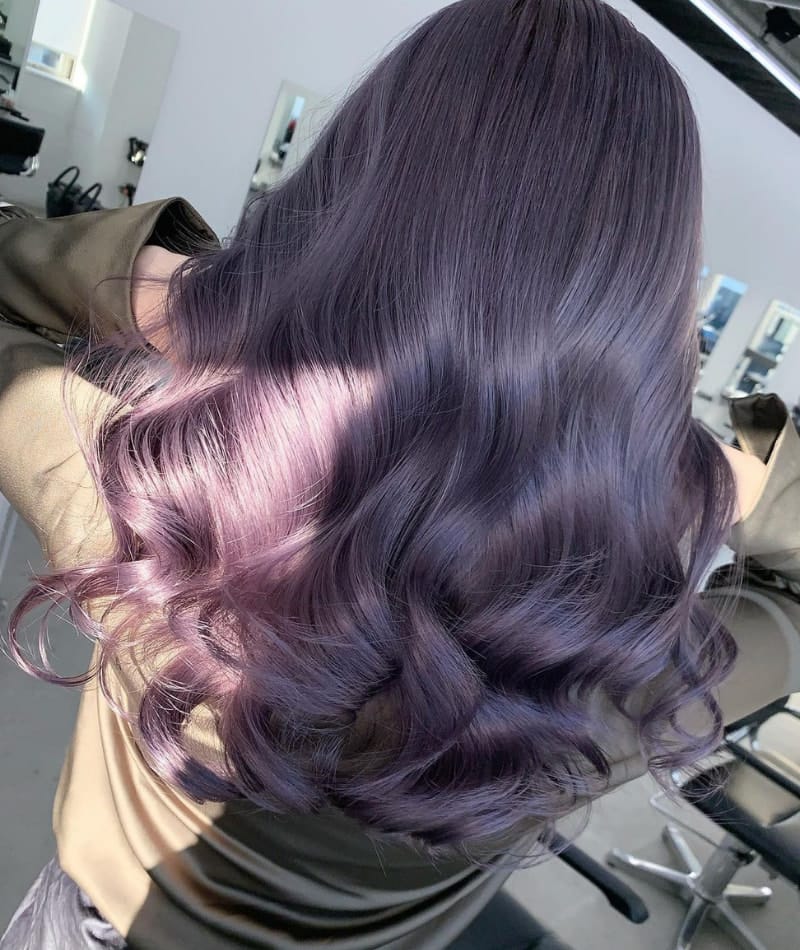 @yamashita_yuya
This shade of purple is closer to lavender-blue but much more attractive. It is an ideal alternative for grey hair color as most people don't like their hair to be too white. This dull shade of purple will make your hair both dark and colorful at the same time.
14.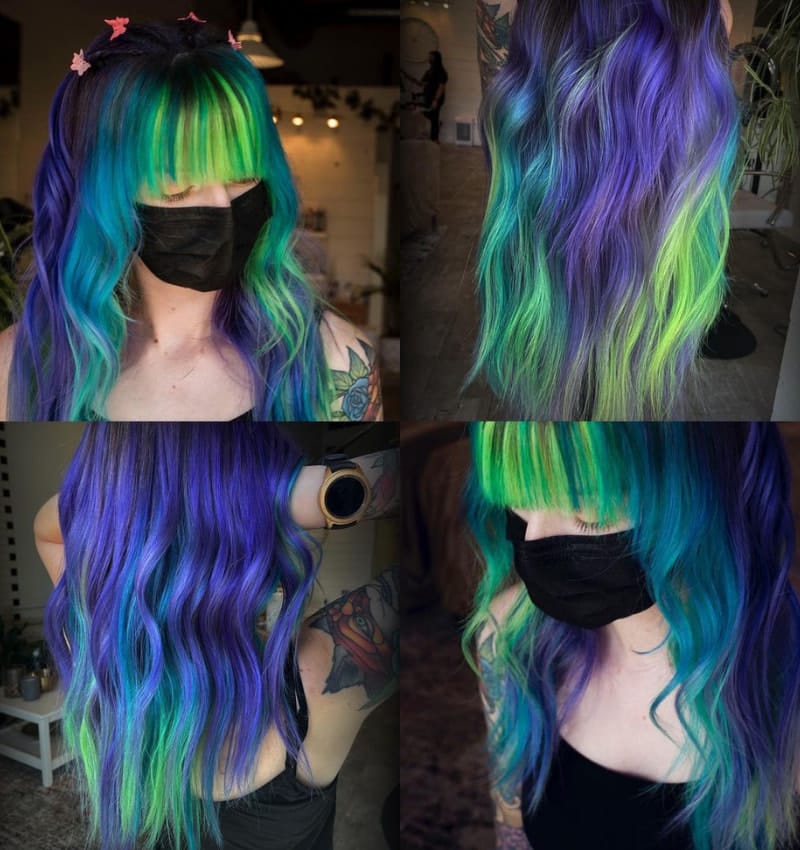 @jules.tones
If you are interested in having colorful hair to match your tattoos, you can try this hair color design. In addition to the main purple color, there are bright shades of blue, green, and yellow. These contrasting colors of the bangs make it more eye-catching. The design makes it more appealing for casual trips, holidays, and parties.