If you're a female looking to get a Phoenix tattoo on your arm, you're in for a treat! Phoenix tattoos are not only visually stunning but also symbolize rebirth, renewal, and strength.
Many stories and civilizations have included the miraculous bird. Collectors of little phoenix tattoos may mix skilled bird design with strong spiritual and metaphorical meaning.
Phoenix tattoos are not a popular option among tattoo enthusiasts, but they are always chosen by people who have gone through a lot in their life and emerged stronger and wiser.
If you're looking for ideas for your next significant tattoo, we've compiled a list of the greatest Phoenix Tattoo designs to get you started. These designs combine the elegance and grace that are often associated with feminine tattoos with the powerful symbolism of the Phoenix.
1.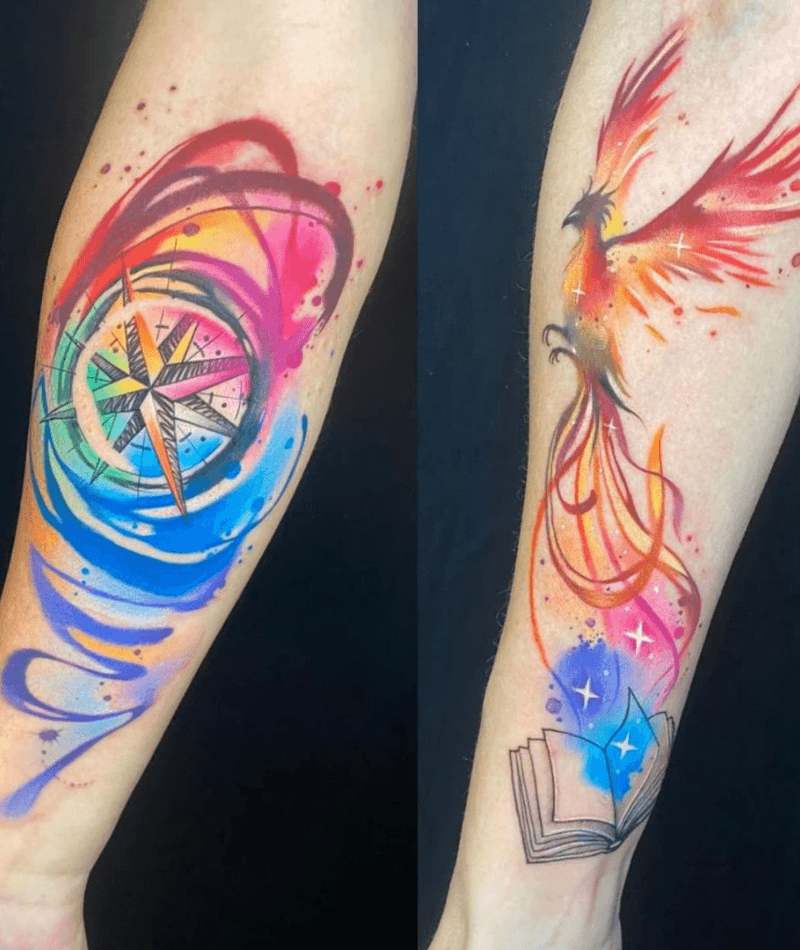 @watermelon_tattoo
This colorful phoenix tattoo depicts the mythical creature emerging out of a book. The tail wings resemble flames of fire. This arm tattoo has both magical and mystical vibes brought out perfectly through the art. This is a perfect phoenix tattoo idea which you can have at a preferred size.
2.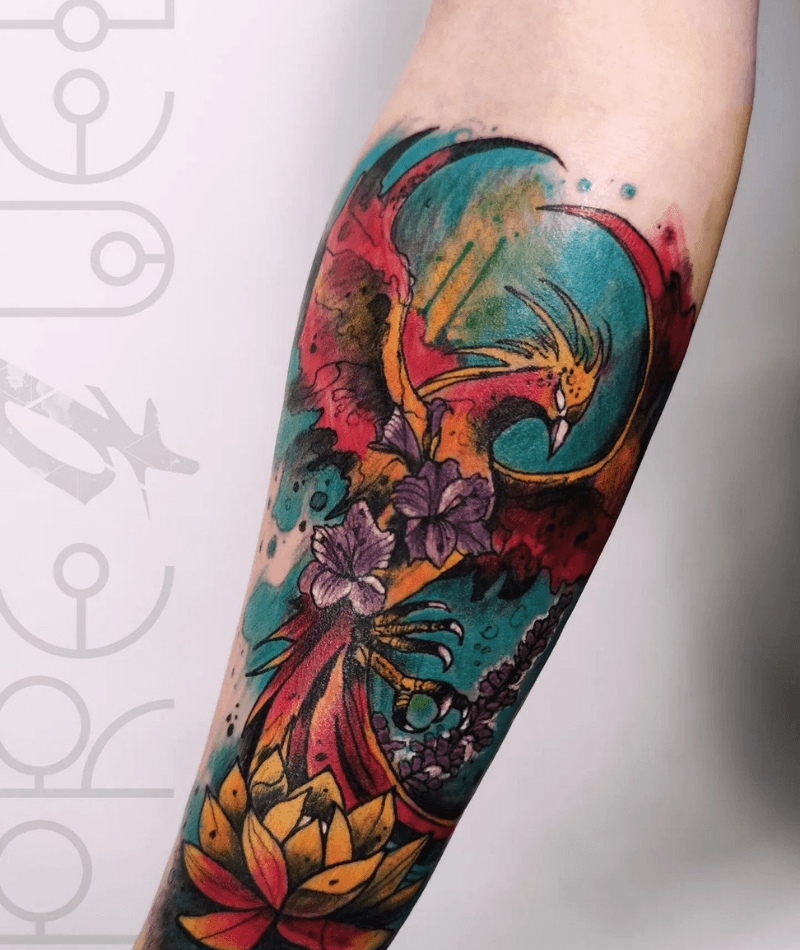 @alexprequel_tattooartist
This is another colorful tattoo design resembling a phoenix. It has a bluish background whereas the bird is colored in red and yellow. The floral design brings a gentle delicacy to the bold phoenix. This tattoo design is ideal if you are looking forward to a tattoo with a colored background.
3.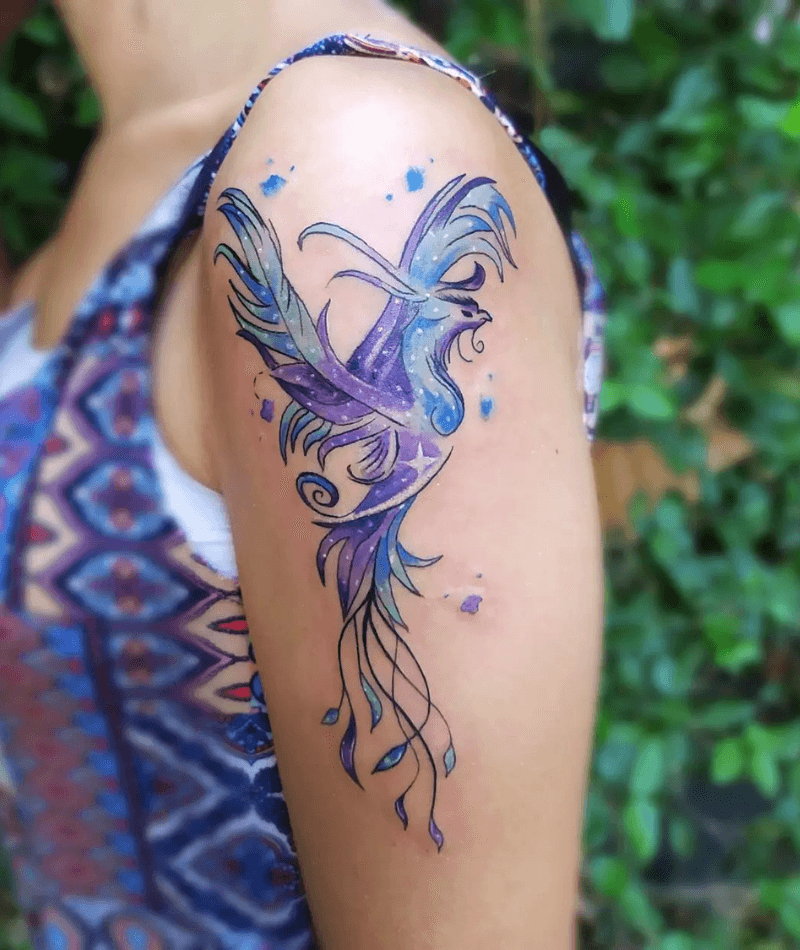 @emel.tattooart
This mystical phoenix tattoo is a great design for young girls. The art is of different shades of blue, gently outlined in black. This is quite different from the usual phoenix tattoos of red and yellow. You can change the size of the tattoo on your preference and to suit your arm.
4.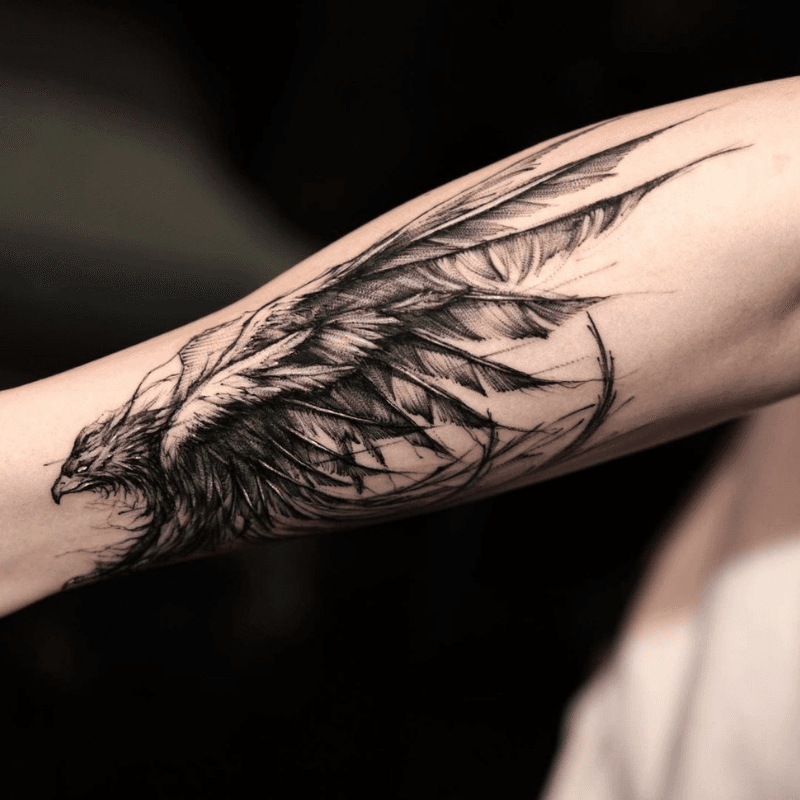 @bk_tattooer
This tattoo depicts a phoenix soaring up with wings pointed back. It is in shades of black and makes the image more realistic due to its three-dimensional appearance. It is a perfect tattoo for the upper arm and I recommend you to try out this design next time you get a tattoo.
5.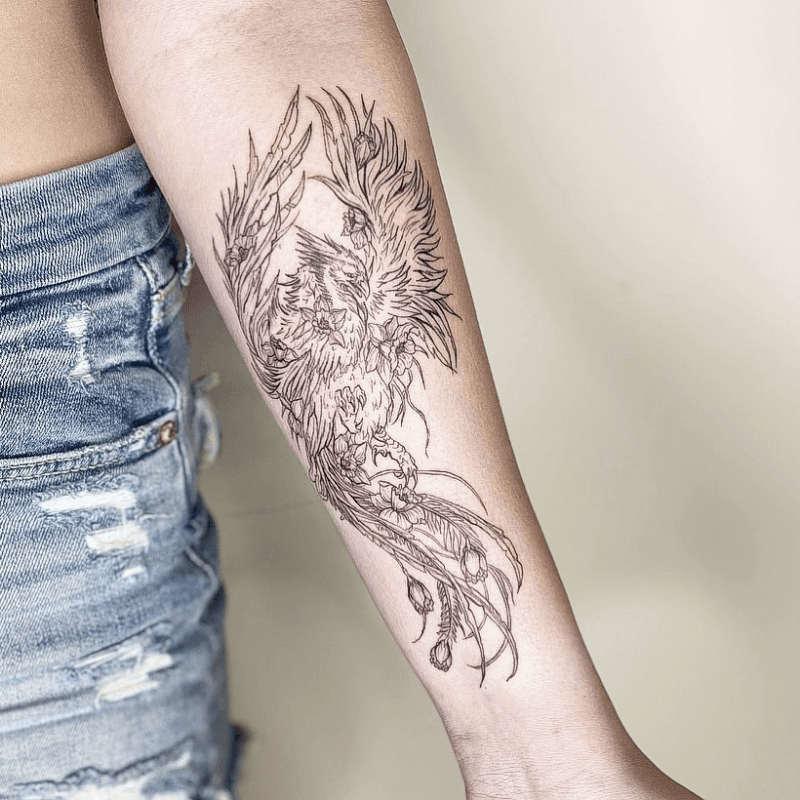 @jmsntattoos
Here's a perfect phoenix tattoo idea for your lower arm. It is done simply in black, with minor shades to bring out the design. The art is aesthetically appealing with the floral design accompanying the wings. This is a delicate tattoo design I prefer a lot and hope you feel the same.
6.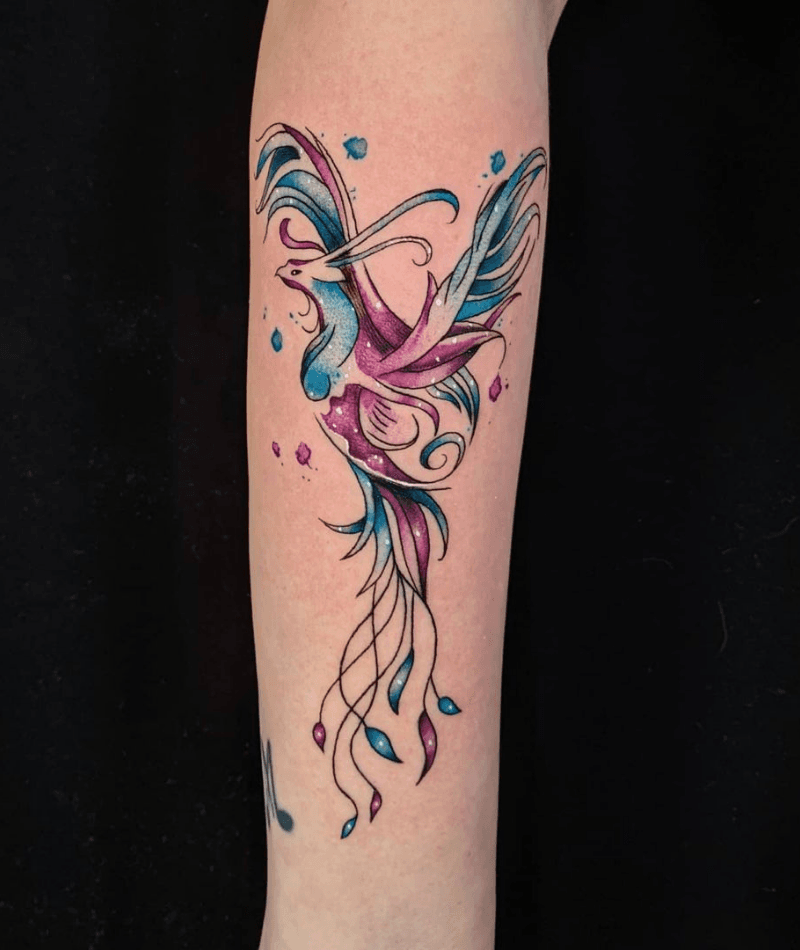 @ivanagorican_tattoo
This tattoo design works fine for both the upper and lower arm. It is colored in shades of blue and purple, bringing a mystical vibe to the design. You can even add another tattoo design along with this, as per your preference since it leaves more room around the design for more.
7.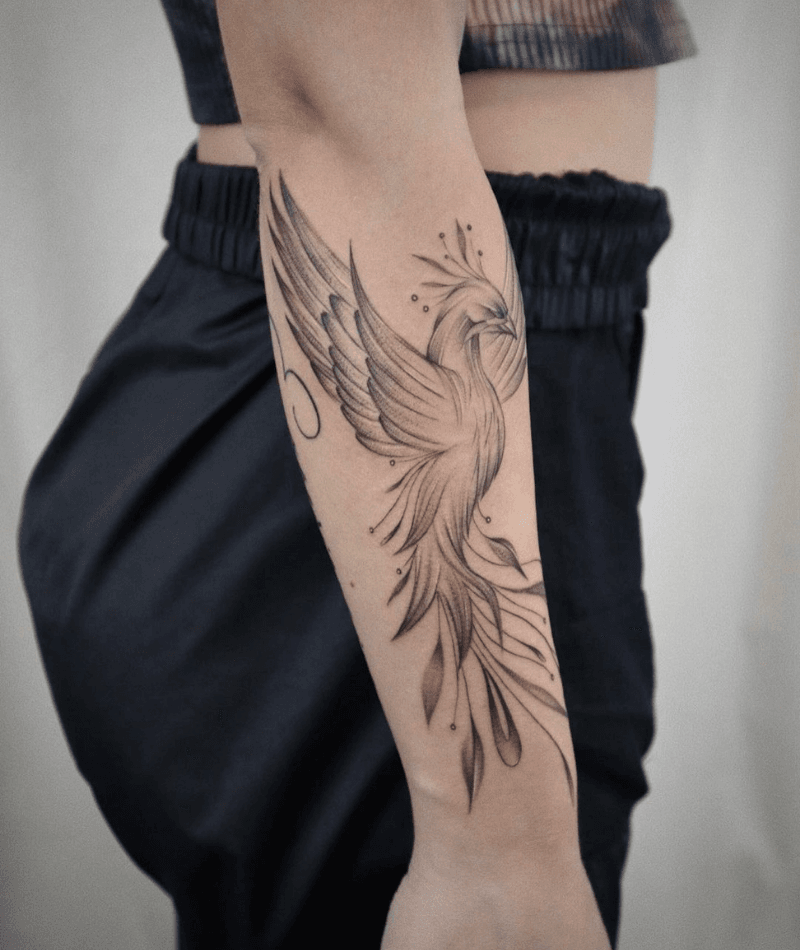 @kaylee.tattoos
This is another unique tattoo design that I personally like a lot. The design is brought out with shaded lines of black. It depicts a real phoenix with tiny crown feathers drawn beautifully. I highly recommend this phoenix tattoo design for anyone looking for a perfect design for the arm.
8.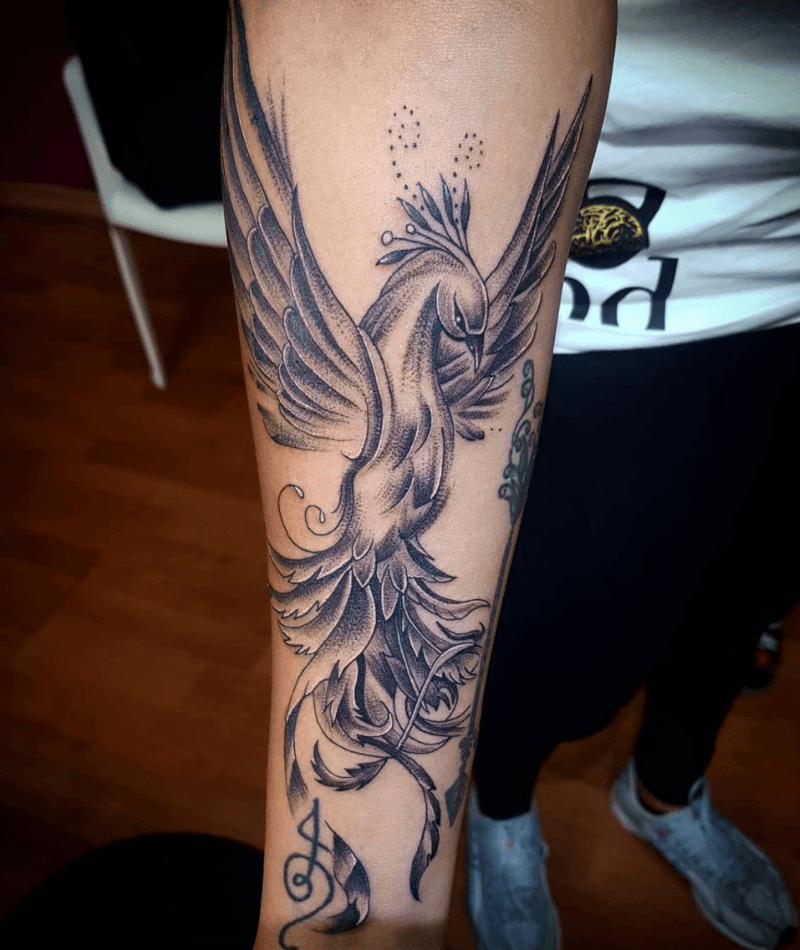 @murderink.donnie
Here's another dark phoenix tattoo that highlights the curvy wings shaded in black. The art highlights the bird spreading the wings in a delicate nature along with the boldness in eyes. If you are looking for a more meaningful tattoo, you are good to go with this design for the lower arm.
9.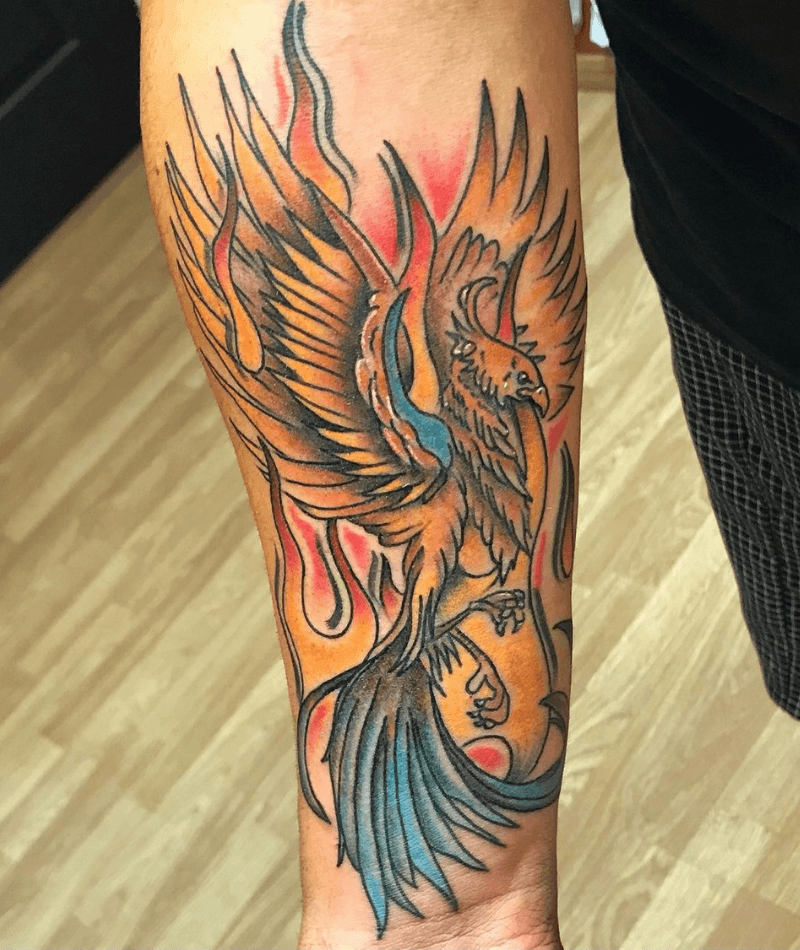 @peplluisribas
This tattoo design brings the vibe of anime and cartoons. The design is mainly yellow with red, orange, and blue along with it. Instead of having shaded lines, the design is created with uniform black lines. Unlike in previous designs, the bird appears to be amidst flames with sharp eyes.
10.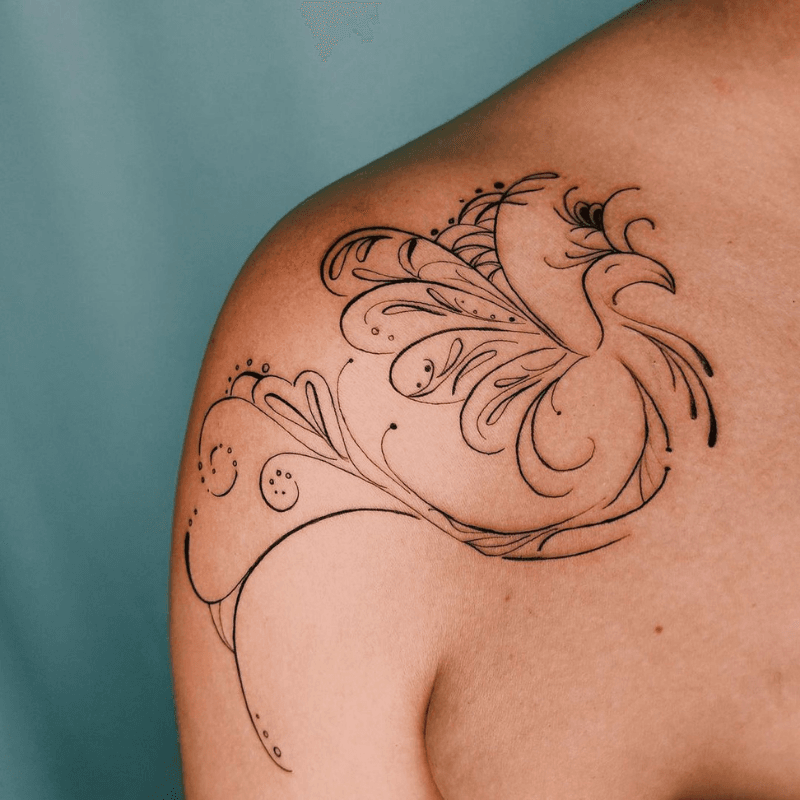 @gebeckertattoo
As we have looked at large tattoo designs for arms, here's a change to the ordinary. This shoulder tattoo design can also be used on the arm. It traces a simple phoenix more likely to be a floral design with thin curvy lines. It is the most perfect feminine phoenix tattoo so far.
11.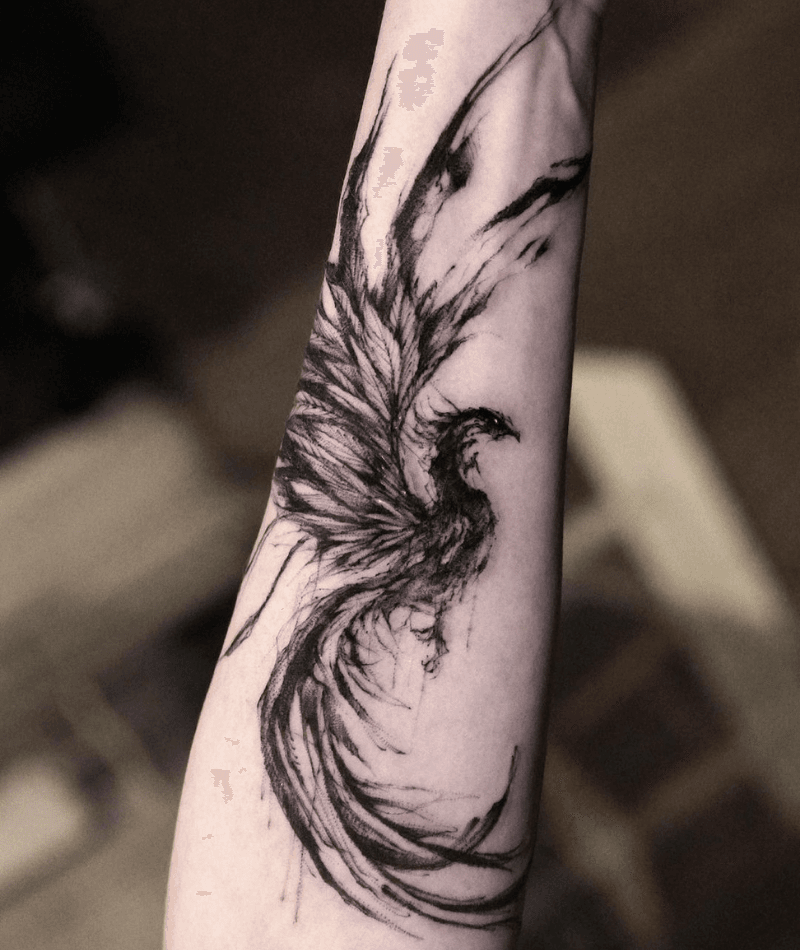 @bk_tattooer
This tattoo appears to be smoky and gives a bad boy vibe. It makes this art stand out from the rest of black shaded tattoos. The wings are made perfectly with a leafy pattern similar to the tail feathers. I recommend this attractive phoenix tattoo for anyone loving this dark vibe.
12.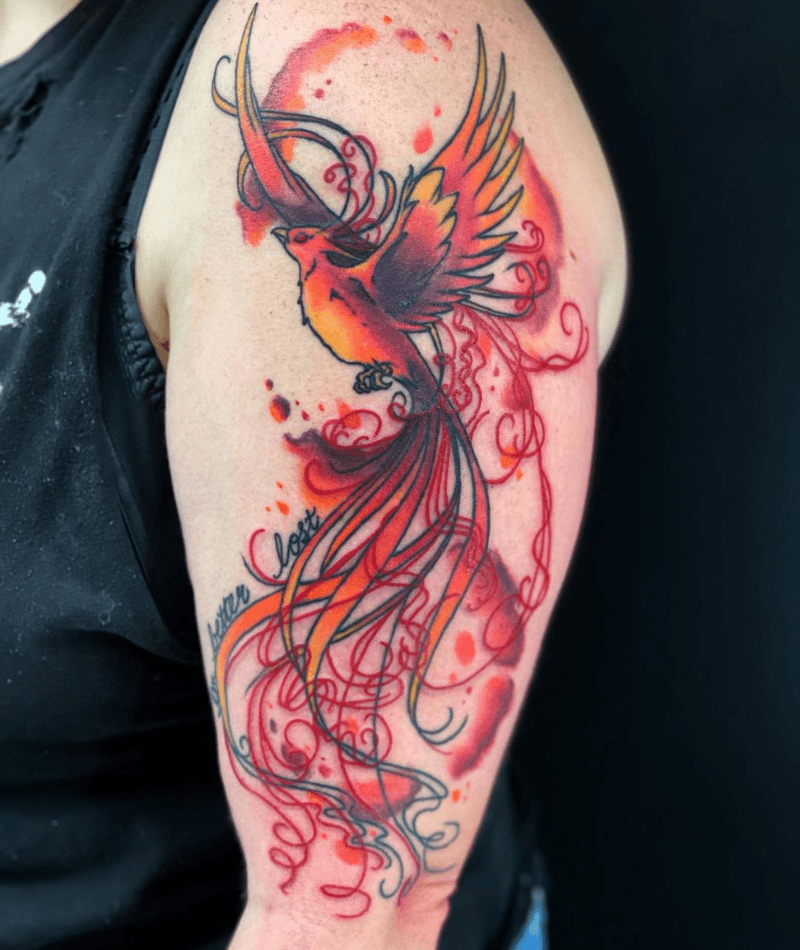 @jenwhitetattoos
If you prefer a phoenix tattoo in red, then this design is for you. It only has different shades of red, with a slight touch of yellow. You can also add any phrase or wording of your preference along with this as shown here. It will look great with or without the red and black lines on the background.
13.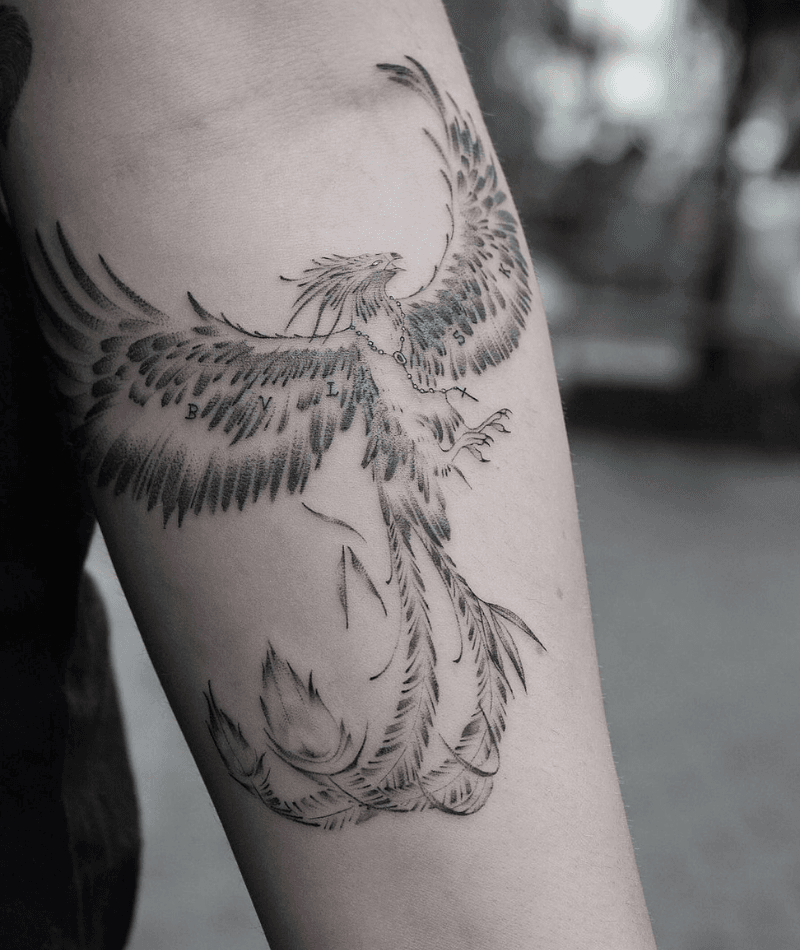 @norbyon_tattoo
This tattoo design highlights the details of the feathers of the phoenix. It also shows a chain with a cross around the bird's neck. The extra-long tail feathers add a mystical beauty to the art. I think this is another beautiful tattoo design for the upper arm we have come across in this context.
14.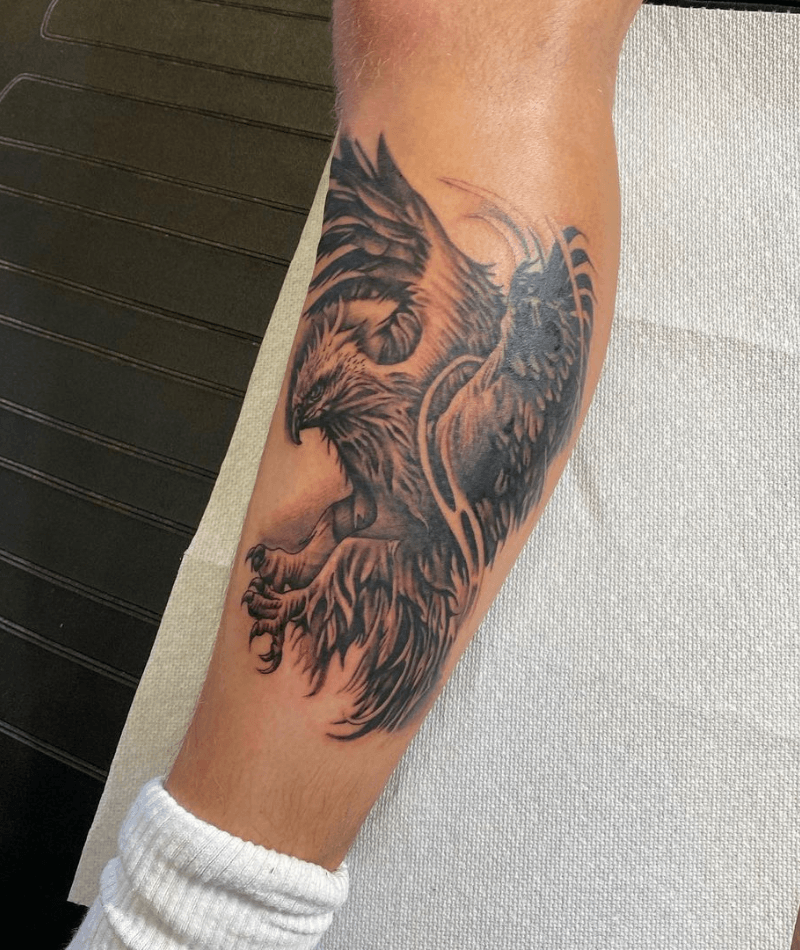 @king_ink12
If you need a tough and arrogant phoenix on your arm, this is the best tattoo you can have. It is colored in dark shades of black, making the image more realistic. The details are highlighted clearly, even the nails on the claws of the bird. I hope you like this stubborn phoenix tattoo.
15.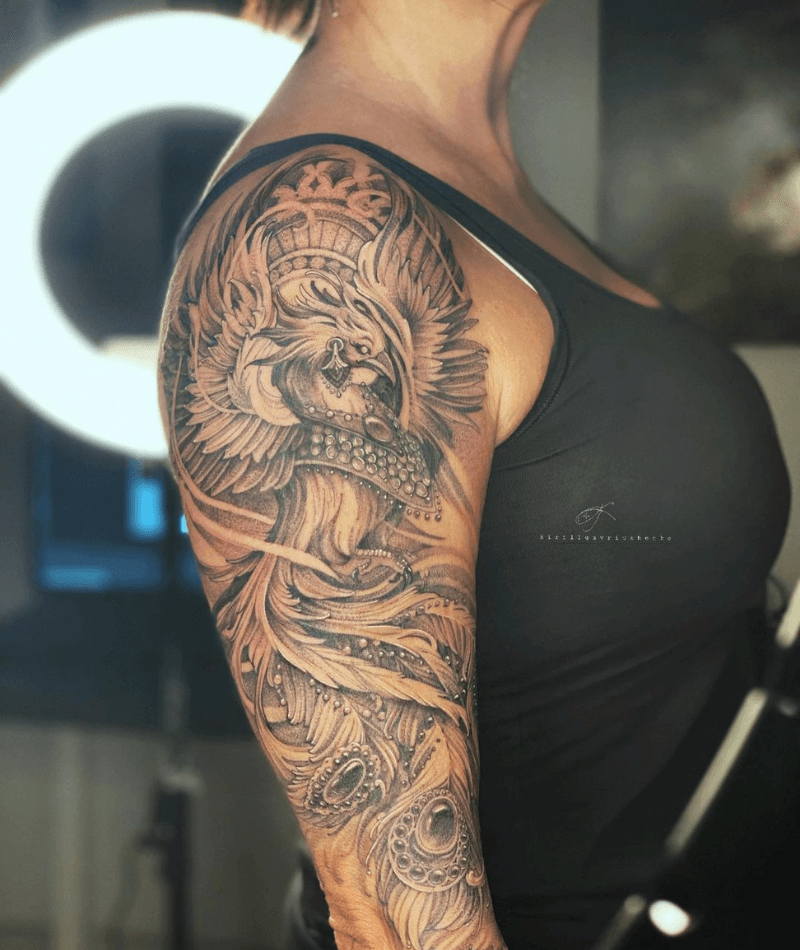 @kirillgavriushenko
Here's the perfect full-arm phoenix tattoo. It is another highly detailed art with feathers brought out with various shades of black and brown. The main difference in this art is that there are jewels on the ears, neck, and along the tail of the bird. This brings the image of a glamorous, royal phoenix.