Panda tattoo ideas are among the most imaginative and healthy tattoos available. People tattoo this animal on their bodies to show that they had the opportunity to work with it or because of its deep symbolic importance.
In China and Japan, panda tattoos have long been fashionable. However, they are now well-known in every country. A panda might represent a well-balanced existence and your capacity to follow a specific route. As a result, panda tattoos are not only cool, but they may also be highly significant!
We've compiled a list of adorable panda tattoo ideas for both men and women.
1.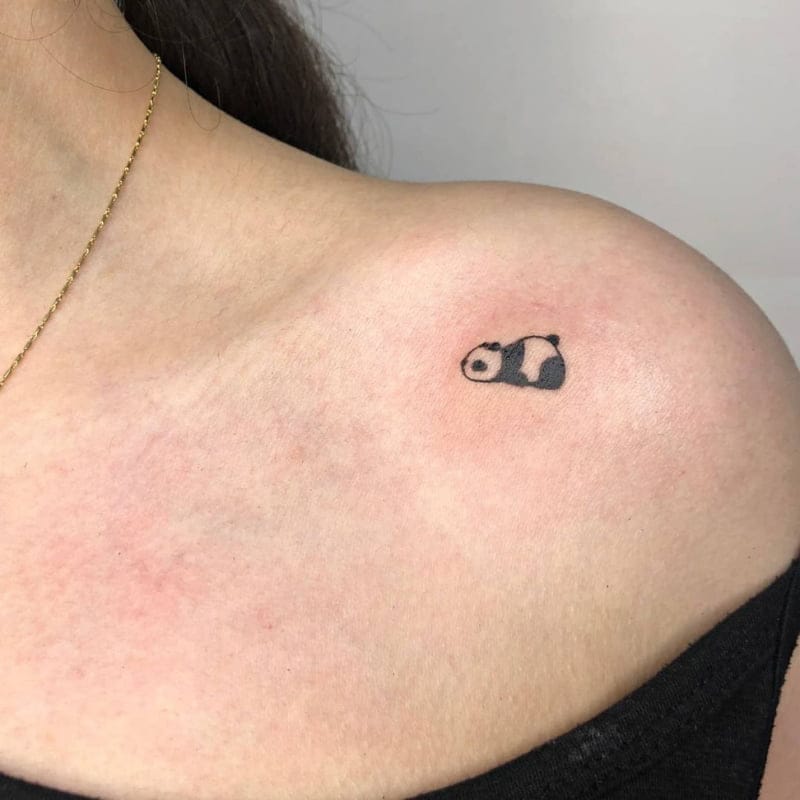 @haniitattoo
Here's a tiny panda design ideal as a shoulder tattoo. It shows a sleepy panda fallen on his face ready for a nap. It looks cuter as the design is very small, but you can also get it from a preferred size.
2.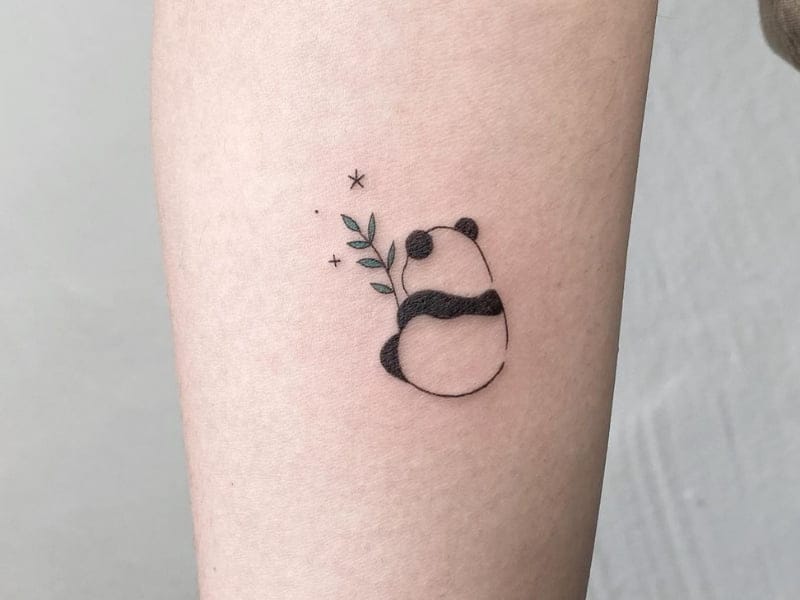 @nieun_tat2
This is another creative panda tattoo that you can have on the shoulder or arms. It shows a panda sitting alone, holding a bamboo leaf. It's such a cute design that brings an aesthetic appeal as you keep looking at the art.
3.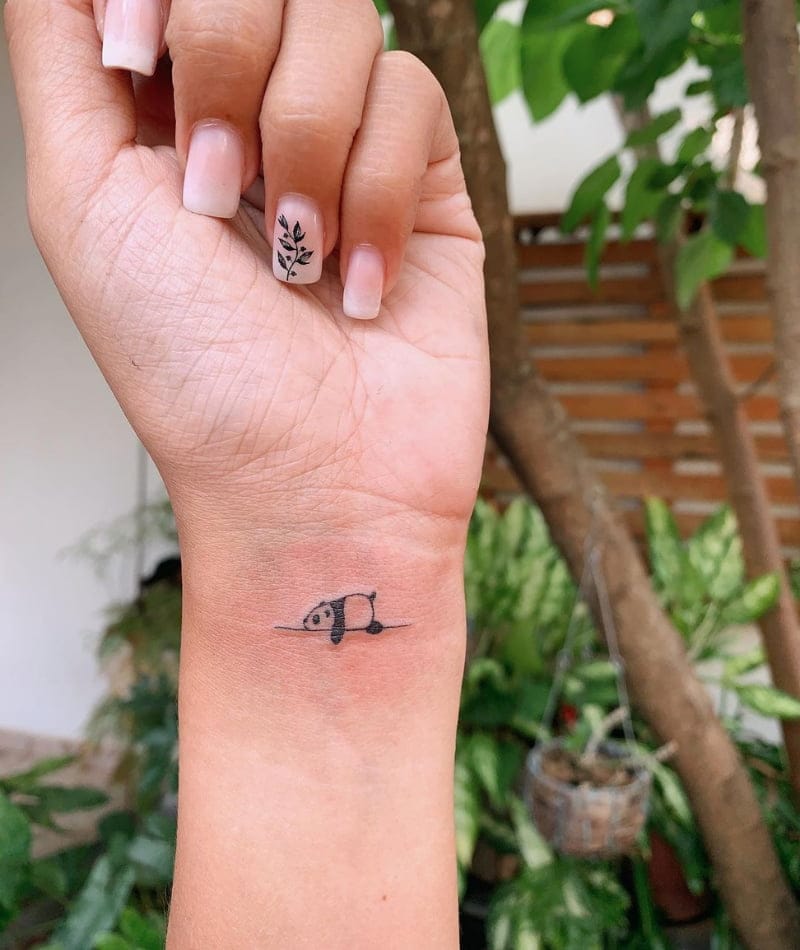 @letsdoodles
Here's another tin panda tattoo that you can have on your wrist. It shows a panda sleeping on a surface and looks cute due to the small size of the design. You can also have this tiny tattoo along the side of your wrist too.
4.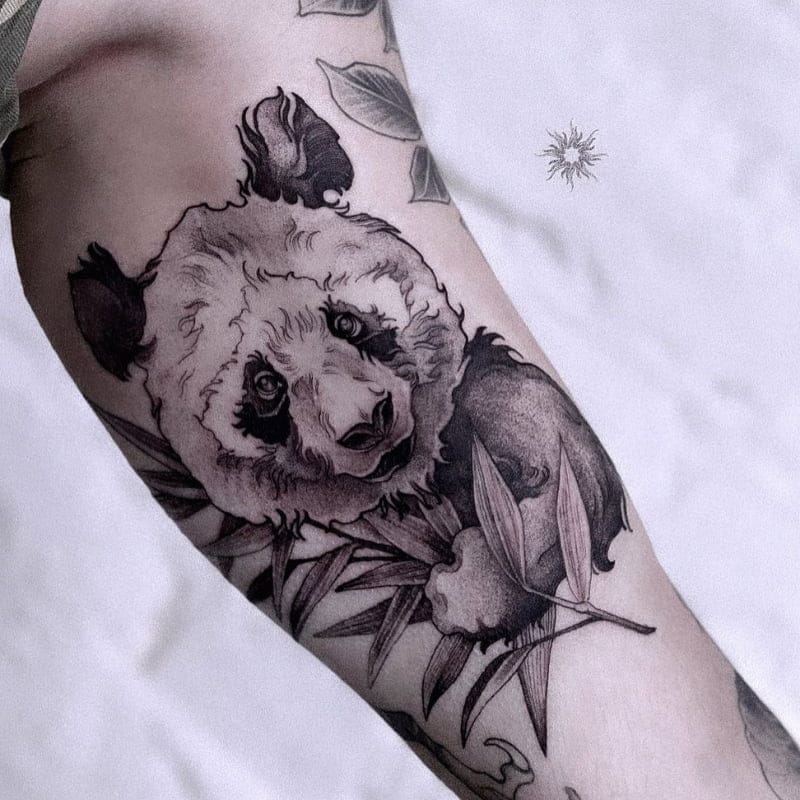 @zozulenko
Here's a large panda tattoo design that is of more detail. The art shows a panda grasping a bamboo leaf. The leaves and the fur are highlighted with shades of black throughout the image. This tattoo is ideal for the upper or lower arm.
5.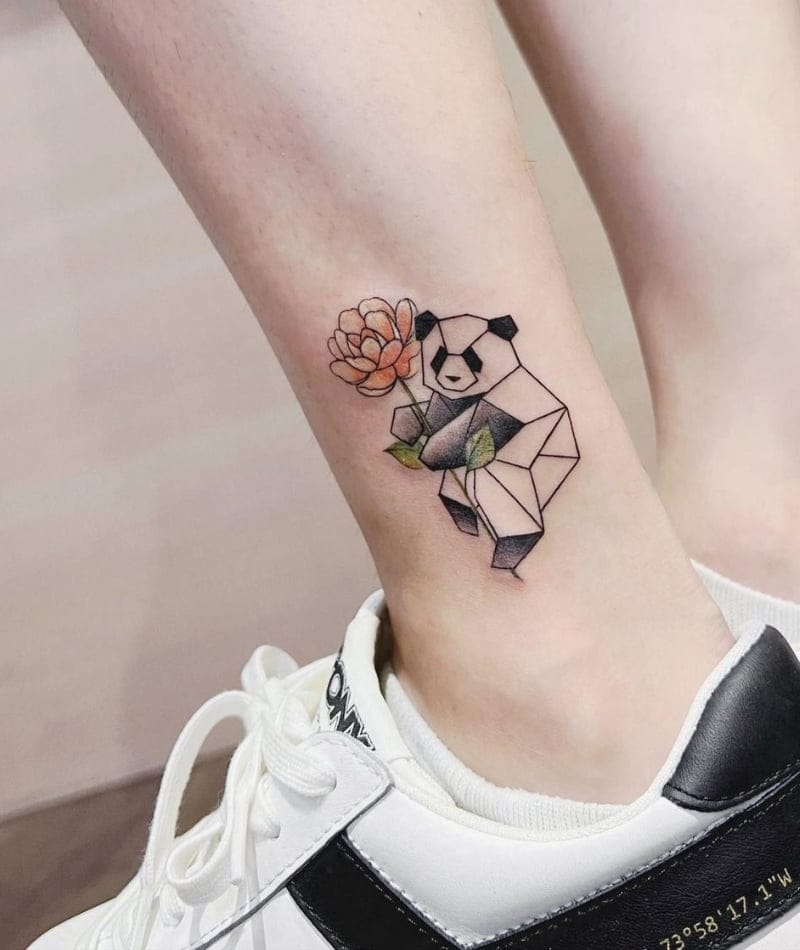 @lulutattoo
This tattoo design brings a different vibe as it is drawn with straight lines instead of the curvy nature of a panda. It is holding a red flower with two green leaves. I think this is a beautiful and highly attractive panda tattoo for your legs.
6.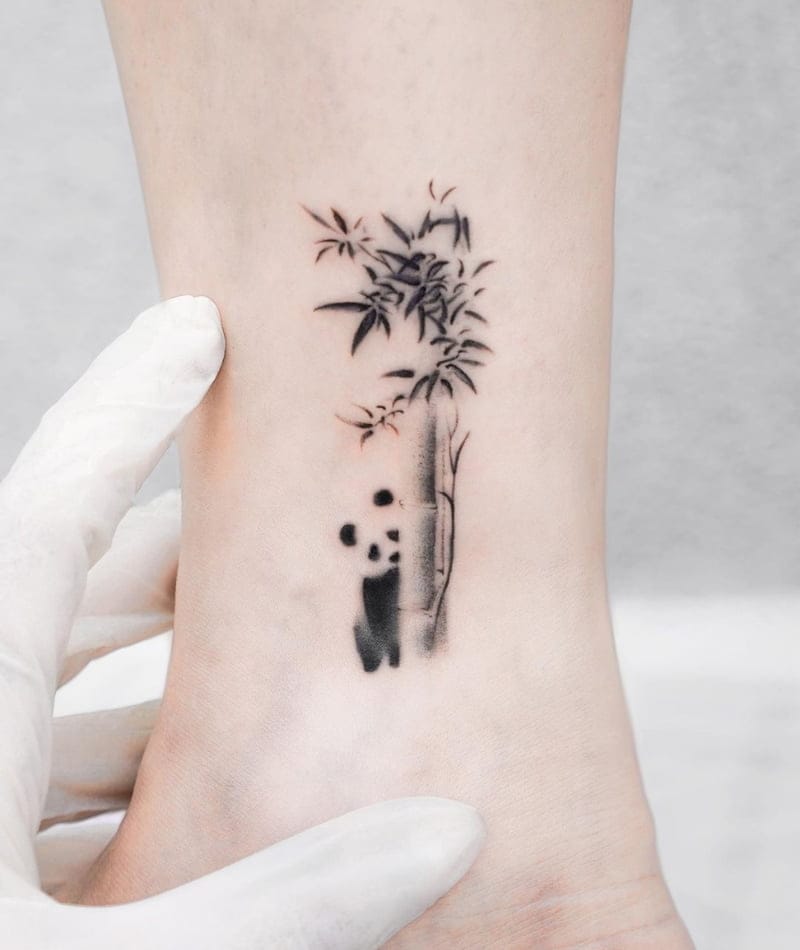 @studiobysol
This is another detailed tattoo design showing a cute panda leaning on a bamboo tree. This design is made of tiny dots throughout the art instead of the usual lines. Hence, it shows a blurred nature in the tattoo.
7.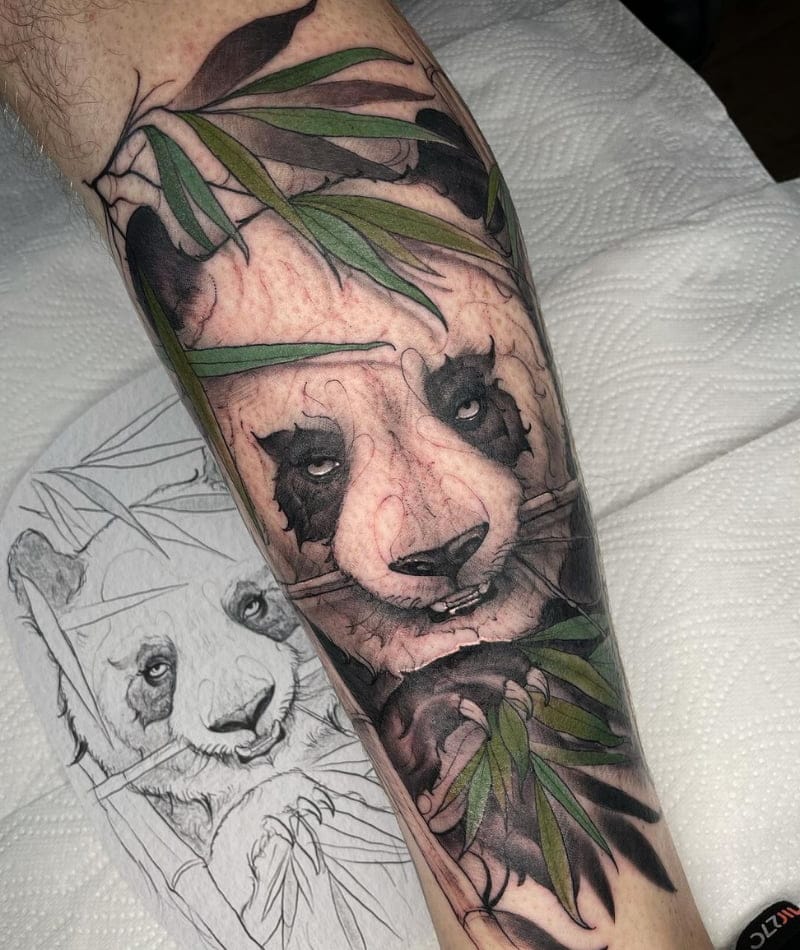 @mattttlynch
Do you need a fierce panda tattoo? If so, then this tattoo design idea is ideal for you. It has green bamboo leaves above and below the panda face. The eyes of this panda are so realistic and scary as it holds bamboo in its mouth.
8.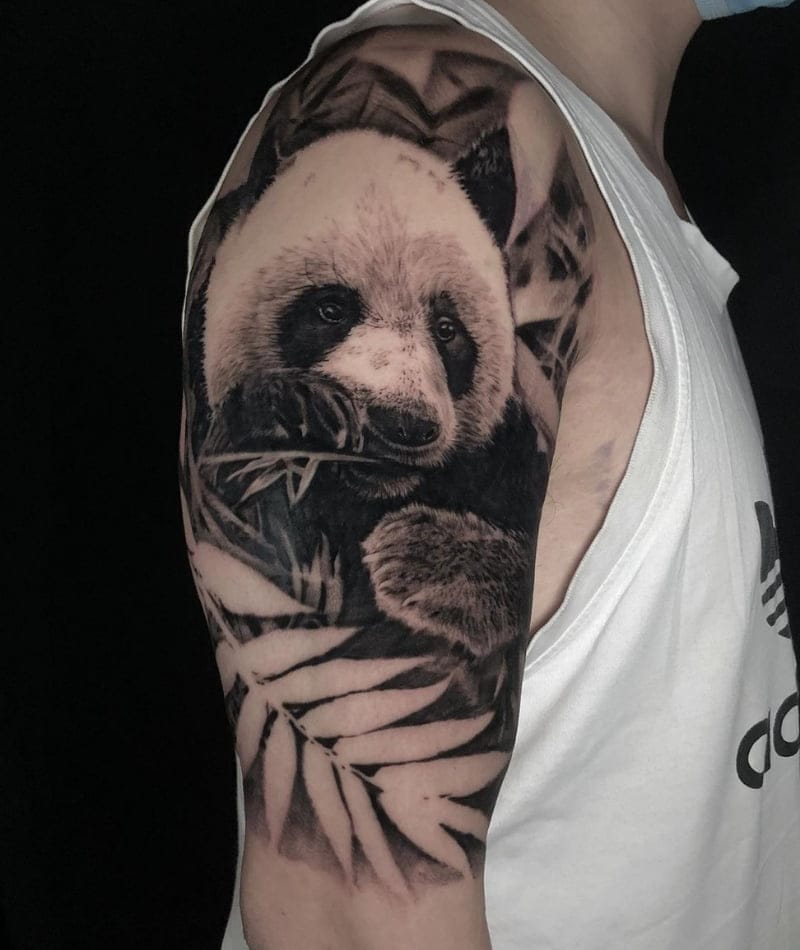 @dillrob180_tattoos
This is another creative tattoo design idea for your upper arm. The panda is gently biting onto bamboo and depicts innocence in this art. It is a highly detailed tattoo that shows the leaves, fur, nails, and deep eyes.
9.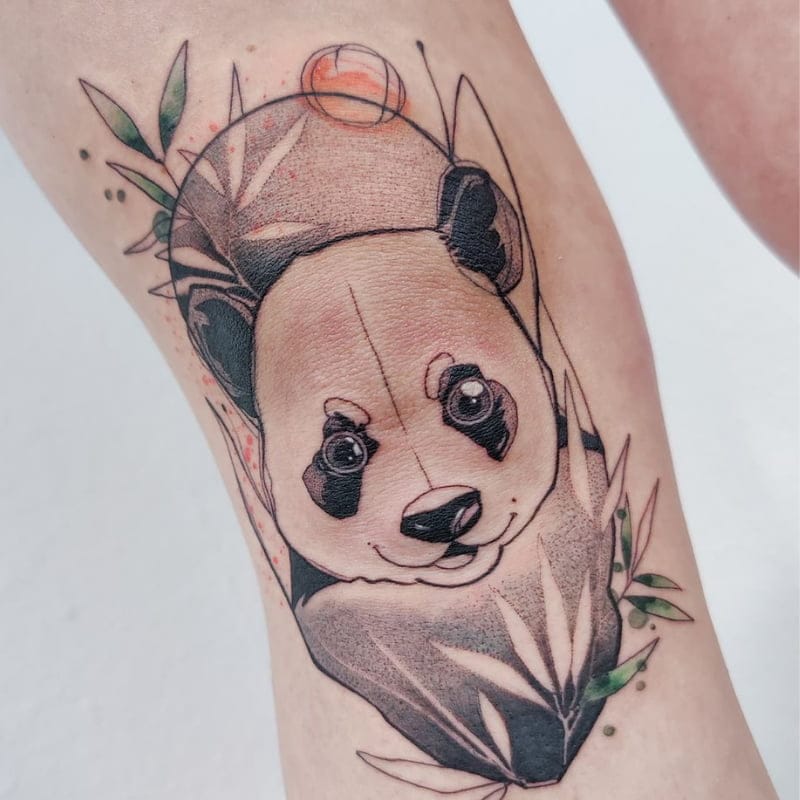 @tattooer_nicky
This is a creative design that features a playful panda. It is hugging a bamboo tree with a smile on its face. This is ideal for anyone looking for a cheerful and carefree vibe from a tattoo.
10.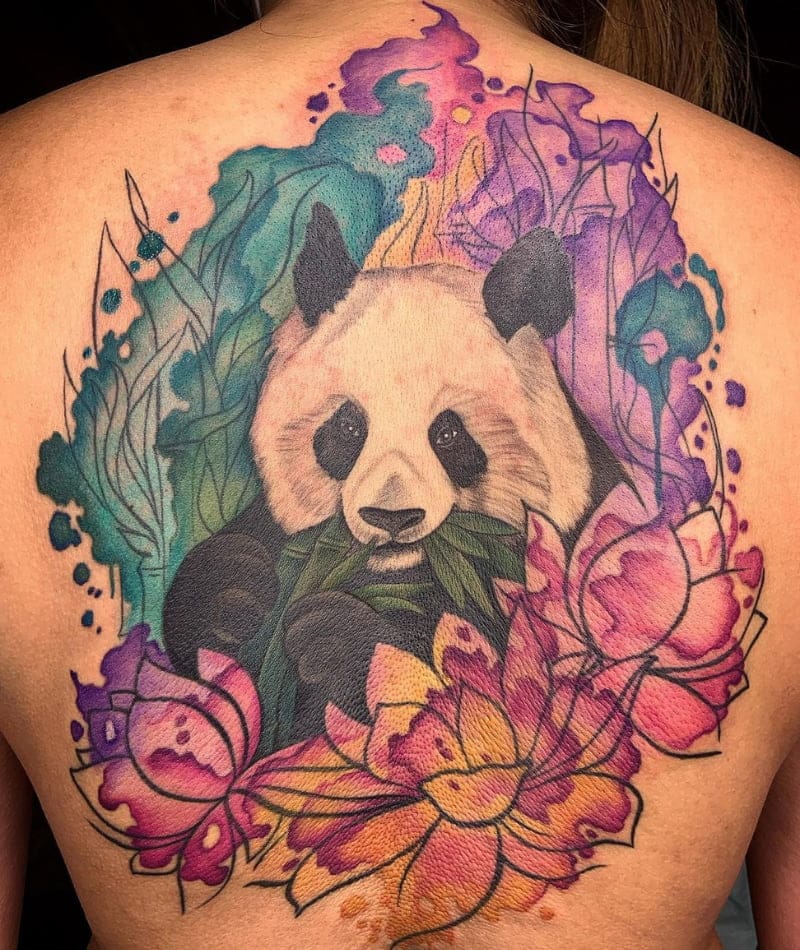 @jennie_kiebler_art
Here's a Here's a colorful tattoo design that shows a panda eating bamboo leaves. It is surrounded by a colorful design of flowers and leaves. The panda is designed in precise detail which also highlights its fur and eyes.
11.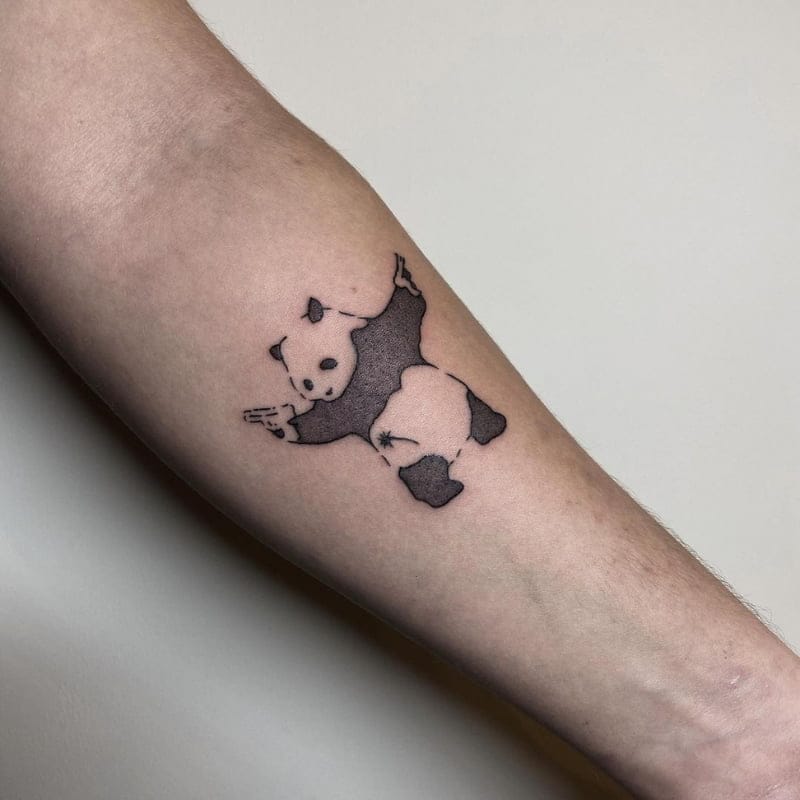 @patryk_lipien.arts
This is panda tattoo brings a different vibe from the ordinary designs. You can see that it features a panda holding guns. You can try this tattoo design on your lower arm or leg as you prefer.
12.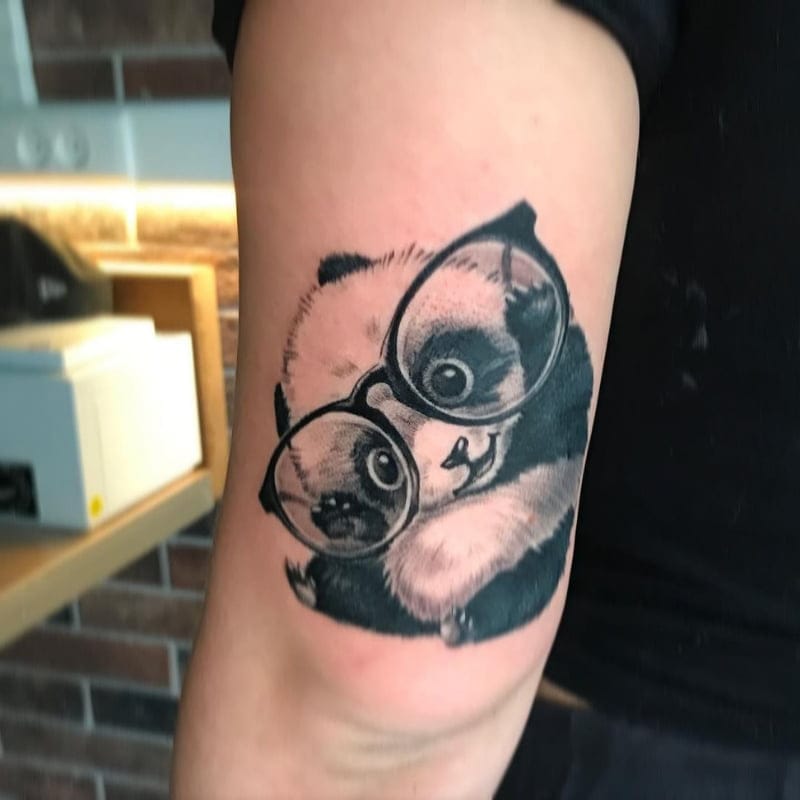 @silbotattoostudio
Here's a cute panda in large glasses. Shades of black and grey are used in this tattoo to highlight the details. I think this is an attractive tattoo idea for you to have and let me know what you think about it.
13.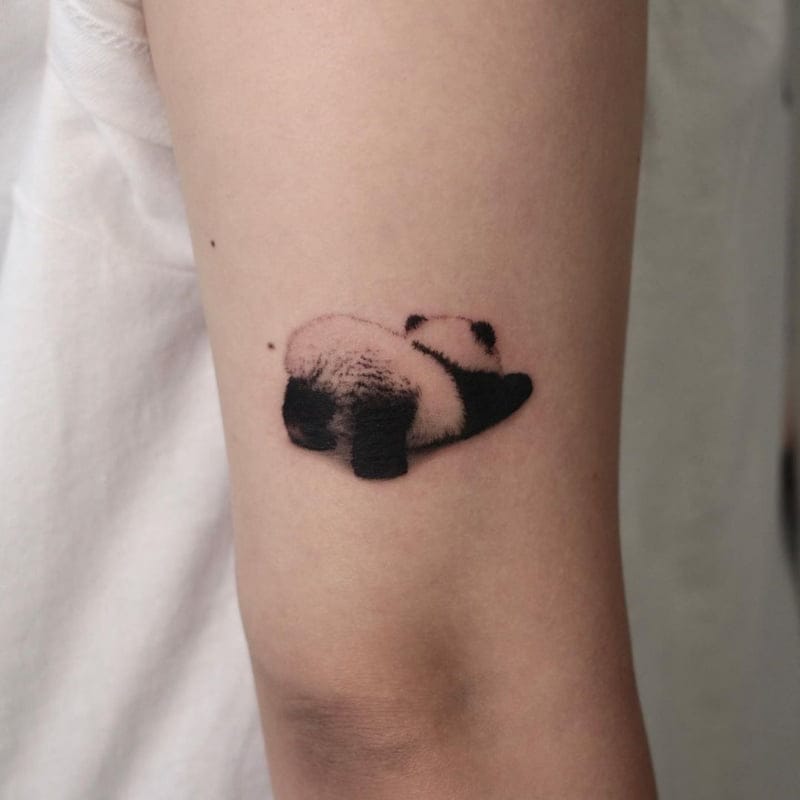 @40.tatt
This is a cute fluffy panda stretching itself. This tattoo looks perfect for your legs or wrist as its small. The design focuses on its fur and highlights black areas. I personally prefer this tattoo as its quite different from the usual ones.
14.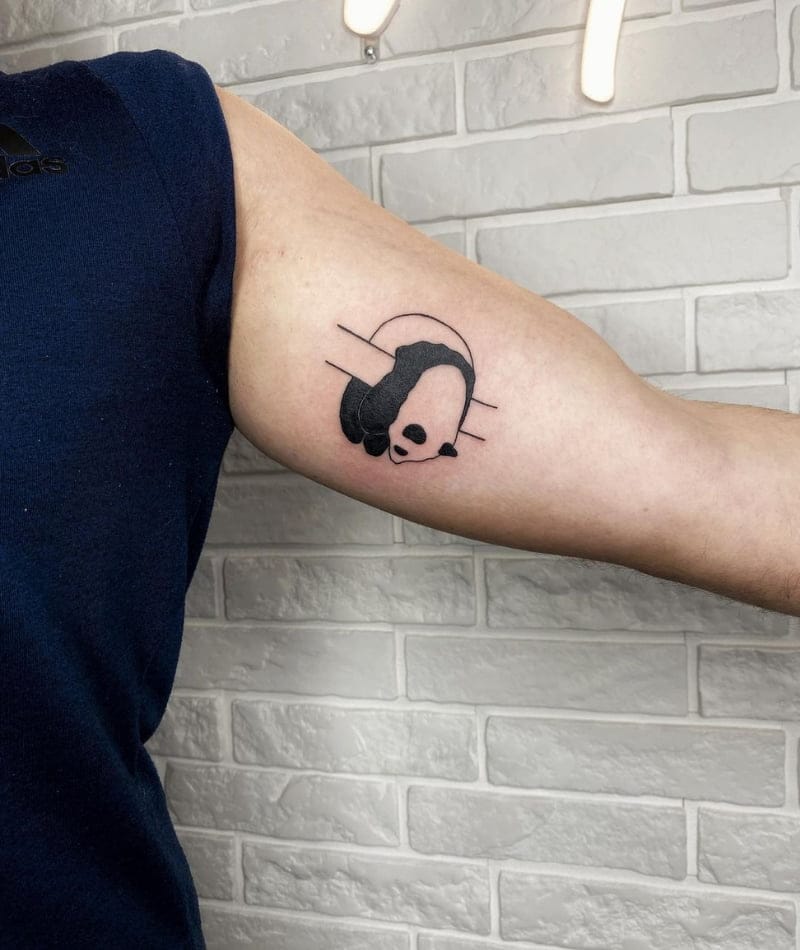 @awit.arts
Here's a cute sleepy panda hanging itself over a branch. It is perfectly designed with fine lines and is suitable as an upper arm tattoo. It is not shaded and has only black compositions in the various parts.
15.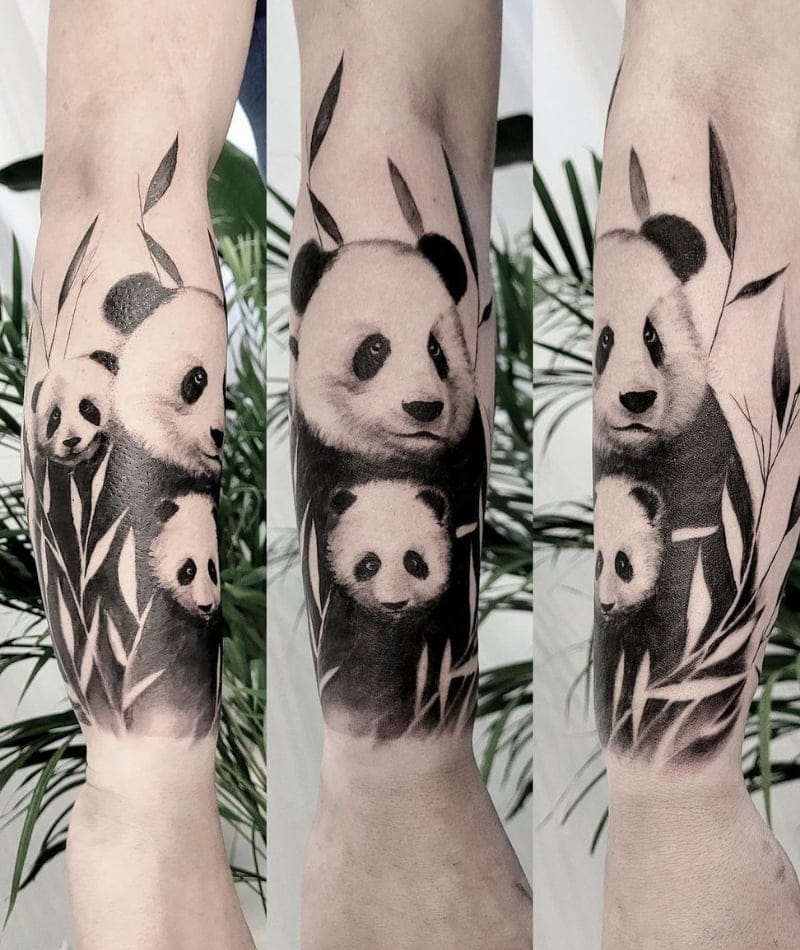 @rovnonoc.studio
This is another creative tattoo design for your lower arm. It consists of three pandas, which is quite different from the previous designs which featured only one panda. If you are interested in a full-arm tattoo, this will be a great idea.
16.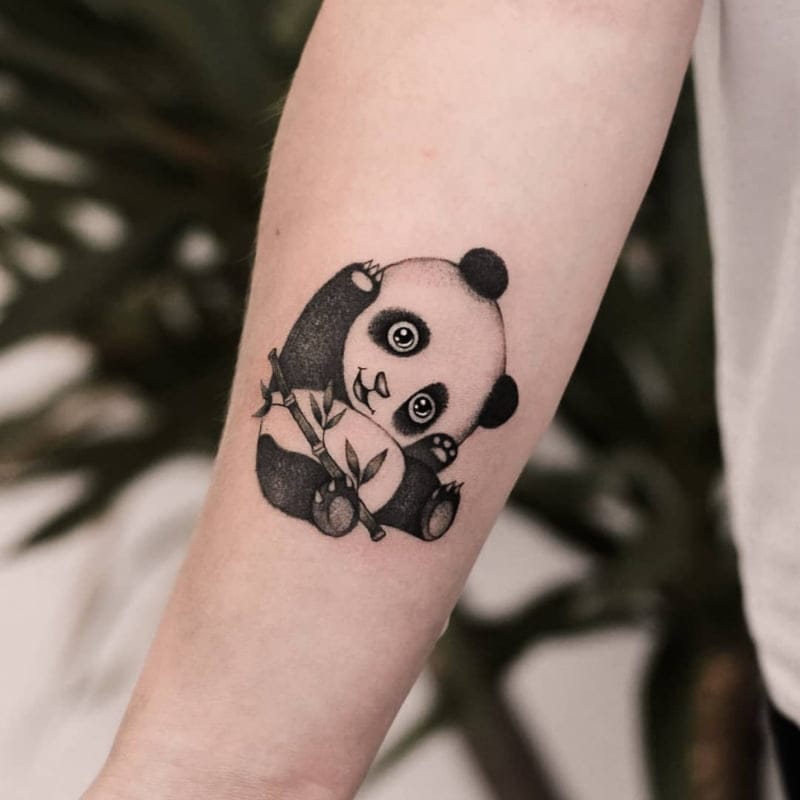 @antidotex_
Here's a cute little baby panda waving at you. It also has a small bamboo near it. You can try this tattoo on your lower arm or wrist area. Have it in this size or even smaller as per your preference.
17.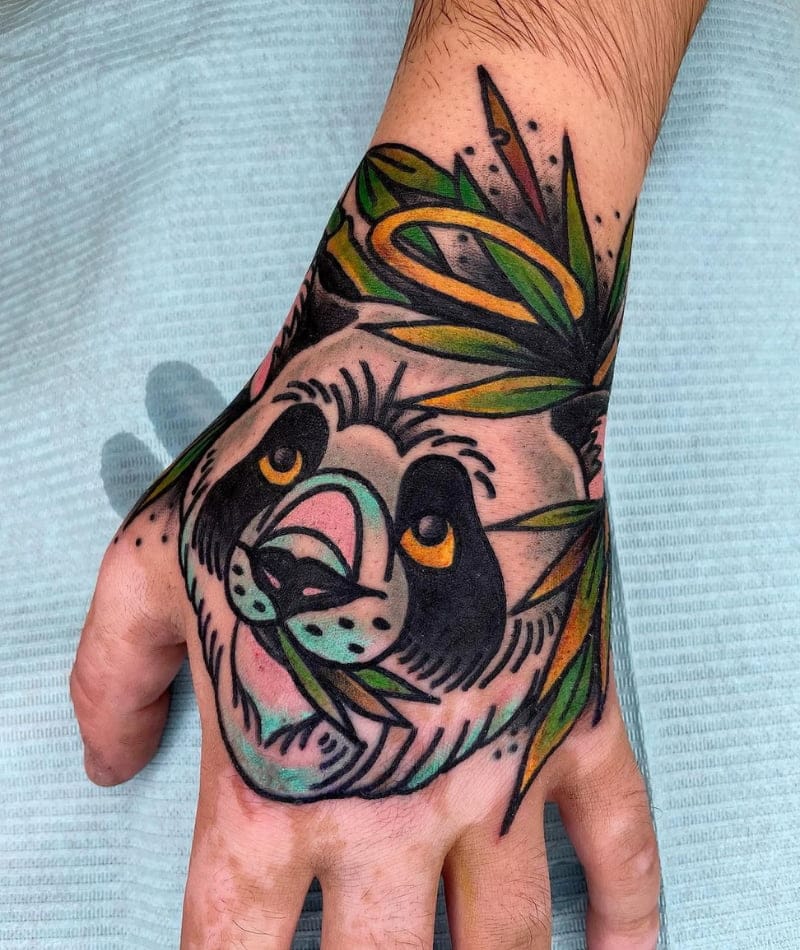 @tugceturksoytattooer
Here's something you can try on your hand above the wrist. It is quite a colorful design featuring the face of a panda eating a few leaves. In addition to the normal black design, you can have yellow, green, and blue colors.
18.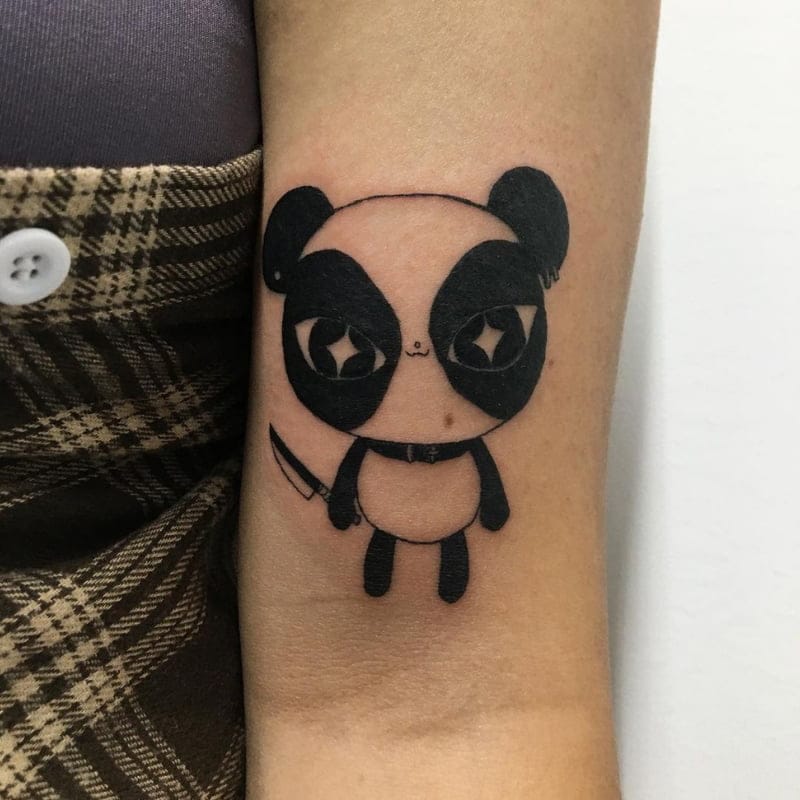 @lilcrybabytattoo
This is another creative panda tattoo that is different from the usual. The panda is holding a knife and even has a belt around the neck. It sure is a gangster panda as you can see its earrings. Try this unusual tattoo of a panda with sparkling eyes.
19.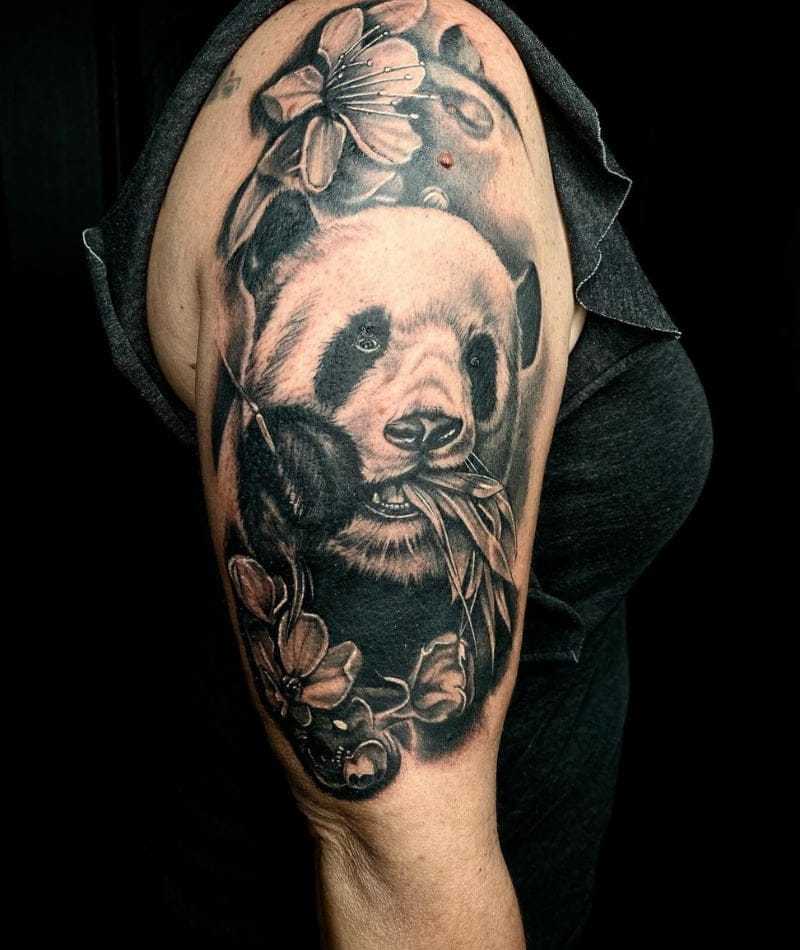 @steventefft
Here's another panda tattoo design for the shoulder and upper arm. You can even extend this design as a full arm tattoo. It shows a panda eating bamboo and also has a floral design over its head and below.
20.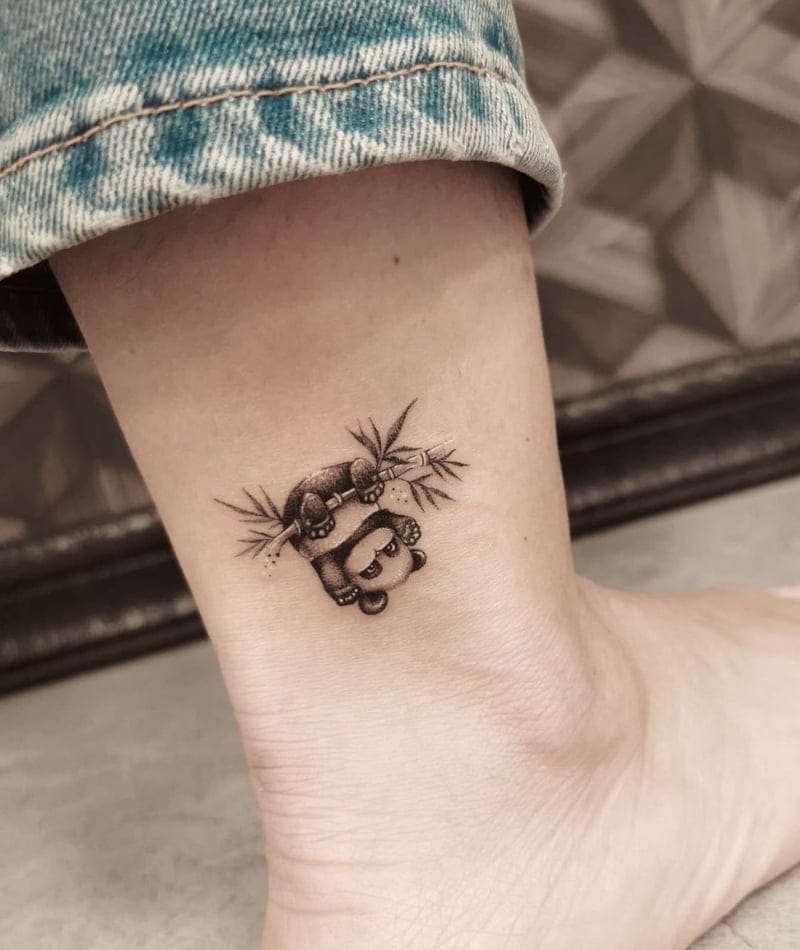 @ssandraart
This panda is hanging upside down over a bamboo branch. It is detailed perfectly with shades of black to highlight its darker fur. This is a simple but highly creative tattoo design that you can try out next time.