Are you considering getting a raven tattoo?
Ravens are thought to be smart, frightening, and spiritual birds. They are reminiscent of life's invisible, mythical, and metaphorical meaning. Anyone would look great with a raven tattoo! You have the ability to portray your actual feelings, strength, and inner ideas.
Here are a selection of our favorite raven tattoo designs, all of which are easy to recreate.
Disclosure: This post contains affiliate links, which means we may receive a commission if you click a link and purchase something that we have recommended.
1. Mere lines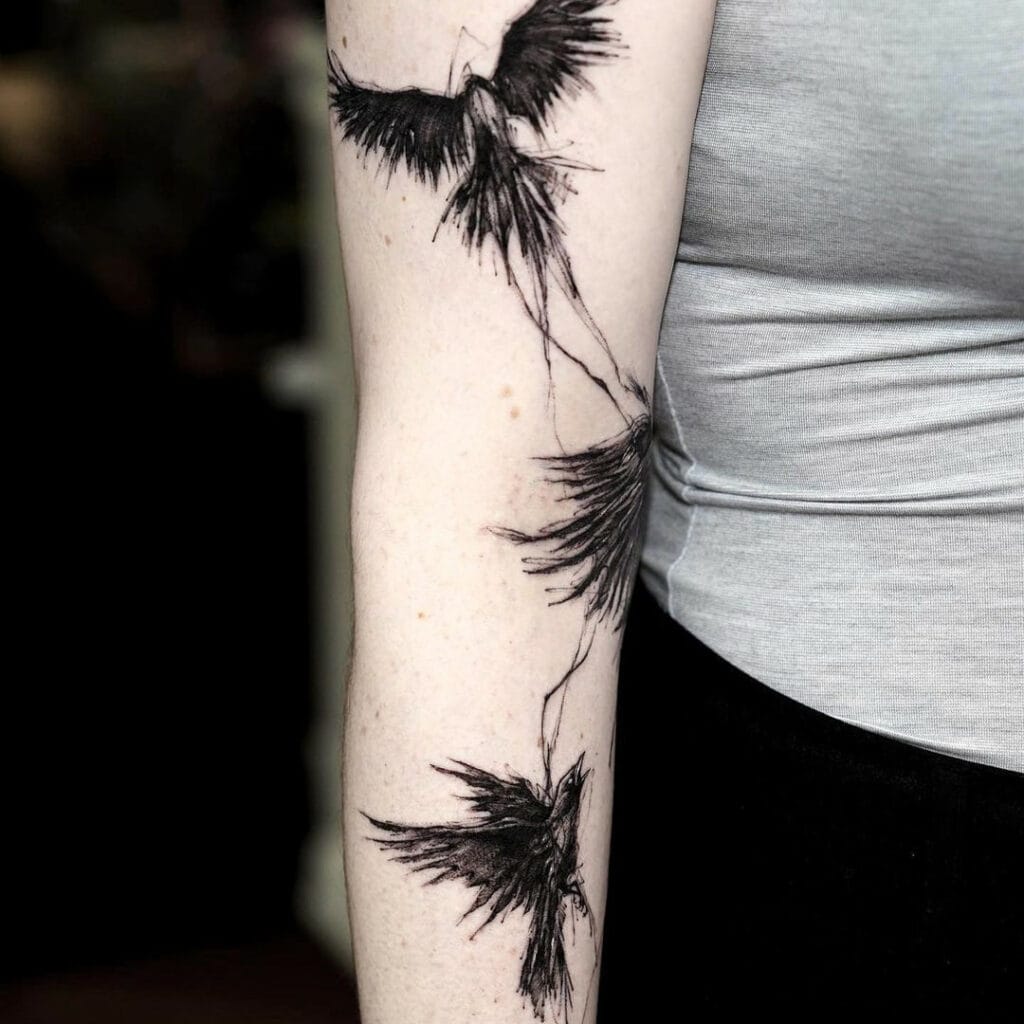 @bk.inkstudio
This raven tattoo consists of mere lines that create the wings of the bird. The birds are connected with one another with similar lines. Due to this artistic nature of the image, the tattoo may appear quite messy which itself is the specialty of this design.
2. Big raven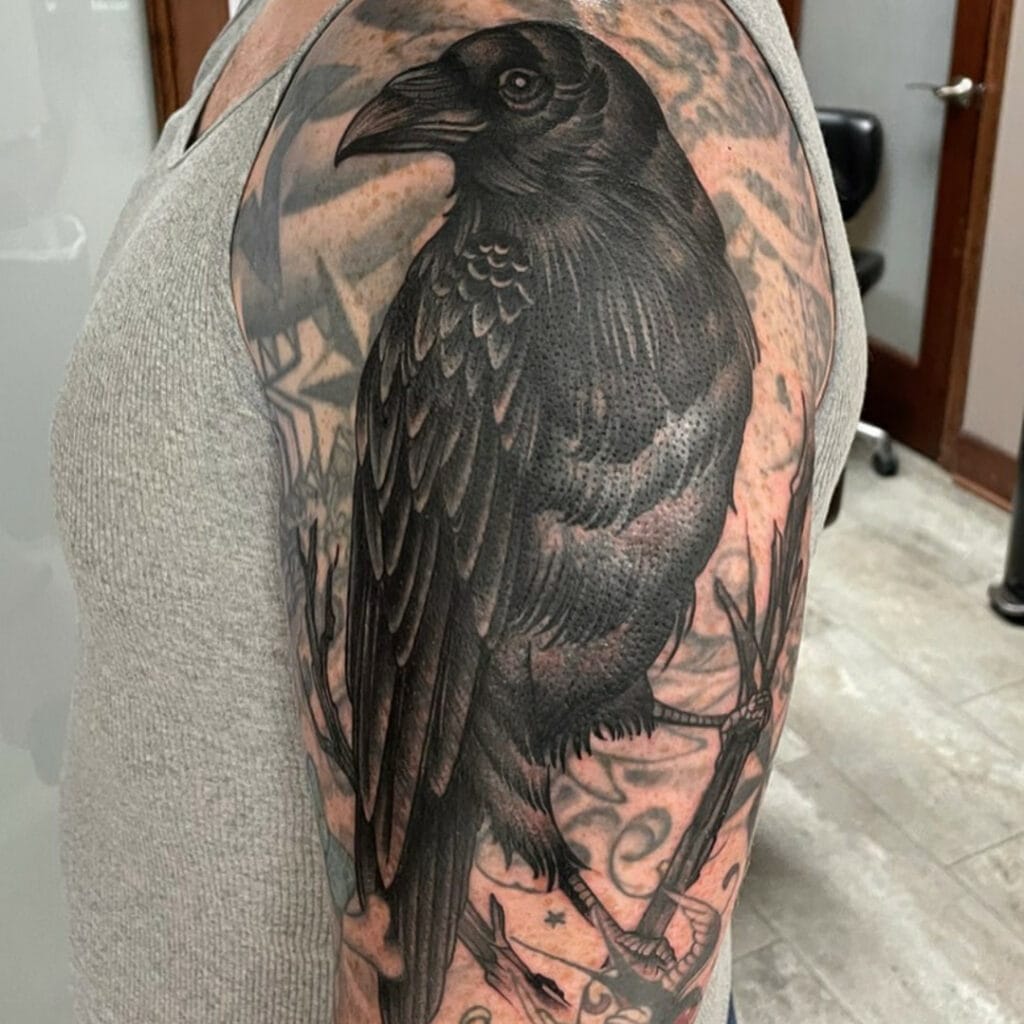 @ashley_tattoos
You can see a big raven on the side of the arm. This is ideal as a full arm tattoo where you can continue the design down your arm. The details of the bird such as the eye, beak, feathers, and claws are drawn carefully with complete detail creating a life-like bird.
3. Tied by red strings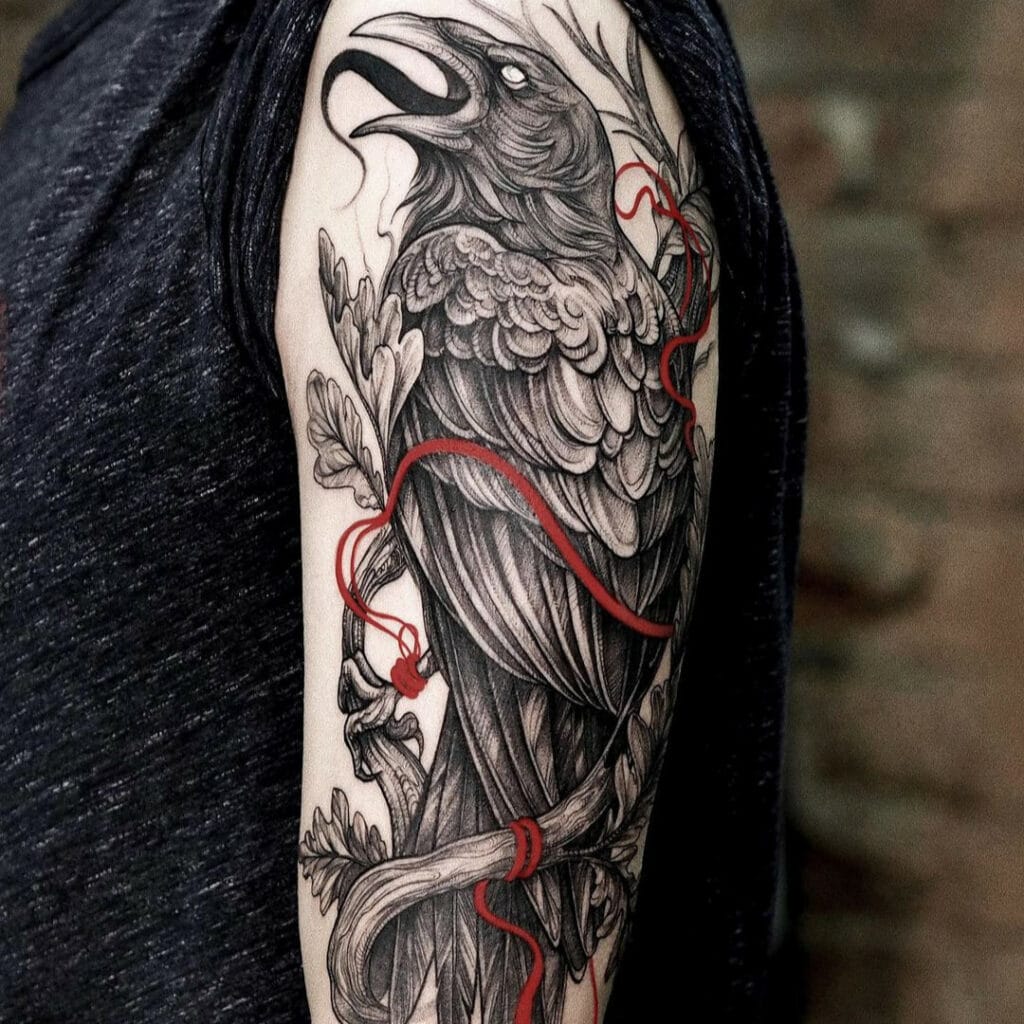 @iness.tattoo
The size and location on the arm in this tattoo are quite similar to the previous one. But the whole appearance and the vibe of the tattoo are different. The raven appears to be tied by red strings and the bird appears to be crowing.
4. Bound together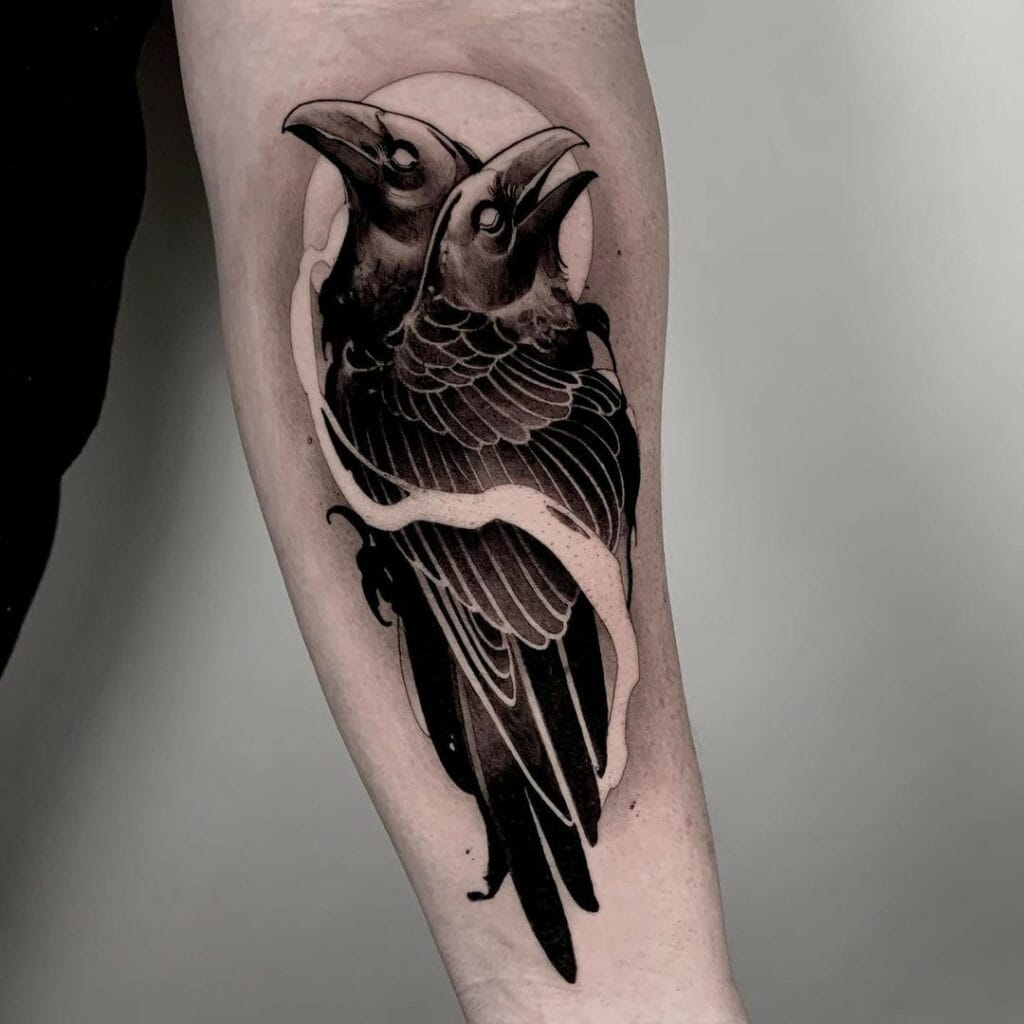 @nathanadsitart
There are two ravens in this tattoo design. They seem to be bound together by the moonlight whereas the moon is also shown behind the birds. This may appear quite eerie from the usual raven tattoos that you often come across.
5. Flight with a compass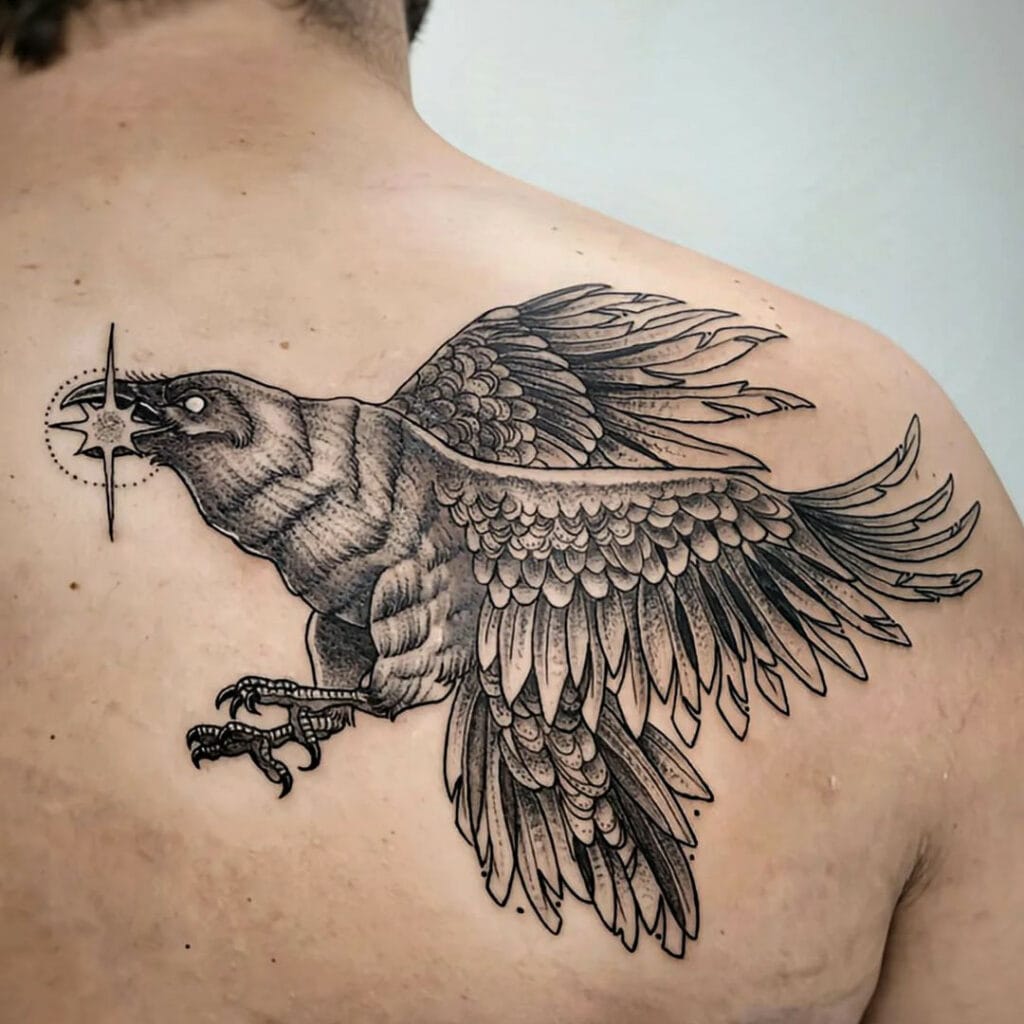 @jubixpix
This is another different concept for a raven tattoo. The bird appears to be in flight with a compass in its mouth. This resembles knowing the sense of direction. A great idea to design your tattoo and is ideal as a shoulder tattoo.
6. More artistic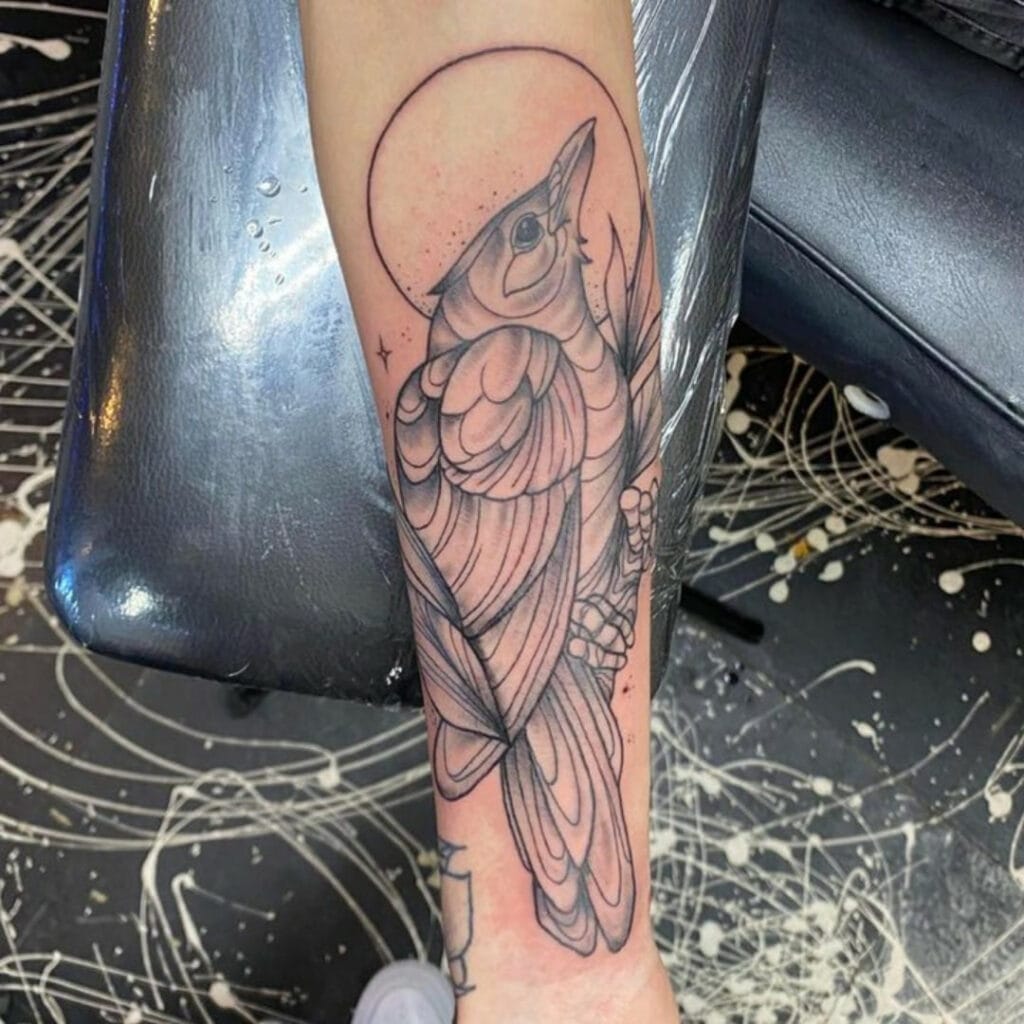 @madtatterky
Rather than drawing the tattoo with close feathers, this tattoo design has a different concept in feathers. It is more artistic with curvy lines depicting the feathers. However, the shading is done attentively to make this an elegant design. It is ideal for the lower part of a full arm tattoo.
7. With slogan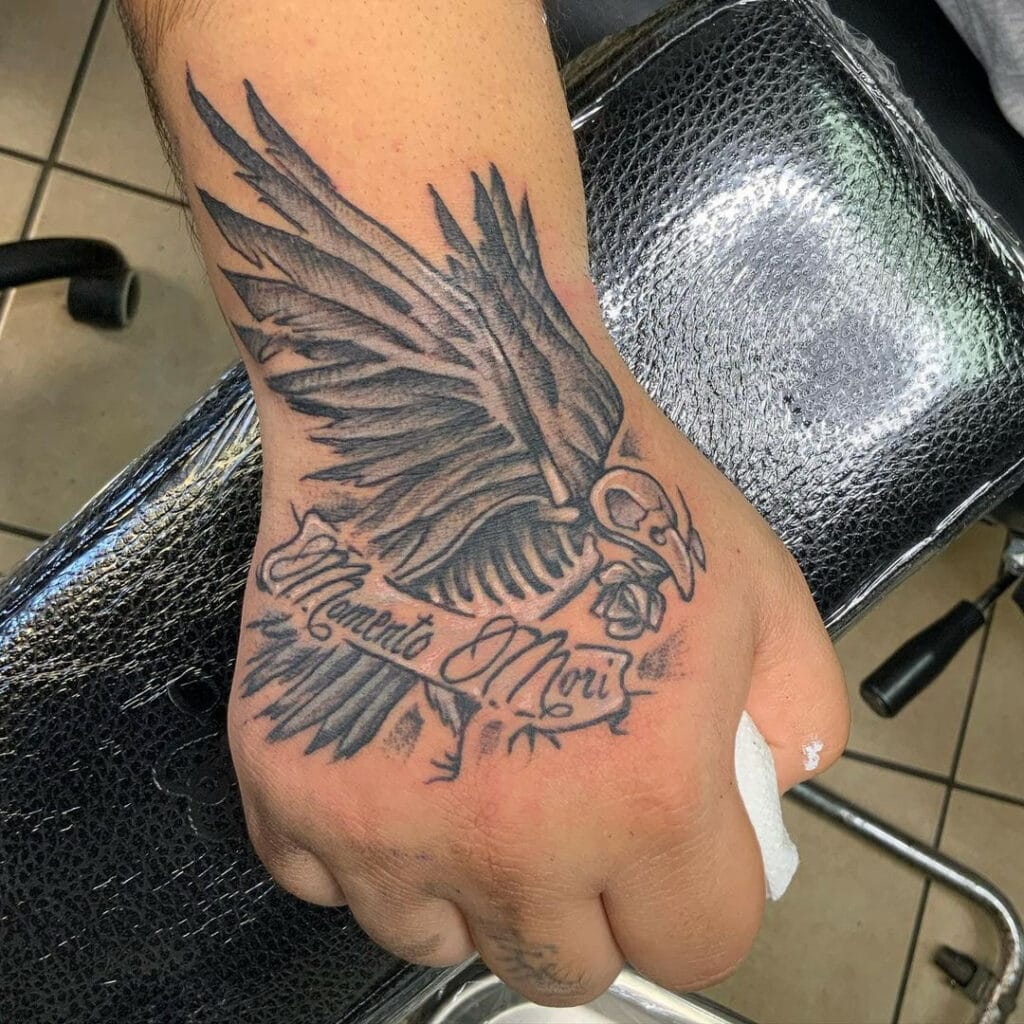 @jcassel45
There are various slogans related to ravens. You can tattoo one such popular phrase or even create one on your own. This shows a bird with damaged feathers and even the rib cage and the skull. This creates a scary and bold vibe rather than a serene one.
8. Death Eater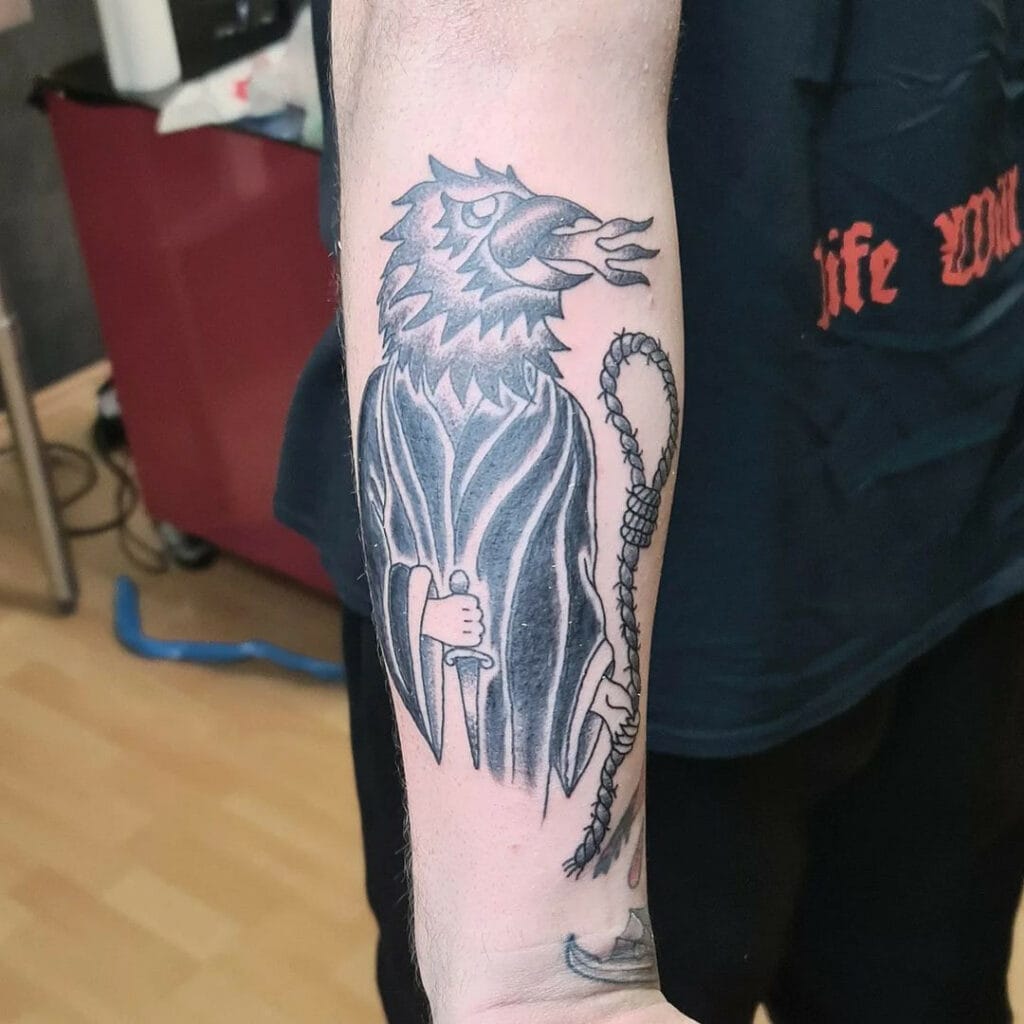 @youngschool_tattoo
This tattoo resembles a Death Eater more than a raven. You can see flames coming out of the beak of this bird and even has a knife and a rope clasped in its claws. The whole tattoo is done in black with different densities of shading to bring out the design.
9. Maple leaves.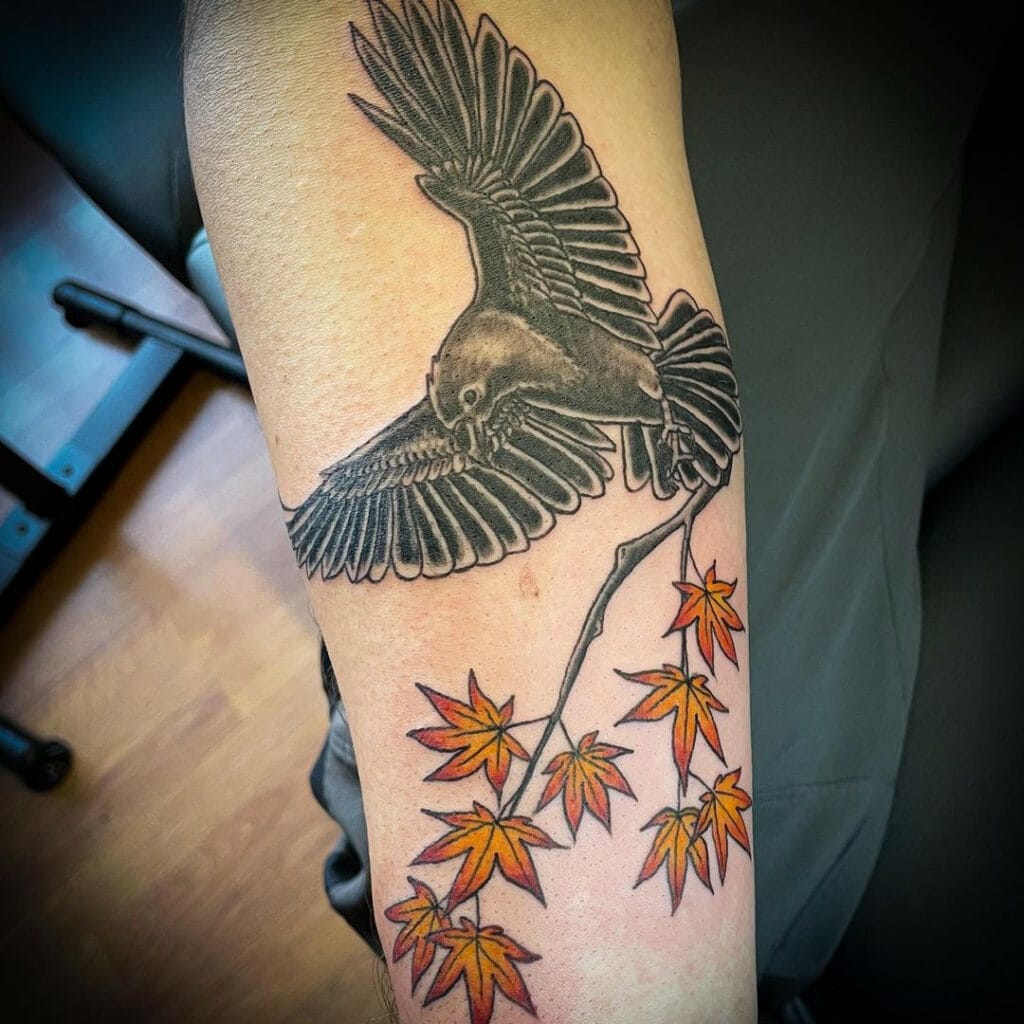 @darci.turnquist.art
The raven here is about to sit on a branch of maple leaves. The bird has all its wings spread wide from a flight. The branch is also done in black while only the leaves are in reddish-orange. I think you can also try this great raven tattoo on your arm.
10. Angry raven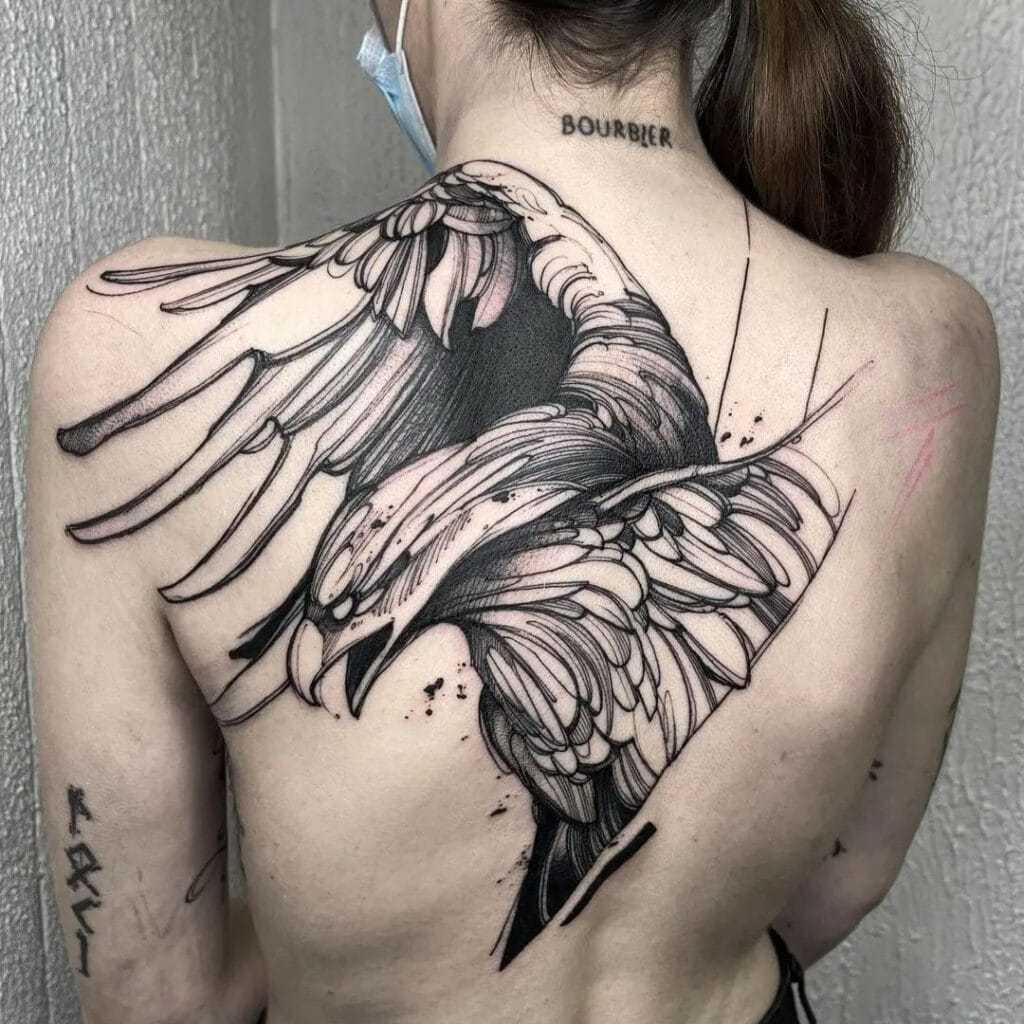 @barbernorthstar
An angry raven that is about to fight anything with its strength is tattooed across the back. This brings a fearless and bold vibe rather than an aesthetic appeal. If you are planning of getting a tattoo done on your back, this would be a great idea.
11. Geometric shapes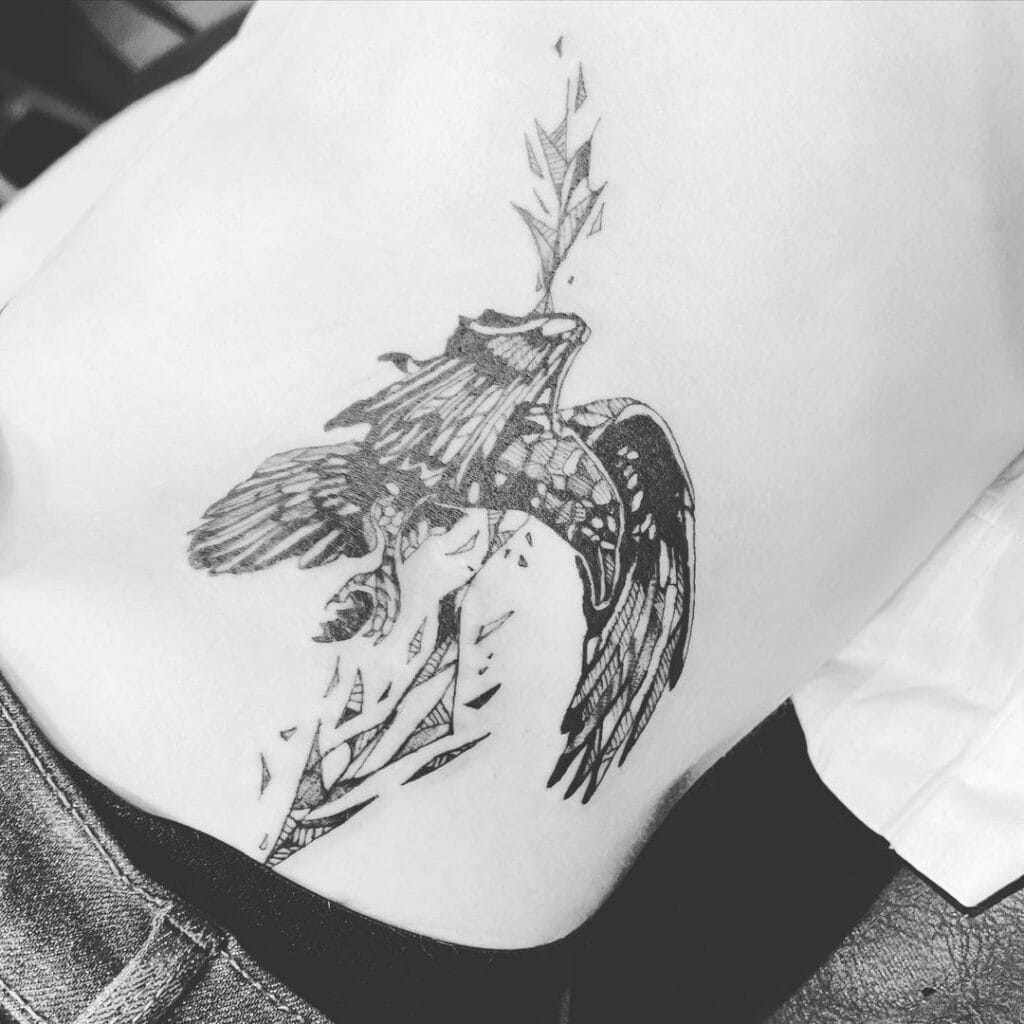 @sarg3_the_tattooist
You can see another bird in this design which is in the middle of a slight. It appears to be quite weary with its wings down. This design has more geometric shapes than the previous tattoos. It would be a perfect design to have on your arm, back or side.
12. Colorful raven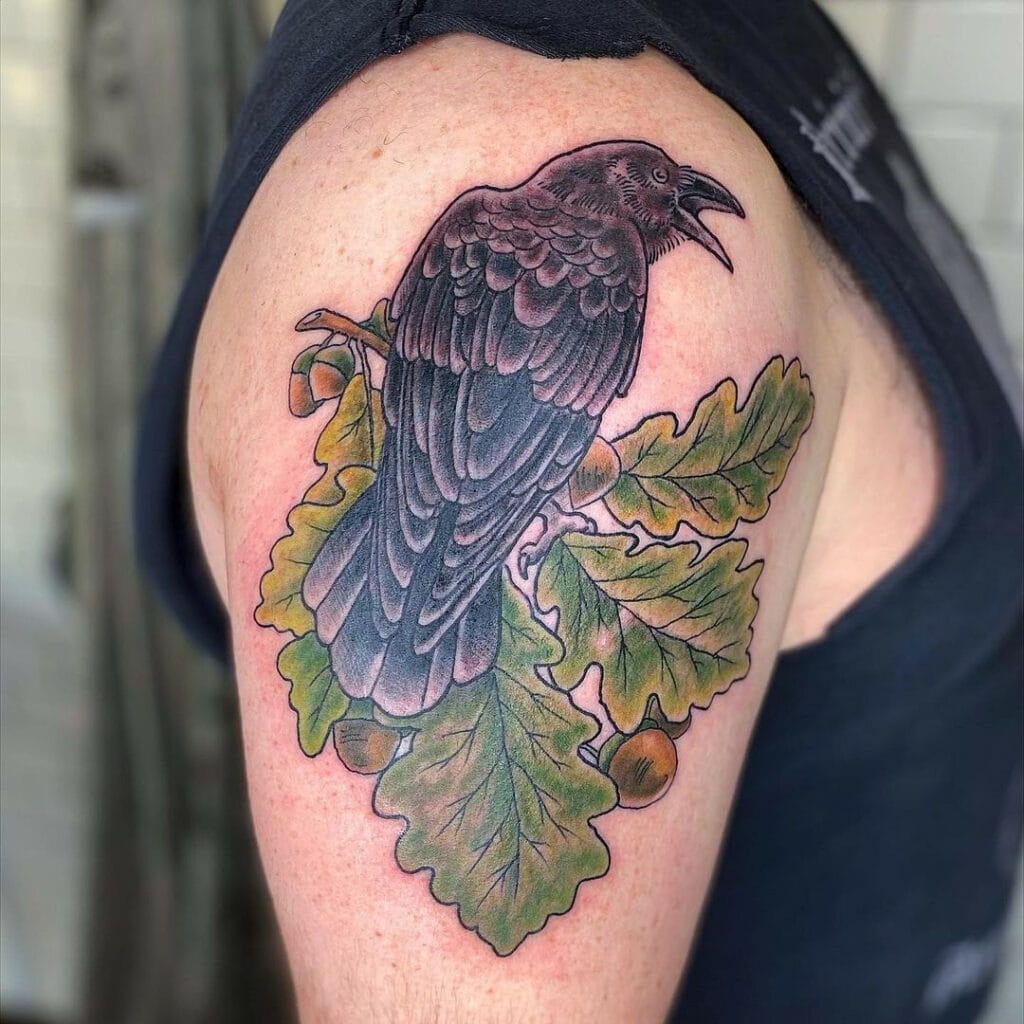 @tattoosbyloorin
Here's a colorful raven sitting on a brand with acorns. From the first glance itself, you can feel the lively vibe of this tattoo. So, if you are looking for something colorful, here's what you need to be looking for. The leaves and acorns are tattooed precisely to make it more lively.
13. Rose below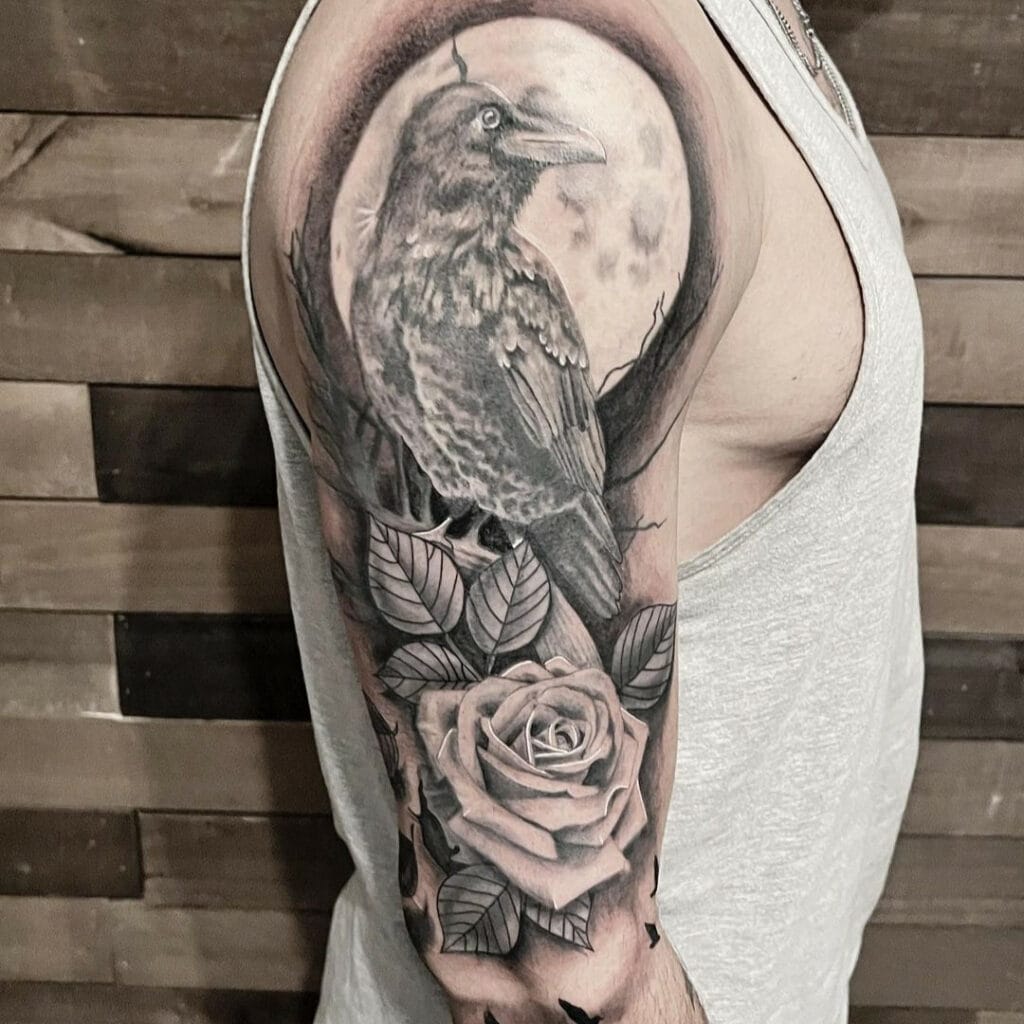 @julia.paige.art
This bird appears calmer with its head held to the side in front of the moon. You can see it sitting on a branch with a rose below. There are even more ravens below this rose. Hence, this will be the ideal tattoo design if you are looking for a full-arm tattoo.
14. Silent-looking raven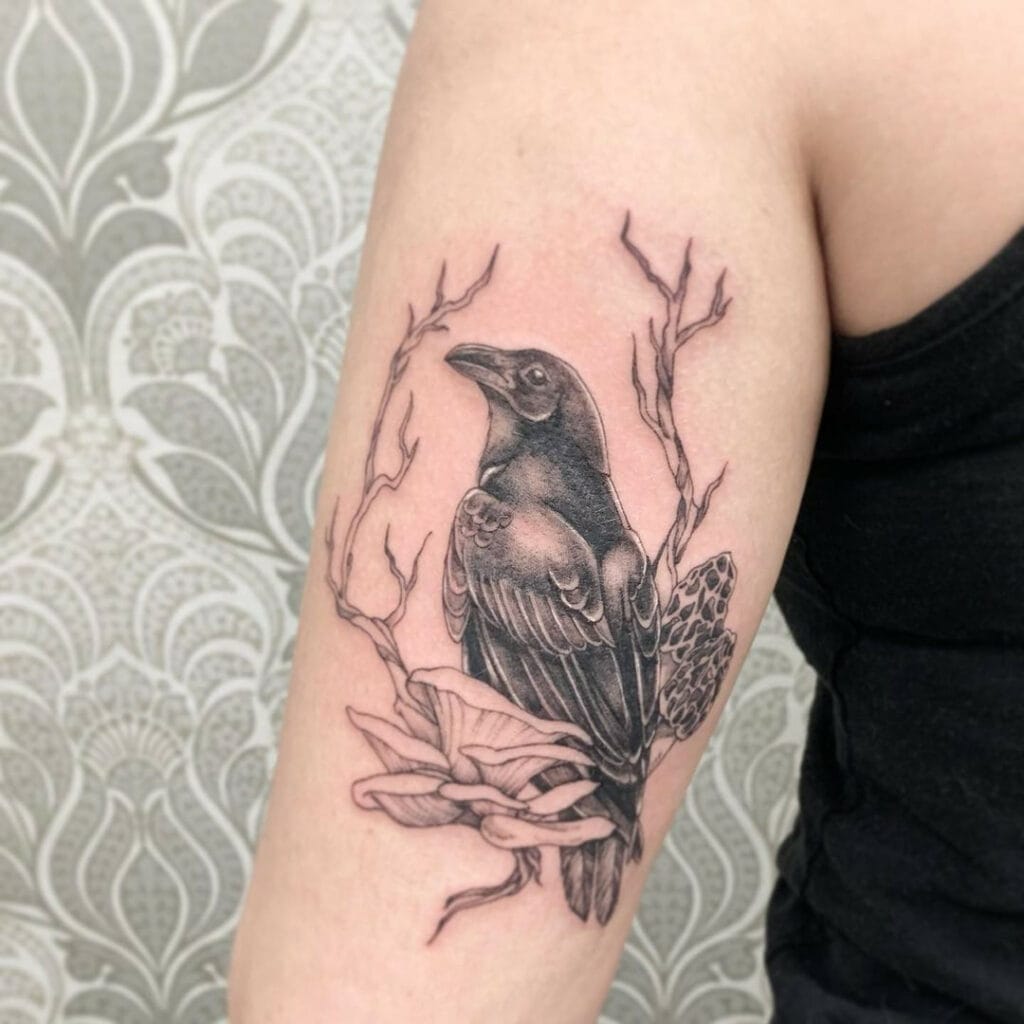 @pine.needle.studio
A silent-looking raven sitting on a branch. The bird appears to be in thought as featured by the drawing of its eyes. It is simple but looks elegant and classy. You can have this tattooed on your upper arm or even shoulder.
15. Pirate raven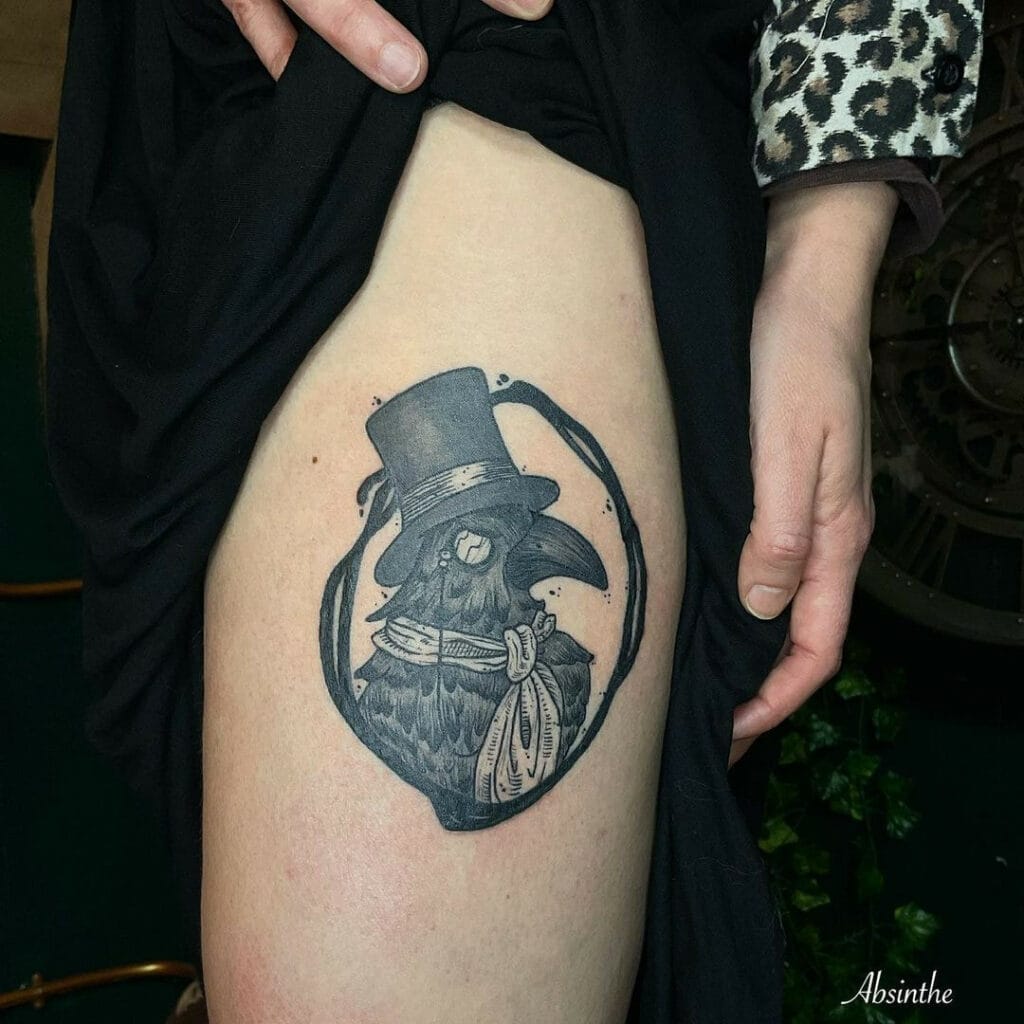 @__artemisia_absinthium__
What do you think about a pirate raven with a hat and an eyeglass? It even has a scarf tied around its neck. It gives out a brainy and educated vibe from the bird. Anyone interested in mythical creatures and stories can try this out.
16. Yellow eyes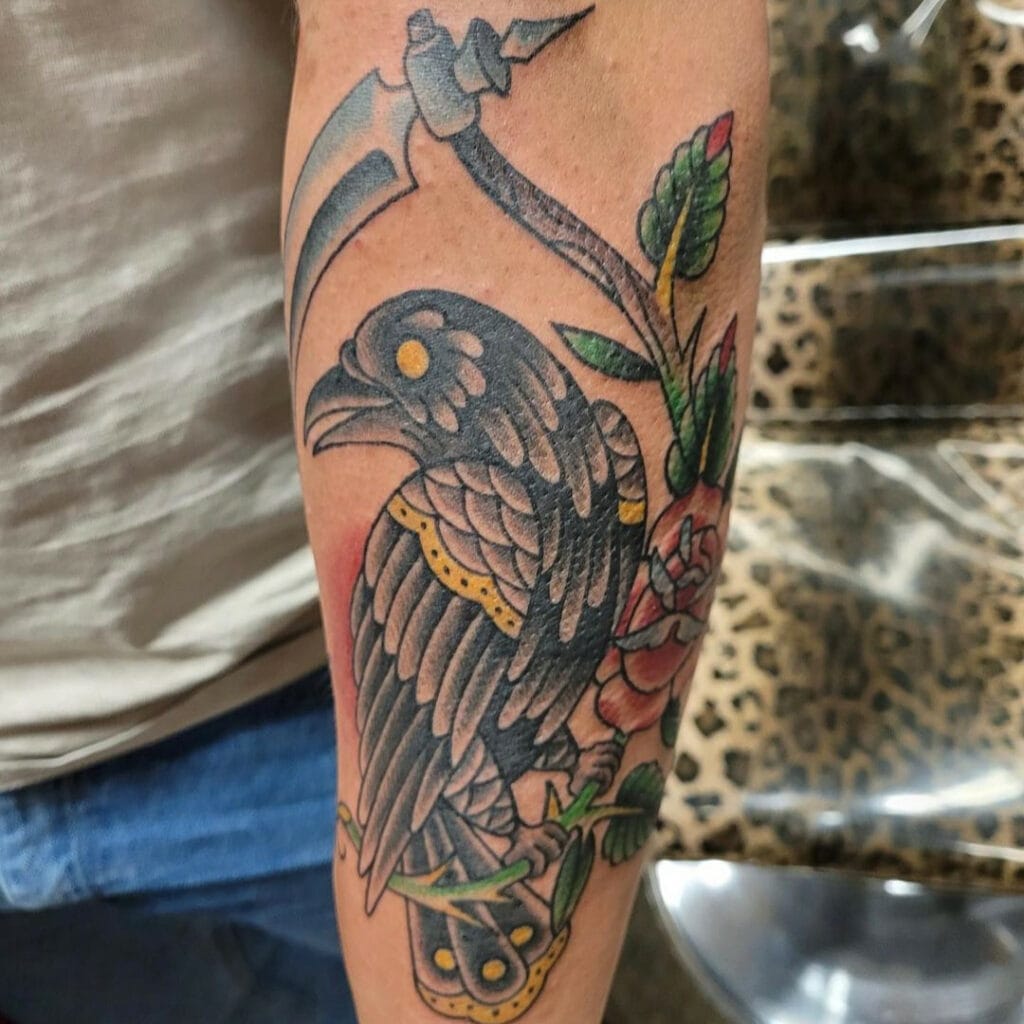 @fatcattattoosuttercreek
Another colorful raven with yellow eyes and traces along its feathers and tail. It is sitting on a branch with a colorful flower and leaves. At the end of the branch is a spear resembling fearlessness. Try this tattoo if you share the same feeling of boldness!