For many individuals, Halloween is one of their favorite holidays. Instead of decorating your living room and kitchen, do something different and design your bedroom. Halloween bedroom is a great way to celebrate Halloween season.
Halloween is all about eerie costumes, decorations, and other creepy stuff. Even if you aren't having a party, you may decorate your bedroom for Halloween to set the scene. For this Halloween season, these inventive ideas will guarantee that every inch of your space looks distinctive.
Also Fabric Pumpkins too accompanied with Halloween bedrooms.
Here are some fantastic Halloween Bedroom Decor ideas. Choose the one that best fits your needs.
Disclosure: This post contains affiliate links, which means we may receive a commission if you click a link and purchase something that we have recommended.
1.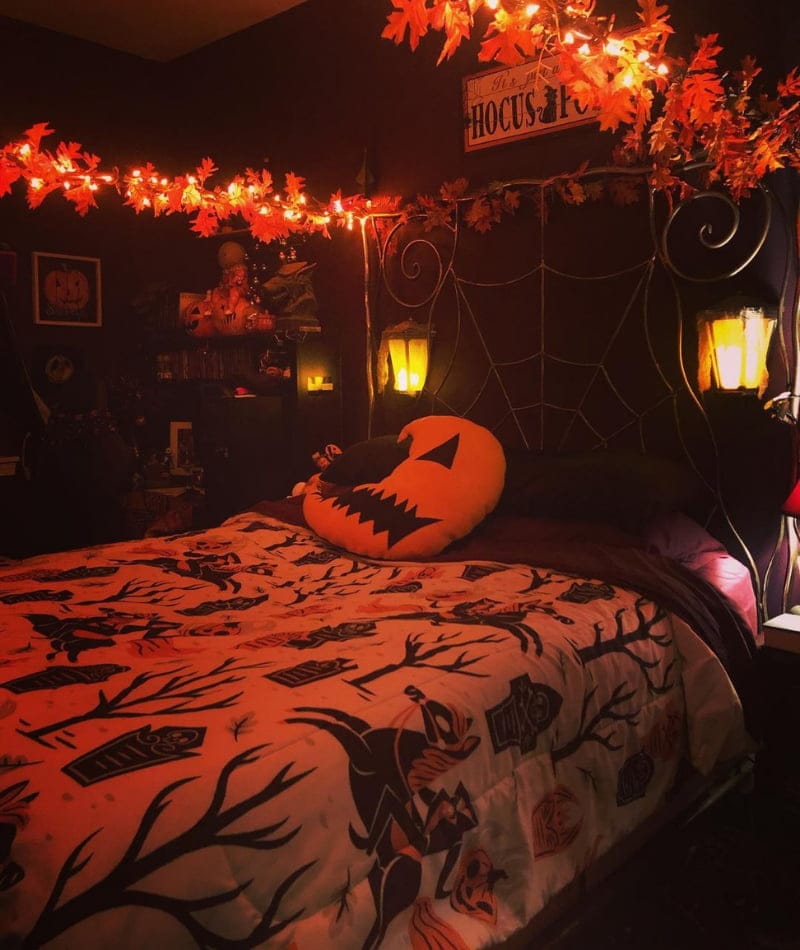 @thespookyequestrian
This from the first sight sends a chill down the spine. It has a spooky atmosphere with a giant pumpkin pillow and a cobweb headboard. The maple leaves used in the lighting bring the warmth of fall. Even if you might not like the idea, using black wallpaper or paint on the walls will make it a better set.
2.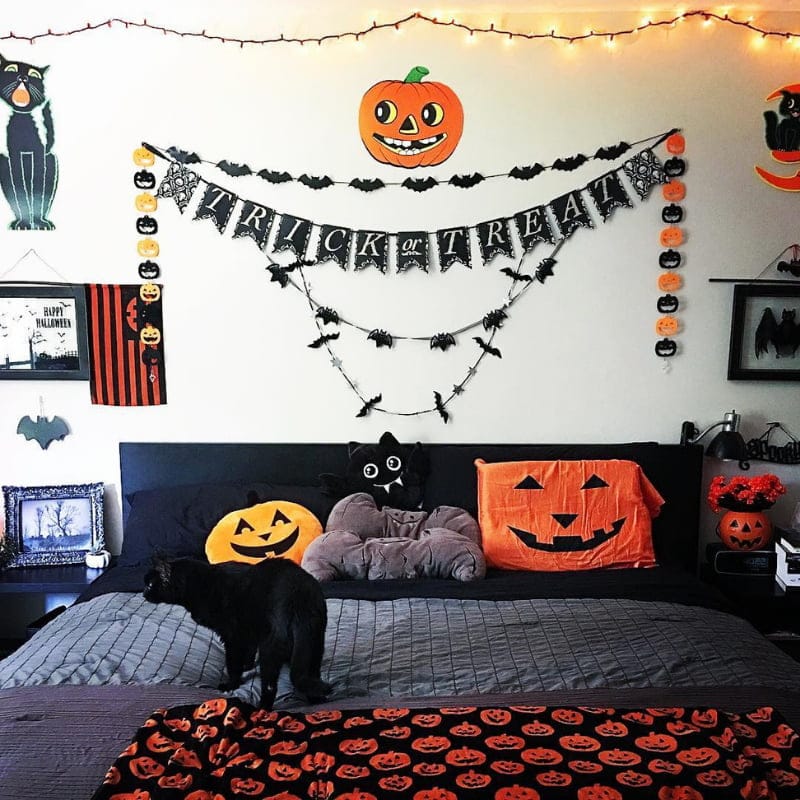 @thespookyvegan
As the wall décor shows, it's the trick or treat season! Adding such wall decoration for white walls is a great idea. This theme focuses mainly on Halloween pumpkins and black cats. Your cat will surely add more life to this bedroom décor. You can get black pillows, bedsheets, and a comforter.
3.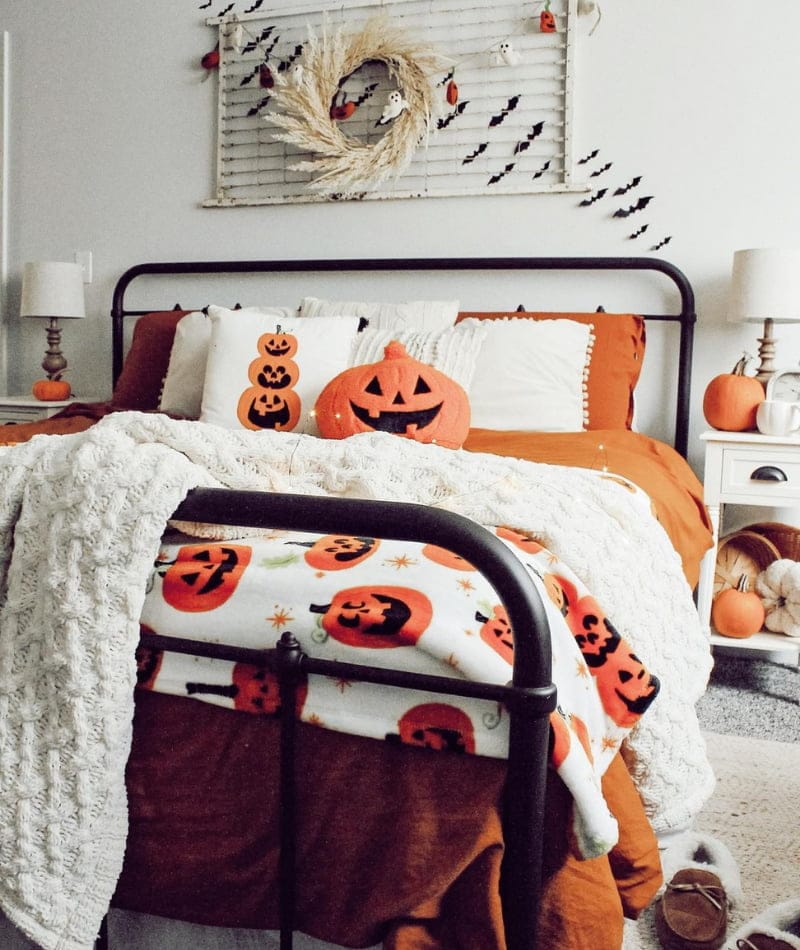 @kaitsnest
This is a white and orange theme focused mostly on pumpkins. If you prefer a bright or light theme, you can go ahead with this. You can get fabric pumpkins and pillows of any size to make the design more appealing. A few bats and ghosts will suit best on the wall.
4.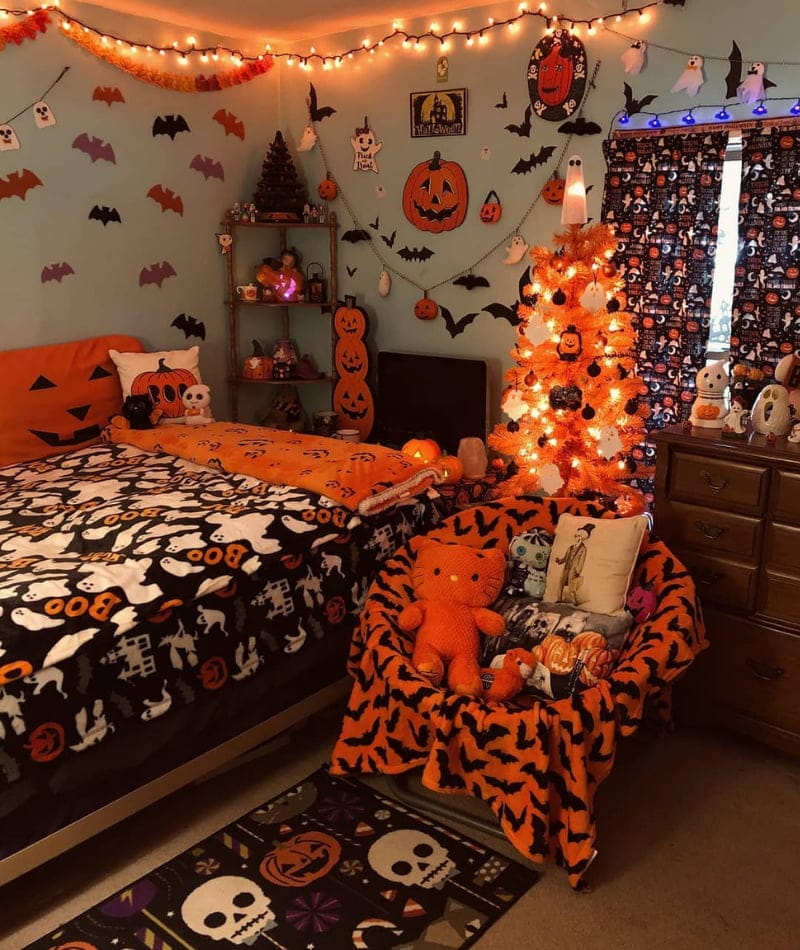 @pumpkinladycreations
As shown here, you can decorate your wall with paper bats, ghosts, and pumpkins. The maple leaf structure resembling a Christmas tree looks great when lighted up. You should definitely have a blanket and pillows resembling this Halloween theme. In addition to this, you can get a spooky carpet for your bedroom too.
5.
@anautumnslife
If you don't want to be troubled with pasting stuff on your wall and removing them later, here's a simple Halloween themed bedroom décor idea. All you need is a perfect bed set with pillowcases, bedsheets, and comforters. Finally, add a line of small pumpkins and tiny bulbs to light up the design.
6.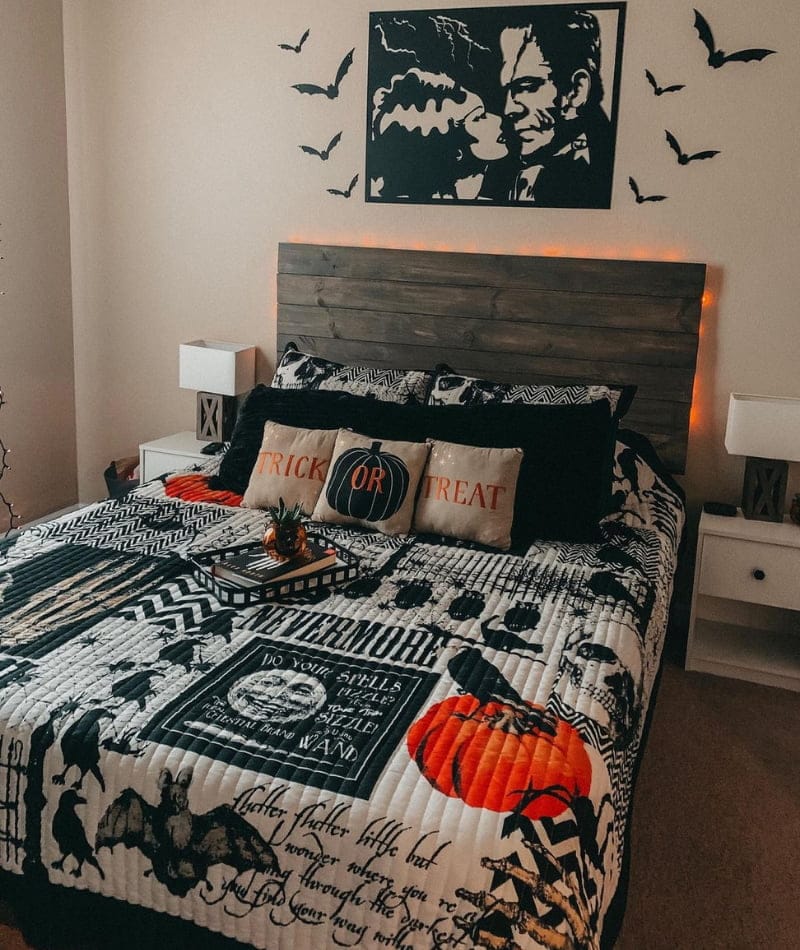 @shop.spooky
If you are not a fan of bright orange in your room, you can try this decent black and white décor idea. You can get a trick or treat pillow covers along with a matching black set. A few black bats added on the wall above the headboard will complete this ghostly décor.
7.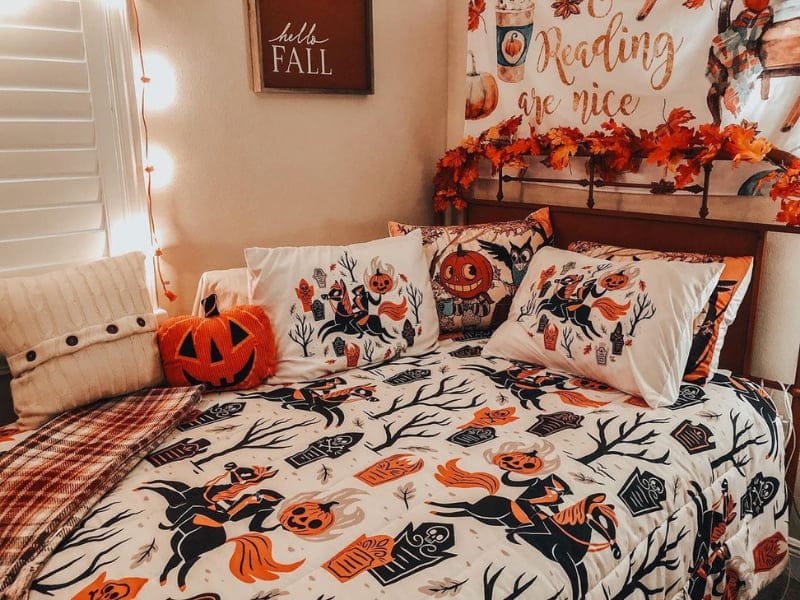 @kindredspiritshomestead
Here's a colorful bedroom décor idea for Halloween. You can buy these beautiful pillow covers and matching bed sheets that have attractive images depicting the season. You can also hang a fall décor on the wall and add some decorative maple leaves over the headboard. This is another design I prefer personally.
8.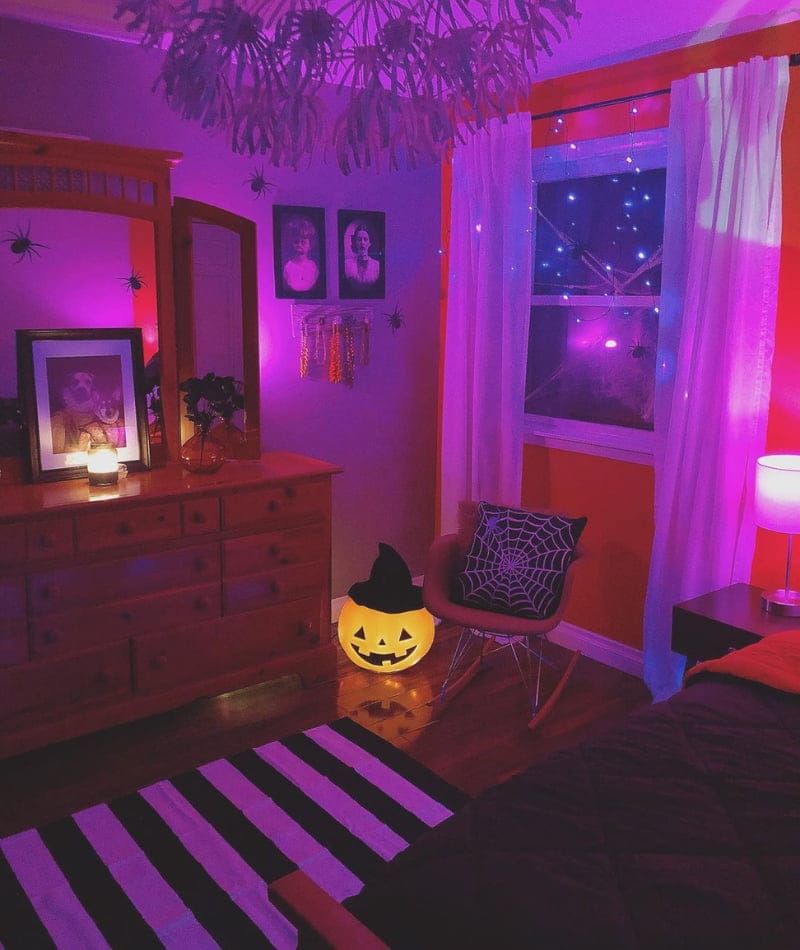 @robinwray
This is a different bedroom décor idea where you have a lighted Halloween pumpkin. Add some paper spiders to the ceiling to match your cobweb pillow. Black and orange themed pillows and comforter will complete this design. Let me know what you think about this décor idea and how you used it.
9.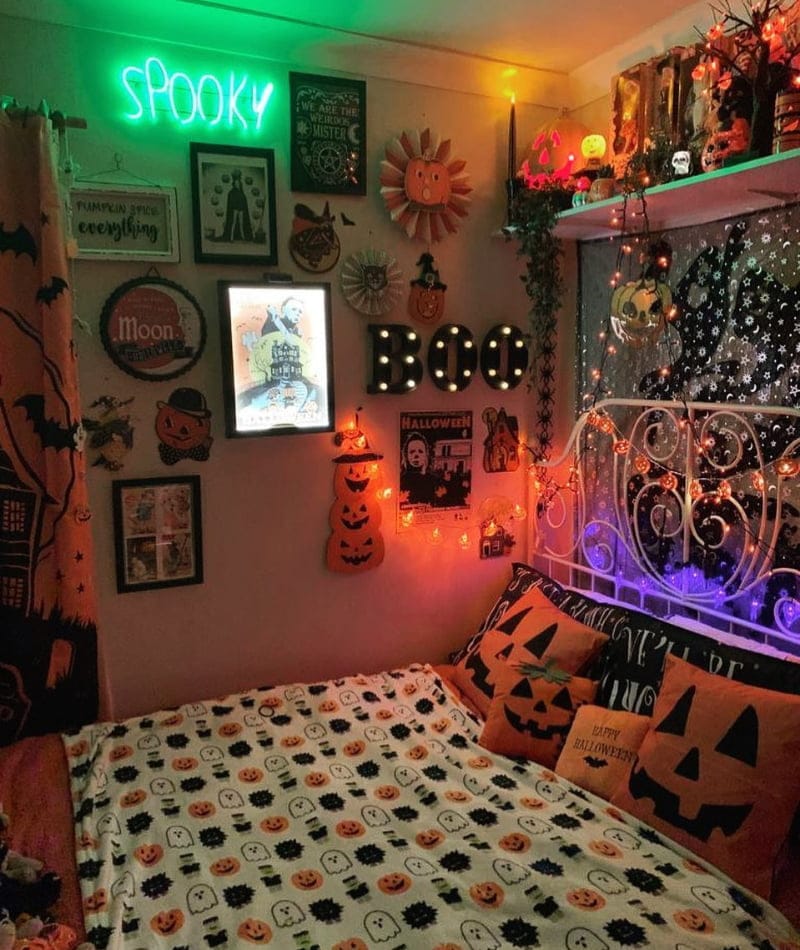 @thathalloweenhouse
If you are a fan of hanging wall designs, you can try this décor idea. Have some pumpkin faces, ghost images, and similar crafty designs covering your wall. You can also add a line of small lighted pumpkins over the headboard. Add a curtain to match your theme this Halloween!
10.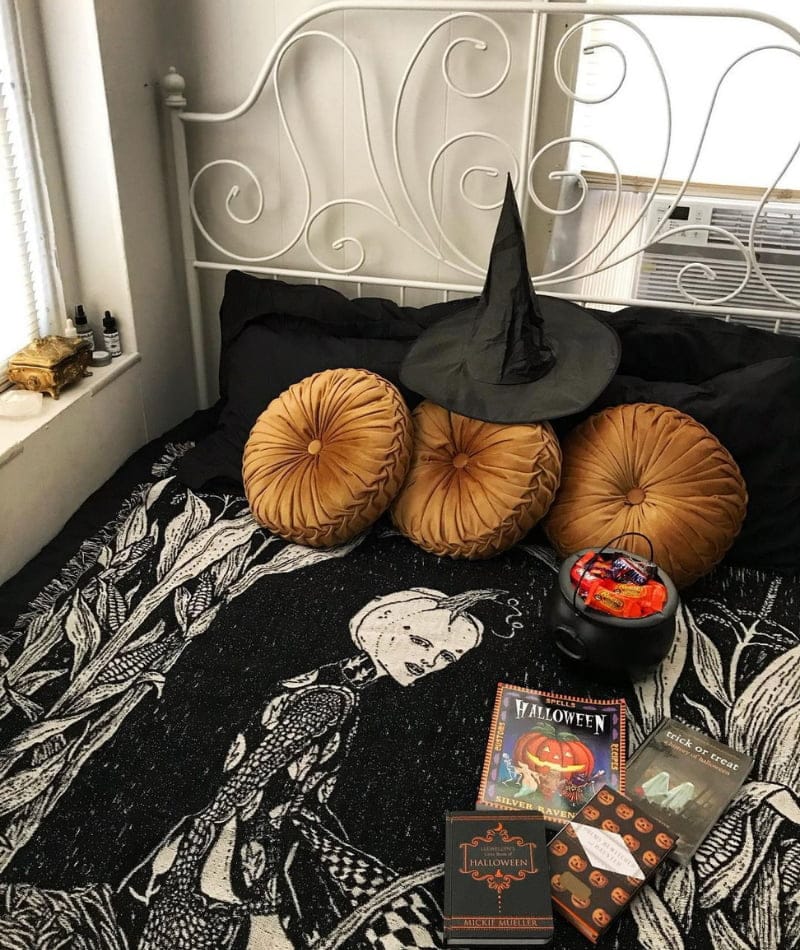 @soliloquyjewelry
This décor idea is something different from what we came across earlier in this context. These pumpkin pillows are strange-looking than previous ones. You can use a witch's hat as shown to add a more Halloween vibe to your bedroom. Some treats and magazines are all you need to enjoy this season.
11.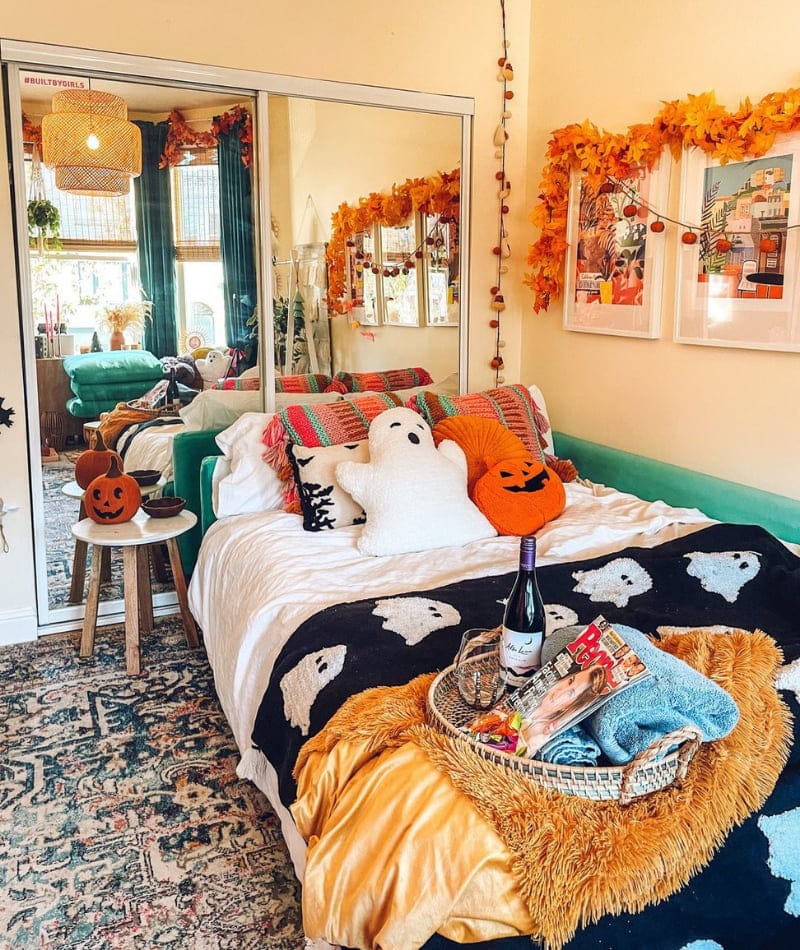 @bohofrisco
If you are looking forward to a bright and cheerful Halloween, this is the perfect bedroom idea for you. Get yourself a couple of pumpkin and ghost pillows to match the ghost blanket. The maple leaf design and the line of tiny pumpkins add more brightness to your mirrors and picture frames.
12.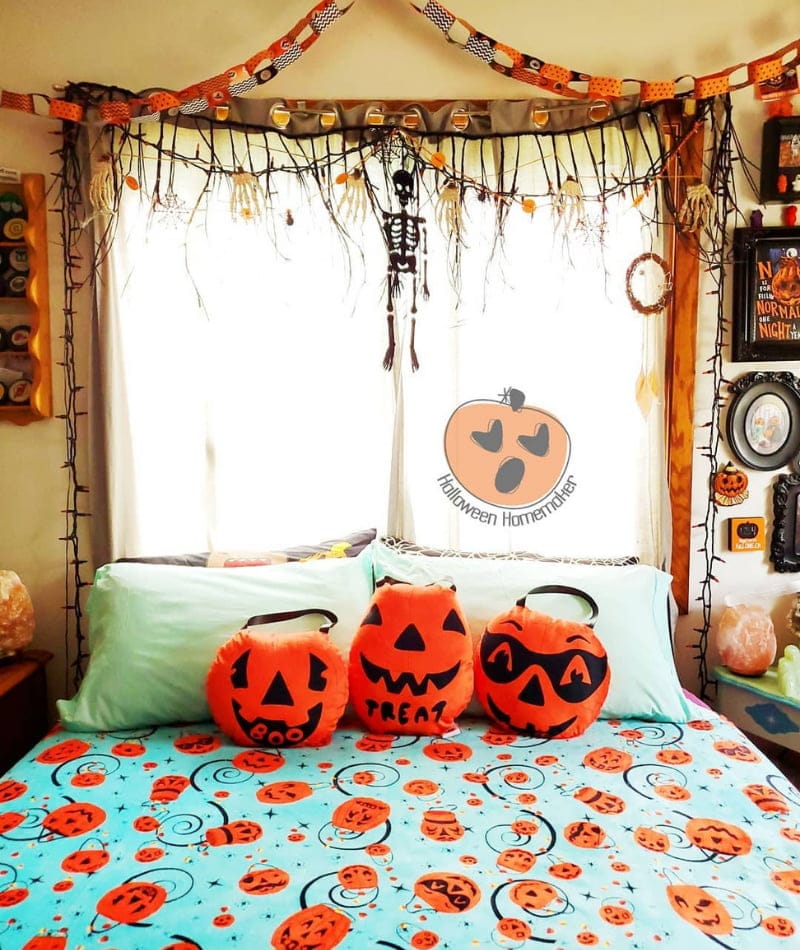 @halloweenhomemaker
Have you ever thought of adding a skeleton above your headboard for the spooky season? You can try this out, accompanied by some skeletal hands. Get some fabric pumpkins or pillows to match the bedsheet. Some wall décors of pumpkin and seasonal greetings will help you make the best bedroom decoration.
13.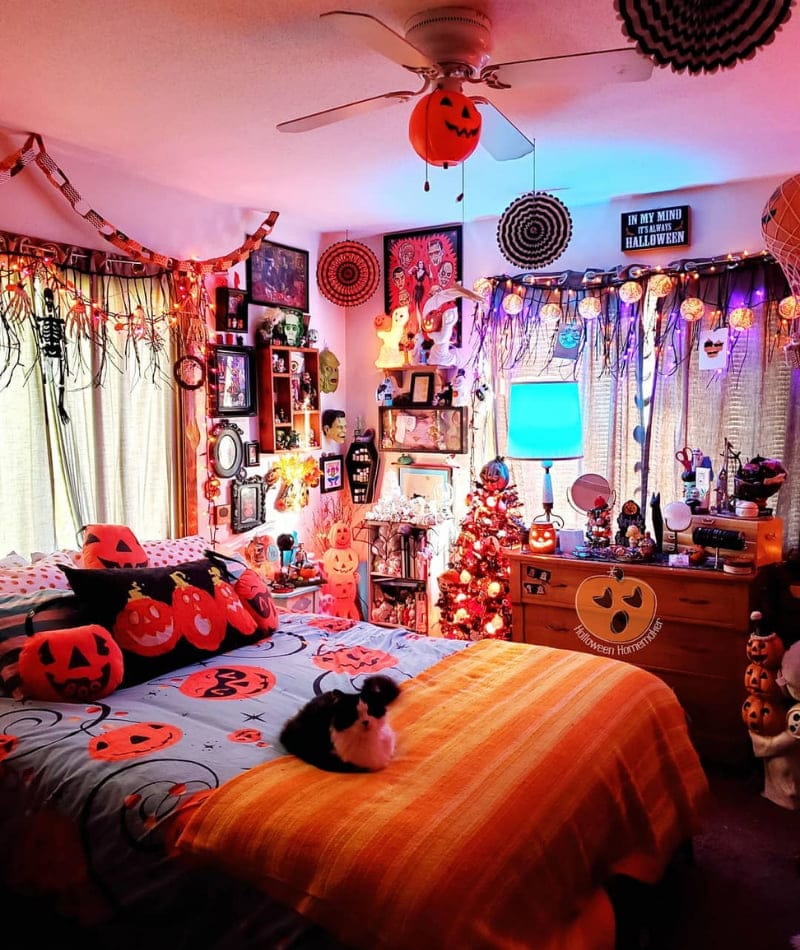 @halloweenhomemaker
This is another colorful bedroom décor idea for the Halloween season. Have some small lighted pumpkins on the table and floor while you have pumpkin-themed pillows and a bed set. The orange lights and lamps bring the real vibe of the season. Invite your cat to complete this bedroom décor!
14.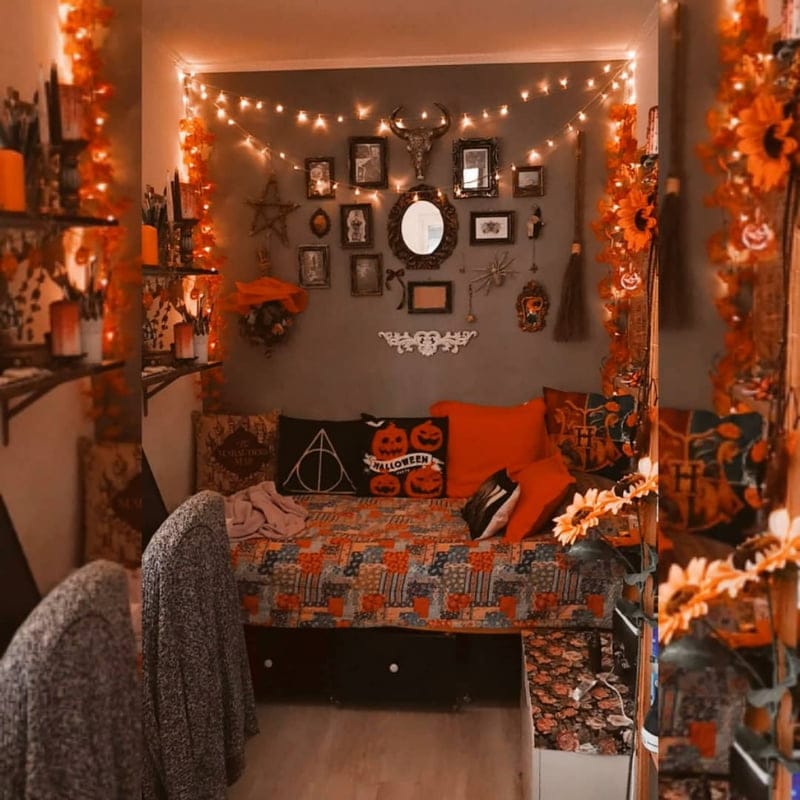 @nymphalys
The maple leaves, sunflowers, and orange lighting are the main attraction of this Halloween themed bedroom décor idea. A witch's broom and matching wall decors add a spooky atmosphere to your room. Get a matching set of orange pillows and you are good to go. It is the best time for your pillows with the Deathly Hallows symbol and the Hogwarts emblem too!
15.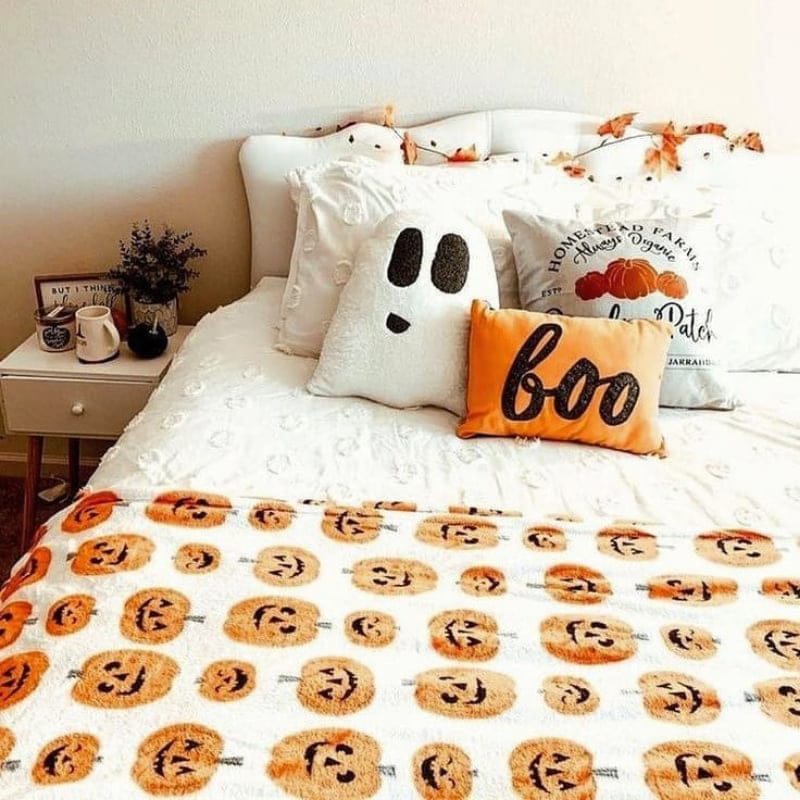 @spookyhoagie
This is another Halloween themed décor idea mainly of white and orange. It is ideal for anyone preferring a lighter theme. You can find these beautiful blankets and pillows designed in pumpkin faces. You can also decorate your headboard with some fabric maple leaves or tiny fabrics as per your preference.