Are you a woman with a flair for artistic expression? If you're considering getting a shoulder tattoo, you're about to embark on a captivating journey of self-expression and style. In this blog post, we'll introduce you to a world of eye-catching shoulder tattoo ideas designed to inspire and captivate.
Tattoos are becoming popular in society. Shoulder tattoos are just as prevalent as wrist tattoos among them. Shoulder tattoos look beautiful on both men and women.
Are you on the lookout for the greatest tattoo for your body? One of the sexiest features of a woman's body is her shoulder. So why don't you place a tattoo on your shoulder?
Shoulder tattoos are more practical and long-lasting than jewelry, and they're an item you'll never forget to wear. If you have your tattoo on your shoulder, you'll be able to show it off when you want to and hide it when you don't.
Shoulder tattoos are available in a variety of styles and designs. Let's take a look at some of the most fashionable shoulder tattoos.
1.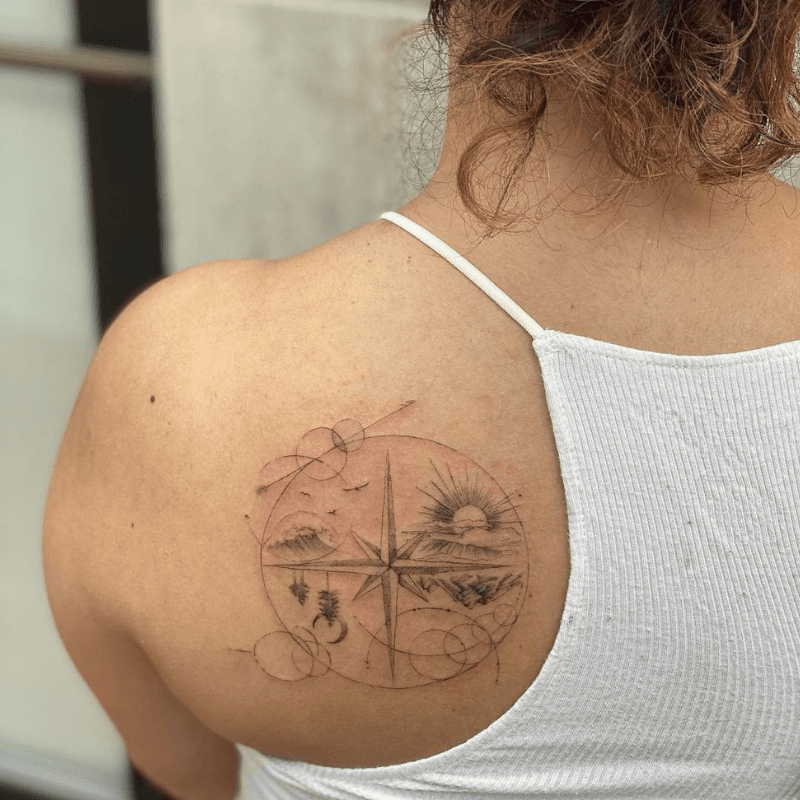 @jaime.ink
This tattoo design is mainly based around sunrise at the seaside. It is designed inside a circle and consists of more geometric shapes. The compass sign is also indicated at the middle of this large circle, overlapping the sun design. This is ideal as a tattoo on the back a few inches below the shoulder.
2.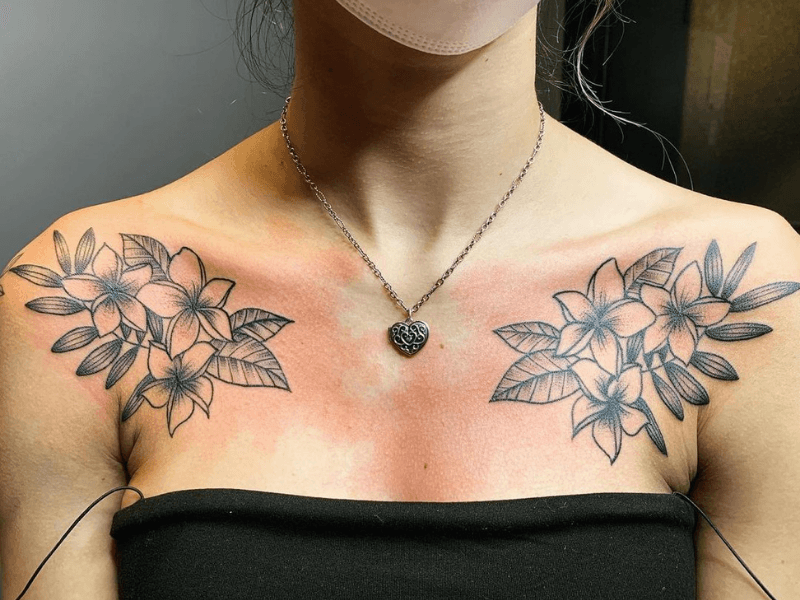 @olliepoptattoos
This is a floral tattoo with three fully bloomed flowers accompanied by leaves. You can have this tattoo in various sizes to suit your preference. Having two tattoos on both shoulders would look amazing if you are wearing strapless tops. I highly recommend you to try out this design if you are about to get a tattoo.
3.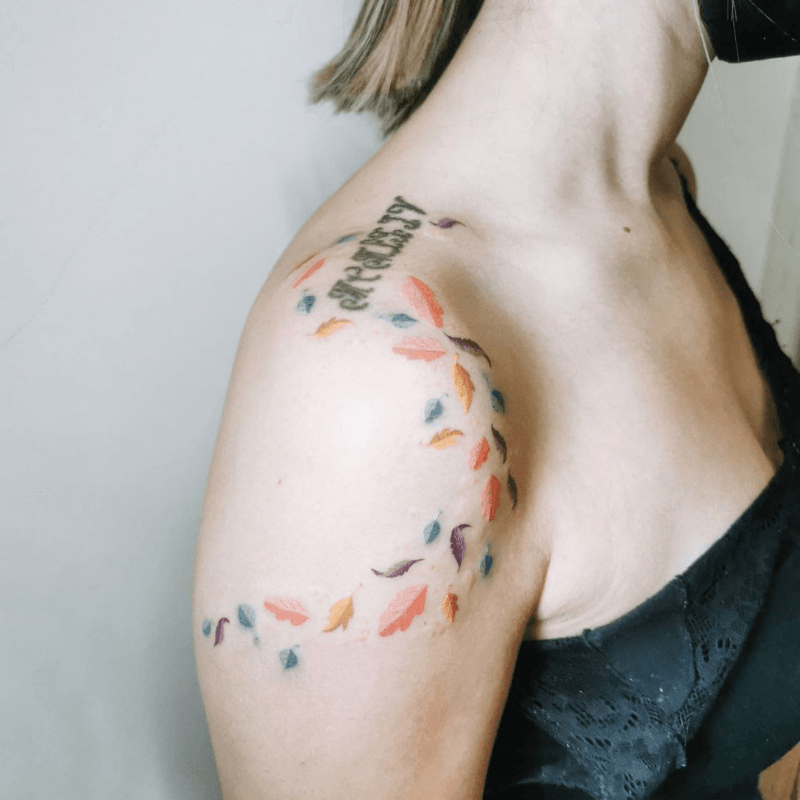 @brushinktattoo
If you are interested in adding color to your tattoo design, here's something you can be interested in. This design consists of colorful feather-like leaves of a few sizes in a pattern. You can also include a specific name or work to enhance the design and make it more meaningful.
4.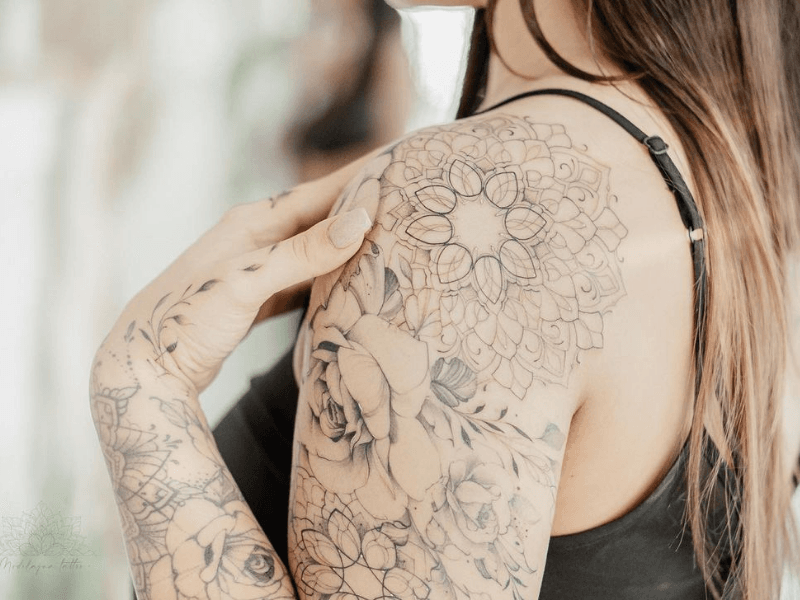 @modelajna
This shoulder tattoo pattern can be extended all the way down your arm up to the hand and fingers. It is a basic floral design with geometric petal shapes at the shoulder. It also has a magnificent, shaded rose on the upper arm. It looks amazing despite the dress you choose to wear.
5.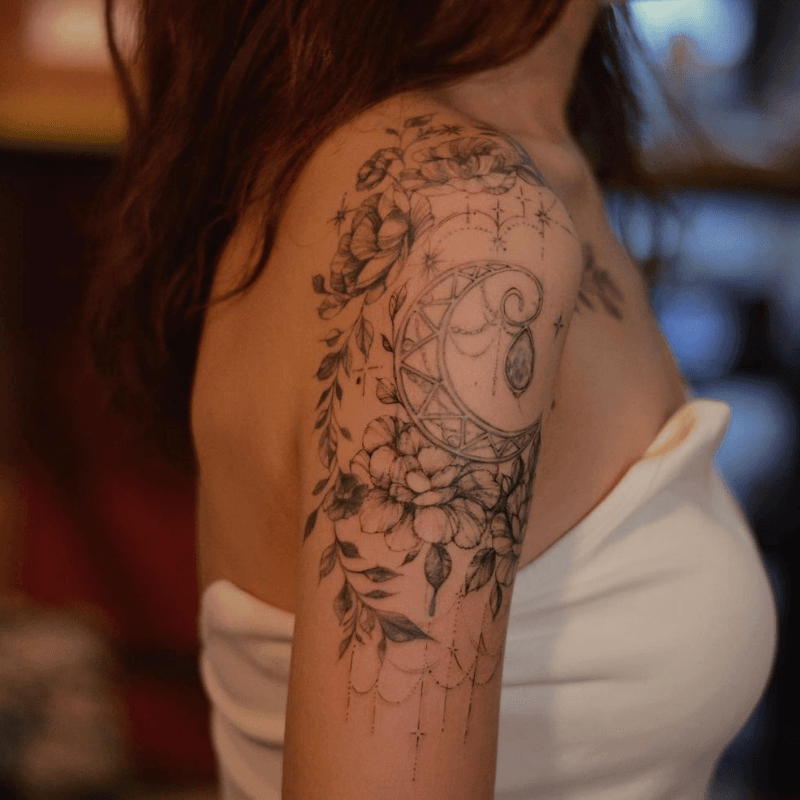 @le.sinex
This is another beautiful shoulder tattoo that brings a three-dimensional appearance. It consists of a precise shading of black throughout the pattern. It is another floral design with a moon-shaped design and leaves entwined. This design is aesthetically appealing, and you can show off it even at formal or other festive events.
6.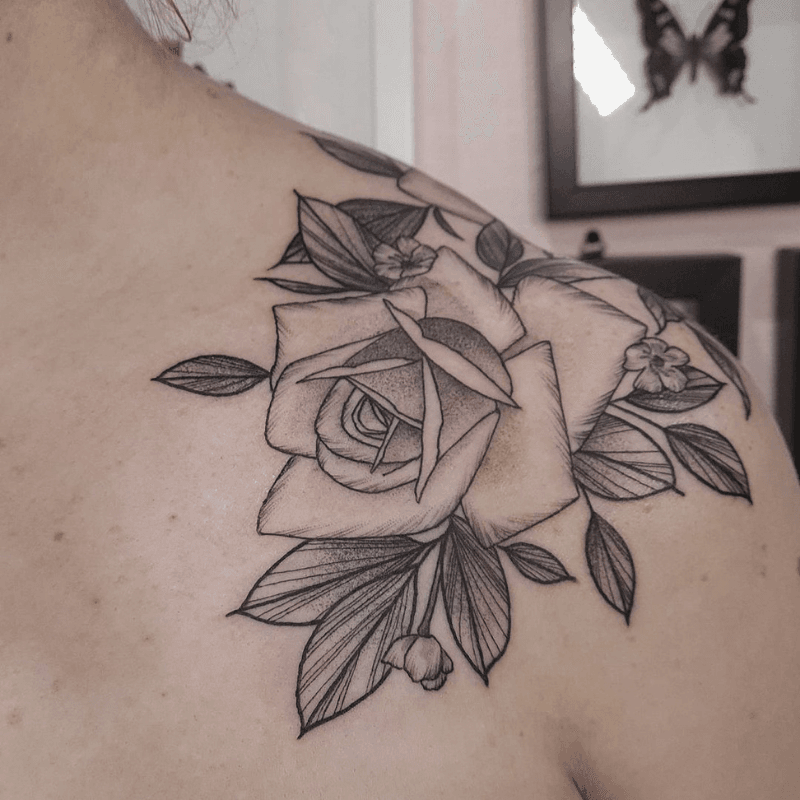 @jessicarebell
This tattoo design is different from the previous ones as it rests only on the top of the shoulder. It consists of a rose of different style, which doesn't have the normal curves of an ordinary petal. It is accompanied by a pattern of leaves, buds, and small flowers to complete the design.
7.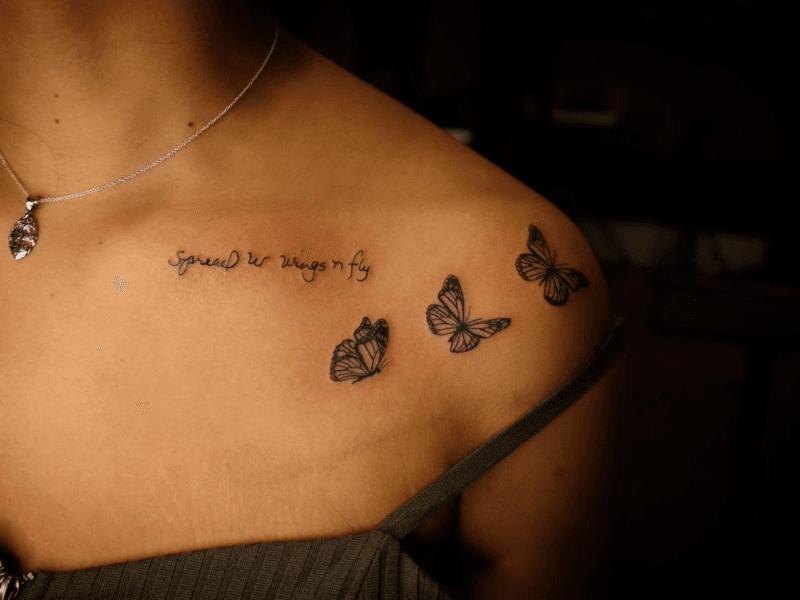 @happymindesign
Here's a design idea if you are looking forward to using a phrase as your tattoo. The detailed design of butterflies adds more elegance to your shoulder. This is especially for anyone looking for a light tattoo design. Let me know whether you like this tattoo design since I personally favor this.
8.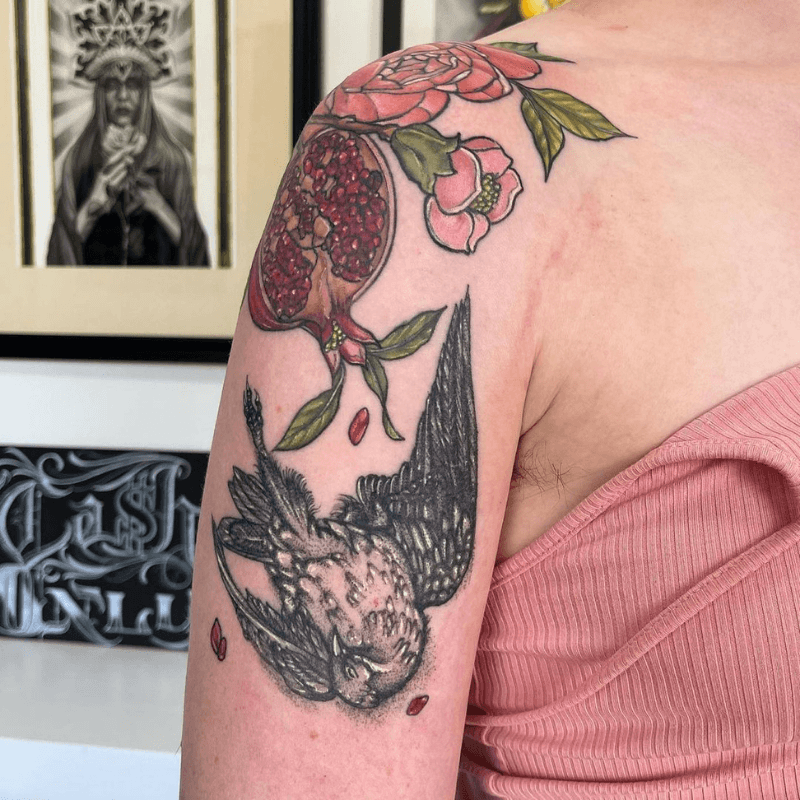 @yavonnie_a
This is a large and colorful tattoo design that depicts a bird dropping a seed from a pomegranate. It also consists of a floral design and leaves which can be assumed as a part of the pomegranate plant. It is a unique tattoo design, which is not much common, and you can try it out!
9.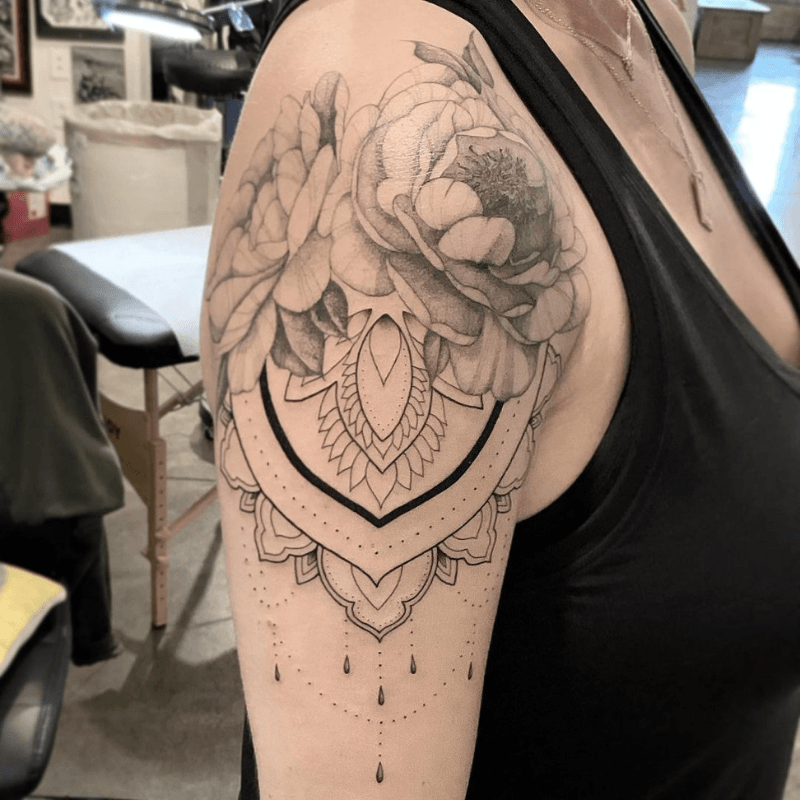 @kasey_dufour
This is another eye-catching tattoo design that consists of both 2D and 3D aspects. The top floral design is a three-dimensional flower. Next, the lower part of the tattoo has a beautiful two-dimensional design that has a petal structure. A tiny dot and droplet pattern completes the design, making it more attractive.
10.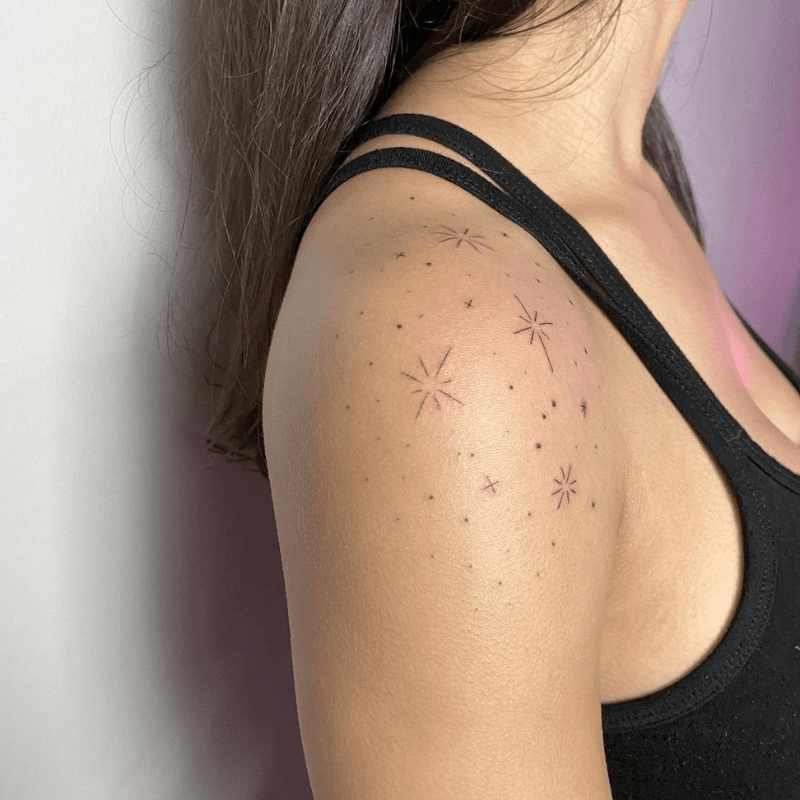 @mikelovetattooer
This is a very simple and light shoulder tattoo design. It is perfect for anyone indecisive about having a tattoo or not. Since it is not much visible, you wouldn't regret having a tattoo even if you are not much of a tattoo fan. The design of geometric lines and dots is perfect for anyone despite the age.
11.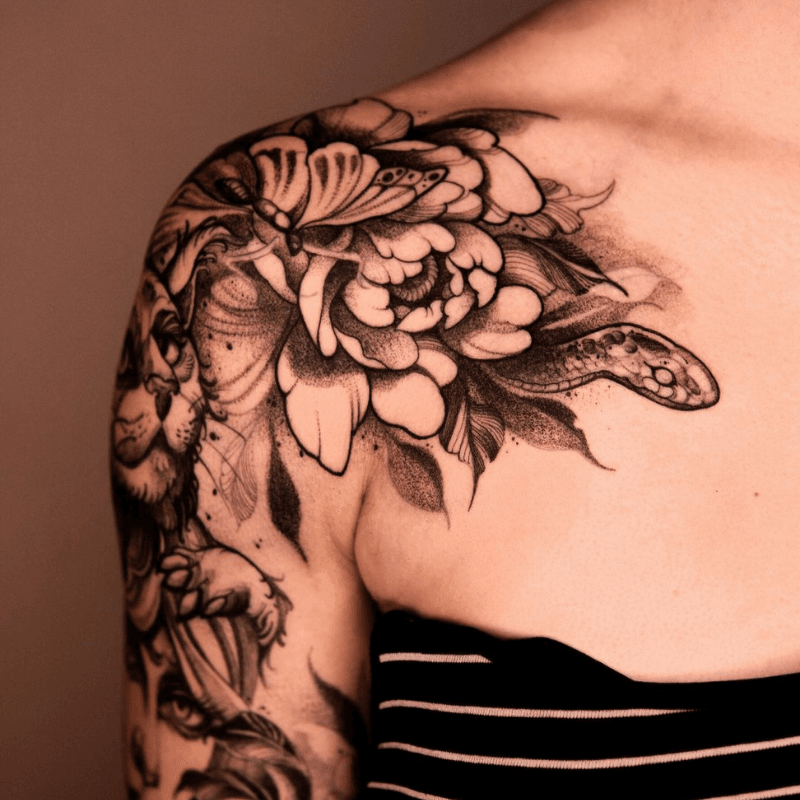 @karolinaxmir
This is another tattoo design that has an extendable pattern. You can have it all the way down your arm if you prefer it that way. It basically consists of a flora and fauna design, featuring a butterfly, snake, tiger, and a human figure in addition to the flowers. It is a highly three-dimensional design which makes the images more realistic.
12.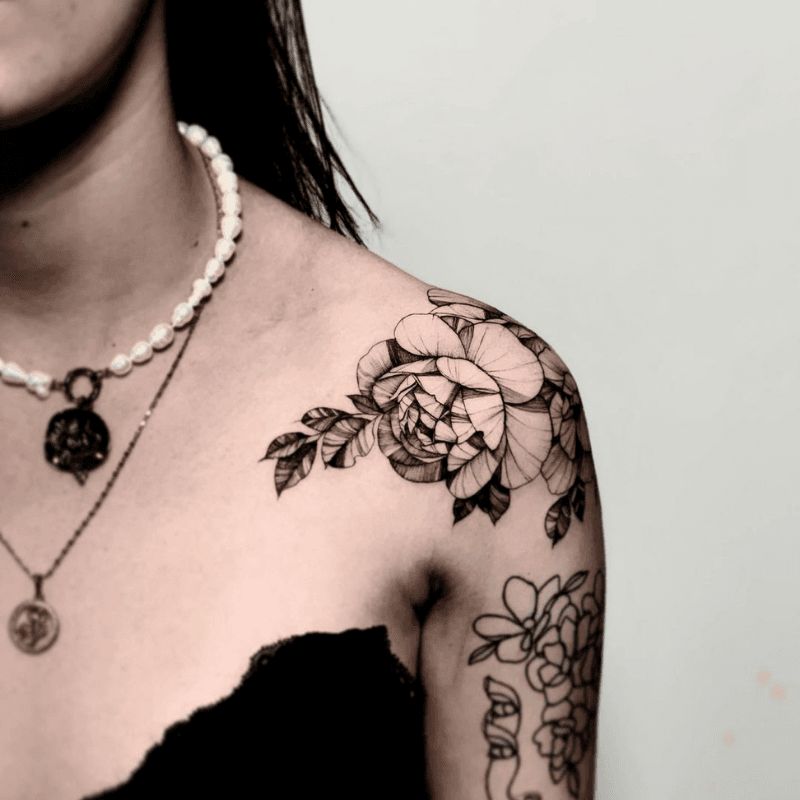 @fmedusenoire_tattoo
This flower design is quite different from the normal trend due to the shades brought out by lines. You can have this tattoo on the shoulder and have a matching tattoo down on your arm. This brings a stylish appearance on your bare shoulder and is suited best with a black sleeveless dress for special occasions.
13.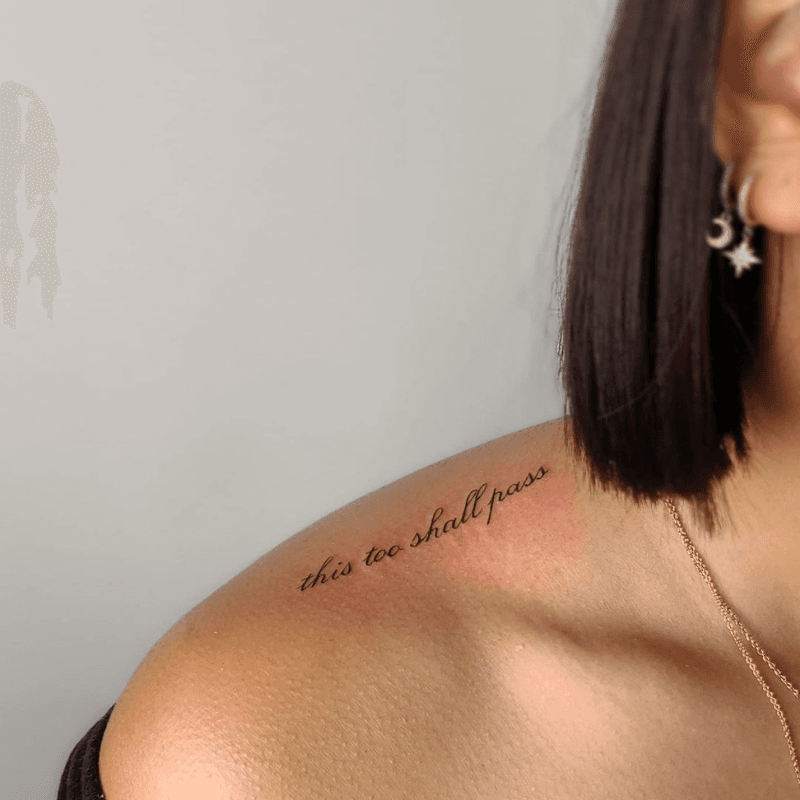 @wildflowers.tattoo
Here's how to keep it short and simple. We all have a motto that guides our lives. If you have a special phrase that appears close and motivating, you can have it as a shoulder tattoo. It will remind you to be happy while making your shoulder more attractive for sleeveless tops.
14.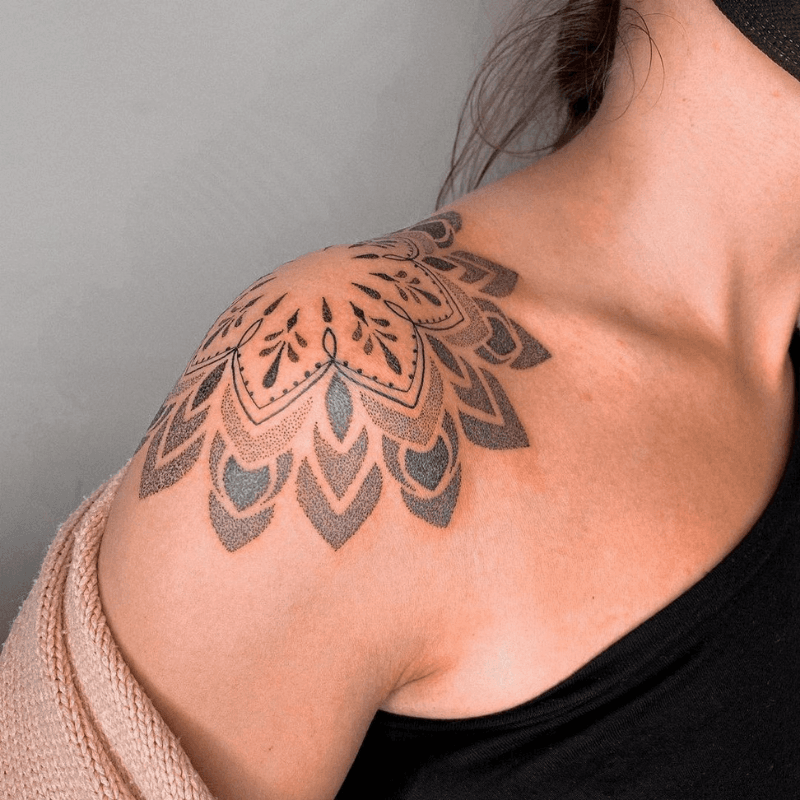 @gabibastarda
This shoulder tattoo is a beautiful concentric design that appears to be a large flower. It is made from petal-like shapes and shaded attractively. I think this design can also be extended up or down with a similar pattern. This design is great for anyone looking for a highly visible tattoo design.
15.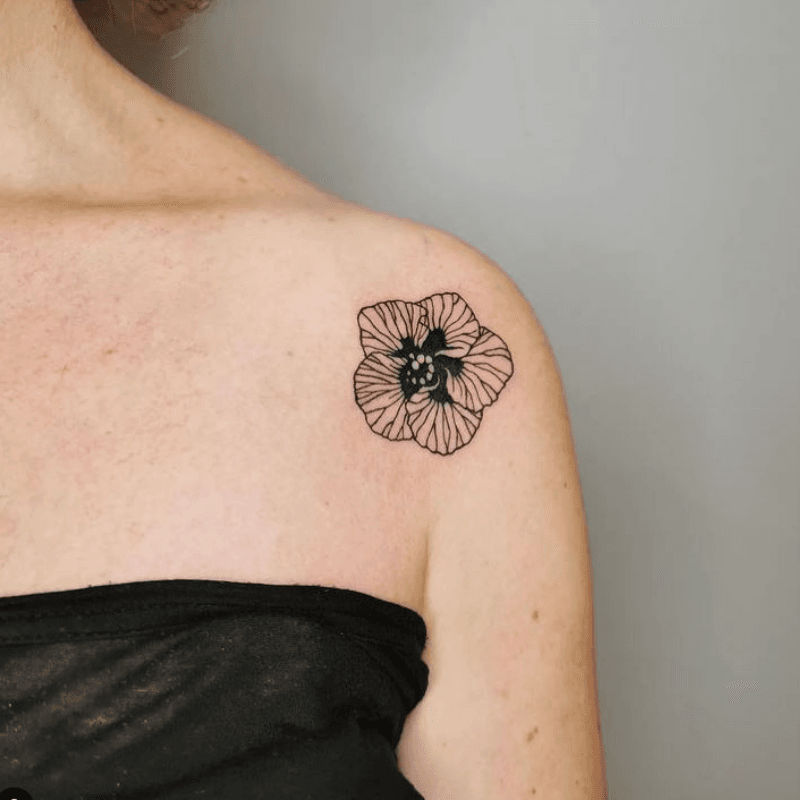 @norapruyser
This is a simple hibiscus flower design that stands isolated on your shoulder. The middle region is dark, and the outer part is kept light. You can keep it plain as an individual flower or add some leaves or buds by talking to your designer. You can have it on the top of your shoulder or below to the front.