Your bathroom vanity reflects your own style and personality. A beautiful vanity unit is a must-have for every bathroom. The vanity is a major point when it comes to bathroom interior design.
The style of your bathroom vanity will have a significant impact on the overall atmosphere of the space. You may choose between a standard vanity and a minimalist vanity.
Knowing how important a bathroom vanity is, I've compiled a list of inspiring bathroom vanity designs below. You can easily locate bathroom vanity ideas that suit your décor with so many styles to pick from.
Disclosure: This post contains affiliate links, which means we may receive a commission if you click a link and purchase something that we have recommended.
1.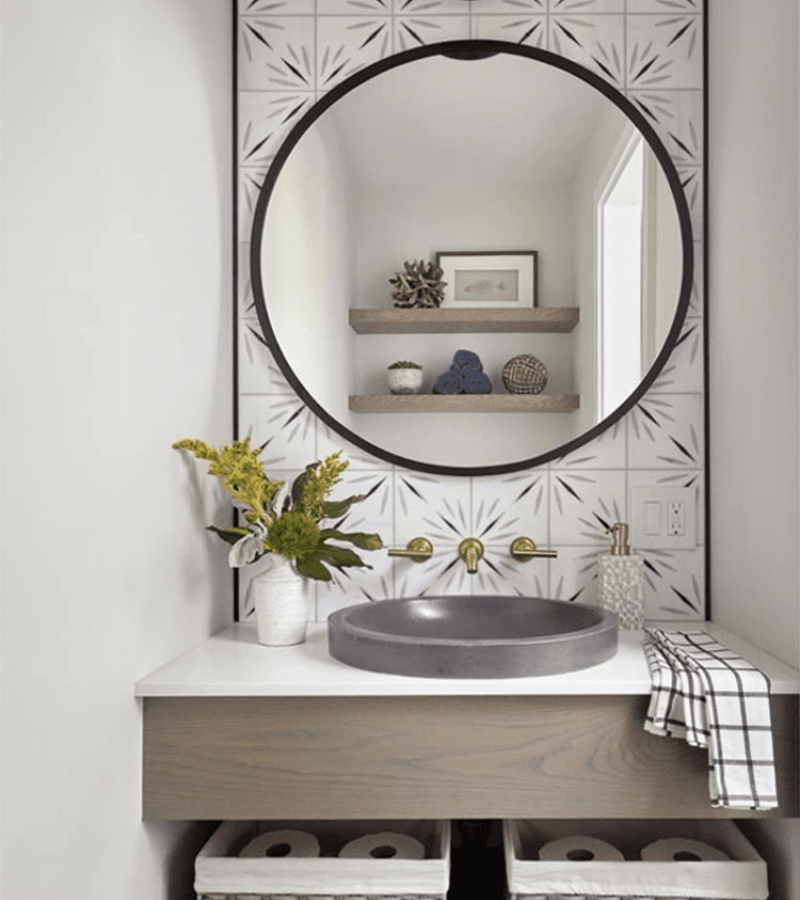 @mir.mosaic
This vanity consists of one round sink and mirror of matching style. The countertop is not apparently spacious, but you can use shelves behind or adjacent to this. The drawers or bins underneath can hold the essentials such as toilet rolls. This is a great design for a small bathroom.
2.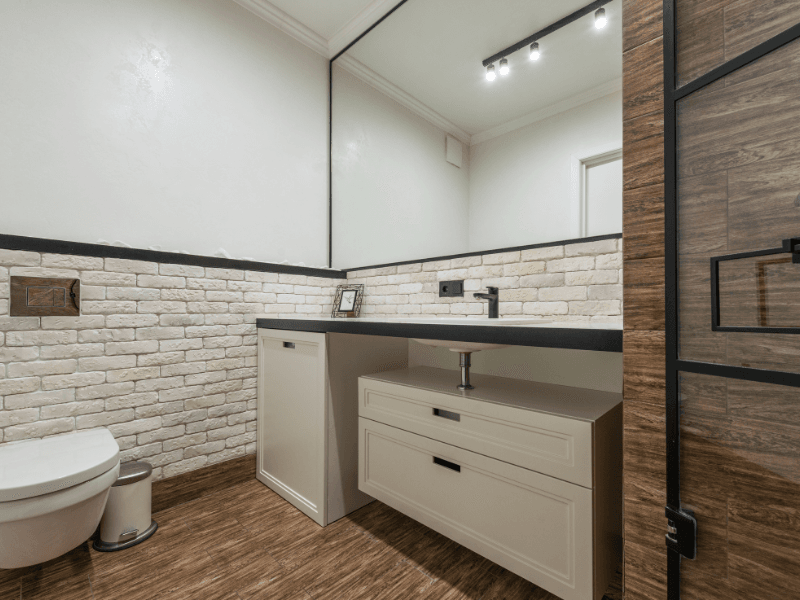 @MaxVakhtbovych
Ideal for spacious bathrooms. You can use a large mirror and a long countertop to match it. There is enough room for a cupboard or drawers underneath. The design is plain, but appealing due to its modern look. Black, white, and beige are trendy colors used in a lot of newer building designs.
3.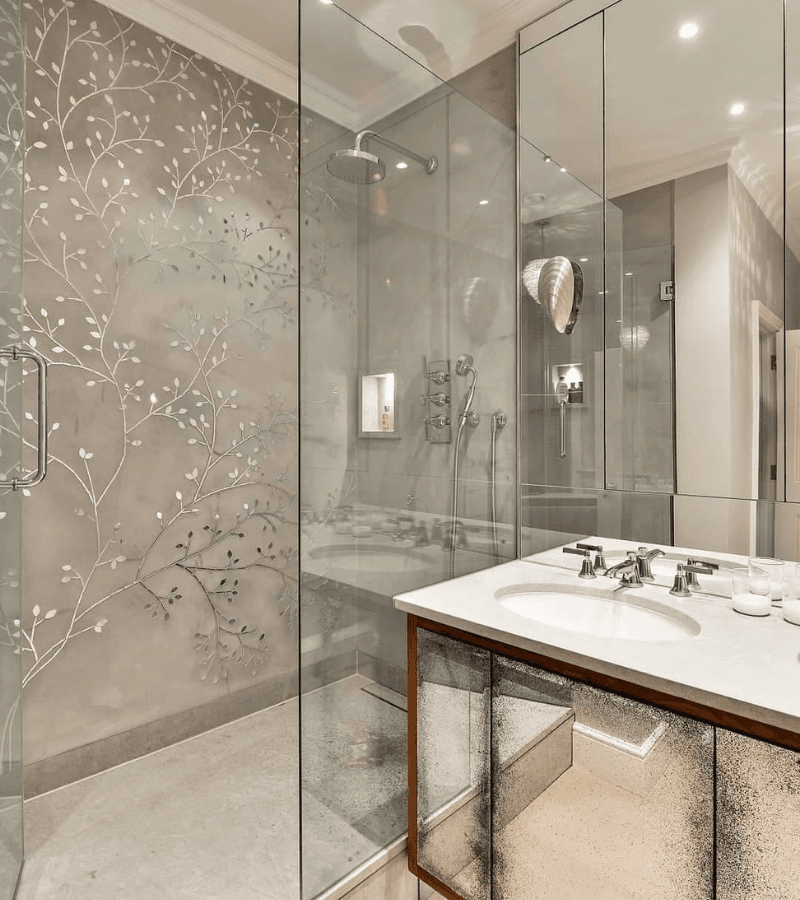 @foxinteriordesign
The sink of this vanity design is at one end rather than being centered on the countertop. It is accompanied by a plain rectangular mirror that doesn't have any special frames. The cupboards under the countertop are also of similar plain design. They have sliding doors to open, unlike most doors that are hinged.
4.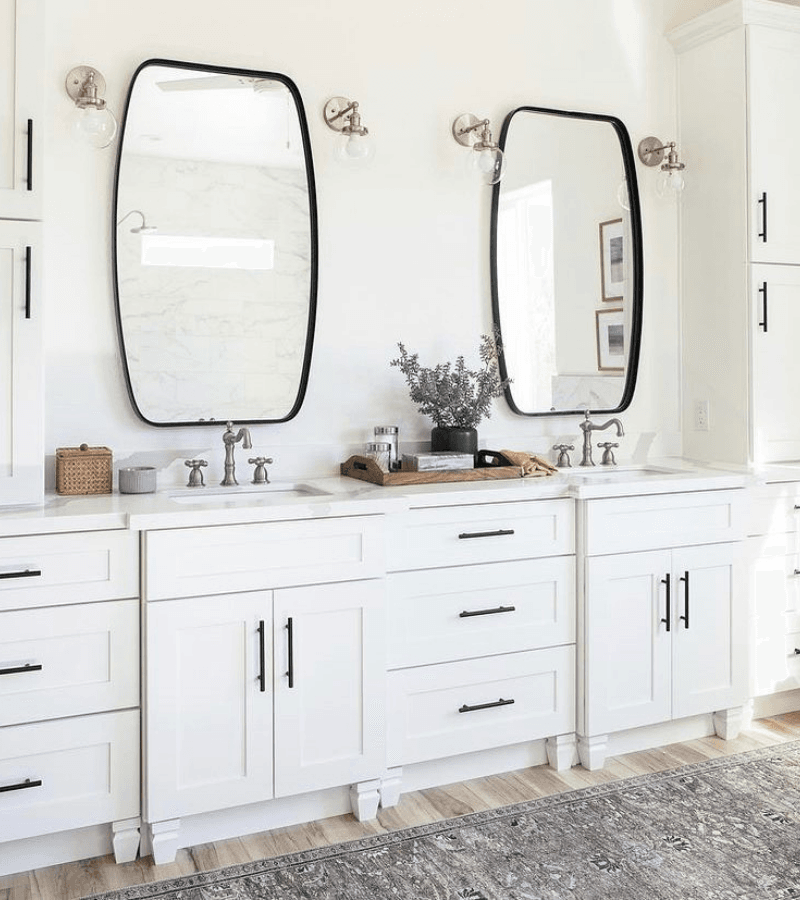 @sollidcabinetry
A beautiful bathroom vanity idea with twin sets of sink and mirror. The taps and wall lamps are chosen from antique metal. The shape of the mirror is quite different from the ordinary as it has both rectangular and oval features combined. The countertop is very spacious and you can have many cupboards and drawers under it.
5.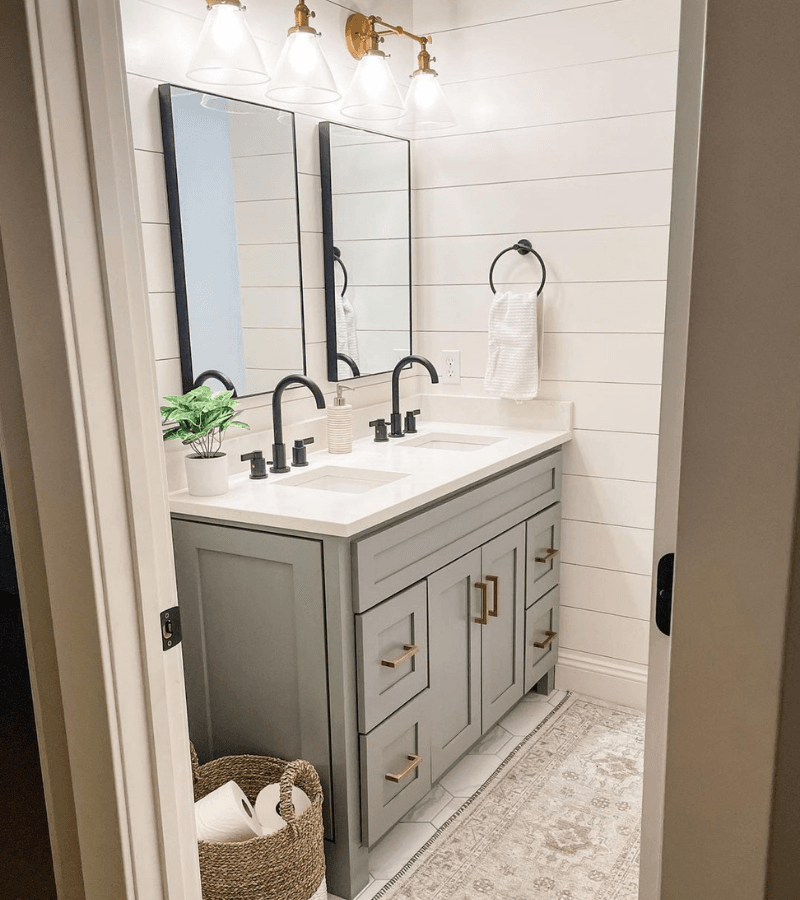 @homeonwoodlark
If you are looking for a vanity design for a confined space, you can go with this twin design. It allows you to have two mirrors, sinks, and faucets. Despite being a small room, it consists of many cupboards and drawers to store your essentials. Grey-colored with a black outline will make it look very attractive.
6.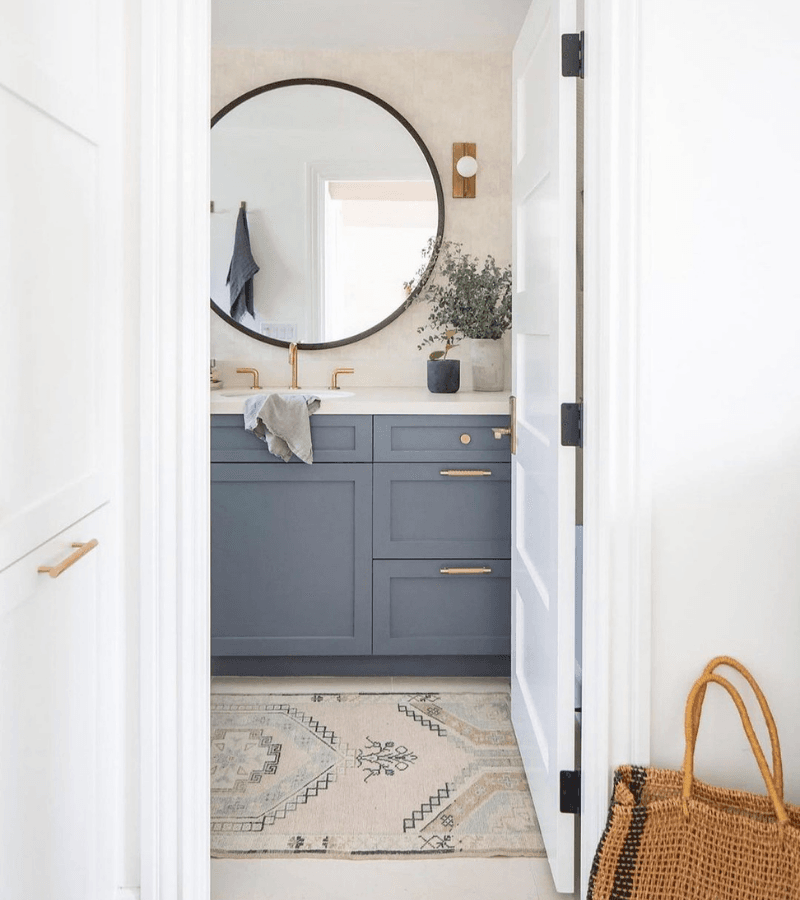 @eachdayisacelebrationinc
This is another interesting design with dark grey cupboards. You can have a large circular mirror with wall lamps in wooden fixtures on the side. The knobs are matched with the faucet in a gold design. So in this case, the theme is mostly grey and white with a black frame on the mirror.
7.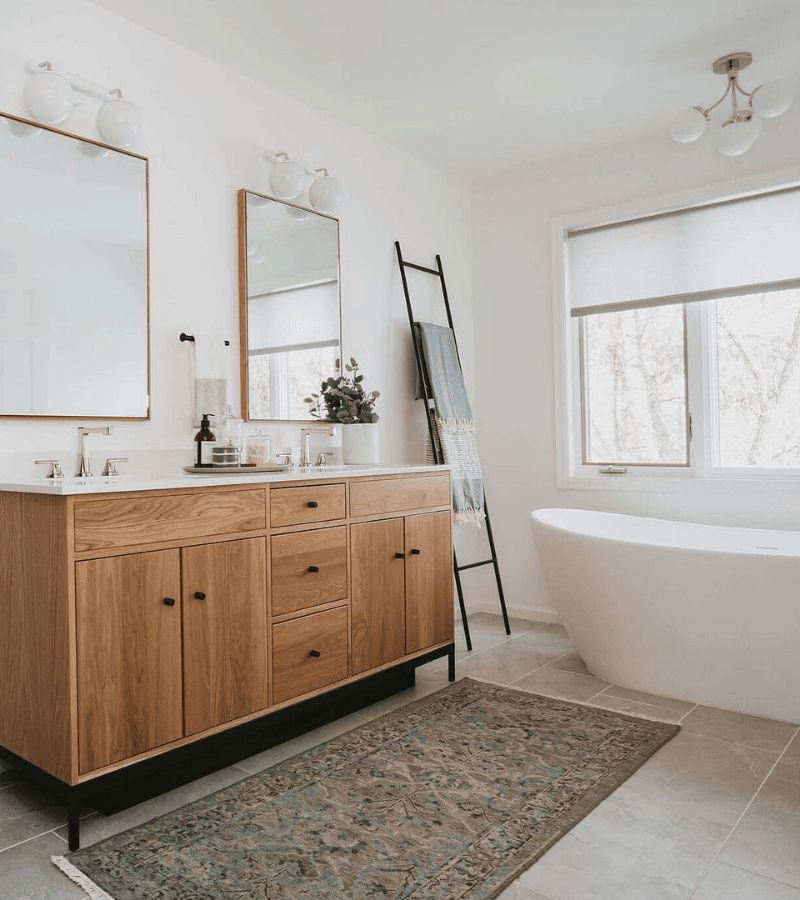 @jkath_designbuild
Here's a vanity design with a spacious countertop and many cupboards under it. This design has a wooden theme with white tile. The frame of the mirrors is also in wood, making it more aesthetically appealing. The wall lamps here are located above the mirrors, different from previous designs where they were at the sides.
8.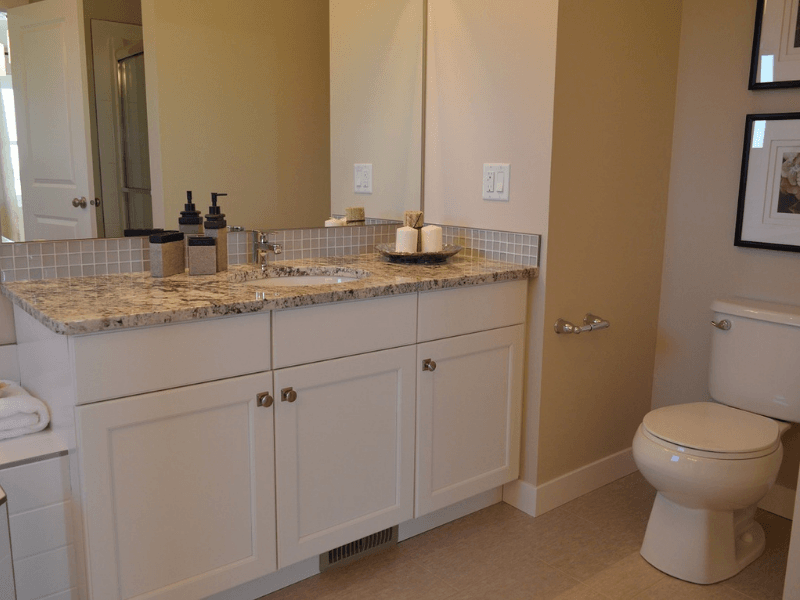 @ErikaWittlieb
The countertop of this vanity has a camouflage tile pattern. The sink is embedded in the countertop without any significant edges out of it. It also consists of a large plain rectangular mirror covering the area above the countertop. You can also have spacious cupboards underneath for your storage needs.
9.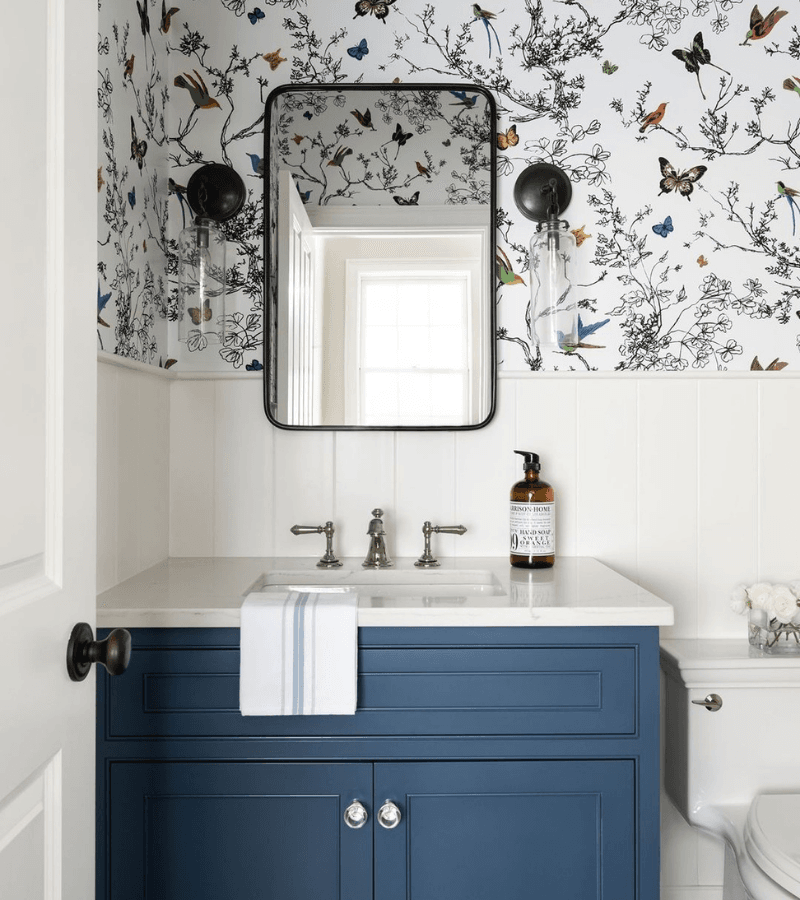 @beeskneesinteriordesign
This is something out of the ordinary, where the mirror appears to be different from the usual styles. It has a black frame which gives it a modern vibe and you can use two wall lamps beside it with a similar design. You can have a small cupboard below it since the countertop is not much wide.
10.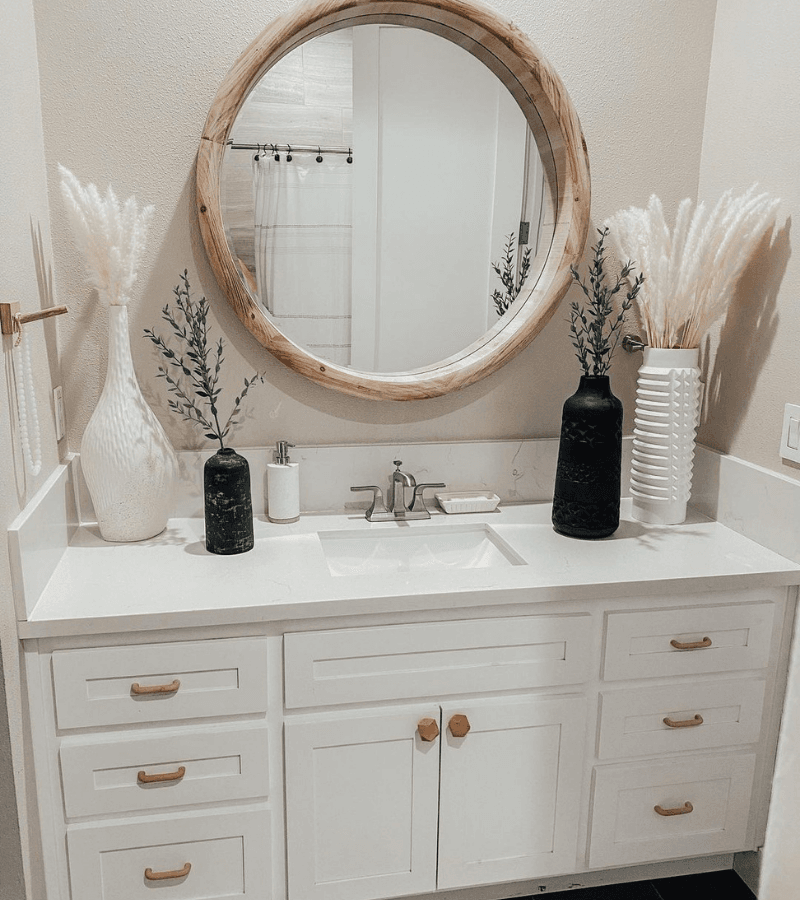 @danielle.donohue
It's another beautiful mirror design that catches the attention due to its light wooden frame. This style is quite unique since wooden frames are not so common with round shapes. The theme is mainly white with wooden knobs on the cupboard and drawers to match the mirror frame. It's a perfect design for your new apartment.
11.
@indainteriors
Here's another extraordinary long countertop with sinks placed well apart. The whole countertop is made with wooden tiles and it is one of the most elegant designs I have come across. Large round washbasins make the design more modern and classy. It is a great design for the latest constructions including houses and commercial buildings.
12.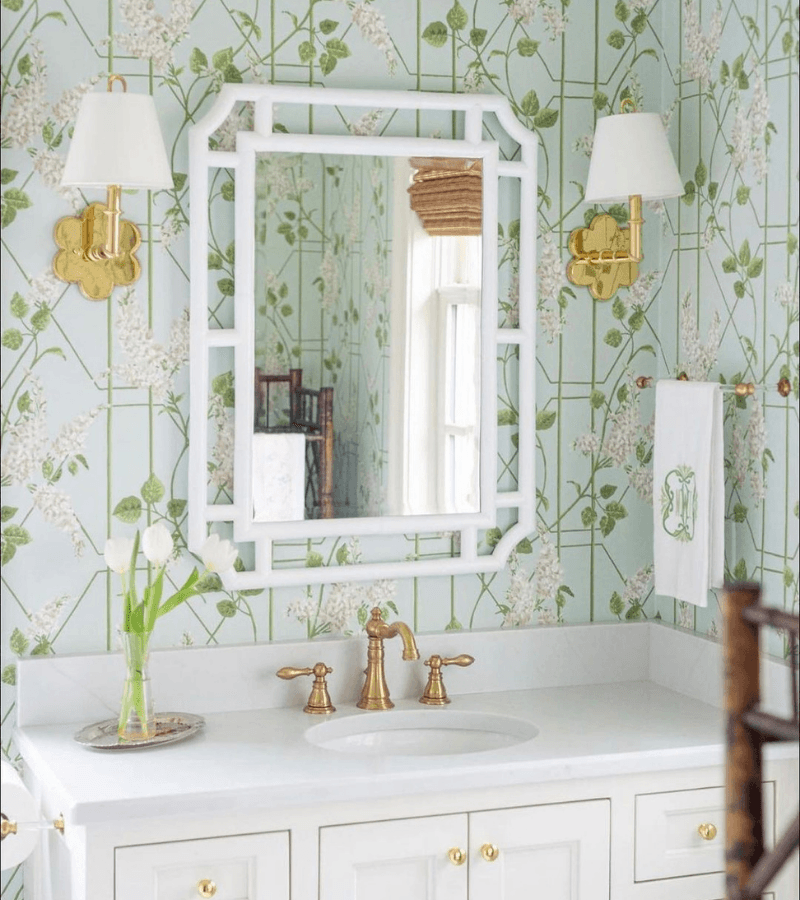 @king_interior_designs
The main attraction of this bathroom vanity design is the mirror frame. It has a unique design which makes it both simple and elegant. The wall lamps are also of similar specialty. The antique-looking faucets are matched with the knobs of the cupboard. It is an ideal design to be matched with the white countertop.
13.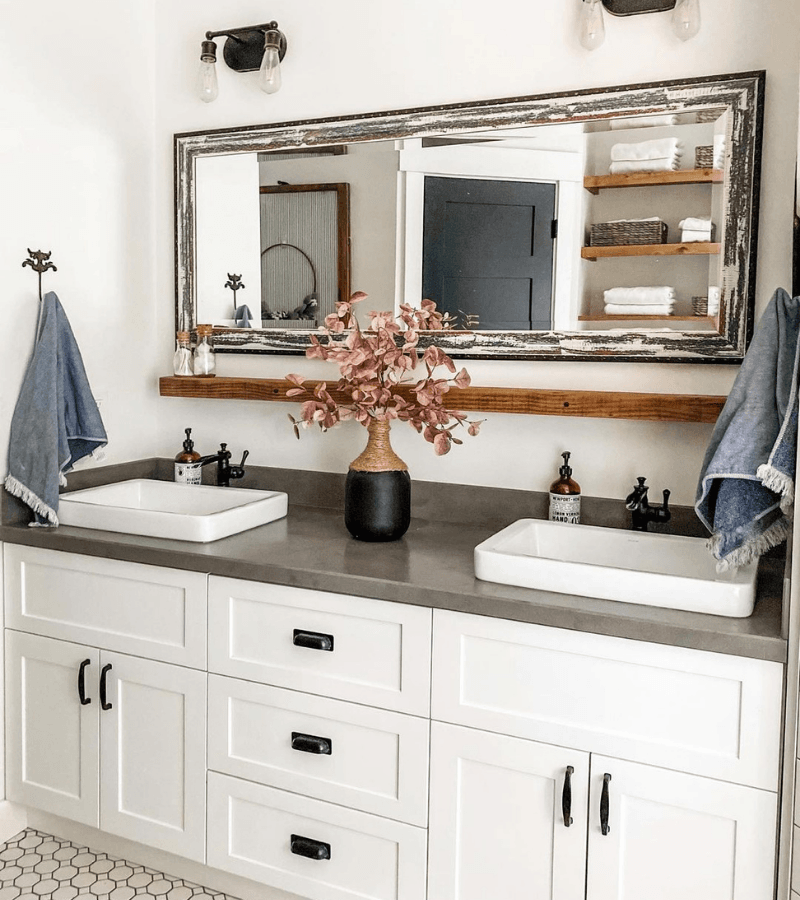 @lifeamongthecedars
The countertop is plain grey with white cupboards underneath it. The knobs are ordinary in black, matching with the faucets. The long rectangular mirror extends along the length of the countertop and has a special frame designed in shades of black and white.
14.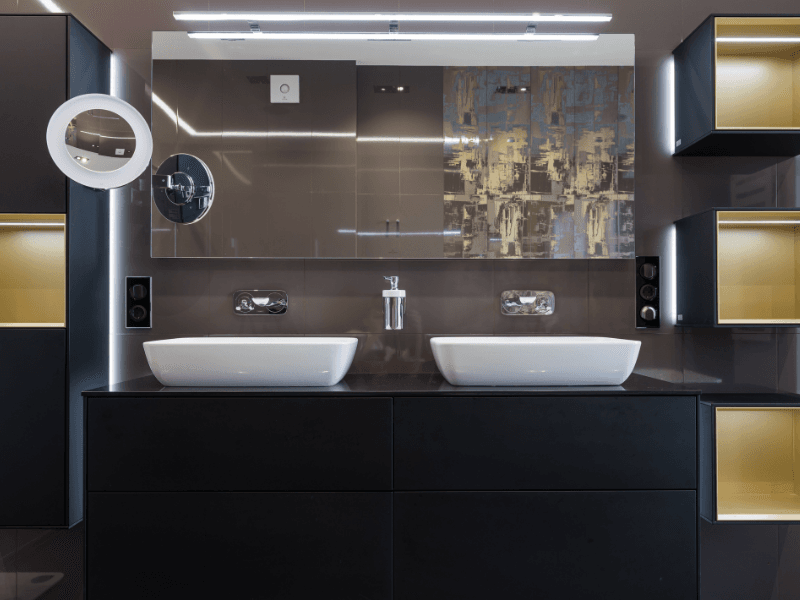 @MaxVakhtbovych
The look of this design gives a deep and modern nature to a bathroom. The washbasins have a unique structure, resting on the full black countertop. The plain mirror adds more serenity to the set with its simplicity. The shelves located on the side are different from ordinary household designs.
15.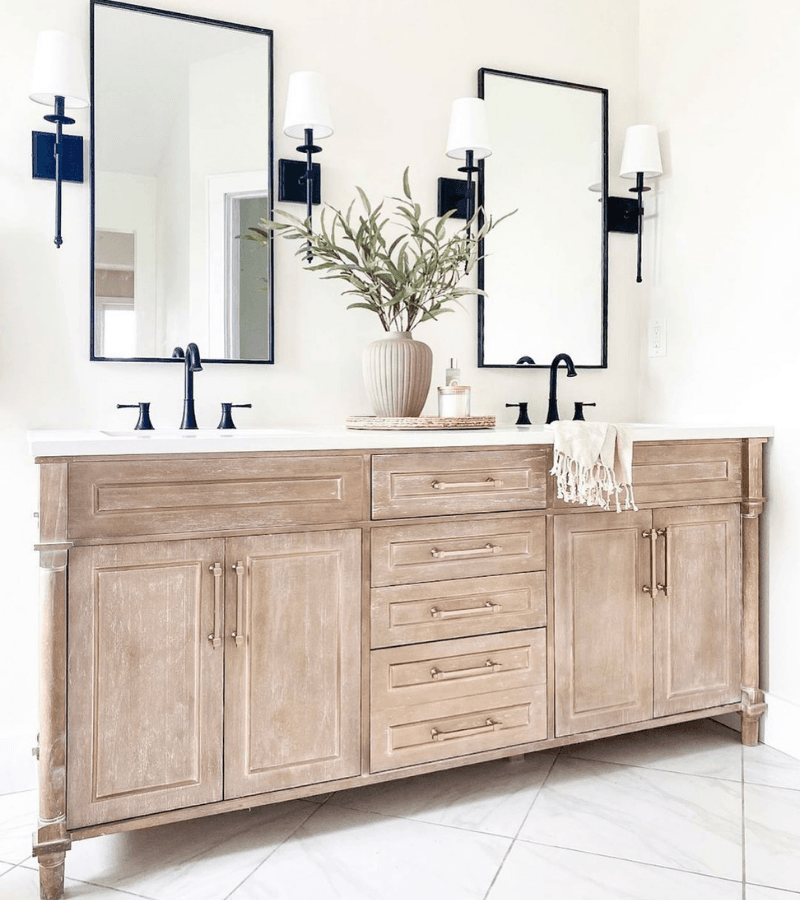 @takemehomecedarroad
Another fascinating vanity set design. Tall mirrors are placed beside each other with two sets of faucets and sinks. The countertop is white with cupboards underneath it in a wooden finish. The handle designs give it an antique vibe while the mirrors and faucets bring a modern elegance to the design.