A French manicure entails painting the tip of the nail a different color from the base. French nails are extremely fashionable due to their understated yet stunning appearance. The most attractive nail art techniques accessible in the cosmetic business are French nail patterns. It's a manicure that looks good on both short and long nails.
Are you looking for black nail designs that may be worn at any time? Then the Black French Nail category is ideal for you. A black French nail design is always a safe bet. Another important benefit of black French nails is that they go with any color attire.
Let's have a look at the top Black French nail designs I found on the internet without spending any time.
Disclosure: This post contains affiliate links, which means we may receive a commission if you click a link and purchase something that we have recommended.
1. Coffin Nails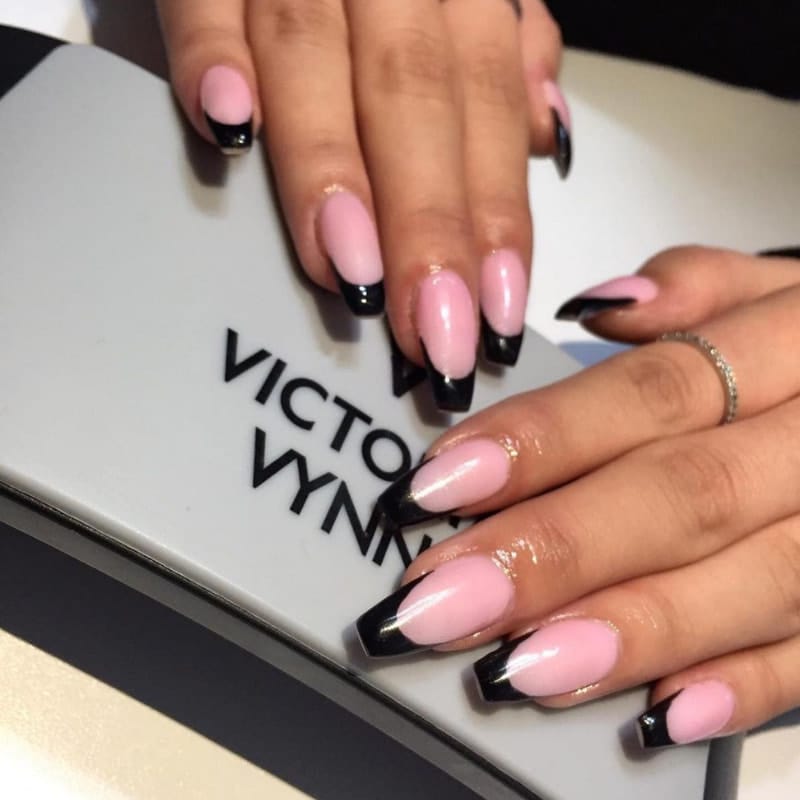 @besasnailss
If you are a fan of coffin nails, you can try black French nails as shown here. The tip is colored in shiny black while the base area is a light shade of pink. You can try this on even on extra-long nails.
2. Square Nails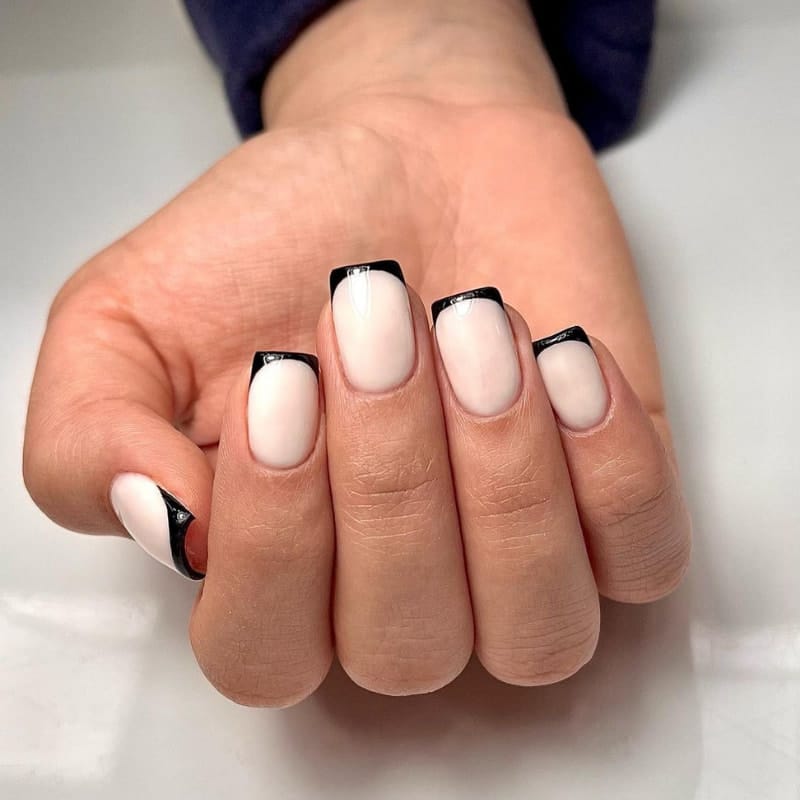 @arezoozamanii_nail
It's no wonder that most of us find it comfortable to have the nails short. This is a great nail design idea to style your short square nails. Color them in white or a very light pink and the tips in black.
3. Long Oval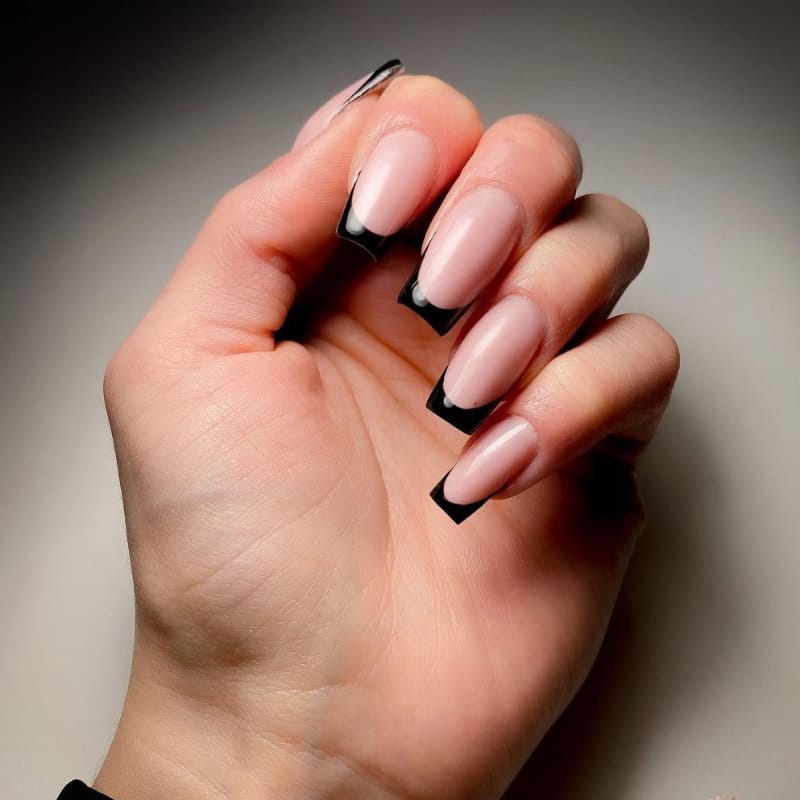 @mk_beauty_suisse_pontarlier_
This is a simple yet appealing nail design for slightly long fingernails. The base area appears to be a long oval, making the fingers look more slim and long. You can try this nail design for special occasions with your favorite black dress.
4. Stiletto Acrylic Nails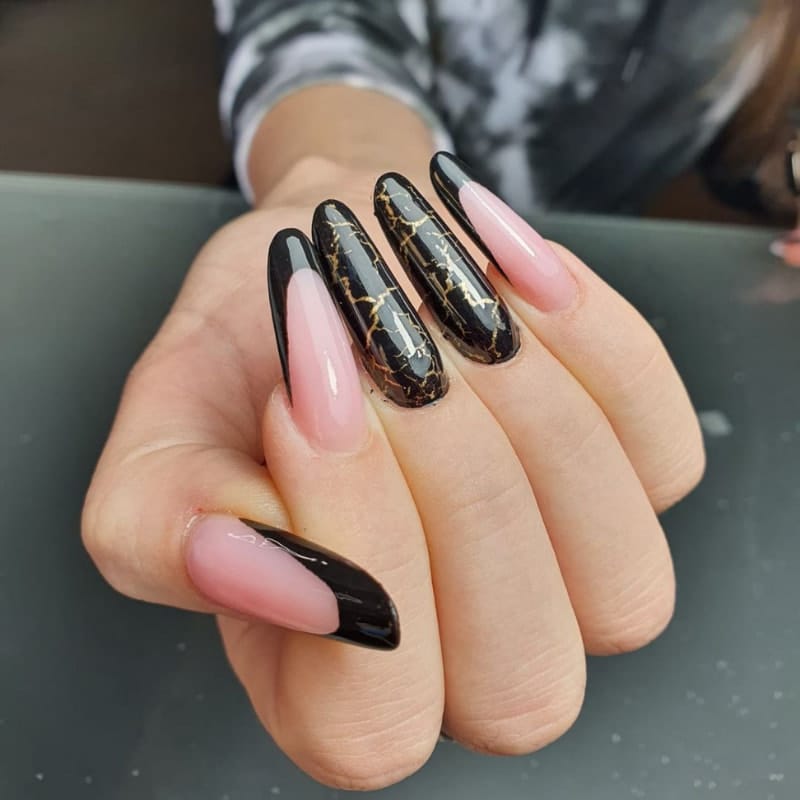 @djordje.djordjevic.100
These are extra-long stiletto acrylic nails designed in black. Two of the fingers are colored in a beautiful black and gold design. The other nails are done in black French nail design with a long are of the tip colored in shiny black.
5. Black Lines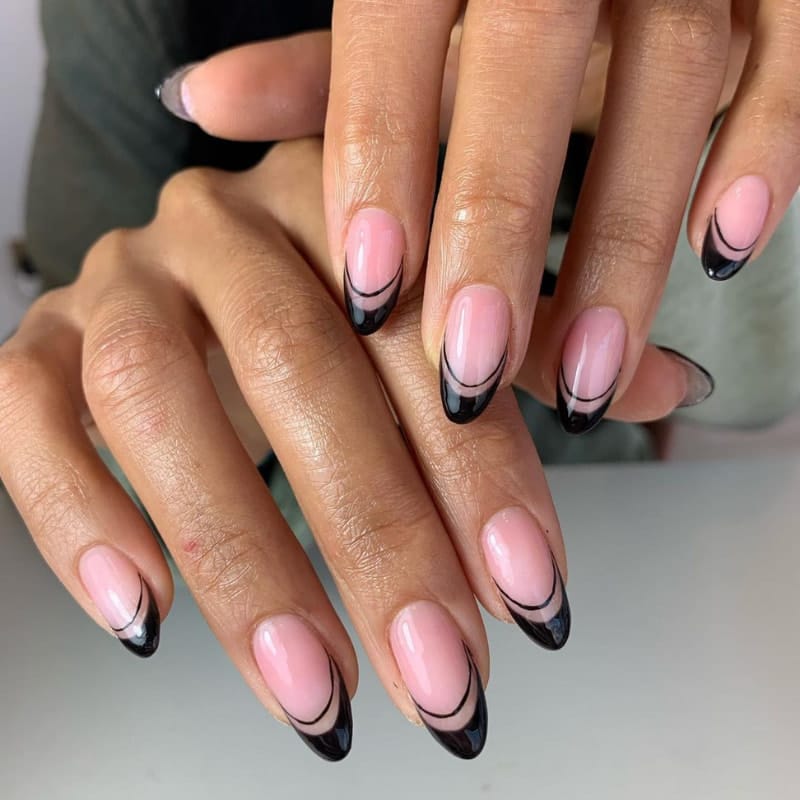 @queencontenails
In addition to coloring the tip of each nail in black, there is an additional black line. This makes the nail appear fuller and attractive. This looks best on medium-length almond nails. Make sure to get the single line in the same thickness throughout all the way around.
6. Colored in Pink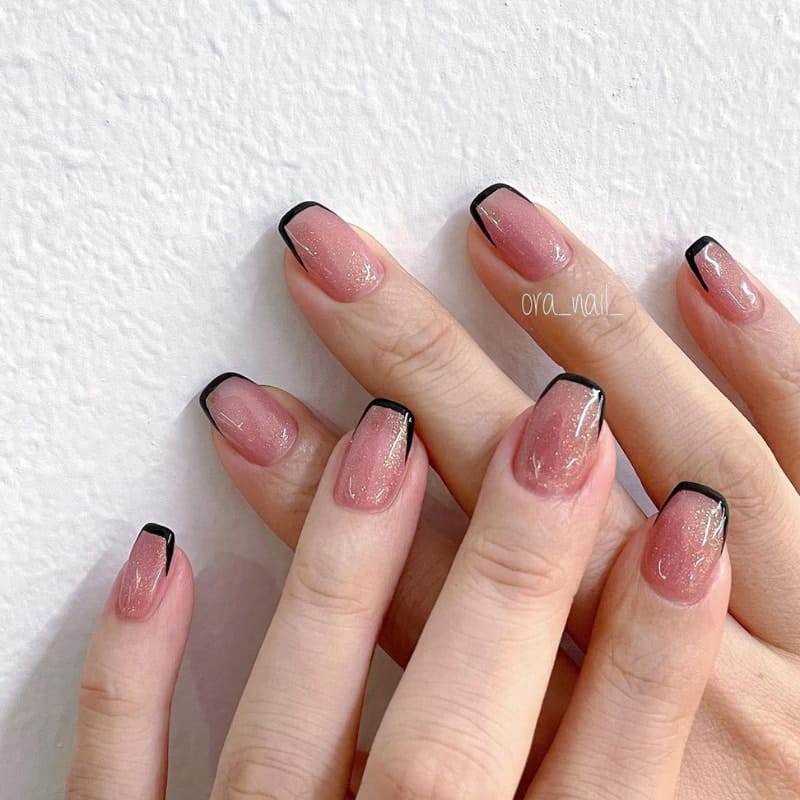 @ora_nail_
At the first glance itself, you can see that this is something quite different from the previous designs. The nail is colored in a glossy neutral pink nail polish. The tip is colored in black to highlight its square shape.
7. Black Dragon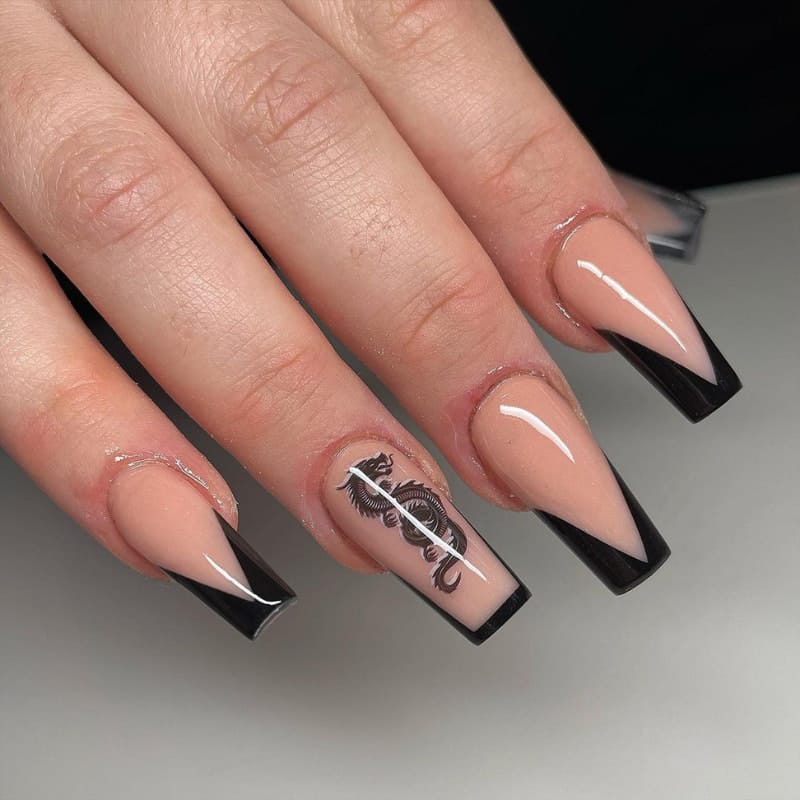 @evesnailsx
Have you ever thought of adding a black dragon on your nail? You can try this new idea with black French nails as you see here. The tips of the other nails are done so as to create a pointed shape. The nail with the tattoo has a square line in black to leave more space for the dragon art.
8. Black Flames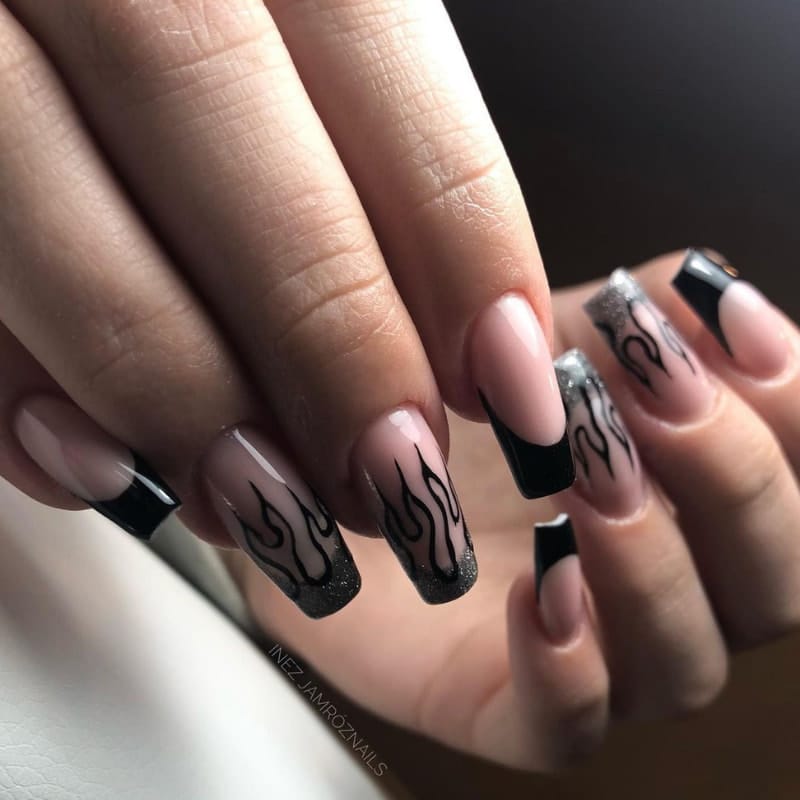 @inez.j_nails_lublin
Black flames are not something that everyone would try. So you can draw some flames on the nails in black. The rest of the nails can have black French nails. You can also add some silver glossy French nail designs for the nails with flames.
9. For Short Nails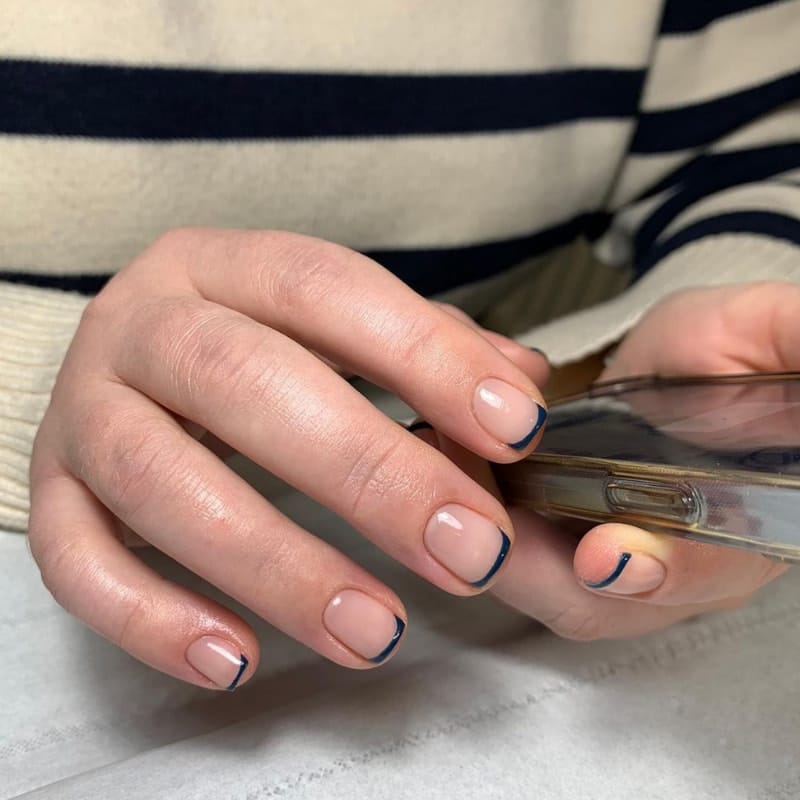 @kellykmbeauty
If your nails are extra-short, you can try this nail design. You only need to color the tip of your square nails in a black line. It will be a good idea to make a difference for the normal nail polishes that you use every day.
10. Nail Art With Black Spots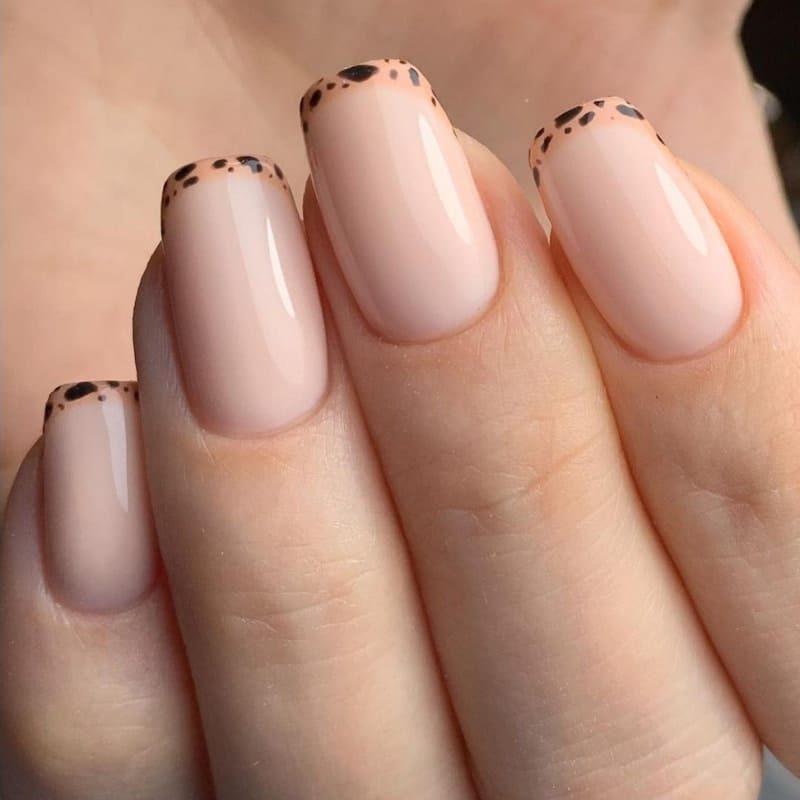 @magstudio.nails
A special nail art with black spots on a beige background representing a cheetah. This is a perfect idea if you have a matching outfit, bag, or shoes. You can color your nails in a very light cream color to match the tip or leave it neutral.
11. Curved Tip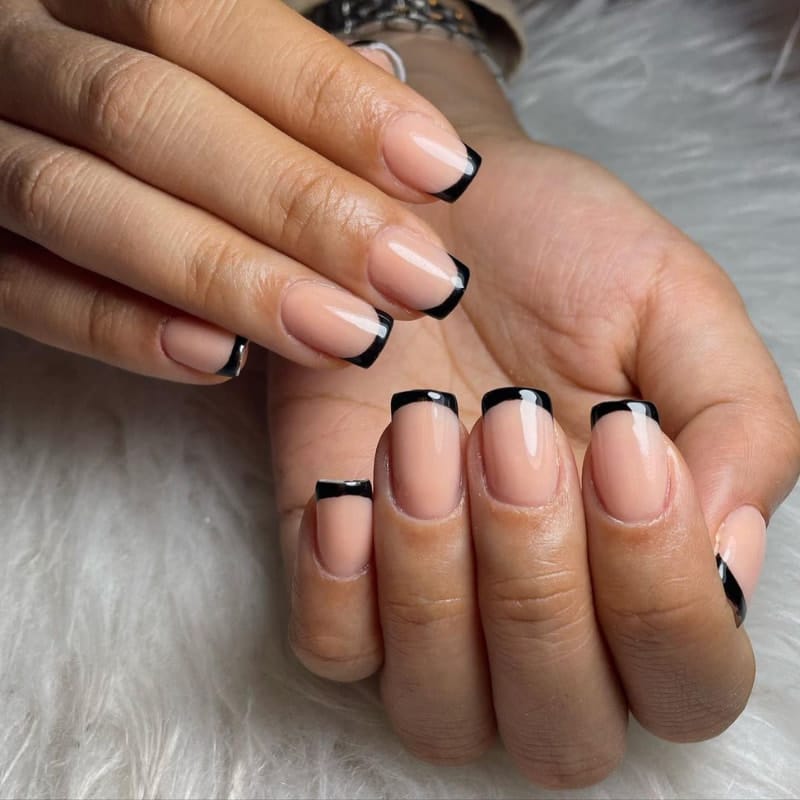 @yasamnmajlesi_nailart
Another simple and elegant black French nail design. The difference here is that the tip is slightly curved rather than making it square or pointed. Hence, this can be tried on short fingernails rather than longer ones. Share your thoughts on what you think about this.
12. Heart-shaped Ornaments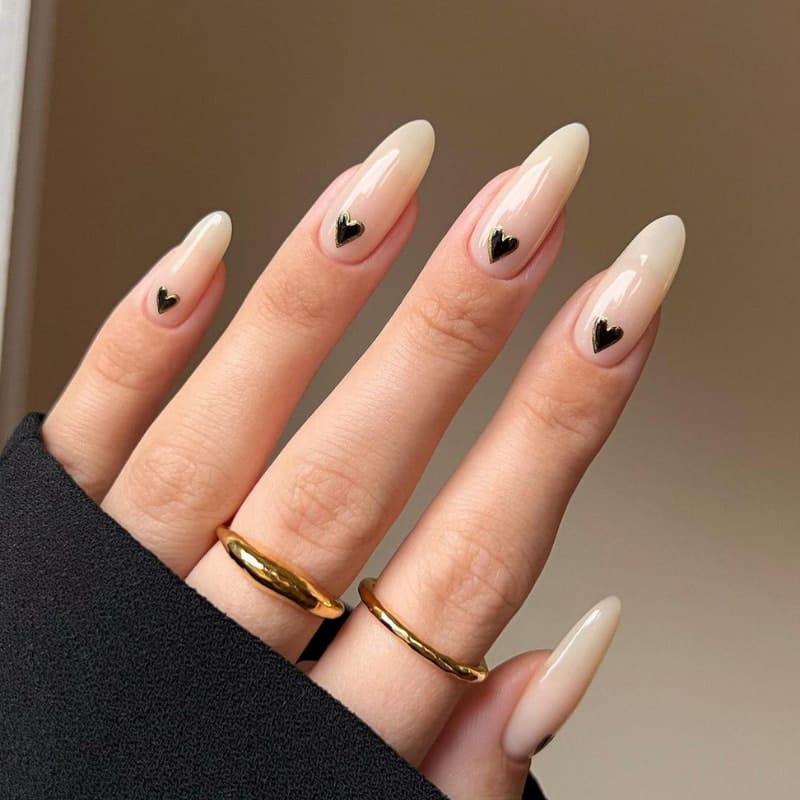 @tiffanyabbigailebeauty
Add some small black heart-shaped ornaments at the base of your fingernails to make them more attractive. You can even try some other forms of nail studs on your preference. Studs with a gold line around the design will make it more appealing. It is necessary to use a simple base color to make the black studs more visible.
13. Black and Gold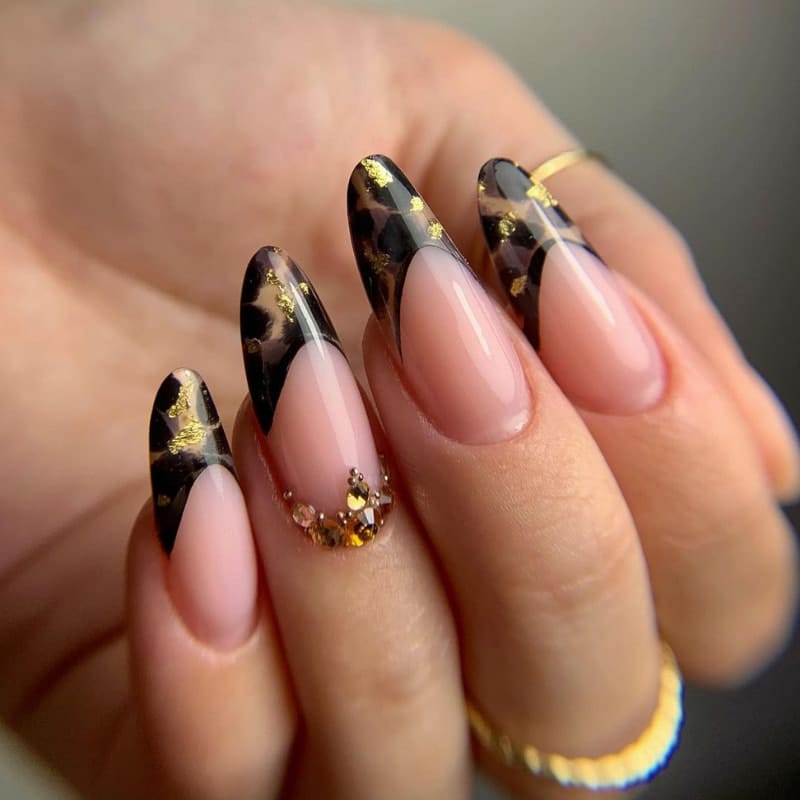 @ambeauty.nails__
Black and gold are a perfect match for special functions. Color the tip of your almond nails in black patches as you can see here. Then add a touch of gold to each nail and some shiny studs on the nail of your ring finger.
14. Vertical Lines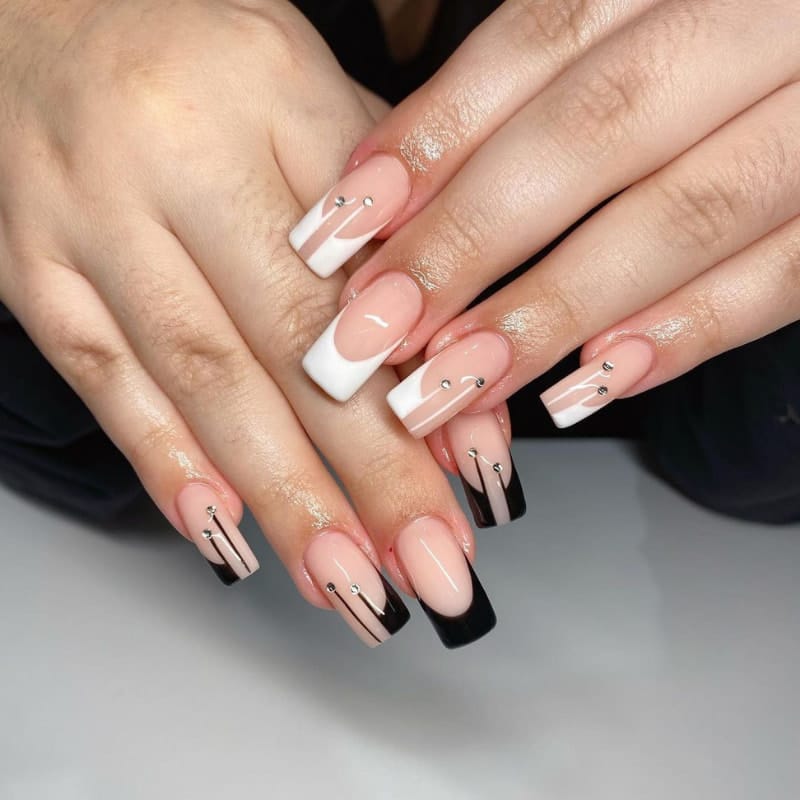 @nailsbyleahsi
This is a stylish design ideal for fashionable young ladies. You can either go with black, white, or both alternatively. Color a portion of the nail and draw a vertical line into the nail from that spot. Add a tiny stud at the end of the line. This will make your nails attractive and catch the eyes of anyone at the first sight itself.
15. Simplicity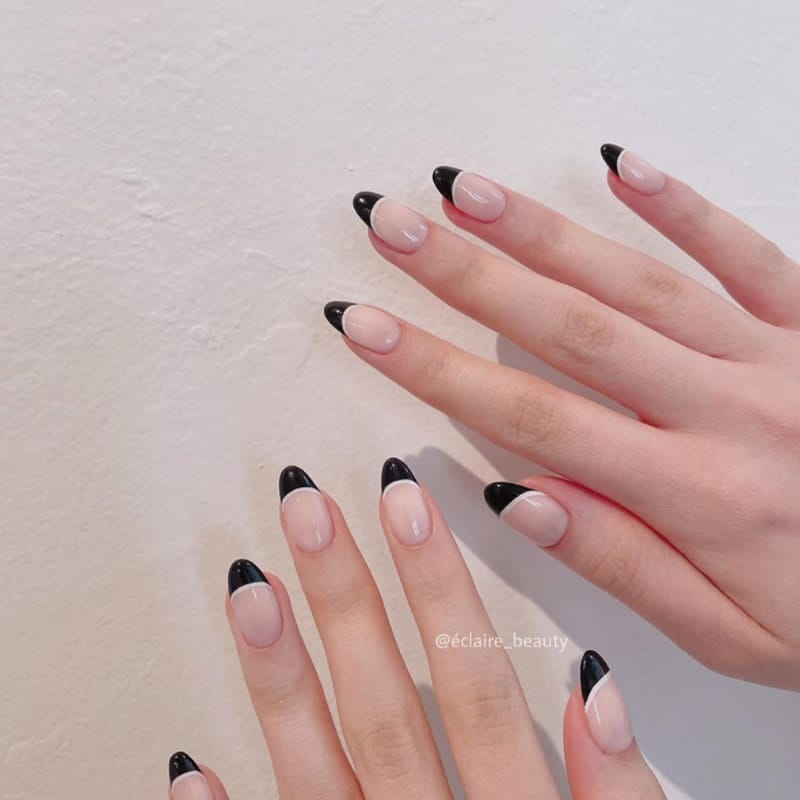 @eclaire_beauty
A simple nail design that highlights the overgrown part of your fingernail. The almond tip is colored in black by leaving the lower part of the nail rounded. Another white line is also added after the black portion to make it more attractive.
16. Cheetah Vibe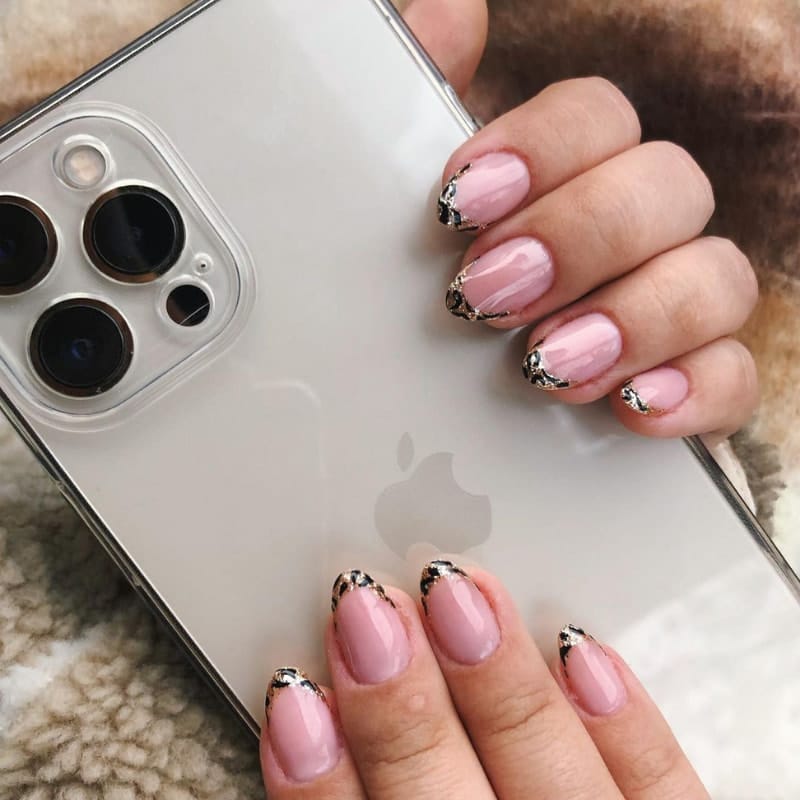 @marilianas_nails_mua
Another black and golden design creating the cheetah vibe. Use even portions of black and gold to color the tips of your nails for this French nail idea. It is ideal for any special function or date nights when matched with your beautiful black dress.
17. Black and Sliver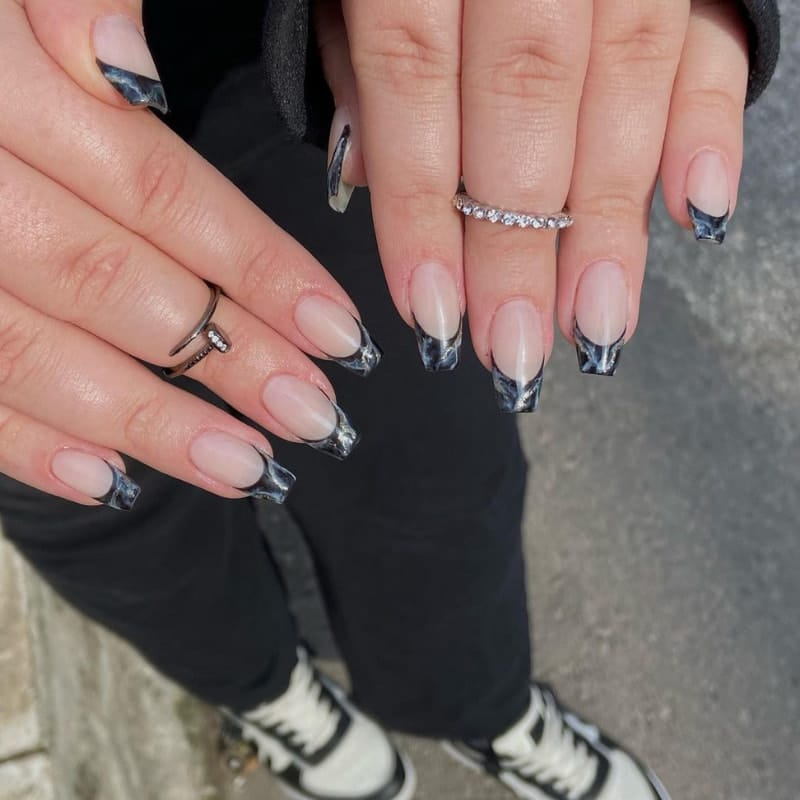 @dose.of.nails
Silver is also a great match with black for French nails. Color the tips of the nails with the mixture by making the nail oval. This will highlight the design at the tip. You can match an any-colored outfit with this nail design.
In conclusion, black French nails are a stylish and versatile option for those looking to add a touch of sophistication to their manicure. Whether you prefer a classic look or want to experiment with different designs and embellishments, there are endless possibilities when it comes to black French nails. From subtle and understated to bold and dramatic, this nail trend is sure to make a statement.
So why not give it a try and see how black French nails can elevate your look?