If you're seeking for new methods to change up your hairstyles and stand out, look no further.
Scarves aren't just for keeping you warm in the winter or adding a pop of color to your outfit. They can also be fabulous accessories for your hair!
A scarf, for example, may completely modify your appearance. But did you know that a scarf may be worn in your hair in a variety of ways? The advantage of this hair item is that it can be used to create a variety of styles with only one scarf.
There are several options, colors, and styles from which to pick. The majority of them are really simple to complete. Try the 15 different ways to wear a scarf in your hair shown below. So, let's dive into the world of hair scarf inspiration and elevate your hair game with these trendy and versatile ideas!
1.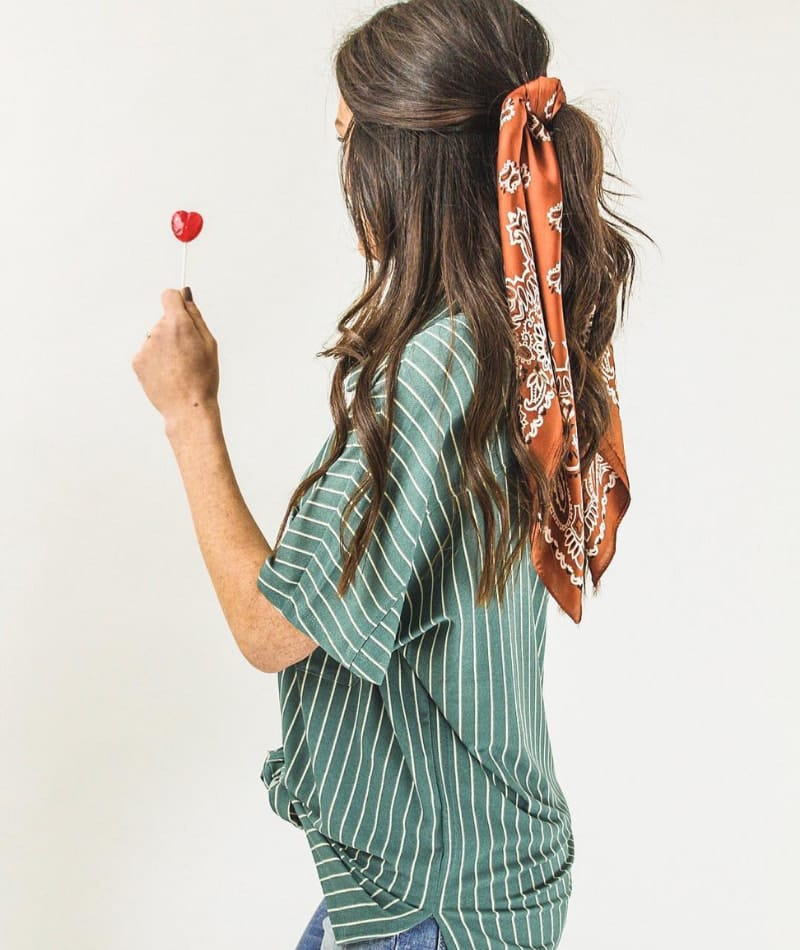 @_midwestjen_
Tie up your hair in a half ponytail with a scarf. You can use a scarf of bright color in contrast to the color of your outfit. Choose the length of the scarf to match your hair and leave the two ends long from the knot. This brings a tribal and gypsy vibe to your outfit.
2.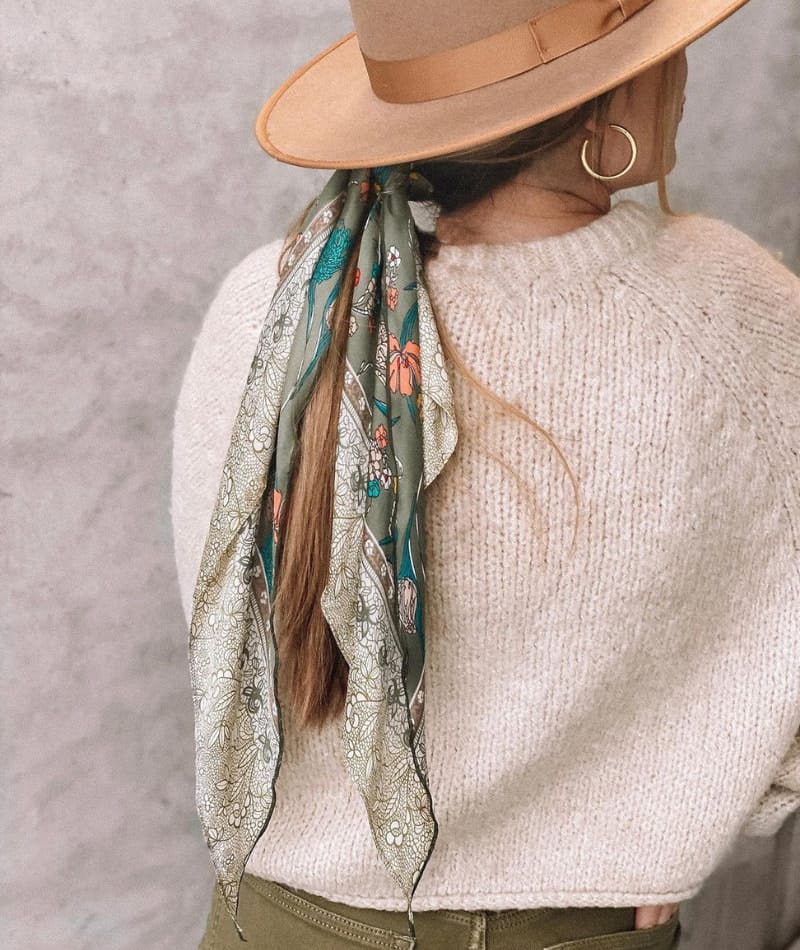 @mariahelenxo
If you prefer wearing a low ponytail, you can try this method. Tie your hair with a silky scarf of your preference. Match it with your favorite outfit and winter hat for this season. If you need a traditional look, you can try wearing appropriate earrings with this.
3.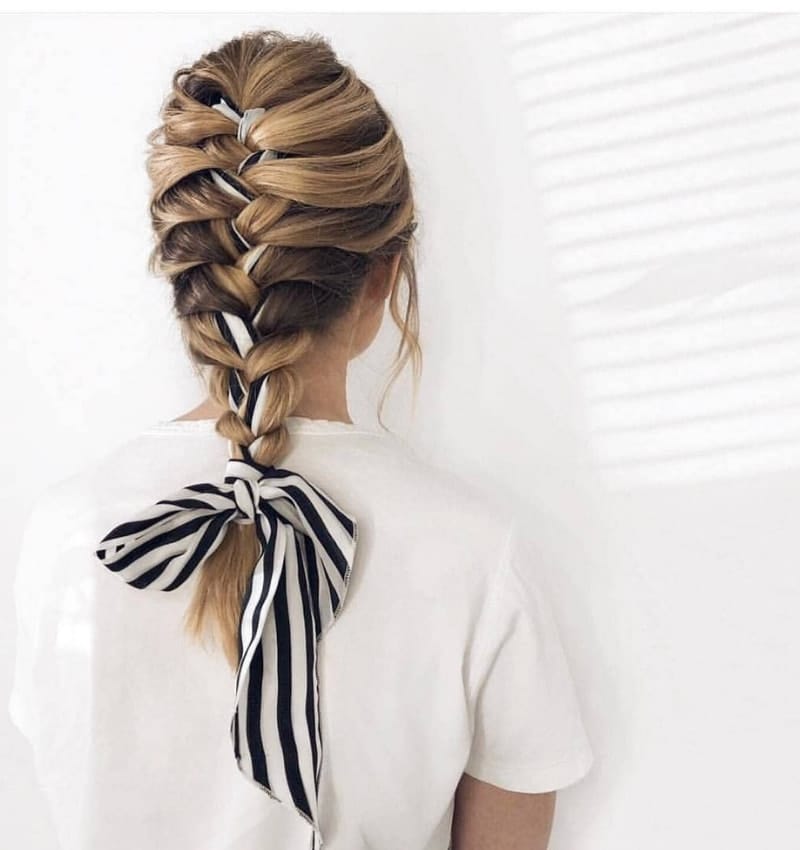 @ghdspain
What do you think about a striped scarf? Yes, you can use it in a French braid as shown here. It will look amazing as you pass the scarf through the braids and tie the end with it. If you are wearing a plain-colored outfit, use a striped scarf with contrasting colors.
4.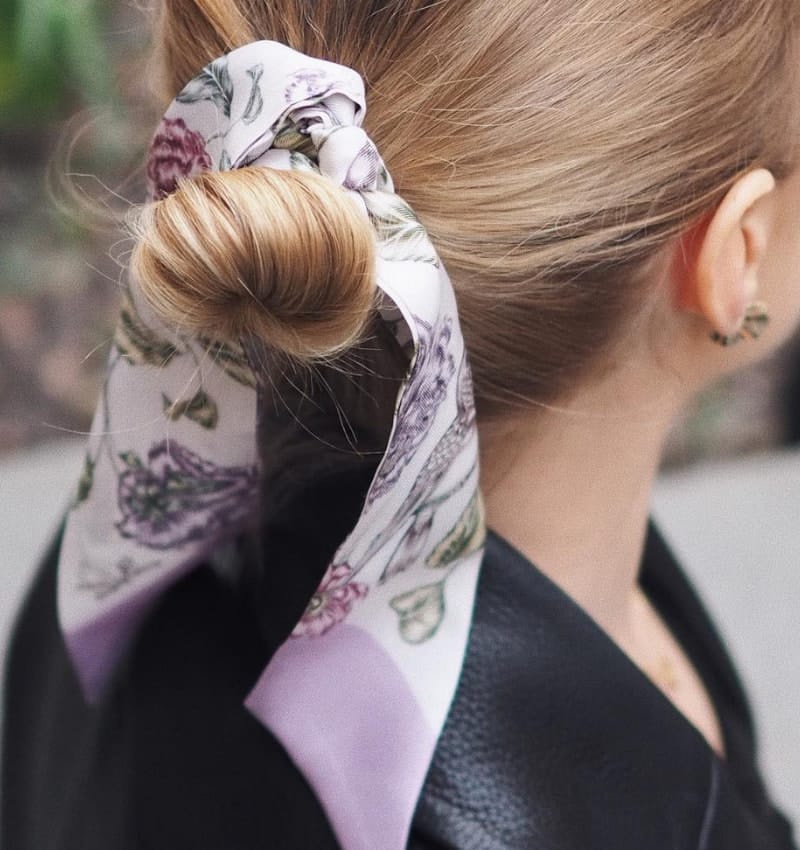 @emmafallmanstockholm
This is a white printed scarf with a delicate floral design. It also has a printed bird resting on a twig. You can use it to tie your hair in a lower bun. This style is ideal with formal wear when matched with dark attire. It will make your hairdo more aesthetically appealing.
5.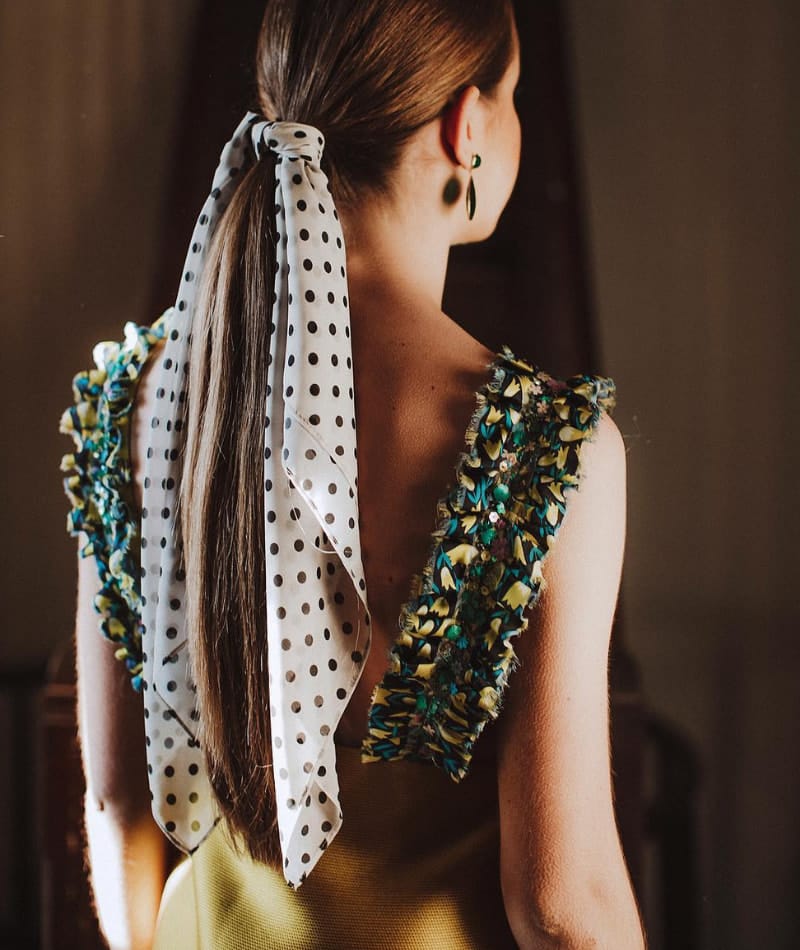 @tendenciasdebodas
Here's a beautiful scarf with black polka dots tied on brown hair. Tie your hair in a low ponytail with your silky scarf. You can try this style for special functions and events when you wear special dresses. This brings more elegance in addition to the attraction of your dress.
6.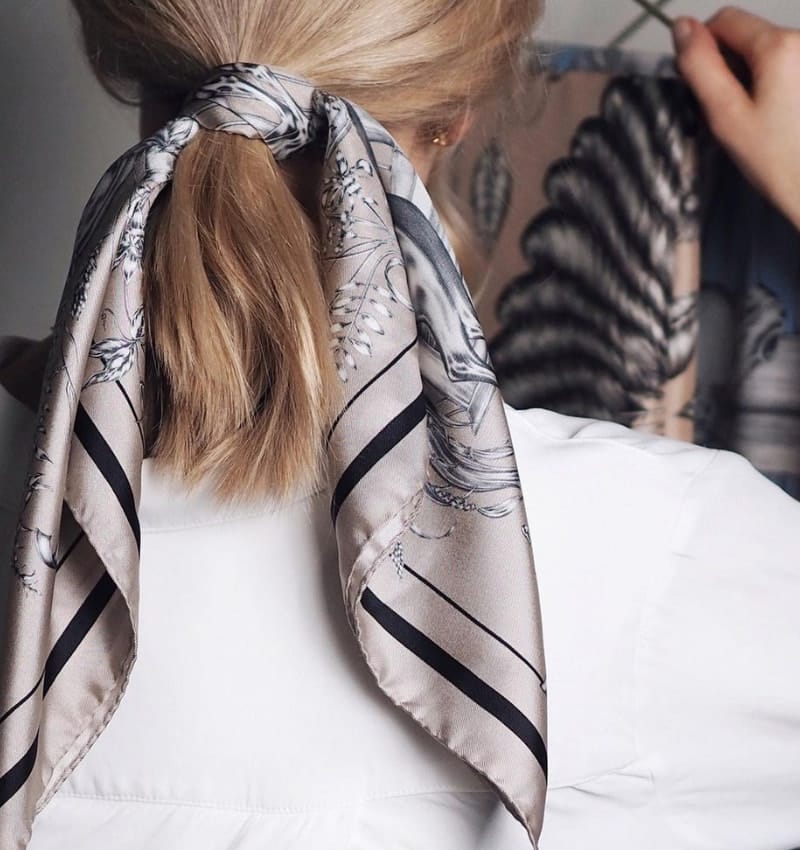 @emmafallmanstockholm
Even if you have short hair, you can tie it elegantly with a beautiful scarf. This is a grey scarf with a delicate floral pattern. It also has a thick black outline along the edges. These black and grey scarfs will go best with matching outfits such as white dresses.
7.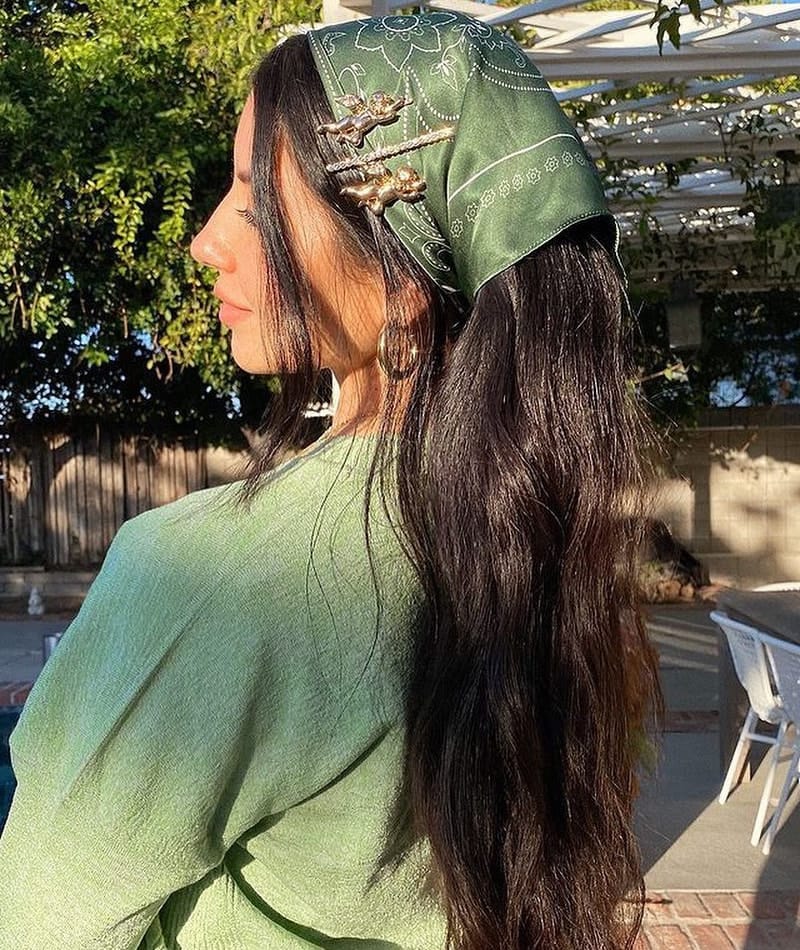 @tresemmerd
This style is quite different from the ones we saw before. The scarf is around the crown of the head, covering most of the hair. You can try this as a special hair accessory even after tying the hair up in a ponytail. Use your favorite hair clips to keep the scarf in place.
8.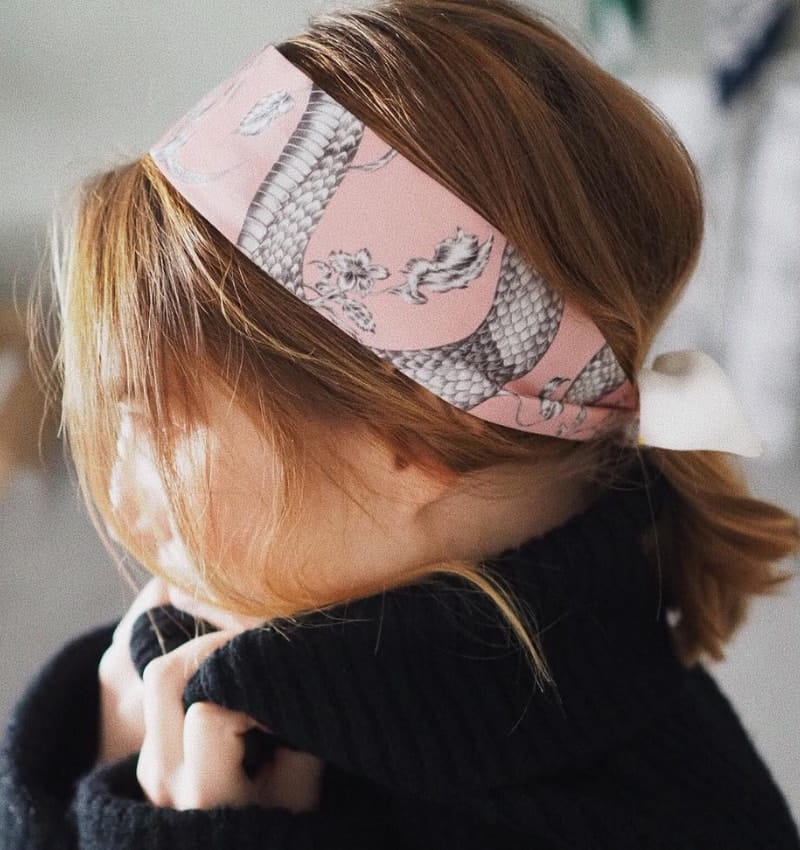 @emmafallmanstockholm
You can also use your scarf as a hairband in this case. If you have very short hair, you can keep the hair back using a scarf. Fold the scarf symmetrically as shown here and tie it in a knot at the behind. It will be a trendy hairstyle if you introduce it to your friends as well.
9.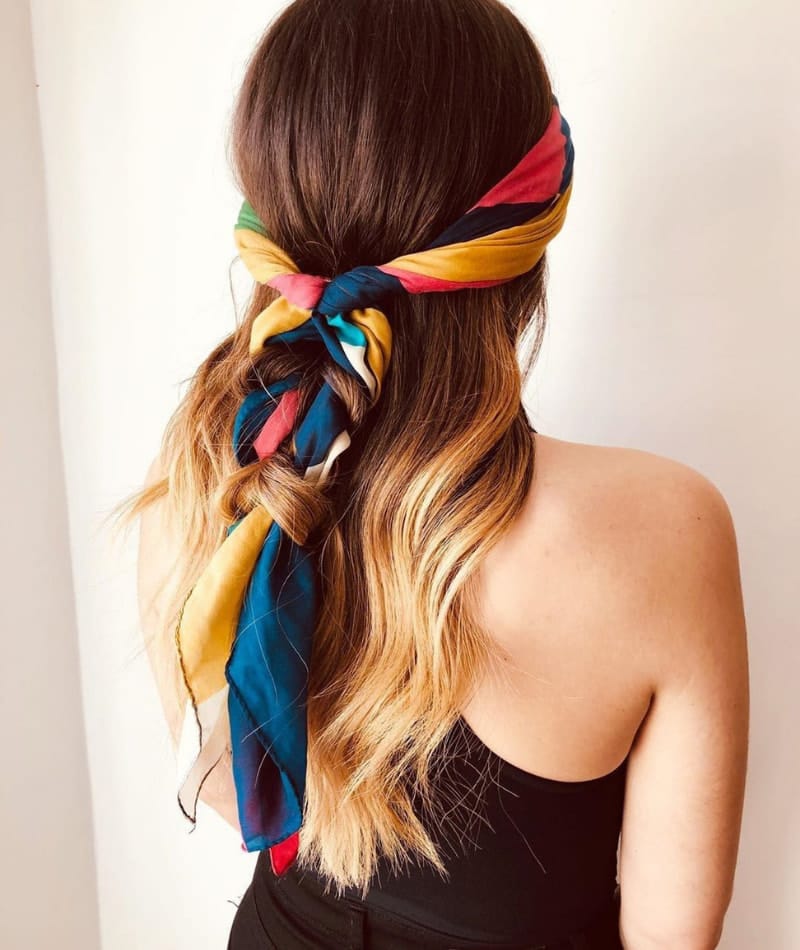 @ghdspain
If you are looking for a unique style to tie your hair, you are good to go with this. Fold the scarf, hot it from the middle at your forehead, and bring the two ends at the back of your head. Then twist each end with a few locks of your hair. Finish it off by tying it down at the end.
10.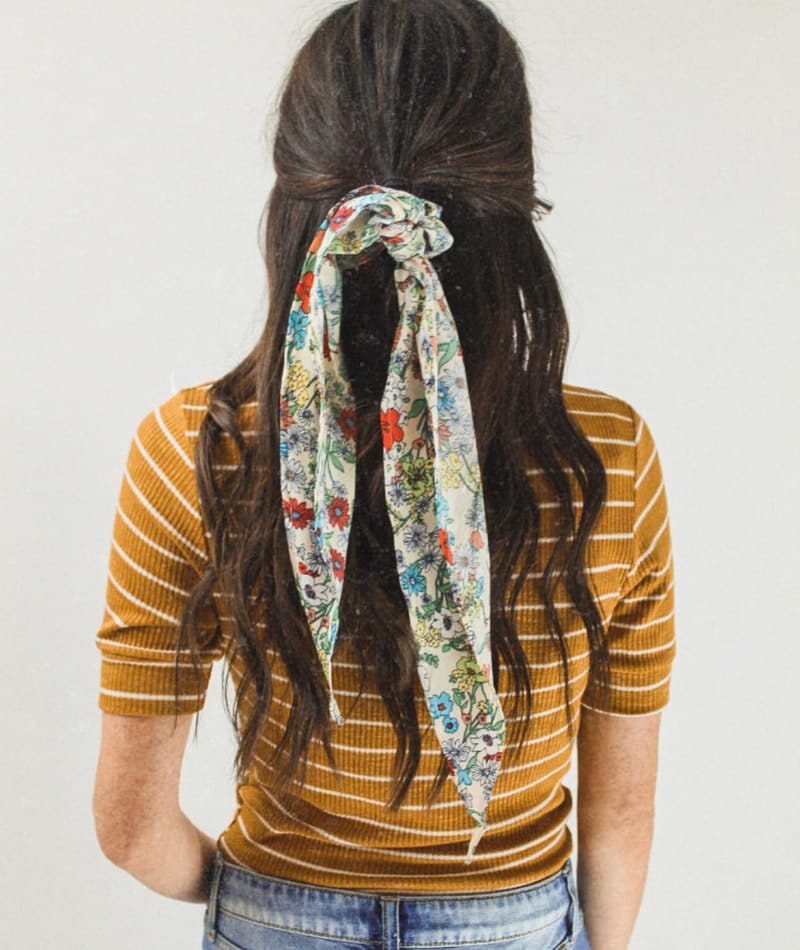 @_midwestjen_
Another half ponytail design idea to style your favorite scarf. This is a good choice of a scarf with a colorful floral pattern. Tie it around the ponytail and leave the two ends long up to the length of your hair. It is a perfect style for casual wear on vacations.
11.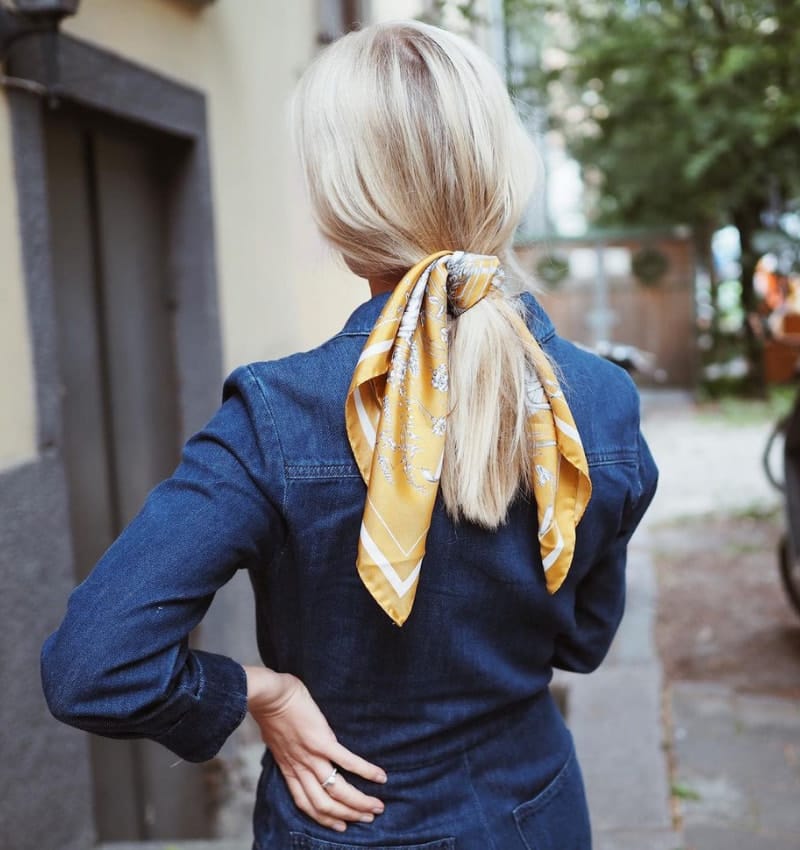 @emmafallmanstockholm
Tie up your short hair with a matching silky scarf. This shiny yellow scarf is a good choice to match your new denim jacket for the season. Use a thick knot if you have short hair so that the scarf will not extend much beyond the hair.
12.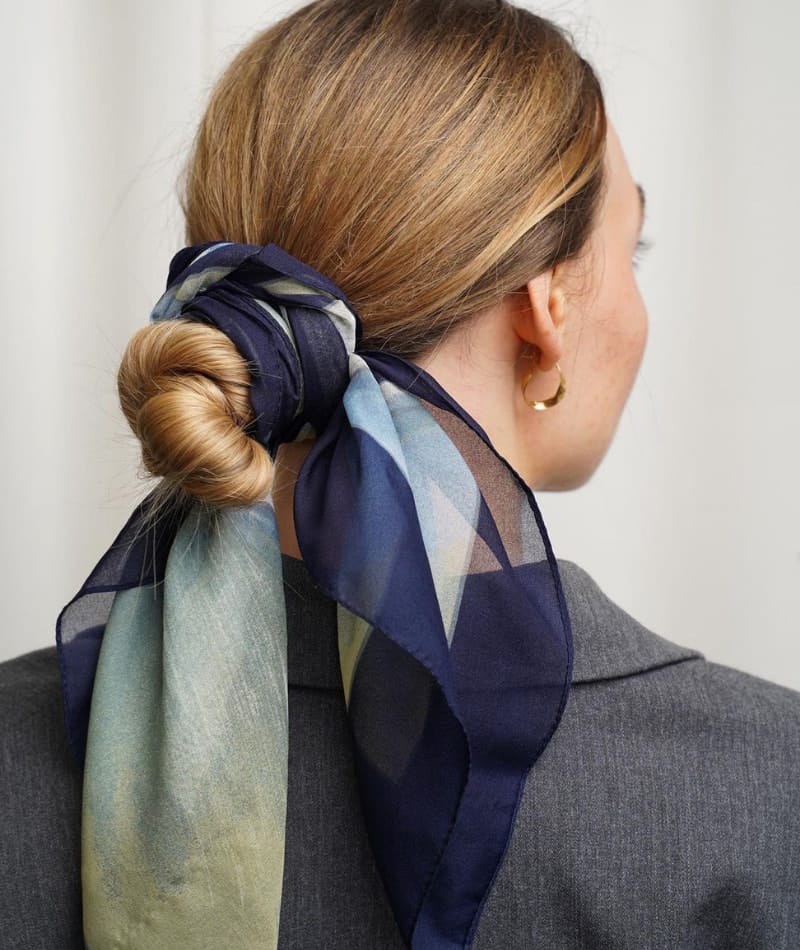 @miaskrivernielsen
You must have seen various office workers tying their hair beautifully with scarfs. You too can try this with a suitably designed scarf to match your attire. Tie your hair in a low bun and wrap it up with a silky scarf as shown here. Blue, black, and grey are the best colors for formal scarfs.
13.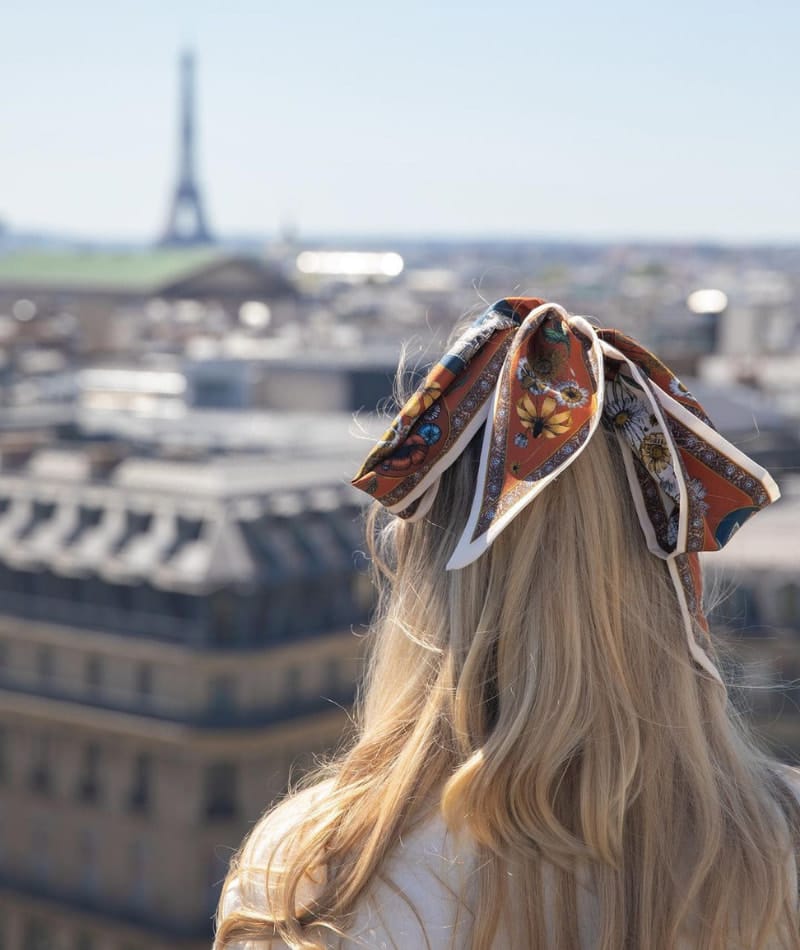 @sabinasavage
Scarfs can also be used as scrunchies to tie your hair. It will be less damaging to your hair as well. This is how you can hold your hair up in a half ponytail with a beautiful scarf. It will be perfect if you can go for a scarf with pointed edges outlines as shown here.
14.
@cest_tiffany
This is another different method of tying hair with a scarf. As you can see, the scarf is used in the middle of the bun with the two ends left down. This can also be used for shorter hair as well. It will look even better if you choose a scarf matching your dress.
15.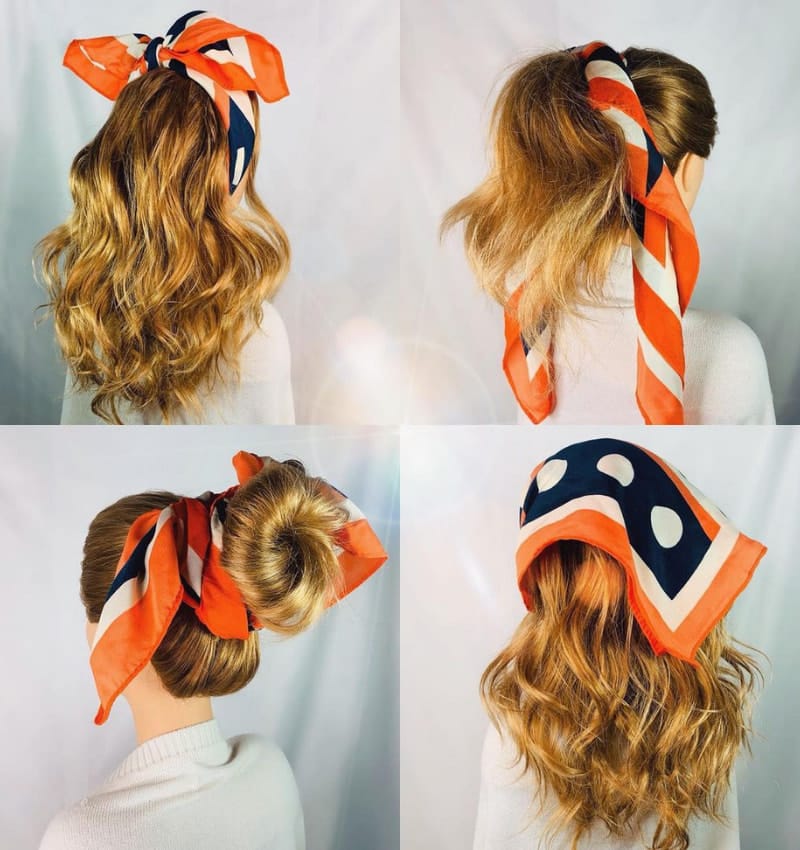 @frandimakeup
Finally, there are a few different styles brought to you in one. You can either wear it around your head, a ponytail, or a high-held bun. The last way is to fold it and fix it around the head similar to a shade. All of these are fashionable design ideas which you can try with your beautiful scarf.