Every memorable occasion necessitates the presence of an eye-catching cake on the table. So make the occasion more better by serving a delectable winter cake to your guests.
If you're having a winter get-together with friends or want to spend a chilly winter evening with your family, one of the winter cakes listed below is ideal. You'll discover cakes here that are inspired by winter tastes.
1.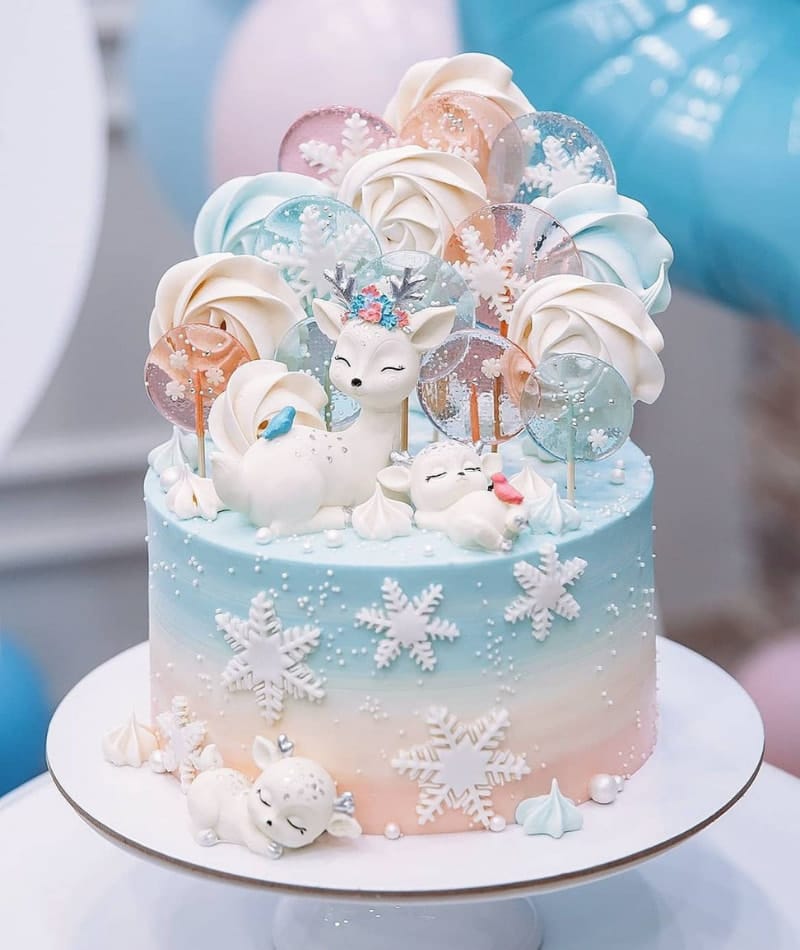 @galina_mazitova
Let's start with this beautiful winter cake design with a cute reindeer catching your eye. Oh, wait! Did you see that beautiful baby deer sleeping by its side? This cake is further decorated with beautiful flowers on top and snowflakes on the side.
2.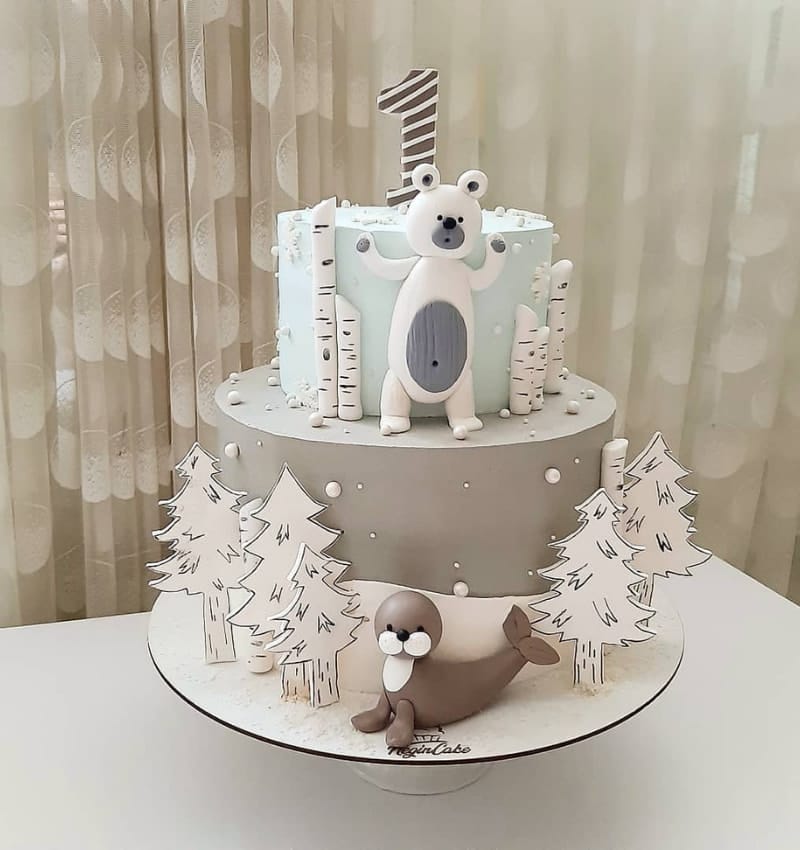 @negin_cake_studio
A polar bear and seal bringing you the best wishes for this winter season. There are also Christmas trees placed at the bottom. You can add more snowballs to celebrate the season. This is also ideal as a birthday cake for anyone.
3.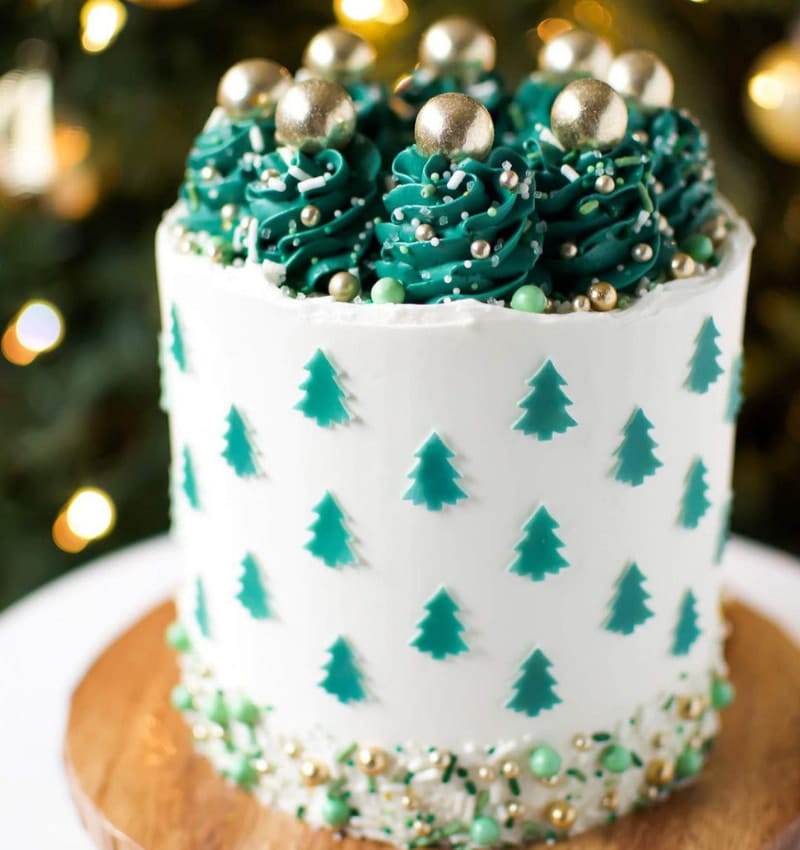 @brittanymaycakes
Here's a tall cake idea with a white background and small Christmas trees. Decorate the top with green icing to represent the trees. Add some shiny balls over them which will look like the ornaments of your décor. You can add a similar decoration at the bottom to decorate the base of the cake.
4.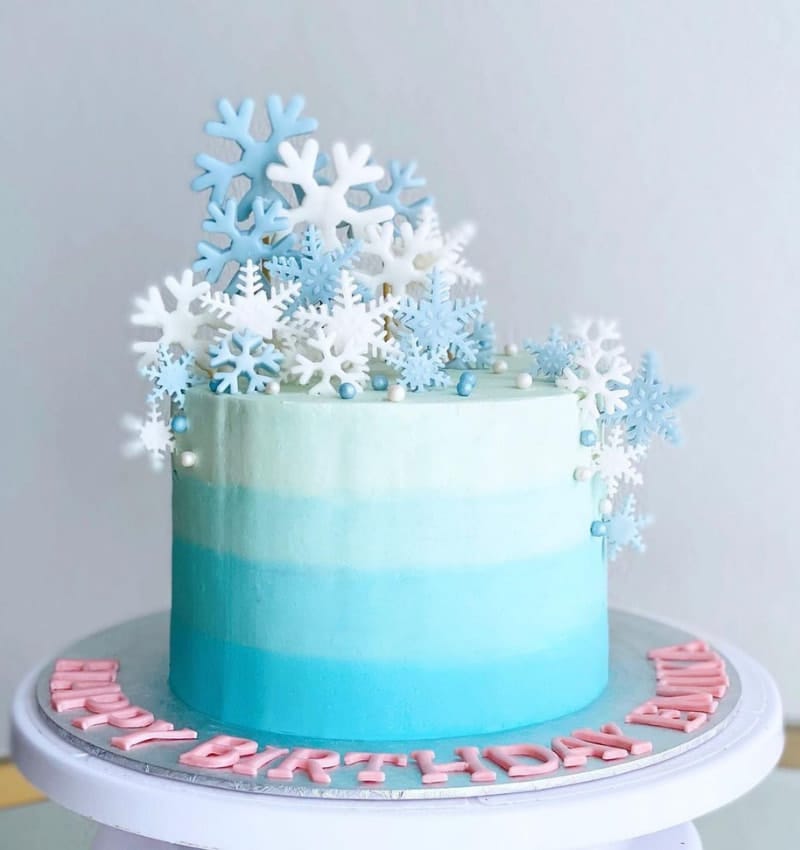 @spiffycakes
People born in winter can have many different winter cakes every year. This is a light blue and white winter cake idea. There are snowflakes designed in many sizes and shapes on the top. The colors are shades from a very light hue to a darker shade of blue at the bottom.
5.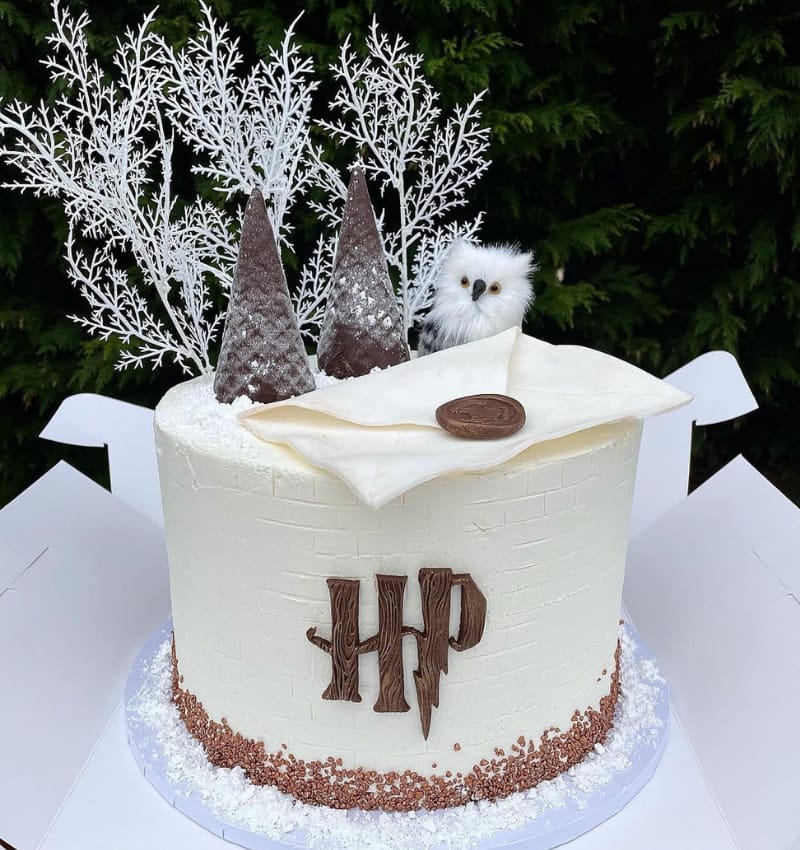 @coc0cake
Here's Hedwig bringing a letter to its master. What a perfect idea for a winter cake theme! The envelope is designed amazingly with the seal of Hogwarts. The letters HP means a lot to any Harry Potter fan who is celebrating their birthday this winter.
6.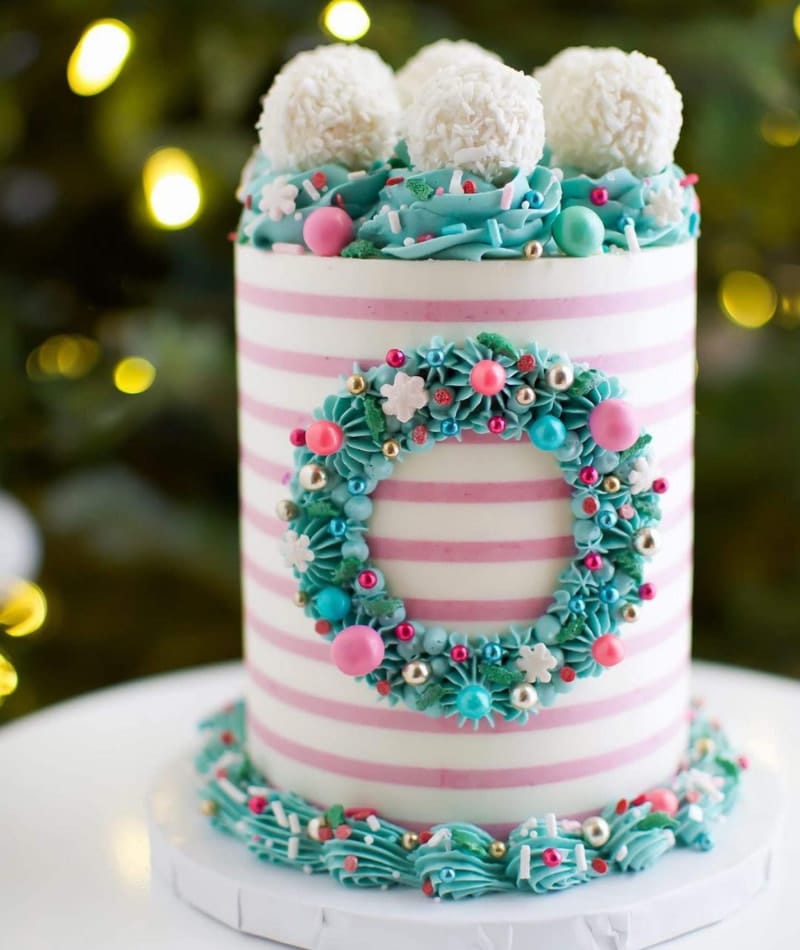 @brittanymaycakes
A Christmas door wreath brought into life on a cake. The red, green, and gold balls represent the real ornaments. All this is made around the cake with beautiful red stripes. Add a few white balls on the top after green décor to resemble some snowballs.
7.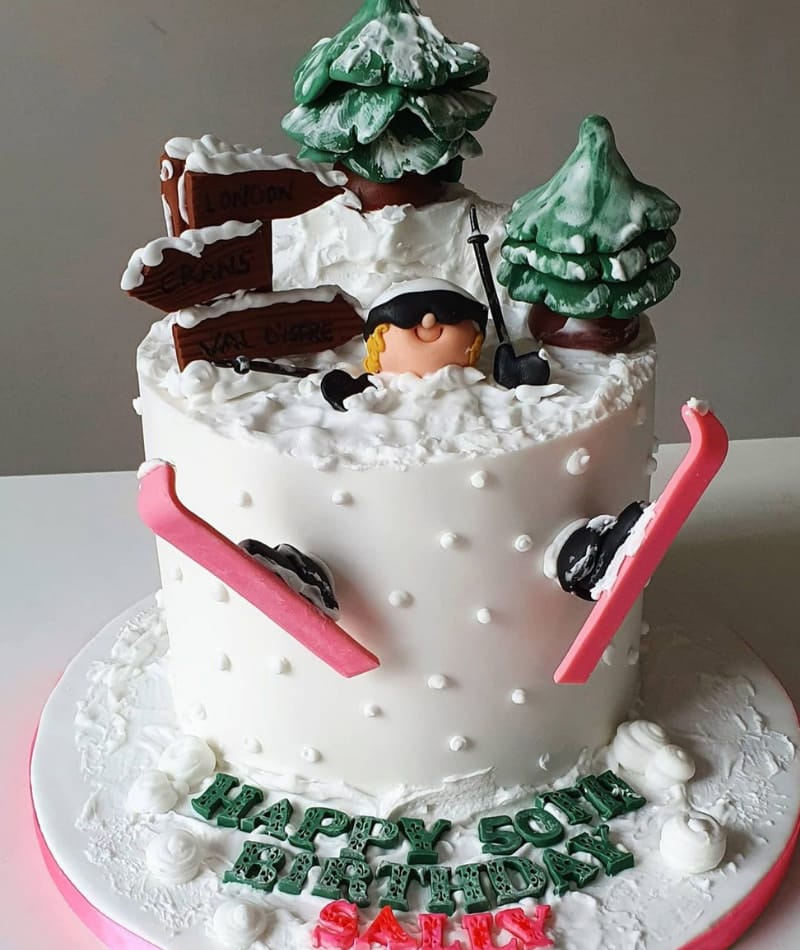 @circusbakery
Winter is mostly about snow and you might be someone who loves skating. Here's a creative winter cake with a guy stuck in the snow. This is a rare design which you can try for the birthday celebration of your loved ones. There are two Christmas trees and a post with a few street names.
8.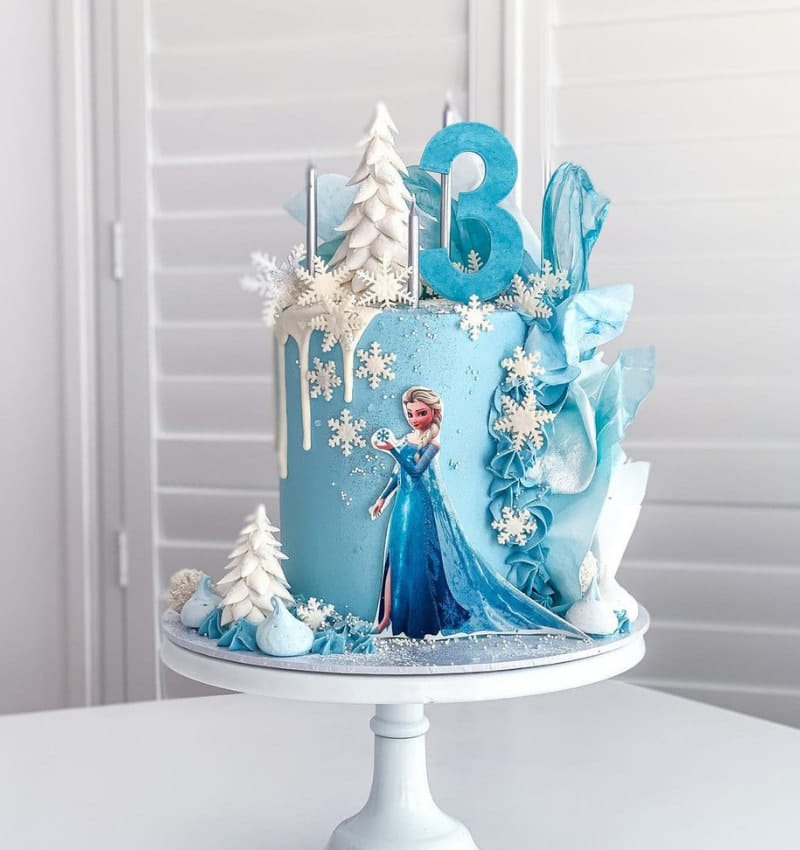 @sugar_and_crumbs
Elsa from the movie Frozen is directly related to the ice and coldness of the season. So if your kids love this fictional character, it is a perfect theme for a winter cake. Make the cake in light blue, add some beautiful trees and snowflakes in white.
9.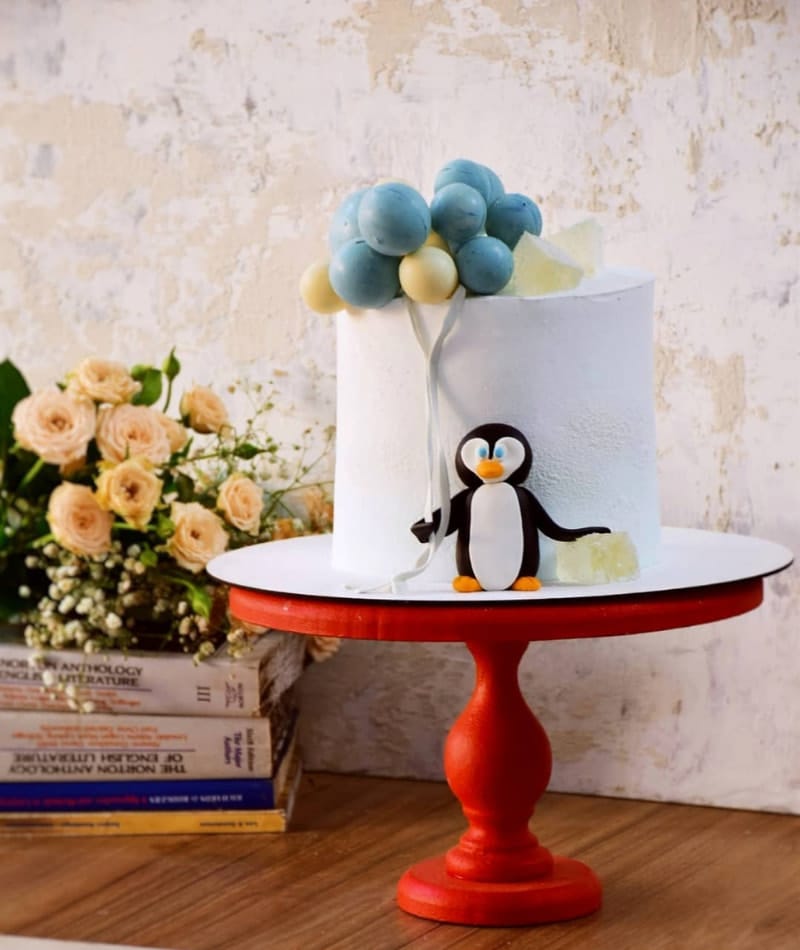 @malihe_masihi_cake
Bring a penguin to greet your loved ones this winter. Decorate your cake as shown here so that the penguin is holding a bunch of balloons. This is a simple winter cake idea that will catch the eye of your visitors.
10.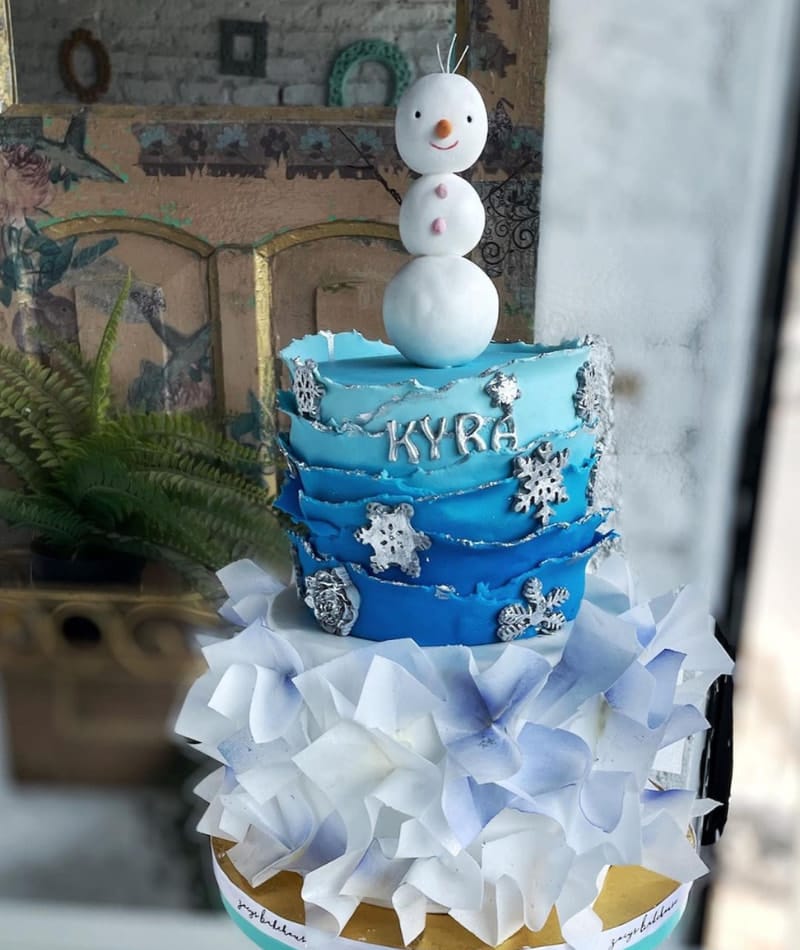 @zoeysbakehouse_hyd
The snowman is another main character of the winter season. So you can make a simple snowman as you see here with a few hairs, carrot nose, and hands. Place it on your beautifully decorated cake. Add some silver snowflakes to give this winter design a final touch.
11.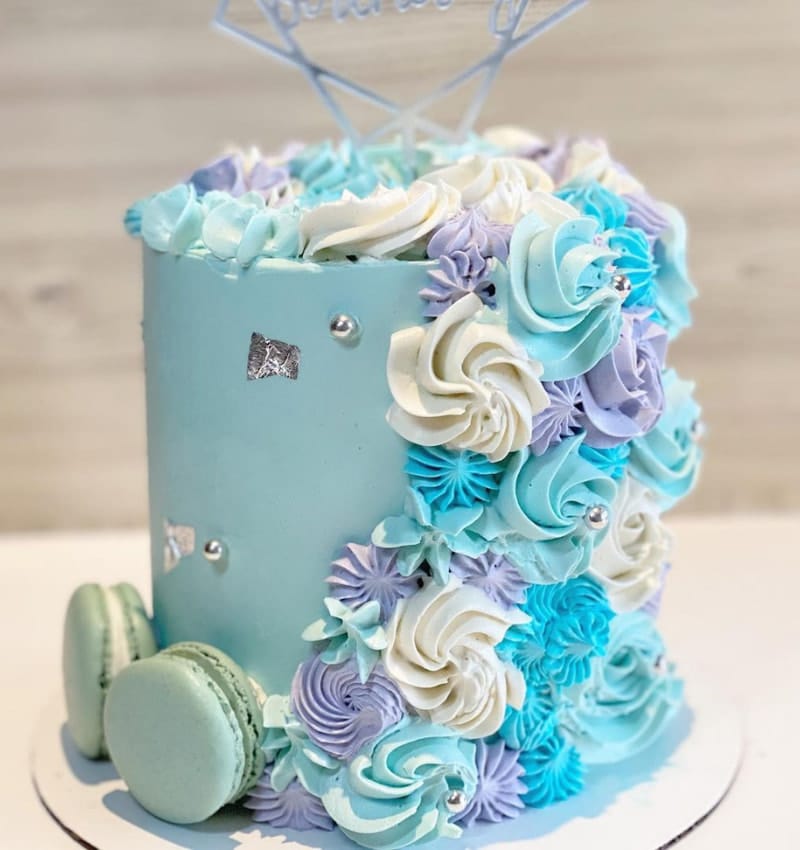 @cremebles
If you don't want to focus on any special character or theme for your winter cake, you can go for this design. Decorate your cake with a floral design from the top to the bottom along the side. Use blue, white, and purple to resemble the coldness of winter in your cake.
12.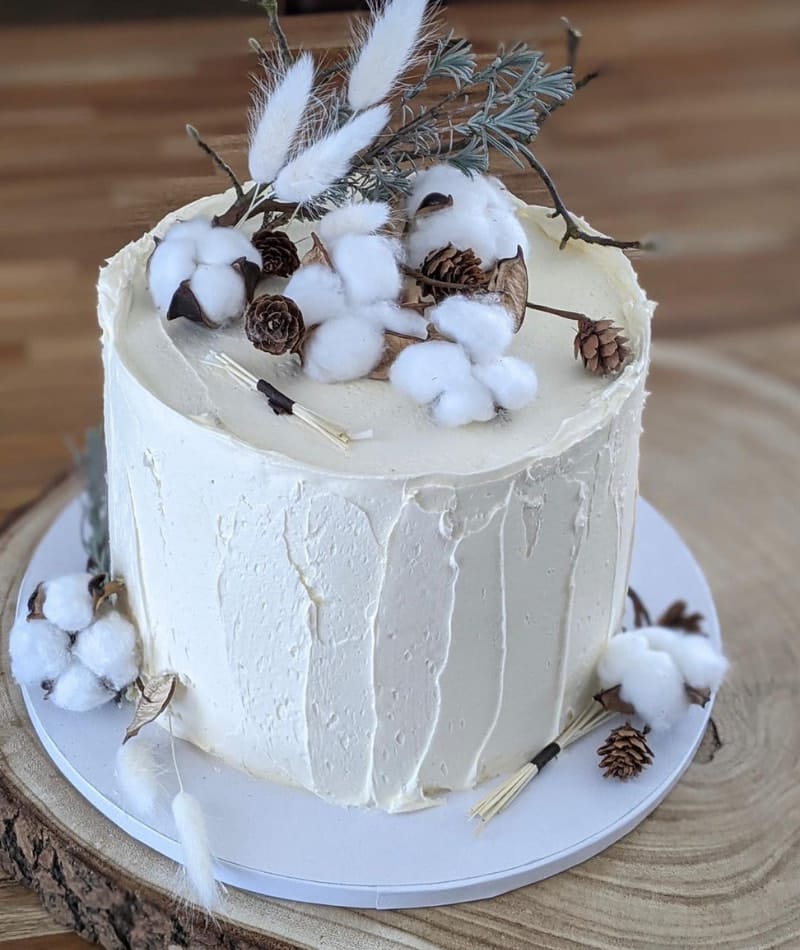 @sanelas_tortenwelt
This is a rusty winter décor idea for your cake in the season. The cake design is simple with white icing around it on all sides. Add some work resembling cotton, pine corns, and evergreen twigs on the top of your cake. This brings the vibe of a cabin in a forest in winter.
13.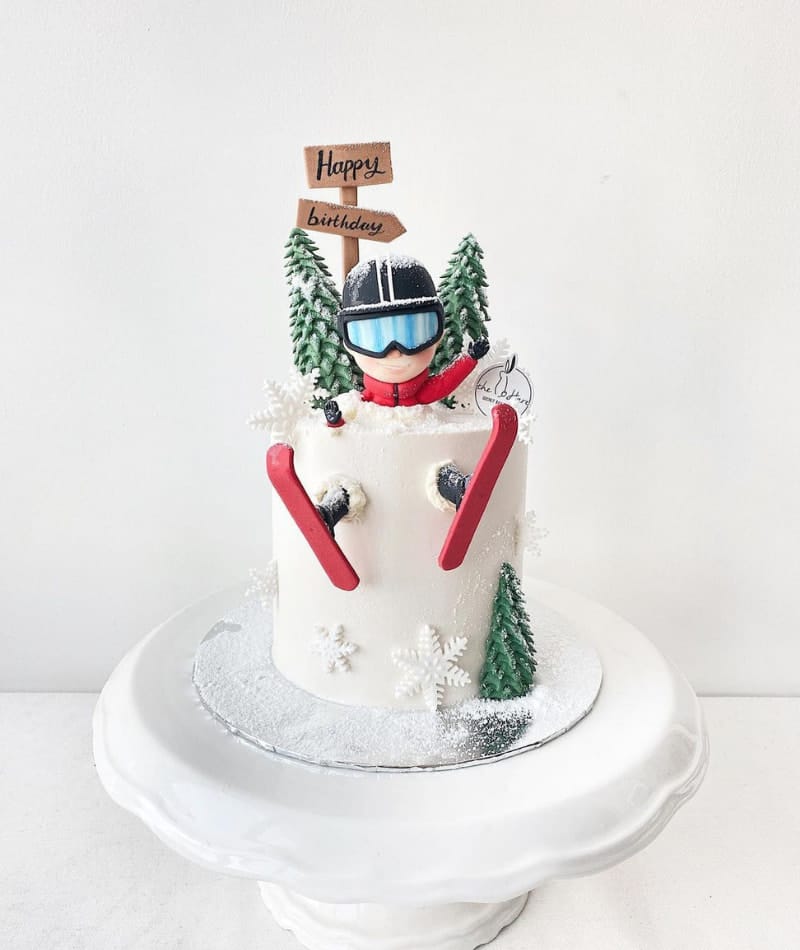 @thehare_sbh
A skating guy stuck in snow wishing you a happy birthday! The design is very creative with the goggles made to appear so real. Add some evergreen trees and snowflakes to complete the theme. You can change the colors of this on your personal choice.
14.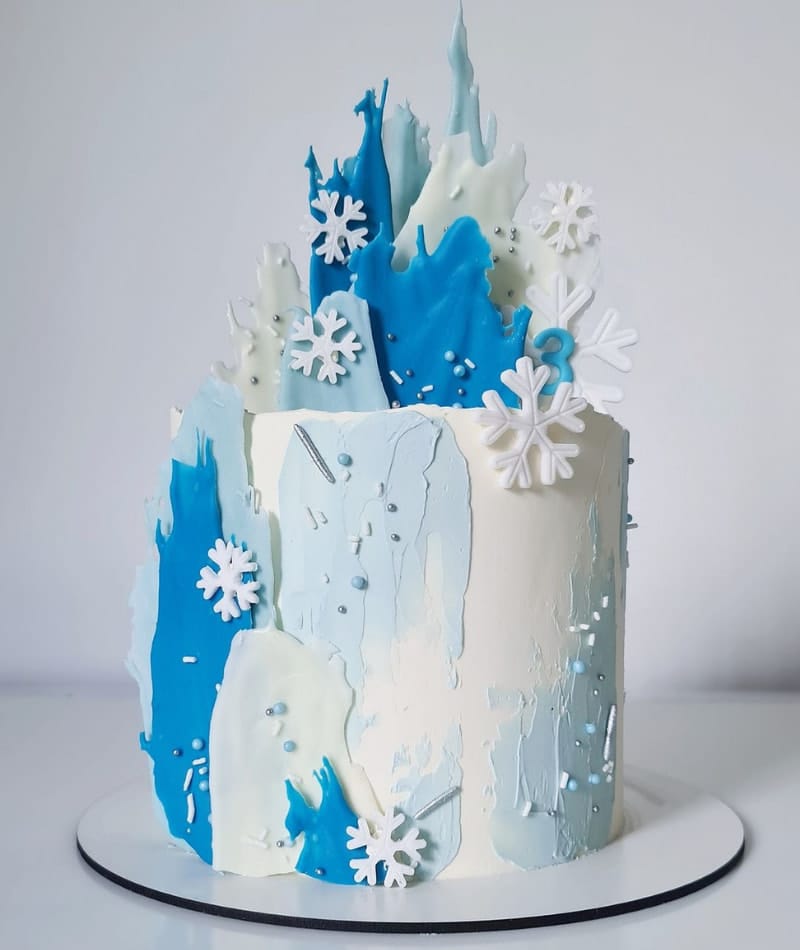 @lilo_bakery_cake
There's nothing here but snow and melting ice! It is another fabulous winter cake idea for you to try this season. Add different colored blocks on the sides to resemble ice and water. Make sure to complete the design with beautiful snowflakes around the cake.
15.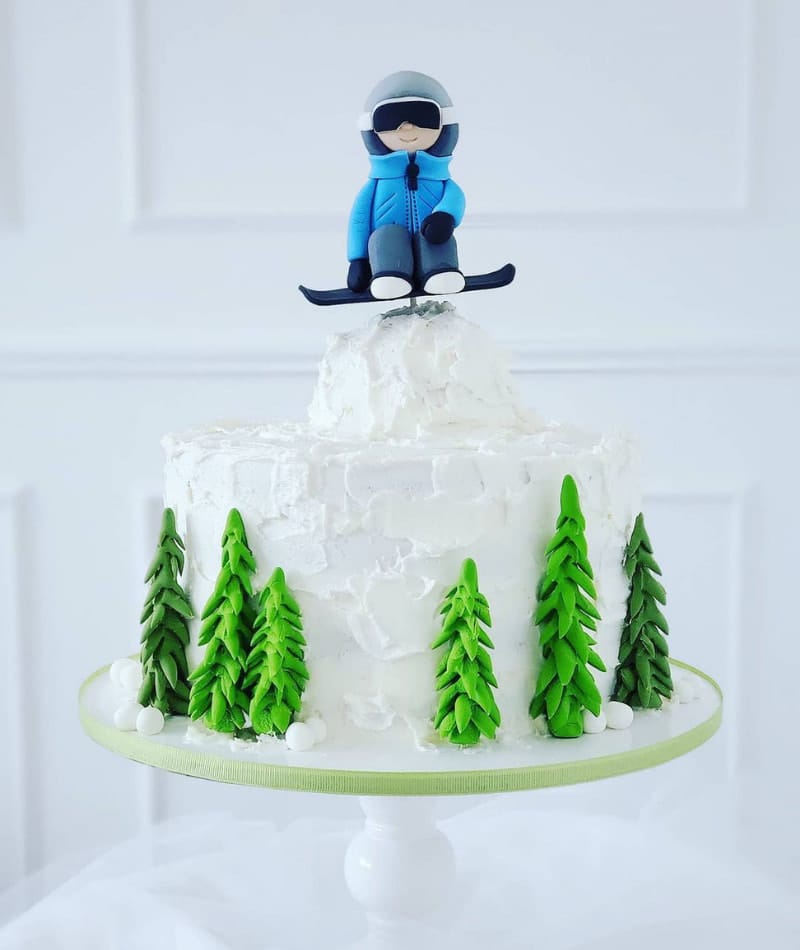 @cakes_by_kinga
Does your special person love skating as much as you do? Then you can make a dummy of him sitting on a sled on top of the cake. Use his or her favorite colors for the sweater. Don't forget to add a helmet and fur scarf as it's cold outside!
16.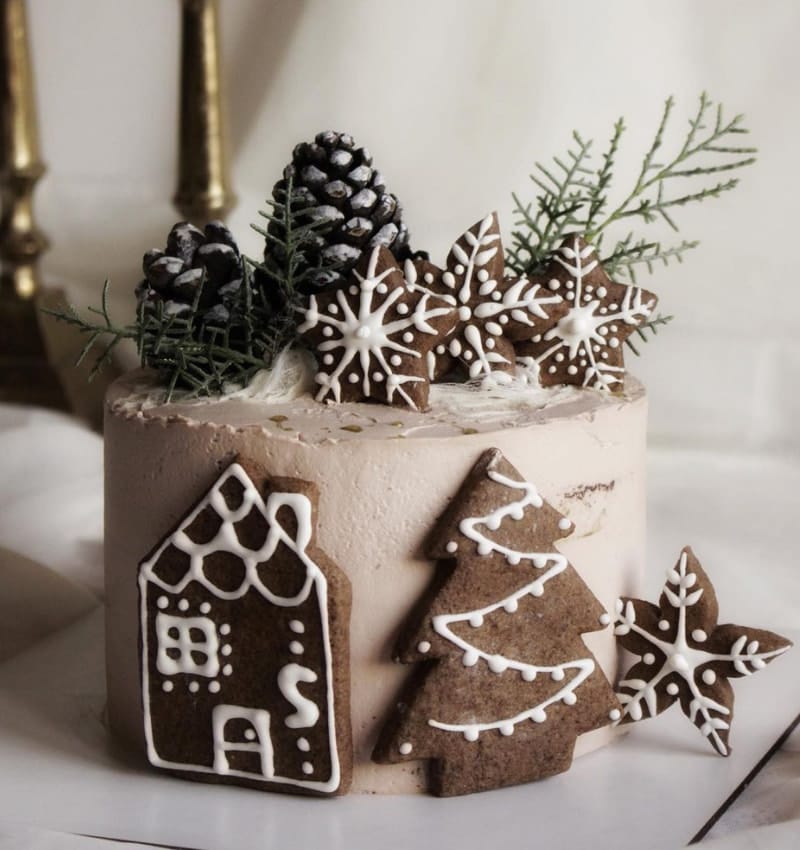 @liana.cookie
Some people love chocolate despite the winter theme of the cake. This delicious cake idea goes out to all those Choco-lovers. Design a small house, a Christmas tree, and snowflakes in chocolate. A few pine cones made with dark chocolate and some twigs will also suit this color theme.