As the seasons change, you'll undoubtedly want to alter your hair color as well. Christmas Hair Color is a simple way to update your look and project a gorgeous holiday image.
Christmas-themed hair dyes are also available in a variety of hues with eye-catching and rich appearance effects.
If you're seeking for Christmas hair colors or hairstyles, here's a cute variety to get you started. They will almost certainly provide you advice and inspiration.
1.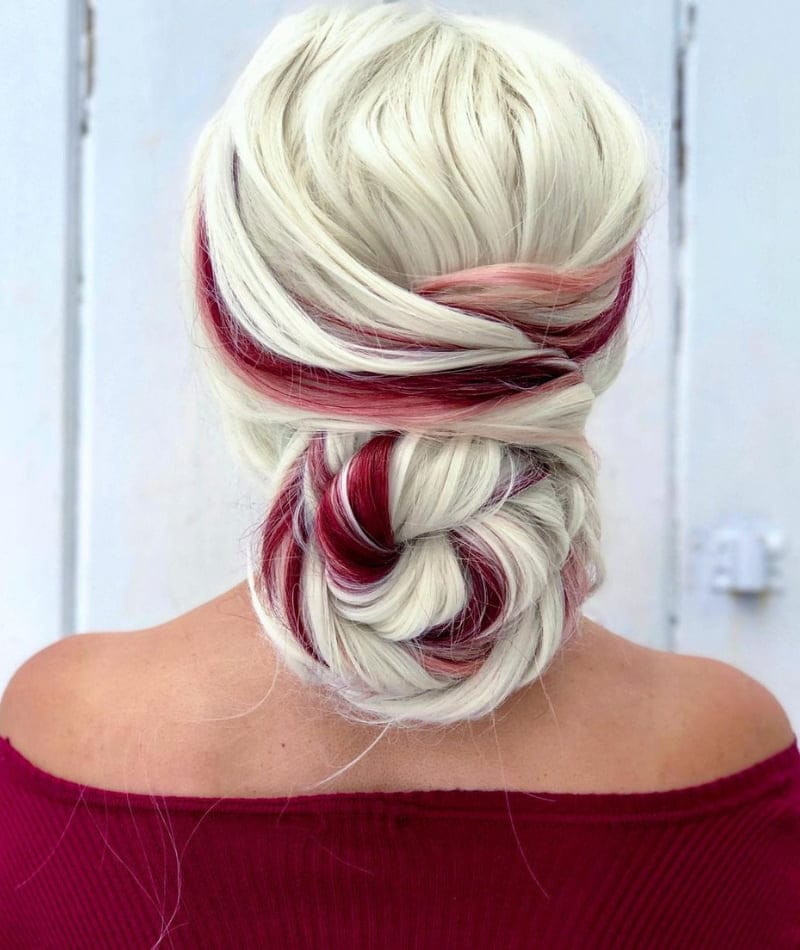 @alexandralee1016
Let's start with this amazing deep red hair color idea. You can color the two sides and leave the middle. It will look best with blonde hair or you can try a light grey. This will look gorgeous on long hair even when you tie it in knots or buns as shown here.
2.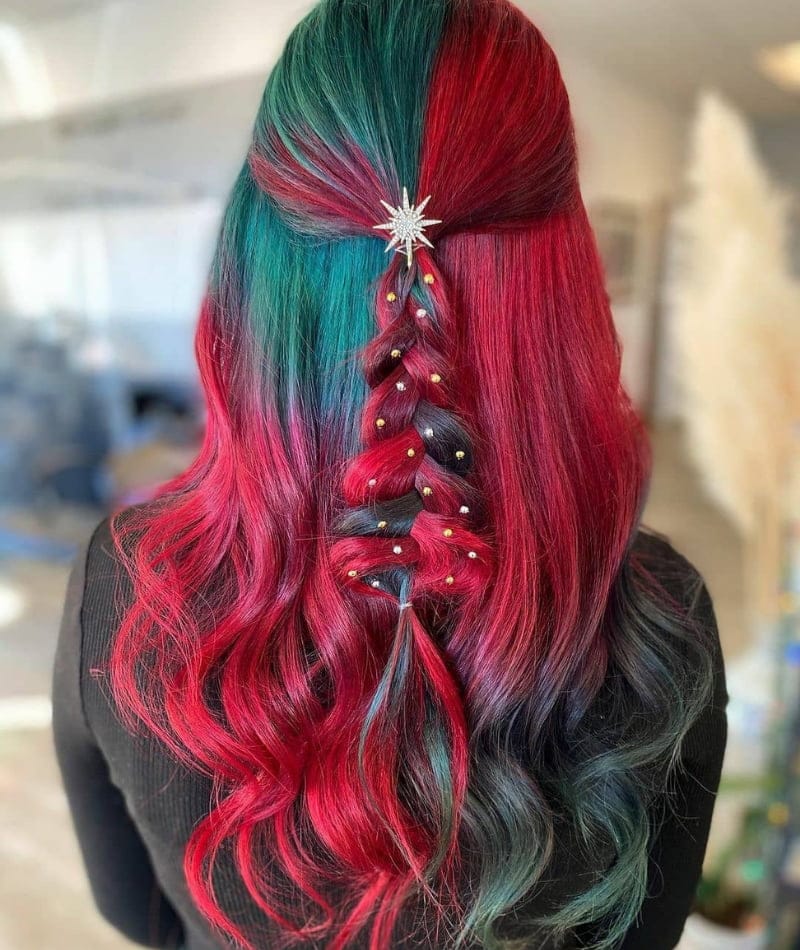 @wowcomb_usa
Christmas is all about the colors red and green as the theme. So, why not try the same on your hair? Here's the perfect Christmas Hair Color for you to match the two colors on your hair. You can color the hair on either side with a perfect border at the center.
3.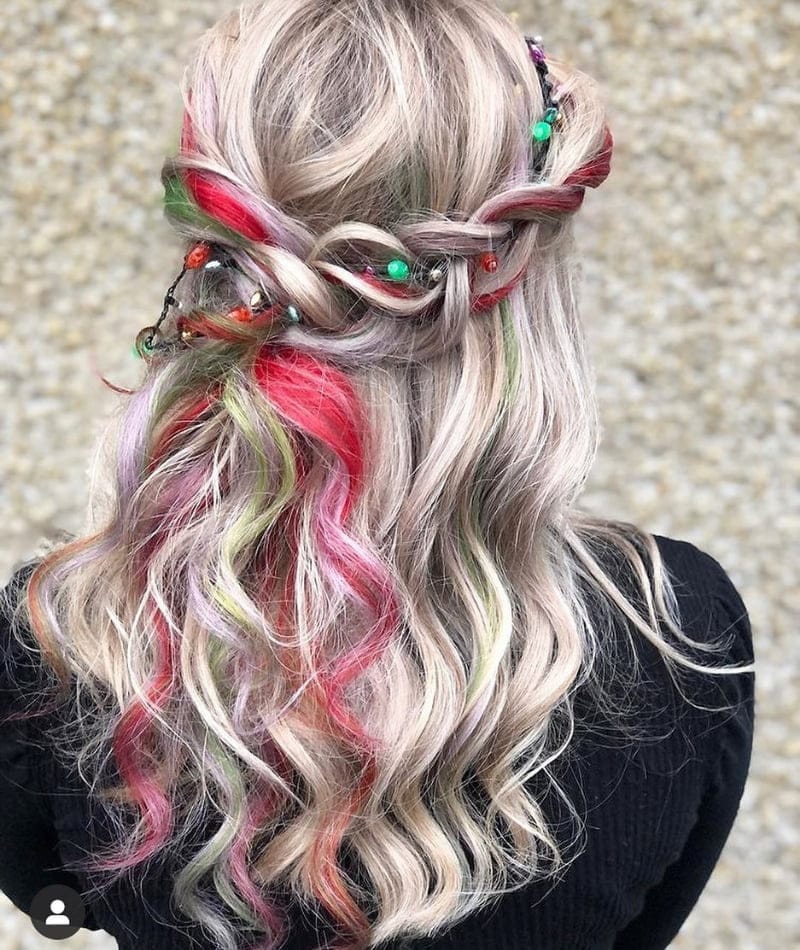 @pulpriotcanada
You can try this design if you are a natural blonde. All you need is to get a few lines of red and green as you prefer. This will look best with wavy hair as you braid it loosely and decorate it with hair accessories.
4.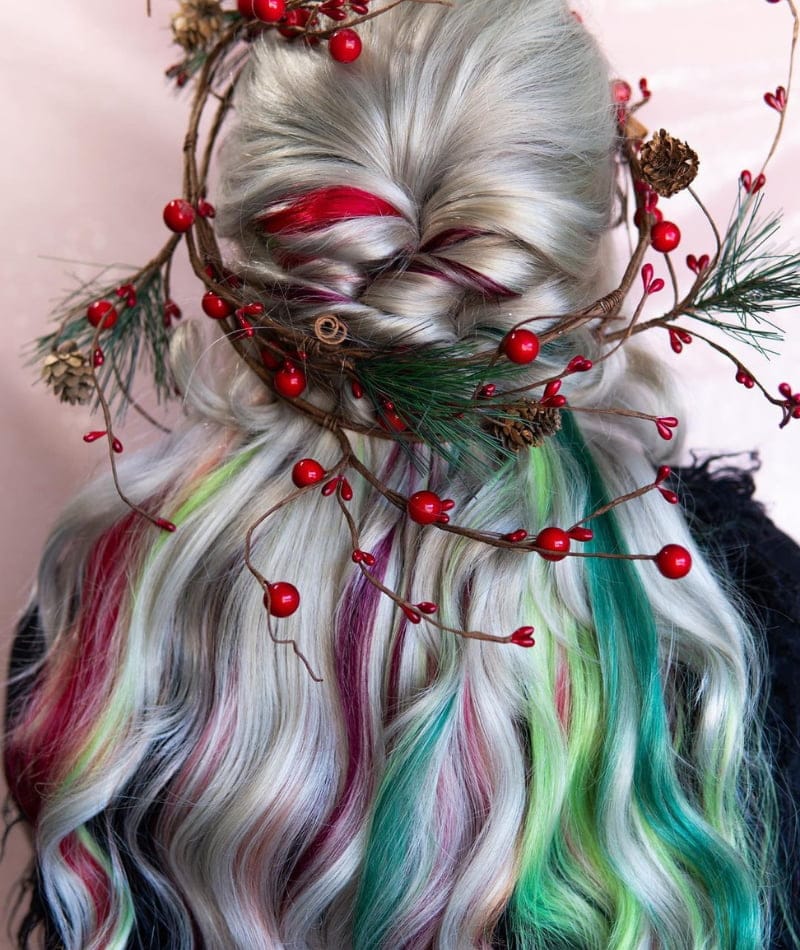 @kayla.blkhrt
If you are willing to color your hair in silver grey, you can try out this beautiful hair color design. There are different lines of various shades of red and green in this. This Christmas hair color makes it unique style different from ordinary hair colorings.
5.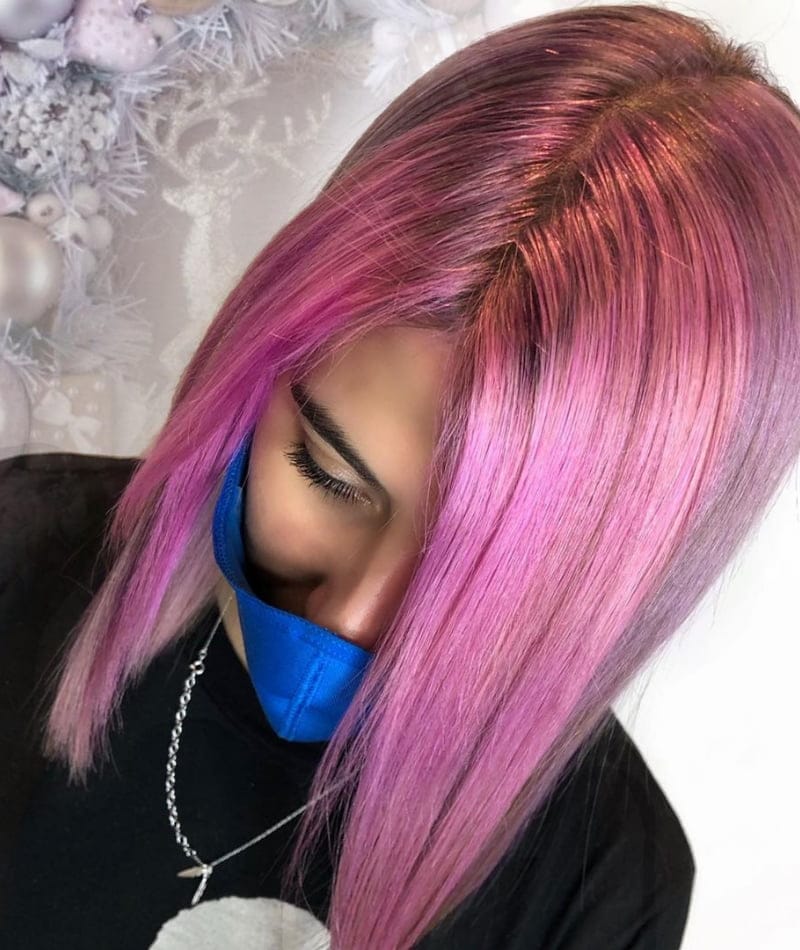 @pedro_plastic
This is a beautiful pink hair for Christmas. It will look best on short straight hair rather than wavy hair. This appears to be neater and tangle-free for winter outings. This hair color will look fabulous when matched with your outfit and a trendy winter hat.
6.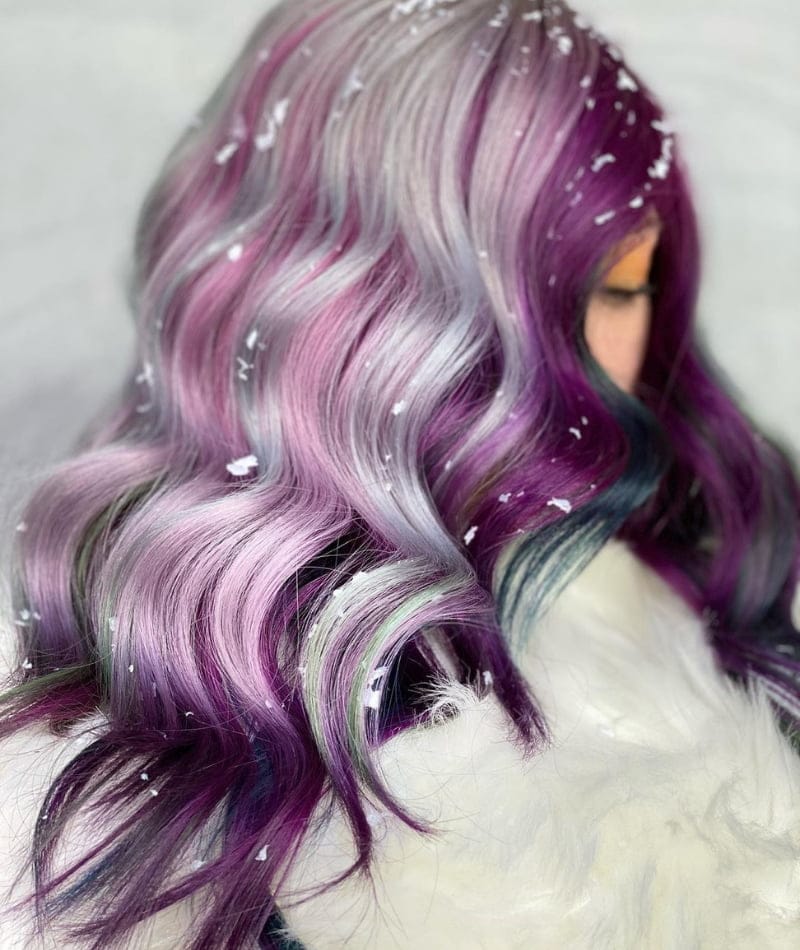 @kaybeglam
Various shades of green, steel, purple, and, light pink have been used in this beautiful color blend. It brings a more pastel look with purple and steel colors domineering. It is a perfect style for the winter as your hair looks nice and fresh throughout.
7.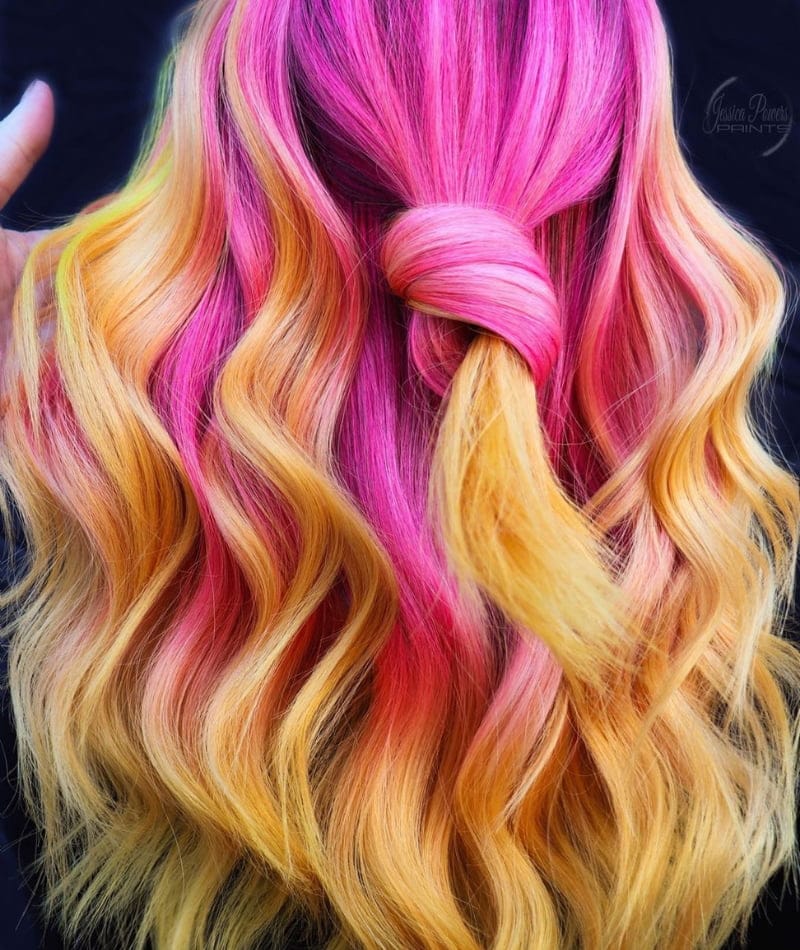 @jessicapowerspaints
Here's an attractively colorful hair color that you can use to style your hair this Christmas. The main colors used here are candy pink and golden yellow. Although it doesn't sound like a common match, it looks great once you do your hair as shown here. This is an ideal style for anyone looking for casual and outgoing vibes.
8.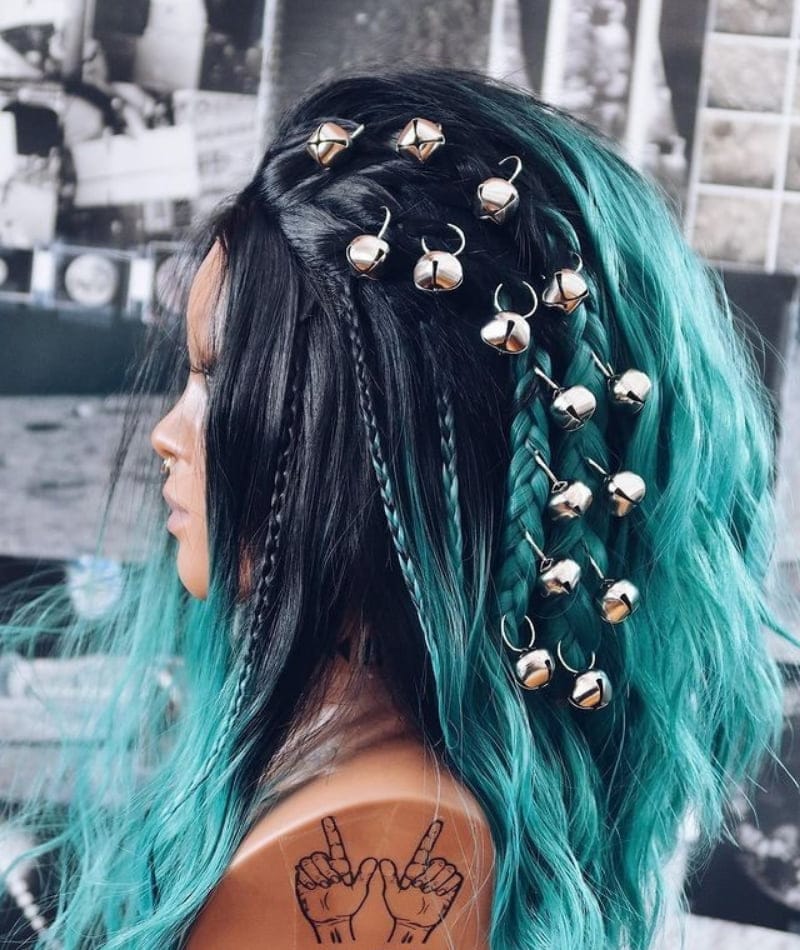 @uniwigs
This green hair color can be used on both blonde and black hair. Since the green shade is quite bright and luminous, it will work best on black hair as given here. It looks fabulous as the black gradually gets green down the hair. You can definitely try this style this Christmas!
9.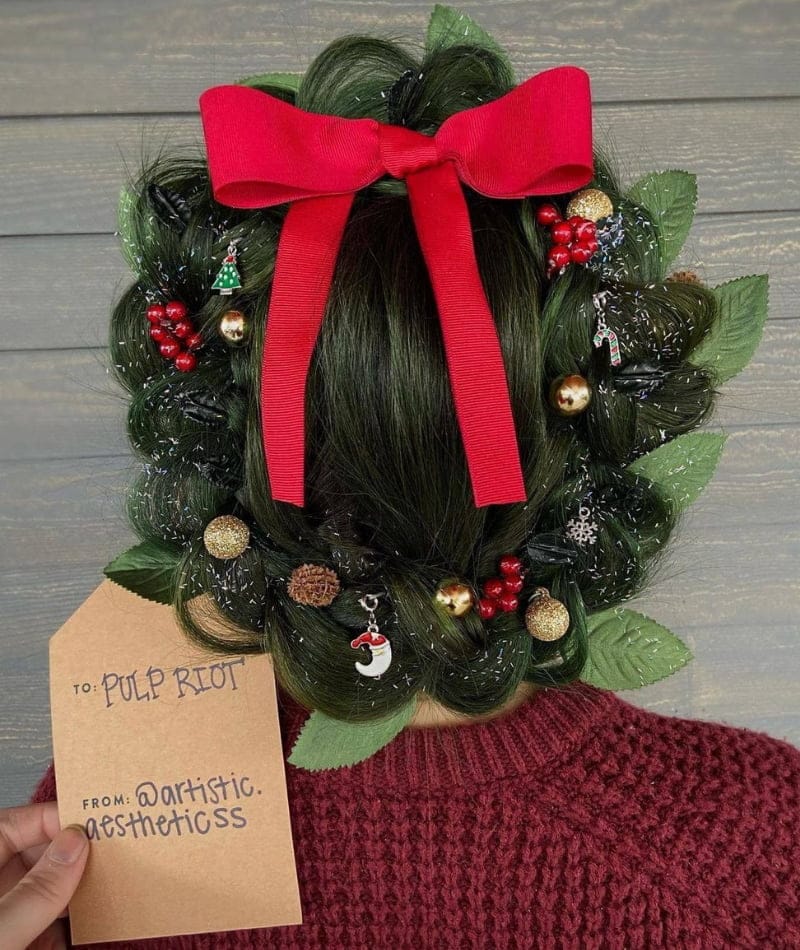 @todyeforofficial
How about making your hair look like a Christmas wreath? Yes, it's possible with this beautiful shade of green. It is done in the best Christmasy green, braided, and decorated with ornaments. You will look amazing in this hair color when you match it with a red sweater this season.
10.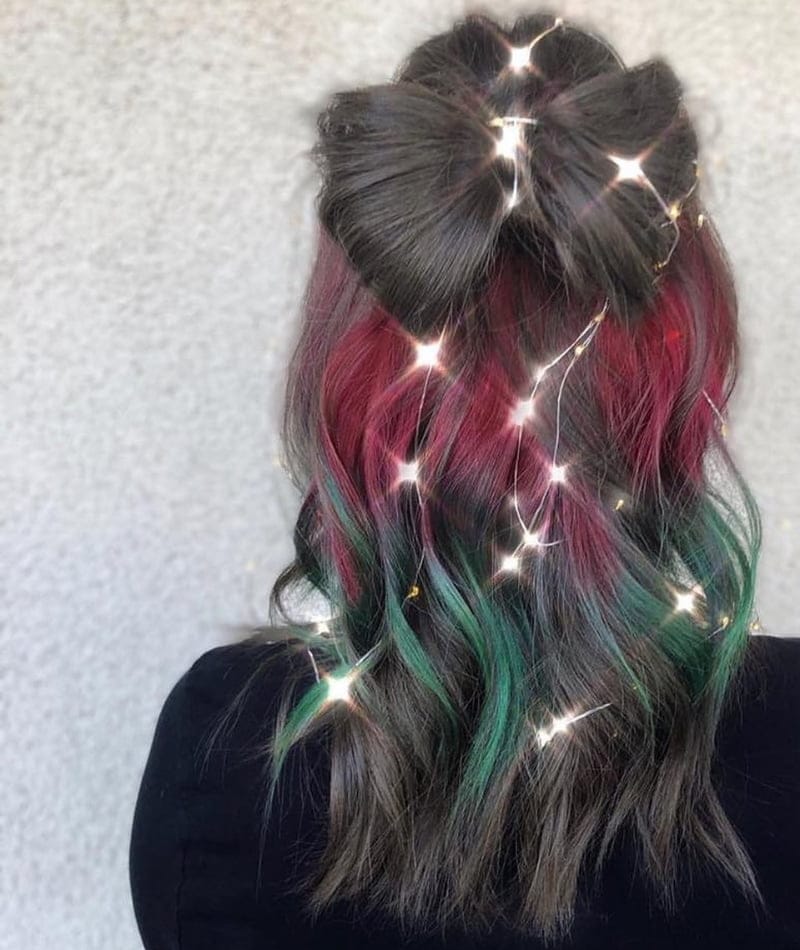 @deathbycouture
Here's a great Christmas hair color idea for black hair. You can color the middle area in red and the end in green and ash. It will look amazing if you use some hair accessories to add more glitter. It is ideal for wavy hair, but will also look good with straight or curly hair.
11.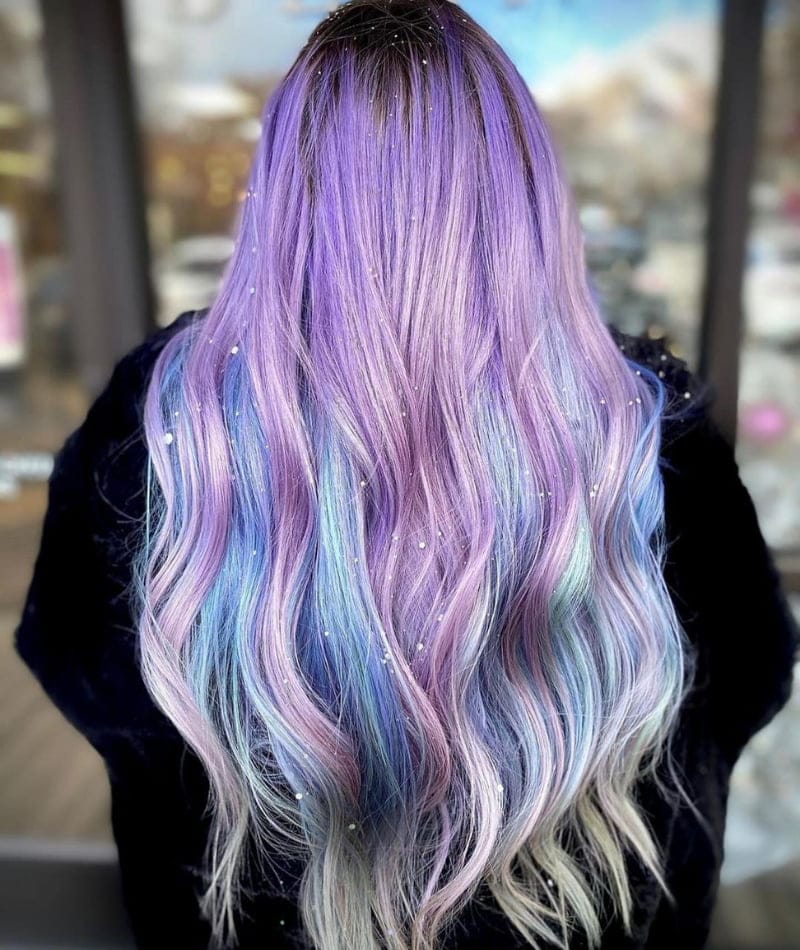 @blankcanvas.salon
Another pastel-colored hair styling idea for the winter season. The main colors used here are purple and mint blue. The outer layers are in purple while the inner layers are colored in blue. It makes your hair more bright and hence suited best with a black outfit.
12.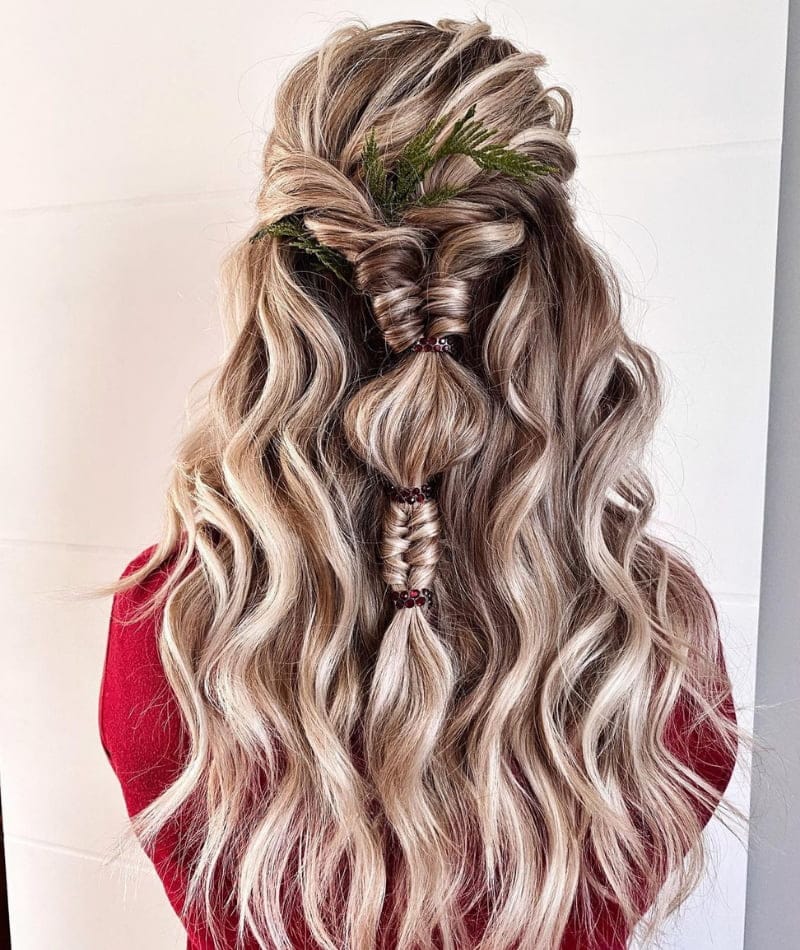 @danabriclaire
This is a beautiful hair color blend with blonde and brown. Although Christmas hair needs to have a touch of red or green, you can look fashionable in these colors as well. It allows you to decorate your hair with green and red Christmas hair accessories as they would look highlighted on your blonde hair.
13.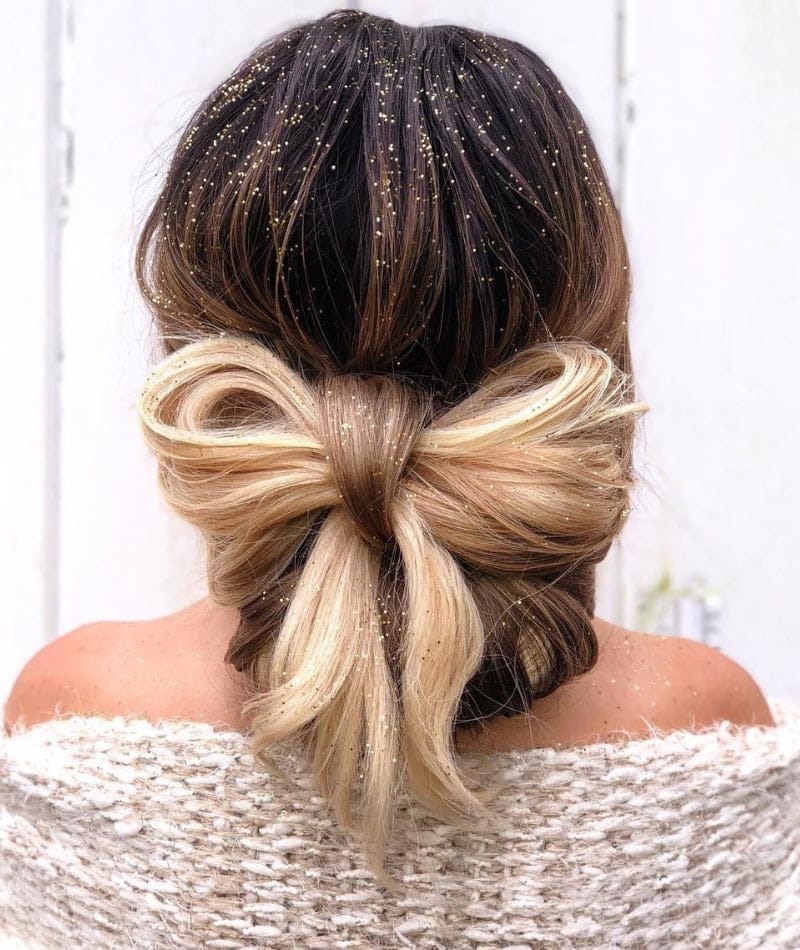 @samvillahair
If you are looking for the ideal color shades for your long silky hair, this may be a good idea. It is basically about melting down the black of the top into brown and then gently into blonde at the bottom. You can then style your hair like a ribbon similar to shown here.
14.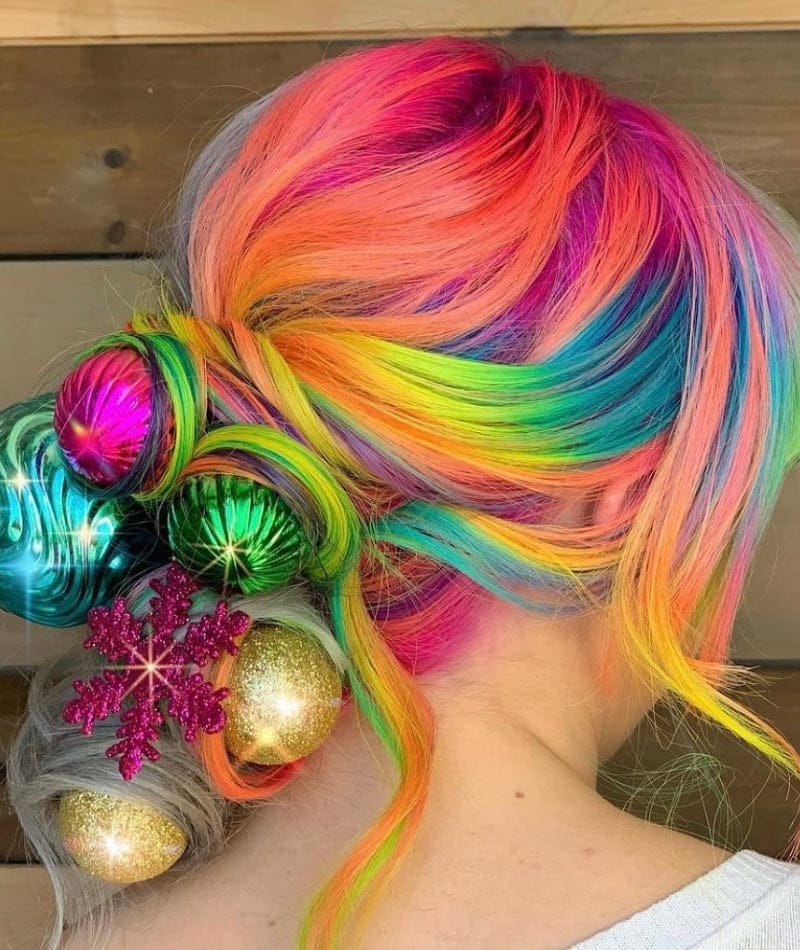 @blacklaundryclothing
Here's an amazing hair color design for anyone interested in having bright and merry hair. This design appears to have almost every color in bright vibes. It looks even better when decorated with Christmas décors. You can try this color trend not only for Christmas but also for summer vacations as well.
15.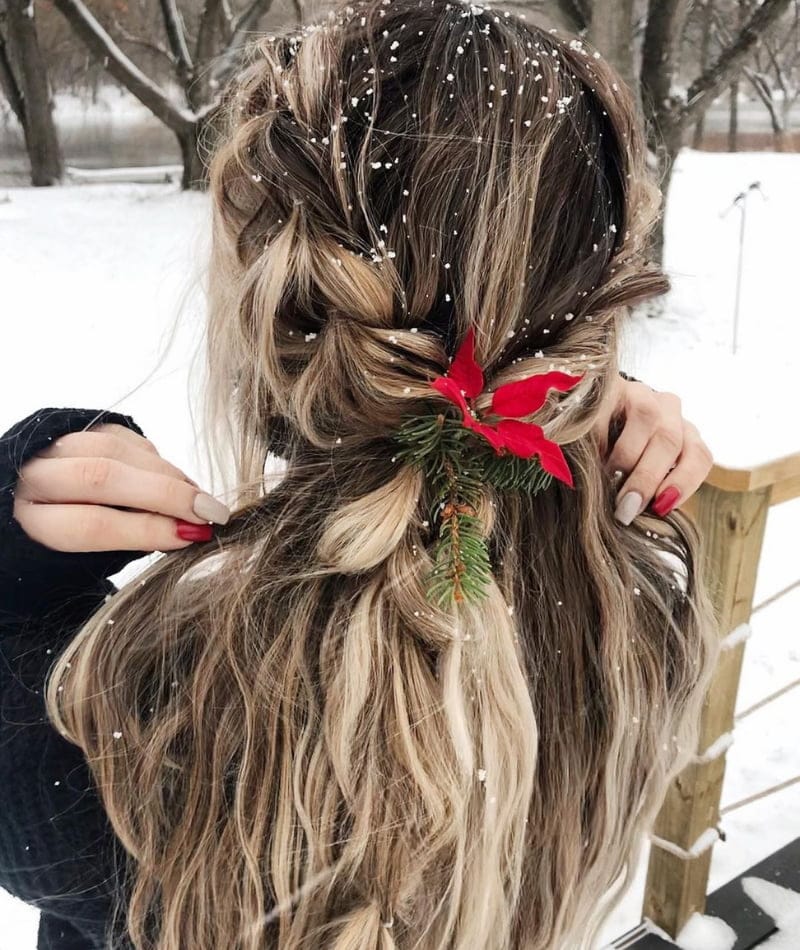 @wb_upstyles
This is another blend of brown and blonde for the winter season. It is ideal if you are not interested in bright and highlighting hair colors. You can braid your hair loosely, tie it with a red ribbon and add some evergreen hairpins. You can also try some matching Christmas nail design along with this.
16.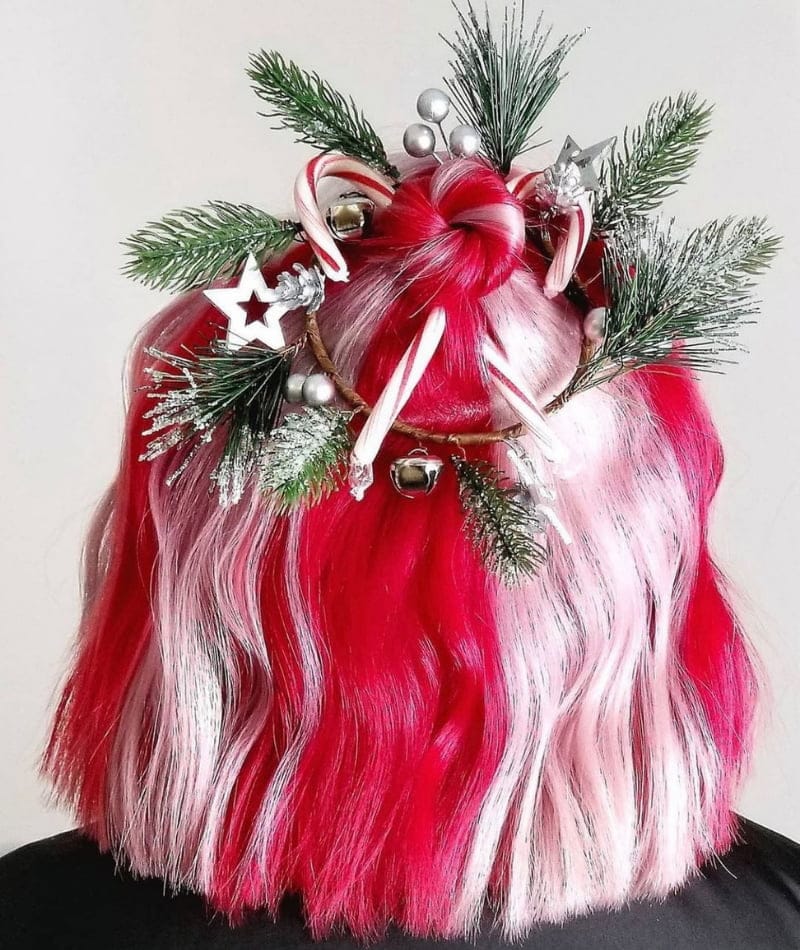 @blacklaundryclothing
This is the ultimate Christmas hair color idea of the season. The bright red and ash colors will bring the true vibe of the season. It will look best for short hair with candy clips and green outfits. You can add some green hair ornaments to complete your hairdo.