Are you looking for the greatest dorm room ideas for college girls? One of the most exciting aspects of starting college is getting to decorate your dorm to appear well.
College females utilize their dorm rooms for everything from studying to sleeping to hanging out with pals. There are several methods to make your dorm room more interesting. There are several methods to decorate your dorm room, whether you choose simple and straightforward décor or wish to be more creative.
There are plenty of dorm room decorating ideas for girls. Here are 16 of the most creative dorm room ideas I came across on the internet. Let's get started.
Also you can decorate your dorm room wall with metal birds.
Disclosure: This post contains affiliate links, which means we may receive a commission if you click a link and purchase something that we have recommended.
1.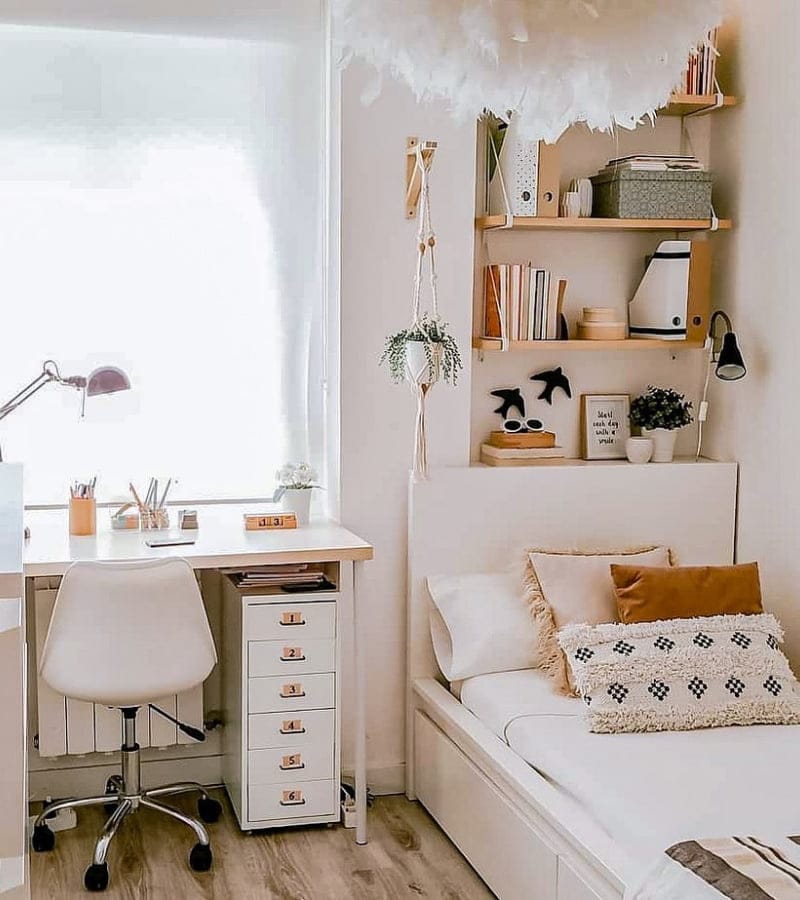 @alifemoreorganised
This room décor idea is for small spaces where you need to have everything in a confined room. You can have a shelf above the headboard of your bed for the books and other items. Place the work desk at the window with a cupboard of drawers at the side.
2.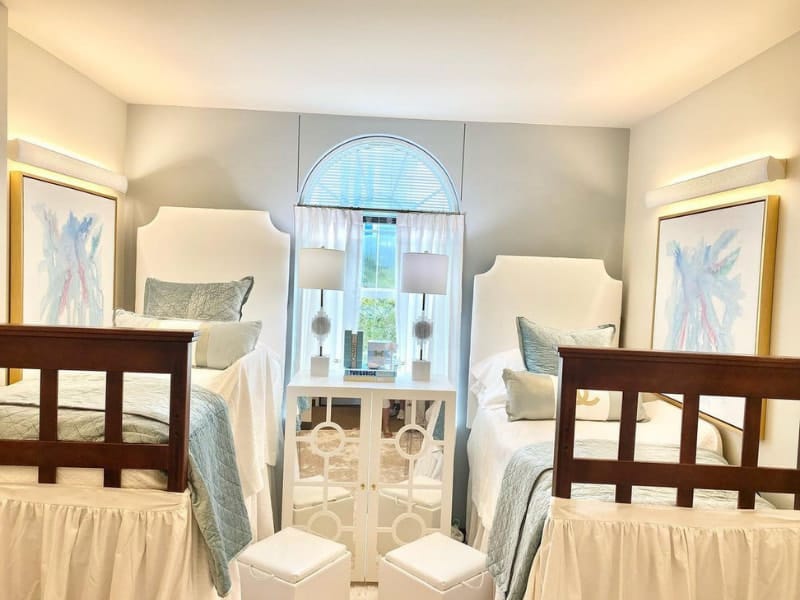 @afterfivedesigns
A perfect room idea for two beds placed opposite to each other. Instead of a work table, you can share a bedside table with two lamps. You can even style your room with designer items such as Gucci pillows as per your preference.
3.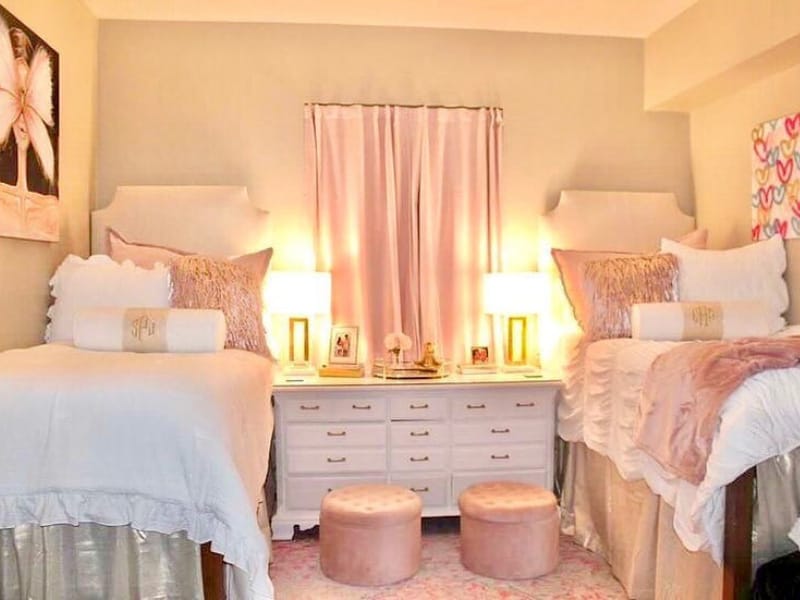 @dorm__decor
Another dorm bedroom idea for two girls who prefer their room in pink. The color brings more warmth, especially in the winter season. The bedside table with lamps is placed at the window in between the two beds. You can hang two different pictures on the two walls to mark your side of the room.
4.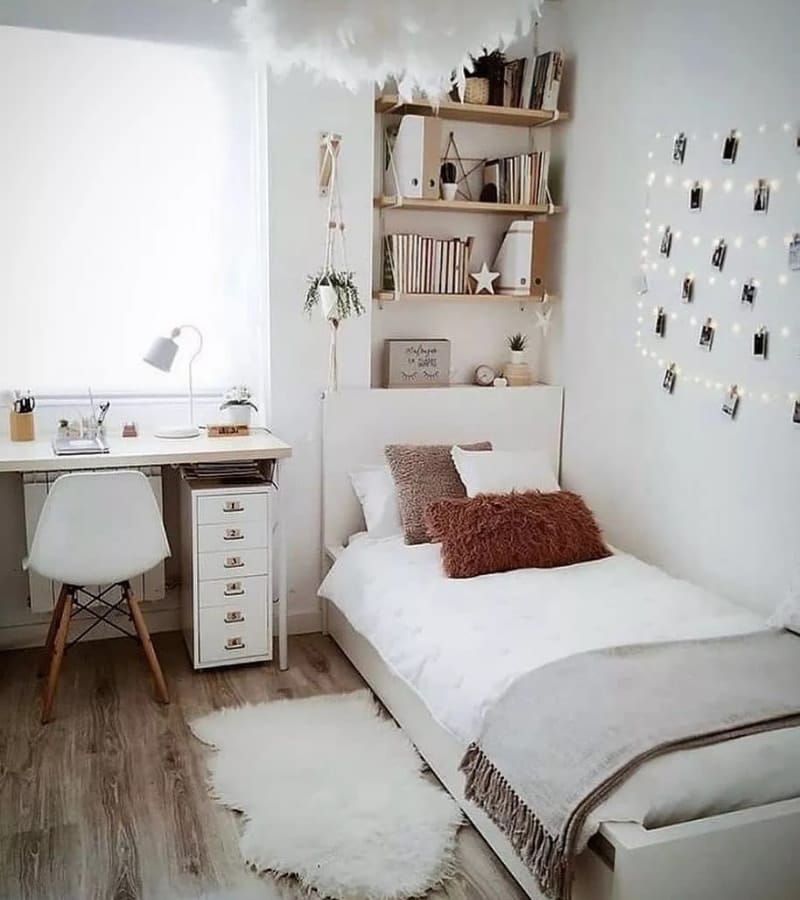 @my.room.design
Decorate your bedside wall with photos of your favorite celebrities or special moments of your life. Add a warm fur mat near the bed and a matching fur pillow. You can also add a tiny plant pot hanging down near the window over your bed. It will make you feel more homey and comfortable.
5.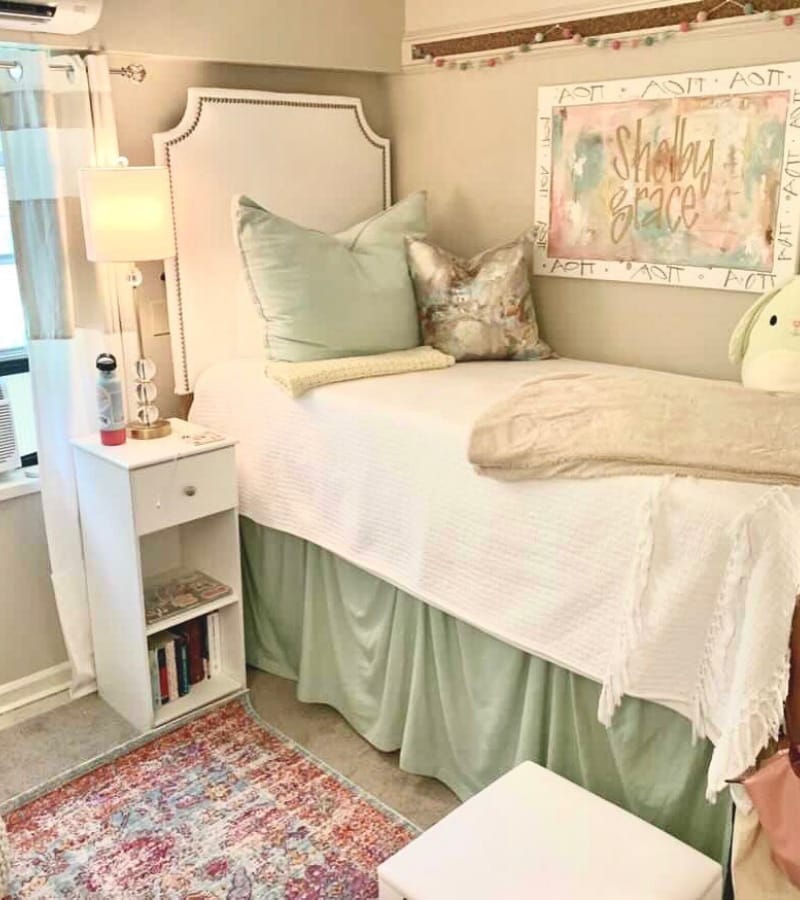 @dorm__decor
Have a small cupboard as your bedside table so that you can store your essentials in a limited space. Get yourself your favorite bunny pillow to make you feel at home. This image shows an ideal décor idea for girls in small dorms with confined spaces.
6.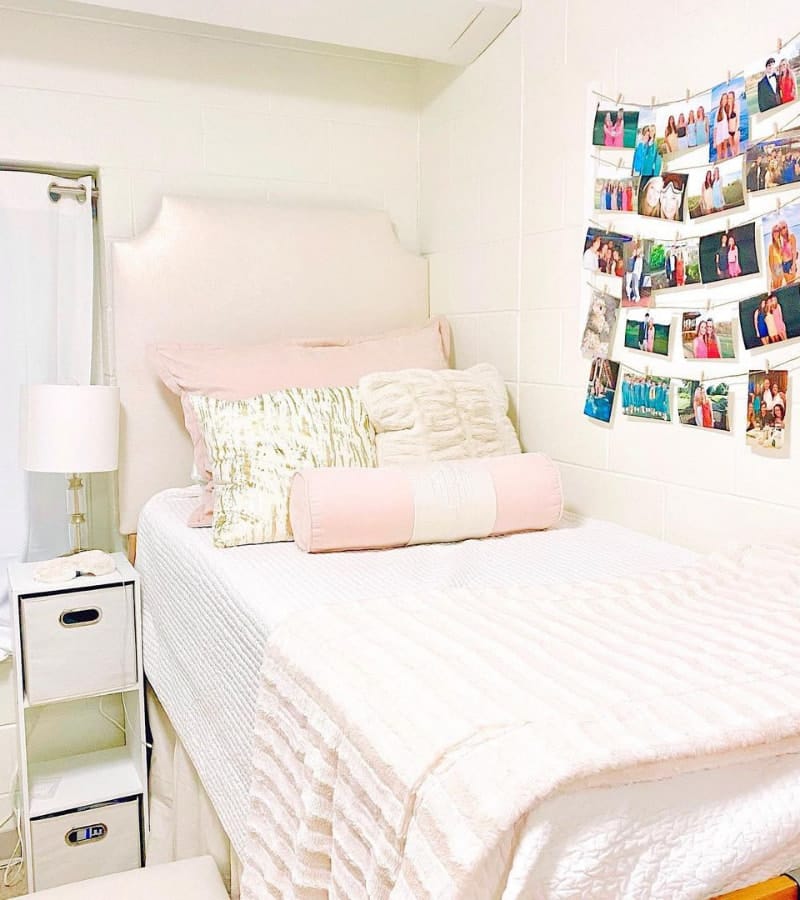 @dorm__decor
There's nothing better than having your best memories by your side. You can cherish all your special moments and loved ones with this wall décor. Clip the photos in lines along the wall of your bedside. Match the other items in your room according to your favorite color theme.
7.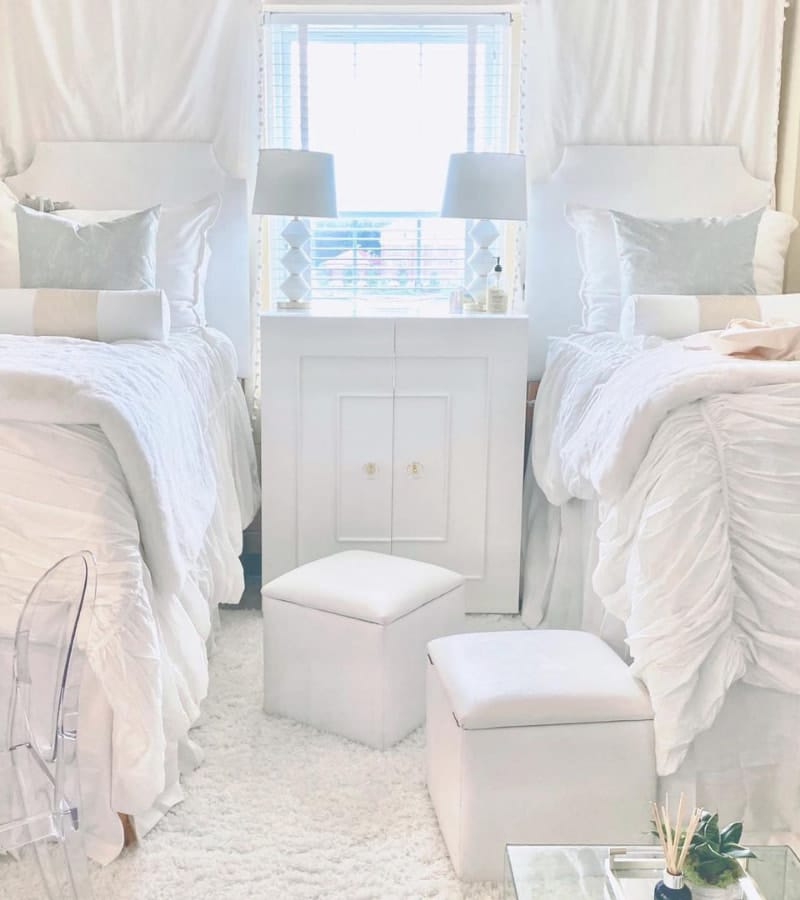 @dorm__decor
Here's a cozy-looking bedroom idea with two beds. The theme used here is white and very light shades of pink and grey. The two sides look identical with a bedside cupboard in the middle, separating the two sides. You can even try adding more color with different pillowcases and comforters.
8.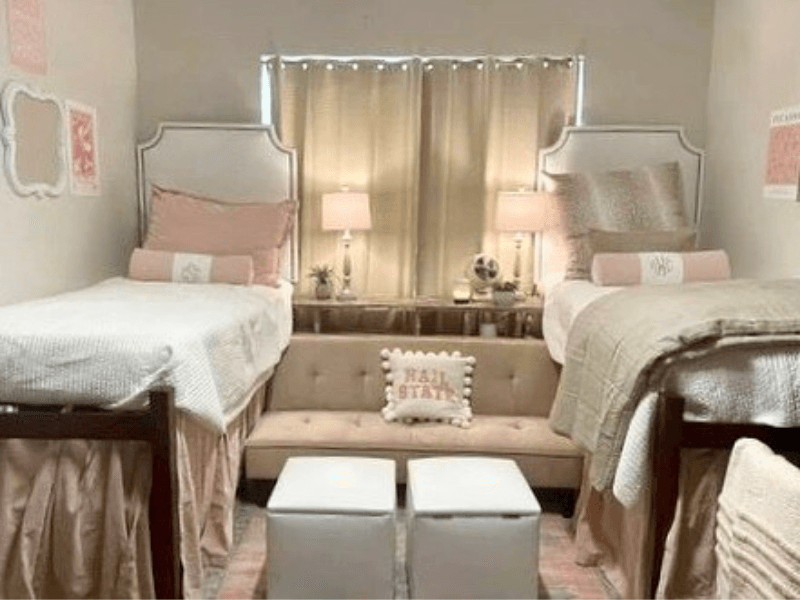 @dorm__decor
This dorm room has an additional mini sofa between the two beds. It will be a good idea to have more room when your friends come over for a chat. However, it may reduce your storage space as you wouldn't be able to have cupboards or shelves on the bedside table.
9.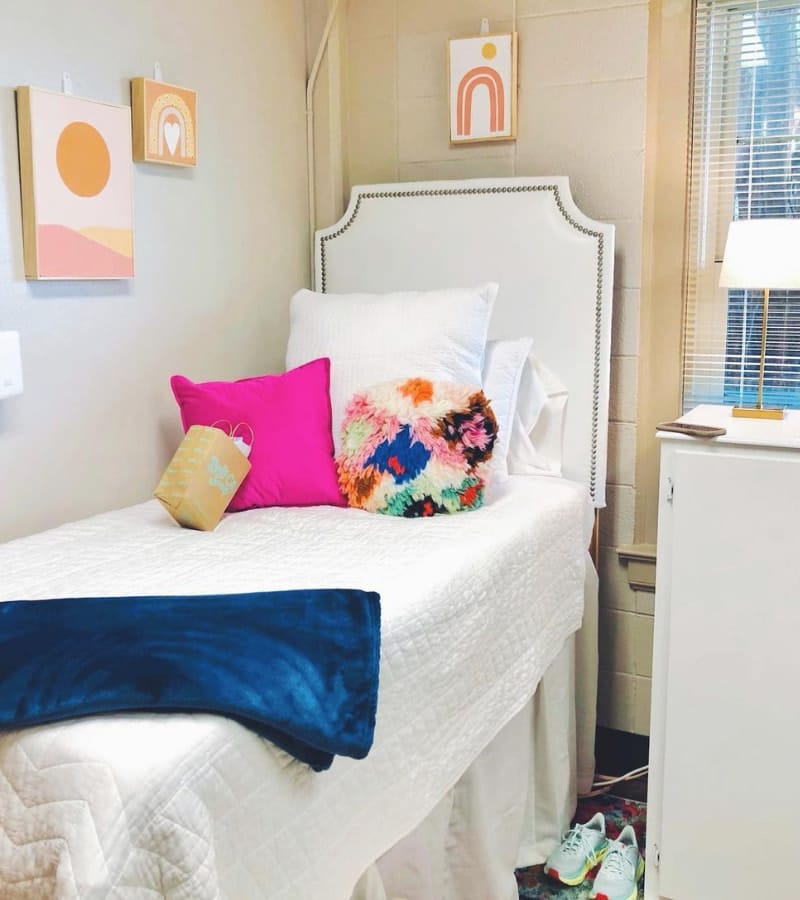 @dorm__decor
Make your room more colorful with bright-colored pillows and blankets. Hang a few wall décors on the wall above your bed. This is probably the best way you can make the room more appealing. Choose a small but attractive table lamp you like for your bedside.
10.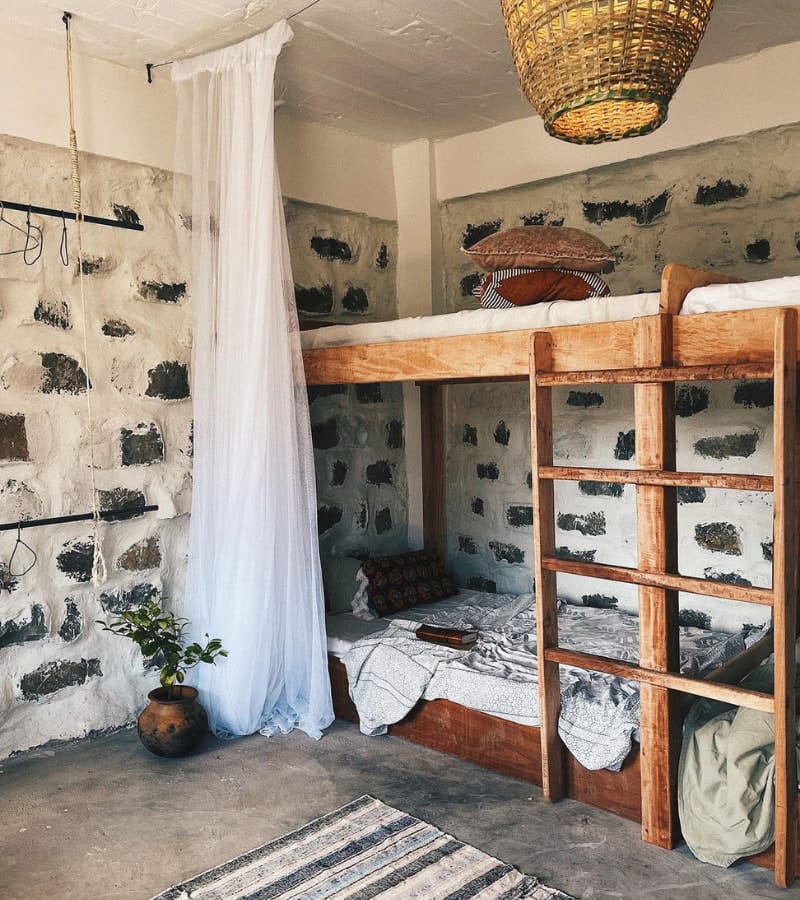 @theinninkilgoris
This dorm is way more different from the usual modern bedrooms. This brings a tropical vibe with the stones protruding from the coarse wall. The beds are very low and positioned one above the other rather than being on the sides. You can also have a tall curtain separating the beds from the rest of the room.
11.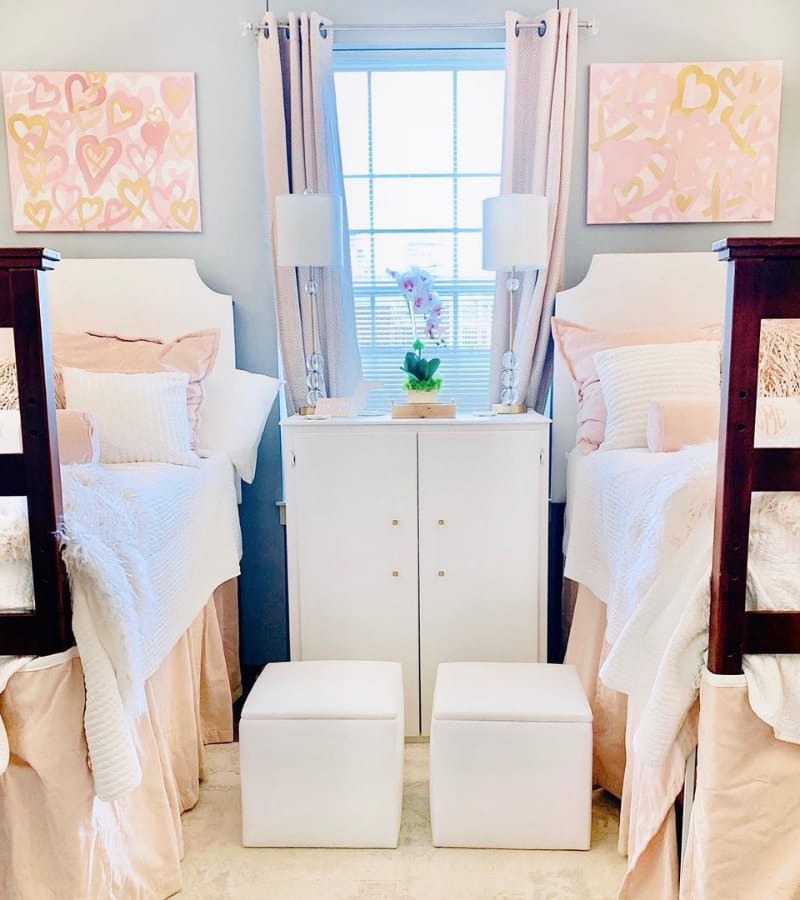 @dorm__decor
This is another coordinated bedroom idea where the two sides look identical. Decorate your room with the theme of light pink. Hang beautiful pictures above the bed and go for matching lamps. Place an orchid plant on the bedside table or any other décor item.
12.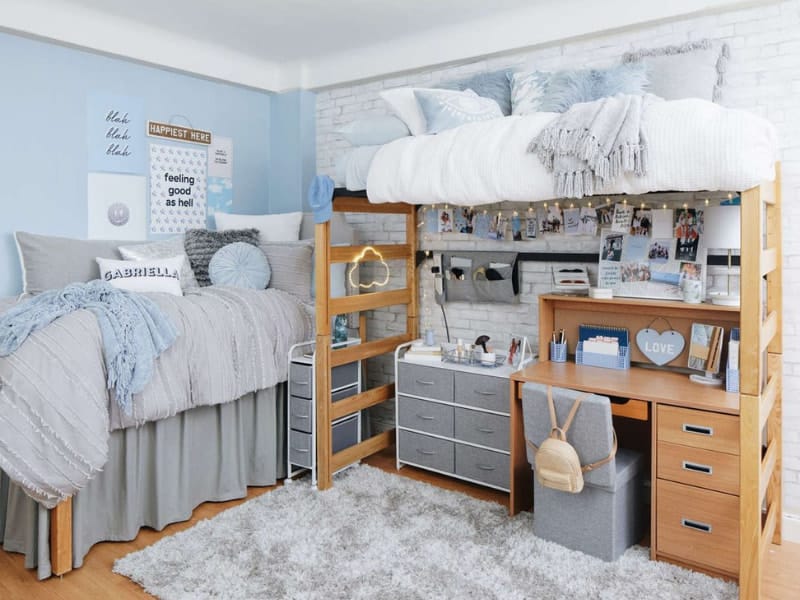 @dormify
This dorm idea allows you to use the space above your work area as another bed. Decorate your work table and cupboards with pictures of your favorite moments and loved ones. The room décor is themed grey and wood. White and light blue match well for the wall and bed set.
13.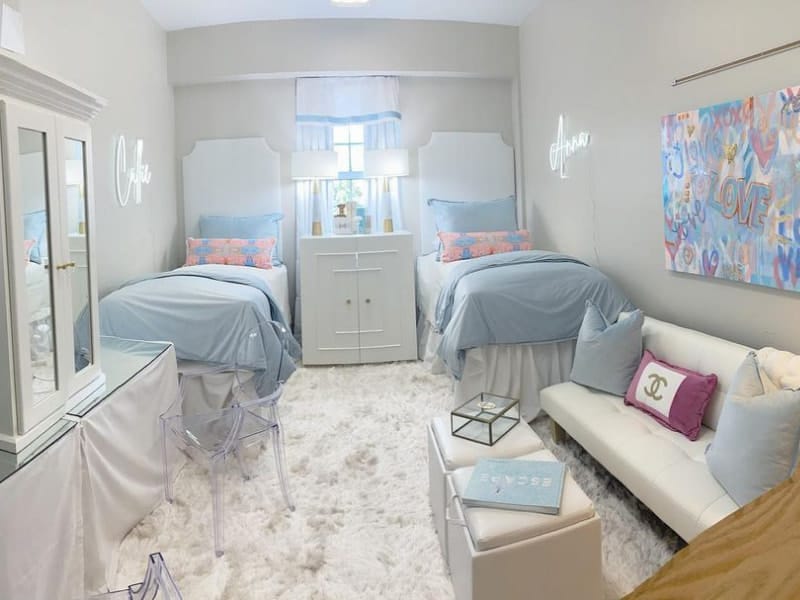 @afterfivedesigns
This is a more spacious room with two beds and a mini couch. Have your beds in light blue and the couch pillows with the same color to match. Hang a beautiful picture on the wall to make your living space more appealing. You can make this lobby area similar to the living room in your home.
14.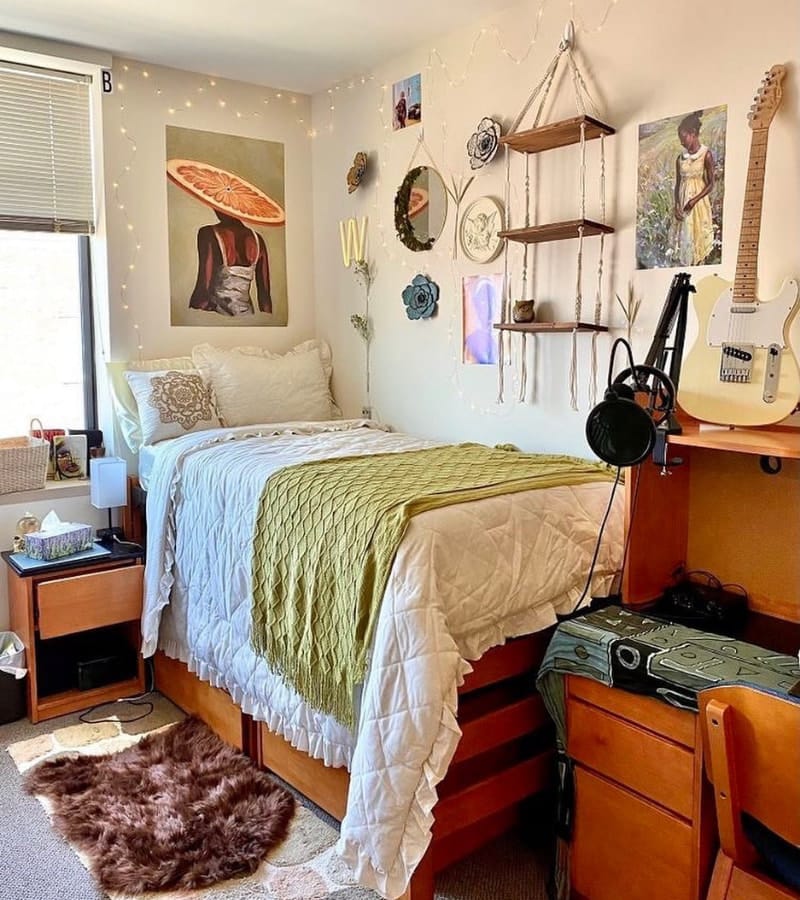 @bedsandbedrooms
If you are interested in different accessories, you can add various wall décors as shown here. The hanging shelf is a special addition that is not a common décor. Add some beautiful pictures and a few tiny LEDs to make the room more attractive. Wooden tables and cupboards are suited best with this theme.
15.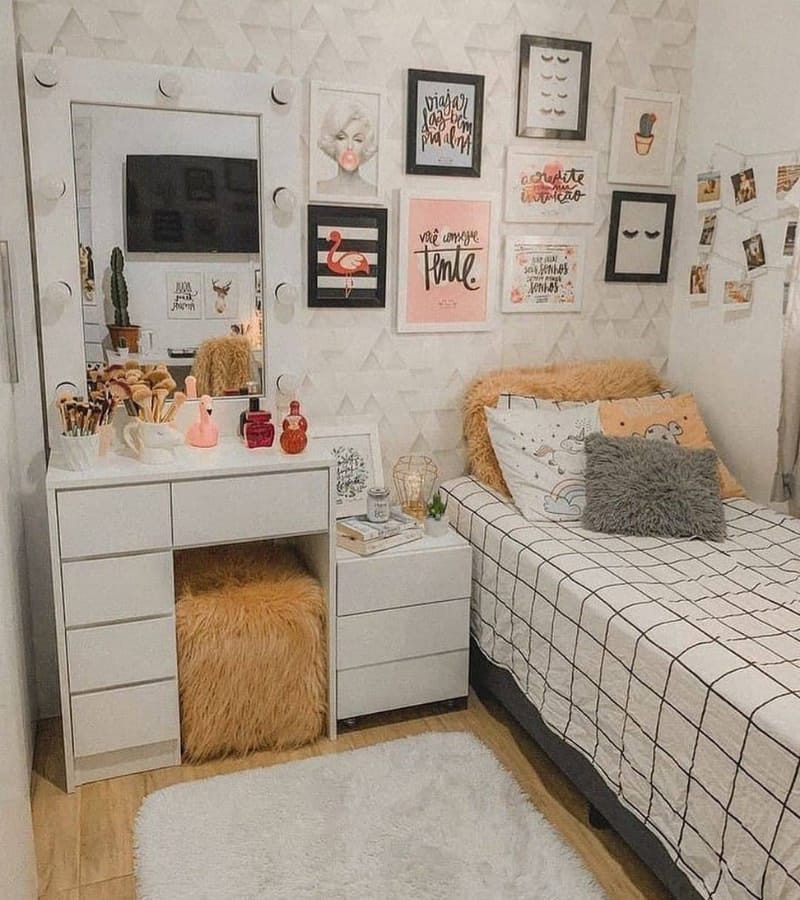 @mybedroomlooks
A cozy-looking dorm room idea for girls who prefer fur pillows. Use your walls to hang various pictures, photos, and inspirational quotes. The bedside table is more spacious with a mirror and elevated area for your makeup items and beauty products. This design makes the room more look more spacious than it really is.
16.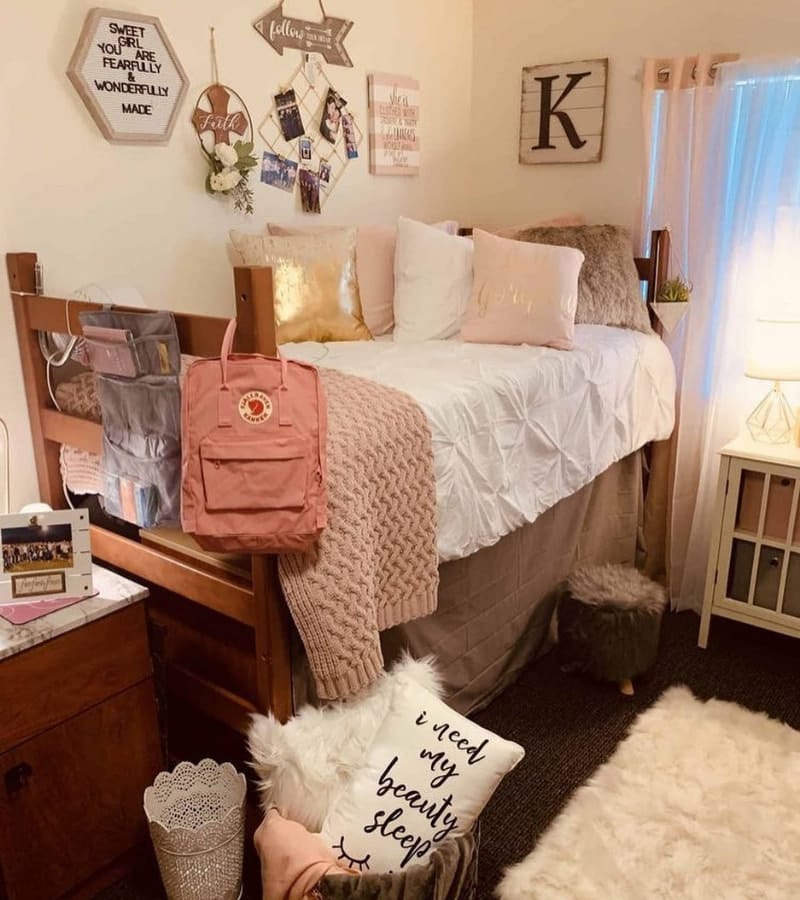 @bedsandbedrooms
This again is a great room idea for wall décor lovers. You can keep yourself motivated with your favorite quote by your bed. There is no bedside table, but instead, you can leave your essentials on the table at the foot of your bed. Have some cozy fur carpets and pillows to keep you warm in the cold season.