The sunflower is one of the most well-known and beautiful flowers in the world. Sunflowers have a variety of symbolic connotations in addition to being beautiful to look at.
You've come to the right place if you're thinking about having a sunflower tattoo or searching for some ideas. In this post, we've compiled a list of 15 stunning sunflower tattoos to inspire you as you plan your next sunflower tattoo.
Disclosure: This post contains affiliate links, which means we may receive a commission if you click a link and purchase something that we have recommended.
1. Color shade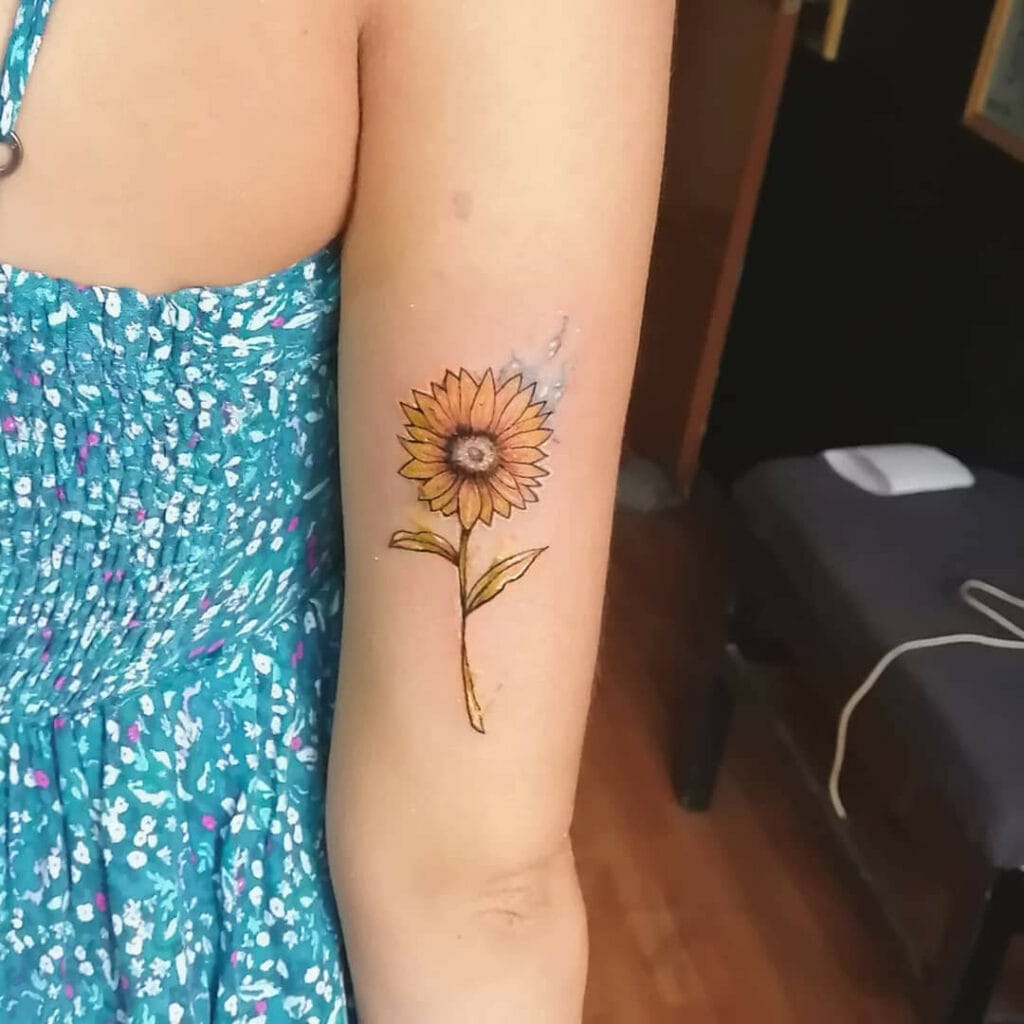 @danielcr0s7
One of the best sunflower tattoo ideas for the back of your arm. This is a complete flower with so many thin petals, two leaves, and a stem. The color shade is simple with a light shade of orange and green with a black outline. You can adjust the size of the tattoo depending on the arm length.
2. Realistic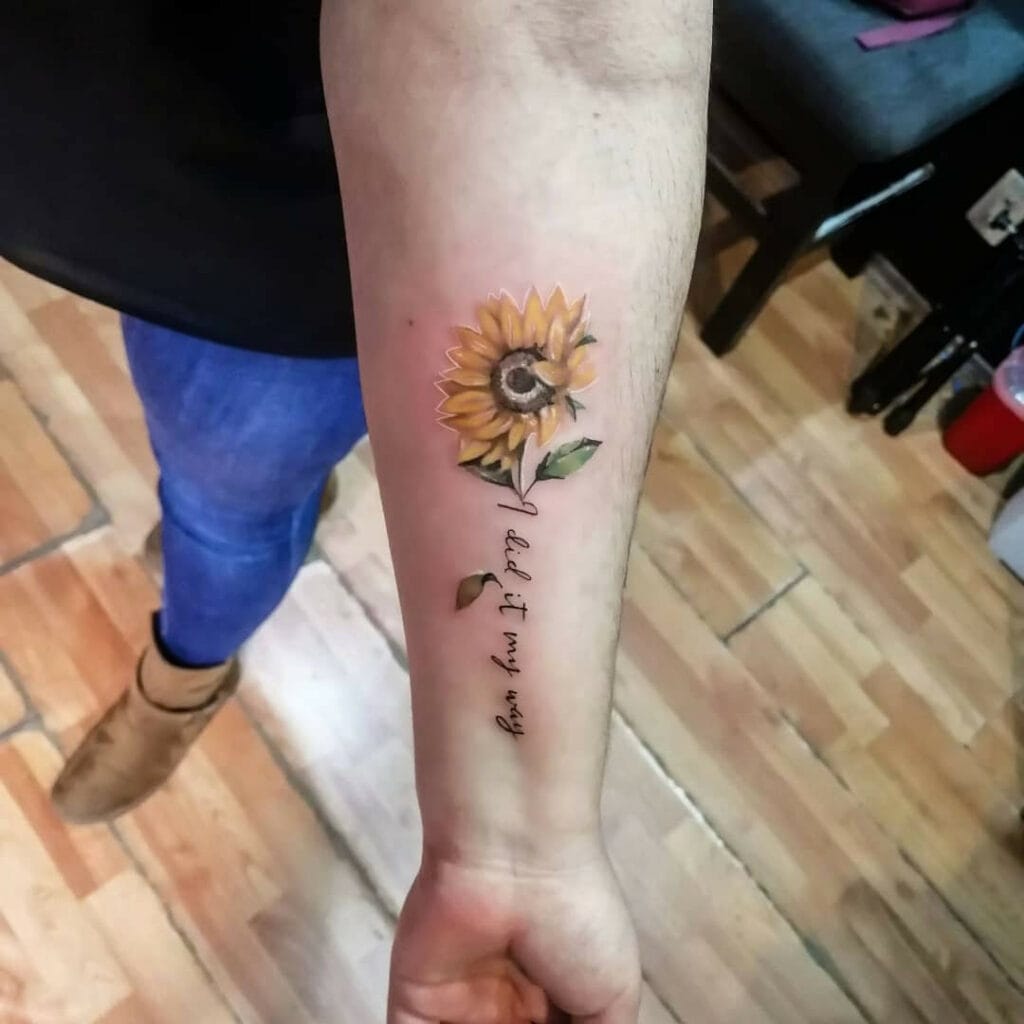 @danielcr0s7
This tattoo looks more realistic due to the three-dimensional effect created by various shadings in black and white. The color selection in this design is more thoughtful and accurate. You can also add some phrases or wordings below the flower along your arm.
3. Graceful sunflower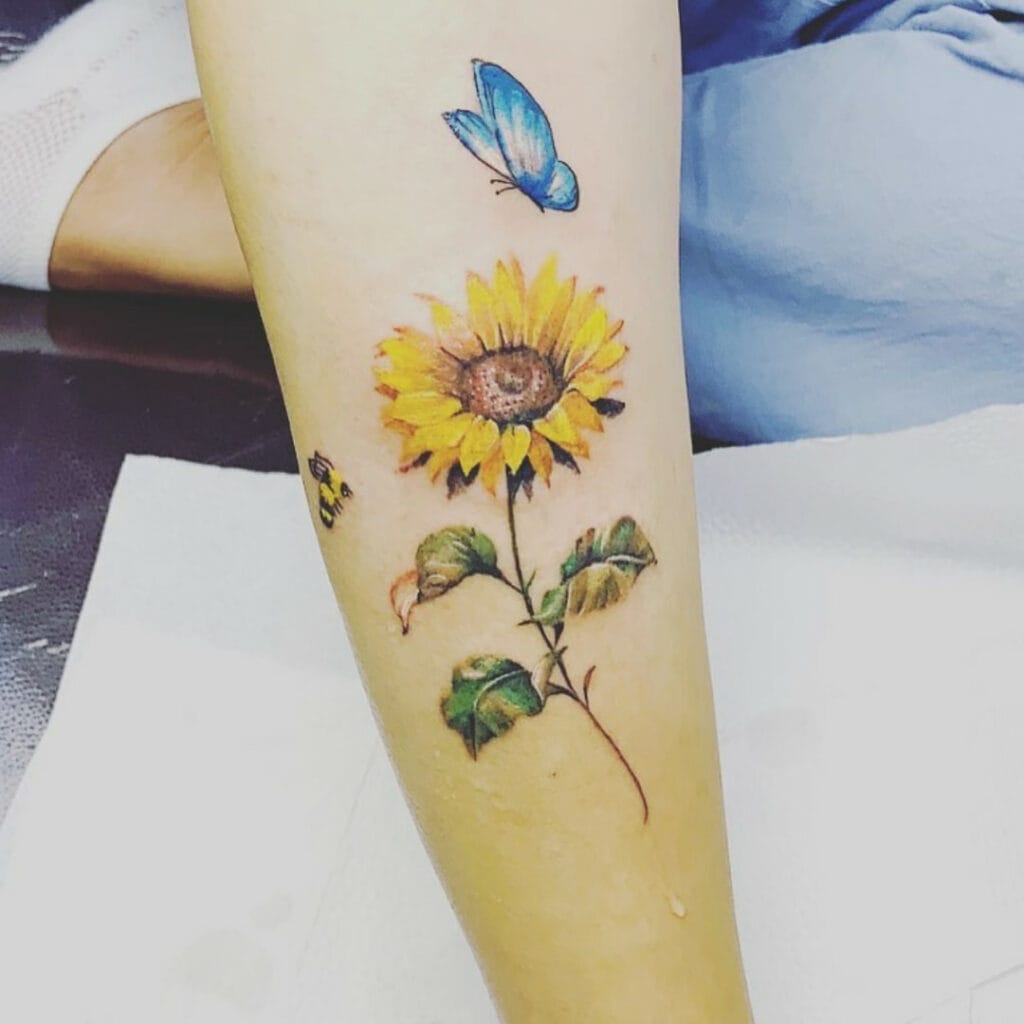 @rappzel
Another graceful sunflower creating the serene atmosphere of nature. A butterfly and a bee are also tattooed in addition to the main flower. The way these leaves are done with appropriate color combinations is a major attraction. It makes the flower more realistic beyond a mere image.
4. Elegant tattoo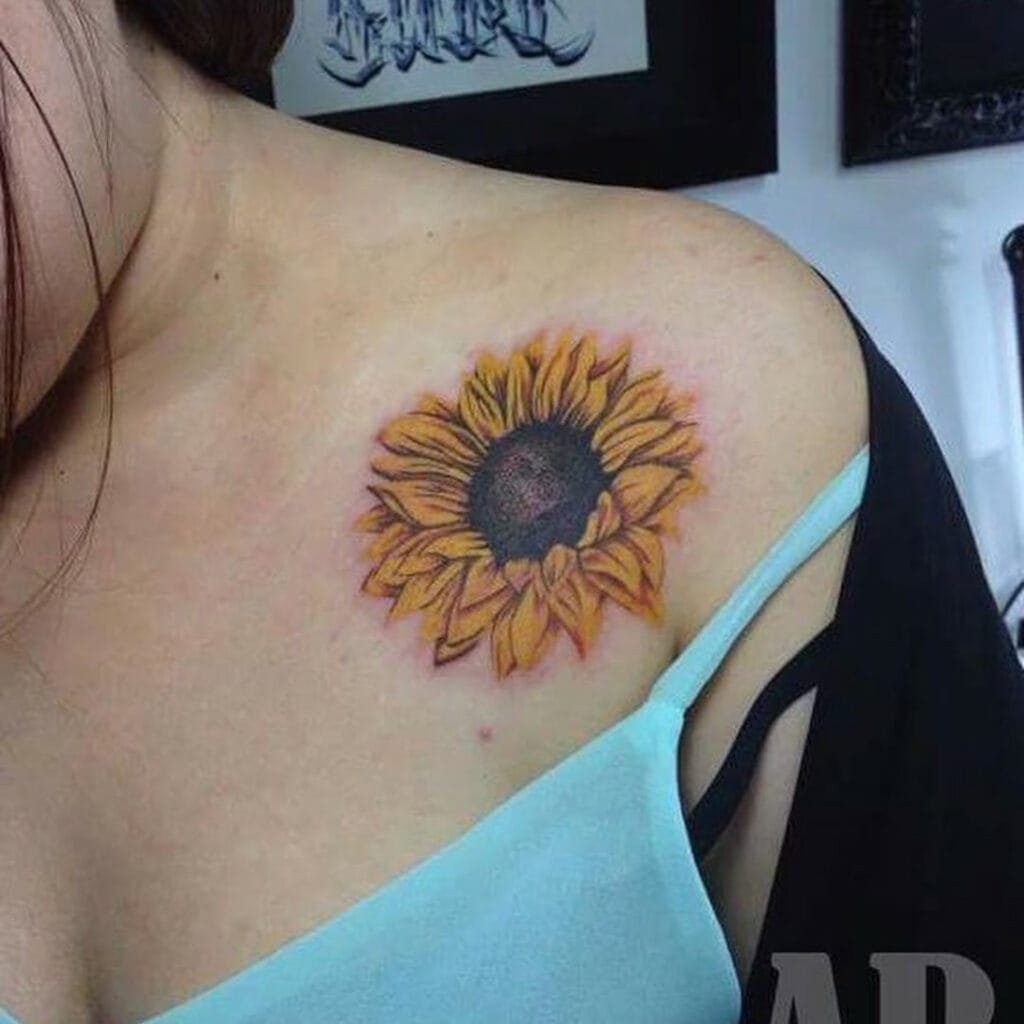 @artattoostudio
This sunflower simply has a flower with yellow petals and a darker center. If you prefer to have it in a larger size, you can have it on your shoulder or arm. Smaller designs of this sunflower can be even used as wrist tattoos or behind the ear. Despite being simple, it has an elegant tattoo design.
5. Tattooed in black.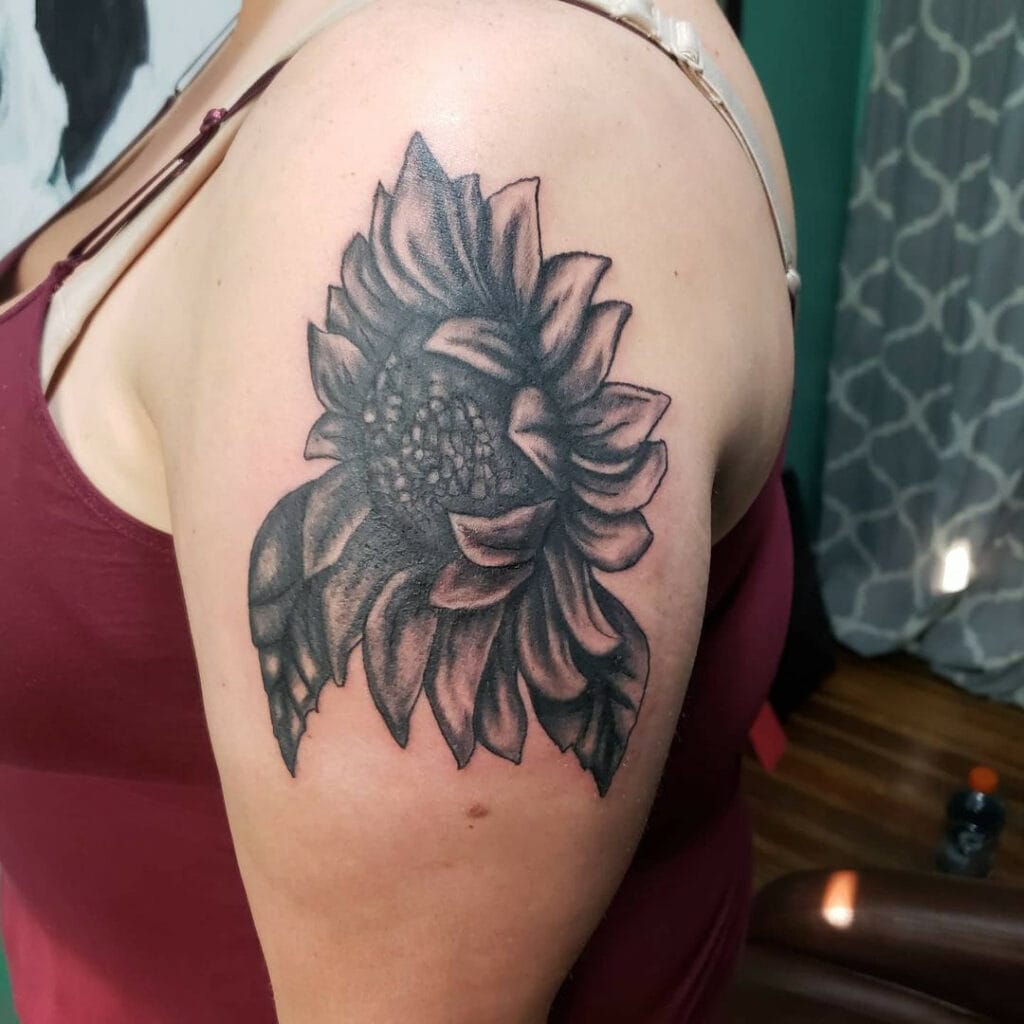 @hippiemagictattoos
You can also have sunflowers tattooed in black. Even though it doesn't bring a realistic nature, it still makes the design beautiful and attractive. The sunflower tattoo shown here is done on the upper arm and the petals can be arranged on your preference.
6. Shading with simple lines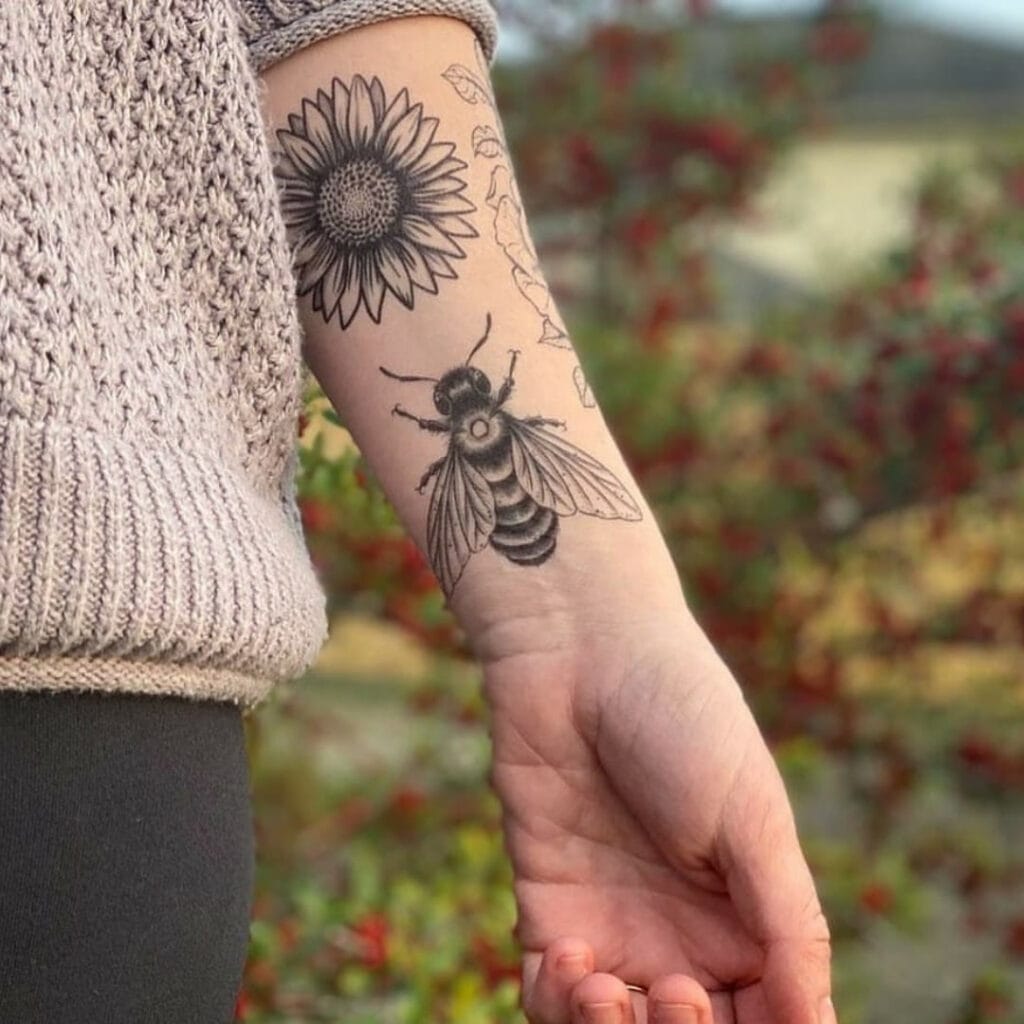 @getadventureus
Here's a similar idea to get a sunflower tattoo in black. The petals look beautiful with a suitable degree of shading with simple lines. You can even add some other tattoos such as bees and leaves to suit the theme of nature. Don't worry about the bee being the same size as the flower!
7. Colorful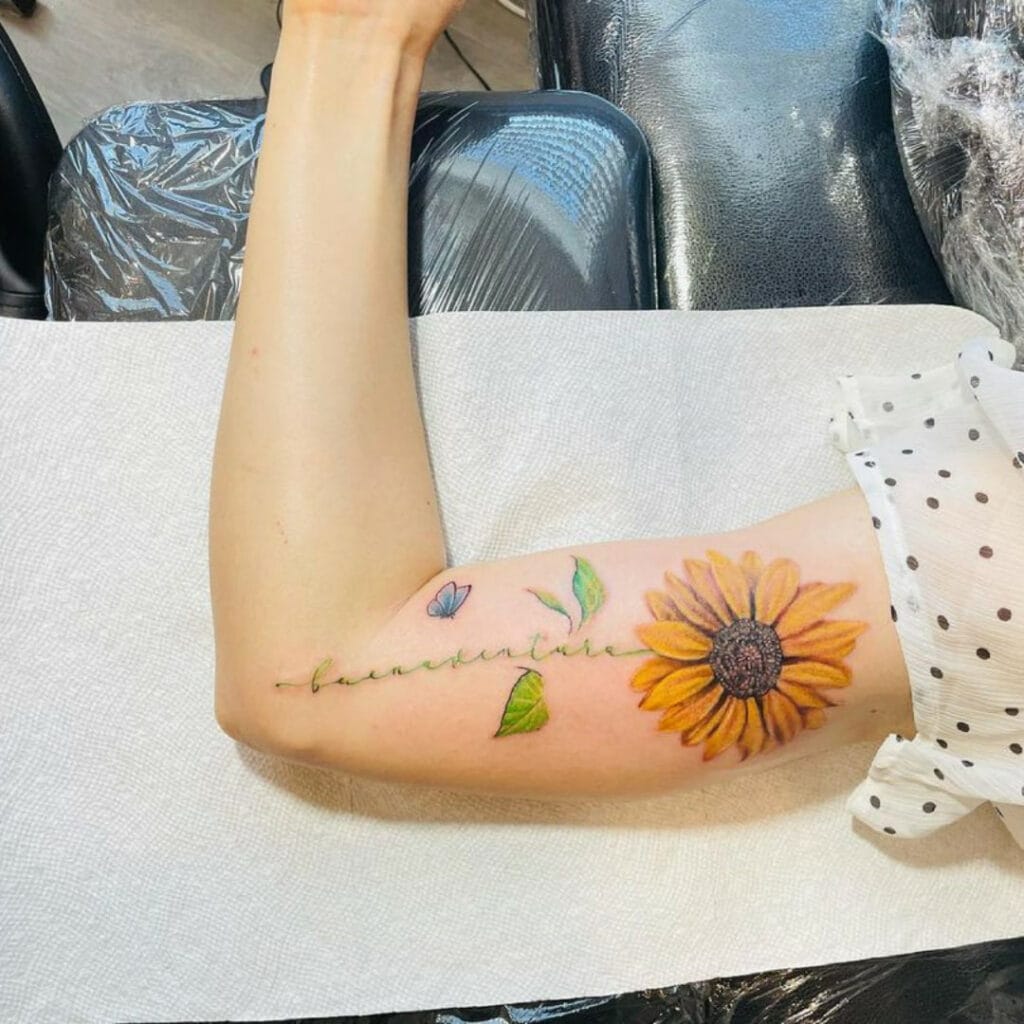 @daamnjaackie
If you are looking for a colorful arm tattoo, you can try this sunflower where there is a great color combination. The yellow, green, and blue colors blend well to create an attractive outcome. If you think this tattoo is too big for your arm, you can try a smaller one which you think would fit best.
8. Unique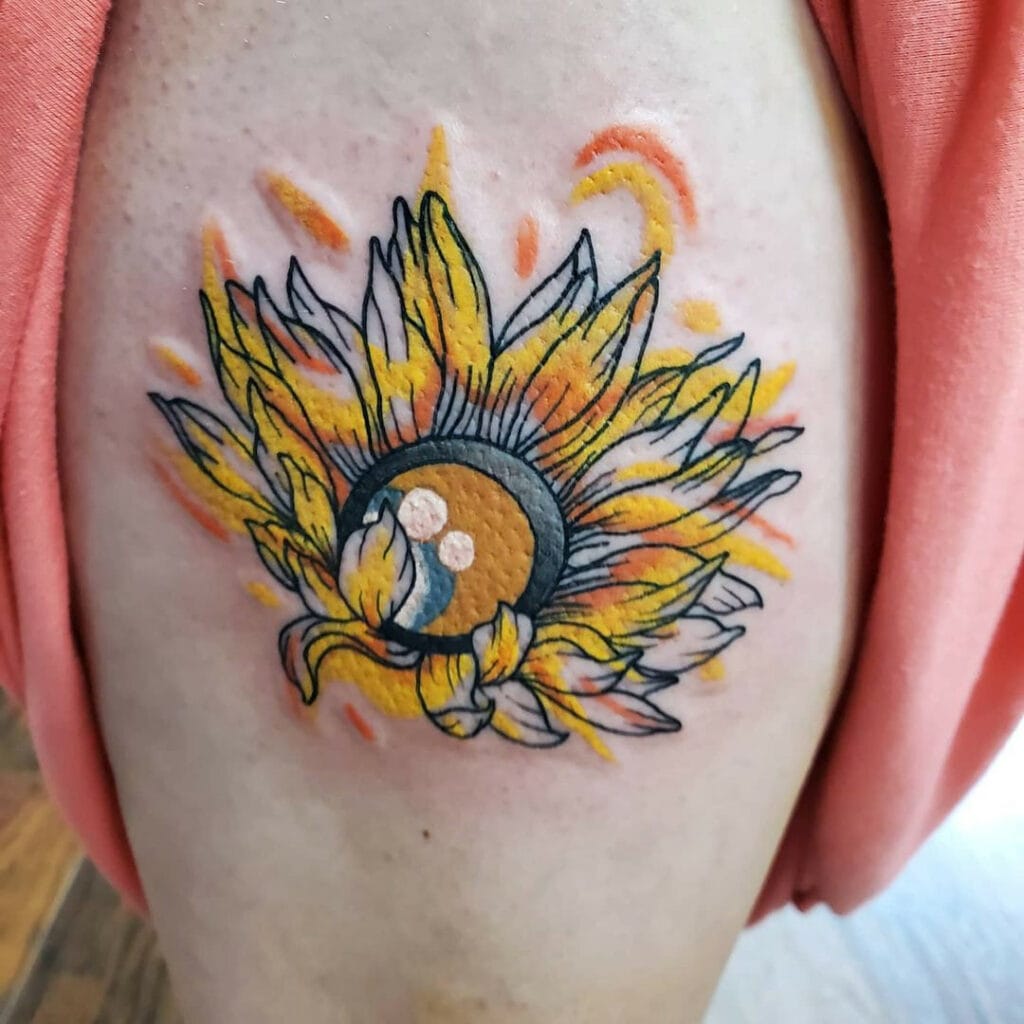 @cody_shaggy
How about the colors off the design? That itself is a different form of art for those enthusiastic about something unique. This is something unique for anyone interested in trying out something new and out of the box. Let me know what you think about having this type of sunflower tattoo.
9. Classy and elegant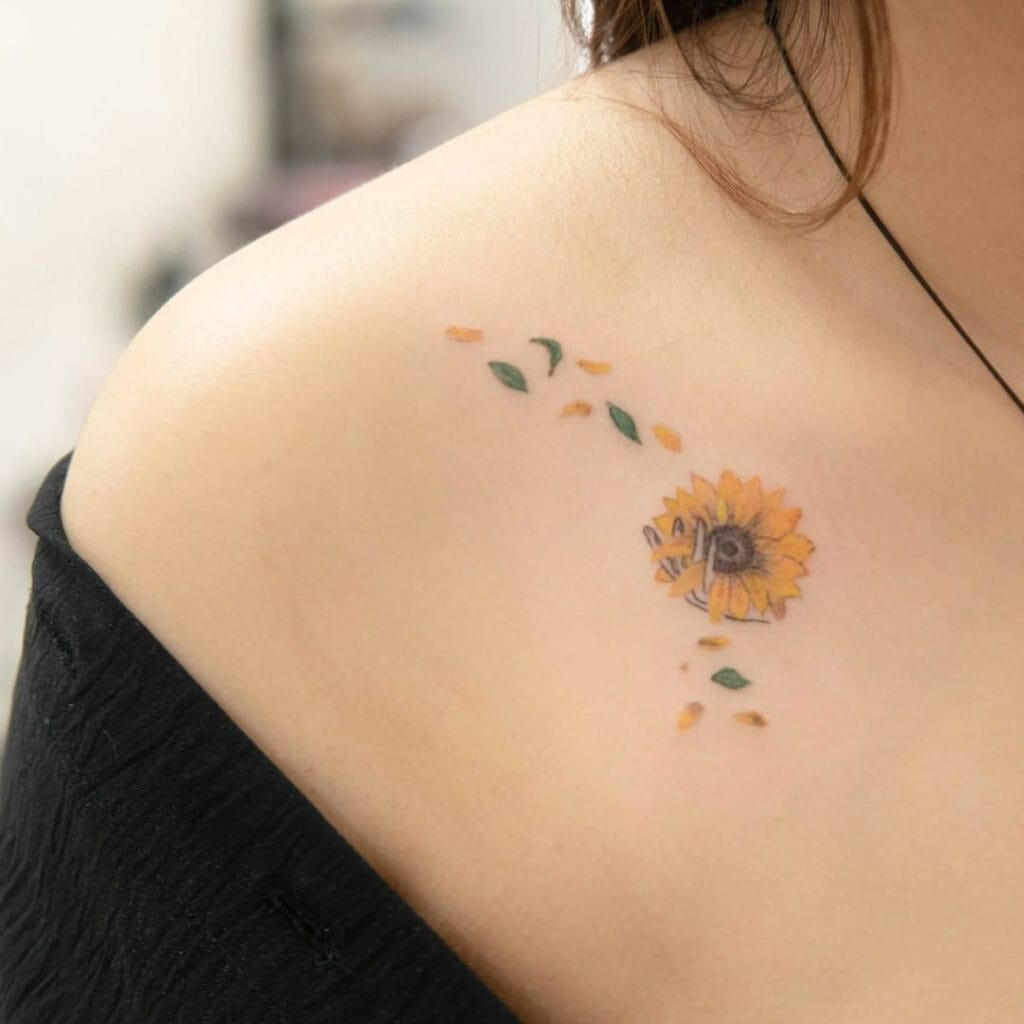 @toonicetohide
I think this looks very classy and elegant as a shoulder tattoo. If you look carefully, you can see some slender fingers caressing through the petals of this sunflower. Green leaves and yellow petals also appear to be above and below the flower, which is the main attraction of this design.
10. Sunflower with roses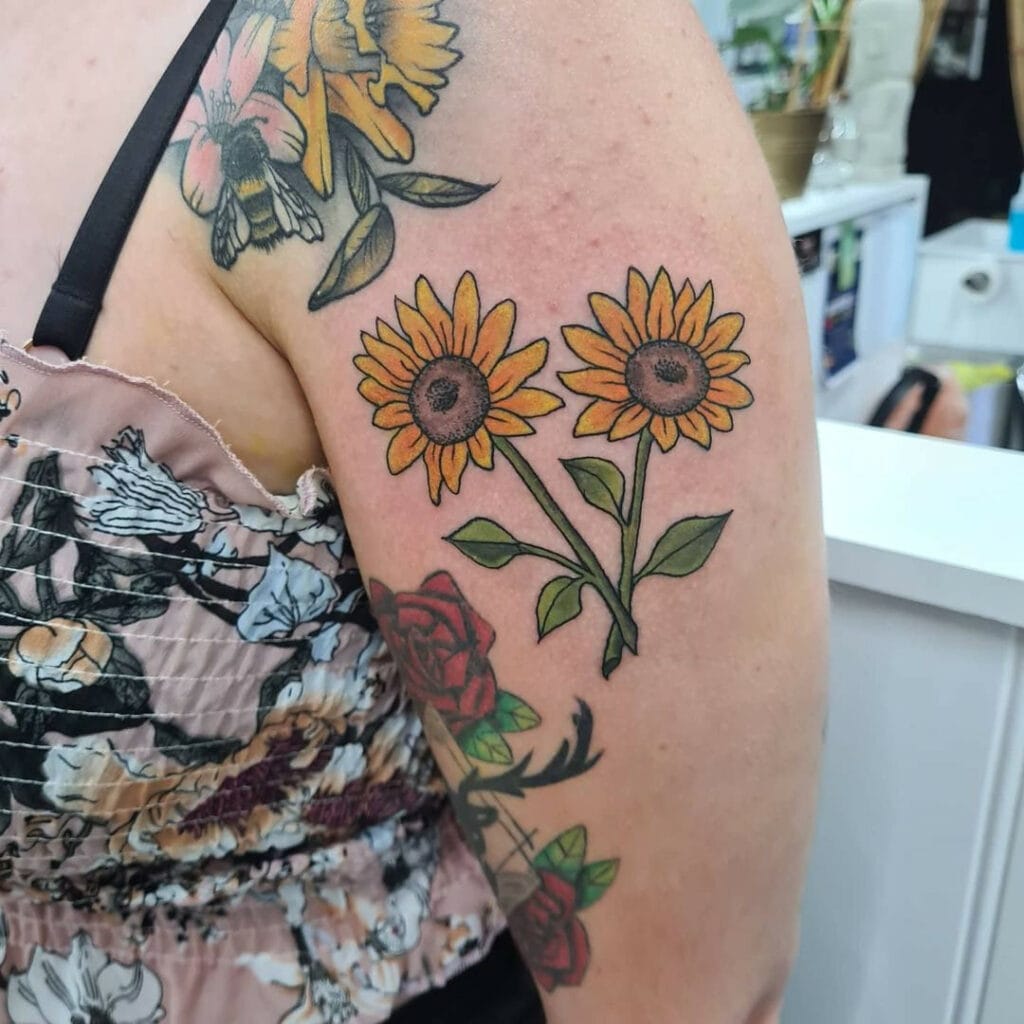 @clarelizabeth_tattoo
For those ladies who are into flower tattoos, you can add a few sunflowers alongside the roses and other buds. The sunflowers tattooed here have more of an artistic appeal. These tattoos look cool on the arm, shoulder, or wrist, despite the location. Make them big or small depending on the size of the overall image.
11. Tiny sunflower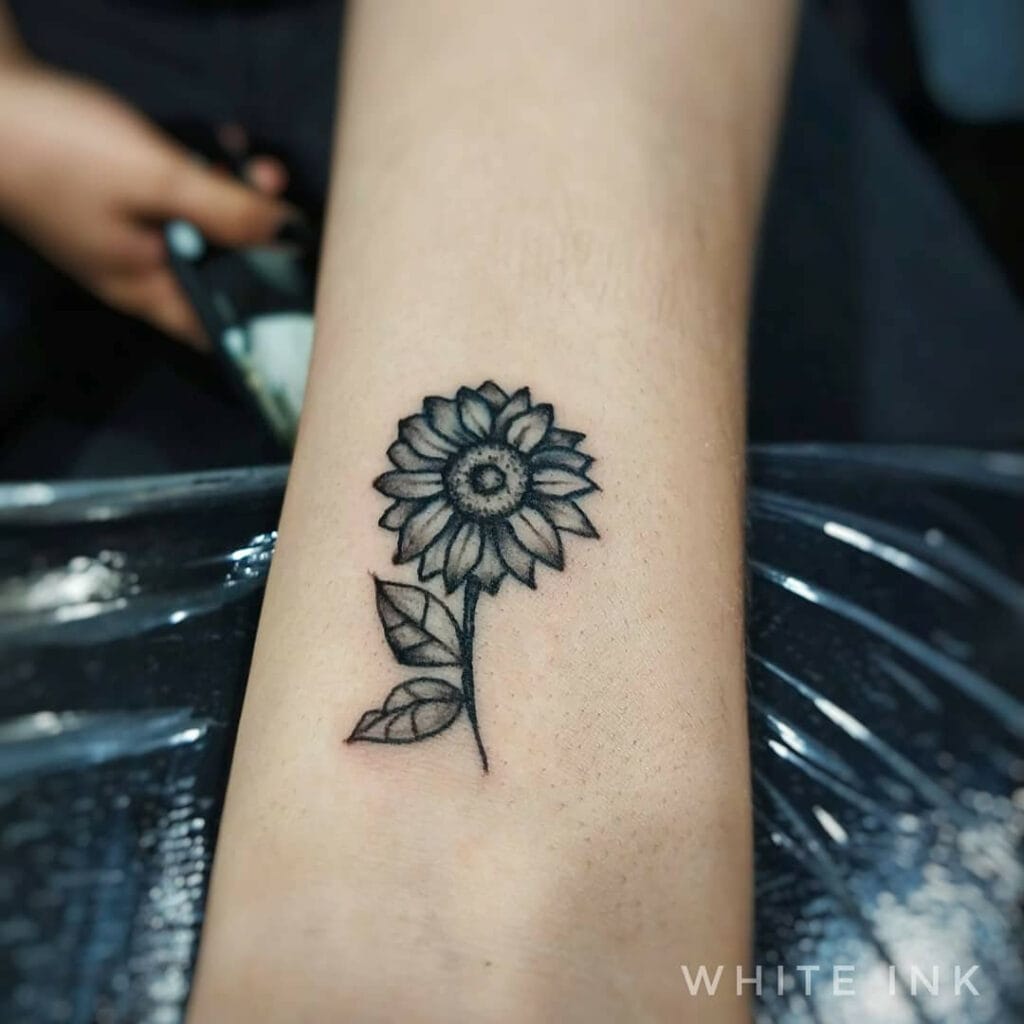 @whiteink_art
Looking for a tiny sunflower tattoo idea for your wrist? Here's a great idea that would make you feel good. The sunflower is shaded dark in black to bring a 3D effect to the image. However, the leaves seem to be less natural when compared with the flower. So, you can make adjustments to this design idea to suit yourself.
12. Real flower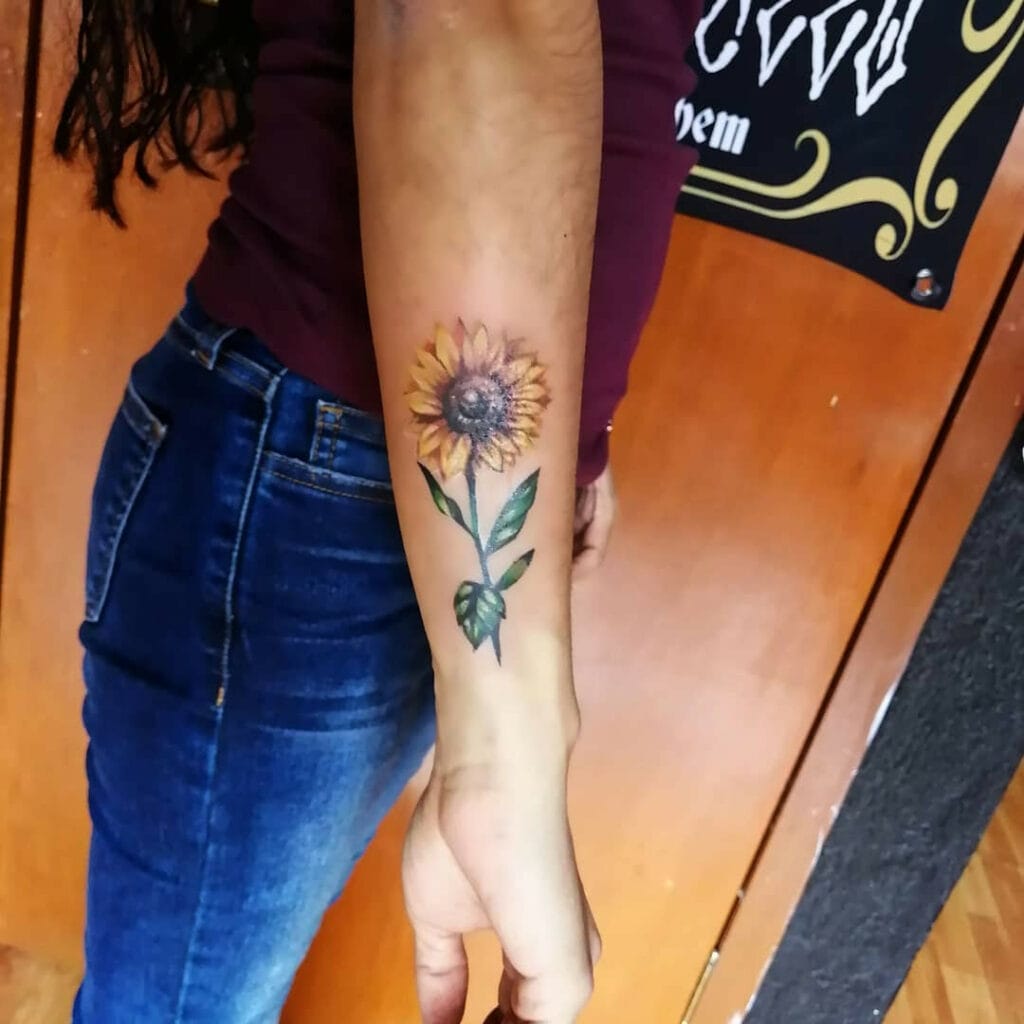 @danielcr0s7
This sunflower tattoo is another realistic one that brings out the natural aspects of a real flower. You can even see the darker petals behind the lighter ones in the front. The middle area is made dark with some traces of white to make it a perfect flower.
13. Behind the ear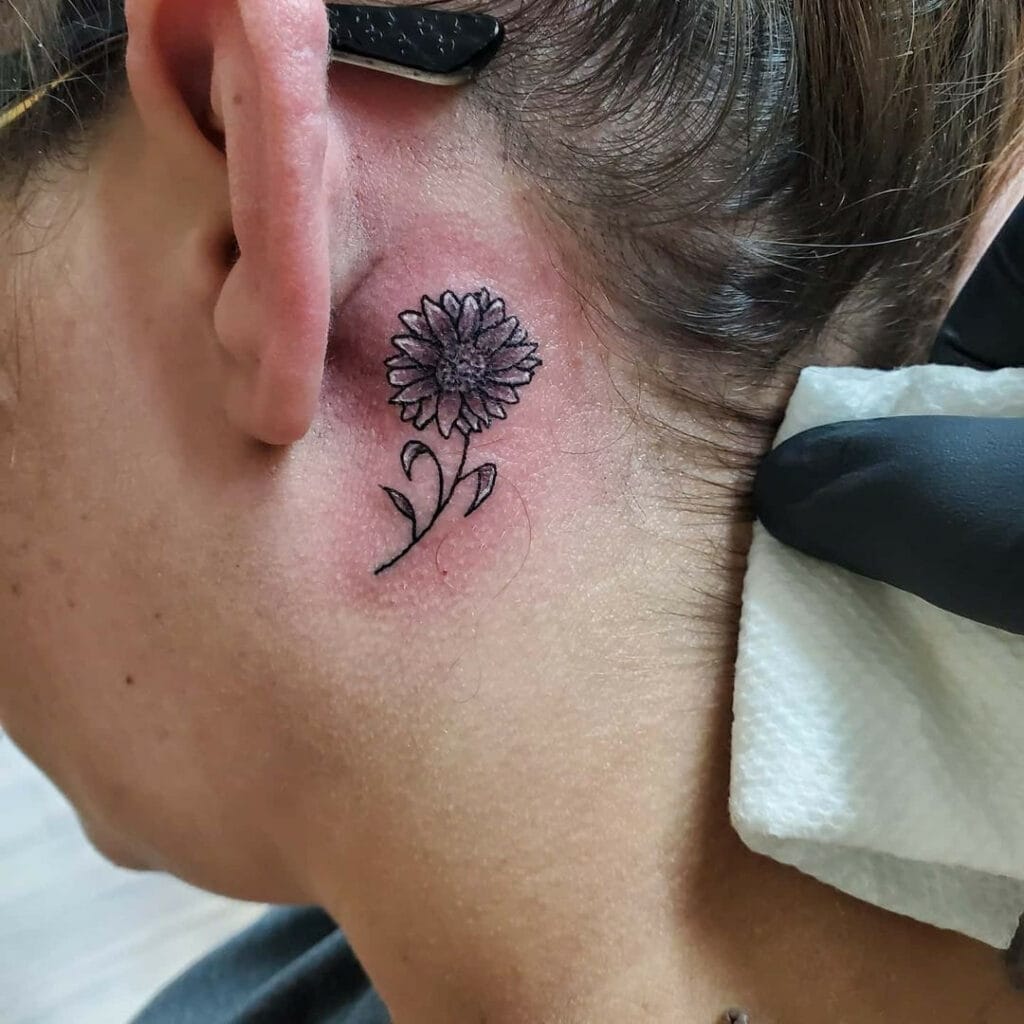 @cody_shaggy
A sunflower tattooed behind the ear should be neat and precise since the space is small. The artist needs to get the design done with minimal harm to the skin but should not affect the artistic vibe. Hence, choosing the perfect size and design of the tattoo is essential.
14. Hand holding some flowers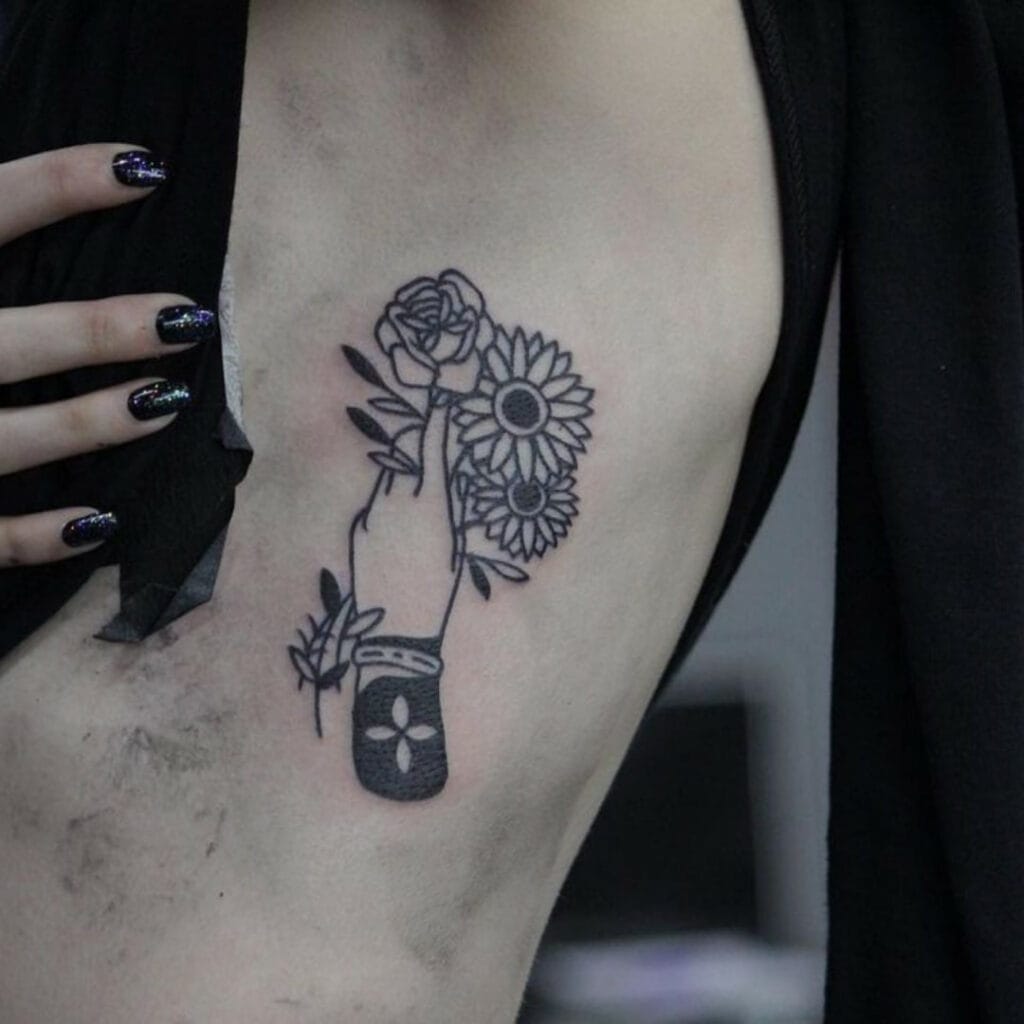 @ewers_tattoos
This creative tattoo contains a hand holding some flowers. There is a rose in addition to two tattoos as you can see in the image. Despite tattooing a plain flower, you can try this unique approach for your next tattoo.
15. Large sunflower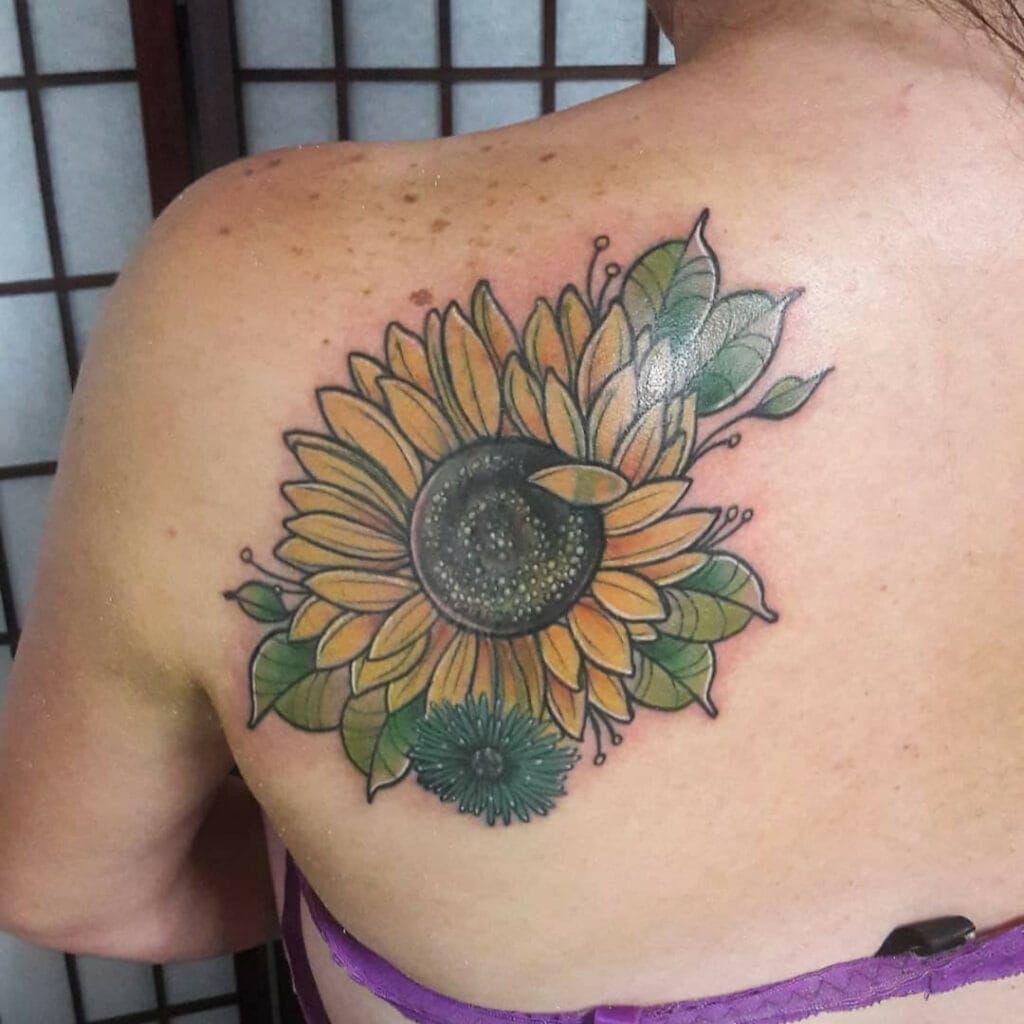 @jessicarivera.tattoo
A large sunflower with a few leaves is the image of this shoulder tattoo. The difference here is the slight touch of green lines on the yellow petals. The great blend of green and yellow is what makes this tattoo design more elegant.
16
@Zeetattoo
17.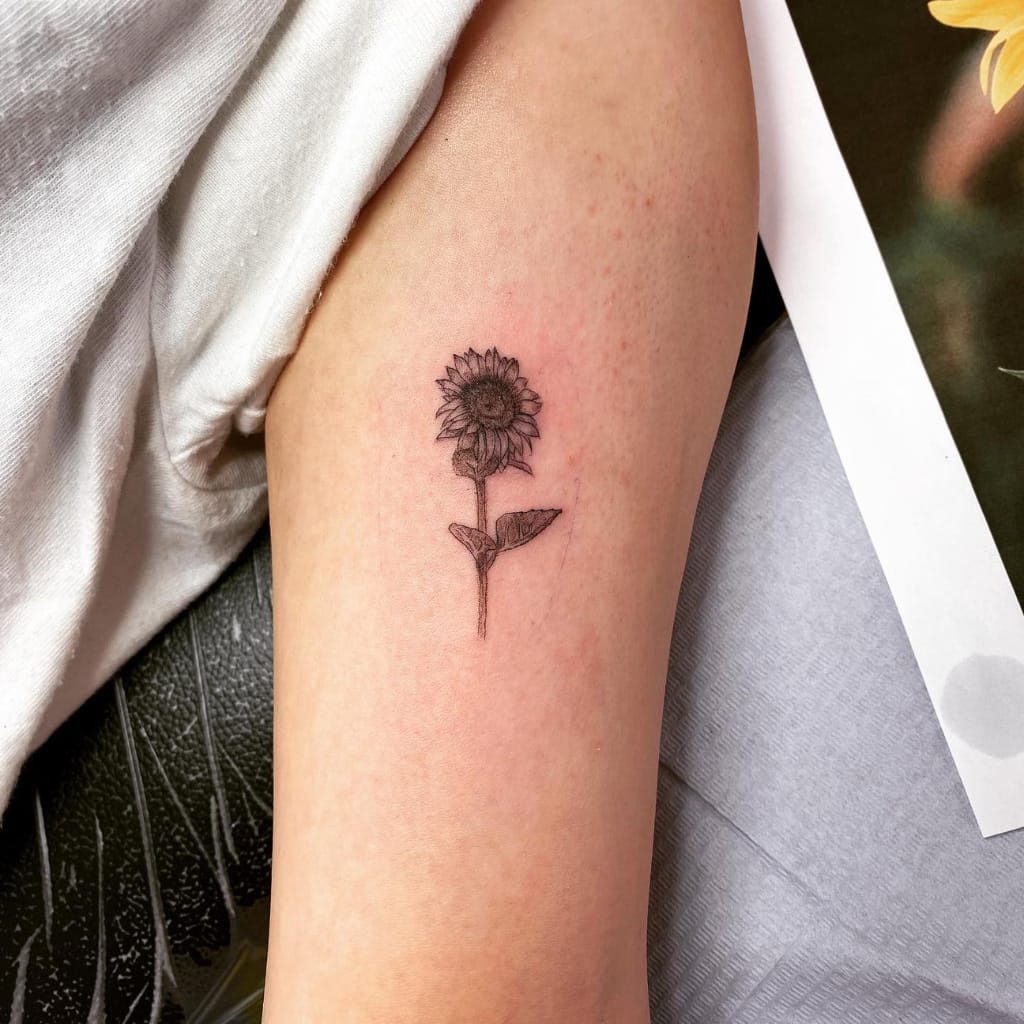 @Pisaraokinawa
18.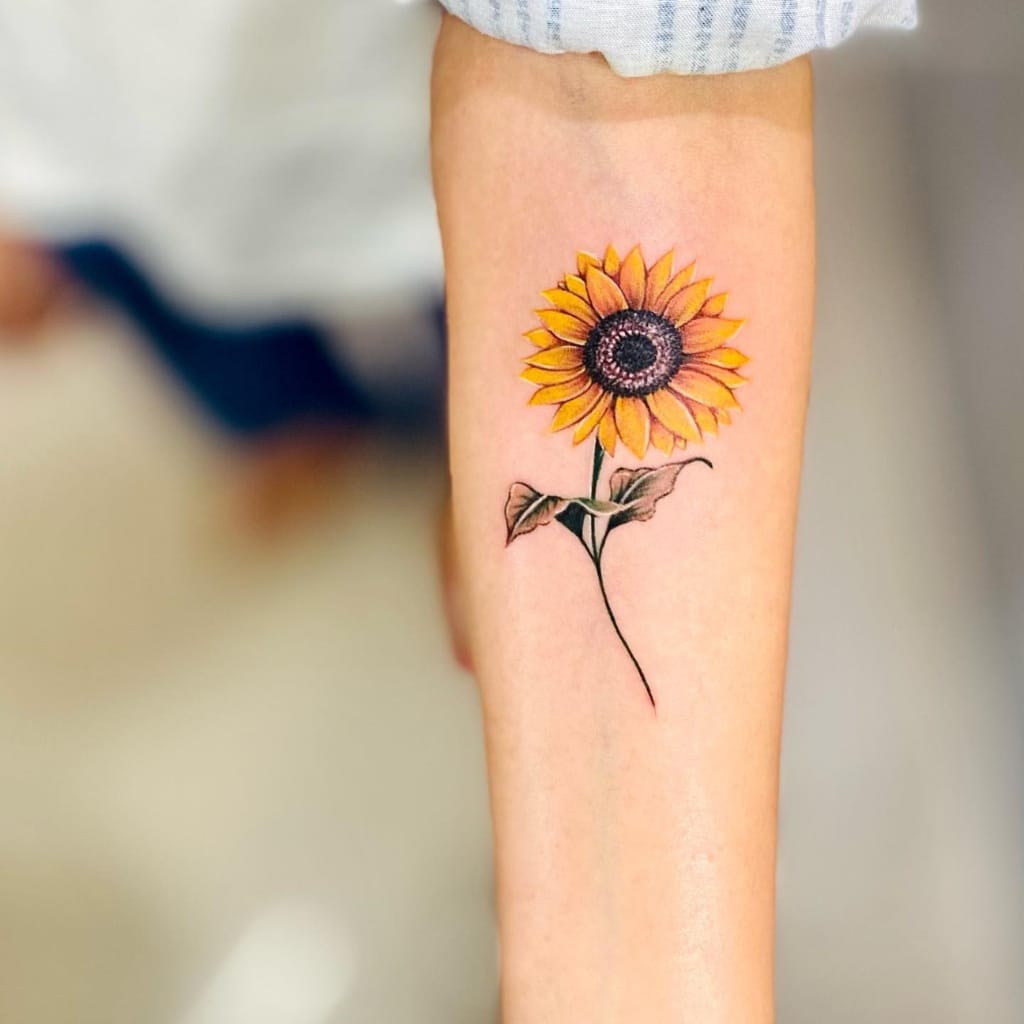 @Skinmachinetattoo
19.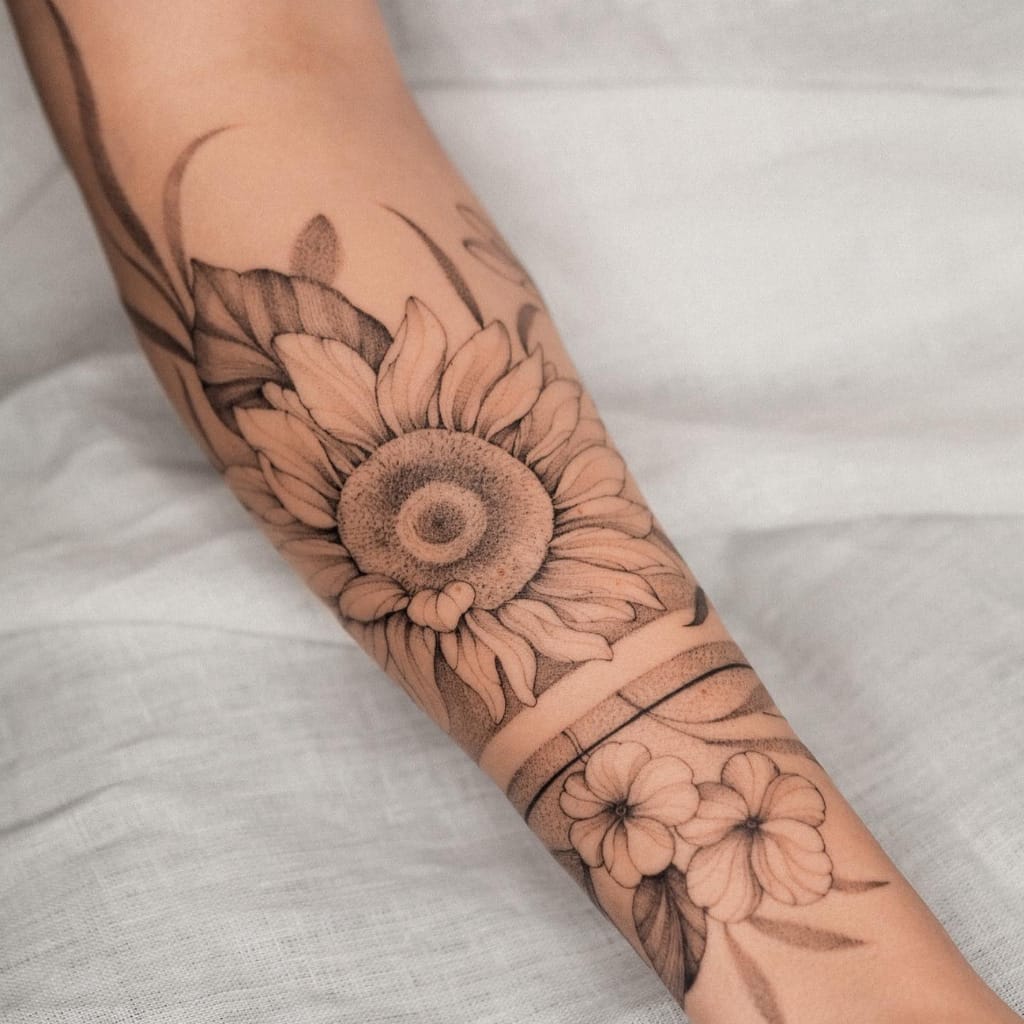 @natalia_musiol
20.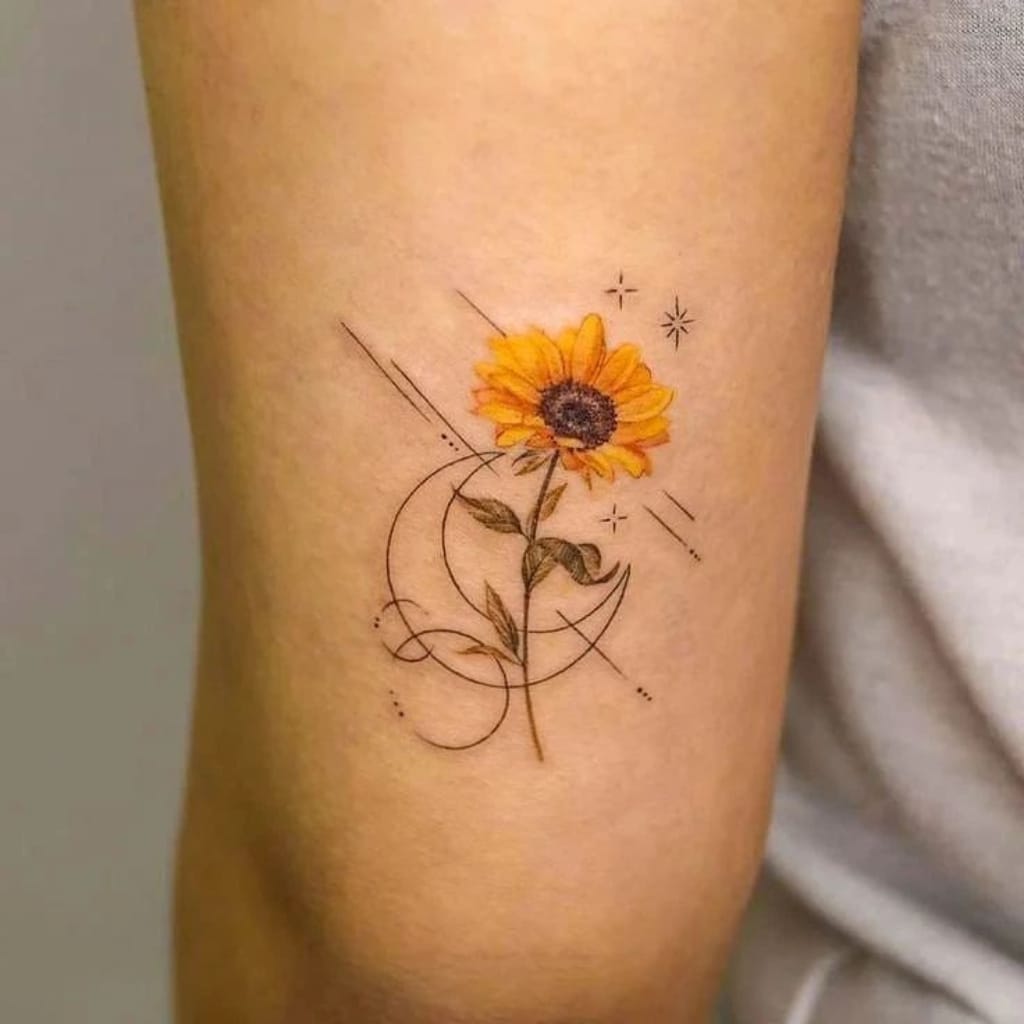 @sunflower.lover.usa
21.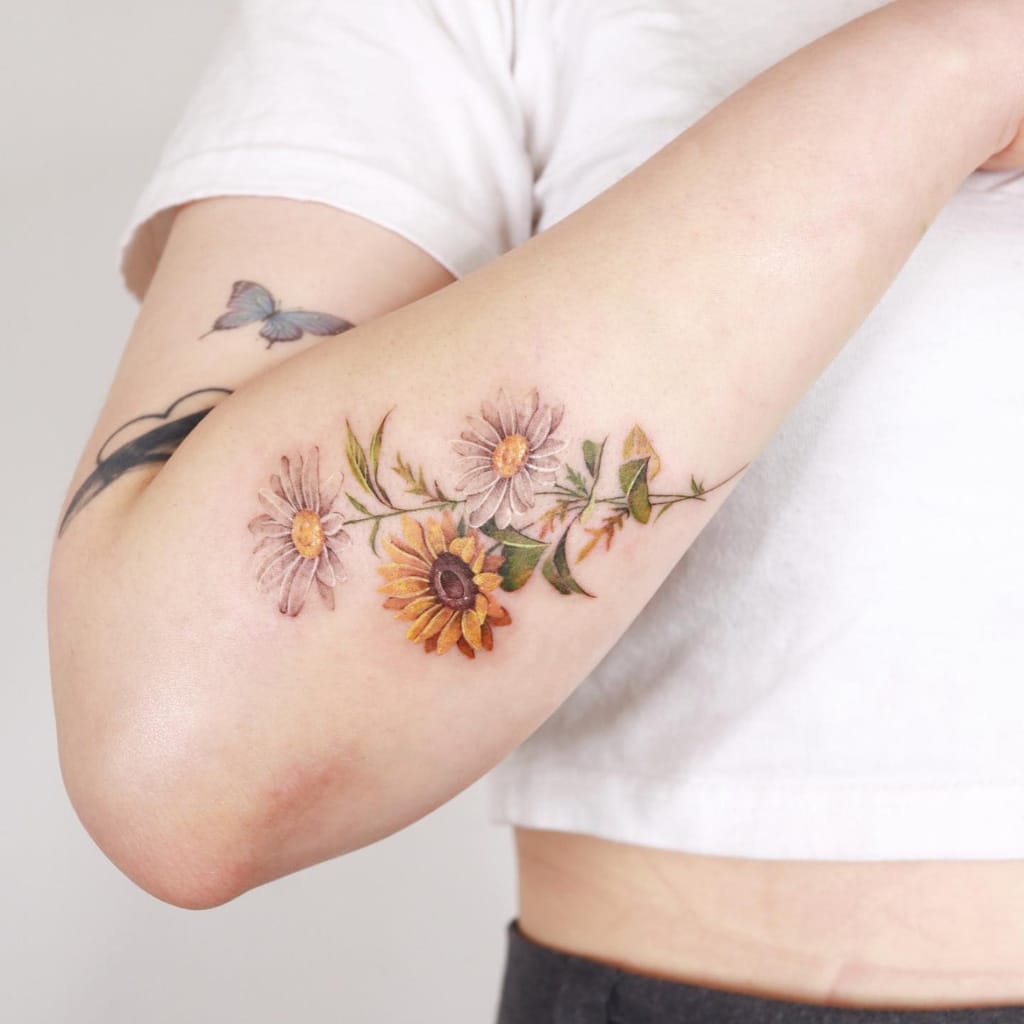 @sozil_tattoo
22.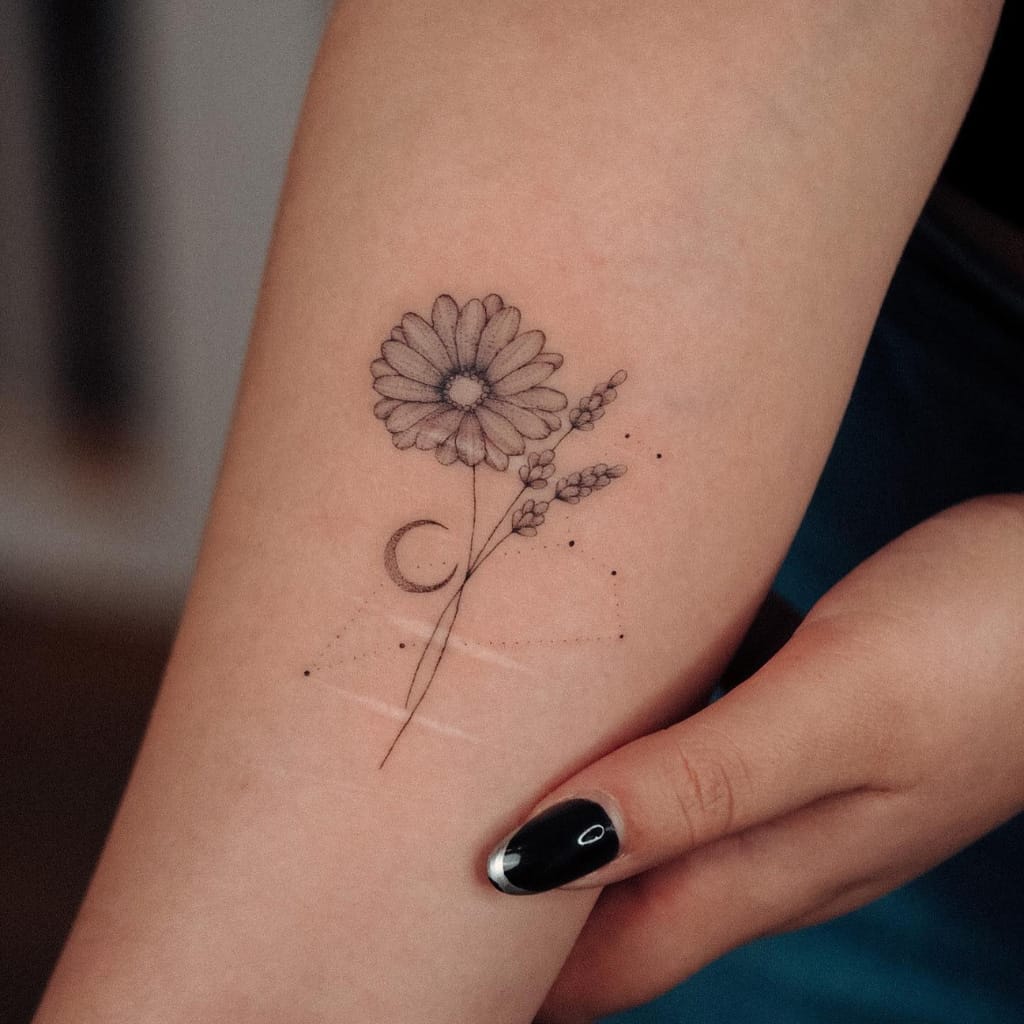 @bunami.ink
23.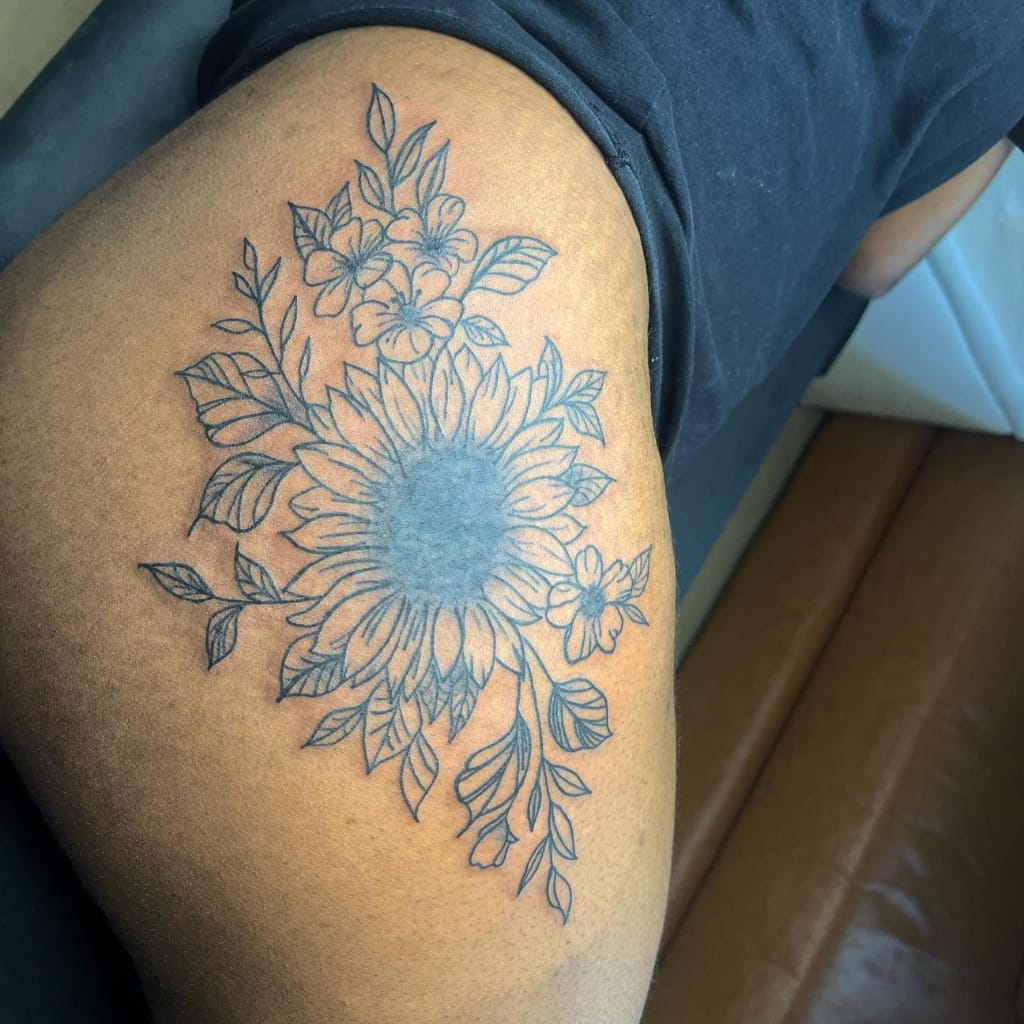 @i.g_tattoos
In conclusion, sunflower tattoos are a beautiful and meaningful way to express oneself. They can represent a variety of things, from happiness and positivity to growth and change.
Whether you choose a small and subtle design or a larger, more elaborate piece, a sunflower tattoo is sure to brighten up your day and remind you of the beauty and resilience of nature. With so many different styles and interpretations to choose from, there is a sunflower tattoo out there for everyone.
So go ahead, let the sunflower inspire you and create a unique and beautiful work of art on your skin.