A beautiful nail art design is sometimes the finest way to show off your favorite color!
If you enjoy blue acrylic nail art, short blue acrylic nail designs are ideal. The beauty of blue nail polish is that it looks excellent on both long and short nails.
We've rounded up some of the best short blue acrylic manicure designs for any season. Take some time to go through these incredible nail art designs and try out your favorite.
Disclosure: This post contains affiliate links, which means we may receive a commission if you click a link and purchase something that we have recommended.
1. Simply Colored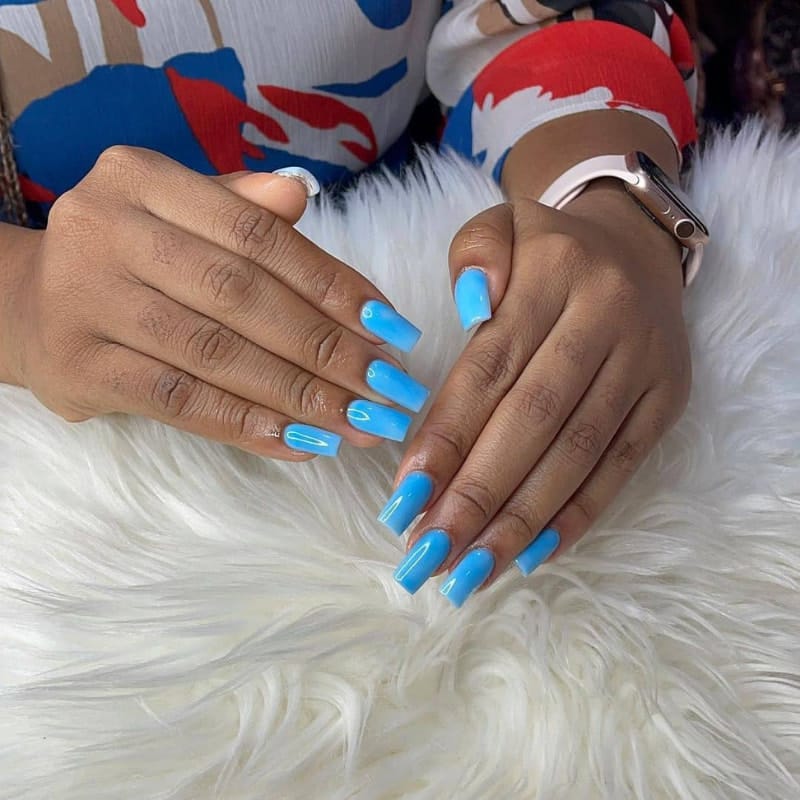 @lizclement_beautyflash_salon
These acrylic nails are simply colored with a light shade of blue. It makes your fingers attractive regardless of the skin tone or the size of your fingers. If you find it monotonous, you can add some nail studs for some nails.
2. Neon Vibe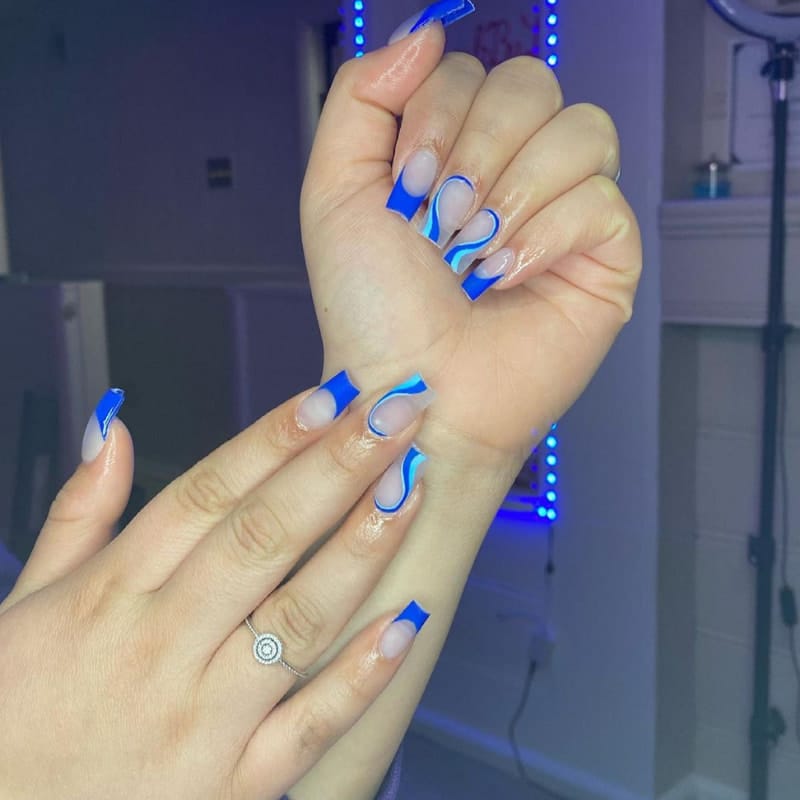 @nails_byles
From the first glance, you get a neon vibe from these acrylic nails. Three nails have a simple design with a French nail design in blue. The other two nails have some curvy lines creating a beautiful pattern with two shades of blue.
3. Dot Patterns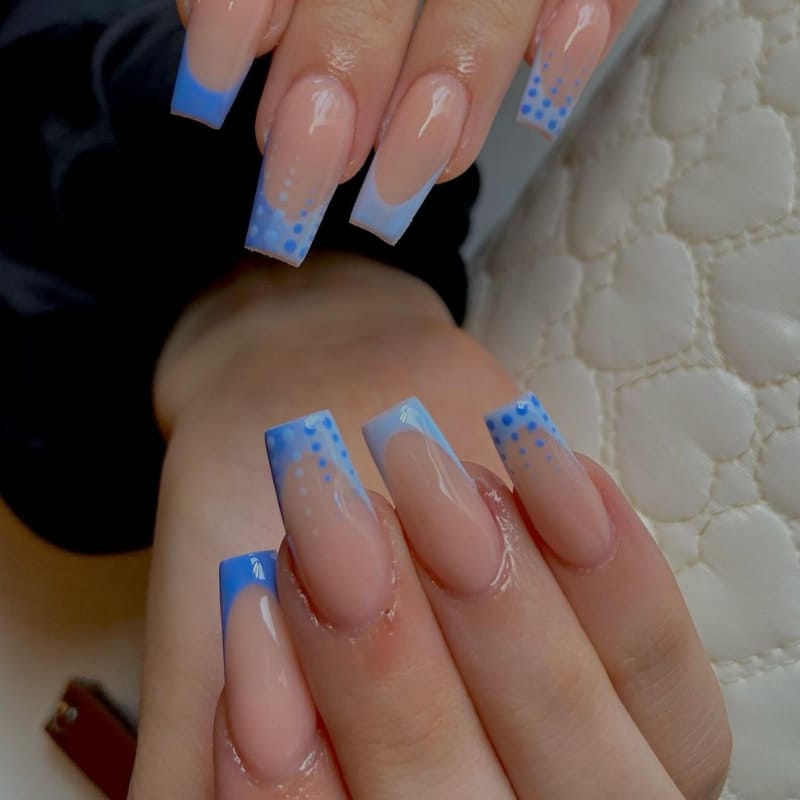 @nailsbyellie__
The tips of these nails are colored with a few shades of light blue. The rest of the nail has a skin color equivalent. There is also a beautiful pattern of dots of different sizes. No wonder that these acrylic nails make your fingers very stylish and attractive.
4. Blue Butterflies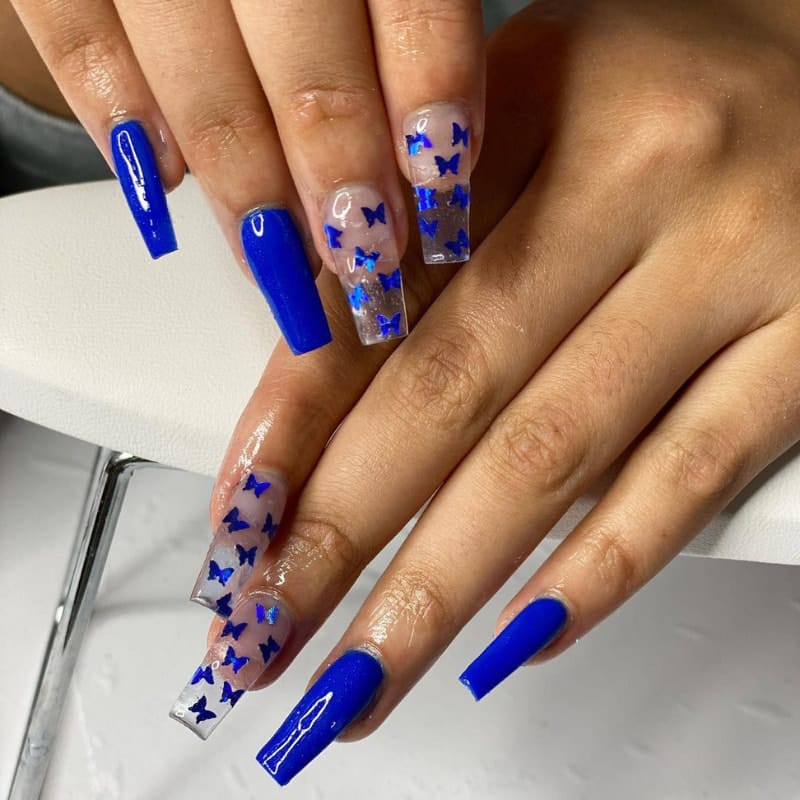 @_nailedbyjayy
Tiny blue butterflies look amazingly pretty on transparent background. There are also a few nails in a plain lustrous blue. This nail design can be used for special occasions to match your favorite blue dress. Since this is not a common design, you can try it out and make it your unique style.
5. Almond Nails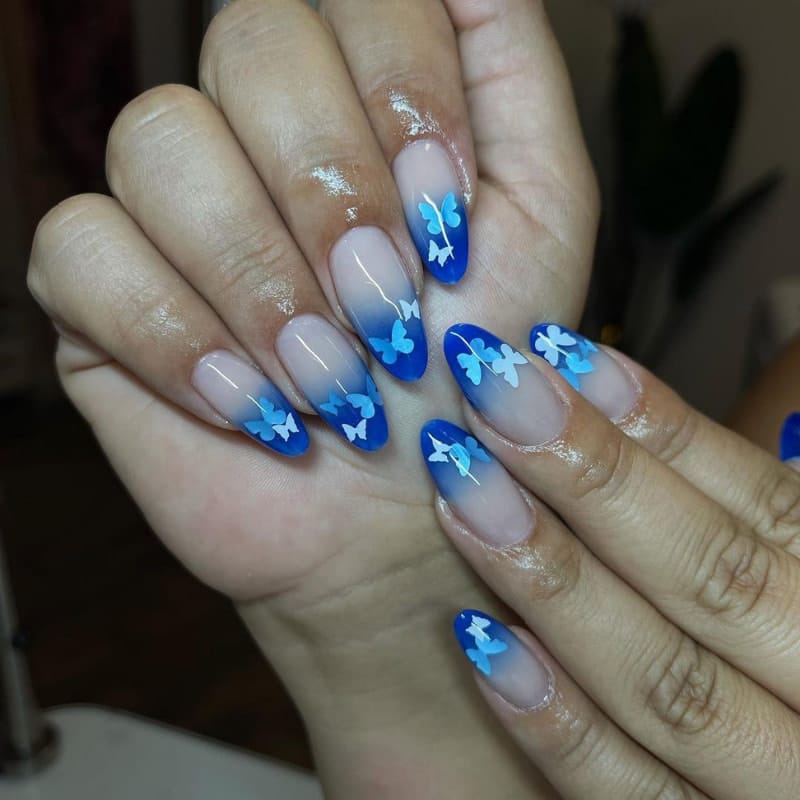 @mayleidoesnails
Another design of almond nails with butterflies on the tip with a shaded blue. The tips of the nails are darker and the base area is kept neutral. If you observe closely, you can see that the butterflies on each nail are different from one another.
6. For Dark Blue Lovers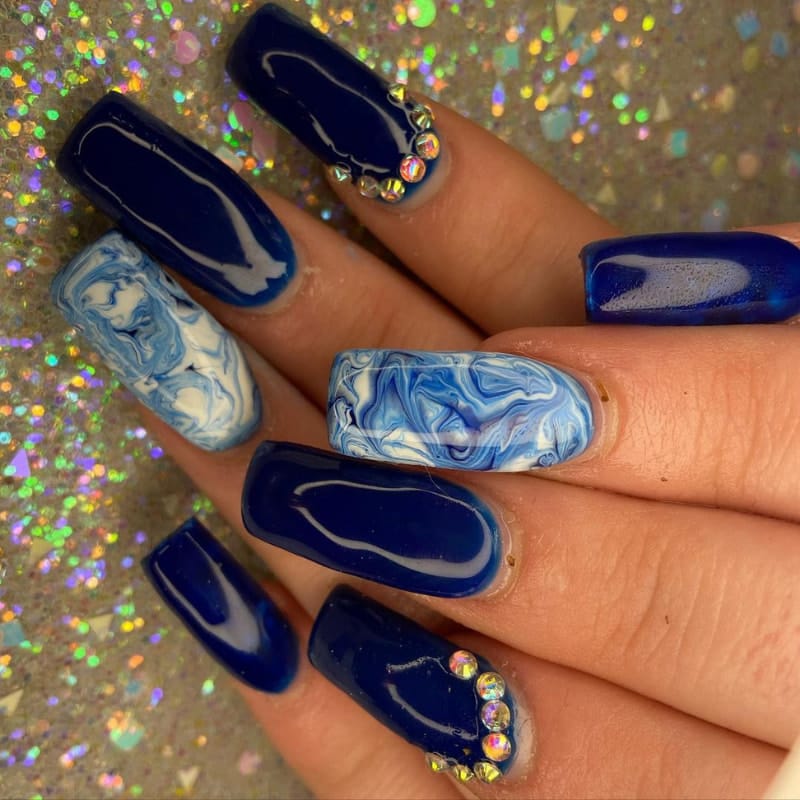 @nailsbyrubylang
A rare shade of a very dark blue is used in these acrylic nails, which itself is the specialty of these nails. One nail consists of a mixture of this deep blue and white to create a graceful pattern. This design brings an embossed nature to the nails.
7. Bright Blue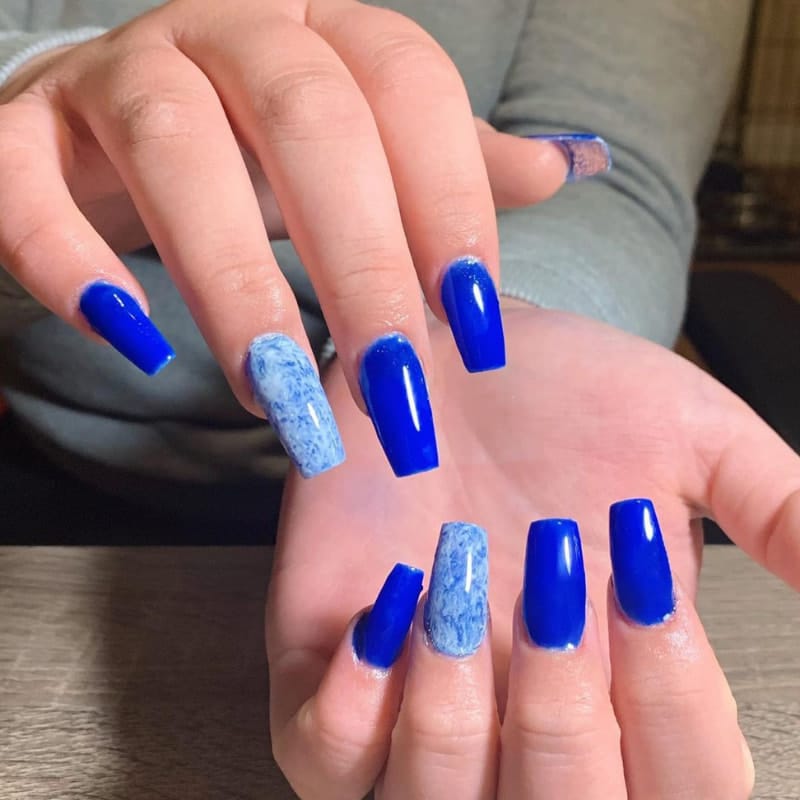 @slayedbyamya
This is another bright blue design that would undoubtedly catch the eyes of everyone. The specialty is the nail with a design of light and dark blue spots. Since these nails do not have any studs or ornaments, you can have them for daily work as well.
8. Shiny Blue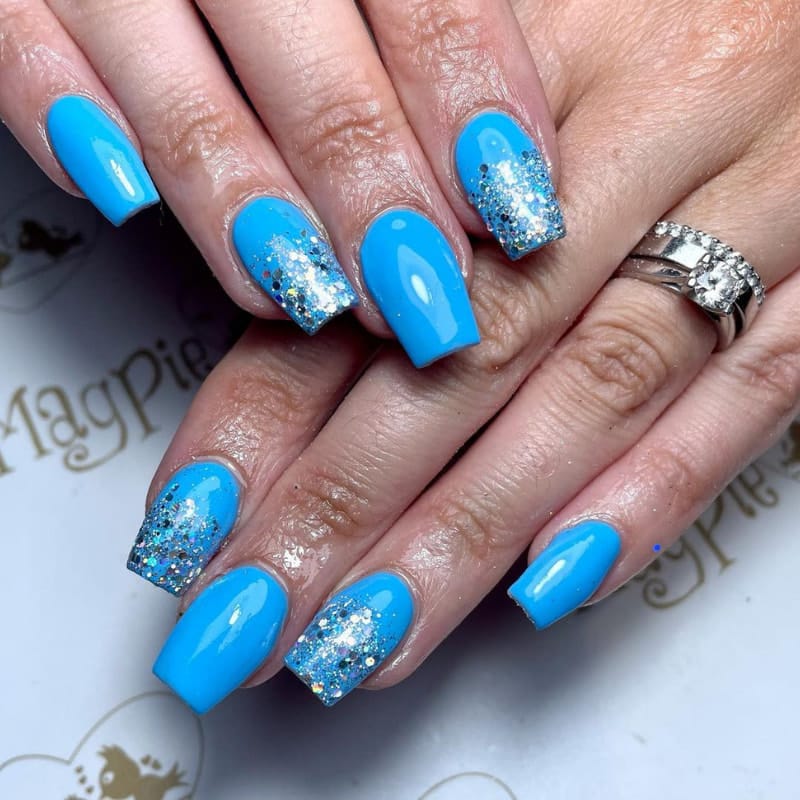 @loulas_nailsxx
These short acrylic nails are of a bright blue which is quite lighter than the previous ones. It has a shiny region on some nails due to the glitter and studs. This color makes the skin tone of your fingers appear more light and fair.
9. Long French Nails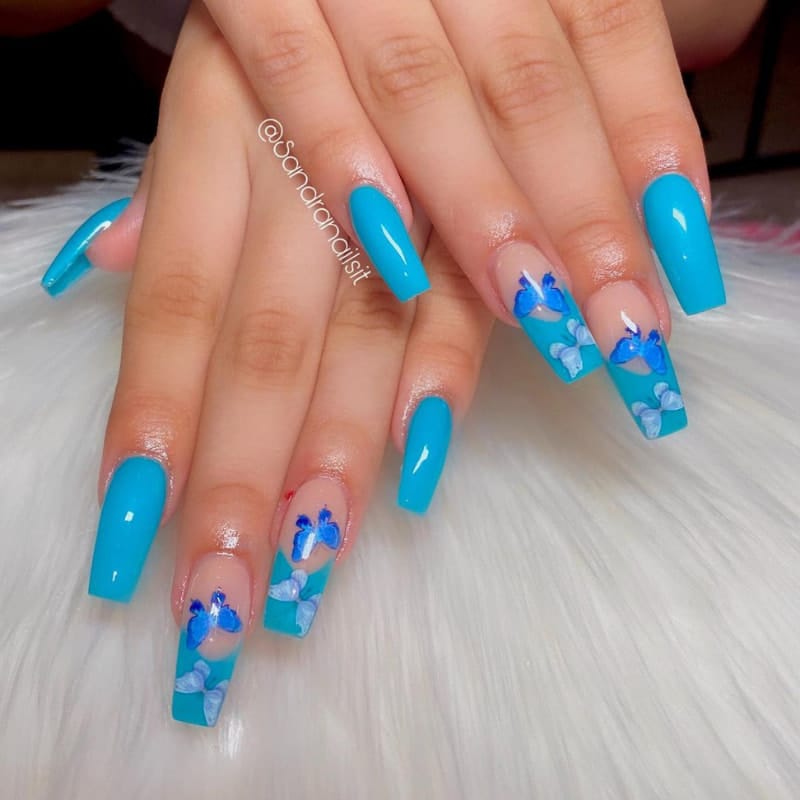 @sandranailsit
Similar to the previous color, but more attractive due to the additional length. Some nails have the French nail design as the outer area of the tip is colored in blue. These nails also have a butterfly design which consists of different shades of blue.
10. White and Blue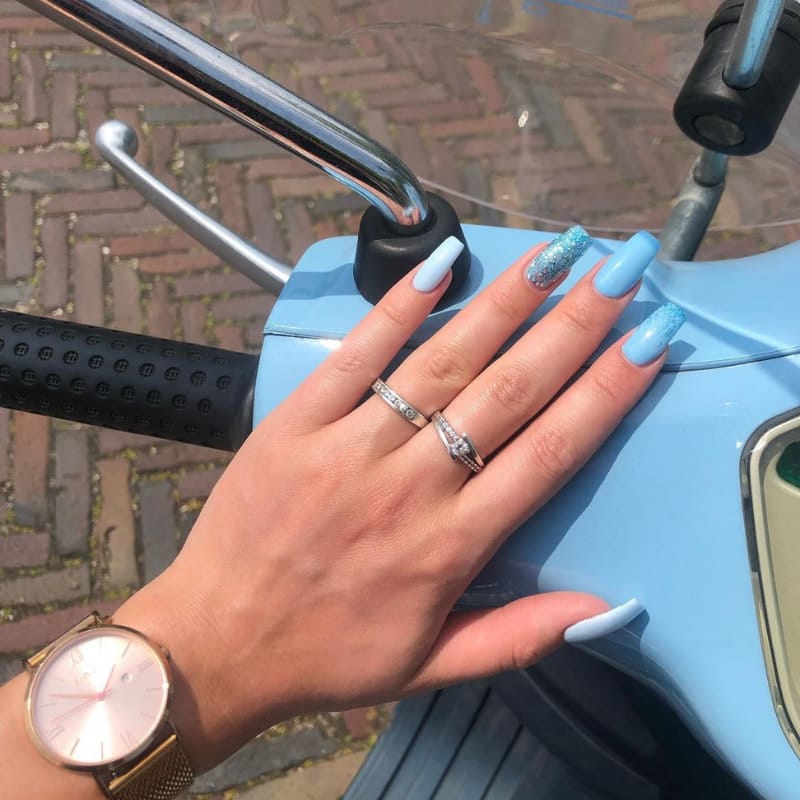 @soof_styles
As you can see, there are a few shades of blue used in this acrylic nail design. The first and last fingernails have a very light blue. The ring fingernail has some glittering blue which can also be seen slightly in the second nail.
11. Blue with Pink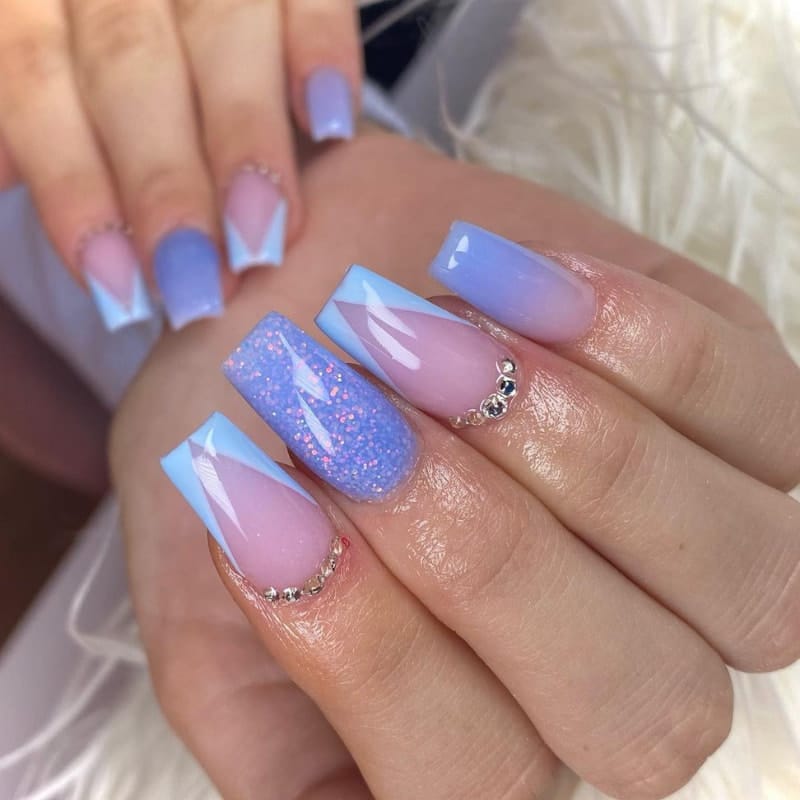 @_srbeautyx
For those of you interested in adding some more color to your blue nail design, you can try as shown here. Light blues and pink are used to bring out the final design. This makes it a perfect nail design for special events and functions. You can try this out with your friends for occasions.
12. Silver Nail Art
@_srbeautyx
Only a corner at the square tip of the fingernails is colored in baby blue. The border of these two colors is decorated with a silver nail art. You can choose the type of design you prefer for this and even change the shades of blue. Adding two different blues for the two sides would also be a creative idea.
13. Colorful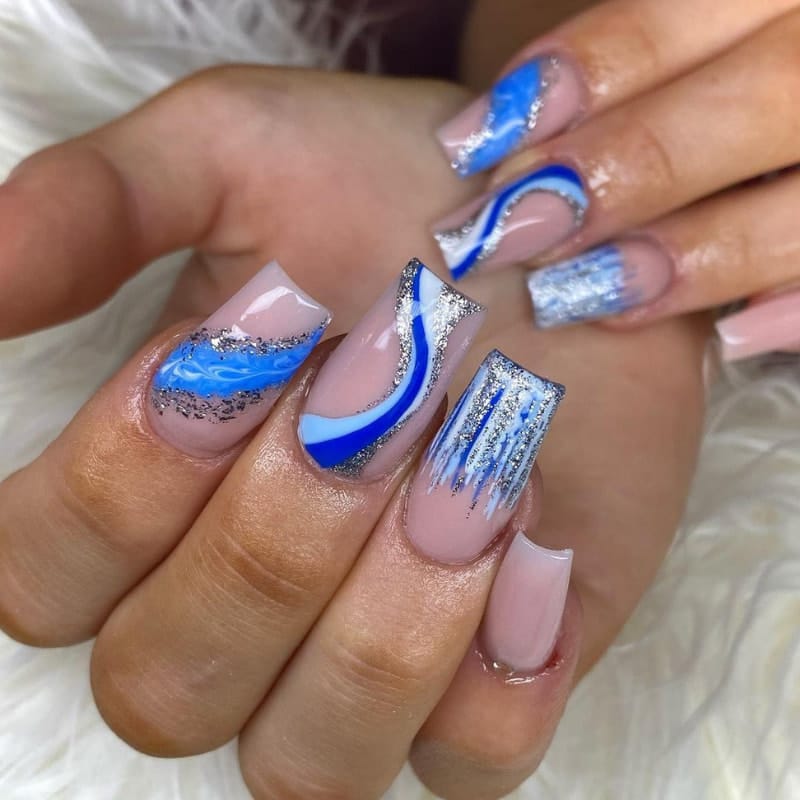 @_srbeautyx
There's a lot in this nail design for you to grasp. The base is a neutral shade of pink and all the designs are done with a few shades of blue. The design in each finger is different from the rest. Silver glitter is also used for this and in general, it represents some streams of water flowing at different paces.
14. Structure of Cells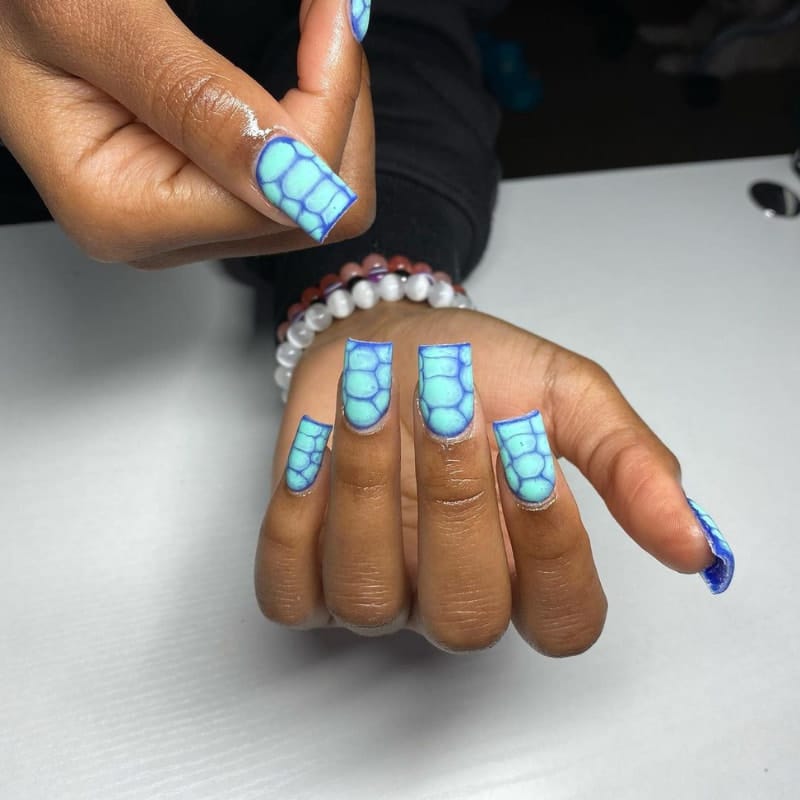 @nailedby.tiarenea
This is another uncommon nail design that you wouldn't come across very often. Dark blue lines on the light blue background resemble some structure of cells. Choosing the matching shades of blue is the key to this design.
15. Blue with Orange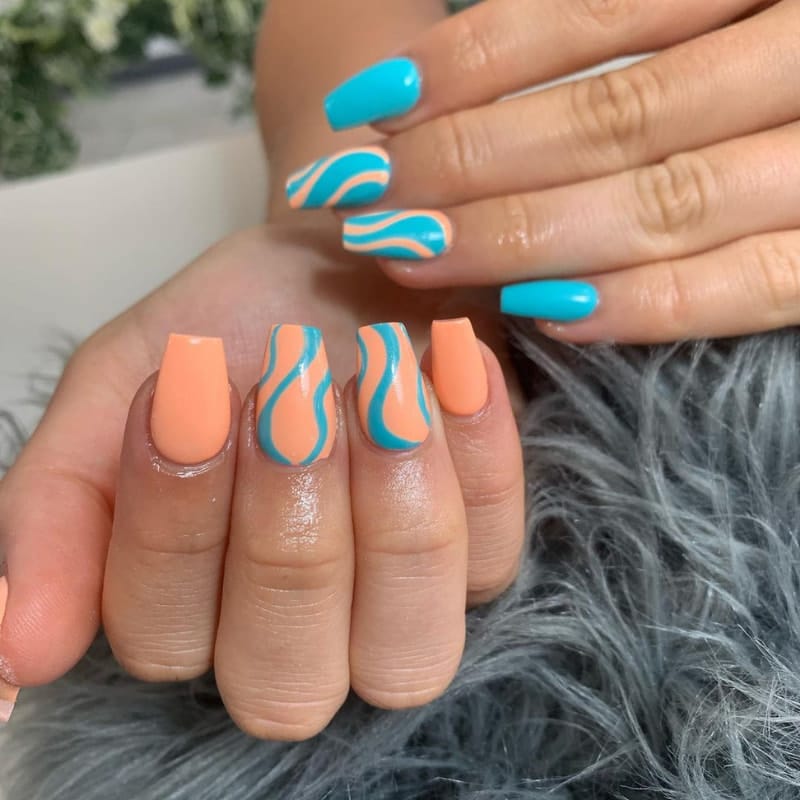 @abi_thegetnailedstudio
Light orange can also be combined with light blue to create a beautiful design for acrylic nails. The curvy lines alternating the two colors create a very attractive design. I'm sure you wouldn't be disappointed with these nails as they look really pretty.
16. Three Shades of Blue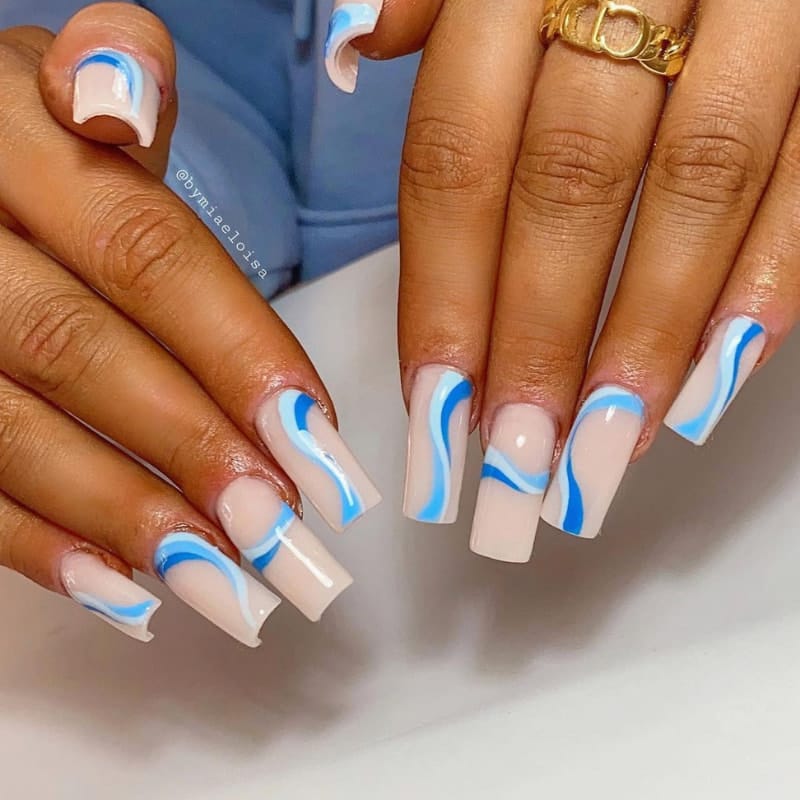 @bymiaeloisa
Three shades of blue are used in these acrylic nails. It is a simple design with curvy lines that consist of all the three colors together. You can try this for any nail regardless of the length or shape. These acrylic nails would look great with denim outfits.
In conclusion, blue acrylic nail designs are a trendy and stylish way to express oneself through nail art. From subtle shades of baby blue to bold, electric blues, there is a range of colors and styles to choose from.
Whether you prefer a minimalist approach or intricate patterns and designs, there is something for everyone. Blue acrylic nails can also be a great way to add a pop of color to any outfit, and they are perfect for any occasion, from casual to formal events. With the right tools and techniques, you can create stunning blue acrylic nail designs that will turn heads and make a statement.
So go ahead, express your creativity and individuality with some fabulous blue acrylic nails!