Tattoo art is becoming a new trend among our youthful generation, as we all know. As a result, shoulder tattoos with eye-catching flower motifs are gaining popularity, particularly among women.
Flower tattoos are among the most popular among female tattoos. Flowers are one of the most beautiful tattoo designs and are frequently used as a symbol of femininity. The wonderful thing about flower tattoos is that they have a lot of symbolism. Flower tattoo designs can also include a variety of flowers..
The most popular flower tattoos for women's shoulders are listed here. Try some of the beautiful tattoo ideas from the list below.
Disclosure: This post contains affiliate links, which means we may receive a commission if you click a link and purchase something that we have recommended.
1.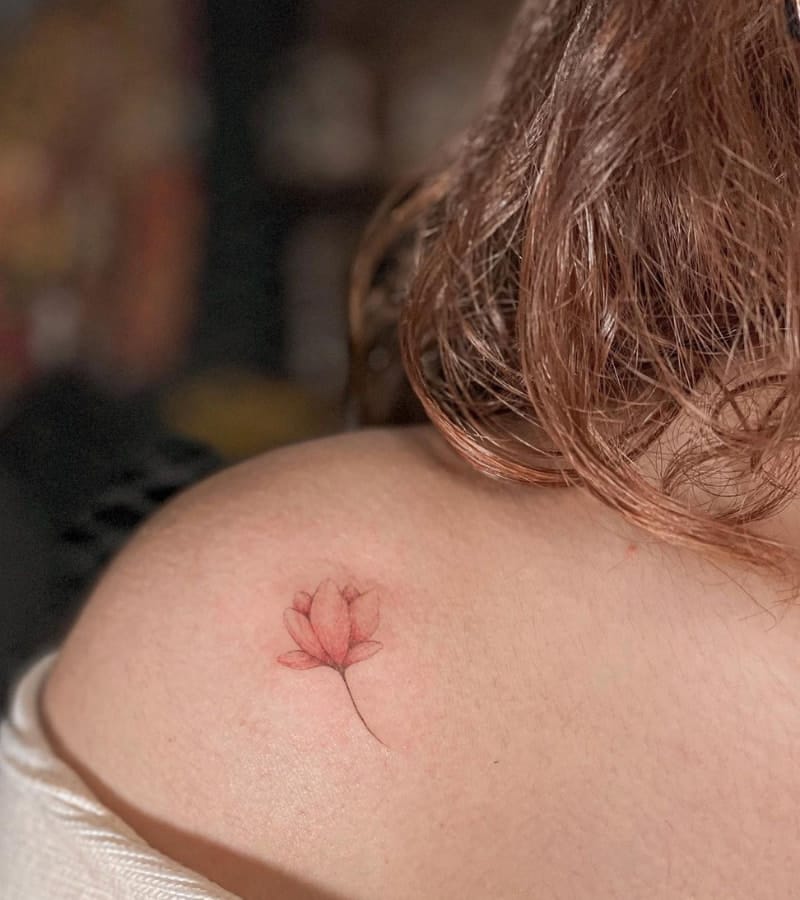 @tattoo.alb
If you are looking for something simple and less obvious, you can go ahead to try this design. It is a beautiful flower with seven petals and a tender stem. It resembles femininity with the soft features of the flower. A brownish color is chosen for this art to match the skin tone.
2.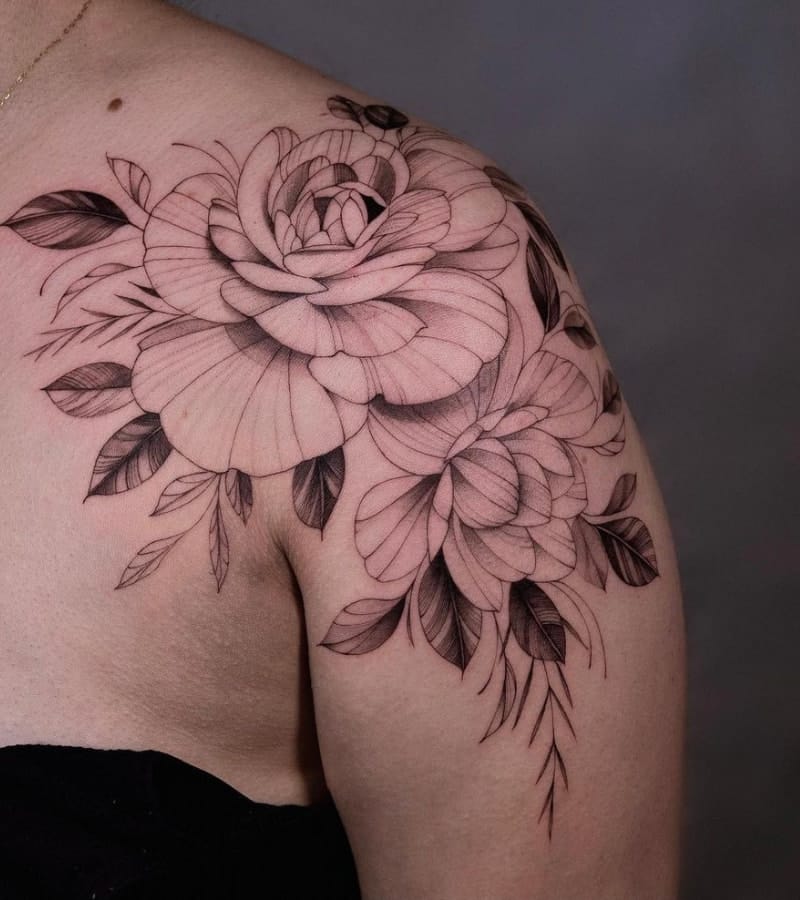 @didow.ink
You might also be interested in this large tattoo design covering most of the shoulder area. As you can see, the design is done with lines that create gentle shading. It is in between both a 3D and 2D model of two large flowers and leaves.
3.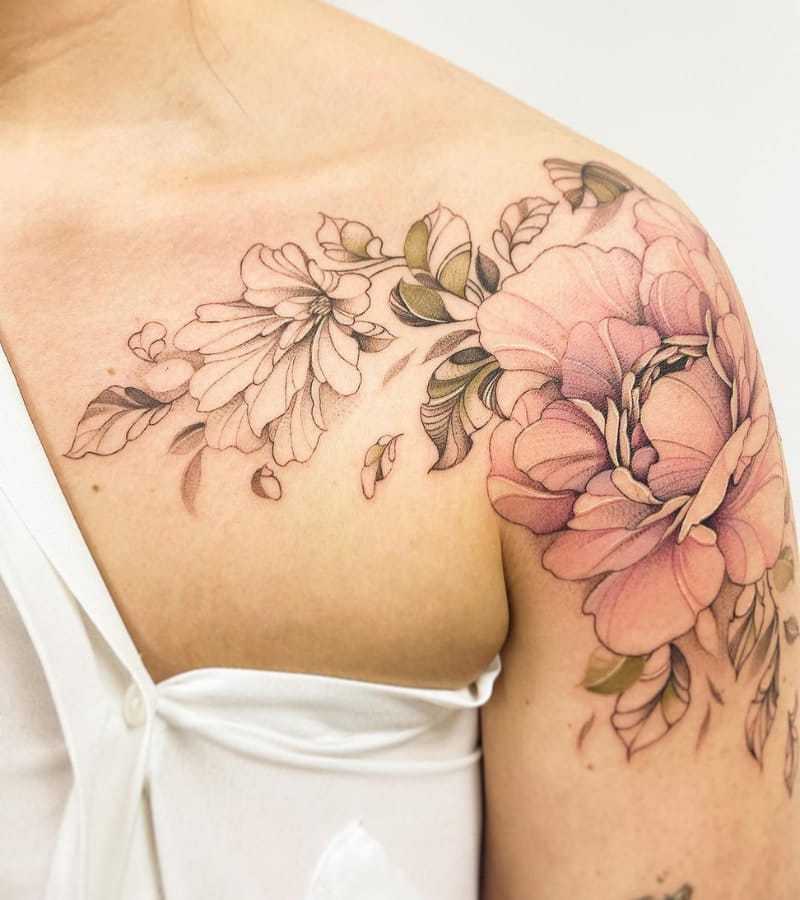 @esor_tattoo
Adding some light shades of color to the tattoo is also a great idea. It will make the art more lively than the normal black tattoos. This has a large hibiscus flower and the design extends along the arm. You can even continue this design up to a full arm tattoo.
4.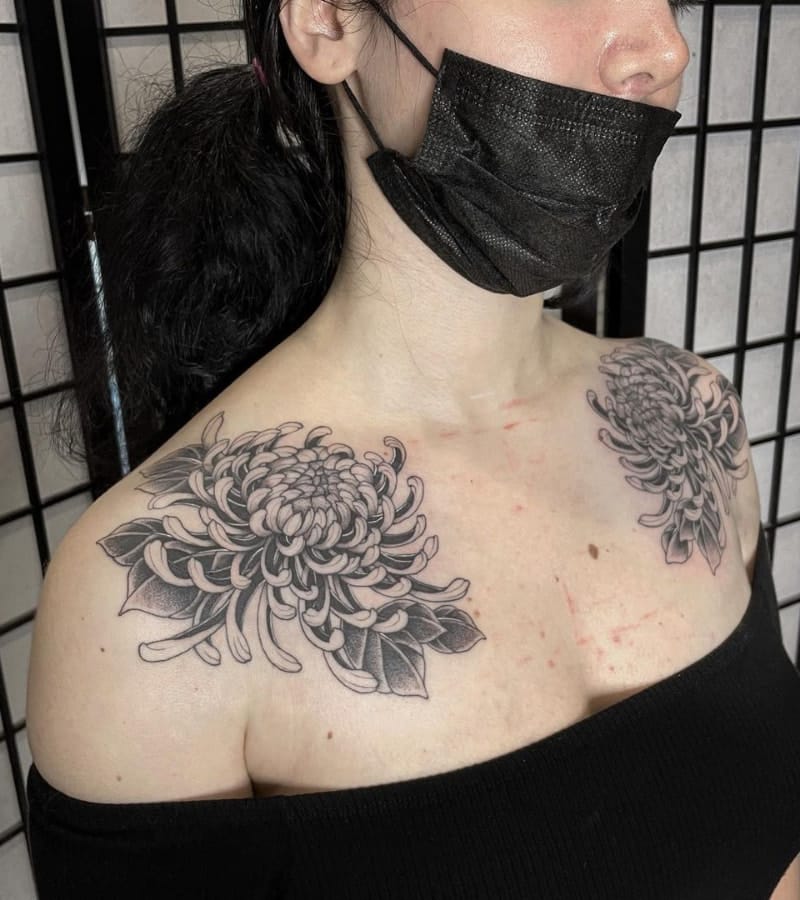 @garth_tattooing
This is not a design that you would see very often. Although it is a floral design, it is quite out of the ordinary due to the arrangement of the petals. The shading is done attentively to make the design appear as a 3D design. You can even have it on both shoulders as shown here.
5.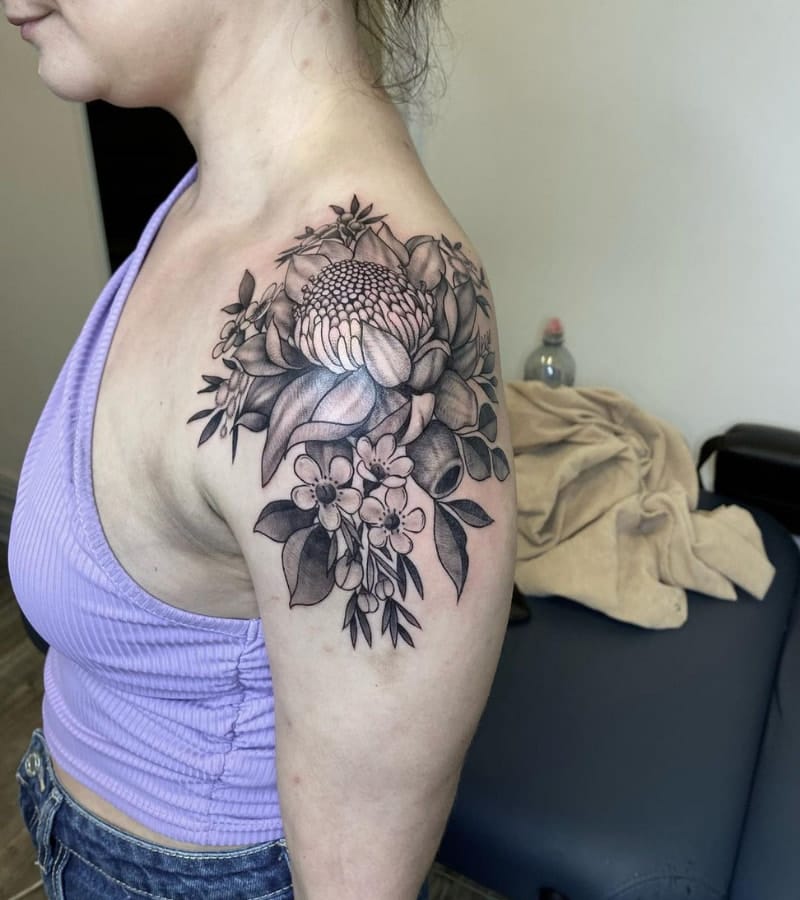 @alijtattoo_
Another tattoo design that will fit perfectly on your shoulder. It consists of a large flower and a few small flowers and leaves. It consists of a lot of shading and darkened areas throughout the design. So, I think you will love this design as well.
6.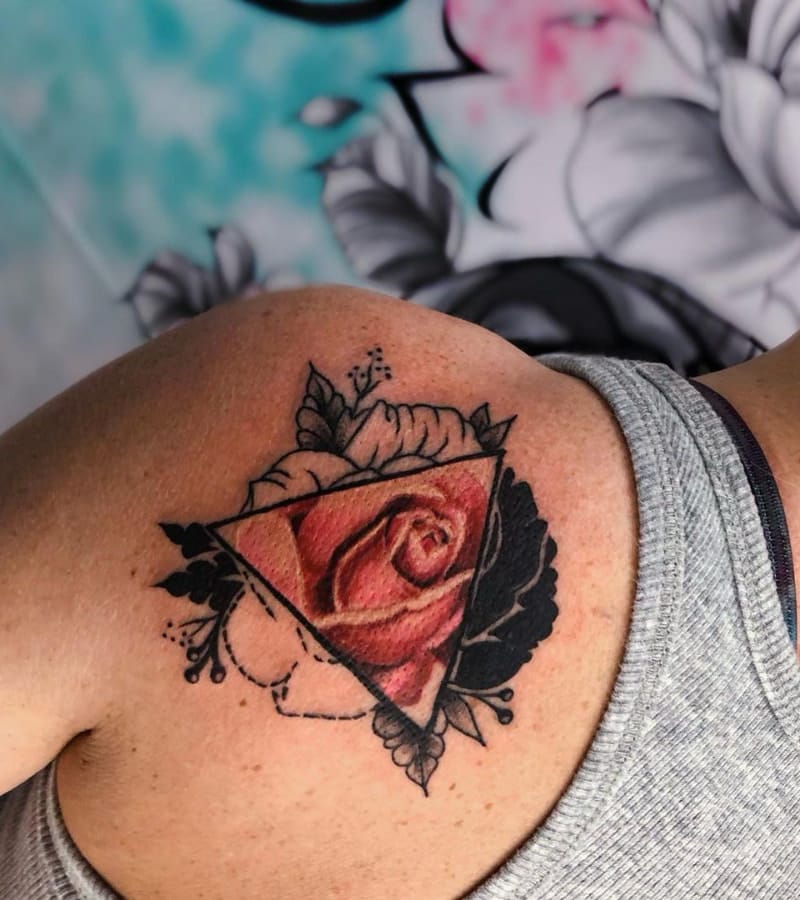 @sziink_tatto
For anyone looking for something extraordinary, this will be a good choice. There is a triangle on a rose and the three sides are different from one another. The middle area is colored in red to resemble a real rose. The other sides have a black rose, uncolored rose, and dotted lines of the petals.
7.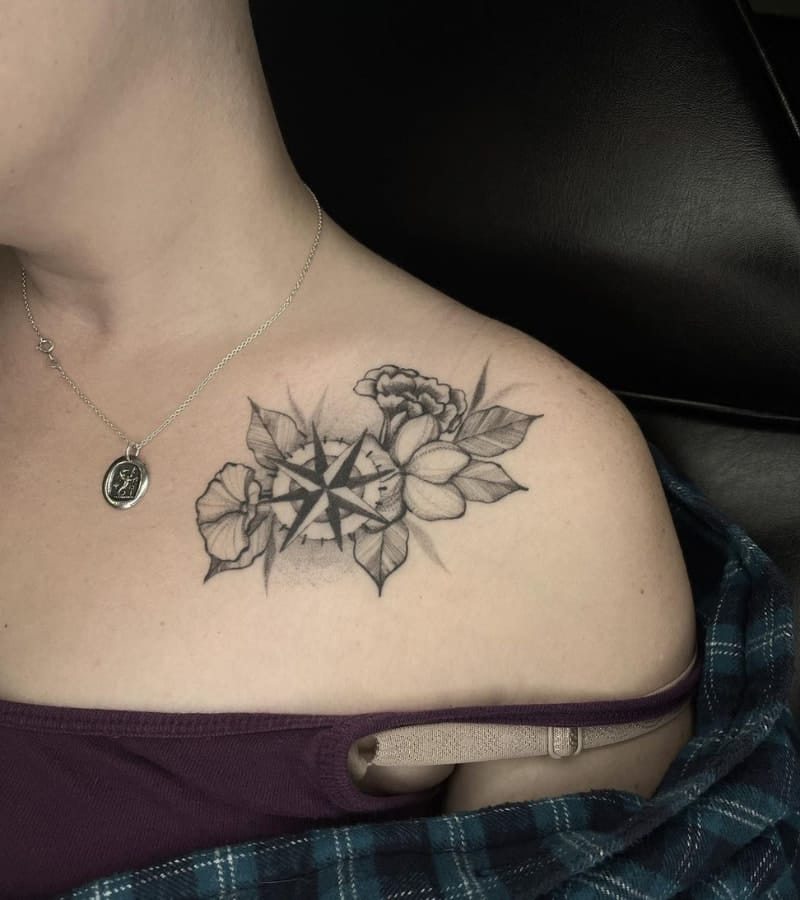 @oliviaanneg
The floral design here is also quite unique because it is made with sharp edges. The rest of the design has ordinary curvy petals. You can have it either on the top of your shoulder or just below the collar bone as shown in this.
8.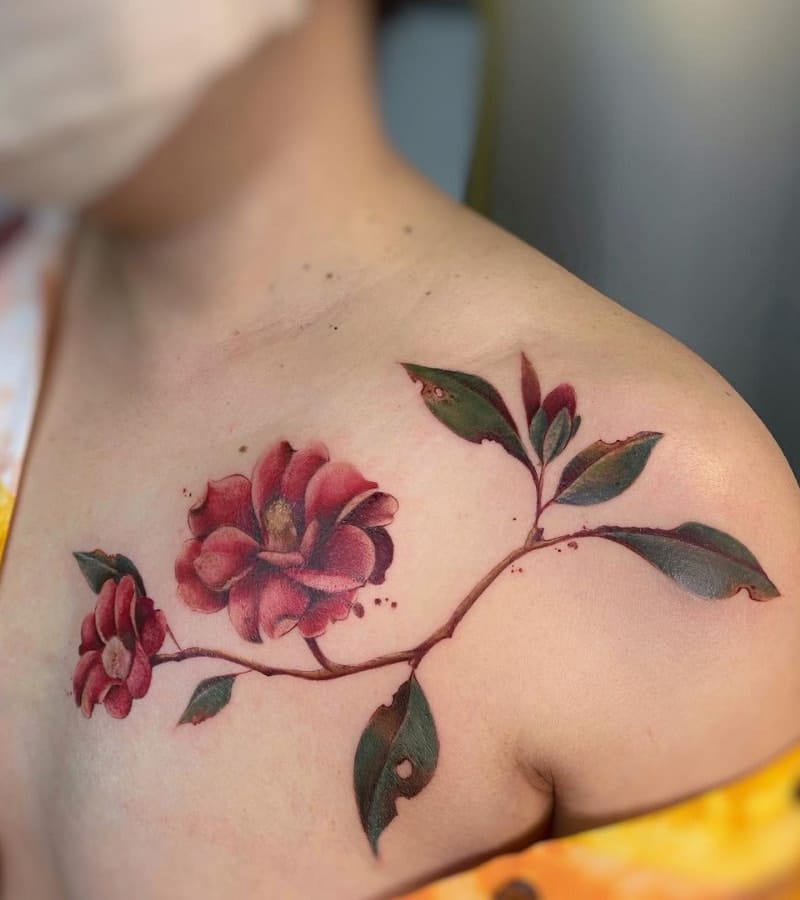 @keyrinkaswira
Here's a realistic tattoo design that even has the imperfections of the leaves. This is more of an art than a tattoo! The petals are shaded in red and the leaves are dark green. Since this is a long art, it is ideal not only for the shoulder but also as an arm tattoo as well.
9.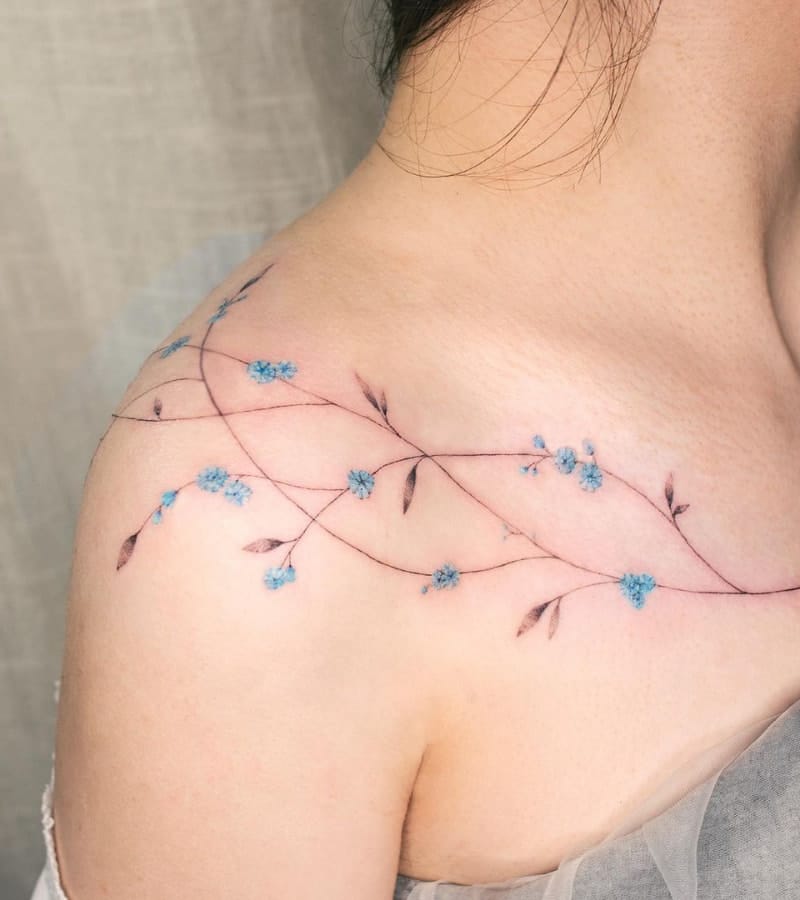 @tattooist_yeon
Do you like mild tattoo designs that look elegant? Then you would prefer this tattoo design idea over all others. There are gentle blue flowers along a thin line. You can change the color of these tiny flowers and use your favorite color for them. But choose a bright pastel color so that it appears more visible on the skin. The leaves and the stems are designed in the same color.
10.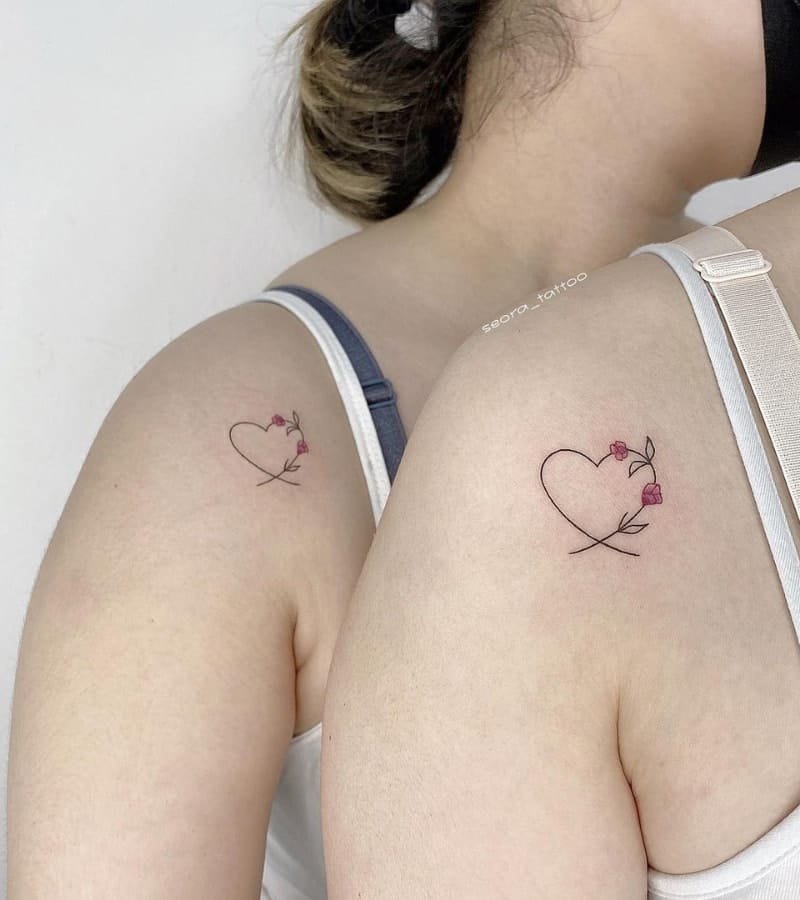 @seora_tattoo
This is an ideal flower tattoo idea to get twin tattoos with your bestie! It's nothing much, just a simple heart-shaped tattoo. There are two simple flowers and a few leaves along with them. Although it is a simple design, it looks amazingly attractive.  Share this with your friends and get their opinion too!
11.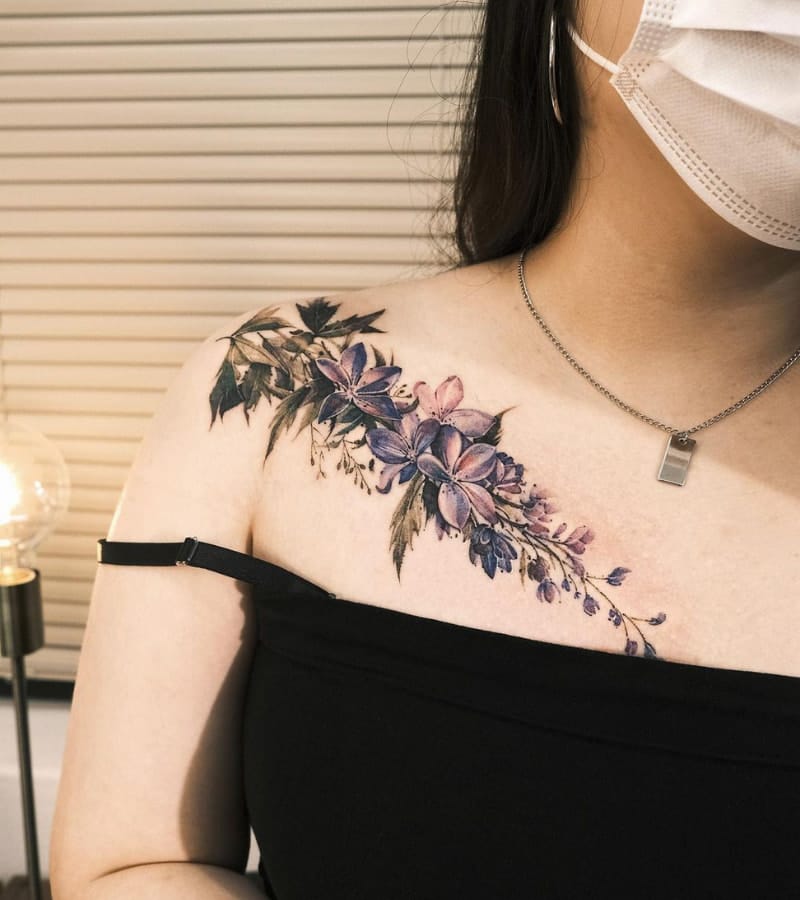 @ati.ful
Even though this may look like heavy art, it is a very appealing floral design. The blue shades of the petals and the dark-colored leaves extend from the shoulder to the chest. It is like a bouquet of flowers with all the buds, twigs, and shoots. It will look amazing with strapless dresses for night-outs.
12.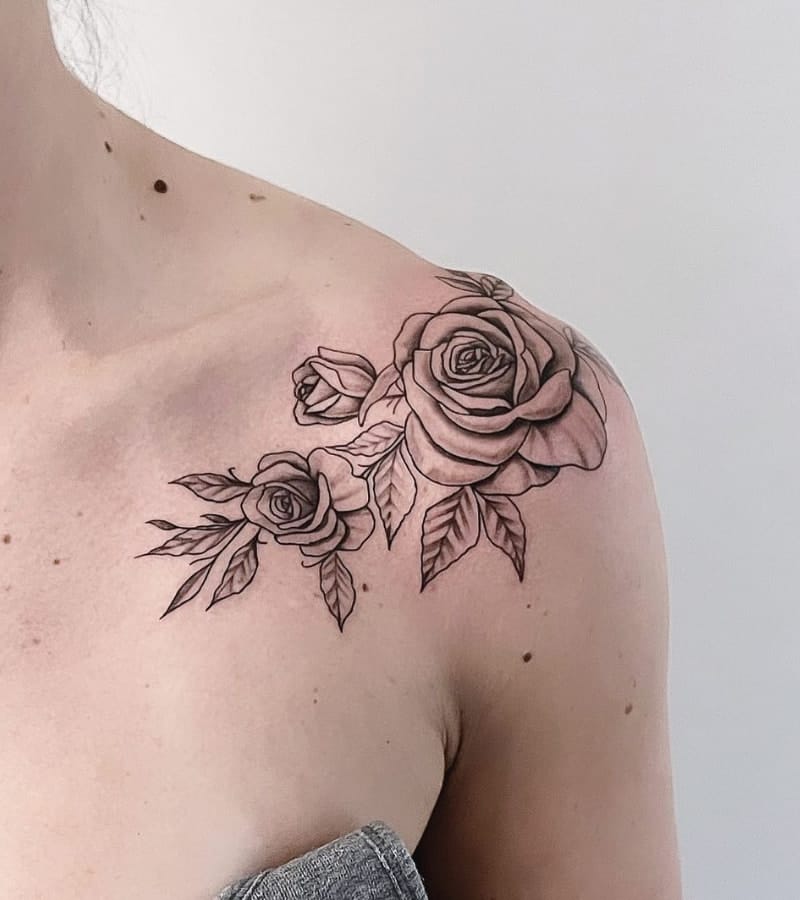 @gcimarmc
There are a few roses and leaves in this beautiful flower tattoo. Although it is done only in one color, the shadings make it a realistic design. It will look amazing if you choose it to fit the area of your shoulder. You can even extend this rose tattoo design down the arm as well.
13.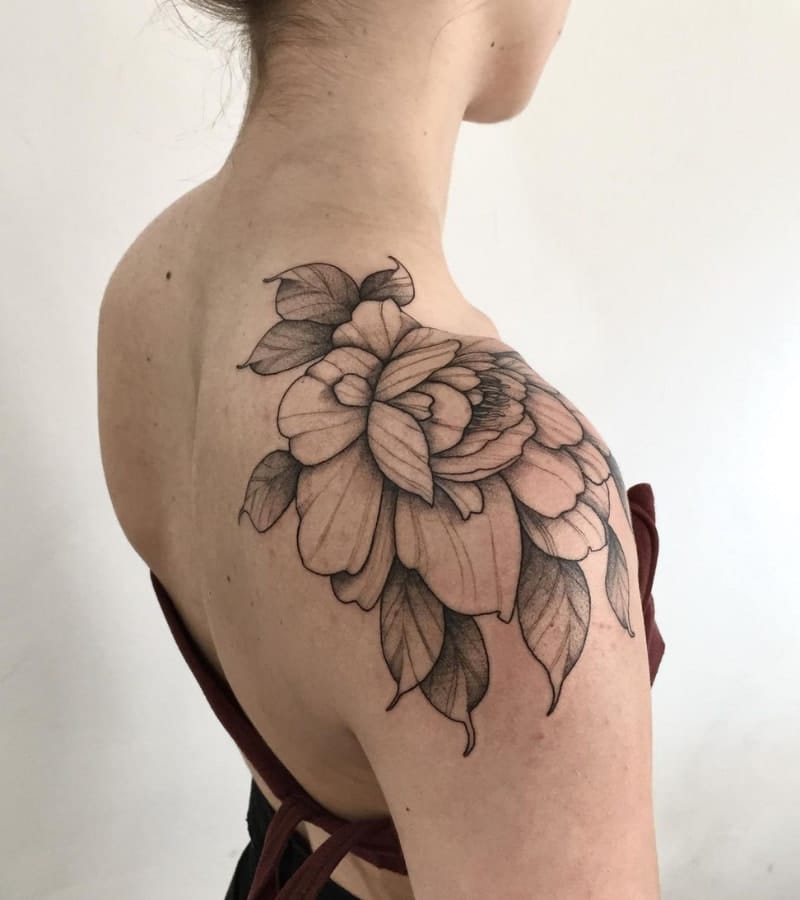 @nataliacapoccetti.tt
A giant flower on your shoulder is a perfect tattoo idea! You can change the size of the tattoo upon your preference. But the large size makes it quite different from the rest. So you can try having it in addition to the other small tattoos.
14.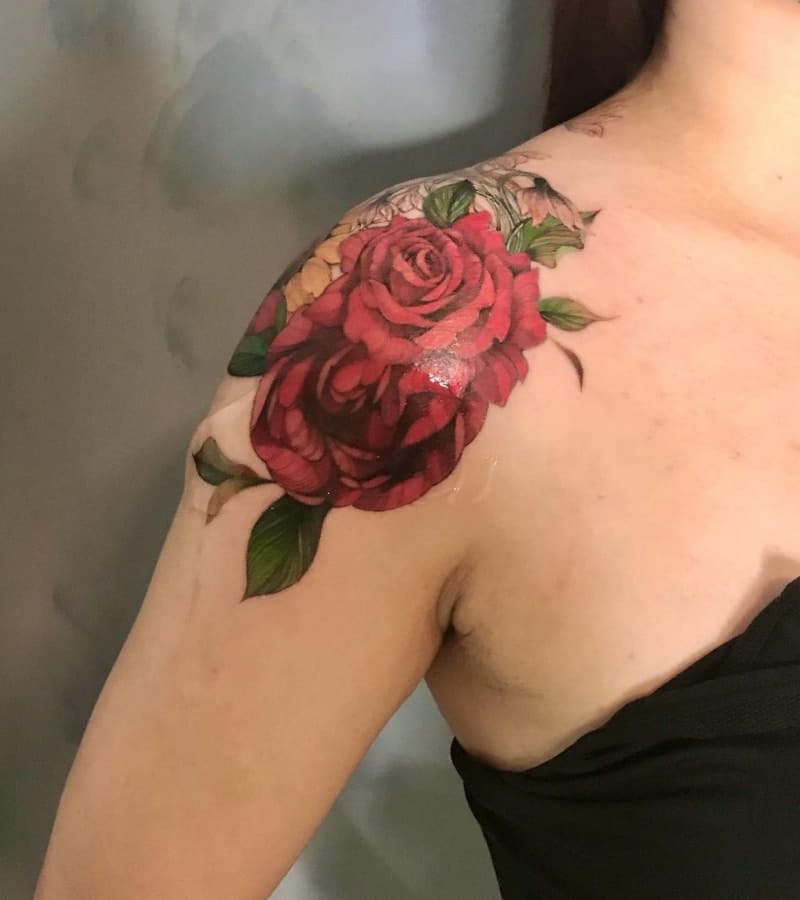 @anneauxtattoo
If you love flowers a lot, you can try this special tattoo design. It has many flowers including roses and sunflowers. The specialty is that there are various colors used in this art to suit each flower. You are welcome to share your thoughts and suggestions on this.
15.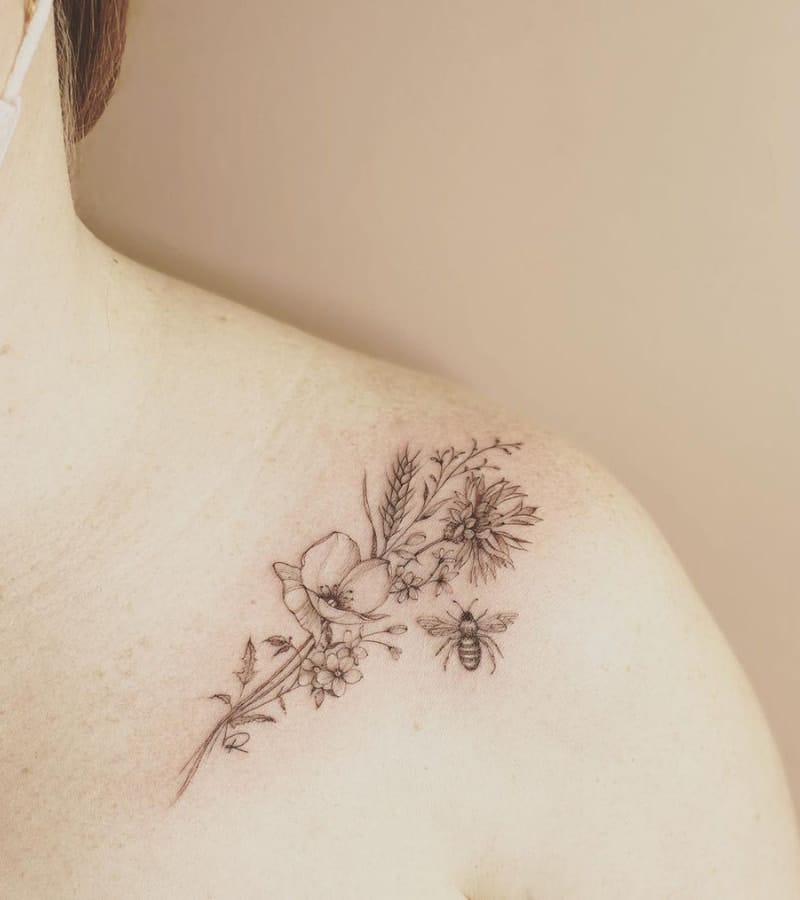 @carinsilver_physalistattoo
Flowers are incomplete with bees! So, why don't we include this little friend in the tattoo? The floral design here consists of a few types of flowers in different shapes and sizes. The bee is also realistic with its beautifully shaded body. I think it is a great tattoo idea to have on your shoulder.
In conclusion, flower tattoos are a timeless and versatile choice for body art. From delicate and minimalist designs to bold and colorful arrangements, there are countless flower tattoo ideas to choose from.
Whether you want to express your femininity, pay tribute to a loved one, or simply add some beauty to your skin, a flower tattoo can be the perfect choice. Just be sure to choose a skilled and reputable tattoo artist to ensure that your tattoo turns out beautifully and stands the test of time.
With the right design and execution, a flower tattoo can be a stunning and meaningful addition to your body art collection.