Color is crucial in every visual design, and nail art is no exception. Light pinks are ideal for solid colors that blend with practically anything in your clothing, while hot pinks are great for summer and catching attention.
You can experiment with a variety of pink nail designs. Short pink acrylic nail designs are becoming increasingly trendy.
Keep reading for short pink acrylic nail ideas that will make you stand out, whether you want to show off your artistic skills with your nail design or simply want to change up your look.
1. Flower Ornaments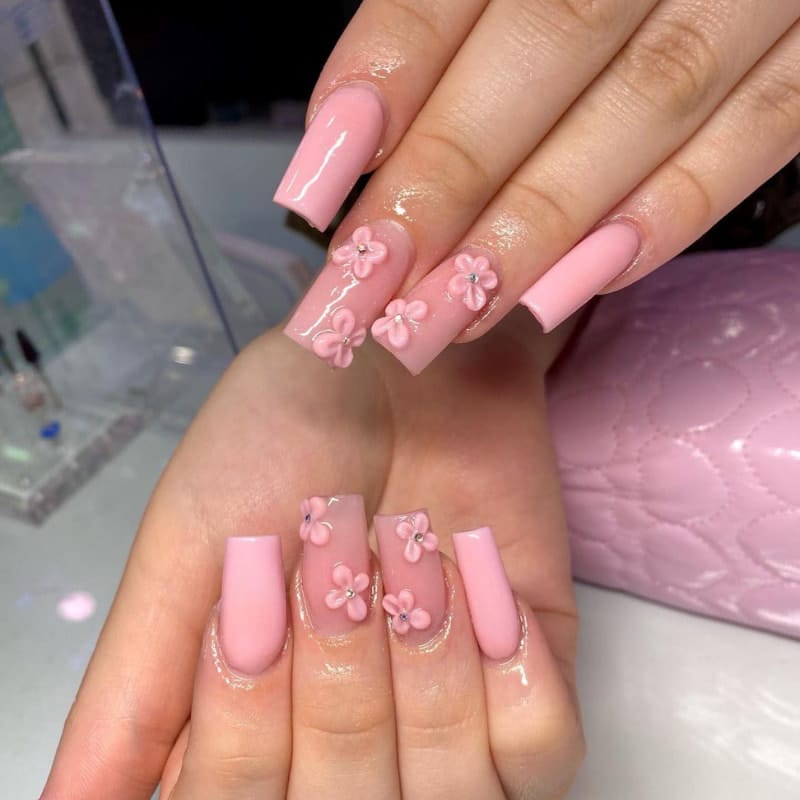 @kryllicsteph
The small flower ornaments you see here are quite similar to a cake décor. Hence, it is obvious that you can have these acrylic nails for special functions. The light shades of pink make it perfect not only with a pink dress but with any outfit.
2. French Design
@sians_nails_
Even if you need short acrylic nails, you can try out this amazing nail design. Various shades of pink can be used for this. This design mainly focuses on the French nail design as only the tip is colored in pink. Adding some studs will make the design even more attractive.
3. Light Shade of Pink
@nailsbyymina
This acrylic nail design idea is simple with a light shade of pink with a slight design. These are square nails and you can add some ornaments such as golden letters as you see here. This is a good nail design for daily use.
4. Colorful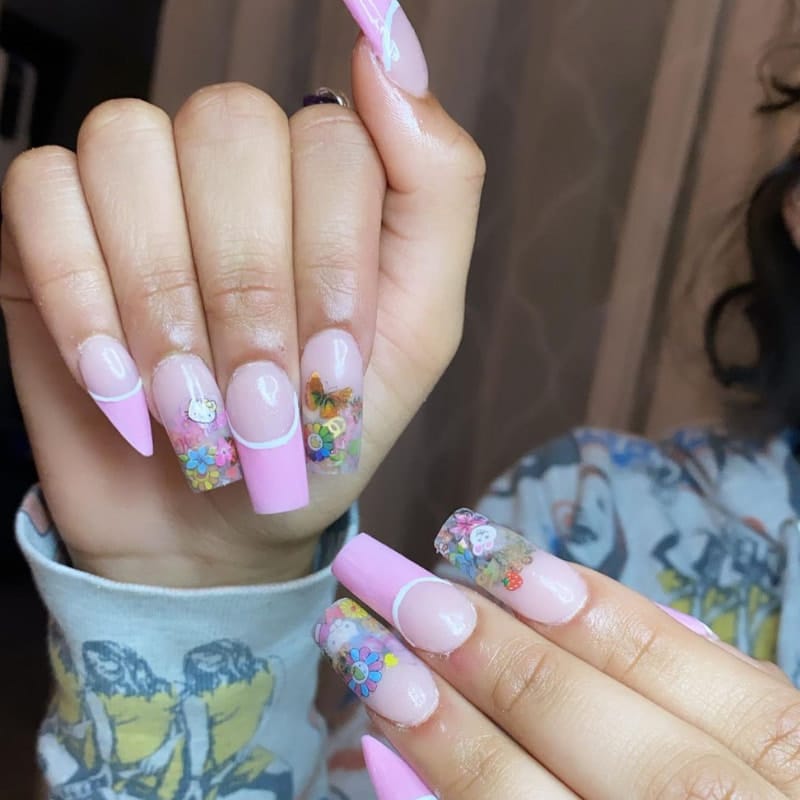 @glowingnailzz
For those who need something pretty and colorful, you can try this. There are colorful flowers and butterflies at the tip of some nails. The other nails have a simple pink tip with a margin drawn with a white line.
5. Short and Square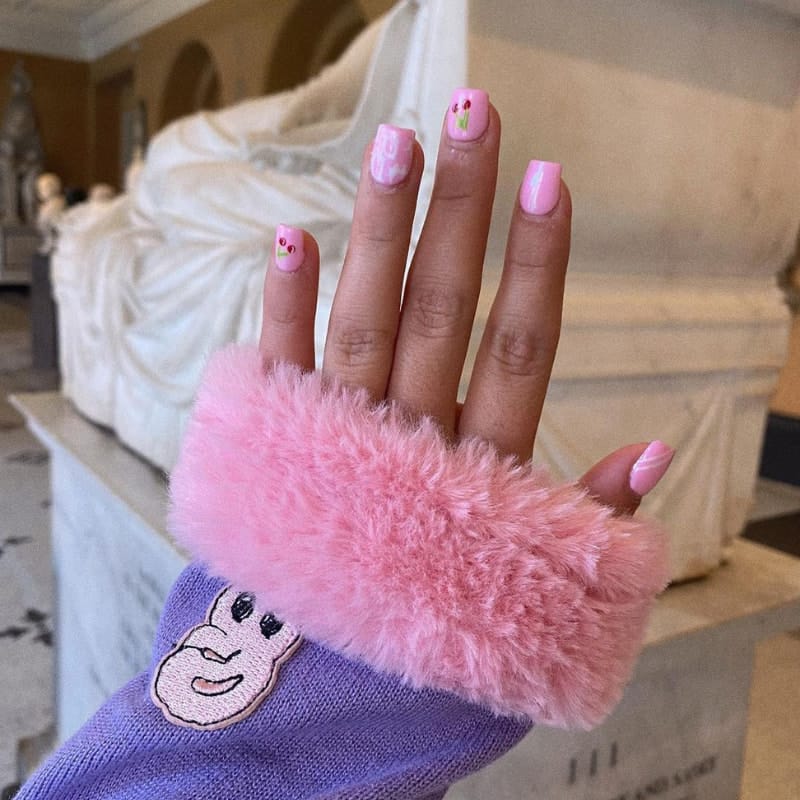 @paolaraco
Having short nails is undoubtedly a lot more comfortable. These are short square acrylic nails with a simple design. Some studs are used to create a design of roses on the nails. White lines are drawn in some other nails to create a beautiful pattern.
6. Leaves on the Nails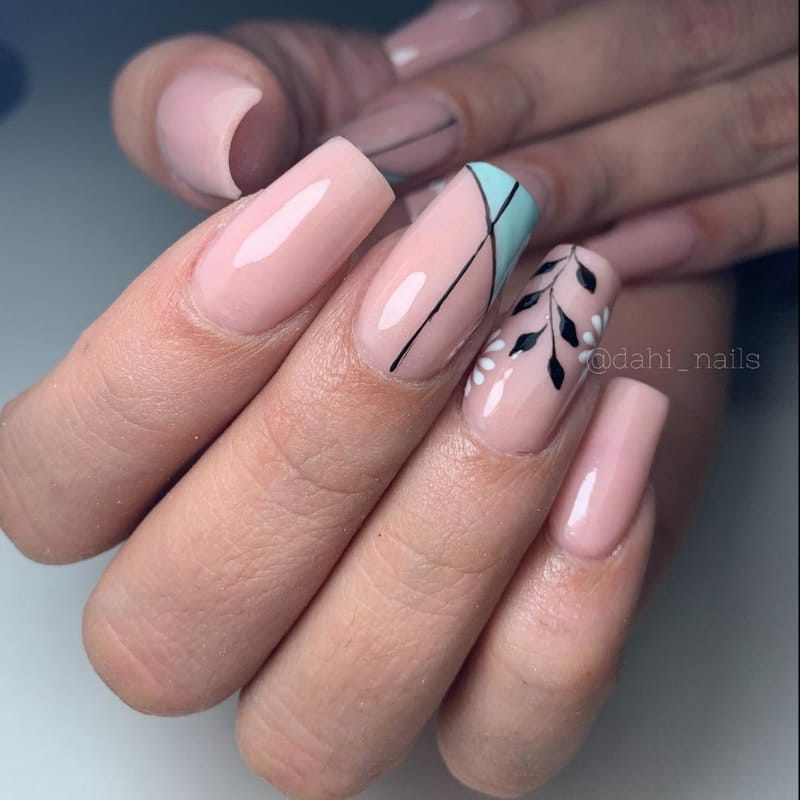 @dahi_nails
The nails are painted with a neutral shade of pink. Some leaves are drawn with black on one nail along with some white flower petals. There is also an additional area in a light blue to add more variation to the design.
7. Two Shades of Pink
@saavdidthat
This acrylic nail is colored using two shades of pink. The outer area around the tip is done in very light pink to highlight the almond shape of the nail base. But these are square-shaped nails that appear longer and firmer.
8. White at the Tips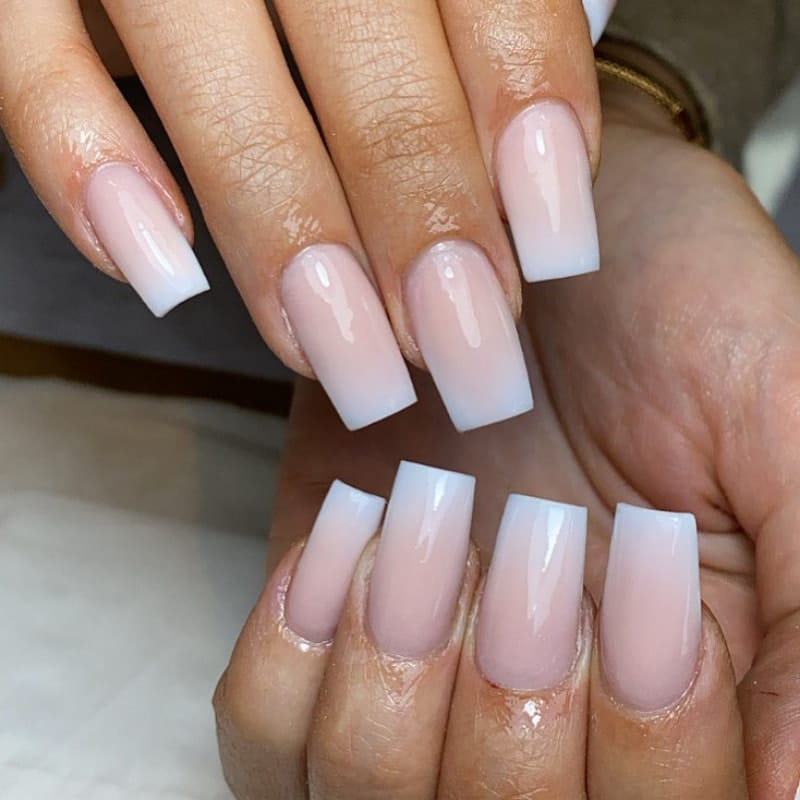 @nailsbypaige_1
It's a simple nail design that has nothing but a shaded pink going up to white at the tips. The colors can be seen clearly in these square nails. These too can be used with any outfit regardless of the color or season.
9. Red Hearts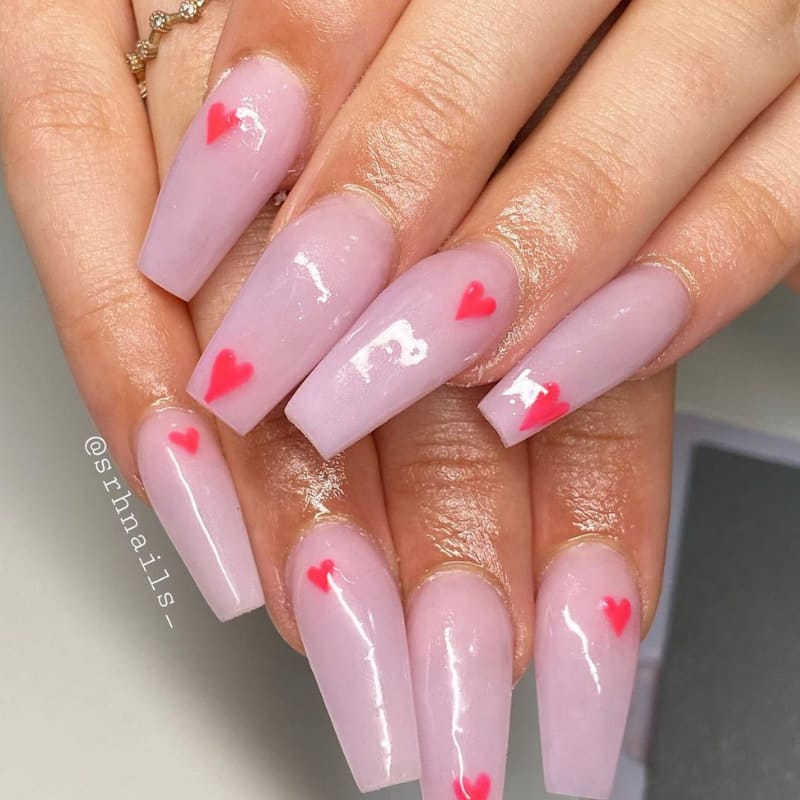 @srhnails_
Slightly blurred red hearts are used as the design in these pink acrylic nails. Although only one heart is used for each nail here, you can add more hearts as there is enough room for more. Adding some glittering hearts would also be a great idea!
10. French and Square
@saavdidthat
A light shade of mauve is used in this French nail design. The shiny top coat brings more attractiveness to these nails. You can add some tiny white stars as shown here in the ring fingernail.
11. Curvy Lines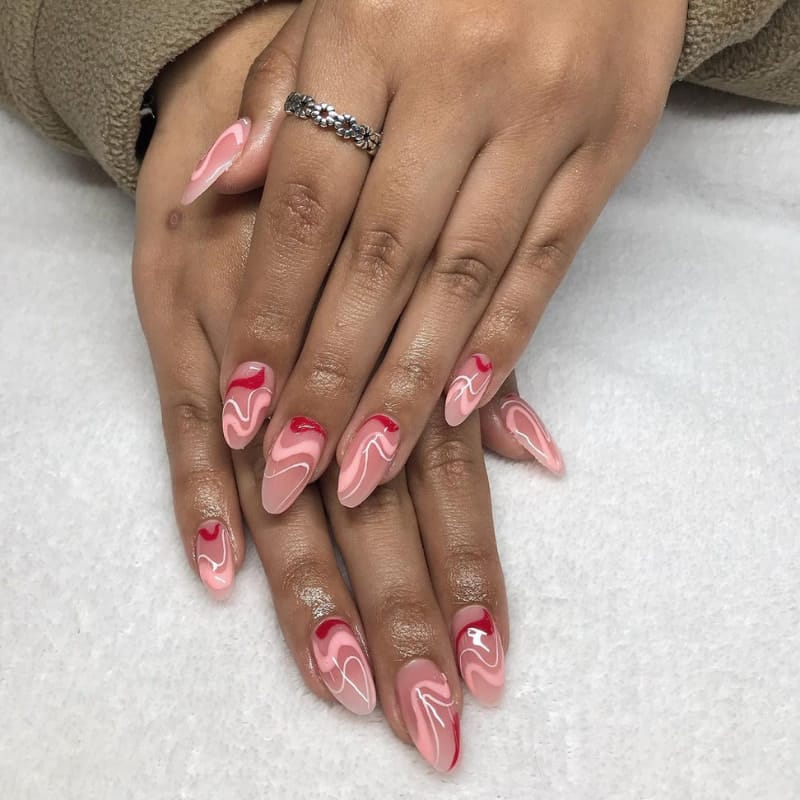 @rebeccasnails_07
Beautiful almond nails with different curvy lines of various colors and thicknesses. Since this looks more like freestyle, you can even design your own acrylic nails. Red and white are used in this case as they are perfect matches for the pink base.
12. Glittering Nails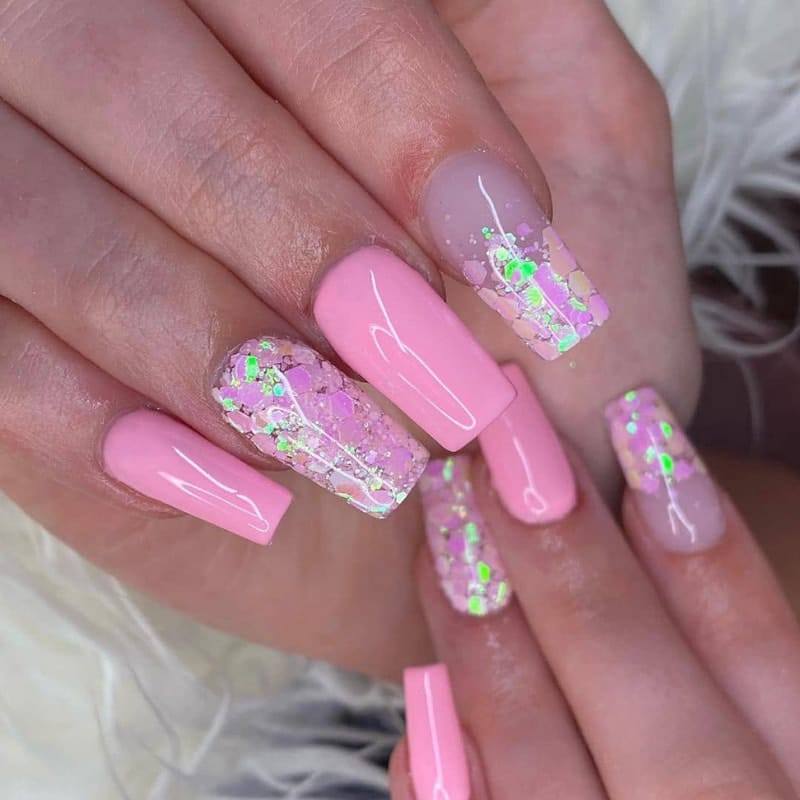 @glitterarty_nails1
This is an alternating design with plain pink nails and glittering nails. Depending on how sparkly you like your nails, you can adjust your pick of acrylic nails. Choosing square nails will leave more room for the designs and addition of any studs if necessary.
13. Glitter at the Top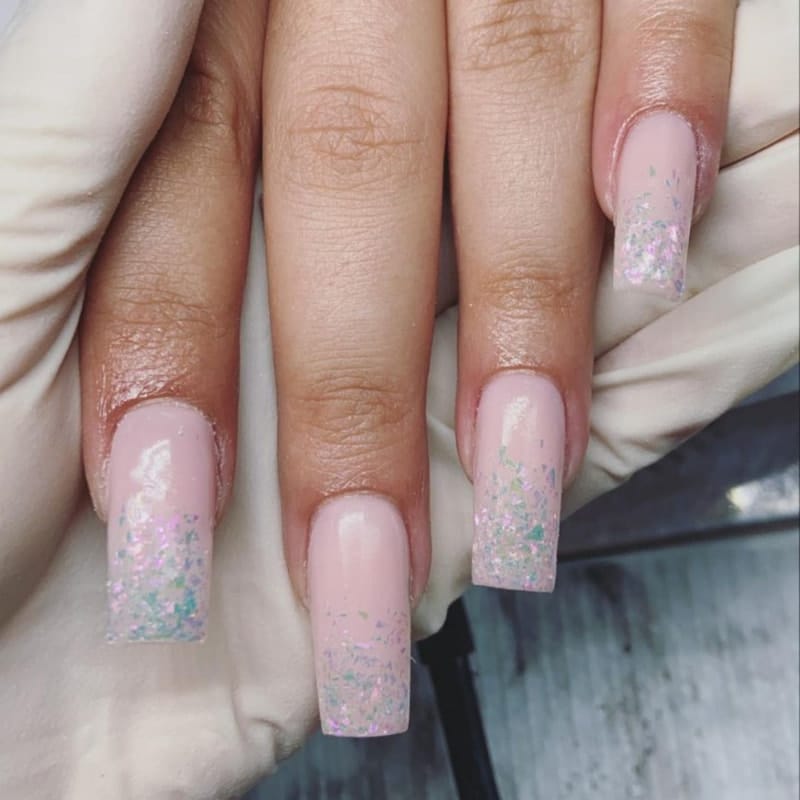 @aestheticstudiomonmouth
The base color of these nails is a very light shade of pink almost close to white. Then some glitter is added to the tip of each nail. Since this is more of a neutral nail design, you can match them with an outfit of any color.
14. Bright and Colorful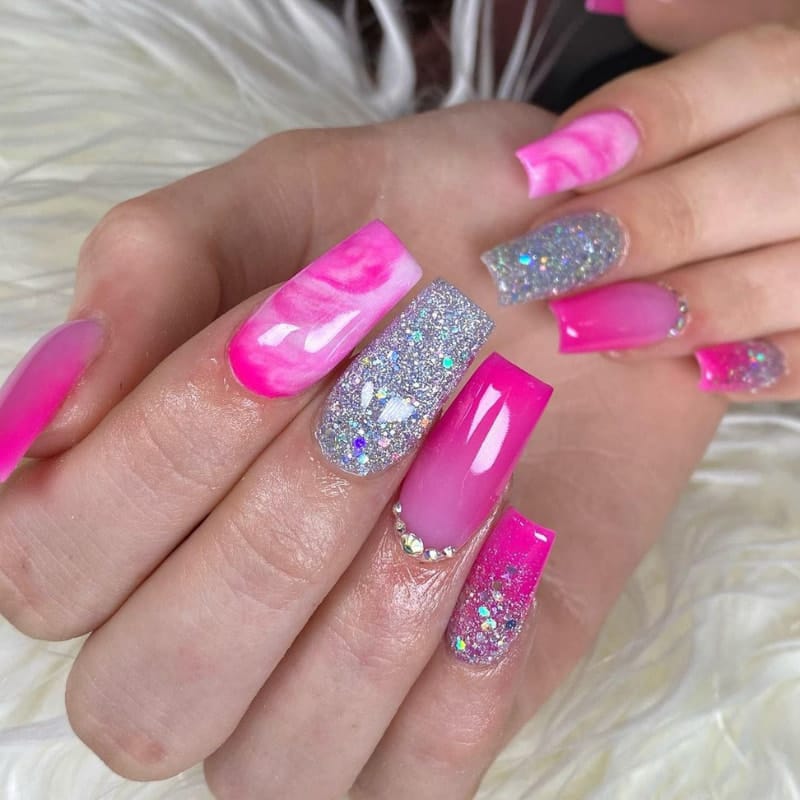 @_srbeautyx
For those who are looking for something bright and colorful, these acrylic nails would look great on you. Every nail is different from one another and has its own specialty in design. One nail is colored fully in silver glitter while the rest have different patterns of shaded pink.
15. Close to Skin Tone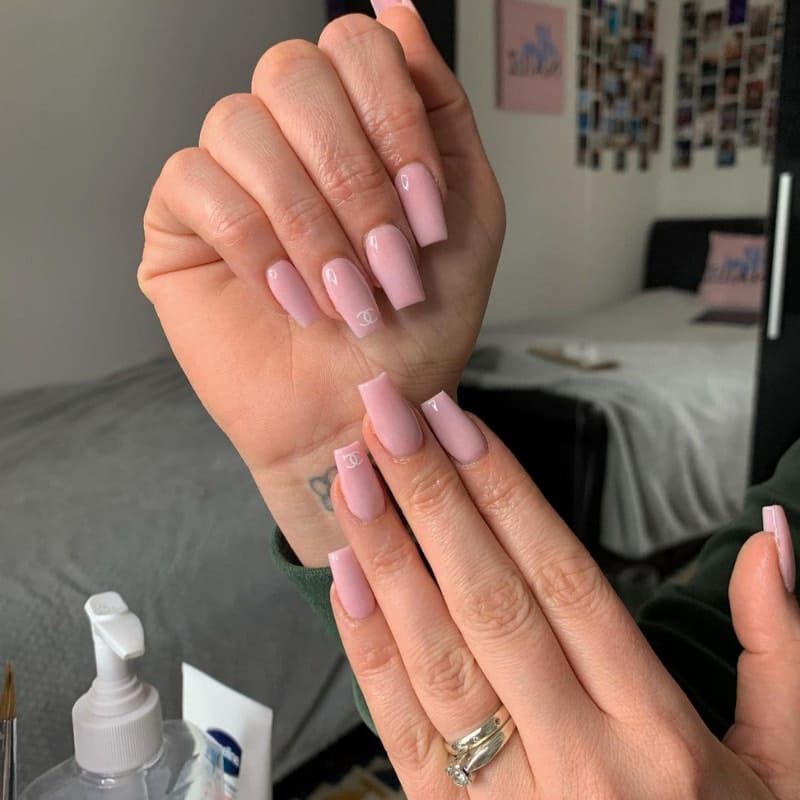 @rominailz
Nail colors close to skin tone are also a great design that never goes out of style. This is perfect not only for acrylic nails but also for your real nails as well. It makes your nails appear neat and the fingers longer than they really are.
16. Elegant Vibe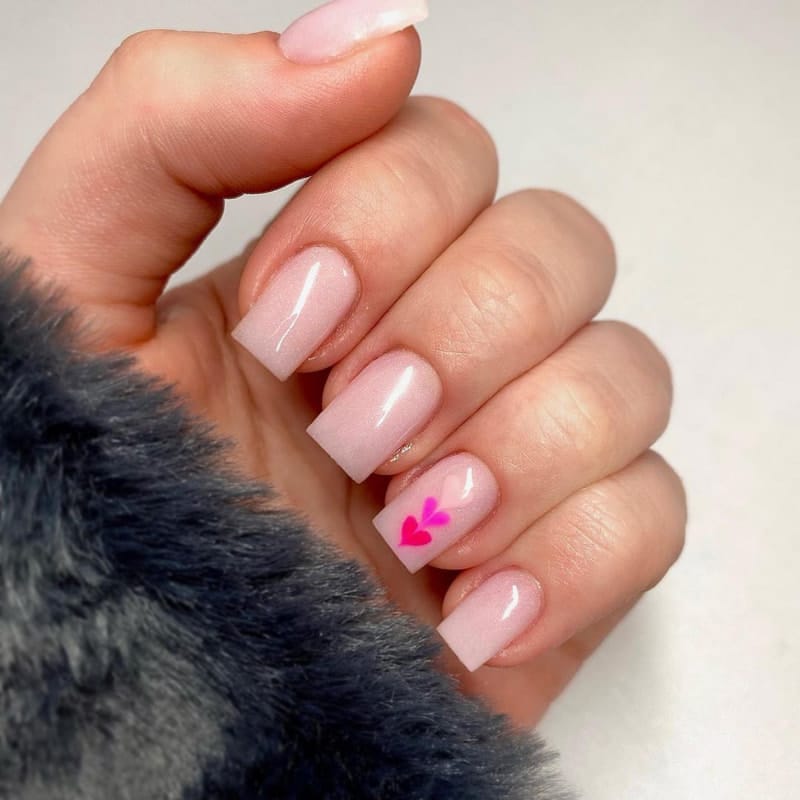 @bethdavisbeauty
These are short acrylic nails with a straight edge at the tip. They are colored in a mild glitter that brings a calm and elegant vibe to the fingers. There are some hearts drawn with a few shades of dark pink on one nail.
17. For Night Events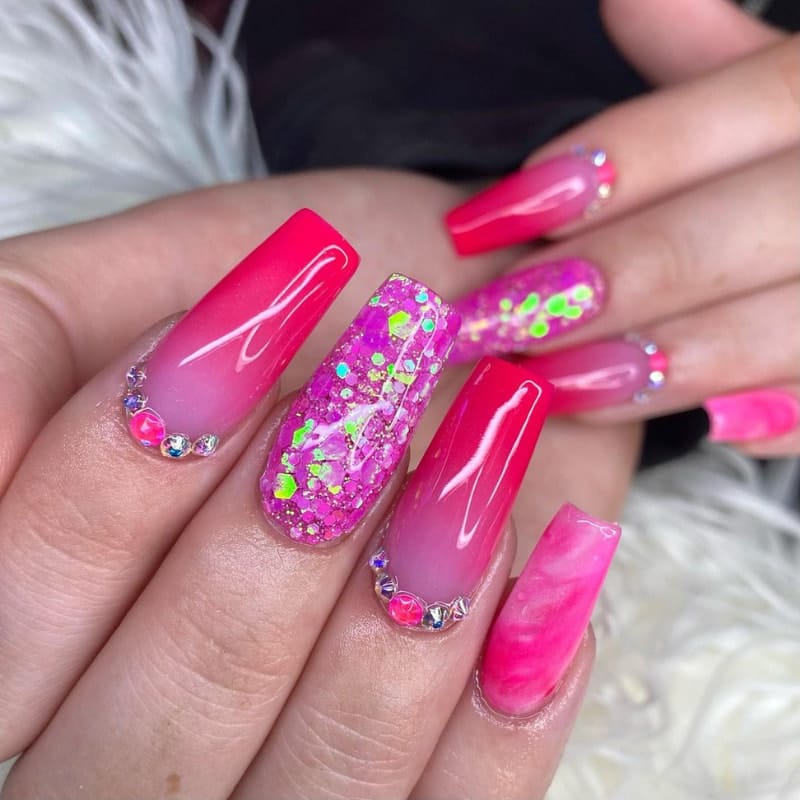 @_srbeautyx
Hot pink and bright studs are used in this acrylic nail design idea. Some nails are shaded from light to bright pink towards the tip. The addition of colorful studs at the base makes the nails even more attractive and eye-catching. You can try these amazing acrylic nails for special functions and night events.
In conclusion, pink acrylic nail designs are a fun and feminine way to express oneself through nail art. With a range of shades, from pale pastels to bright neons, there is a pink color to suit any style and occasion.
Pink acrylic nails can be subtle and understated, or bold and eye-catching, depending on your personal preference. Whether you opt for a simple solid color or intricate designs, there are endless possibilities for creating unique and beautiful pink acrylic nails.
Additionally, pink nails are perfect for all seasons, from spring and summer to fall and winter. With the right tools and techniques, you can achieve stunning pink acrylic nail designs that are sure to make a statement.
So go ahead and experiment with different shades and styles, and let your creativity shine through your pink acrylic nails!