Fabrick Pumpkins are a wonderful sort of pumpkin that is ideal for the fall or Halloween season. Enough to meet your various home decoration needs, making your home more appealing and evoking a Halloween atmosphere.
Simple household objects are used to make these fabric pumpkins. You can even make your own. Because you may use any fabric in any color with the basic DIY, you have unlimited control. The majority of people adore these amazing fabric pumpkins, and each one is one-of-a-kind and ideal for the full Fall season.
Let's have a look at some of the eye-catching fabric pumpkins I found on the internet.
Disclosure: This post contains affiliate links, which means we may receive a commission if you click a link and purchase something that we have recommended.
1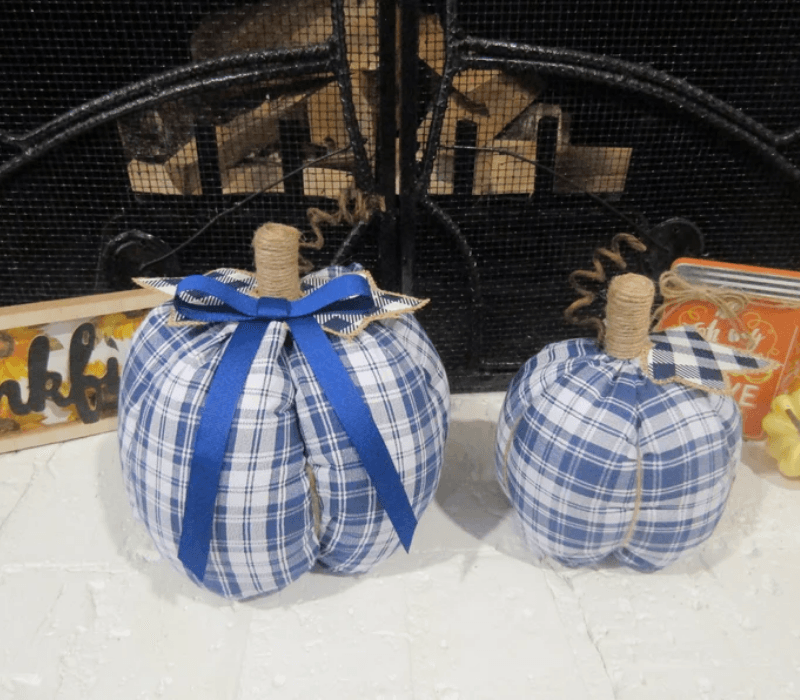 This handmade pumpkin has a blue and white plaid design that steals your eye. It is ideal as both a Halloween décor and an appealing decoration for the fall. This is also perfect for your tabletop, mantel, and farmhouse decorations.
You can even get it in few sizes to suit your requirement. Its quality is guaranteed as it is handmade and comes from a smoke and pet-free environment. So I recommend you these beautiful fabric pumpkins to brighten up your Halloween.
2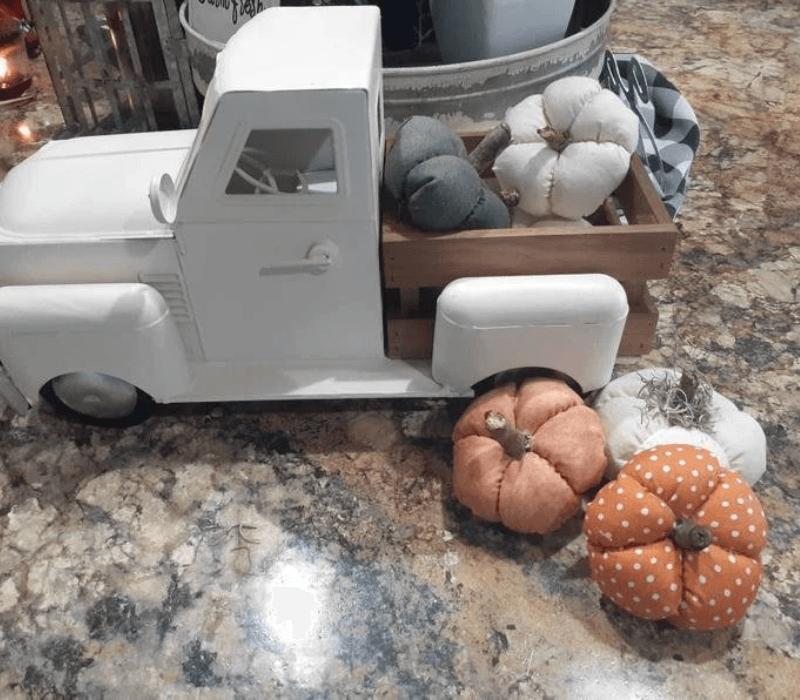 These little fabric pumpkins come in a variety of colors and shades for you to choose from. They also come in a few different styles in their finish. Each pumpkin is handmade by stitching and stuffing carefully.
Add this décor to your kitchen and you will never be disappointed by its Halloween vibe. It is also ideal as a room décor to bring a cottage or farmhouse touch. Try out these beautiful pumpkins as all your family gathers to celebrate this season.
3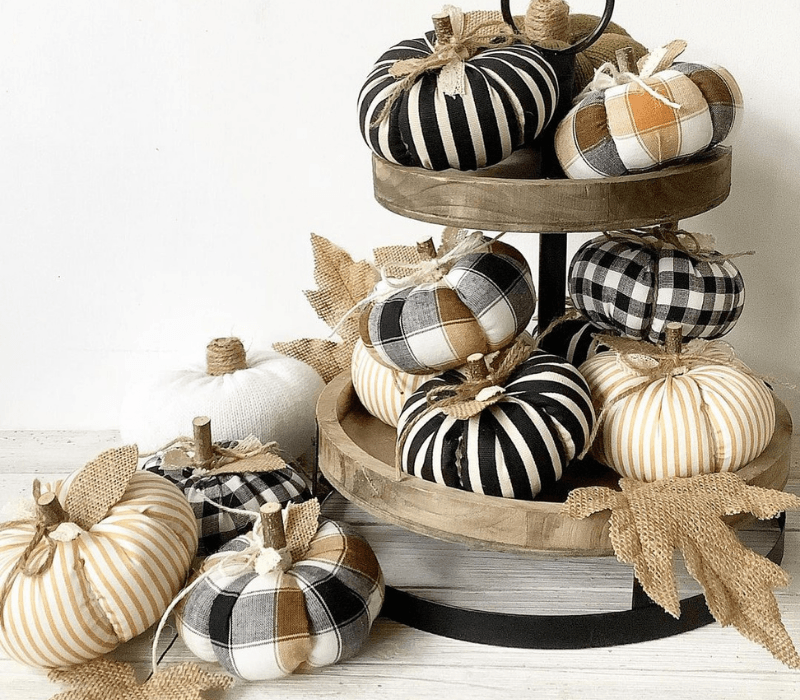 This is the perfect choice if you are looking for fabric pumpkins to decorate your place. These pumpkins come with plaid and chequered designs that have the ideal shape of real pumpkins.
They are beautifully handmade with branches to mimic the stem and a special piece of fabric as leaves. This décor adds a country appeal as it is made with raw materials of fine feel and texture. The colors are very appealing and blended attractively.
4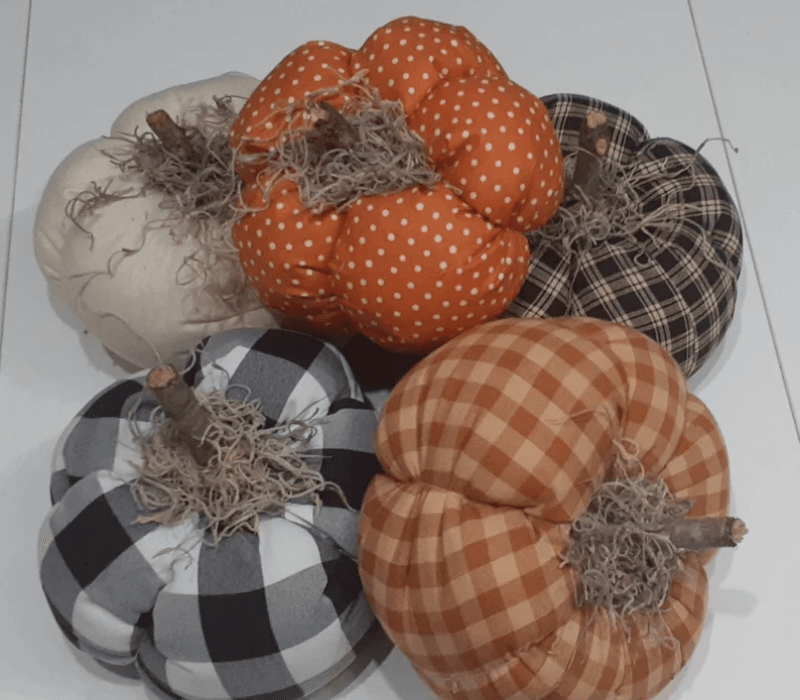 These are colorful pumpkins of unique style, ideal to be added to your fall decorations. They come in various colors and designs such as polka dots, chequered colors, and many more. These are the ideal size to decorate your table for this holiday season. You can even gift these fabulous pumpkins to your loved ones this Halloween! It will not only be a souvenir of the season for them but also a beautiful memory of you.
5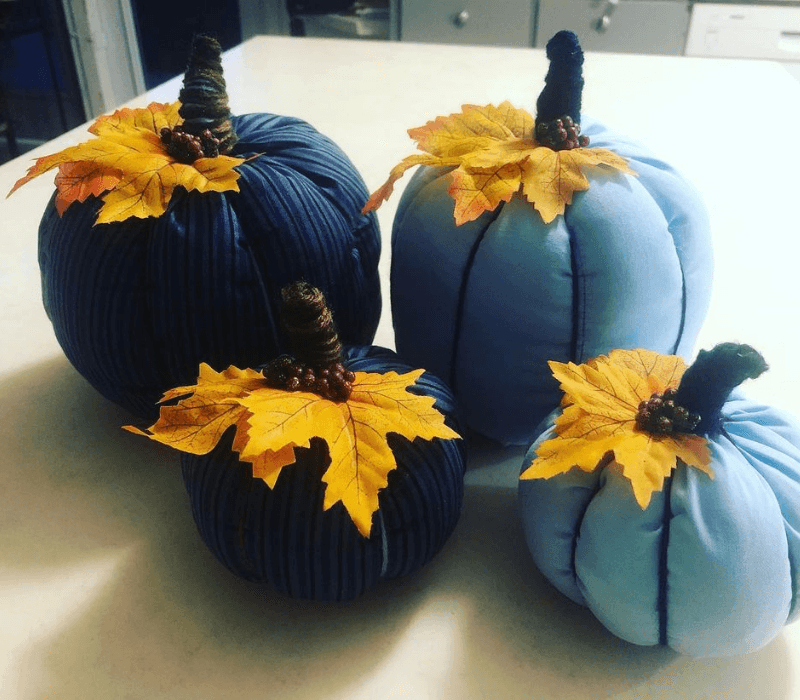 If you are attracted to new themes on any occasion, then this is the ideal choice for you. These beautiful fabric pumpkins are so colorful that they bring a mystical appeal to your home. It is a perfect décor for any season throughout the year.
They are attractively designed with blue and yellow fabric to be the perfect autumn décor. I highly recommend you to buy a few of these pumpkins not only to decorate your place but also to gift your friends and family.
6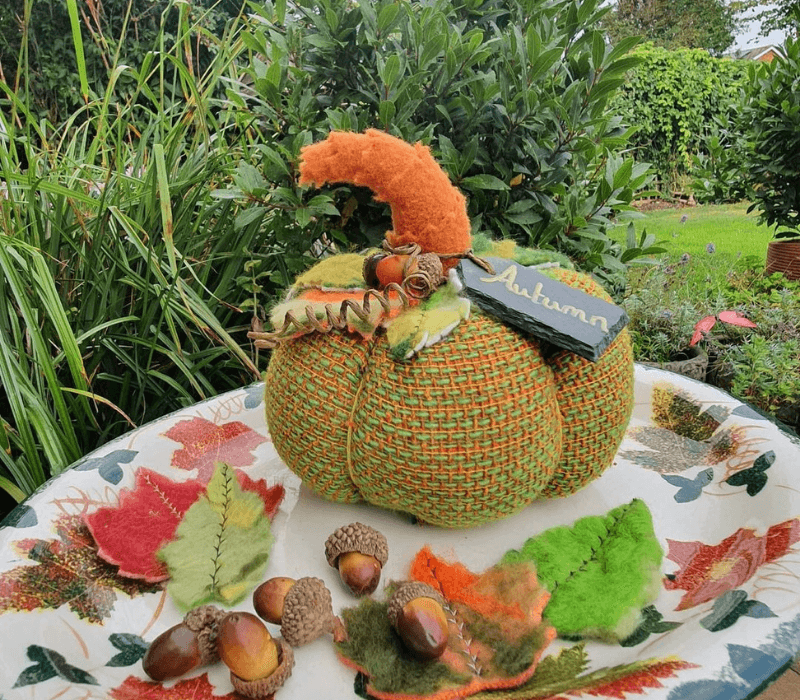 This beautiful pumpkin design gives away the warm and cozy vibe of fall. They have a coarse corduroy texture of beautifully woven design with bicolored threads. The leaves and stem of the pumpkin are also designed with colorful fabric.
It looks perfect on the dining table or the mantel to suit your preference. It is also ideal for outdoor decorations for the season. So, you can try out this colorful fabric pumpkin by the side of your fall decors.
7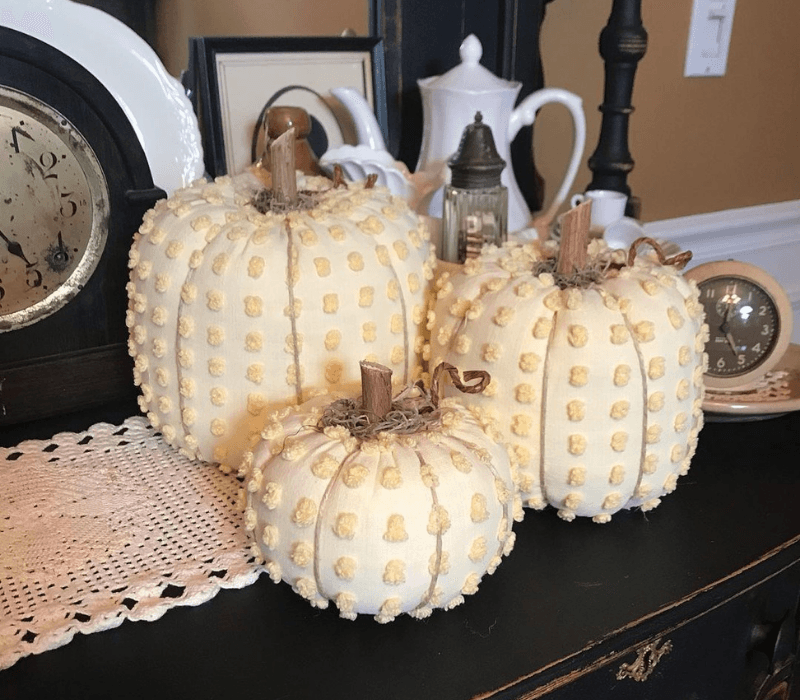 This classy pumpkin has a rare appeal of an ancient look due to its choice of color and design. It is ideal to be placed beside some old clocks and porcelain to match its elegance. You can place these beautiful pumpkins on your mantel or dining table.
The special design of fabric with a soft yellow texture will be loved by the kids too. So why not try this out to decorate your place for the upcoming Halloween season!
8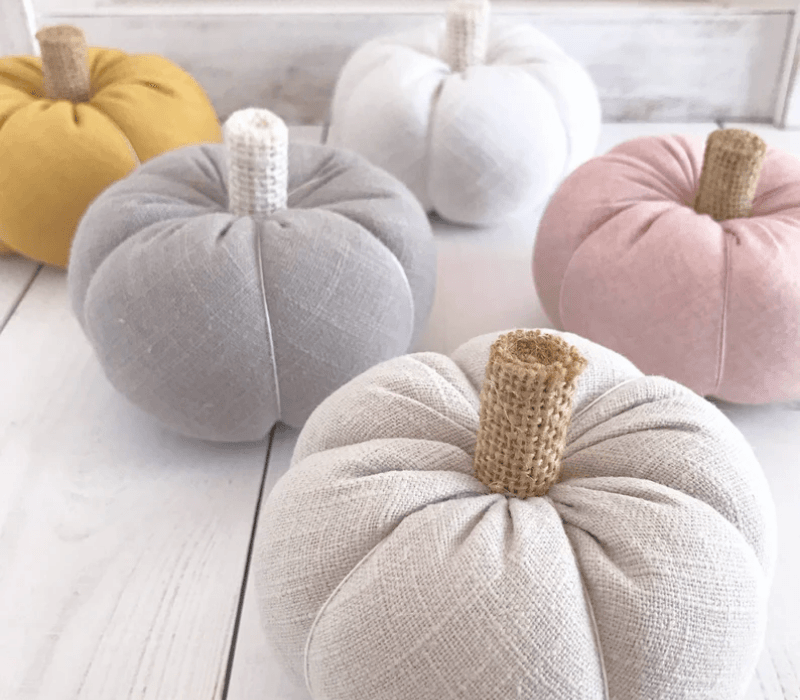 These light-colored beautiful pumpkin designs are ideal as an autumn décor. It is also designed to be with you throughout the year as a beautiful ornament beside your table. Its simple design is its key feature that draws the attention of anyone.
They are precisely handmade and come in a variety of sizes to suit your decoration. This is the ideal fabric pumpkin to gift your special person to preserve your precious memory of the holiday season.
9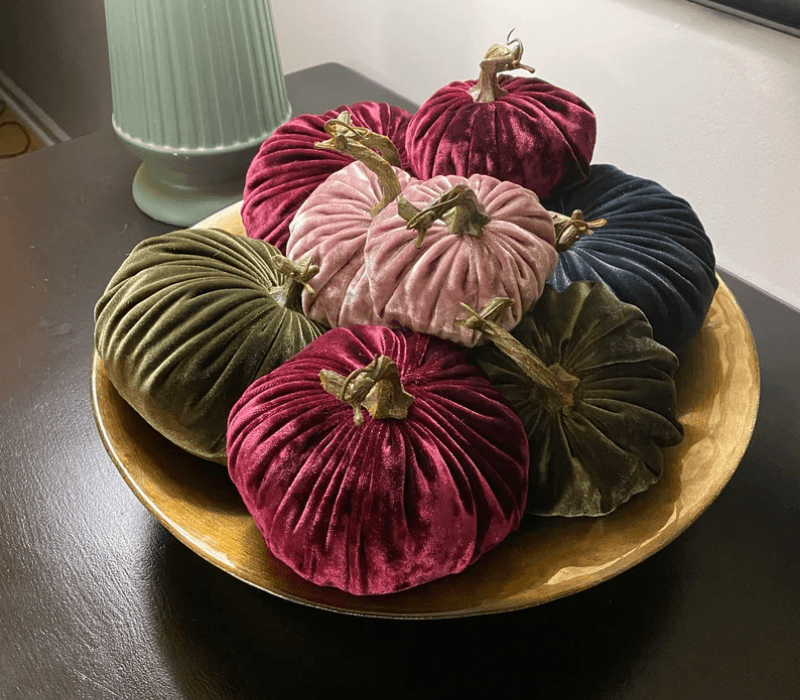 If you are more attracted by the real mystical theme of Halloween, you can always try these velvet pumpkins. Their shiny appearance with fine lines to mimic the ribs of the real pumpkin bring an elegant look. It is your ideal home décor as the family and friends gather this Halloween.
Its specialty being velvet, of course, you can gift this beautiful fall décor to your loved ones to make them feel special and valued.
10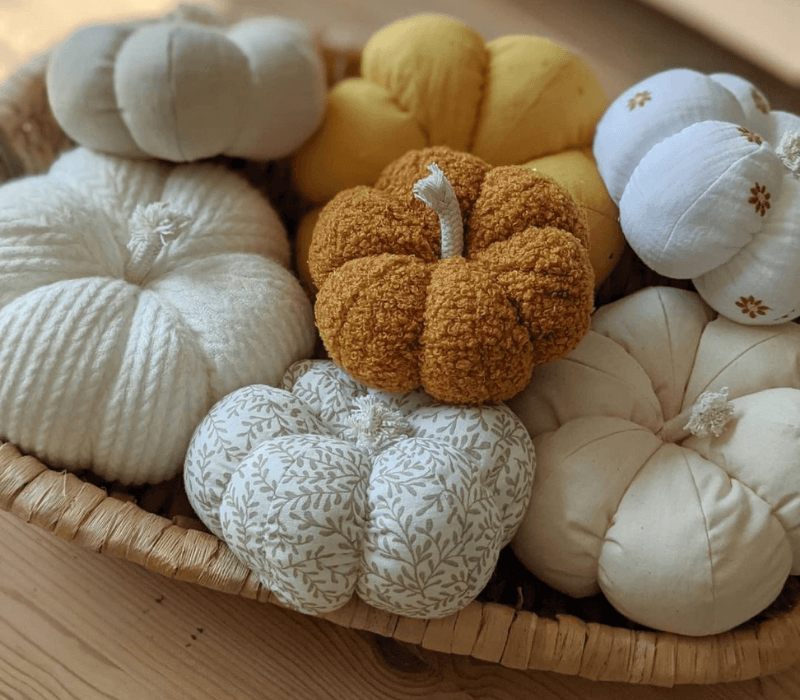 These little pumpkin ornaments come in various designs of color and texture. They are soft to touch and have fine geometrical ribs that make them look neat and tidy. So if you are someone who prefers less detail but fine quality, this is the ideal choice for you. You can have a few of these attractive pumpkins in a tray on your dining table. Choose them from few different colors to match the theme of your fall decoration.