You must also have heard that corduroy jackets are often associated with cold weather. But I think that it doesn't have to be so. Hopefully, you would agree with me. Even though corduroy is slightly warmer than other clothes, it doesn't mean that we should give up styling it in warm seasons, right? This is why I thought of researching this idea and sharing it with you. So let's see whether we can really wear a corduroy jacket in summer.
What is Corduroy?
Corduroy is a twill weave fabric, which is woven by threads in diagonal lines with thick vertical lines on the design. This fabric has both a comfortable appearance and is also suitable for dressed-up occasions. Corduroy is thick, durable, and has unique features. It is also known as corded velveteen and used for long pants, skirts, and especially jackets.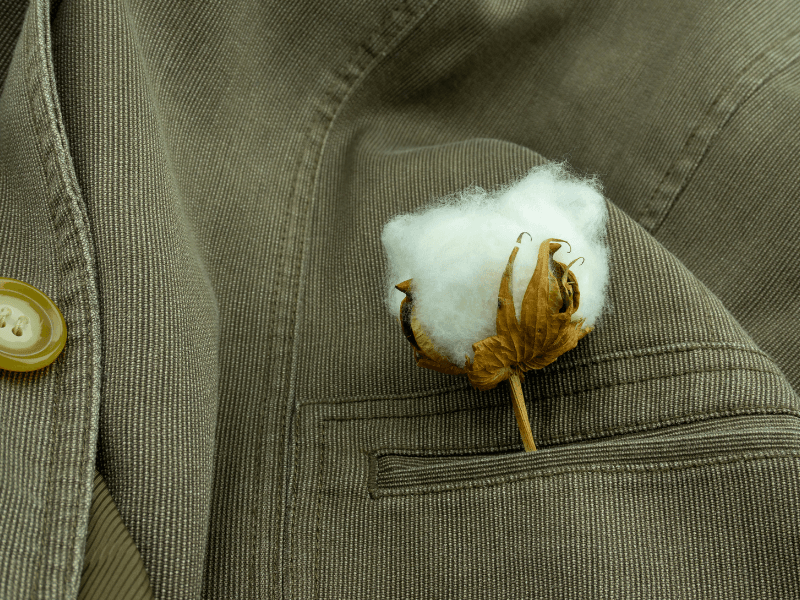 Types of Corduroy
Corduroy fabric is manufactured in several thicknesses, known as "wale". Depending on the number of wales per inch, there is narrow wale also known as needlecord, pin cord, or pinwale. It is often used for shirt material. The wide wale corduroy is mainly used for jackets, pants, and upholstery.
Corduroy Jackets
It's an amazingly versatile type of jacket, as it can be paired with many different outfits throughout the year. Corduroy jackets are made of cotton blend wool using a loom to weave the individual threads. The structure and durability of the jacket rely on the quality of the fabric. Corduroy jackets come in various colors such as black, brown, maroon, and blue. There are also many styles of jackets such as Officine Generale Corduroy Chore Jacket which are slightly different from the ordinary style.
Are Corduroy Jackets in Style?
Yes, corduroy jackets have always been in style, and they always will be. But they are most popular in colder and breezy seasons such as winter, spring, and fall. This is why you need to try matching it in summer to be a part of trendy the trend of wearing corduroy in summer. But is it practical to wear corduroy jackets in summer? Let's find this out!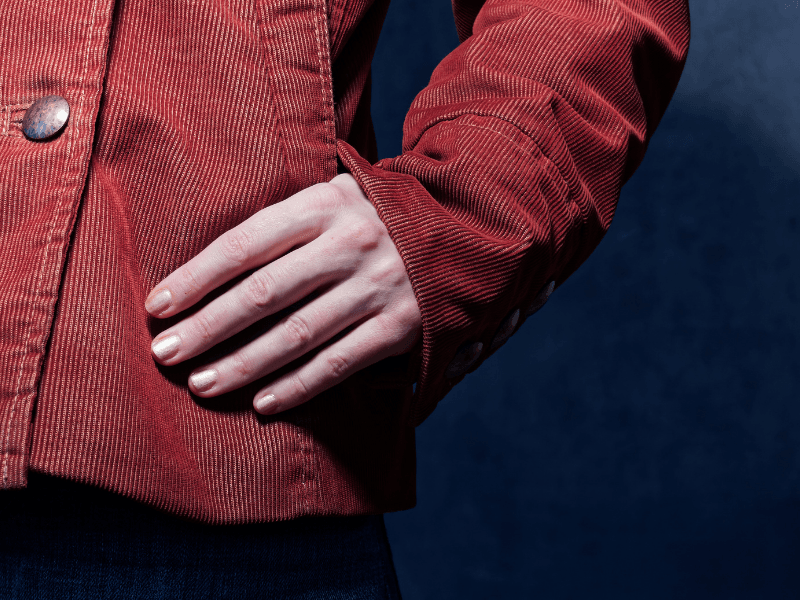 Can You Wear Corduroy Jackets in Summer?
Yes, you can definitely wear a corduroy jacket even in summer. There are no rules and norms for fashion anymore, as long as you are comfortable with what you wear. When considering the level of comfort, corduroy is much heavier than normal cotton fabric. There is less space for breathing and would cause much sweating. This is why corduroy is mostly suitable for cold weather. However, if you match up your corduroy jacket with the proper outfits, you can wear them in any season regardless of the temperature.
What Is Warm Weather Corduroy?
The very fine wale corduroy has become increasingly popular in recent years, especially for women's wear. This type of corduroy is very soft and has a velvety feel to touch. Unlike the common material, clothes made from this type are breathable. 
Therefore, most jackets and pants designed for warmer seasons are made with this warm weather corduroy material. The better idea is to wear them in light colors such as white, yellow, and soft pink and blue. So if you were reluctant of trying out a corduroy jacket in summer, you have a better option here.
What to Wear with Corduroy Jackets in Summer?
If you are ready to style your corduroy jacket, I will help you with some best ways to wear it. Here are some fashion tips and ideas that you can try out next summer.
Brown Fur Collar Corduroy Jacket with Black Skater Skirt or gathered skirt
You can wear a casual street outfit of a white T-shirt, a black skater skirt and a pair of white sneakers. This is an ideal summer outfit, complete with a brown corduroy jacket. This gives a stylish look suitable for spring and fall as well.
Brown Corduroy Blazer with Black and White Striped Shirt
If you have a black and white striped button-up shirt that you normally wear to be more professional looking, then you can put on a brown corduroy jacket over it. You won't believe the result of how well it would match. You can pair it with a pair of skinny jeans for an enhanced trendy look.
Brown Fur Collar Jacket with White and Pink Striped Tee
You must be wearing a pair of denim jeans often along with random light-colored T-shirts. It is mostly the high-waisted blue jeans that we all prefer as it is more comfortable. So next time you go out in this outfit in summer, you can drag along your brown corduroy jacket.
Black Jacket with White Vest Top & Black Denim Skirt
A white vest top with a short black denim mini skirt is ideal summer clothing. It gives a casual vibe and a black corduroy jacket is the most perfect to complete it with.
Wear with White Crop Top & Sky Blue Jeans
This gives a refreshing appearance with the white crop top. You can wear a black or maroon color corduroy jacket over this. A pair of light-colored jeans and white sneakers would give you an amazingly lively, cheerful look for the summer.
Blue Corduroy Jacket with All White Outfit
White is always a good choice for summer due to the heat. So if you have any plans of wearing an all-white outfit, then you can simply add your favorite blue corduroy jacket over it. You would get a unique look that draws all the eyes onto you.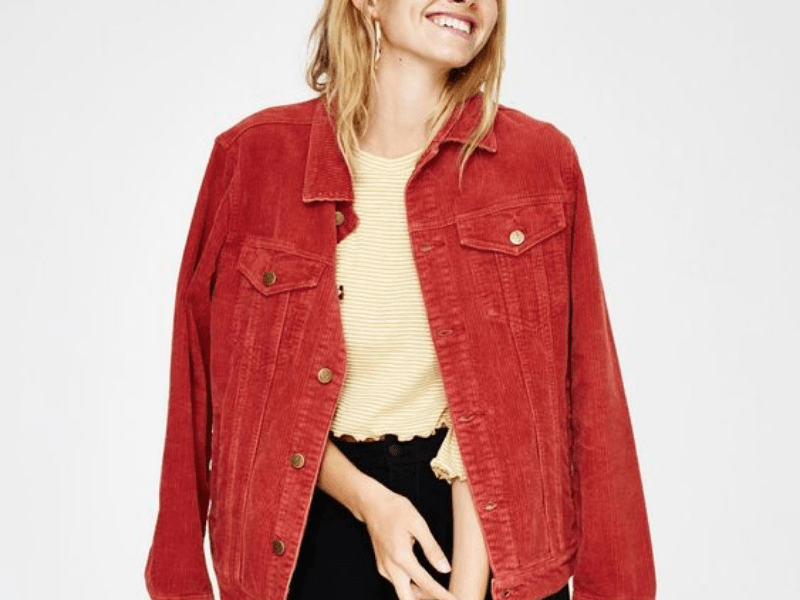 Tip: Make sure to follow the rule of only one texture at a time. To make this clear, you should not wear two pieces of the same type of cloth together. Do not wear a corduroy jacket with corduroy pants. This would create a boring uniform look and not attractive. So instead, you can try a corduroy jacket with a pair of jeans.
These are some of my corduroy jacket ideas that you might find useful for matching with your outfits. So as I have said, there are no limitations for style. You can use these tips to wear corduroy jackets as a part of your everyday outfits, even in the summer!