What is Tweed?
Tweed is a type of wool patterned fabric often used for sewing informal outwear. This type of fabric, which was used a long time ago, is still used to sew various clothes today. In the past, this tweed was made by hand. But nowadays most automated methods are used.
In the past, Tweed was popular among the upper-class. Tweed became popular among the public after the industrial revolution made wool cheaper and easier to make.
Heat retention ability is high. Because of its warmth and rough, distinctive texture features, tweed is most very popular nowadays. The cloth is rough and thick and coarse. Each tweed product is unique due to the fact that it is composed of natural wool.
How to Care for Tweed?
Tweed is prone to shrinking in the wash because it's composed of wool, so have it dry cleaned instead. As a result, you should wash it as infrequently as possible. To keep the look and feel of these items, dry cleaning is recommended.
Steaming is a good method for cleaning tweed. Steaming kills the majority of bacteria and germs, helping to remove the fragrance. If your tweed cloth is not much dirty, steaming method is perfect.
How You Store Your Tweed?
To prevent insects from eating your jackets, place them on quality hangers and cover them with a plastic material.
Your tweed jacket should always be stored in a climate-controlled area with low humidity. If the humidity is high, the jacket may be ruined. Extra moisture in the air may seep into the fabric, causing harm to the tweed's structure. As a result, the location you choose to store your tweed jacket is critical. You should follow this guide if you want to long last your tweed clothe.
Is Tweed in Style 2021?
Some people may ask the question Is Tweed old fashioned? Simple answer is no. Tweed is fantastic because it is so adaptable. Tweed jackets are really fashionable, and it's easy to make them stand out from the crowd. So, trend for tweed clothes won't end in the near future.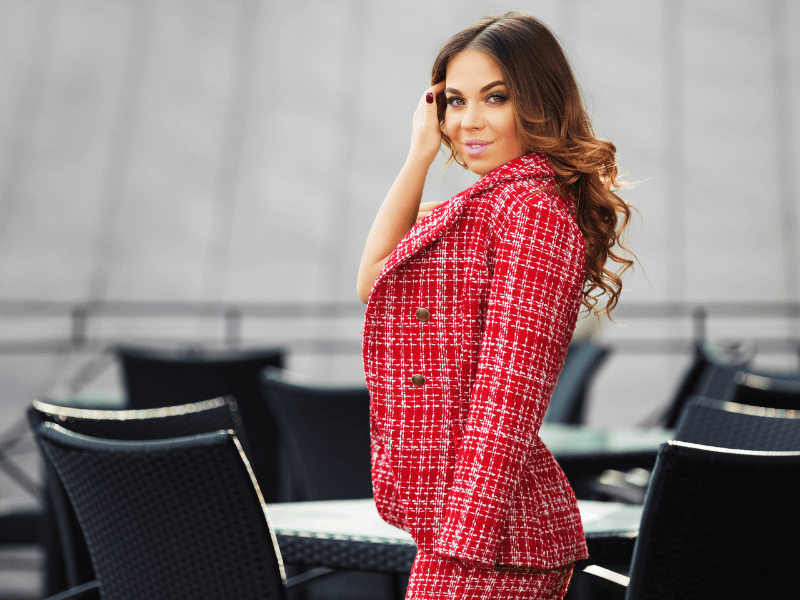 Can You Wear Tweed in Summer?
Tweed is a terrific choice for the winter and autumn months, as we all know. Tweed is such a flexible and airy fabric that could be worn on any given day of the year. Therefore, tweed is perfect for summer season too.
What are some recommendations for tweed in the summer? Consider the color of your summer tweed suit when making your selection. When we think about tweed, we usually associate it with dark colors.
A summer tweed will have a higher cotton content than a winter tweed, while a winter tweed will have a higher wool percentage than a summer tweed (Source).
Can You Wear Tweed in The Rain?
Tweed's water resilience makes it a popular choice for lightweight overcoats. In tweed, you don't want to be caught in a downpour, but it's OK in a drizzle. Tweed, in my experience, is not a pleasant material to be exposed to for an extended period of time. The reason for this is the odor. When wet, tweed is stained with lichen and emits an unpleasant yet tolerable odor.
So as the conclusion, for a period of time, most tweeds will repel mild rain.
Can You Iron Tweed?
Tweed clothing is naturally wrinkle-resistant. When traveling, tweed is a great fabric to utilize. Tweed clothing has a low risk of wrinkles. The majority of wrinkles in tweed will disappear over time. It may be sufficient to simply hang the tweed garment on a hanger in a humid location, like as a steamy bathroom. The heat and moisture will aid in the relaxation of the fibers and the release of wrinkles.